A Delivery Of Paella and Tapas from La Valenciana In Heanor
---
Published On Thursday 19 Nov 2020 by Sticky Beak
See Recent Take Away Reviews | See All Recent Reviews


The Man Bird and I are your typical, stoic Brits; Lockdown 1.0 didn't prevent us from eating 'out', so Lockdown 2.0 certainly wasn't about to stop play either! Obviously having takeout/delivery is the (new) eating 'out', and although it's not the same as going 'out out' there's still a lot you can do to make it fabulous. We tarted up the dining room table with a fancy cloth, lit candles and got the posh cutlery and crockery out in anticipation of our date night meal being delivered to the door in the next hour or so.
During both the lockdowns His Nibs and I have tried to support local independent businesses, and this occasion was no different. La Valenciana came to our attention a while ago but our interest was re-piqued when we spotted a post of theirs on good old face ache, I mean Facebook! Based in Heanor, La Valenciana is run by Luis and Rocio; originally it used to be a catering service that worked at events, food fairs etc. but Covid-19 (and the subsequent chaos) meant that, like many other businesses, they had to adapt to survive.
La Valenciana from home was born, a family run venture that brings the delights of Spanish cuisine (specifically cuisine from the Valencia region) to you. Currently, Luis and Rocio are offering their food at weekends only, and such is their attention to detail that they strictly limit the number of slots available for customers to order food each day – they have even turned customers down to keep the quality of their service at the high level they want!

Luis and Rocio offer Paellas, Arroz al Horno (an oven-baked rice dish), Meatballs, Patatas Bravas, Omelette Potatoes (I guess akin to Spanish Omelette/ Tortilla?) and Empanadas currently, all available separately or in combination in some of their meal deals. Bargain hunter extraordinaire (His Nibs) found a cracking offer: 2 Paellas, 1 Meatballs, and either Patatas Bravas or Spanish Omelette for £20, so that's what we had.
I had the Seafood Paella with Prawns, Squid and Mussels (£7 separately) and The Man had Paella Valenciana; Pork, Chicken and Vegetables (£6.50); Meatballs in sauce are in with this meal deal, and we opted for Patatas Bravas over the Spanish Omelette (both £5 separately).

Now, I'm sure many of you are thinking "it's only rice with a bit of meat or seafood chucked in, what's the fuss"? I myself had this sort of reaction before I had Paella for the first time, but this is not just rice; it's seasoned, herbed, appetite-sating rice – and way better than any rice M&S could conjure up if you ask me! Both the Paellas had their own distinct taste, so it definitely isn't a case that all the rice bases are the same – at least not in La Valenciana's kitchens!!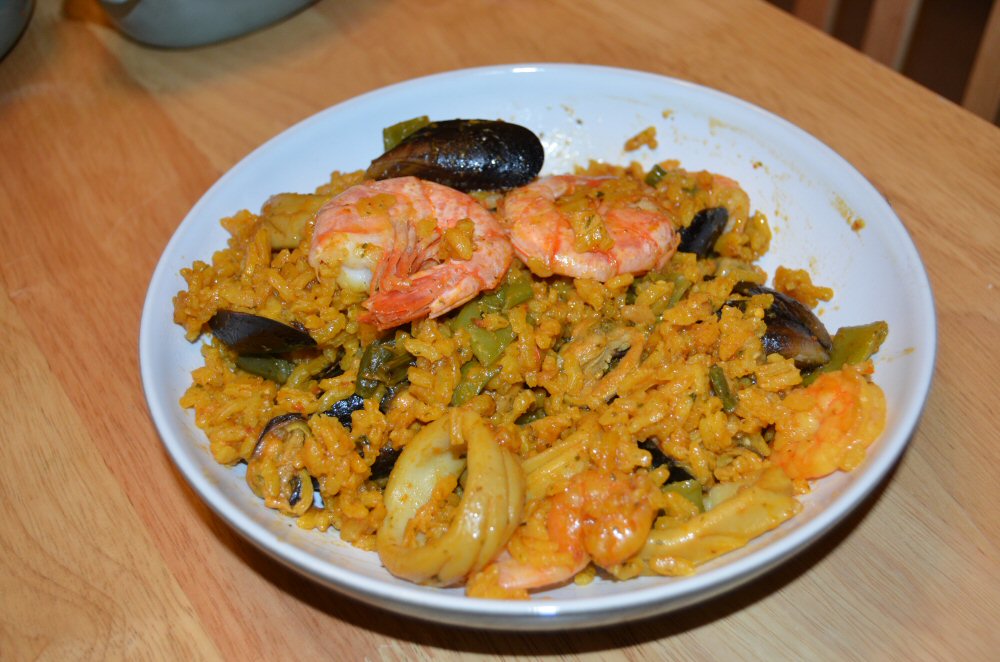 My Paella was sweeter and 'brighter' than His Nibs', and the seafood was all superb; the Squid rings were tender and fragrant, not at all rubbery, and there were plenty of them. A whole legion of in-shell Mussels was poking through the sunny rice and as I prised each one from its shell I was happy to see that they were large, meaty specimens (they weren't any sand grains in them either). The Prawns were plentiful too; as well as lots of ready-to-eat King prawns, there were a couple of massive, shell-on (but de-headed and de-veined) ones to tuck into – all were super-juicy and sweet in taste.




The Man Bird was just as impressed with his Paella dish. Like mine, the rice had been nicely seasoned, but was earthier and deeper in flavour than its cousin on my plate. The Green Beans had been chopped into small pieces and still had a bit of bite to them, whereas the Butter Beans were deliciously soft and creamy in the mouth. His Nibs loved the pork – it was gorgeously moist (thanks to still being on the bone) and had a moreish sweet edge to its taste that left him scraping every last bit off the bone. The Chicken, too, was superb in its succulence and there was, again, a hearty portion of it to enjoy.

Now, The Man Bird and I do rather enjoy meatballs – I have an Italian cookbook that has one particularly delicious Meatball recipe in it, and this is perhaps the most well-thumbed page in all of the cookbooks I have! We have had some gorgeous Spanish Meatballs too over the course of the blog, and one of the things I love is the different recipes for the Tomato sauce they come with that each business uses.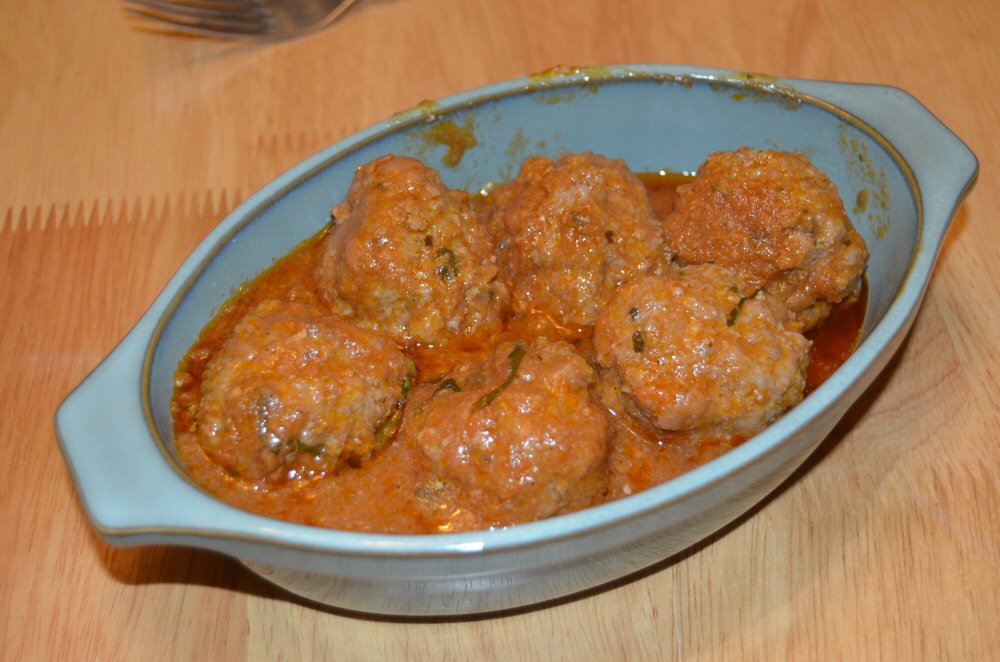 Some are family recipes, others are from the region that the owners have lived in, but all are superb. I have to say though, that Luis and Rocio's homemade sauce is really something to behold! You get that fab hit of sweet Tomato shining through, but it seems creamier and there's something in it that I just can't put my finger on; whatever it is, it makes for a simply stunning sauce that I could eat by itself with a loaf of fresh bread to mop it up. The Meatballs themselves aren't too shabby either! Each sphere was nicely compact and dense in texture, making it a really satisfying dish, and the meat was gently seasoned so that it didn't detract from the sauce. An excellent dish – perhaps even our favourite!




Patatas Bravas is another Tapas dish that we've eaten plenty of variations of in our time, and some have been better than others. Again, there is a wealth of different ways that this dish has been interpreted; the Potatoes have been cut into different sizes, there have been different styles of sauces with the Potato etc. etc. Luis and Rocio had cut their Potato into fairly chunky pieces and they were wonderfully crisp and golden on the outside, with lovely soft inners that melted on the tongue. In addition to a robust Tomato sauce, there was a fantastically punchy Aioli (Garlic Mayo), and the two of them combined made a quite exquisite partnership that transported the spuds from their humble origins.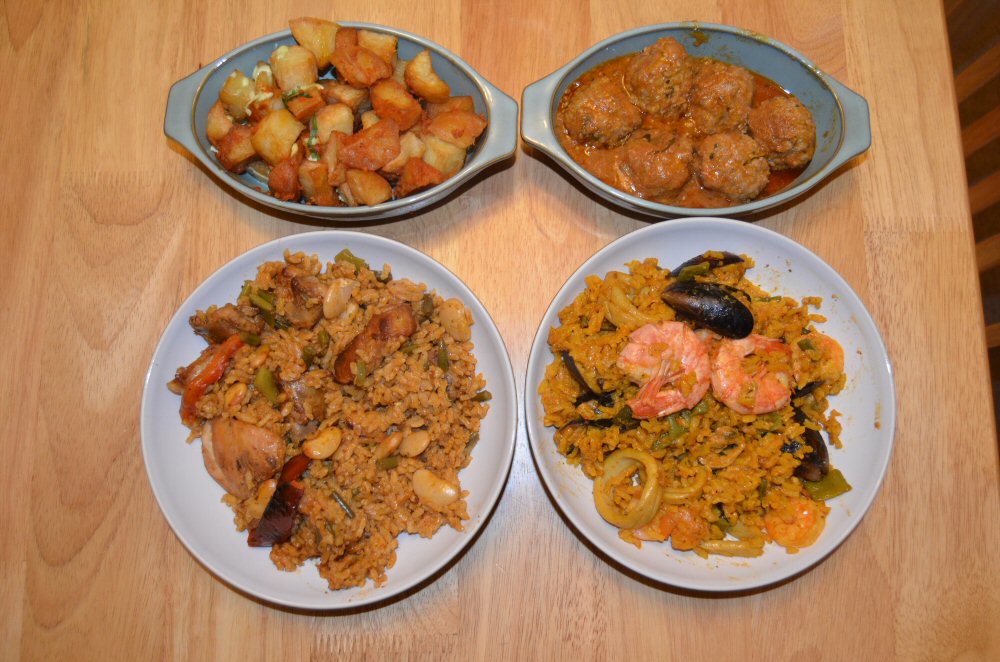 So by now you will all have gathered that La Valenciana is more than worthy of receiving your hard-earned cash in terms of taste, but is it value-for-money when it comes to quantity? I'm happy to say that yes, it is; we both have hearty appetites (ok, we're gluttons!) and this meal left us feeling more than a little podged. Those of you with normal appetites will certainly have your work cut out to finish all the food; personally I can think of worse things than having the Patatas Bravas heated up later!

Hot Wings happily awarded to this fantastic Heanor-based business; thank you Luis and Rocio for producing such amazing food!