Takeaway Tapas From The Black Swan In Belper
---
Published On Sunday 27 Dec 2020 by Sticky Beak
See Recent Take Away Reviews | See All Recent Reviews


We're loving having Fledge back from University, the nest is much livelier and upbeat , and she pesters us to expand our usual weekly domestic menu choices. To herald the start of one weekend we decided to have a film night and ordered a selection of Tapas from The Black Swan in Belper; a place that His Nibs and I have eaten in before, and thoroughly enjoyed.
During lockdown 2.0 the team have offered a takeaway Tapas menu, Wednesday-Friday 5-9pm and Saturday3-9pm, priced 5-4-£20 or 10-4-£37. We went for the 10 Tapas option – it would be daft not to, for effectively £3.70 per item!!

Chickadee went with her Daddy in the jalopy to pick our order up; they parked in the market place and walked into the lounge bar entrance (opposite Bengal Blues), where there's a counter set up for the takeaways. Each order is allocated a 10 minute window to get collected, so there's no risk of breaking the social distancing rules.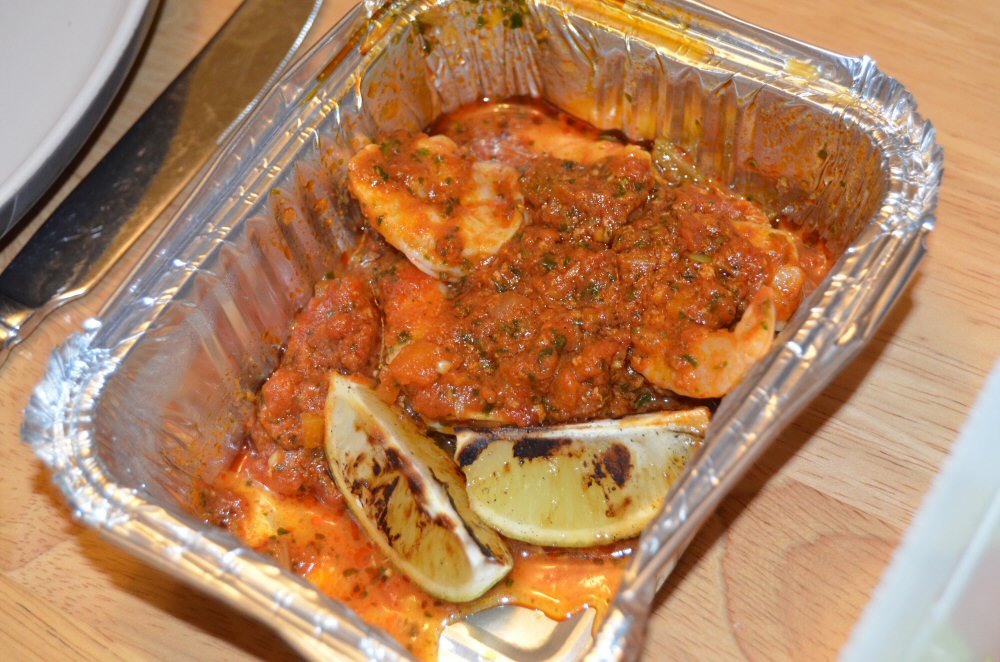 It's a 15 minute drive back to the nest but all the Tapas were still plenty warm enough (those that needed to be, anyhow), which meant that I was able to turn the oven off as it wasn't needed - serves me right for being prepared! The other positive was that I didn't need to decant the food from their cardboard boxes into bowls to reheat them, so we just served ourselves at the table from the original packaging: less washing up = winning at covid life!

Fledge and I love seafood so we ordered King Prawns in house 'Mole' sauce and some deep fried Whitebait with fresh Lemon and house Tartare sauce. The Man doesn't mind Squid, so we also had a portion of Paprika baby Squid with Lemon Mayo to form a trinity of sea-based Tapas.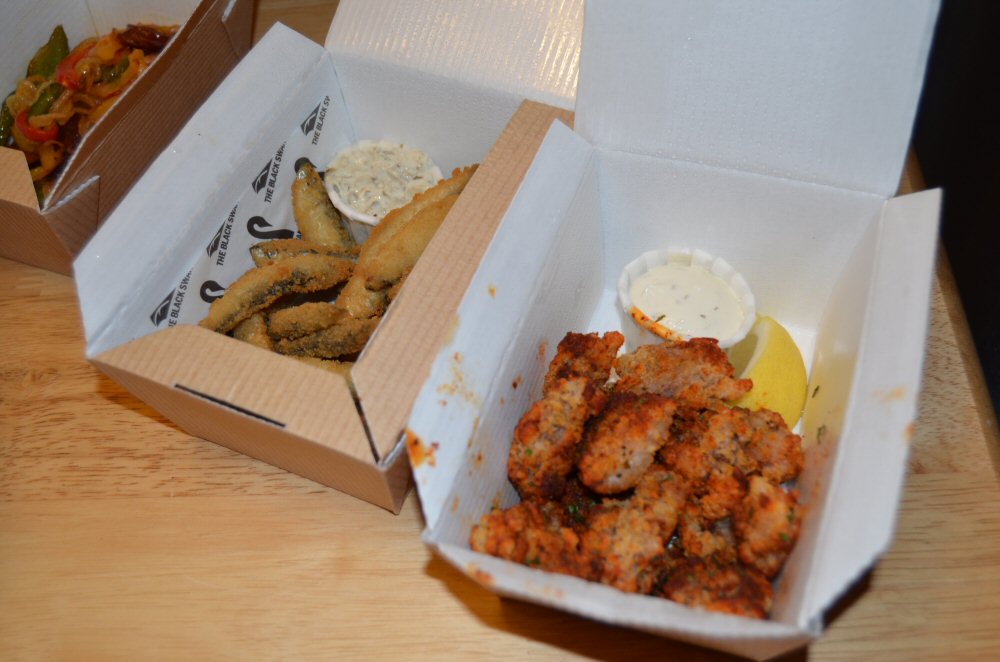 All the portions were generous and the Whitebait weren't at all greasy, so their batter was still nicely crisp; Fledge and I both liked the piquant Tartare sauce too, it gave a nice lift on the palate. Plump, juicy King Prawns imparted their sweetness in the mouth, partnered by a robust, Mexican-style Tomato and Coriander sauce that gave a fab balance of tastes to savour. The Man Bird was impressed by the amount of pieces there were of the lightly battered Squid rings, and he also complimented Chef Neil McCready's cooking of said Squid: it was still pleasantly soft to the bite, rather than over-cooked and rubbery. I liked the zingy Lemon Mayonnaise dip; it popped nicely on the palate, but not too much as to over-power the Squid.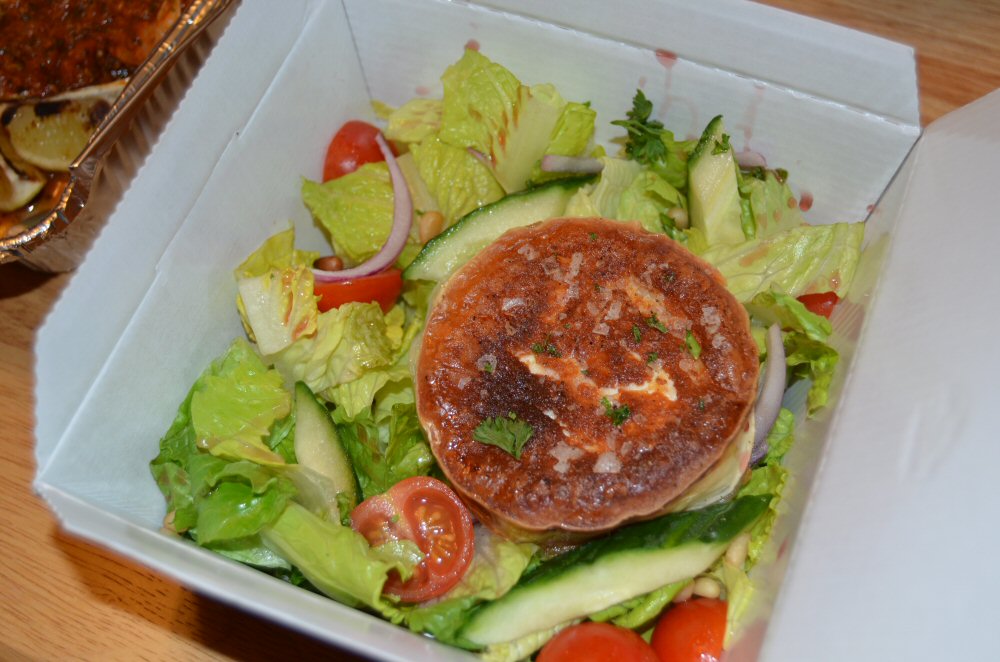 Since being young, Chickadee has always liked 'squeaky cheese' / Halloumi, so when she spotted that on the Black Swan's Tapas menu she ordered that and its accompanying Sweet Chilli dip. There's something deeply satisfying about the simple pleasure of hearing batons of the deep-fried cheese as they give that characteristic sound as they compress against your teeth, don't you think? I am a self-confessed cheese freak, so I was a happy little birdie when I spied the Goats Cheese and Pine nuts served with Cos lettuce, Cucumber, Tomato, Red Onion and house Sherry Vinegar dressing. I was even happier when I saw that there was a lovely thick round of the warmed cheese with its distinctive soft muskiness to enjoy!




His Nibs and Fledge were chowing down contentedly on Chef Neil's chunky-textured Onion Bhaji, savouring the smoky, rich spices that cosseted their taste buds as they bit into the large balls of fried vegetable. There was a nice tangy-but-sweet Mango Chutney in which to dip the Bhajis, and both of them said what a gorgeous partner it was to the savoury notes of the Onion.

You can't have a Tapas selection without Patatas Bravas, Chorizo and Albondigas (meatballs), so no prizes for guessing the next trio of dishes that I shall be taking about! The Potato cubes were pushing against the top of the box that housed them, there was such a generous portion of them. They weren't greasy, so you got the full effect of the gently spicy coating that dusted each bit, and the yummy Black Swan spicy 'Bravas Mayo' was something special indeed; I dipped my finger in and was rewarded with a gloriously piquant note on my tongue.




Chorizo can vary greatly in its flavour, from deep and smoky to bright and fiery, depending on the combination of spices used in its making. At the Black Swan they use one that is wonderfully rich in smoky notes, imparting a mellow experience when bitten into and masticated. Crunchy slices of fried Onion and Peppers added a pop of colour to the dish as well as providing a contrast to the softer texture of the spiced meat.

Sometimes Albondigas can be a bit dry, especially when densely textured like the ones at The Black Swan in Belper; it isn't so much that they actually are over-cooked and dry, it's more that they stay on the teeth and tongue more stubbornly than their airier cousins, so you feel like you're having to chew them more. To counteract this feeling, Chef McCready serves his spheres with a wonderfully tasty Tomato sauce that not only adds that desired feeling of wetness in the mouth, but also provides a great base against which the meatballs' Beef and Pork flavours can pop.




The Man Bird had fancied the Cuban, braised Chicken 'Ropa Vieja', a very tender Chicken, Chorizo, Bean and Pepper stew that came with crisp Nachos to scoop it up and a wedge of fresh lime to add a citrus zing against the richer tastes. On a cold winter night, this hearty, warming dish is just the thing! The Ropa Vieja manages to pack a real flavour punch without being heavy on the tummy, yet it also satisfies the hungriest appetite – it really is super.




Our Tapas selection included items that were individually priced at £3.75 - £5.50, so it certainly pays to grab the 10-4-£37 deal if there's a group of you dining together. Everyone in our flock had enjoyed the informality of dipping in and out of each dish as the fancy took them, and eating like this certainly guarantees an explosion of tastes and textures.

Thanks to Covid-19 stealing the joy of being able to dine out, we've all had to hunker down and adapt and here at Beak H.Q. we have found our own 'groove'. Rather than focus on what we can't do, we prefer to think of it as extra opportunities for date nights, albeit with company sometimes! It's also been really heartening to see the determination and resilience of local businesses as they've striven to get their food to customers and protect their livelihoods. Derbyshire grit has been as strong as the rocks in the Dark Peak!




Hot Wings given to this fab Belper team again and hopefully we will be able to dine in at some point in 2021! To place an order you can WhatsApp message them or call 07572 895765 at any time, or call on the landline 01773 823000 between service hours. A time slot will be allocated to you and all methods of payment are accepted, including BACS (just request details).

Like many folks, The Black Swan team are taking a well-deserved short break for Christmas, but will be returning early in the New Year.