An Indian Takeaway Delivered By Delhi In Eastwood
---
Published On Monday 12 Jul 2021 by Sticky Beak
See Recent Take Away Reviews | See All Recent Reviews


I sometimes think that the universe is tab-hanging on my conversations, and I'll tell you why. A couple of weeks ago The Man and I were out with our good friends Mr and Mrs Treehugger (if you need your garden/hedges/trees/shrubs sorting out, his team are your chaps!) at The Shepherds Rest and got to talking about our previous exploits; we recalled a rather banging Indian meal at Nawaab Saab, and Mr 'Hugger mentioned a fantastic local Indian takeaway, Delhi, in Eastwood. Next thing you know, we received an email from said takeaway asking if we would like to sample some of their dishes; um, yes please, that would be super.
The first thing that caught my eye when I saw the menu was the 'Chaats on the Go' section; I love Chaat, I think it's the combination of crunchy bits, tangy sauces, creamy Yoghurt and array of colours that does it for me. So immediately I wrote down Pakora Chaat as one of the dishes we'd like to try, and His Nibs was in full agreement with me. There is also Onion Bhaji or Samosa Chaat to choose, if you'd prefer, and all are priced at £5.95.




Our eyes moved down to the appetiser selection (whose dishes all come with minted yoghurt dip and fresh salad) where, in addition to the usual crowd-pleasers such as Chicken Tikka, Seekh Kebab and Samosa, was the cheeky sounding Chicken Tikka Paratha Roll (£4.95). His Nibs and I are feeling the easy-to-handle, street food vibe that a lot of venues are utilising right now, and the vision of biting into soft Paratha bread stuffed with grilled chicken tikka, onion, crisp lettuce, yoghurt and tangy Tamarind was proving irresistible, so that got put onto our wish list too!

As a general rule I try to select a dish from a venues specialty/signature section, figuring that if this is what they pride themselves on, it'll be a bit of a bobby dazzler and/or a representation of what their vision is. With that in mind, I opted for the King Prawn Kaalimirch (£14.95) as my main course choice, whilst The Man went for Lamb Dhesi Karahi (£9.95); the description for both dishes had our mouths watering in anticipation of a veritable explosion of flavour on our palates!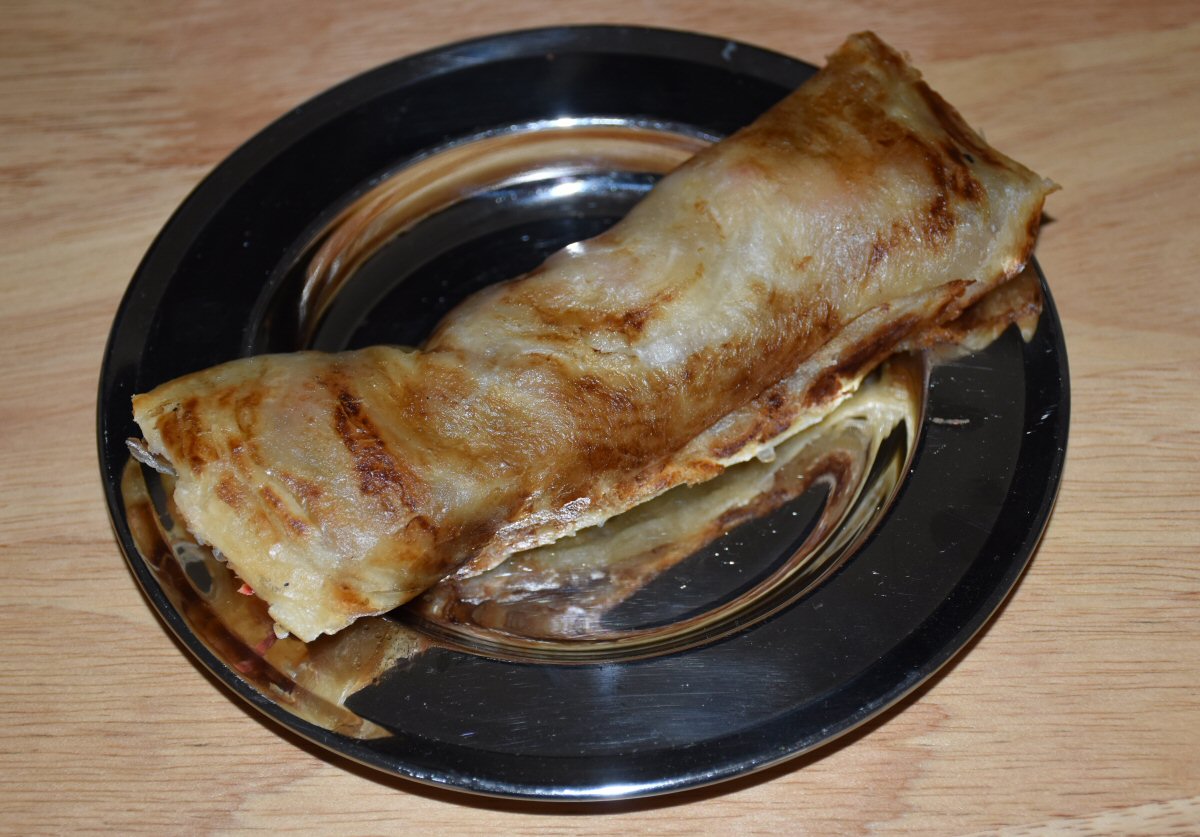 In addition to the traditional Pilau Aromatic Basmati rice (£2.95), we also ordered a Peshwari Naan (£3.50), a Garlic Naan (£2.95) and a side of Bombay Potatoes which was from the Vegan section of the menu where there is a good selection of dishes available as sides for £5.95 or as mains for £8.95.

Once we'd checked our order all we had to do was email it over to Safir and sit back whilst his wonderful Chef and team cooked up a storm and delivered it to The Nest; now if that isn't a cracking start to the weekend, I don't know what is!! We'd arranged a fairly relaxed delivery time of between 6-7pm and bang in the middle of it, up pulled a car and the driver popped the bags of yumminess on our doorstep (still got to be socially distant!) with a smile and bade us to enjoy the food. Having a good delivery experience just sets the tone, I think, for what's to come; don't you agree?

The pair of us eagerly unpacked the bags, decanting the various contents out on to plates and into bowls so that we could make them look pretty for the photos, before taking them into the dining room to let the feasting begin.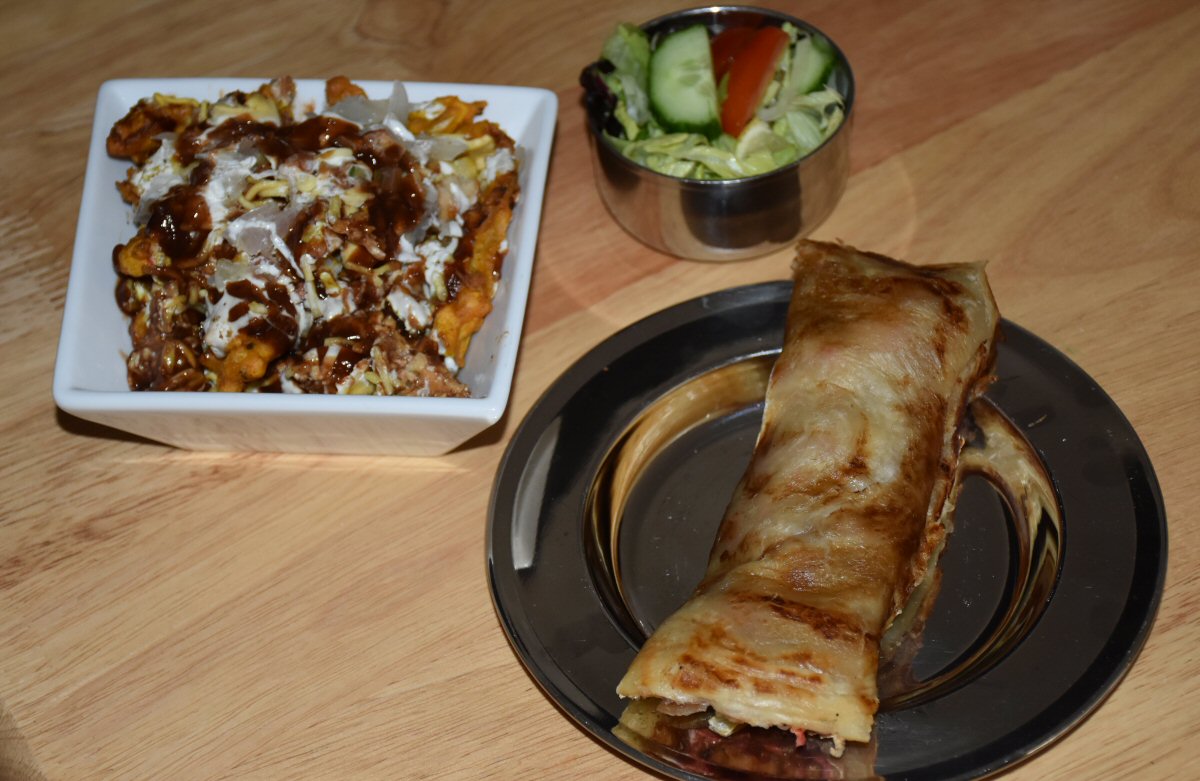 First up to try was the Pakora Chaat, and this minx did not disappoint; lovely crispy Pakoras were stuffed with spiced vegetables whose softer nature was complimented by the crunchy Indian crackers. My tongue was revelling in sweet Mango, sharp Tamarind and mellow yoghurt as they mingled together on it, and all The Man and I could do was grin like loons at each other as we scooped up mouthful after mouthful. Our other starter choice, Chicken Tikka Paratha Roll was just as delicious and everything we'd been hoping for; there was succulent, spiced Chicken breast, soft bread that melted in the mouth, and a plethora of texture and taste coming from the vegetables and sauces. This is a dish that, as well as being enjoyed in the comfort of our home, would be just as superb eaten on-the-go in a vibrant, bustling market in India and as I allowed my senses to be enveloped in the spices, I let myself imagine just such a scene!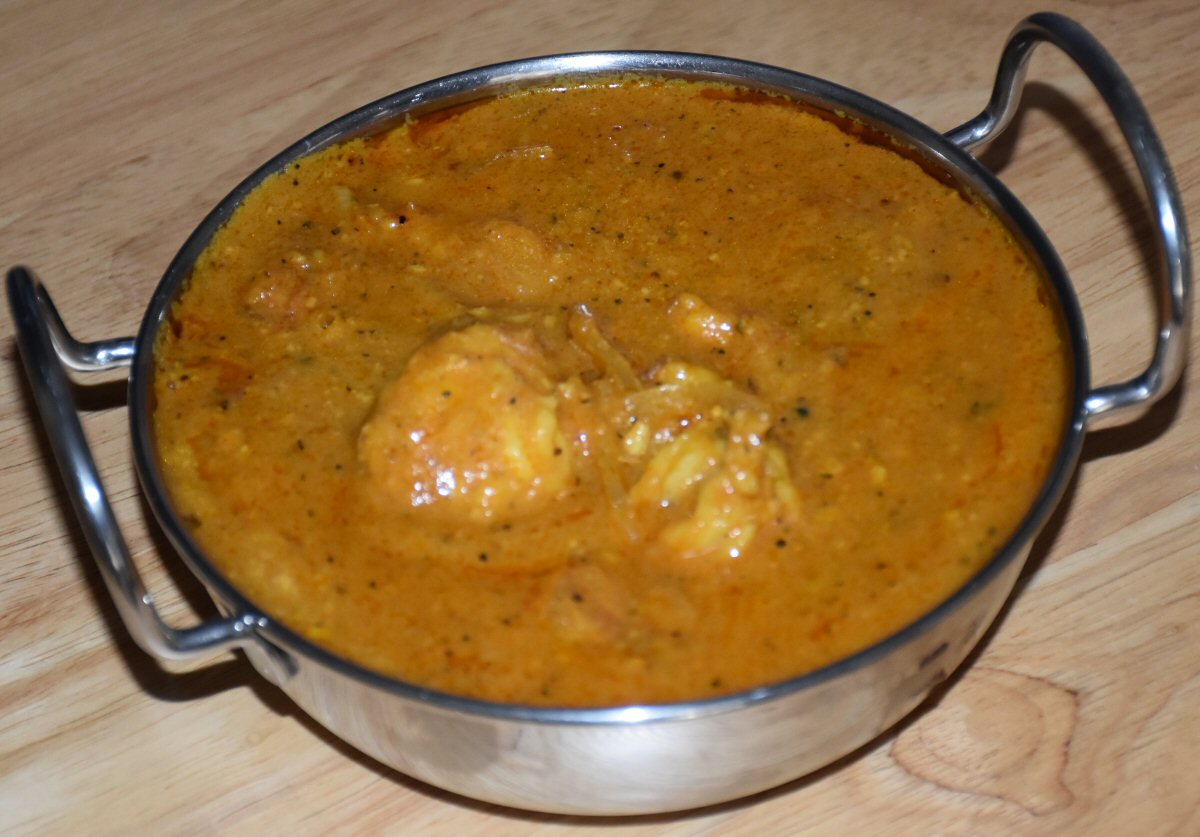 Not much shocks me, dear reader; I've been around the block a few times, figuratively speaking, but nothing prepared me for the size of the Prawns in my Kaalimirch curry! Usually when you see King Prawns in a curry they are those plumptious, 1" diameter ones that we're all accustomed to seeing, no? No, not at Eastwood's Delhi Indian takeaway; here Chef uses those gargantuan butterflied King Prawns – and he doesn't just use one or two of them either, there were loads of them bathing in their spicy lagoon of sauce!! Ah yes, the sauce: this was a cream-based sauce whose velvety mildness let the spices (garlic, green chilli, ginger, curry leaf and peppercorns) shine through beautifully. Onion, Tomato and Cashew nuts all played a part as they added more layers of taste and texture to this bewitching dish.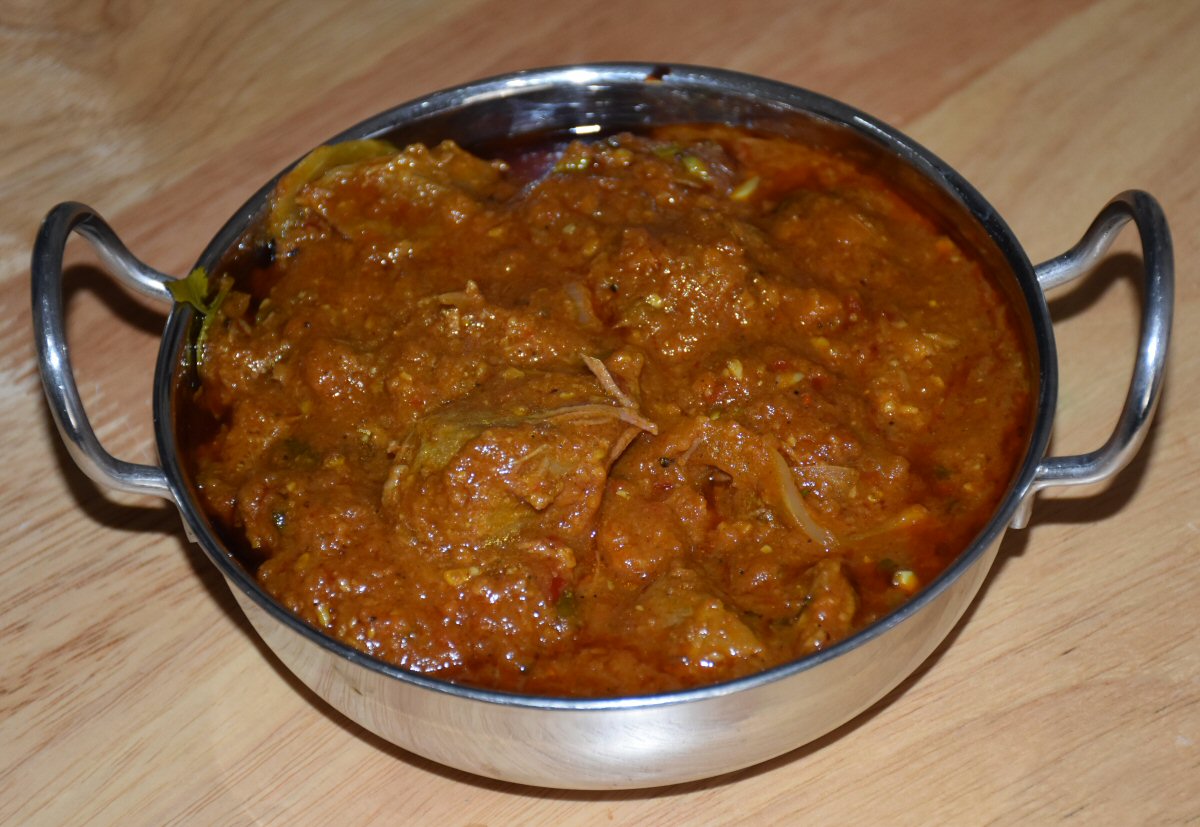 His Nibs is rather partial to a Lamb curry and I will agree with his view that when the Lamb is respected and cooked right in Indian cuisine, there's few dishes that can beat it. At Delhi Indian takeaway, Chef clearly knows his craft and the pieces of Lamb were rich in flavour, their earthy yet sweet tones rolling over The Man's tongue gently. More insistent were the blend of spices at the heart of the Tomato and Onion based sauce; these provided a multi-layered delight of pungency, piquancy and sweetness that had His Nibs' mouth in raptures.
It was The Man Bird who had suggested getting a side of Bombay Potatoes; being totally honest, I'm not the biggest fan of spuds anyhow, but I went with the flow and boy am I glad I did! Yet again I had fallen prey to my assumption that the humble spud would, well, stay humble and just get a bit of zhuzh from some spices. Nope, even 'taters are treated as superstars in the making at Eastwood's Delhi Indian Takeaway! Instead of being diced, the spuds are sliced and cooked to retain some bite and then paired with Onions and Peppers and a whole raft of spices to transform them into something so fabulous that even RuPaul would be jealous!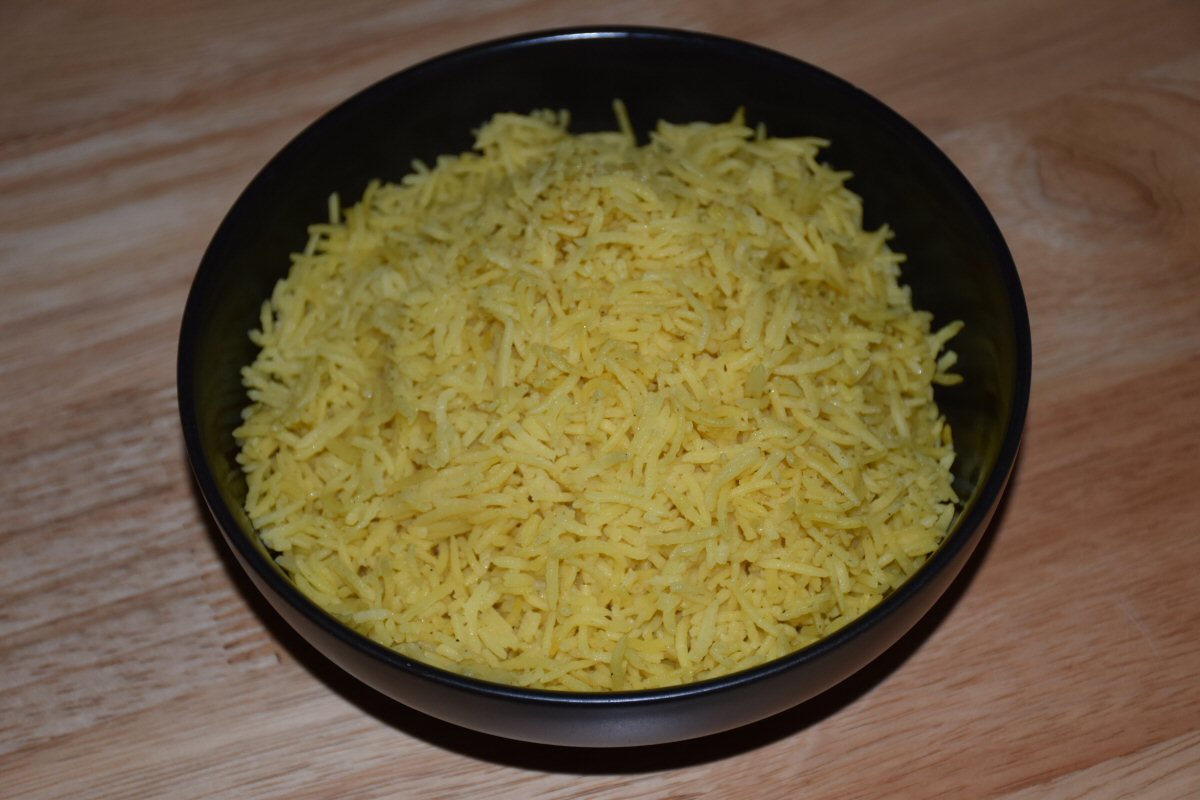 Things got back to some semblance of normality/predictability with the Pilau Rice; it was 'just' fluffy, separated grains punctuated with various spice pods that sat quietly in the background, binding all the other components of the meal together seamlessly. Same with the Garlic Naan bread; good quality, soft, nice hint of garlic on the top – everything you would want and/or expect.




Every restaurant and takeaway has their own interpretation of what should comprise a Peshwari Naan, depending I guess on family recipes or where they undertook their Chef training or maybe Chefs' own taste preferences. Personally, I like to have some soft, sweet Sultanas in the middle of the bread, along with a slightly wetter Coconut mix that doesn't just disintegrate when you tear the bread apart. I was a bit disconcerted, when I broke the Naan's surface to see a shocking shade of red at its centre; although it didn't affect the taste of the Coconut shreds, it wasn't the most pleasant of colours. Clearly I was being a bit of a wuss though; His Nibs dived straight in for piece after piece, without thinking it the least bit gory!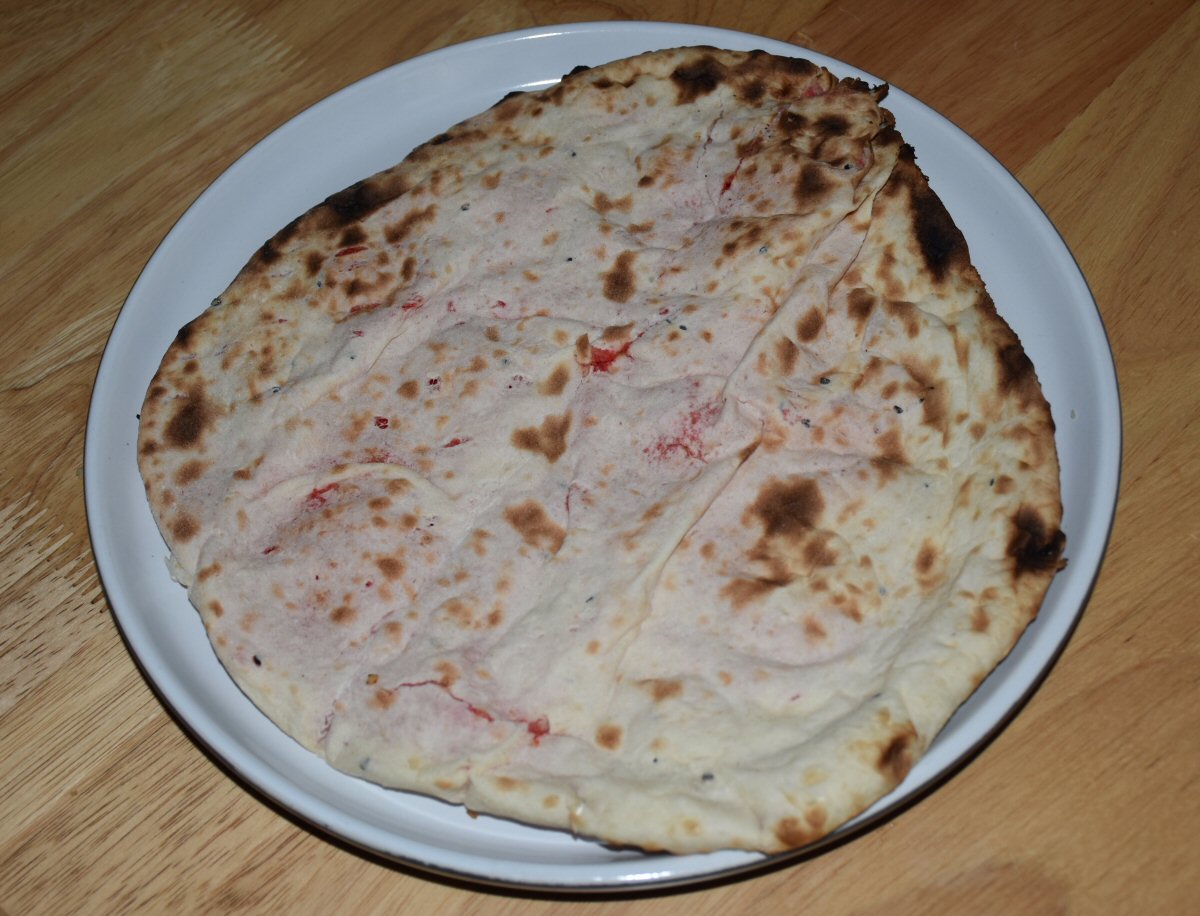 We used the breads to good effect to dib and dab up every last bit of sauce, only resting back contentedly in our chairs when we'd deemed the job done. This had been a jolly fine meal and we were both very grateful to Safir for giving us the opportunity to try Delhi Indian Takeaway's food. Hot Wings given to this superb Eastwood team!
Visit The Delhi Eastwood Web Site
Read Some Of Our Recent Reviews
---

Sunday Lunch Takeaway From The Shepherds Rest, Lower Bagthorpe It's the time of year when the garden grabs your attention and you suddenly realise that there is a whole raft of jobs to do outside; well, you're not alone and The Flock Read The Article

---

Takeaway Afternoon Tea from The Orangery at St Elphin's Park, Darley Dale One of the things I love about the blog is getting to try things out before they really go 'live' out in the big wide world, and on this occasion (Mothers Day Read The Article

---

A Weekend Takeaway from Kathmandu Gurkha, Ripley It's been a busy few weeks for The Man Bird and I, and with the forecast for the weekend being superb, it was going to get even busier. With that in mind, we planned to stuff our Read The Article

---

A Fool-Proof Valentines Dinner from Arthur's In Belper The Man Bird and I have cooked a Steak dinner (or gone out for one) for Valentines Day for as long as I can remember, but thanks to lockdown still going strong there was no chance Read The Article

---

Pick 'em' Mix; Sweets delivered to your Door Everybody likes sweeties don't they; I'm not saying you have to have them every day or anything, but I bet that we can all think of a favourite sweet from our childhoods or adult lives. Read The Article

---

A Valentines Day Breakfast Platter From Crazy Cooks Caterers In Alfreton How do you celebrate the first Valentines Day in #lockdown? With a bought-in breakfast of course. But not just any old brekkie; this was a revved-up platter from Read The Article

---

A Takeaway Sunday Lunch From The Schoolhouse, South Normanton Mummy Bird declared that she was having a week off from doing Sunday Lunch for the flock (a very well deserved rest, may I add) and thought Read The Article

---

Takeaway Burgers And Kebabs From Starr Cottage Kitchen @ The Belper Tap Sometimes, when a day has been a particularly good one (and lets face it, there ain't many of those in lockdown 3.0!), you just need to celebrate with a burger Read The Article

---

Pie Night Takeaway from The Three Horseshoes In Clay Cross I'm never the most motivated person when it comes to cooking, I'll freely admit; but the combination of cold weather and dark nights leaves me even less enthusiastic Read The Article

---