Some Tasty Ready Meals From Louby's Bakeaway
---
Published On Sunday 6 Dec 2020 by Sticky Beak
See Recent Take Away Reviews | See All Recent Reviews


I'd got it in my head all week that we were having takeaway for dinner on Friday night, and BoJo's announcement that Derbyshire was going into tier 3 only served to reinforce that assertion. This latest announcement left me feeling really deflated, though I don't know why; the previous announcements had got me in the 'well, it's gotta be done' mindset and I just cracked on, but this time around it really got to me. When I get in this sort of funk, I never know what I fancy to eat, so I put the feelers out on the FB page for suggestions and as usual, you lot came up with some corkers – thank you.
Bizarrely (or not, if you believe in fate) it was an unrelated post on Facebook that caught my eye, from a certain lady called Louise (of Louby's in Alfreton and Louby's Bakeaway online) saying that she'd got some spares of meals she'd made and did anyone want them. In particular, it was the Beef in Red Wine with Dauphinoise Potatoes (one of that weeks' specials) that got my mouth watering, so I contacted her to reserve those... along with a Beef Crumble for two and a Beef Lasagne for two.... oh, and a couple of slices of her legendary cheesecake for afters.

We rocked up outside her home in the trusty jalopy and were greeted with that wide smile that everyone locally knows Louise for. A couple of hefty bags contained all the food, along with detailed reheating instructions (Lou is very thorough); one had the precious cheesecakes in, and I took charge of that! The whole lot came to just under £30, so nice and budget friendly too.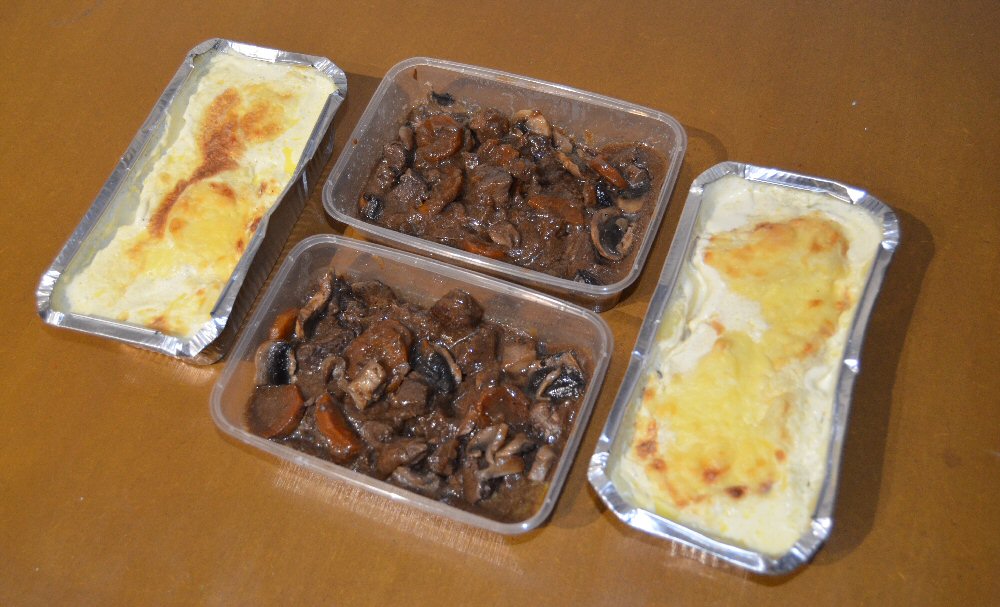 Back at Beak H.Q, The Man Bird and I set to with putting the oven on and getting everything ready, as well as having a cheeky pre-dinner G&T - we had the last of our 'Eleventh Hour' gin from Derbyshire Distillery that we bought to support the Royal British Legion's Poppy appeal. It wasn't long before the delicious aromas of Louby's creations were filling my kitchen and His Nibs was pacing the room with eager anticipation.

As we dished up we could see that the portions are very generous; Lou is a mum and wife and as such is a 'feeder', something she proudly admits to! The amply-sized pieces of Beef were uber-tender and just melted on the tongue; the cutlery didn't have to do anything strenuous as the meat yielded easily to its touch. Likewise, the vegetables were nice and chunky and hadn't gone soggy, so there was a bit of resistance to the bite that let you know you'd got something in your mouth. What can I say about the sauce though? Just bloody delicious: that sums it up nicely. The sauce had a lovely tinge of red wine taste to it and was gorgeously thick so that it coated the meat and veg and didn't just drip off our forks as we lifted them to our mouths.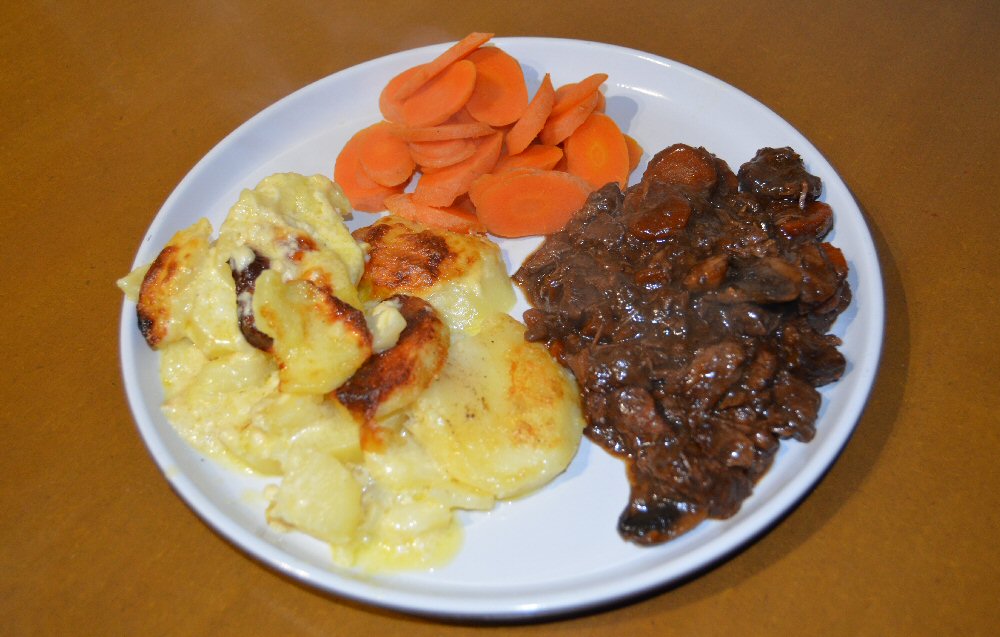 It's something of a tradition that The Man Bird makes his personal recipe Dauphinoise Potatoes for us on Boxing Day to go with the Fillet Steaks we have (from Percy Dawes butchers in Alfreton, in case you're wondering) and we've yet to taste one that we love as much as his. However, Louby has managed to do what we thought was impossible, and it's not me that said it; His Nibs turned to me and stated that this was as good as his and that he might just order in for Boxing Day rather than faff about. You don't get much better praise than that, Lou!! These Potatoes were a bit 'wetter' than a lot of restaurants serve them and were more in keeping with how we do them at home. We also wang in more Garlic (!), but saying that, there was a nice hint of this at the periphery of my palate; I suppose this version will have more commercial appeal, and at the end of the day that's the name of the (Louby's Bakeaway) game.

Our tummies were fit to burst after this yumminess, so we held off having the Cheesecakes for a while and had them more at supper time than dinner time, as we'd originally planned. As with the savoury meals she produces, Louise doesn't skimp on portion size with her Cheesecakes either!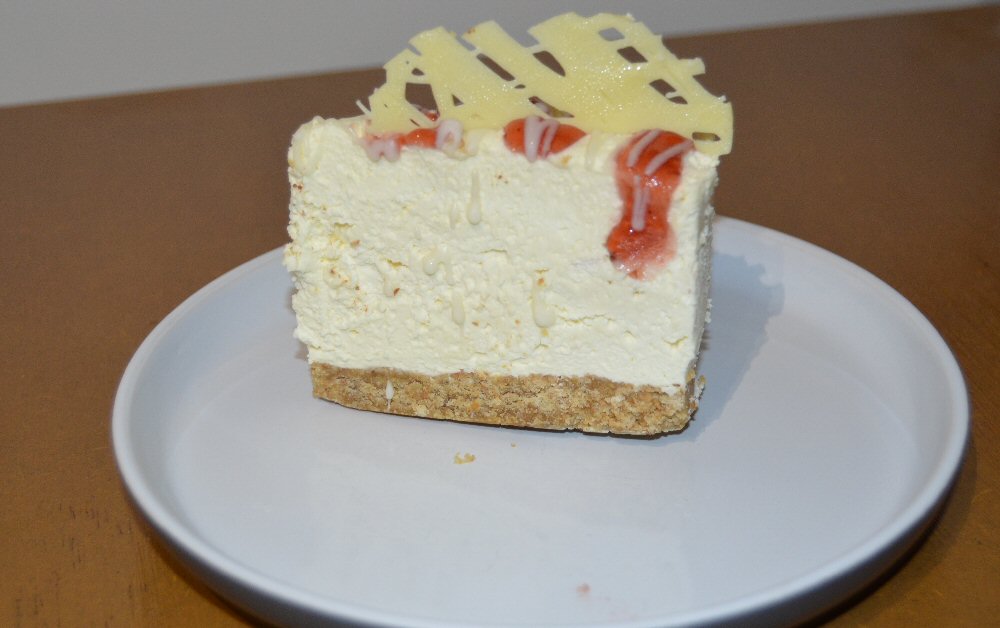 There are more varieties of cheesecake than you can shake a stick at in Louby's kitchen, but I settled on the Cherry Bakewell and His Nibs had the Ginger, Rhubarb and Raspberry one, which shocked me given his chocoholic nature! Both bases were nicely firm; not so firm as to break your fork when you cut into it, but not crumbly enough to just disintegrate either. The Man Birds' base had a fab Ginger warmth to it, whereas mine was your classic type. On top of the base was a luxuriously deep layer of cheesecake that, despite its richness, was beautifully light in texture; mine was gorgeously Almondy (with flakes of crunchy Almond in it), His Nibs' had a great Rhubarb tang to it. Crowning the creamy layer were jewel coloured gels: zingy Raspberry on The Mans offering, mellow Cherry on mine. We both agreed that there was just the perfect amount of bouncy fruit notes to compliment the indulgent creamy notes of the cheesecake's body. Utterly glorious.

A couple of nights later His Nibs and I had the Beef Crumble for dinner; it was nattily packaged in a foil tray, so all I had to do was chuck it in the oven and crack on with preparing the accompanying veggies. I decided to serve it with Sweet Potato and Carrot mash, Petit Pois (we're not posh, it was a pack I'd found in the back of the freezer that I was defrosting, so god knows how old they were!) and some Green Beans (also found in the back of the freezer!). The veggies were all as you'd expect – even I can't cock up cooking frozen things, and mashing potatoes and carrots is hardly difficult, is it?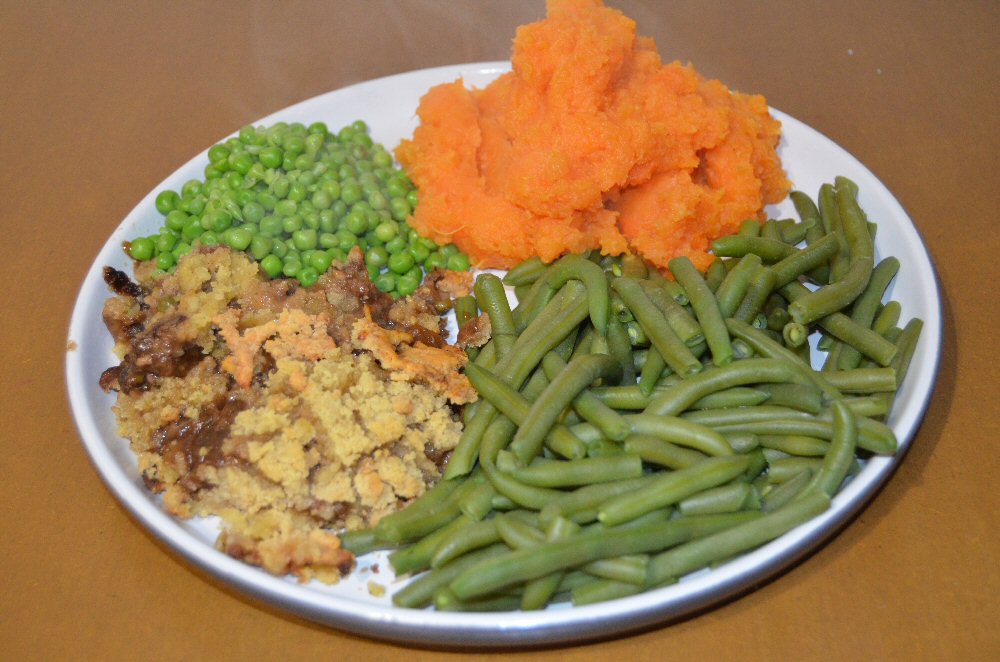 Louby's Beef Crumble though was absolutely flipping delish!! Our taste buds were swooning in happiness at the depth of flavour the 'body' of this dish had; it was lovely and meaty with a hearty flavour that satisfied the soul on a cold winter evening. Topping it was a savoury pastry crumble that just melted on the tongue, and a cheeky layer of melted cheese crowned it all and added a lovely pop of colour before it got served up. I'd loaded up our plates because, let's face it, an empty plate looks awful in a photograph; however, we ended up giving a lot of the veggies to the hound as Louby's crumble was so filling!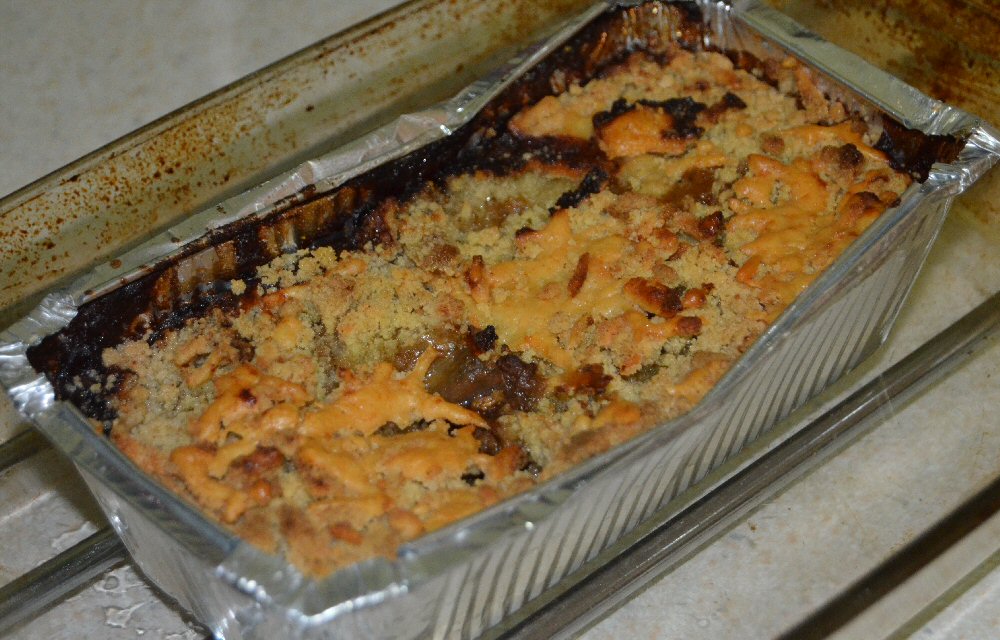 Given how mouth-wateringly good the previous two meals had been, we didn't wait too long before having the lasagne for dinner one night. Both The Man Bird and I like a good Lasagne, and by that I mean one that has a decent amount of meat in it, not just the pasta. Louise clearly feels the same as her Lasagne for two was packed with a rich, tomato sauce-pimped beef ragu, and we both eagerly tucked in. The sauce itself had a gorgeous intrinsic flavour, but the addition of the meat brought an extra depth to it that was utterly superb. There was a nice amount of béchamel sauce layered in too, and the lasagne sheets were nice and tender when bitten into – nothing worse than undercooked, tough pasta (apart from soggy, over-cooked pasta – that's just as bad!). We just served this magnificent morsel with humble oven chips, green beans (for me) and petit pois for His Nibs as they're about the only green vegetable he'll eat, fussy bugger! Again, our tummies were full to busting; there's certainly no doubt that you get value for money from Louise.


Individual slices of Cheesecake are £3, or 2-4-£5.50, 4-4-£10, or variety ones for £20, which are 10 portions. I'm just going to put this out there: Lou does cheesecakes to order for any occasion; it's perhaps too late to order for Christmas , but birthdays, anniversaries, Valentine's day are all good excuses to indulge (not that I need an excuse lol!).

The specials change on a weekly basis, but Louise does a range of classics for her main meals on her Bakeaway page: for example there's a Steak Pie, Beef Lasagne, Quiches and Sausage Rolls to choose from, and there's Scones, Fruit Crumbles and Pies and Cornflake Tart (be still my beating heart!) amongst other things in the sweet section, if you don't fancy cheesecake.

Orders for each week need to be in on Wednesdays for collection on Thursday or Friday from either Louby's Cafe in Alfreton Noon-2pm or from Lou's home between either 9-11am or after 4pm. You can ring up to order on 01773 832375 or go to Facebook @ Louby's Bakeaway, or email louiseprus@gmail.com.

Hot Wings happily given to this lovely lady.