A Valentines Day Breakfast Platter From Crazy Cooks Caterers In Alfreton
---
Published On Sunday 21 Feb 2021 by Sticky Beak
See Recent Take Away Reviews | See All Recent Reviews


How do you celebrate the first Valentine's Day in #lockdown? With a bought-in breakfast of course. But not just any old brekkie; this was a revved-up platter from Crazy Cooks Caterers in Alfreton - and even a seasoned glutton like me was astonished at the sheer amount of food there was! Priced at £15 for two people, this gargantuan feast had to be housed in two cardboard boxes (a bit akin to pizza boxes, but posher) that were lined with paper.
Inside was a smorgasbord of temptation: halved Pink Grapefruit, slices of fresh Orange, and fluted-edged halved Kiwi fruits made up the fresh fruit element of the breakfast platter, then there were milk- and white- chocolate dipped Croissants, Pains-aux-Chocolats, Ham and Cheese filled Croissants, Vanilla custard Danish pastries and Cheese scones to dig into! Bear with me folks, I need to draw a big breath here before I list all the other stuff (yes, there's more – a lot more!); there were chewy breakfast bars, tubs of granola, tubs of thick natural Greek Yoghurt, Blueberries, Chocolate dipped whole Strawberries, cartons of fresh OJ, sachets of coffee and even Teabags. Bear in mind that this is just one of the two boxes!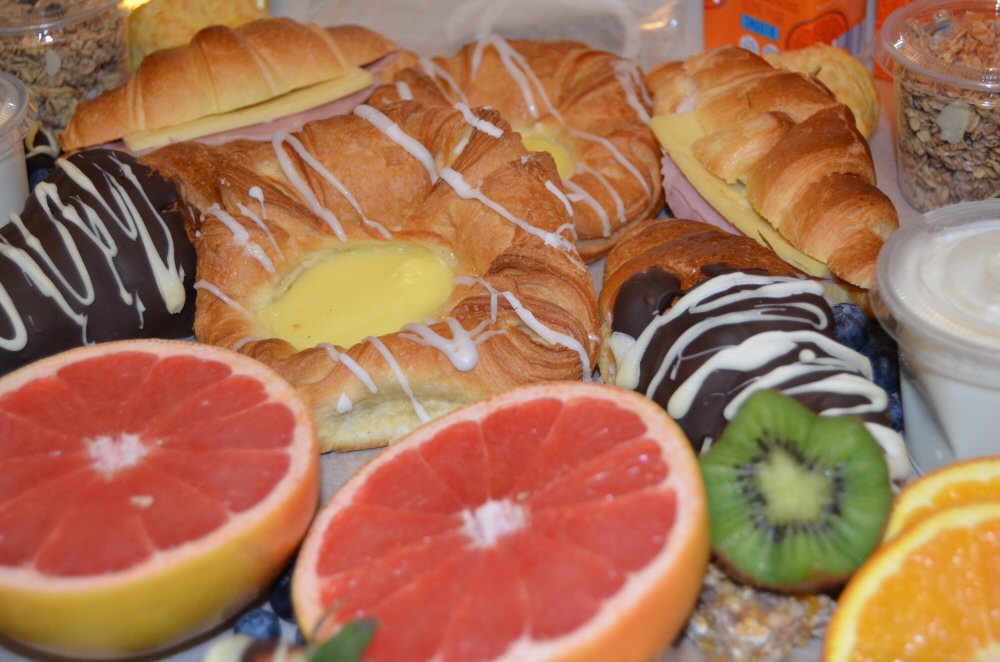 In the second box, described as a mini dipping platter there were two sauces – Chocolate Orange and White Chocolate – and Marshmallow tubes (aka Flumps, to those of us of a certain age),Pretzels, Satsuma segments, Shortbread fingers, Breadsticks, Watermelon wedges, Popcorn, and Crepe wedges to dunk into them. Now you all know what complete gluttons His Nibs and I are, but even we knew that we weren't going to be able to manage all of this yumminess in one sitting so we made the executive decision to put the choc-dipped Strawberries and the dipping platter box away to scoff in the evening. Spread the joy, and all that jazz!

The Man Bird is renowned for being a salad dodger and he isn't famous for being adventurous when it comes to fruit either, so I was pretty gob-smacked when he tried the Pink Grapefruit and said how much he liked it. My amazement continued when, after slurping the fresh Orange slices, he tried the Kiwi Fruit (especially given the fact that it's green) and liked that too! Crazy Cooks Caterers, what have you done with my man, and can you keep doing it please?!




With the delicious fresh fruit out of the way and the OJ duly slurped, we turned our gaze to the Chocolate dipped Croissant and what a delight it was. The thickness of the chocolate was very generous and it cracked satisfyingly as we bit into it, revealing a soft, buttery Croissant underneath. Grinning at each other, we reached over and popped the Ham and Cheese Croissant piece-by-piece into our mouths; the ham was proper farmhouse stuff, not that watery plastic imposter and the cheese was tangy enough to stand out on the palate.

We both loved the thick Vanilla custard in the centre of the Danish pastry; it was plentiful and nicely set so it didn't gloop everywhere when you bit into it. The pastry itself was nice and soft and more savoury than shop-bought versions, which meant that the sweet icing shone more in the mouth. Next up was the chewy breakfast bar, continuing the chocolate theme with its abundance of choc chips mingled amongst the cereal grains.




To introduce a little more of a healthy slant to proceedings, we tucked into the individually portioned pots of crunchy Granola and topped it with the indulgently thick Yoghurt and sweet, juicy Blueberries. Everything in balance folks, after all, and surely we were packing in most of our 5-a-day here; bonus points to us. We kept the Cheese scones back to have as a lunch-time nibble, and topped with Brie they were extremely yummy.

Rather than have the 'frothy coffee' sachets that came with the breakfast spread we put on our own fresh coffee, as we do like to have more than one cup in the morning. His Nibs doesn't drink Tea (weirdo) so I saved the pair of bags for later in the day and they made a gorgeous brew mid-afto.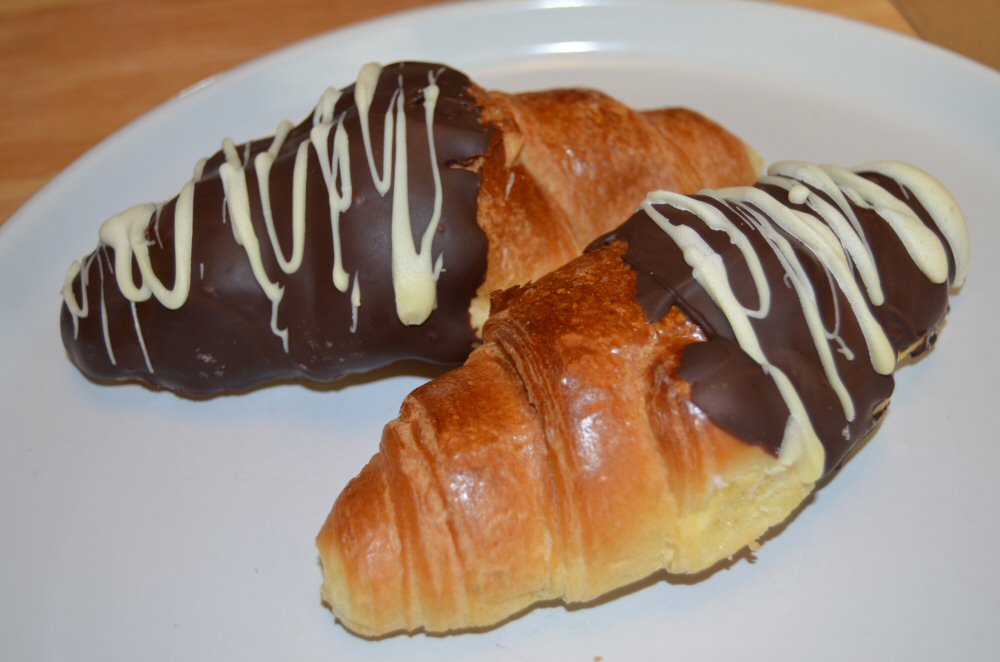 That evening we filled our faces with the dipping box contents and it was a superb assortment; there were soft and crunchy, sweet and savoury, and juicy and dry elements to dip into the ridiculously good, indulgent sauces. Honestly, I can't recommend this enough – if you want a fancy-pants, purse-friendly treat then you ain't gonna get better than this minx!! Better still, it was delivered to our doorstep (socially distanced of course) with a smile. Hot Wings unreservedly awarded here - and if I could justify having it every week, I bloody well would ('scuse the language, but I would – with bells on!).

To order your feast (and all the other fabulous stuff this team do) simply go to their FB page and message them – easy peasy, scrumptious breakfast, brunch or whenever squeezy.
Visit Crazy Cooks Caterers On Facebook