Pick 'em' Mix; Sweets delivered to your Door
---
Published On Thursday 25 Feb 2021 by Sticky Beak
See Recent Take Away Reviews | See All Recent Reviews


Everybody likes sweeties don't they; I'm not saying you have to have them every day or anything, but I bet that we can all think of a favourite sweet from our childhoods or adult lives. There hasn't been much good during the pandemic, but I have personally been loving the delivery services that have sprung up. Family meals, afternoon teas, gourmet breakfasts have all been on my radar to take advantage of, but imagine my delight when I was approached and asked if I'd like some sweets delivered to Beak H.Q. Heck yes, I would!
Pick 'em' Mix is a fledgling local business just over the border from us in Nottinghamshire (about 7 miles away from The Nest actually!) and they do a range of sweets to suit all budgets and tastes. Emily dropped our paper bag of yumminess off to us on Sunday afternoon, just in time for His Nibs and I to settle down and watch 'Ice Age: Collision Course' on TV; we love these films and in the absence of going to the cinema and having goodies, Pick 'em' Mix provided us with the at-home equivalent!

Delving into the paper bag, the first treat to drop into our soon-to-be-sticky mitts was the pair of Mega Rainbow Dust sherbet straws. I quickly snipped the tip off the plastic tube and tipped it up to my mouth; in a matter of moments my tongue was ablaze with that super duper sour tang from teeny tiny sherbet crystals dissolving on it. Flashes of a happy childhood came flooding back and I grinned from ear-to-ear.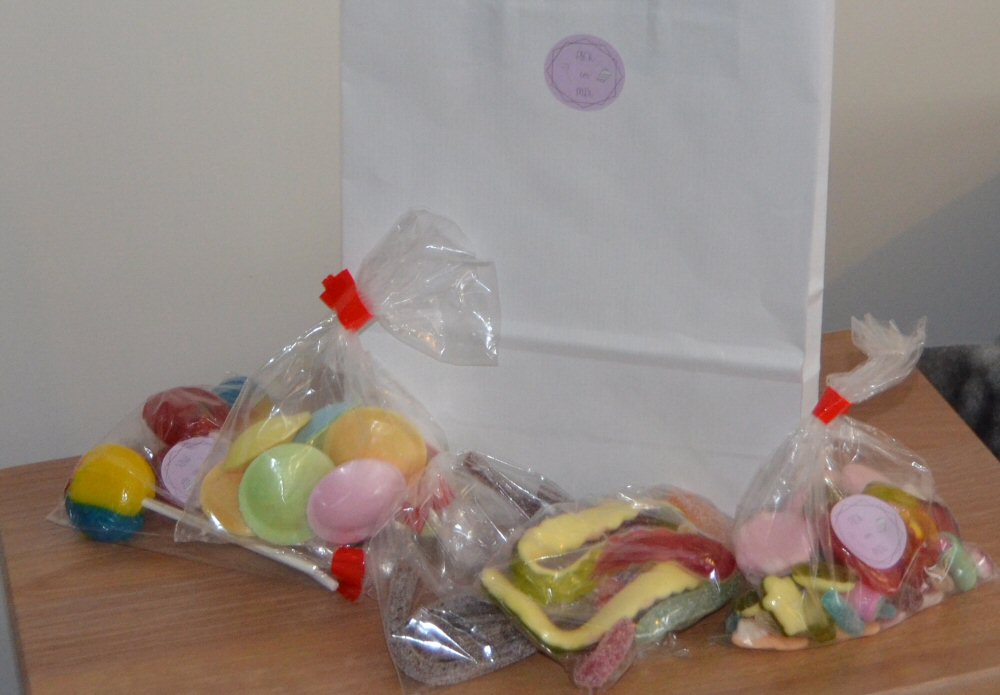 Eager to prolong that face-scrunching ecstasy, I opened the bag of Flying Saucers. Now, unless you were on a completely different planet in the 1970s and '80s you will remember these classics with happiness. The rice paper outer still has that unique stickiness as its melts on the tongue before disappearing and releasing the sherbets incredibly intense buzz from its confines.

Fizzy Cola laces soon disappeared into our greedy mouths and I was glad to taste that they were good quality ones that don't leave that (slightly concerning) sour tang afterwards in the mouth. One of the highlights of our random Pick 'em' Mix bag was the rainbow coloured giant lollipop; one side was plain yellow, the other was red, yellow and blue. Are you thinking what I was thinking? Yep, it turns your tongue a fantastic cerulean shade – get iiiiiiiiiiiiiiiin!! Tasted pretty good too; pineapple if you're wondering.
The one thing I can never resist is those giant jelly snakes, or as I like to call them, '12" of total satisfaction' (steady on, chaps!). These bad lads have a persistent chewability to them that gives the jaw a thorough workout – even more so than that marathon chat with the bestie you haven't spoken to for months! Pick 'em' Mix had included a couple of those for The Man Bird and me to chomp on, as well as a couple of smaller fizzy snakes.

Our final packet of sweet scrumminess was, literally, a mixed bag containing fruity foam favourites and gummy delights. Swiftly down went the giant Strawberry and Cherry, followed by the jelly rings, foam teeth and mini fizzy cola bottles. This really had been a superb mix of sweets and there was plenty to last throughout the entire film.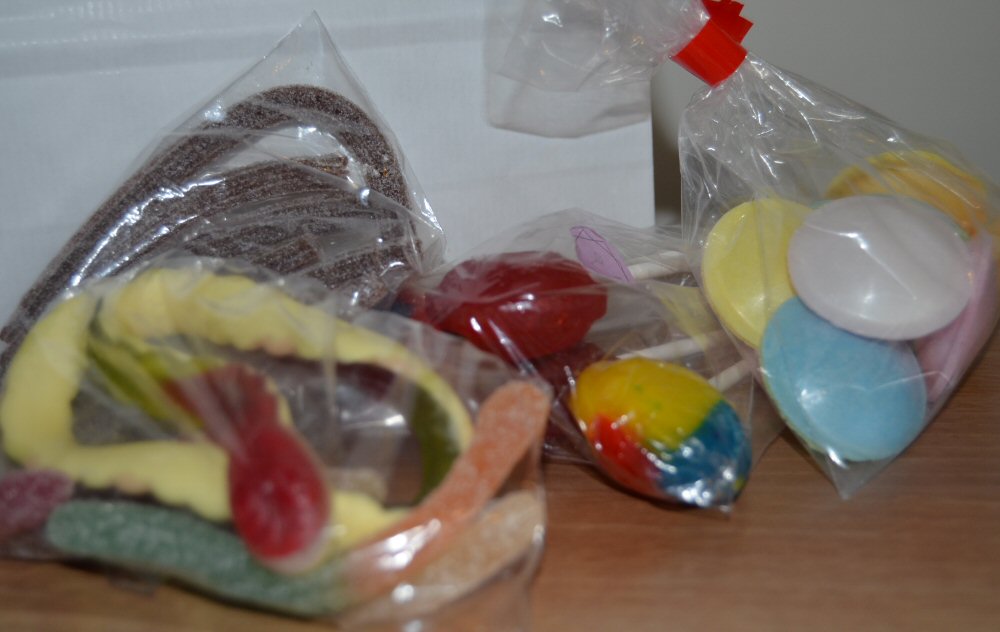 If you fancy giving Pick 'em' Mix a try, you won't be disappointed. You can dip your taste buds in to this sweet paradise for just £2 or go (1kg) large if that's more your bag – excuse the pun! You can choose to have a single choice of your fave confection or go with a bit-of-everything mix made by Emily's imagination of in-stock sweeties. Pick 'em' Mix's signature mix is available in 200g, 500g, 750g or 1kg sizes as standard, but you can go even bigger if it's for an occasion. Talking of occasions, they also offer bespoke sweet packages to suit individual requirements with a measly £5 minimum order value.




Delivery charges are as follows: free collection from Kirkby-in –Ashfield, £1 for all NG17 postcodes and £1.50 for South Normanton, Pinxton, Selston, Tibshelf, Alfreton, Somercotes, Riddings, Leabrooks, Swanwick and Ripley. If there's a few of you that live near to each other, why not club together and place an order to one nominated household and split the charge? Remember to observe lockdown protocol though. Usual delivery day will be Sunday each week. If you know friends that live further afield, then Emily also offers a royal mail postal service for her goodies.

Hot Wings happily given here, and the best of luck to you, Emily, in your new venture.

You can find Pick 'em' Mix on Facebook
Read Some Of Our Recent Reviews
---

An Indian Takeaway Delivered By Delhi In Eastwood I sometimes think that the universe is tab-hanging on my conversations, and I will tell you why. A couple of weeks ago The Man and I were out with our good friends Mr and Read The Article

---

Sunday Lunch Takeaway From The Shepherds Rest, Lower Bagthorpe It's the time of year when the garden grabs your attention and you suddenly realise that there is a whole raft of jobs to do outside; well, you're not alone and The Flock Read The Article

---

Takeaway Afternoon Tea from The Orangery at St Elphin's Park, Darley Dale One of the things I love about the blog is getting to try things out before they really go 'live' out in the big wide world, and on this occasion (Mothers Day Read The Article

---

A Weekend Takeaway from Kathmandu Gurkha, Ripley It's been a busy few weeks for The Man Bird and I, and with the forecast for the weekend being superb, it was going to get even busier. With that in mind, we planned to stuff our Read The Article

---

A Fool-Proof Valentines Dinner from Arthur's In Belper The Man Bird and I have cooked a Steak dinner (or gone out for one) for Valentines Day for as long as I can remember, but thanks to lockdown still going strong there was no chance Read The Article

---

A Valentines Day Breakfast Platter From Crazy Cooks Caterers In Alfreton How do you celebrate the first Valentines Day in #lockdown? With a bought-in breakfast of course. But not just any old brekkie; this was a revved-up platter from Read The Article

---

A Takeaway Sunday Lunch From The Schoolhouse, South Normanton Mummy Bird declared that she was having a week off from doing Sunday Lunch for the flock (a very well deserved rest, may I add) and thought Read The Article

---

Takeaway Burgers And Kebabs From Starr Cottage Kitchen @ The Belper Tap Sometimes, when a day has been a particularly good one (and lets face it, there ain't many of those in lockdown 3.0!), you just need to celebrate with a burger Read The Article

---

Pie Night Takeaway from The Three Horseshoes In Clay Cross I'm never the most motivated person when it comes to cooking, I'll freely admit; but the combination of cold weather and dark nights leaves me even less enthusiastic Read The Article

---