A Fool-Proof Valentines Dinner from Arthur's In Belper
---
Published On Tuesday 2 Mar 2021 by Sticky Beak
See Recent Take Away Reviews | See All Recent Reviews


The Man Bird and I have cooked a Steak dinner (or gone out for one) for Valentines Day for as long as I can remember, but thanks to lockdown still going strong there was no chance at all of dining out, so we scouted around for a local business that was doing a collection or delivery option for this celebration meal. We went to Arthur's in Belper on its opening night and have been on another couple of occasions and always enjoyed the food, so when we spied their offering for a meal for two for £45 we thought "why not?".
Everything was packaged up carefully and the reheating instructions were online for you to either read or print off. His Nibs went off to collect our food and came back laden with two large paper bags that were loaded with lots of tubs, trays and containers. A thorough examination of the contents list revealed that we were missing the house salted butter and the house mustard, both required in the starter courses. No need to panic; I just cut some sticks of butter from the pat in the dish and ground some salt over them (hey presto, salted butter!), and there was a jar of wholegrain Mustard in the cupboard so that got cracked open. It may not be quite what Leo intended for his customers but you can either moan or get on with it, can't you? We chose to just crack on.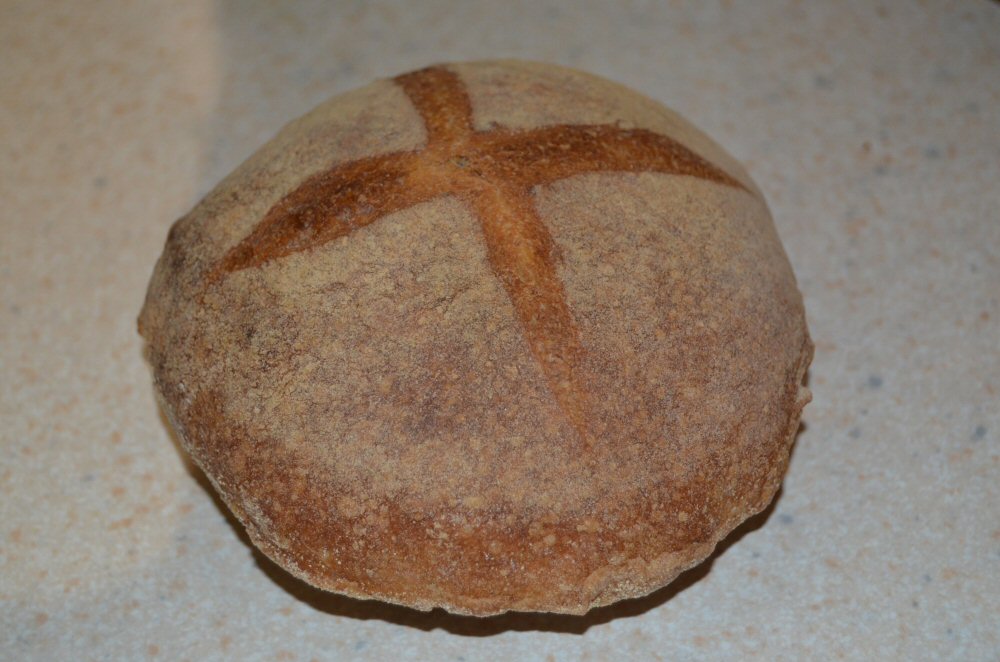 Whilst the Crich Sourdough loaf was baking in the oven, I chucked the Caramelised Onion Veloute in a pan to reheat it gently and The Man Bird began to arrange the pressed Confit Chicken thigh Terrine, Elderflower pickled Sweet Onion Petals and stand-in Beak H.Q. Mustard on a plate. It wasn't long before we were ready to plate up and, as we did so, the smoked, braised Short Rib of Derbyshire Beef (with sauce Bordelaise poured over it), bone marrow mash and bruleed Onion got wanged in the oven to cook whilst we tucked in.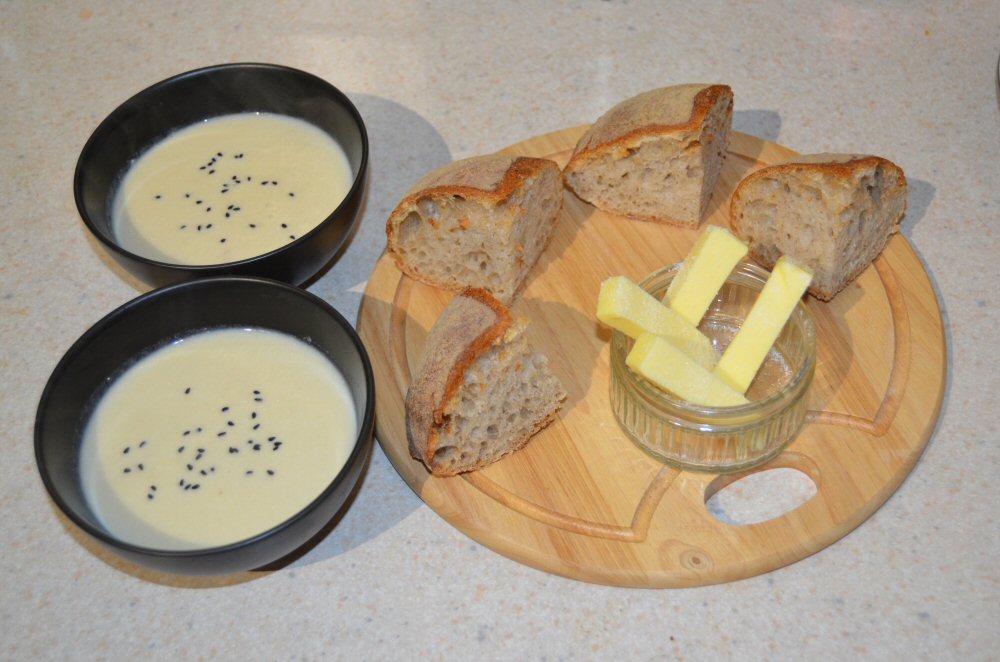 I poshed up the soups (sorry, veloute)presentation with a sprinkle of Black Onion seeds and cut the bread into quarters, before taking it through to the dining room. We both really liked the veloute; it was nice and creamy with a texture that lingered in the mouth, and the flavour of the onion was gorgeously rounded and soft. Not soft at all was the thick crust that any self-respecting sourdough loaf should have, and this crunched loudly as we bit through it into the softer innards of the bread. I have to say that the salted butter was amazeballs (!). Oh come on, you have to get credit where you can get it.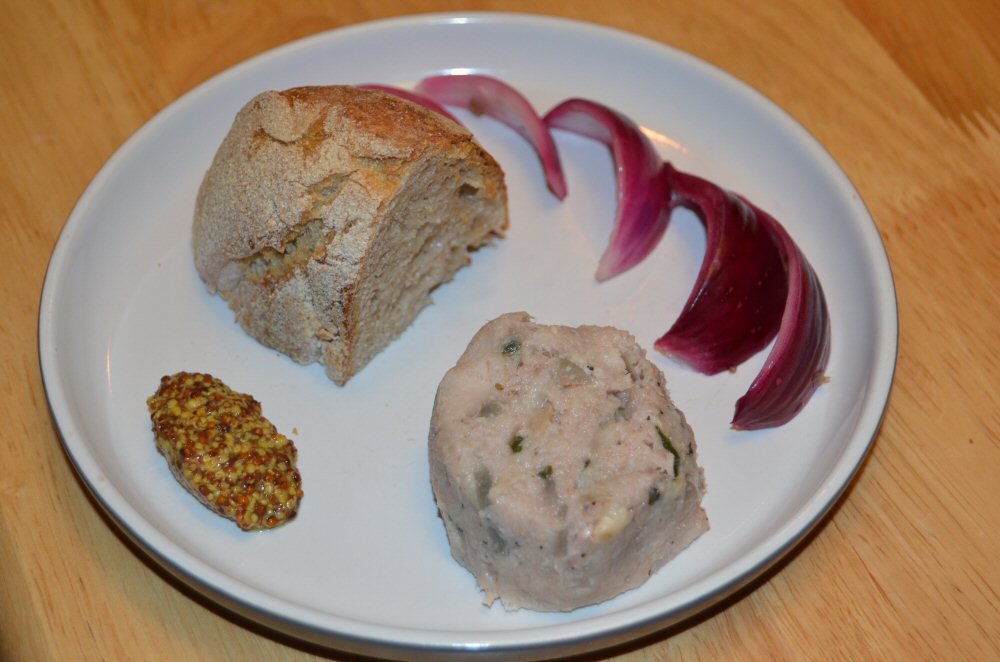 The terrine was superbly moist and excellently seasoned, herbed gorgeously and with plenty of Chicken to savour. It was delicious in every sense of the word and with it being lovely and light on the tummy, meant that we still felt ready to tuck into the main course. Both of us scrunched our faces up in pleasure as that scrummy sour tang from the pickled onion hit our palates, followed swiftly by a wonderful floral note from the Elderflower that really was exquisite. Again, the hastily substituted Mustard was on-point #justsaying !




We cleared up the starter plates and cutlery and took the mains out of the oven, assembling the elements between us. Other than just pouring the sauce on the plate willy-nilly (rather than in arty drops), I don't think we did too bad a job of plating up and we praised each other on our skills as we took them to the table. His Nibs cracked open a rather cheeky red from Chateau Neuf-du-Pape (I think he was hoping to get lucky later on!) and we toasted another Valentines together.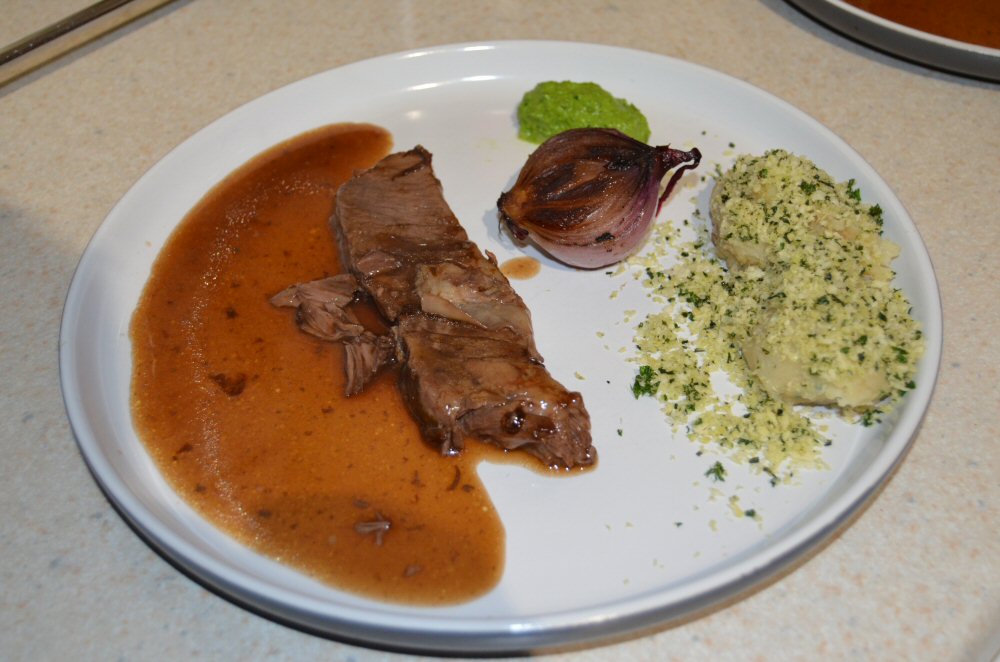 Oh my days, the Beef Short Rib was fabulous! When I first looked at it I thought "well, I'm only going to get a couple of mouthfuls there!", but it was very filling I have to say. I loved the softness of the Beef; it just fell apart with no pressure at all from our knives, and we both remarked on the intensity of its flavour and the way it melted on the tongue. The halves of bruleed Onion had a softness to them (not soggy, just soft) that gave them a bit of 'comfort factor' you wouldn't normally attribute to this particular vegetable, and the taste was pleasingly sweet-but-smoky.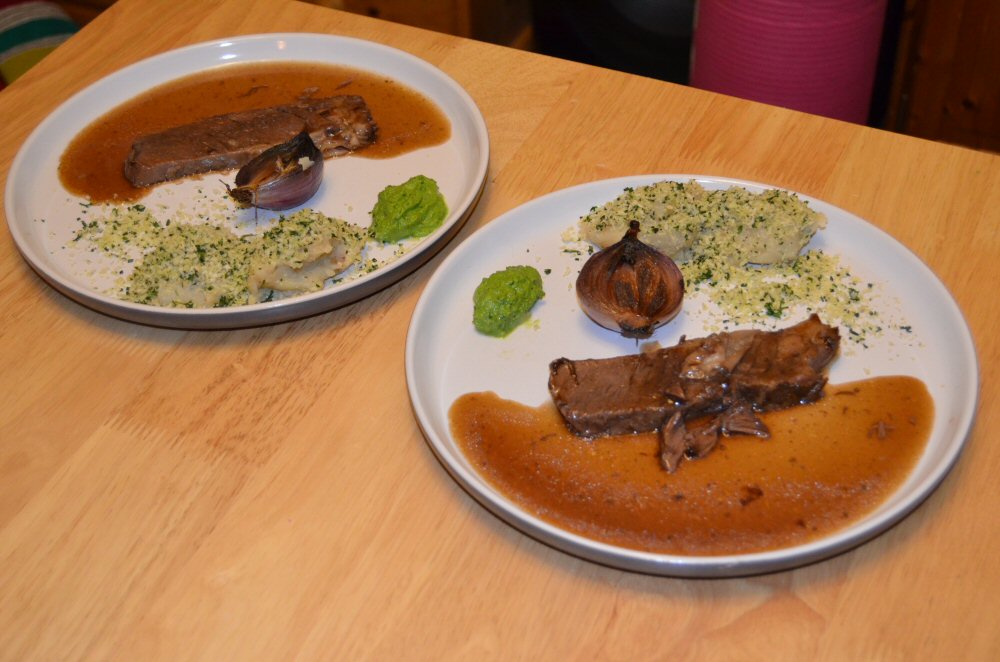 We both liked the sauce Bordelaise because it wasn't a thick sauce and neither was it too rich or heavy, instead it had a robustness of taste that was clean and clear in the mouth. Leo had thought about what he wanted to achieve with his main course and married the bone marrow and onion theme nicely, threading it through the meal via the pimped-up mash, the accompaniment and the sauce. Bravo, Chef, bravo! To introduce some texture there was a fresh herb, truffle and sourdough crumb to top the mash, and crisper tastes came courtesy of the zippy Gremolata that we spooned on the side of the plate to dip into as the whim took us. No surprise that both plates were left squeaky clean - although I didn't care as I wasn't washing up afterwards!

Having quaffed the entire bottle of red wine at this point in the proceedings (!), we threw caution to the wind and had a bottle of fizz with the dessert course: a ridiculously indulgent Bazillionaires Chocolate Tart. Ah yes, the tart; think of the most intensely luxurious dessert you've ever had and multiply it by 100 – then you're somewhere in the ball-park of how rich and enjoyable this morsel was!




The buttery (but not annoyingly crumbly) pastry case held a stunning chocolate ganache next to it that was topped with divinely thick Caramel; I hate thin, miserable Caramels that run off the spoon (I've besmirched many pristine blouses this way), but this one clung greedily to our dessert spoons. Hurrah! Topping it all was a wickedly decadent set -but not rock-hard – chocolate layer whose richness was off-set by flakes of sea salt. It's no exaggeration to say that our taste buds thought they'd died and gone to gastro heaven.




A pot of fresh coffee was brewing and so all that remained was to retire to the lounge room and slowly savour the cubes of smoked Fudge that had been provided as part of the meal. This had been a superb evening; maybe not the one that we're used to – after all we'd all usually be dining out - but if lockdown thought it was going to dampen our spirits then it was sadly mistaken!

Thank you to Leo, Amelia and the Arthur's team for providing us with such a wonderful meal. Hot Wings awarded here, more than happily. Oh, and we will make it to one of your burger nights – it's on our list of things to do, especially as we missed out on the pizza nights you did prior to Christmas!

Remember to keep supporting local businesses folks, if you don't, you may well lose them; they desperately need all their customers and community to keep buying their wares!

Visit Arthur's On Facebook | Visit Arthur's Web Site
Read Some Of Our Recent Reviews
---

An Indian Takeaway Delivered By Delhi In Eastwood I sometimes think that the universe is tab-hanging on my conversations, and I will tell you why. A couple of weeks ago The Man and I were out with our good friends Mr and Read The Article

---

Sunday Lunch Takeaway From The Shepherds Rest, Lower Bagthorpe It's the time of year when the garden grabs your attention and you suddenly realise that there is a whole raft of jobs to do outside; well, you're not alone and The Flock Read The Article

---

Takeaway Afternoon Tea from The Orangery at St Elphin's Park, Darley Dale One of the things I love about the blog is getting to try things out before they really go 'live' out in the big wide world, and on this occasion (Mothers Day Read The Article

---

A Weekend Takeaway from Kathmandu Gurkha, Ripley It's been a busy few weeks for The Man Bird and I, and with the forecast for the weekend being superb, it was going to get even busier. With that in mind, we planned to stuff our Read The Article

---

Pick 'em' Mix; Sweets delivered to your Door Everybody likes sweeties don't they; I'm not saying you have to have them every day or anything, but I bet that we can all think of a favourite sweet from our childhoods or adult lives. Read The Article

---

A Valentines Day Breakfast Platter From Crazy Cooks Caterers In Alfreton How do you celebrate the first Valentines Day in #lockdown? With a bought-in breakfast of course. But not just any old brekkie; this was a revved-up platter from Read The Article

---

A Takeaway Sunday Lunch From The Schoolhouse, South Normanton Mummy Bird declared that she was having a week off from doing Sunday Lunch for the flock (a very well deserved rest, may I add) and thought Read The Article

---

Takeaway Burgers And Kebabs From Starr Cottage Kitchen @ The Belper Tap Sometimes, when a day has been a particularly good one (and lets face it, there ain't many of those in lockdown 3.0!), you just need to celebrate with a burger Read The Article

---

Pie Night Takeaway from The Three Horseshoes In Clay Cross I'm never the most motivated person when it comes to cooking, I'll freely admit; but the combination of cold weather and dark nights leaves me even less enthusiastic Read The Article

---