A Lockdown Takeaway From Lotus Indian Kitchen At Mercia Marina, Willington
---
Published On Sunday 17 Jan 2021 by Sticky Beak
See Recent Take Away Reviews | See All Recent Reviews


Well folks, I have to say that lockdown 3.0 feels a bit like Groundhog day here at Beak H.Q. – and I'm sure we're not alone feeling like this! Luckily there are a lot of fantastic restaurateurs out there who, along with their teams, are breaking their backs to try and keep some sort of normality going for us all by offering their cuisine in a collect or delivery capacity. One such venue is the lovely Lotus Indian Kitchen at Derby's Mercia Marina near Willington.
The Man Bird and I have dined a couple of times at this beautiful restaurant, taking in the gorgeous view of sunset at the marina, and we can't wait until restrictions are lifted so that we can once again enjoy the hospitality of Sunny and his team. Until then though, we are grateful that Lotus Indian Kitchen is offering some of their dishes for eating at home!
Obviously nothing is going to compare with eating the dishes as soon as Chef plates them up on the pass, but I have to say that they did travel very well –especially given that we live just over 20 miles from the venue! I had got the oven on pre-heating, ready to keep the main courses nice and hot whilst we dug in to the starters: Delhi 6 Chicken, Lamb Chops, Palak and Kale Pakora Chat and the Chicken Tikka variety of Roomali Roll (prices vary between £6.50 and £8).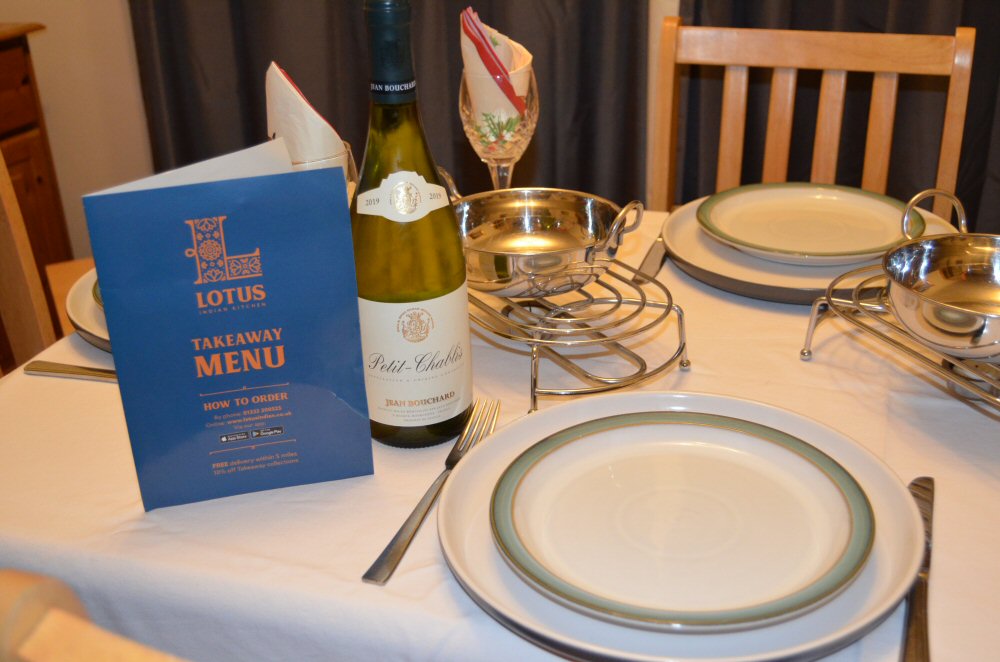 Mummy Bird came over to join us (we're her support bubble), so Fledge helped her to portion up whilst I poured the drinks and His Nibs took the photos. Last time we dined in at Lotus Indian Kitchen I absolutely loved the Chargrilled Lamb Chops, so that was the first thing I got my eager little mitts on. They were every bit as good as I remembered: large, meaty numbers with plenty to get stuck into, and each one was beautifully tender to the bite. The Lamb's natural flavour was enhanced by the skilful use of spices, mustard's heat and the sweet notes of honey that had all been used to marinate them prior to being grilled.




The Man Bird had been equally smitten by the tangy charms of the Delhi 6 Chicken: juicy pieces of chicken breast meat pimped by half a dozen spices, fried and coated in a sticky sweet chilli sauce and decorated with Sesame seeds. This dish is a classic street food from Old Delhi, and it's easy to see why it's so popular. Mummy Bird tried some and was pleasantly surprised by how much she liked it! It was the gorgeously crunchy Pakora Chat that got her vote as favourite though; the Kale and Spinach fritters were superbly light in the mouth and not at all greasy. Fresh Pomegranate seeds not only added a beautiful pop of jewel colour to this dish, they also added a wicked tartness on the tongue that was clean, crisp and refreshing.




Fledge loved the finger food friendliness of the Chicken Tikka Roomali Roll; I suppose you could say that this is the Indian version of a Mexican Tortilla wrap with its crunchy fresh salad and meat contents all snugly contained in a fresh Roti. In the mouth this was a total treasure of a starter: it was filling, flavoursome and had taste and texture galore, and a quick dollop of sweet yoghurt or Tamarind dip just added to its allure. Vegetarians can enjoy this minx in its Paneer (cheese) incarnation and if carnivores prefer, they can have Seekh Kebab instead of Chicken. As a flock, we appreciated the extra bit of effort that had gone into putting each dip into small, separate pots.




So, with the starters all polished off, it was time to retrieve the main courses from their toasty oven confines and pop them into crockery to take to the table. Unsurprisingly, it's a case of putting everything out on the table and letting folk help themselves to whatever they fancy trying. We favour this way of dining as we strive to try and minimise the damage caused by our plague of locusts/rugby scrum tactics at the table!!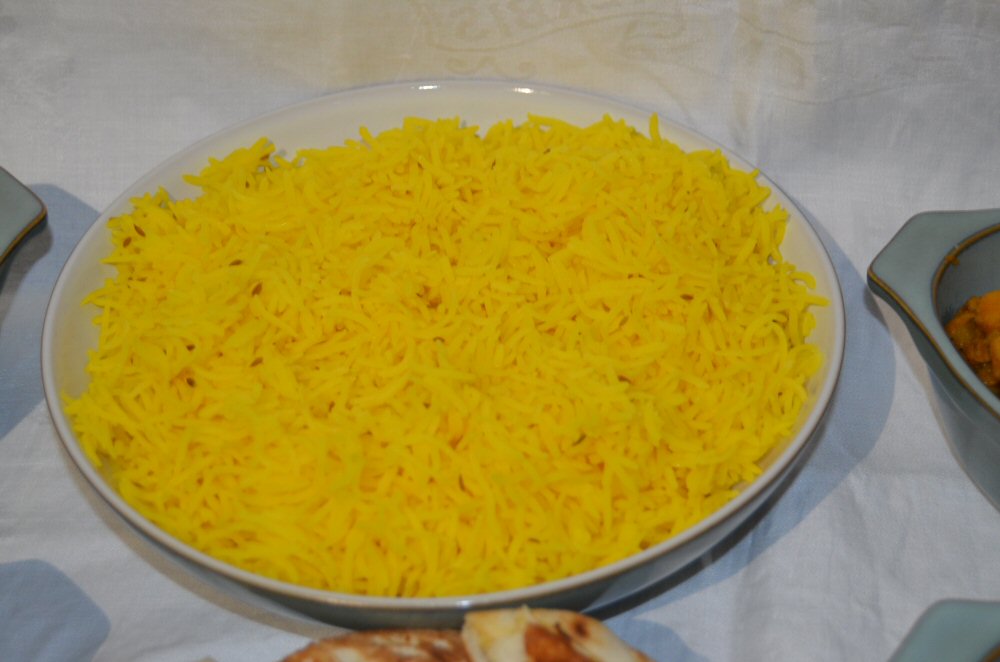 I dished up large spoonfuls of the sunshine hued Pilau Rice, smiling to myself as I inhaled the intoxicating aroma that came from it. Within the abundance of fluffy rice grains were small spice seeds, and it was these that were emitting the mouth-watering smell; when bitten into they provided an intense hit of taste as well as providing a bit of crunch. A good fluffy rice dish always enhances any meal, I think; it sits unassuming and quiet on the sideline, and you don't really pay it much attention until it's not there..... then the meal seems to lack 'something' and you wish it was there.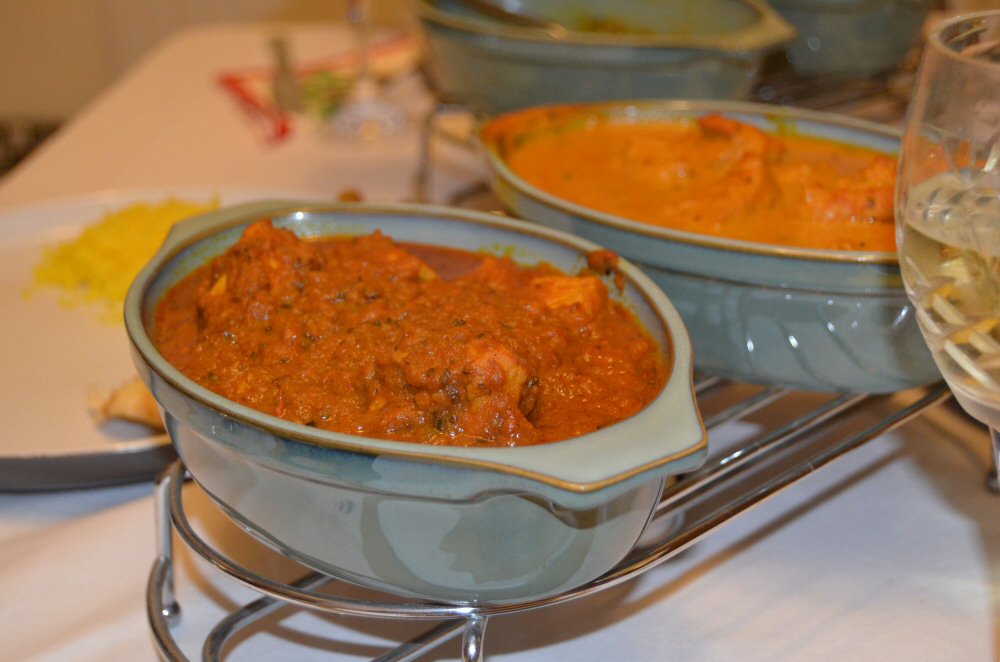 We'd ordered a selection of curries; the vegetarian Aloo Chole (Sunny's recommendation), Lamb Bhuna and a couple of Chicken containing curries: Tariwala (described as a hearty curry like Mum would make) and Malai, its rich creaminess makes it Lotus Indian Kitchen's mildest offering. I have to say that all the curries had plenty of meat and vegetables in them, as well as plenty of sauce in which to dip the Naan breads we'd also ordered. The curries ranged between £7.50 and £9.50, the Garlic Naan was £3, and the Fig and Coriander Naan was £3.50.




His Nibs tried the Aloo Chole first, and it is a drier dish; dense in softened chunks of Potato and whole Chickpeas. On the menu it's listed as the ultimate Punjabi comfort food and once you've tried it, it's easy to see why! The vegetables simply melt on the tongue, cocooning the mouth in a wondrous combination of medium spices as they do so. This is a really filling curry though, so don't be fooled by its lack of protein-heavy meat.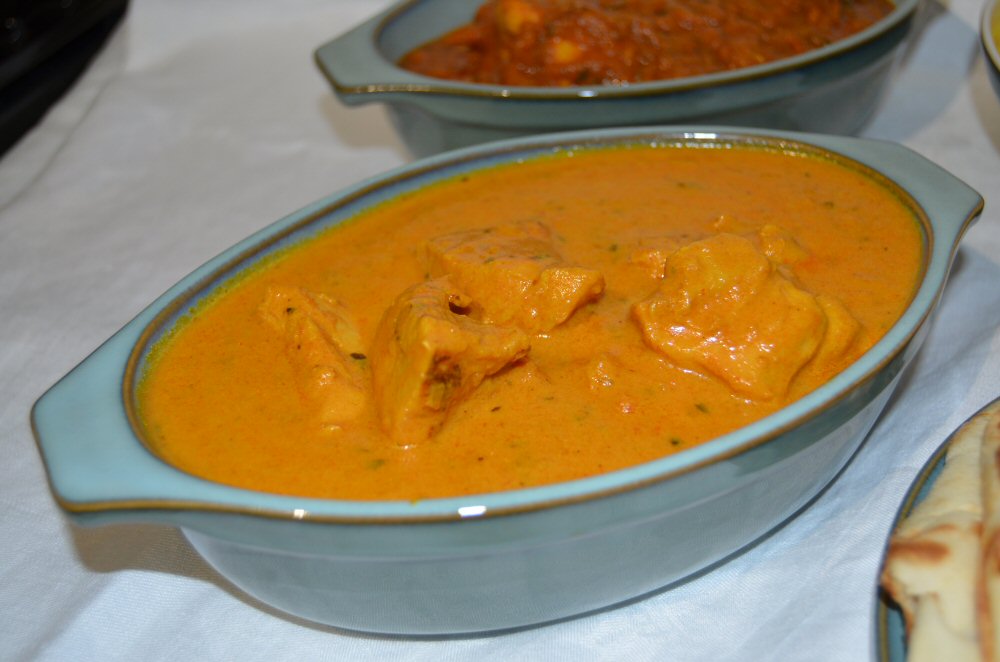 Mummy Bird was surprised by how much she liked the Aloo Chole, but her favourite was still the Malai Chicken curry. This minx had a sweetness that lingered softly at the periphery of the palate, married skilfully with gentle spices so that whilst this was undoubtedly mild it certainly wasn't bland or boring!

The Chicken Tariwala had what I personally would describe as a classic curry base at its heart; that is to say that the sauce was lovely and thick thanks to the plentiful, minutely diced Onion within it. Multiple layers of spice flavours danced on the tongue gleefully and the generous pieces of boneless Chicken were superbly juicy and tender. Like the Aloo Chole, this was an appetite-satiating dish and one whose Tomato-based sauce we all enjoyed.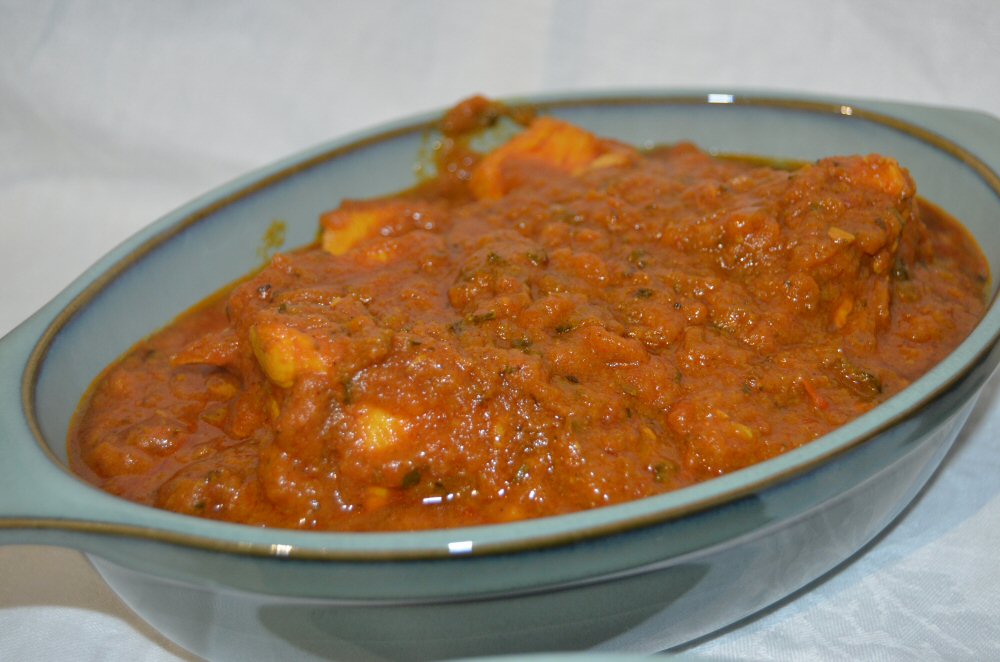 I couldn't tell you the last time I had a Bhuna, but Sunny and his team do an absolutely blinding one, I have to say! No wonder Gavin and Stacey's Smithy (played by the superb James Corden) is so partial to this variety of curry.The chunks of boneless Lamb were joyously tender and its earthy character was accentuated by corresponding spices such as Cumin and Coriander Seed. There was a nice complexity to the curry's layers of flavour and the sauce was pleasingly thick in its consistency – always handy when you're a greedy, not particularly careful eater like yours truly!




One of the things I loved when His Nibs and I dined in the beautiful surroundings of Lotus Indian Kitchen was the Fig and Coriander Naan bread. Honestly, this is just beyond! The bread itself is amazingly light and pillowy soft, with fresh Coriander adding a flash of colour and a clean note on the tongue. The unctuous Fig clings to the layers until bitten into: then it transfers its attention to the palate and lingers there lazily. Fig has a character all of its own: heady and indulgent in its sticky texture, with fragrant flesh that delights the consumer. Mummy Bird had never encountered this particular incarnation of Naan bread and was an instant fan; it's one of those morsels that once tried, stays in the memory.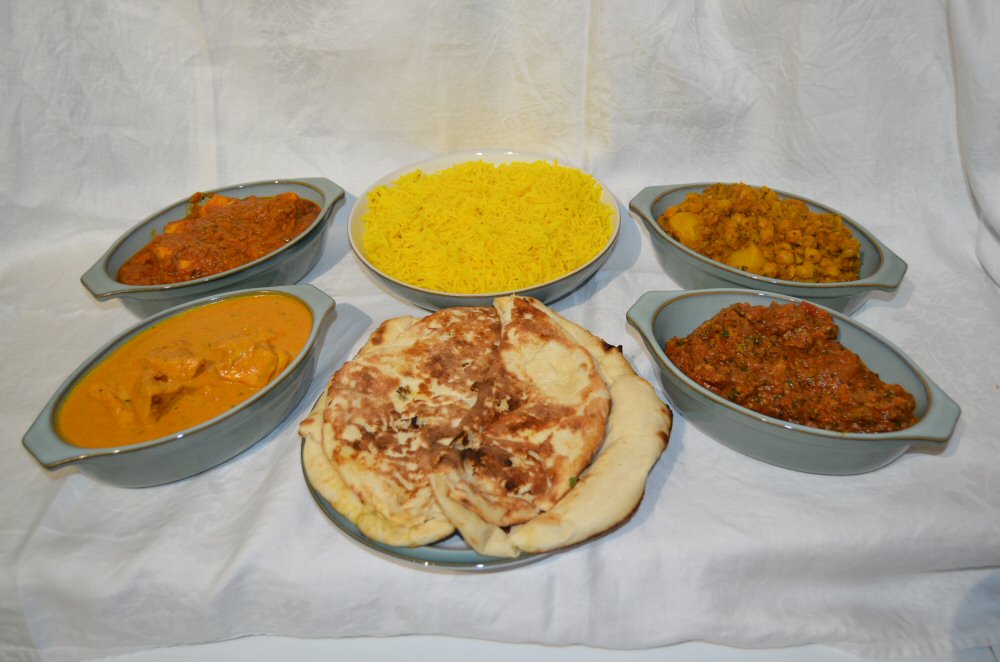 Fledge and The Man were tucking into the Garlic Naan with equal enthusiasm to that of Mummy and I, revelling in the sweet-yet-pungent flavour of the sliced bulbous herb. Despite our tummies being full to bursting at this juncture, we all couldn't help ourselves from using pieces of Naan to scrape up the very last vestiges of curry sauce in the bowls. When food is this good it's a travesty to leave any of it uneaten!

What we all thought was great, was that the combination of curries had covered every conceivable flavour you could wish for. The spices were like paragraphs in a chapter, with the dishes each being a chapter that completed the book of our Lotus Indian Kitchen gastro-journey, if you will.
Thanks to current Covid restrictions, Lotus Indian Kitchen is open Wednesday-Sunday, 5-10pm and offers free delivery within a 5 mile radius of its premises, with a charge of £3.50 for customers outside of that distance.
Now you all know that The Sticky Beak Blog is a big fan of the #shoplocal and #supportlocal initiatives (as I'm sure many of you wonderful folk are too!), so I just want to say a big thank you to Sunny for giving something back to his customers. During all this covid malarkey and various lockdowns, food has had the VAT on it slashed from 20% to 5%, and Sunny has generously passed this saving on to his supporters. The prices I have included in this piece are the original prices, not these current reduced ones|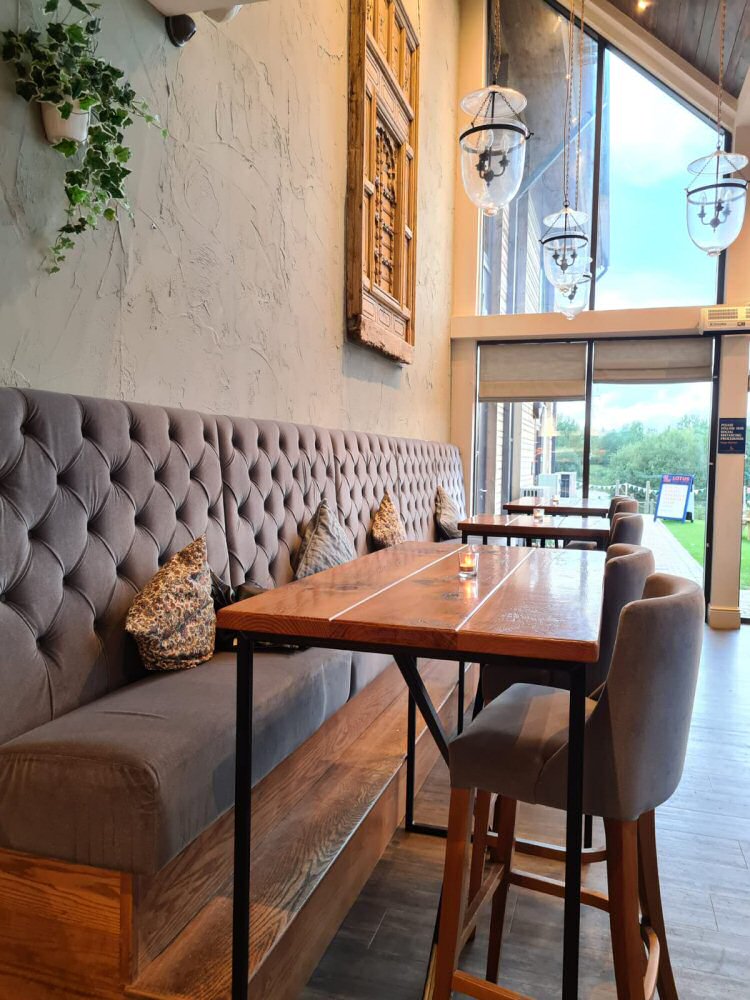 I should just say that, lovely as the meal was, I cannot wait until we can properly eat out; there's nothing quite like the anticipation of going out to eat, and Lotus is a rather nice venue! Hot Wings happily given to this wonderful Willington team.

You can order online at lotusindian.app4food.co.uk