Pie Night Takeaway from The Three Horseshoes In Clay Cross
---
Published On Thursday 21 Jan 2021 by Sticky Beak
See Recent Take Away Reviews | See All Recent Reviews


I'm never the most motivated person when it comes to cooking, I'll freely admit; but the combination of cold weather and dark nights leaves me even less enthusiastic to rustle up evening meals. Thank goodness for the dapper Craig and his fantastic team at The Three Horseshoes in Clay Cross and their Wednesday Pie Night!
I like pies all year-round, but there's something almost magical about them in deepest, darkest winter; their comfort factor multiplies exponentially, along with the allure of Potato in all its forms – normally I can take or leave tatties, but they become irresistible to me in cold climes. In common with lots of other restaurants that are offering takeaway during lockdown 3.0, Craig asks that food is pre-ordered as soon as possible for Pie Night (by Monday if you can, please),as there are limited time slots available (4-7.30pm) and it obviously helps to cut wastage down.

There are loads of choices for the pies, but I fancied the Steak and Stilton variety; His Nibs had the Steak and Potato, Chickadee had the Chicken, Ham and Leek one, and Mummy Bird went off-piste with her choice of Beef Burger. As well as the homemade pies there are burgers and a range of specials to choose from, just see their Facebook page for details. The pies are all homemade and are shortcrust pastry numbers, and come with chunky chips or mashed potato and mushy peas or vegetables, and gravy: got to have gravy with pies - it's the law! Each pie option is priced at £8.95, and Mummy Bird's burger was £9.95.

We rocked up in t'Cross 5 minutes before our pick-up time and walked over to the door in the beer garden at the rear of The Three Horseshoes, as this is the designated collection point whilst the premises are closed during lockdown. Craig takes payment on collection of the food, so we did the contactless card method as we think it's more covid safe.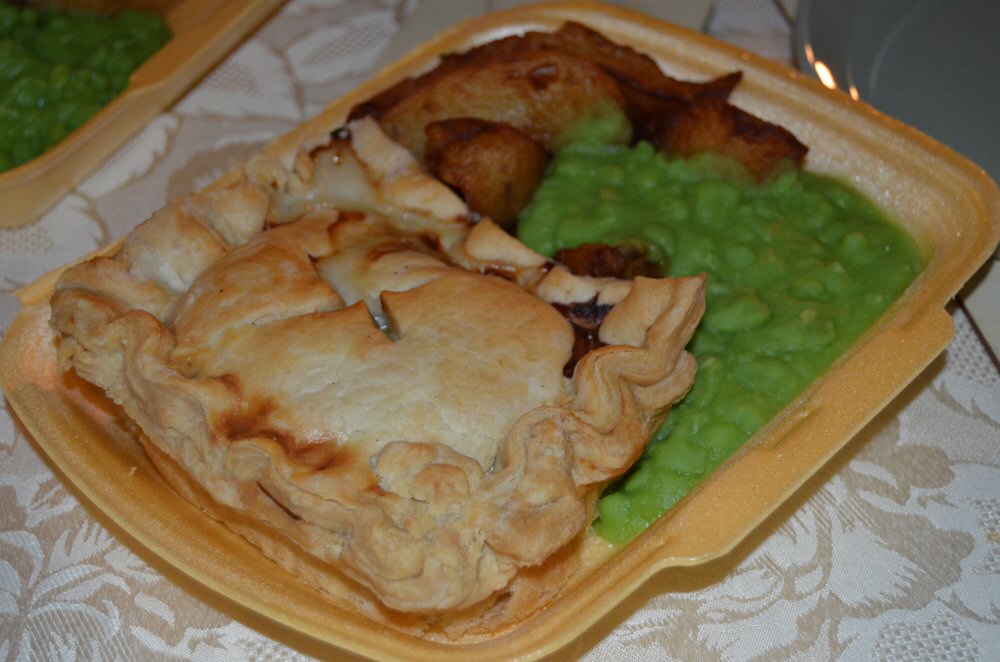 It's only a short drive to Tribal Elders Towers so the pies and burger were still piping hot in their polystyrene box housing. We quickly did the photos and then passed each flock member their choice of grub. The gravy for the pies was in polystyrene lidded cups, and there was plenty of it which made me smile happily.

Mummy Bird had to cut her 8oz Beef Burger in half as it was just too big for her to comfortably hold in her hands! This meaty morsel is topped with Bacon and Cheddar cheese, and then the whole lot is nestled between the two halves of a buttery, soft Brioche Bun. Moreish chunky chips and ultra-crispy beer battered Onion rings ramp up the comfort-factor of this meal, and there's a colourful, fresh side salad to provide a healthy balance to it. Given the gusto with which she ate the burger, I think it safe to say it is rather tasty..... that, and the fact that there wasn't a single crumb left!

To my left was Fledge, who'd wasted no time at all in slathering the gravy all over her plate: pie, chips, peas and all! The inclusion of a white sauce was what had swayed her to opt for the Chicken, Ham and Leek pie, and as she tasted the first bit of its silky richness she felt her decision was justified. There were loads of chunks of succulent Chicken to savour, and the same abundance of pink-toned Ham pieces; Craig is certainly a feeder, that's for sure! The pastel green of the Leeks gave a gentle onion note to the pie as well as adding to the rosy hue of the Ham, so this was a beautiful pie visually as well.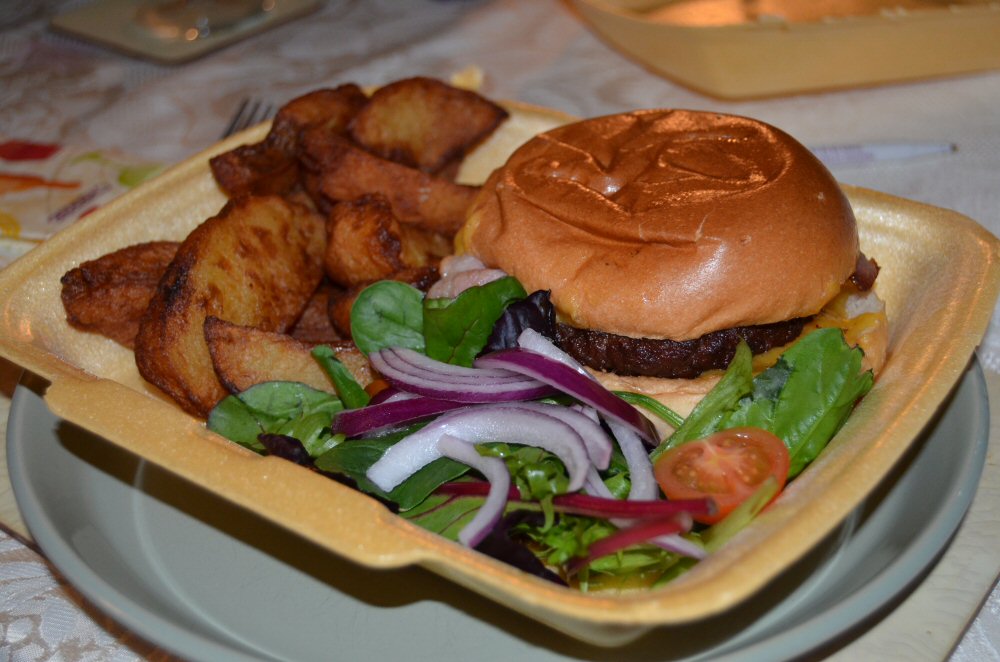 On a personal level, I just love the richness of shortcrust pastry that The Three Horseshoes' Chef makes; it melts on the tongue and isn't doughy or clarty in the mouth at all. There is always a nice balance of the pastry and the contents of the pie: juicy Steak and piquant, melted Stilton cheese in my pies' case. In keeping with Fledge's choice, I had also gone with chunky chips and mushy peas to accompany my pie. I had dithered as to whether to have mash (pie and mash is an absolute classic combo), but I'd had mash on a previous occasion and fancied a change. The chunky chips are superbly chunky (no messing about in Craig's gaff!), and have a gorgeous, sweet earthiness to their taste. Chef cooks them to a tempting 'Caribbean tan' colour and the outers are just nicely crisp to the bite. There're two camps when it comes to mushy peas: those that like a bit of texture and bite, with not much liquor, or those that like them sloppier and softer. I am firmly in the soft, sloppy camp, which is a surprise because I normally go for firmer options (steady on, folks!). Craig's mushies are exactly that – mushy; which makes them perfect in my opinion.

The Man Bird was literally my right hand man, sitting to my right at the table. Like my delicious pie, his was also stuffed with chunks of tender Steak and he was equally enthused as I had been with my morsel. The potato that accompanied his meat was nicely softened but hadn't gone grainy and watery like it does if over-cooked. On this occasion our flock had all gone for chips and peas, so yet again it was thumbs up for the pies' side-kicks.




We'd had a thoroughly enjoyable flock meal at home, and it's always nice to get the same quality at home that you experience when dining in somewhere isn't it? Hot Wings to Craig and the team at Clay Cross's The Three Horseshoes for their superb offerings, we will certainly be using them again.

For those interested, Craig is doing a Gourmet Burger Night from Friday 22nd January 2021; the food is collection only and will be available 5-9pm. To view the varieties of burger go to their Facebook page.

There is also the classic British Sunday Lunch to enjoy; like all food currently, it is collection only (Noon-4pm) and choices are Topside Beef, Pork Loin, Turkey Breast or Quorn Sausages – all served with Roasties, Mash, Fresh Vegetables, Leeks in Cheese and Ham sauce (these are to die for, by the way!!), Yorkshire Puds, Stuffing and meat-juice gravy. Childs' portions are £6.95, small adult portion £8.95, standard adult £9.95 and mixed (two or three meats) £10.95.

To place any order, just ring 07966 292243
Visit their Facebook page to find out more