Takeaway Afternoon Tea from The Orangery at St Elphin's Park, Darley Dale
---
Published On Sunday 21 Mar 2021 by Sticky Beak
See Recent Take Away Reviews | See All Recent Reviews


One of the things I love about the blog is getting to try things out before they really go 'live' out in the big wide world, and on this occasion (Mother's Day, as it happens) the lovely team at The Orangery at St Elphin's Park at Darley Dale had kindly offered His Nibs and I the opportunity to try their Afternoon Tea out before really selling it at Easter. We wanted to celebrate Mothers Day with Mummy Bird and Fledge, so we paid for two of the four teas ourselves.
Fledge kindly offered to go and collect the Afternoon Teas from reception for us (taking the Tribal Elder for a spin out at the same time, because cabin fever was running high!) whilst we set to arranging the table and getting the crockery out. When they returned, Mummy Bird and Chickadee were carrying rather swanky looking conical shaped white cardboard numbers, emblazoned with a picture of the stunning main building at St Elphins Park and 'The Orangery'.

A swift flick of the wrist was all it took to uncouple the outer cover, revealing a brilliant triple-tiered stand inside, laden with all manner of goodies. The bottom, widest tier housed the four different types of finger sandwich (complete with pea shoot decoration), Sausage Roll and the savoury Cheese scone, the middle tier held the Lemon Meringue Pie, Fruit Scone, individual Victoria Sponge and the top tier had the Cream Éclair, the Macaroon and the Roddas clotted cream and jam portions.




The Man Bird snapped away artily at the arrangement of delights whilst I brought through the freshly brewed pot of tea and some coffee. Chickadee swept convention aside and dived straight in to the Fruit scone, clotted cream and jam whilst the rest of us began to select our first choice of finger sandwich: I dived in for the Chicken and Avocado Mayonnaise on white bread, Mummy went for her favourite (the classic choice, Smoked Salmon and Cucumber on wholemeal bread) and The Man reached for the Brie and Onion Chutney on wholemeal bread.

All the bread was lovely and fresh and absolutely crammed with fillings, but because of the delay of getting the feast back to our house the wet components had made the sandwiches a smidge over-moist. It didn't detract from their taste and I guess it's a balance of either enjoying the treat or not having it at all in the present circumstances; given the choice, I will happily take the take-out tea option thank you very much! When she eventually caught up with the rest of us, Fledge helped herself to the scrummy farmhouse Ham, Tomato and Mozzarella morsel. Each version of the sandwich quartet was deemed to be lovely and so we moved on the next bit of our savoury journeys.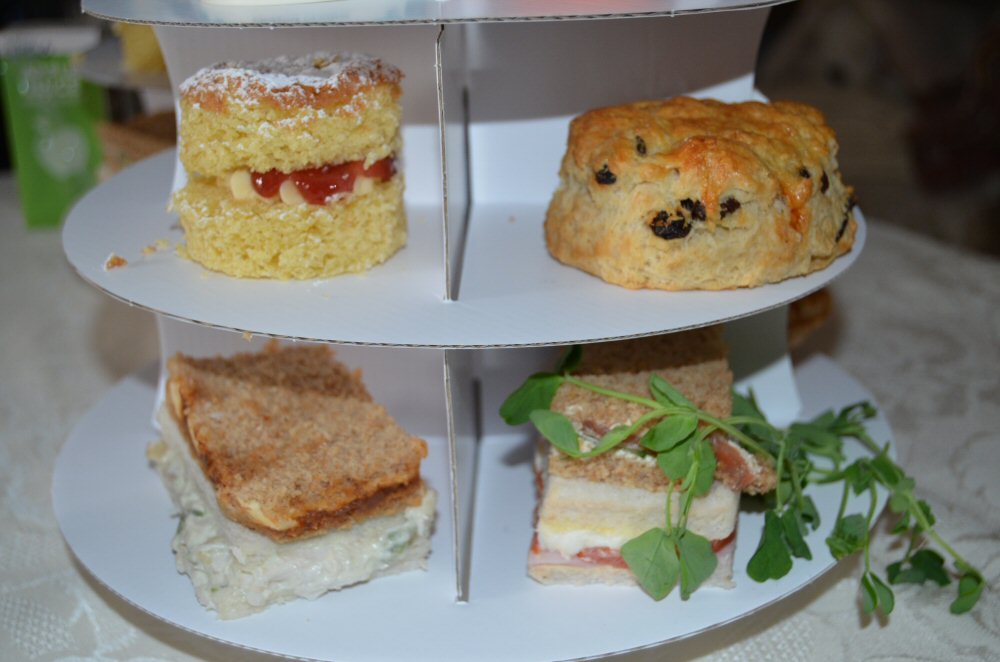 The pastry outer of the Cumberland Sausage Roll was a shade of 'summertime Mediterranean tan' that made me silently weep with jealousy as I cut into it. As soon as the pastry hit my tongue it melted like a cloud, leaving the substantial, herbed Pork treat for me to chew and savour. Mummy Bird decided she was going to save her Sausage Roll and have it for a lazy Sunday evening supper indulgence, so she and The Man tucked into the savoury Cheese scone instead. One thing we all said we would've liked to have had included was an individual pat of butter to spread on it; we clearly weren't overly bothered though as none of us left the table to go and get some from the pantry! You couldn't miss the cheese taste, it was sharp and clear on the palate which suited all of us perfectly. I liked the texture of it too; it was nice and light in the mouth, but dense enough to have a little chew factor that let it linger a while and be savoured fully.

Once the savoury components of the Afternoon Tea had been dispatched, it sort of turned into a 'free for all' where we just picked what we fancied in no particular order, so I had to take notes from everyone and collate them later!




You can't beat a classic Victoria Sponge, and the dinky individual ones we had here were just sublime! The texture was absolutely spot-on: light and airy, with a gorgeous warm vanilla note to it that was accentuated by the rich buttercream at its centre, partnered as it was by an intense, fruit-rich Strawberry jam. Utter perfection. Miniature fresh cream Éclairs also proved to be a winner with my flock; the choux pastry was lovely and contained plenty of cream and a generous topping of softened chocolate finished off this classic offering.

Bizarrely, Mummy Bird isn't a fan of Macaroons (how can this be when she's my Mummy??!!) but this yummy minx wasn't left on its perch - I helpfully took it upon myself to scoff it as well as my own one. The warm-toned Orange Macaroon was deliciously crisp on its very outer edge and then underneath had a wonderful, light chewiness to it that had me swooning with happiness. In contrast to the bright outer, its middle was a dark brown tone that turned out to be a marvellously rich chocolate orange fondant whose clean taste was a winner with Him, me and Fledge.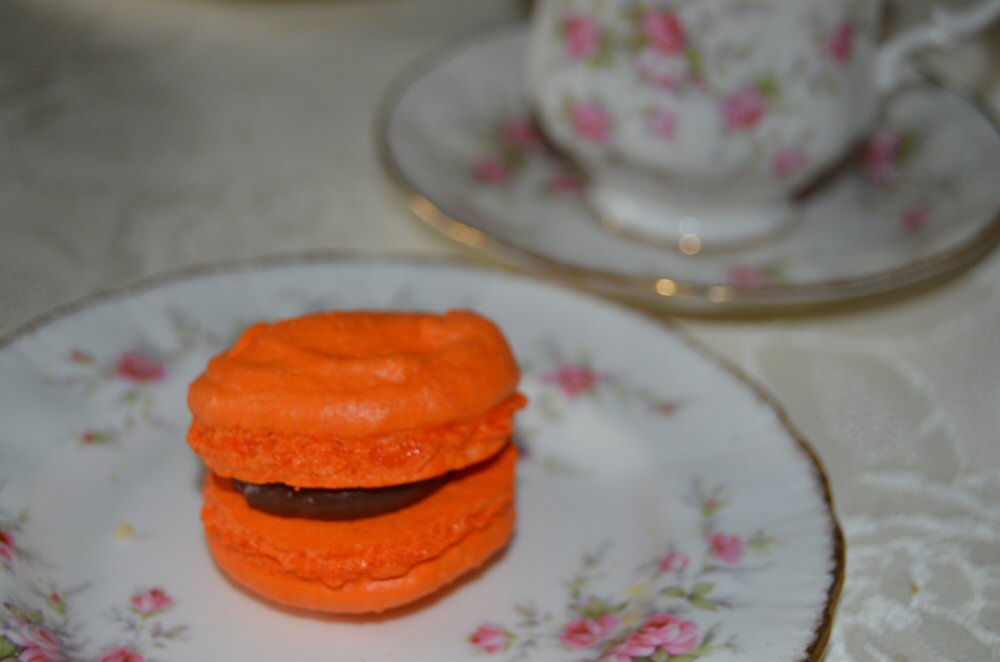 It's no secret, the love/hate relationship Meringue and I have, so I reluctantly handed over my slice of the Lemon Meringue tart to His Nibs as I wished fervently that, just for once (because it just looked so blooming appealing!), I could eat this without it making me ill. I have it on good authority (rather smug, good authority I have to say) that this was 'bloody superb!', thanks to the pastry being firm-yet-crumbly whose zesty, tart Lemon filling was assuaged by feather-light piped meringue swirls. I gazed enviously at the golden brown tops of the Meringue swirls as, one by one, they disappeared into the mouth of greedy guts (aka His Nibs).

For this little family group, we all agree that you simply can't have an Afternoon Tea without a good Fruit Scone and the one served by The Orangery at St Elphin's Park is top-of-the-class. A fruit scone, by its very description, should be bursting with plump, sweet fruit yet all too often this isn't the case; don't fret though, on this occasion there was a real abundance of currants and sultanas to relish. As with its savoury cousin, the texture of this sweet scone was marvellous, and I wasted no time at all in slathering an indecent amount of clotted cream and jam onto each half!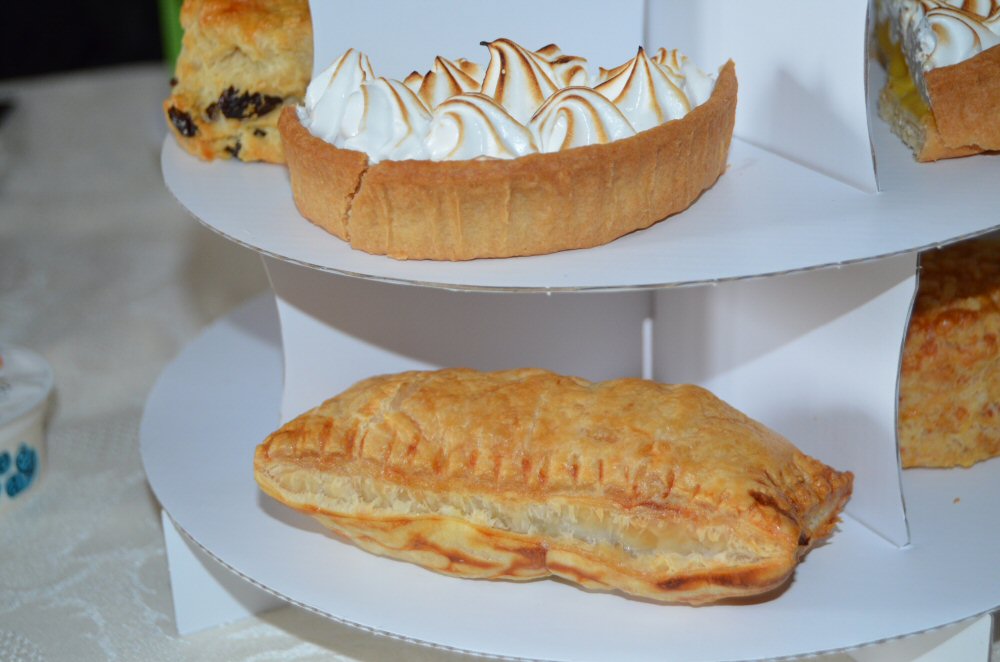 It won't surprise you when I say that the four of us were fit-to-burst; a veritable piggy pack as we sat, stuffed at the table, grinning stupidly at each other with contentment!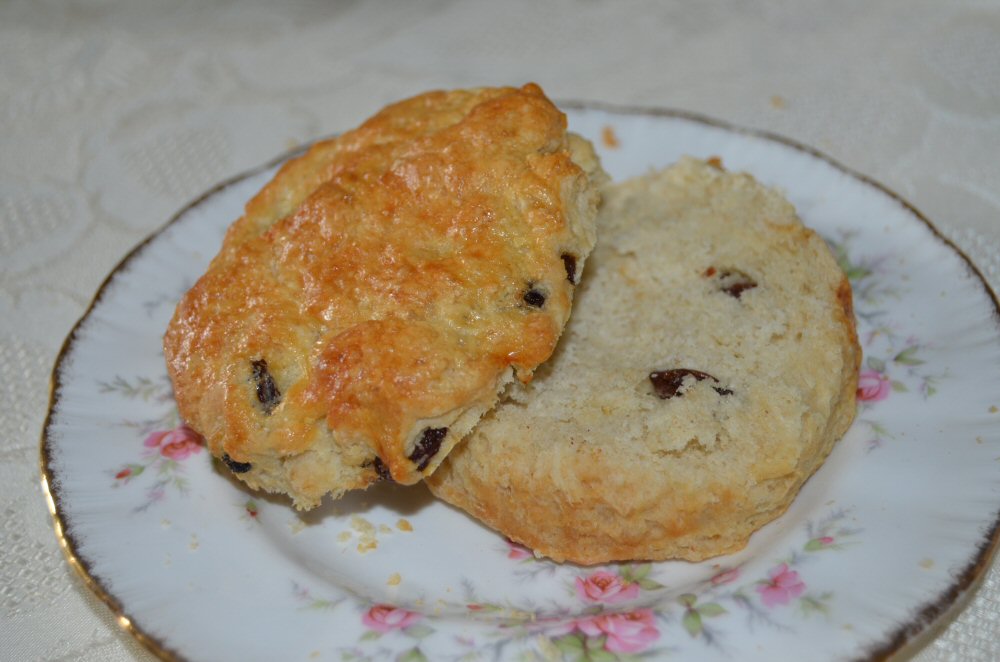 As I mentioned at the top of this blog, the St Elphins team are offering this Afternoon Tea at Easter – Saturday 3rd April and Sunday 4th April 2021 - with a different selection of savoury and sweet treats to enjoy. The sandwiches will be: Egg Mayonnaise, pulled Pork Bao Buns, classic Bacon, Lettuce and Tomato, and Salmon and Cream Cheese; partnering the Cheese scone this time (instead of the Sausage roll) will be a Scotch Egg. Those with sweet teeth will be clapping with delight as they spy Mini Egg Brownie, Homemade Hot Cross Buns, Easter (Simnel) cake and a Hot Fruit Scone with Clotted Cream and Jam. All this is priced at £16.95 per person with the option to add-on a small bottle of Prosecco for an additional £5 per person (and why wouldn't you?!). To book yours simply call the team on 01629 736760.

Hot Wings awarded here again – thank you for a super Mothers Day treat! The Man Bird and I are looking forward to when we can dine in again at The Orangery, both for the excellent food and the friendly team that always make us feel so welcome.
Read Some Of Our Recent Reviews
---

An Indian Takeaway Delivered By Delhi In Eastwood I sometimes think that the universe is tab-hanging on my conversations, and I will tell you why. A couple of weeks ago The Man and I were out with our good friends Mr and Read The Article

---

Sunday Lunch Takeaway From The Shepherds Rest, Lower Bagthorpe It's the time of year when the garden grabs your attention and you suddenly realise that there is a whole raft of jobs to do outside; well, you're not alone and The Flock Read The Article

---

A Weekend Takeaway from Kathmandu Gurkha, Ripley It's been a busy few weeks for The Man Bird and I, and with the forecast for the weekend being superb, it was going to get even busier. With that in mind, we planned to stuff our Read The Article

---

A Fool-Proof Valentines Dinner from Arthur's In Belper The Man Bird and I have cooked a Steak dinner (or gone out for one) for Valentines Day for as long as I can remember, but thanks to lockdown still going strong there was no chance Read The Article

---

Pick 'em' Mix; Sweets delivered to your Door Everybody likes sweeties don't they; I'm not saying you have to have them every day or anything, but I bet that we can all think of a favourite sweet from our childhoods or adult lives. Read The Article

---

A Valentines Day Breakfast Platter From Crazy Cooks Caterers In Alfreton How do you celebrate the first Valentines Day in #lockdown? With a bought-in breakfast of course. But not just any old brekkie; this was a revved-up platter from Read The Article

---

A Takeaway Sunday Lunch From The Schoolhouse, South Normanton Mummy Bird declared that she was having a week off from doing Sunday Lunch for the flock (a very well deserved rest, may I add) and thought Read The Article

---

Takeaway Burgers And Kebabs From Starr Cottage Kitchen @ The Belper Tap Sometimes, when a day has been a particularly good one (and lets face it, there ain't many of those in lockdown 3.0!), you just need to celebrate with a burger Read The Article

---

Pie Night Takeaway from The Three Horseshoes In Clay Cross I'm never the most motivated person when it comes to cooking, I'll freely admit; but the combination of cold weather and dark nights leaves me even less enthusiastic Read The Article

---