A Heat To Eat Sunday Lunch From The Peckish Artisan Kitchen
---
Published On Sunday 15 Nov 2020 by Sticky Beak
See Recent Take Away Reviews | See All Recent Reviews


Just going to kick off with (a very sarcastic) 'three cheers for Covid-19'; cheers chap, for scuppering our very well laid plans for a nice family Sunday Lunch! We'd been planning with the lovely Lisa and Tam of The Peckish Artisan Kitchen to review their 'Heat and Eat Roast Dinners', thinking that we'd also treat the Tribal Elders to it and cook it for them so that they could have a nice, chilled Sunday. No such flipping luck; Lockdown 2.0 came into effect and rained on that parade. Channelling Shakespeare, this became not a 'Tale of Two Cities' but a 'Tale of Two Households cooking Sunday Lunch' and, also in homage to Will the Bard, there was some comedy involved (more by accident than design though!).
To paraphrase another of Shakespeare's works, 'in fair Somercotes is where we lay our scene' and the lovely Lisa pulled up outside Beak H.Q. with an insulated box containing all the roasts. I know that by now I should get used to seeing folk masked up, but it never gets any easier – especially when you know that underneath the protective gear is the warmest smile you could imagine. Lisa removed the bags from the container and then stepped back so that we could take them inside – all very Covid safe Mr Johnson, and good for the environment too, as all The Peckish Artisan Packaging was biodegradable or recyclable. All the heating instructions are in with the meals too, and timings, so it really is simple to do.

We unpacked all the outer packaging for photo purposes and then set off to deliver the roasts for The Tribal Elders, who said they would be in touch later in the day to let us know how they'd got on. So far, so good. We left them to it, eager to get back and heat our morsels up and tuck in ourselves! The cooker (fan assisted, electric) got whacked on and whilst it warmed up we poured ourselves a large glass of vino - Malbec, what else (?) - and decanted the gravy into a pan and the extra Cheesy Leeks (£3 per portion)we'd ordered into a microwaveable dish.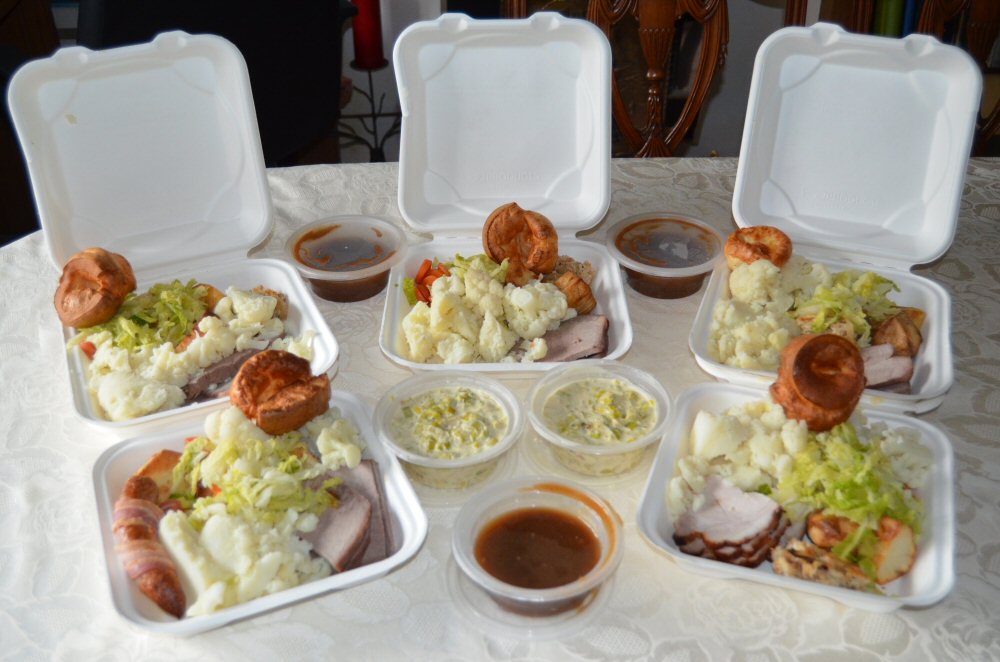 His Nibs and I had gone for a large adult roast Beef dinner (priced at £8.50 per person), sticking to just Beef, although you do get the choice of a second meat in the large offerings; there's Chicken or Pork on offer too. We chose to have mashed Potato rather than New Potatoes with all the roasts, and we ordered a Pig in Blanket for Chickadee too (£2) cos we're good parents , which we just put in the tray with her roast portion. Fledge had the Pork for her standard roast (£7.50 per person)as it's her favourite meat and was hopping impatiently around the kitchen, watching the minutes tick down until she could fill her belly!

The time came for us to remove the oven-proof cardboard containers from the oven and see how successful the 'Heat and Eat' morsels were. If you are a fan of D.I.Y facials then I can recommend the facial steam treatment from the roast dinner boxes – they were certainly plenty hot enough, as was the meat-juice containing gravy that I'd been lovingly warming and stirring. Whilst The Man Bird was removing all the goodies and plating them up, I got the Cheesy Leeks out and served them up and popped the gravy into a jug for folk to help themselves to.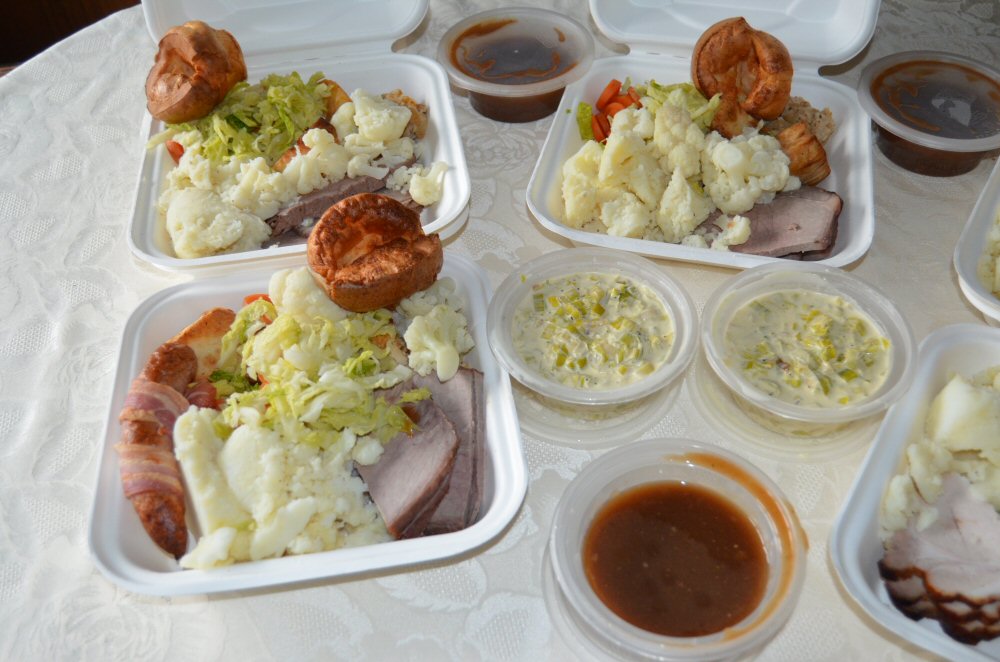 There was no shortage of thickly sliced Beef to tuck into and it was nicely tender and full of flavour; Chickadee liked her Pork as well saying that it was lovely and easy to cut into and beautifully tasty. We all liked the stuffing which was served as a slice rather than in ball form, and I thought I detected a little citrus hint in it as well as the usual herbiness. This was semi-crunchy, so would appeal to everyone, including ourselves who have a mixture of crunchy- and soft- stuffing lovers in the Flock - no surprise there, we're always a mixed bunch! I was very happy to discover that the Cauliflower wasn't soggy, and neither were the Cabbage or Carrots; in fact, all the vegetables were super –as was the mashed potato with its creamy flavour. For a bit of extra oomph you can't get better than the finely chopped Leeks and their tasty cheese sauce; these were really, really yummy. Chickadee was impressed by the size of her pig in blanket (it was a large sausage) as well as the taste of the sausage and its crispy Bacon covering. The roasties were deliciously crispy outside and soft inside, and even the Yorkshire Pud reheated well, staying crispy –topped and not at all soggy.




Despite his best efforts, The Man Bird couldn't finish his large roast dinner; this is for extra-hungry Horace's (which I was thanks to having skipped brekkie!), and goodness knows how much you'd get in an extra large roast dinner (£9.50 per person)!!! Chickadee had just left the edge of fat that had kept her Pork juicy and me, well, I'd scoffed the lot!

We cleared our plates away and turned our focus to the desserts we'd ordered: Hot Chocolate Cheesecake and Rice Pudding with Toffee Apple Compote, all £2.99 per portion. The ladies at The Peckish Artisan Kitchen had also potted up some pouring cream for the Cheesecakes, making His Nibs and Fledge very happy peeps.

All the desserts were good sized portions, and the Hot Chocolate Cheesecake really did look like a Hot Chocolate in a bowl; the biscuit base was topped with a chocolate layer that was then crowned with set cream, chocolate curls and pink and white mini marshmallows. The chocolate layer tasted just like a Hot Chocolate drink – genius! Chickadee has been a keen fan of this hot beverage for most of her life and commented that it wasn't a 'cheap and nasty' chocolate that had been used, and that she had really enjoyed it. Praise indeed from one so picky! The Man Bird used his fatherly charm to snaffle himself a few mouthfuls of this dessert, his sweet tooth unable to resist its lure.




From being a little chick myself, I've always loved a simple Rice Pudding – my Nana Bird used to make THE best one, complete with thick skin on top that we all used to fight over! My usual topping has been fruit jam (of whatever flavour was open/available at the time) or occasionally Golden Syrup, but this was my first time having a Toffee Apple compote to swirl in the pudding. I heated the rice pudding as per The Peckish Artisan Kitchen's instructions and tucked in. There was a lovely level of creaminess to the pudding itself and the rice grains were softened without being completely soggy, so that there was something to get stuck into. The Toffee Apple compote, though, was something very special with its pieces of softened Apple all enrobed in a rich, smoky-but-sweet sauce; a simple, unassuming dessert had been transformed into something altogether glitzier.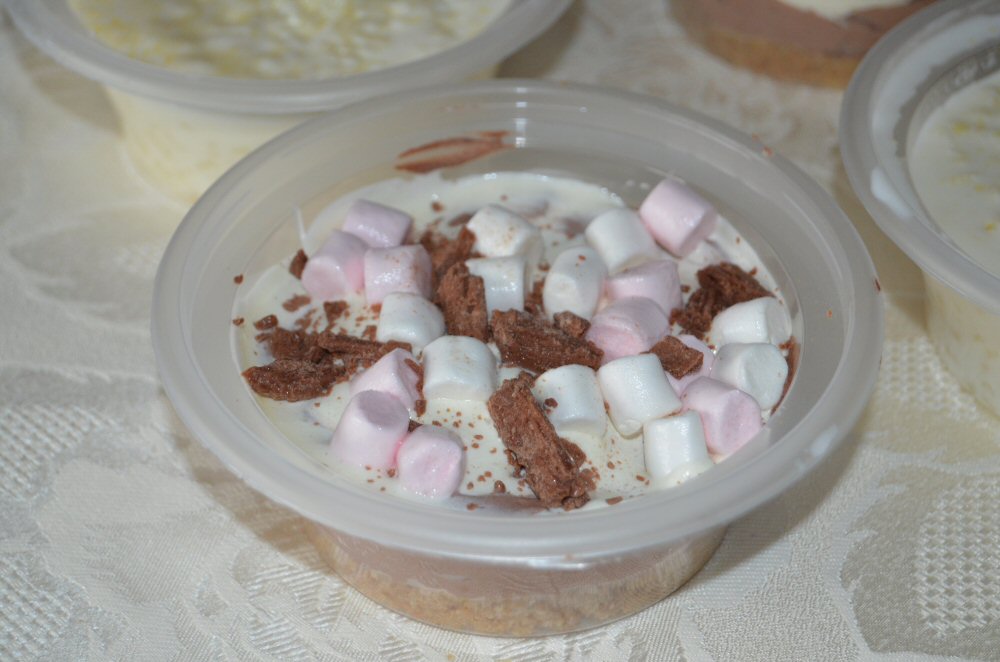 So, we'd had a fuss-free experience in The Nest, but how had The Tribal Elders fared? Not so well, actually, it turns out. Mummy Bird is adamant that it was down to a technical failure (a temperamental gas oven!) that they'd been delayed in sitting down to eat, but I reckon it was human error......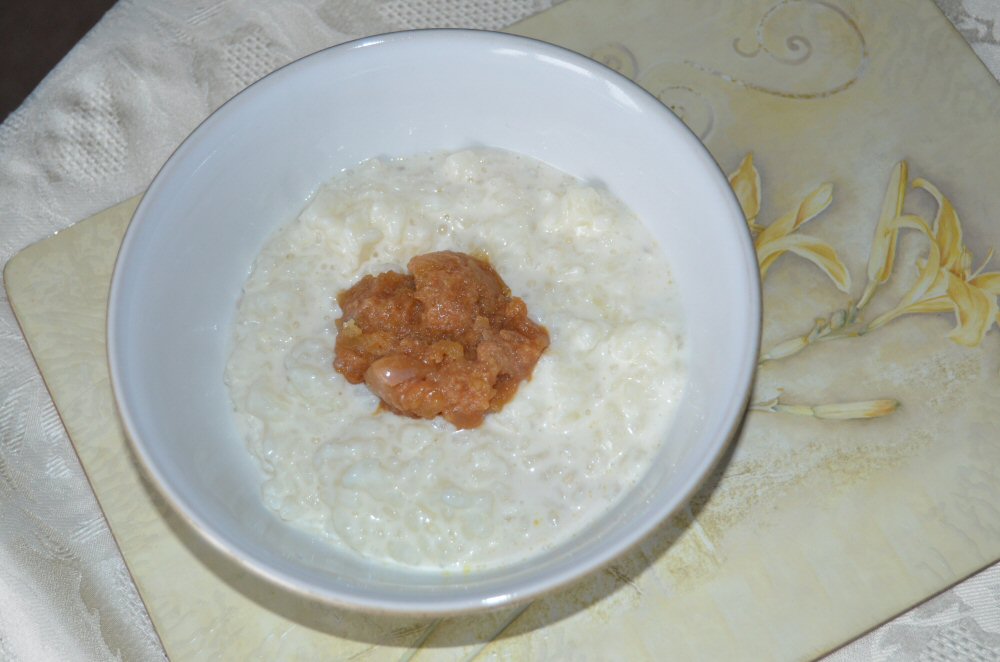 Anyhow, the gist of it is that they'd put the containers in the oven at the right temperature, for the right amount of time, but when the time came to dish up the food was only lukewarm. Panicking is not in our gene pool, so the containers simply got wanged in the nuke (microwave oven) until they were steaming hot – job done! I think it's safe to say then that The Peckish Artisan Kitchens' 'Heat to Eat' roasts are pretty resilient and idiot-proof; they still tasted spot-on according to Daddy Bird.

As well as the various adult sized roasts, there are childrens meals available at £4.50 and there's also Vegan and Vegetarian options available as well, priced at £7.50. We ordered our meals online and it was nice and easy to navigate; you can let the ladies know of any allergies or intolerances in the notes section, as well as substitute elements for another (such as having more stuffing instead of veggies).

Hot Wings happily awarded to the lovely Lisa and Tam a.k.a The Peckish Artisan Kitchen.