A Twist On A Classic From Mix n Mac, Derby
---
Published On Tuesday 2 Jun 2020 by Sticky Beak
See Recent Take Away Reviews | See All Recent Reviews


There are few better comfort foods than Mac 'n' Cheese, in my humble opinion; it has the soft comfort factor of pasta (Macaroni) combined with the gooey cushion of yummy cheese – something I love anyway as you all know. Imagine my excitement then, when Gareth (the brains behind Mix n Mac) got in touch to ask if he could send us some goodies to eat – heck yes, of course you can!
The Mix n Mac menu is dead simple: each week there is the classic Mac 'n' Cheese (4 cheese and macaroni with a Panko crumb topping) and then a trio of that week's specials/ twists on this recipe, all priced at £6 each or 2-4-£10. Vegan, Gluten free and Halal options are available too, as are childrens (under 8 yrs) portions at £3. Gareth delivers within a 5-mile radius of Derby (Littleover) and there is a charge of £2.50 for deliveries under a tenner in value which is fair enough I think.

On the particular week we placed our order, the specials were: 'Pig Sty', Black Treacle pulled Pork with a Bacon Frazzles crisp crumb; 'Gumbo Mac', Chicken and Smoked Sausage with a Parsley Panko crumb topping, and ' The Green'z ', Spinach, Pea, Broccoli and Wild Garlic Pesto with a Lemon and Thyme crumb topping.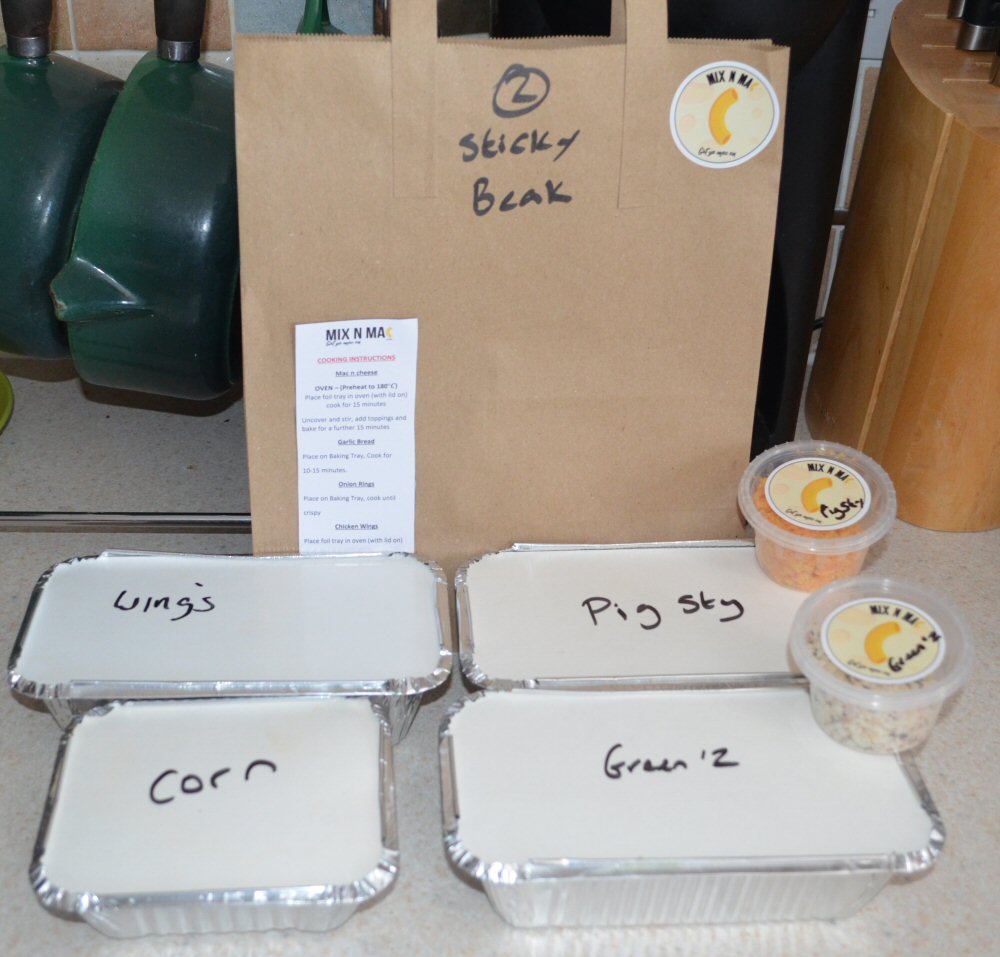 Gareth also offers a nice range of sides: Garlic bread (with or w/out cheese), Rainbow Coleslaw, Onion Rings, BBQ Chicken Wings, Spiced Corn-on-the-Cob and Side Salad; prices vary from £1 for the Corn up to £3 for the Wings. His Nibs and I chose to have the BBQ Chicken Wings and Spiced Corn-on-the-Cob as our side accompaniments, and 'Pig Sty' and 'Green'z' for mains.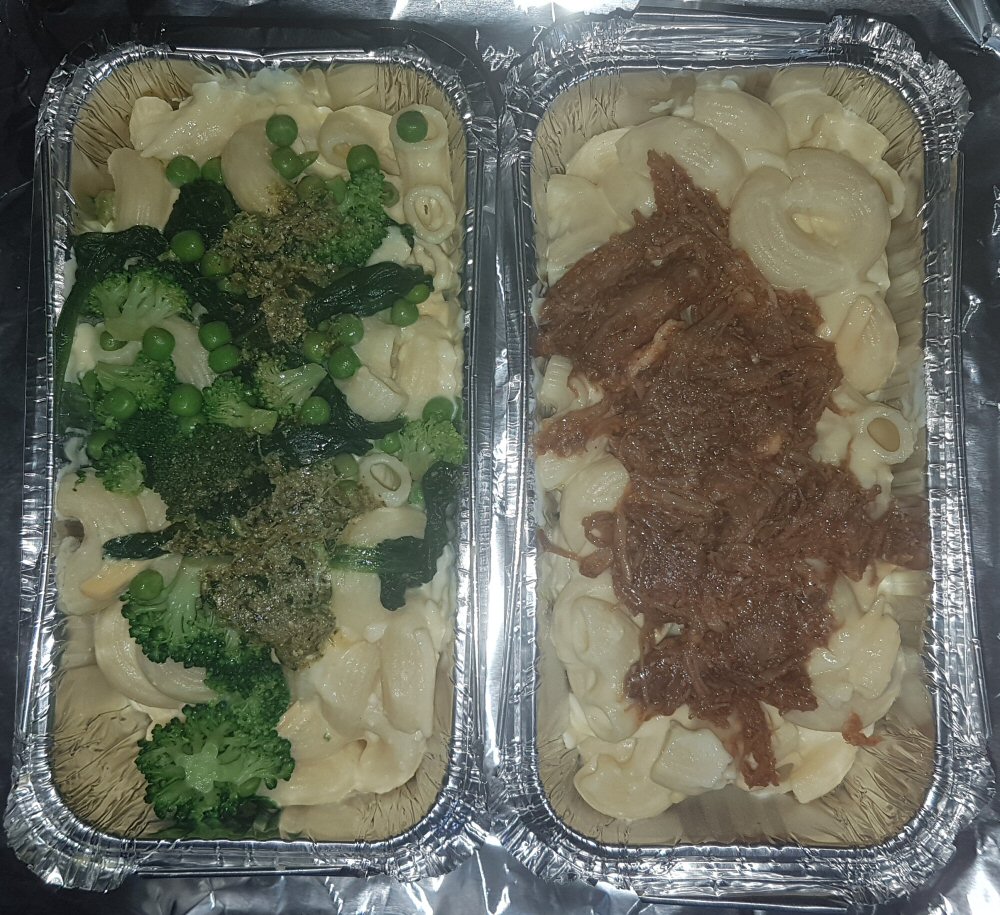 All the dishes that come out of the Mix 'n' Mac kitchens are chilled with instructions on how you heat them up at home, so there's very little faffing around; all we did was pre-heat our oven to the stated temperature, chuck them in for the allotted time and wait for the magic to happen. Halfway through the heating times, you take the foil lid off, give it a stir around, bung on the crumb topping and cook for a further 15 minutes: easy peasy mac 'n' cheesy. The Man Bird and I couldn't resist pinching a few of the Frazzle crumbs, these crisps were the stuff of legend in our childhoods! Both the BBQ Chicken Wings and the Spiced Corn-on-the-Cobs needed to be cooked for 15 minutes so we popped them in at the same time as adding the crumb toppings.

Once the morsels had been in the oven for their stated time, we took them out (oh! the smells were a-ma-zing!) and decanted them onto our own plates – clearly we weren't feeling lazy else we'd have just scoffed them straight from the foil trays!! The Wings and Corn got popped onto side plates and placed in the middle of the table where we could both easily reach them.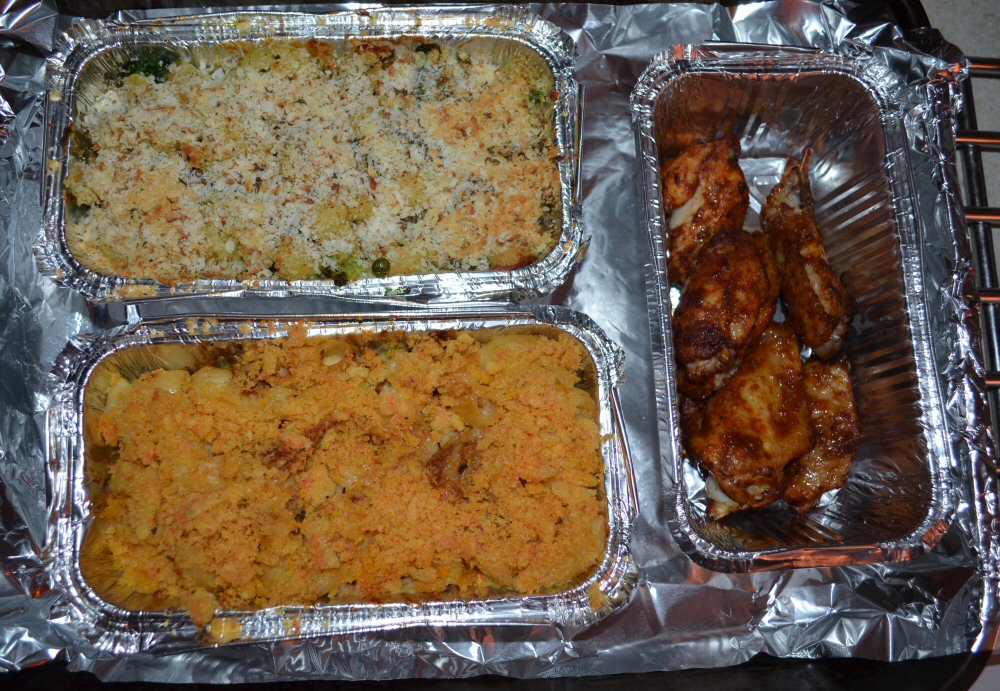 Both of the Mac 'n' Cheese dishes were superb: they had that perfect amount of cheese sauce that means it's lovely and moist and oozy in the mouth without dripping everywhere when you scoop it up with your fork. The 'Pig Sty' was delicious in its sweet smokiness; the Black Treacle-pimped Pork was super soft and melted on the tongue and paired brilliantly with the gentle tang of the cheese sauce. Crunchy Frazzle crumbs added some texture and ramped up the meat factor, too.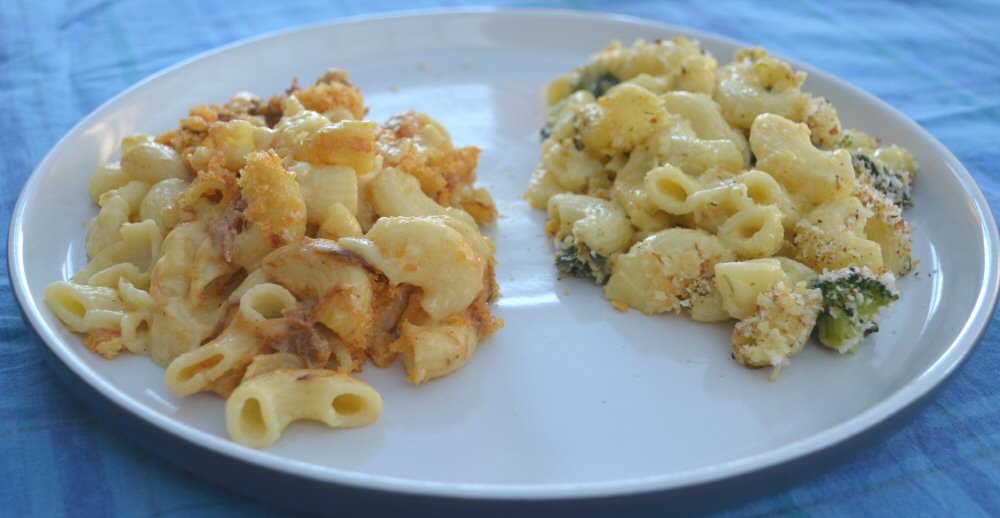 Green'z had primarily been my choice; let's face it, with the Man Birds "green dodger" rep, it was hardly going to have been top of his picks, was it?! His Nibs really liked 'Green'z' though and was happily scoffing away at it. I thought the combo of Spinach, Peas and Broccoli florets was great; they combined together nicely to give a bright sweetness in the mouth that partnered well with the pasta and sauce. The Wild Garlic Pesto was beautifully gentle and didn't over-power the other flavours in this dish, and the Herb and Citrus notes of the golden, crunchy crumb topping finished it off superbly. Size-wise, the portions are hearty; if you have a smaller appetite each one may well do you for two meals, but being the gluttons we are, we finished them off in a single sitting.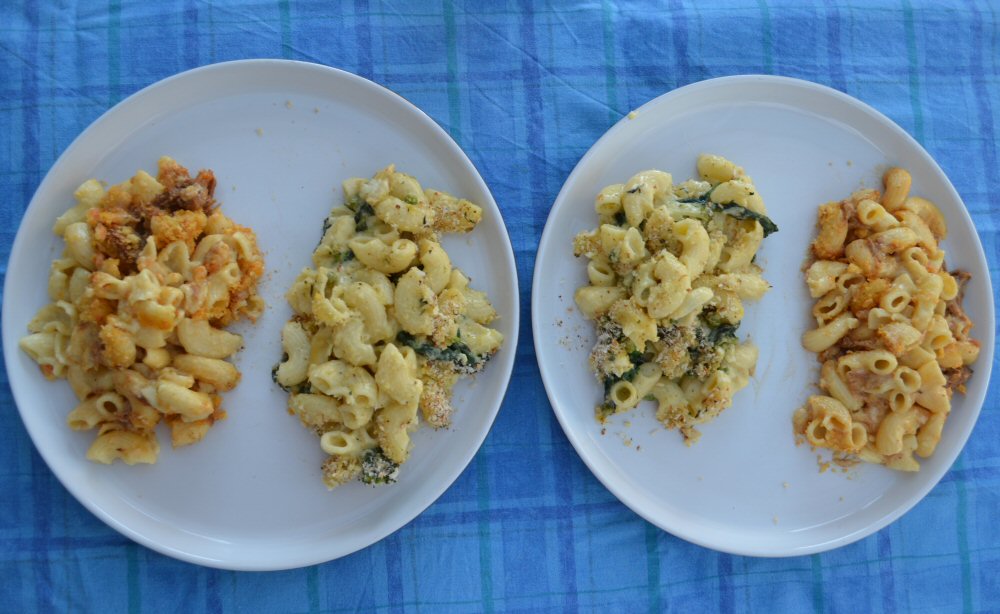 His Nibs can be a bit sniffy when it comes to Chicken Wings – he reckons that they're more faff than they're worth, something he is now realising isn't the case at all. Mix 'n' Mac use good, meaty wings and drumsticks so that you get a proper mouthful when you bite into their BBQ yumminess; there were also 6 pieces of Chicken in the foil dish, so it's a decent size portion too.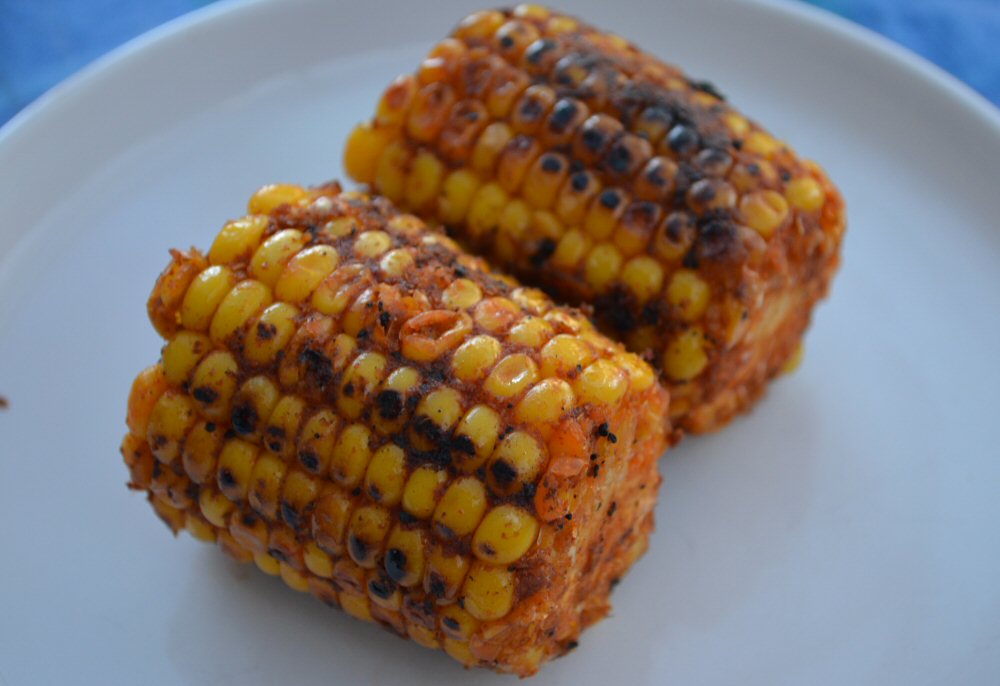 The Sweetcorn was mine; all mine. I knew it was going to be superb when I had a sneaky sniff at it before I popped it in the oven, and I wasn't disappointed with the result. The mini cobs were beautifully juicy and sweet, bursting in my mouth as I eagerly bit into them; each one had been generously dusted with a smoky, spicy seasoning that had a superb kick to it. Yep, I was one happy little birdie, no mistake.




To "get ya Mac on" as Gareth says, all you have to do is go to the Mix 'n' Mac Facebook page or Instagram site, decide what you want from the menu, then message them via these platforms before 5pm on Thursday for delivery before 6pm on either Friday or Saturday (your choice). Don't forget to give them your contact name, phone number and full address when you place your order; you'll get back an email confirming your order, along with details on how to pay them – which is by bank transfer only.

Contact deets for this fab local business are: phone 07917 116 804
Instagram MIX_N_MAC, Facebook MIX N MAC.

Hot Wings well deserved by Gareth aka Mix 'n' Mac, and massive thanks to his Mum and Dad who played delivery service just for us seeing as we're out of the delivery area.
Mix n Mac provided us with two complimentary meals to enable us to provide an honest review of their product and service