A Tasty Takeaway From Roosters At Morley Hayes
---
Published On Sunday 31 May 2020 by Sticky Beak
See Recent Take Away Reviews | See All Recent Reviews


Not that we need an excuse, but nothing screams 'Bank Holiday' like a takeaway for dinner does it? With all our jobs done (I know, it's not like us to be so efficient!) our attention began to turn to thoughts of food and where to source it from.
Eons ago we'd gone to Roosters Bar and Restaurant at Morley Hayes for a lovely lunch, so we checked to see if they were open for food service – and they were; you do need to have a minimum spend of £20 if you want delivery. The bulk of their business currently, as with most venues, is collection based, although they do also offer a free delivery service within a 5 mile radius. You simply ring and order your food in advance (payment is taken at this point) and then you're given a time slot to go and collect your food.

We are outside of the delivery zone by a good few miles, so we jumped in the Jalopy and headed over. The weather was beautiful so the grounds looked stunning as we drove up the long driveway and as we passed the golf driving range there were plenty of golfers taking advantage of the clement conditions. Unsurprisingly there were plenty of spaces in the car park, so we got one nice and close to the Roosters entrance.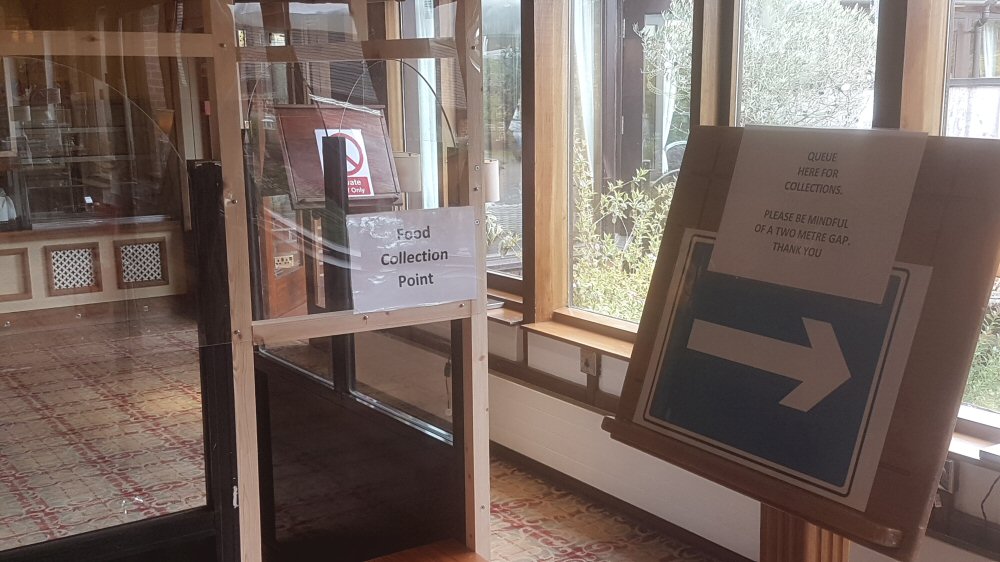 His Nibs was the designated collector and duly strolled over to the entrance of Roosters Bar and Restaurant at the allotted time. There was hand gel at the entrance, so he used it and then followed the marked out one-way system over to the serving point to collect our order. At this point there is more hand gel to use (which he did) and this is where, from behind a hole in a Perspex screen, your food is handed over to you – no risk of social distancing guidelines being breached here.

When he returned and popped the bags in the boot it didn't take long for the delicious smell of our food to fill the jalopy and my mouth was proper watering! Thankfully it didn't take too long to get back to The Nest (about 20 minutes) and the food was still lovely and hot as we scooped it out of the many containers.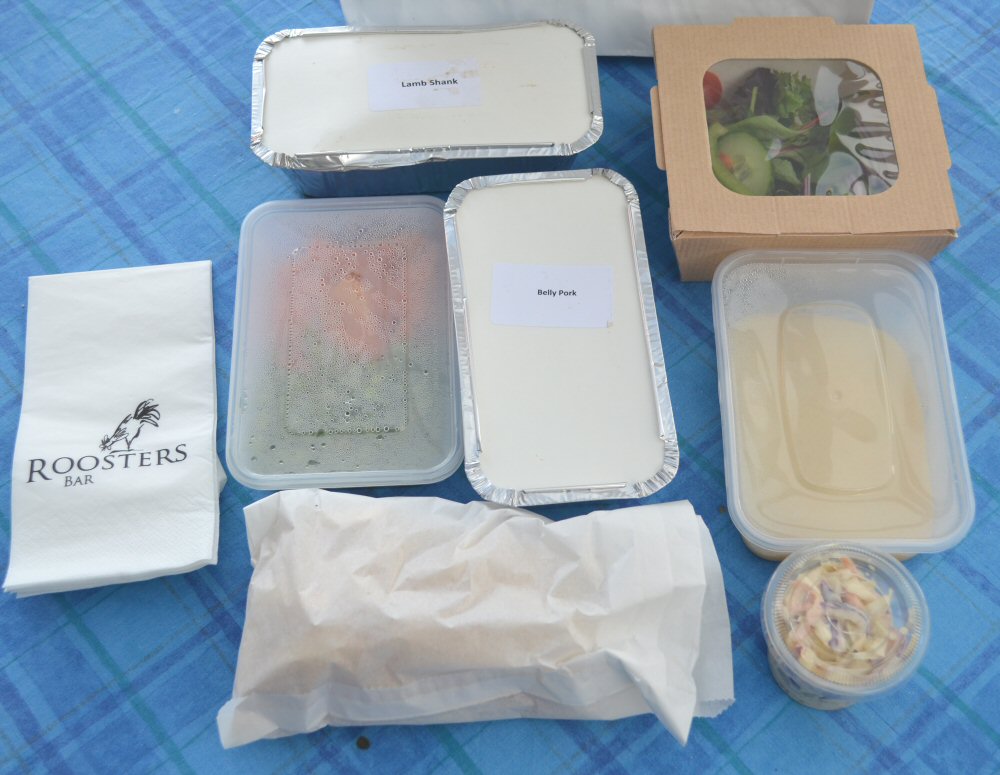 I'd gone for the Barbeque Pork Belly (smothered in Jack Daniels BBQ sauce) which is a set meal that comes with Coleslaw, Chips and Mixed Salad and this is priced at £13.95; The Man had opted for Braised Lamb Shank, served with Peas, Carrots and a choice of either Mashed- or New- Potatoes, priced at £15.50. There had been some thought given as to what container type would suit the components of my meal; the salad was in a large cardboard container, the Coleslaw was in a plastic tub and the chips were wrapped in a paper bag to stop them going soggy.

There were a trio of large pieces of Pork Belly all bathed in a lovely layer of rich, smoky, Jack Daniels-pimped sauce, and the meat itself was truly superb. Pork has a wonderful mild creaminess to it and this particular cut was bang on the money, yielding instantly to my bite. The Coleslaw was nice and crunchy and, thanks to it not swimming in Mayonnaise, the vegetables' taste could be fully enjoyed. Whilst the chips may not have been made in-house, they were a good quality type with lovely crisp outers and soft insides; the Morley Hayes team at Roosters had salted them lightly too for a bit of extra seasoning and taste. My salad was a rich tapestry of colours; verdant mixed leaves, slices of Yellow and Green Peppers, finely sliced Red Onion, Cucumber rounds and rosy, halved Cherry Tomatoes. All of these were chilled and crisp, and they provided a nice contrast in temperature against the warm elements of my meal.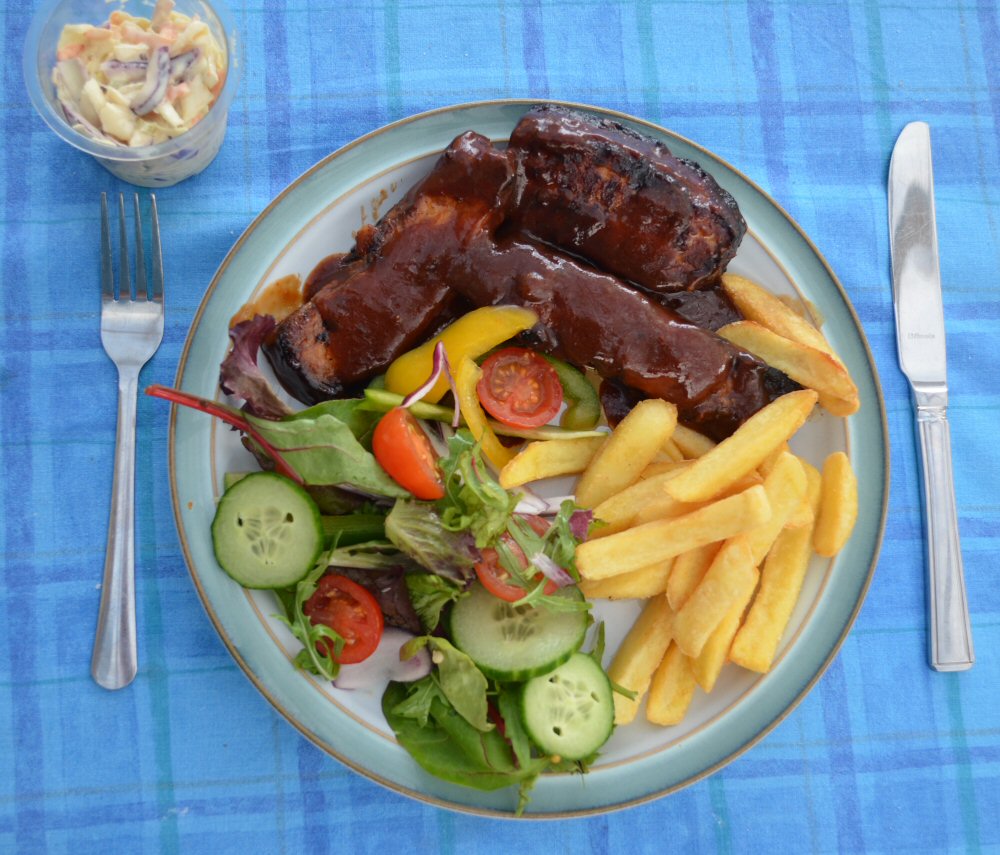 The Man Bird was tucking into his Lamb Shank with his customary enthusiasm, commenting on its tenderness; it was literally falling off the bone, no pressure from cutlery needed. His Nibs said how superb the lamb's flavour was as he passed a piece over for me to try; it was indeed beautiful – rich yet sweet, and it just melted in my mouth. Morley Hayes serves their mashed potato glass-smooth and with plenty of butter in it to ramp up the indulgence factor – yummy. The Lamb Shank comes with a Red Wine, Tomato, Shallot and Rosemary gravy and I wish that I could convey to you just how moreish this was; this was certainly the culprit that had got my mouth watering in the jalopy! Lamb needs a more robust sauce/gravy to go with it and this gravy certainly delivers in the intensity stakes.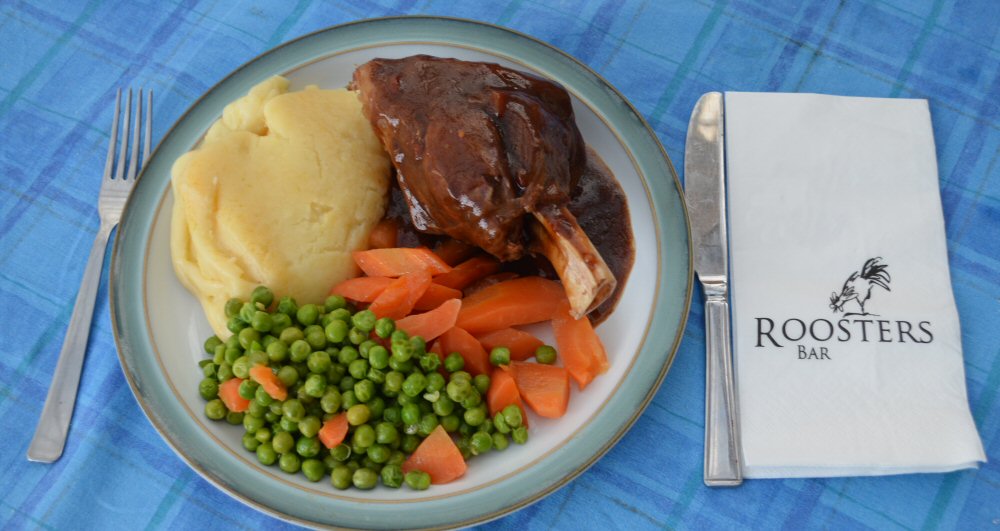 Suffice to say there wasn't a single scrap left on our plates! We had deliberated as to whether to have a starter or dessert as well, but given our indulgence over the previous couple of days decided restraint was called for; as it turned out we were happily satiated as things stood.

In addition to their regular menu, Morley Hayes do a Sunday menu too (not wildly different, to be honest) geared towards the traditional Sunday Roast; again there is a minimum spend of £20 for delivery. All you need to do is ring the team up on 01332 780480 ext 224 and they'll sort you out in a jiffy; if the number is in use just leave a message and someone will ring you straight back – this is what we experienced.

Hot Wings given to this fab team, thank you for freeing me from Bank Holiday pot-washing.

Visit Morley Hayes Web Site for the Takeaway Menus