A Lockdown Takeaway Treat From The Istanbul BBQ In South Normanton
---
Published On Wednesday 29 Apr 2020 by Sticky Beak
See Recent Take Away Reviews | See All Recent Reviews


Those of you who have read last week's blog (The Curry Lounge Takeaway) will be pleased to know that we didn't cock it up this week – we remembered to take photos before we stuffed our faces!! We've eaten in at Istanbul BBQ in South Normanton before and always loved the meals there and we have previously had one take away from them that was delicious, so now that they have re-opened (delivery or collection only) we didn't hesitate to order another! Any excuse – as if we need one.
Istanbul BBQ use Foodhub for online ordering service, so His Nibs made himself useful (miracles do happen!) and fetched the menu and placed our order. Alex does some amazingly tasty cold Meze starters, all at £2 each or any 4 for £7 (with warm flatbread for dipping) and being creatures of habit we chose Humus, Patlican Soslu, Haydari and Potato Salad. As we were playing nicely we opted for the 'Istanbul Special Mix for 2' at £19; a selection of Chicken Shish Lamb Shish, Lamb Kofte, Chicken Beyti and Chicken Wings served with rice and salad.

It was about 30-40 minutes until our order was delivered by a lovely friendly lady – socially distancing rules observed - who checked we came to the door before she left. The obligatory blog photos were taken before we sat down to tuck into our feast, desperately wishing that we actually were in Turkey. Not that I don't love our house and garden (and the weather was superb, too) but it just isn't the same :/.

The previous week, His Nibs had a bottle of Rose wine from Amber Valley Wines delivered as a thank you, so we cracked that open and toasted the good health of Mr Treehugger (Drew) and his lovely wife Susan, who was celebrating her birthday.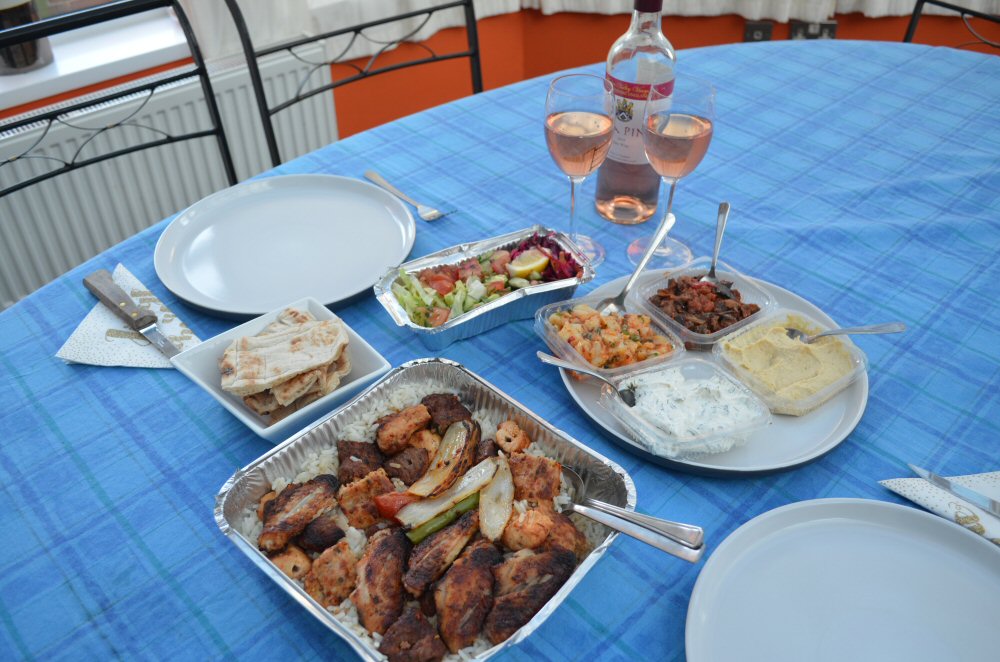 Whenever I make Humus it's nice enough but it doesn't have that same rich, creaminess to it that Alex always gets with his at Istanbul BBQ; I always say it's the simple things in life that are the best and this Humus is a prime example of that.The Man Bird is a massive fan of the Humus from Alex too, and was scooping up generous amounts of it onto the pieces of soft, warm flatbread that come with the Meze selection.

I'm one of those minority folk that likes Aubergine, not that I can cook it myself, but I like its taste and texture. The Patlican Soslu starter is just fried Aubergine with Green Peppers; again nothing fancy, but oh-so-tasty and better still, The Man isn't an Auber-lover, so it's all mine. If you can get a bread with a slightly open texture, then do use it to soak up the oil from this dish – it's beaut!

Haydari I guess is a different take on Cacik/Raita, i.e. Plain yoghurt with Cucumber and garlic/mint; it has the thick, plain yoghurt at its heart but it is augmented with Mint, Dill, Olive Oil and Salt. It has a wonderful cooling effect in the mouth and the herbs give it a nice clean taste; a gentle fruitiness comes through via the Olive Oil and then there is a lovely sharp edge that appears subtly at the end, thanks to the salt. As with most yoghurt-based accompaniments, Haydari has a fantastic versatility that lends it to being a dip, a topping on warm meats or a salad component. I honestly could eat this every single day – I love it!!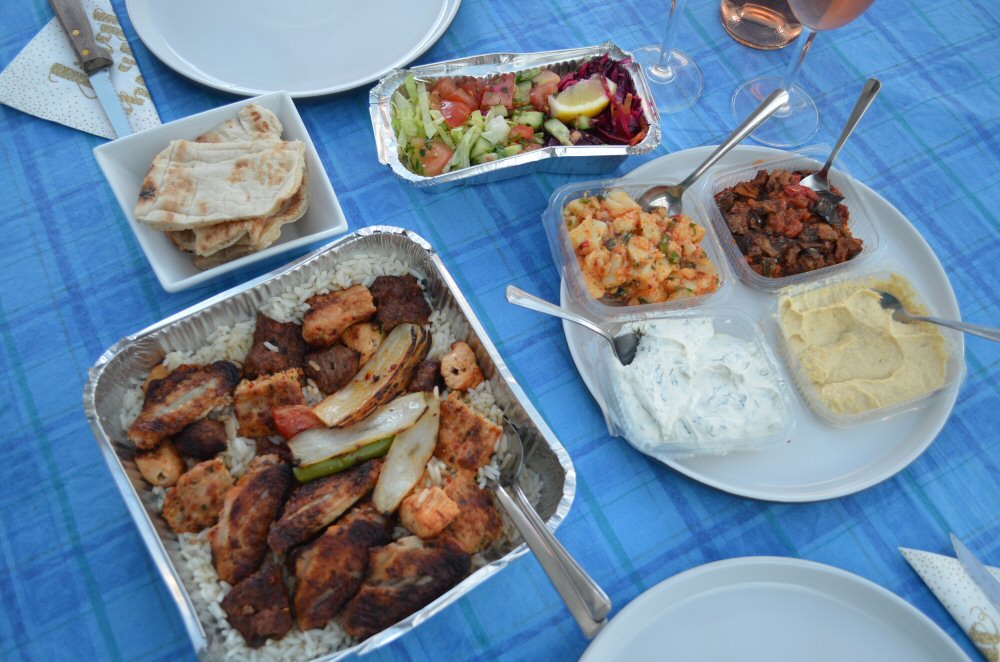 There are no doubt those of you out there that think all Potato salads are equal, but you're mistaken. Soft, floury cubes of Potato are zhuzhed up with sautéed Onion and plenty of fragrant fresh herbs into something that is far from ordinary. The experimenter within me always imagines a big pile of this warmed up and topped with melting cheese – no idea what it would actually be like, but I imagine it as something very yummy. I should just say that I also like Peanut Butter (smooth) and Marmalade (coarse cut) on toast so, y'know, it might be disastrous! Anyhow, all you need to know is that Istanbul BBQ at South Normanton do a stonkingly good Potato salad.

It'll come as no shock to hear that The Man Bird and I are going a little stir-crazy in these crazy Covid19 times, and the wine has been slipping down a little more easily than on usual evenings; so have Gin and Tonics and lazily quaffed jugs of Pimms and Lemonade (well, got to use my fresh mint up somehow!!). Amber Valley Wines' Rosé was simply the perfect partner for the charred, smoky notes on the Chicken Wings and before long we found ourselves having to crack open a bottle of red as well. However, if you are having an intimate (for that, read family-that-live-under-the-same-roof only) BBQ in your back garden then I can thoroughly recommend AVW's stunning pink wine to you.

You certainly get plenty of juicy meat on the Chicken Wings from Istanbul BBQ; they have a great chompability factor to them. As a general rule, The Man doesn't "do" wings – he finds them more effort than they're worth, but he was pleasantly surprised by these minxes. It wasn't long before all 4 had disappeared.

If you like a bit of spice in your life, and let's face it we could all do with some right now, then you will adore the tang that the Lamb Kofte and Chicken Beyti have. Both meats are moist and succulent, ramped up with herbs and spices that get the palate doing a samba of delight; best of all though is the fact that they don't have any tingle factor to them, so littler family members can always try their first nibble without any nasty reprisals.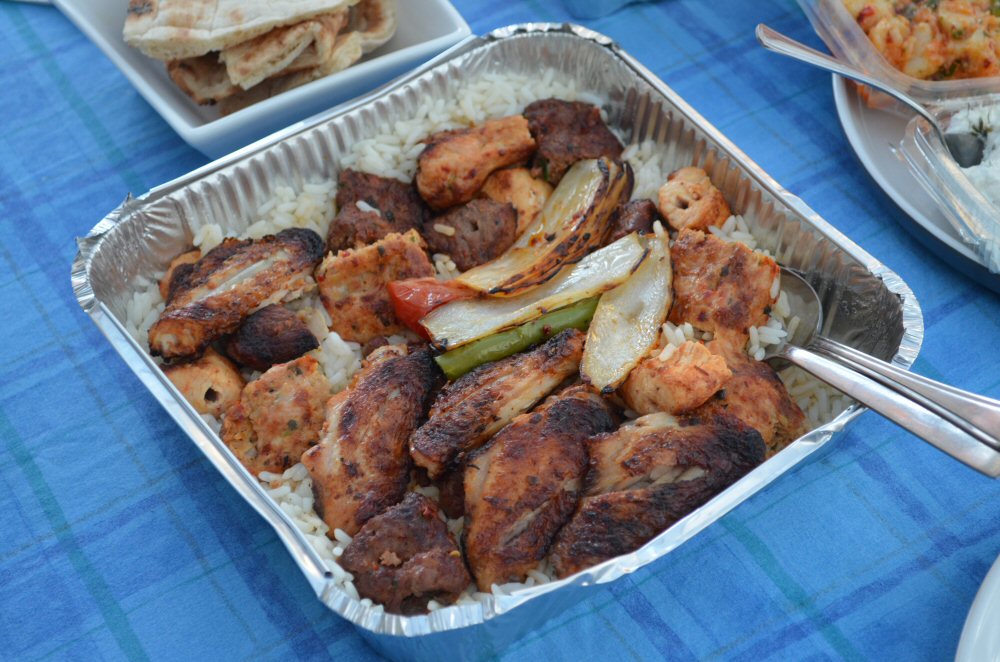 Equally tempting and lip-smackingly fabulous are the cubed Chicken and Lamb Shish morsels. These delights are nice and generous in size, not piffly tiny squares that leave you wondering why you needed to brandish a knife to cut them up. You definitely need a knife with Alex's offerings – he's a feeder, that's for sure.

All this meatiness comes served in a square metal tray and underneath is a deep, fluffy bed of creamy, buttery rice that absorbs all the fats, oils, herbs and spices from the meat that lies upon it. We scooped up the first mouthful of this pale, unassuming accompaniment and were rewarded with a symphony of flavours that is somewhat unexpected, but very much appreciated. I've said it before, but I really don't know what magic Alex weaves at his grill in Istanbul BBQ but the rice is just extra.

His Nibs is a fully paid up, card-carrying member of the salad dodging society so the rainbow of fresh, crunchy vegetables was mine to savour at my leisure. Cool, crisp Ice berg lettuce was allied with crunchy shreds of Red Cabbage and Carrot and slices of Cucumber, Pepper and sweet Tomatoes added their notes to the mix too. I squeezed the wedge of fresh Lemon over it all for a hit of extra tartness, and this made a wonderful salad dressing with the Olive Oil that was already in the salad bowl.

This had been a superb feast for the two of us and every element of it had been excellent, from delivery to the very last mouthful. Hot Wings definitely awarded to this hard-working South Normanton based team. Remember, folks – if you don't use it, you'll lose it. Support your local businesses whenever you can –they need you now more than ever. Thank you for another superb meal Istanbul BBQ, South Normanton. See you again soon, hopefully in the not-too-distant-future!