Holiday Excursions In And Around Fethiye, Turkey
---
Published On Friday 4 Nov 2016 by Sticky Beak
See Recent Holiday Reviews | See All Recent Reviews


Even when we plan a "sunshine week" holiday to just relax, my flock can't sit still for long. Don't get me wrong, we love nothing more than lounging in the sun, swimming in the sea and exploring our resort but we love to get out-and-about to experience the local culture. Mustafa, our Jet2 Holidays representative, had a very impressive list of all the excursions of offer and we eventually decided to do the Turkish Hamam, Jeep Safari and the Gulet (boat) trips.
First up was the visit to a local Turkish Hammam in Fethiye, called Sultan Hamam.

We were met at our Hotel door and taken straight into the Sultan Hamam; as usual the treatment began with a stint in the sauna to get the body temperature up and open the pores, then we went into the steam room before heading into the main room for our exfoliation.

The two gentlemen doing our treatments were very professional and we had a great time being exfoliated, bubbled and having our muscles loosened up.

Even during the shampoo part of the treatment we got indulged with mini scalp massages. We had built up such a good rapport that there was even a bit of humour injected; I got a bowl of cold water poured over me at the end of my treatment which made me gasp, much to His Nibs, the Chicks, and the men's amusementJ
We then headed into a relaxation area to allow our body temperature to return to normal and were offered refreshments to enjoy whilst we relaxed.

There was a steady stream of locals coming into the Hamam to avail themselves of the facilities, and they all smiled at us in greeting.
The next step was the oil massage which was carried out by women in the treatment rooms upstairs. Half an hour has never passed so quickly let me tell you. I floated back downstairs to the relaxation area to be greeted by the blessed-out smiles of My Chick and The Boy Wonder, who said their treatments were equally as good as mine. Our massages had all differed slightly according to where our bodies showed areas of tension and muscular tightness.

We were wished well as we left the Sultan Hamam and were taken back to our Hotel by the same gentleman who had brought us to the Hamam. Needless to say, we were so relaxed that all we could do was spend the afternoon in the hammocks at Letoonia Club and Hotel.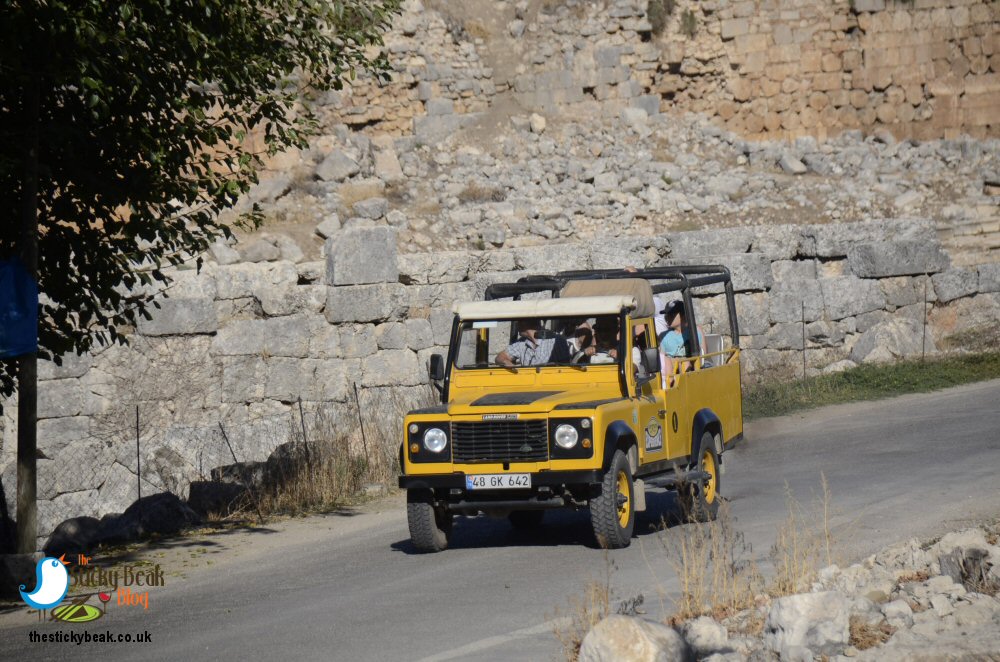 The day after our Turkish bath we were booked in for a Jeep Safari with Evergreen, and after a fantastic night's sleep (thanks to Sultan Hamam, Fethiye) we were ready for this brilliant sounding adventure. Our jeep driver, Dormush (a.k.a Jason from Coronation Street) was brilliant fun all day, regaling us with all sorts of tales and crazy antics.




First stop was the ruins at the ancient city of Tlos where we saw the break taking tombs in the hillside and the ruins of a once magnificent amphitheatre. Turkish history is long and colourful, full of mythology and culture, and Dormush spent many a moment enthralling us with stories of this area. We climbed higher and higher into the hills to a Rainbow trout farm where the water is a very chilly 5C thanks to it being melted snow straight from the mountains.

This means that the trout grow very slowly compared to conventionally farmed trout. We headed over to the Saklikent Gorge, Turkeys longest Gorge at 18km long. To say it was absolutely breath taking is quite simply the understatement of the year.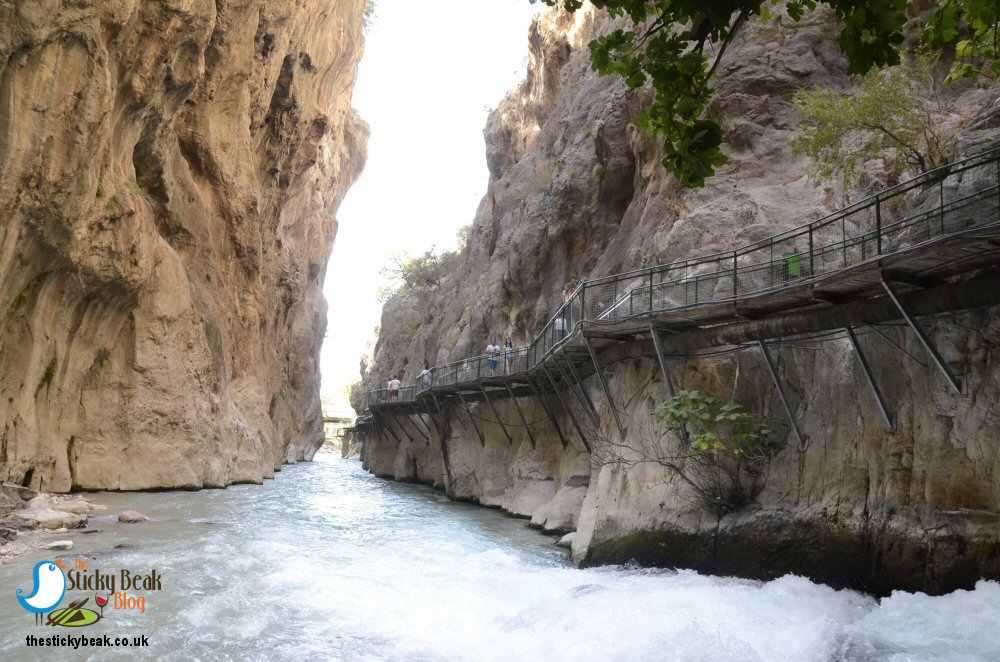 Next stop on the safari was lunch at the lovely Yakapark; I had the freshest trout I think I have ever had, the other two had the grilled chicken, and we all piled on plenty of fresh salad. We had some time to appreciate the lovely surroundings before we geared up ready to paddle down the river at Saklikent Gorge in our inflated tubes.




You would think by now that there had been quite enough adventure for the day, but no, our final stop was the natural mud baths. They are completely odourless and smooth and Dormush was in there with us all slapping it on all over his body to reap its skin smoothing benefits. Luckily there were showers a –plenty and a large pool to jump into to get rid of every last bit of the mud as we still had to drive back to the hotel.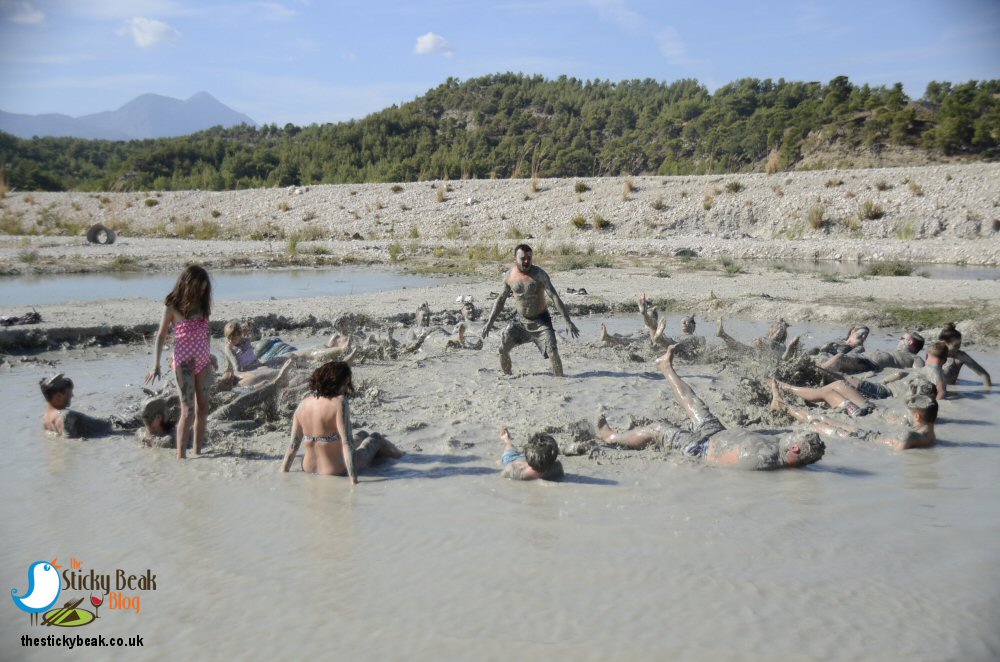 All of our antics were captured via photos courtesy of a young lad who was on holiday from University (who we called David Bailey) and we purchased the DVD of the images from him to look at later. All the other people on the trip were having a whale of a time too and there was great camaraderie built up in all of the Jeeps on the safari. We arrived safely back at the hotel in time to shower off (finding even more mud!!) and head off out for dinner.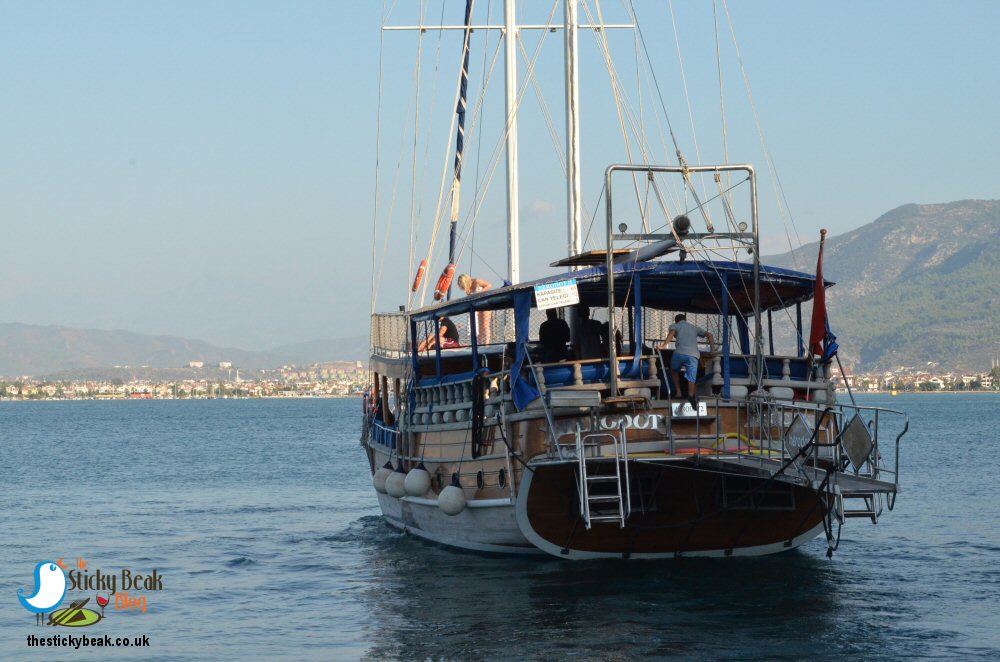 The final excursion we had booked with Mustafa was the Gulet trip; a Gulet is a traditional Turkish wooden sailing boat and they are plentiful in and around the Fethiye coast. The day dawned with bright sunshine and a cloudless sky, so the tans were well and truly going to get topped up that day. Our boat pulled up at Letoonia Club and Hotels Marina bang on time and we headed out across the bay, sliding through the crystal clear waters with ease.




Before long we anchored in a secluded cove and the water was so warm it was like swimming in a bath and shoals of fish darted this way and that among us all as we swam lazily around.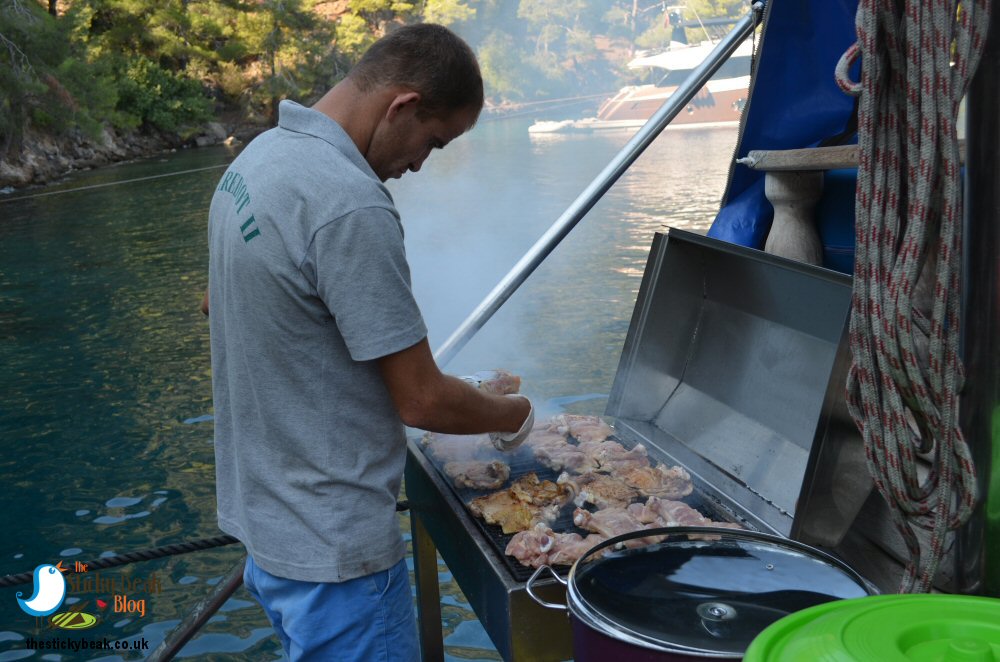 Our crew were so friendly and took great care of us all day; there was a brilliant system where each family had written a name down and any refreshments you took were just jotted down against that name. I love it when things are made simple, don't you? For our lunch we had freshly grilled Chicken, done on the boats BBQ, along with vegetable fritters and a selection of green salads and a deliciously herbed potato salad. There was also some plain spaghetti for the children, plain bread rolls to make chicken sandwiches with if you wanted, and ketchup too.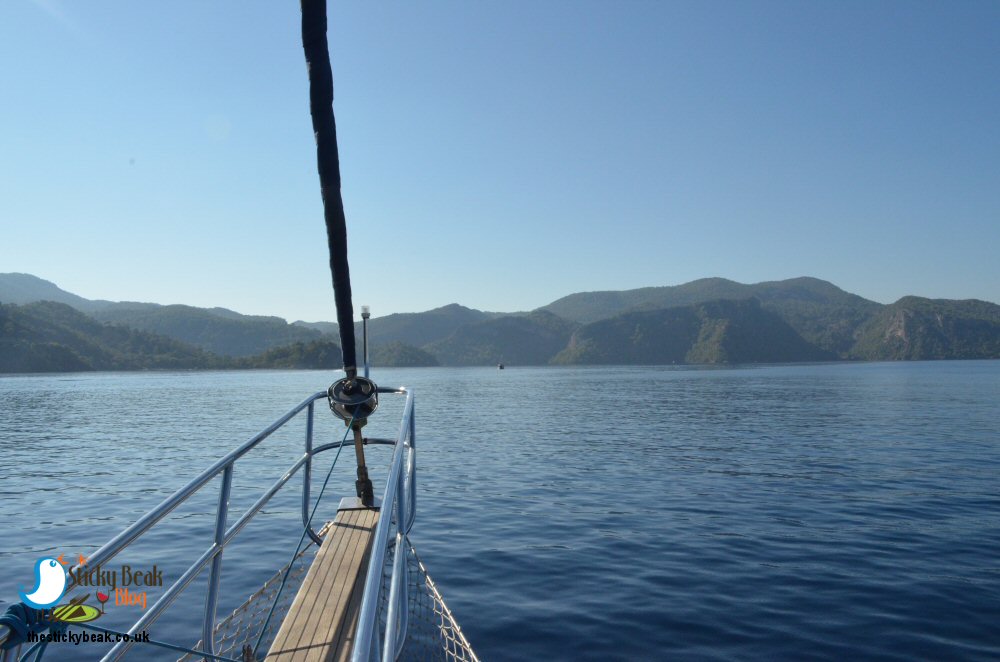 We pulled up the anchor and set sail once more, using the time to worship the sun and chat amongst ourselves. Our next stop was a cove that had a rope swing set up, so off went all the men and boys to do their best Tarzan impressions! Much laughter ensued and as well as the capers on the ropes, some people got their snorkels out to appreciate all the marine life available to view.




There was a final stop at Red Island for another opportunity to swim before it was time to head back to Letoonias marina. It had been a most enjoyable day aboard the Herodot II along with Captain Mehmet Sparrow and his crew, one that gave us some great family memories to reflect on.
I have to say that all the companies that Jet2 Holidays used in Fethiye, which we had for our excursions, were really good both in terms of the food provided, amenities and equipment and I would definitely use them again next time we go to Turkey.

Read All Articles Relating To This Holiday

Holiday At Letoonia Club & Hotel, Fethiye, Turkey.
Kebab A-La-Carte At The Letoonia Hotel, Dolphin Restaurant
Sushi A-La-Carte At The Letoonia Hotel, Dolphin Restaurant
Turkish Night At The Letoonia Hotel, Likya Restaurant
The Jet2 Experience During My Holiday To Fethiye, Turkey
Holiday Excursions In And Around Fethiye, Turkey