Turkish Night At The Letoonia Hotel, Likya Restaurant
---
Published On Saturday 5 Nov 2016 by Sticky Beak
See Recent Holiday Reviews | See All Recent Reviews


We had eaten plenty of meals in the Main Marina restaurant as a flock, and really enjoyed them all; no matter what the time of day there was an excellent choice to choose from. As you all know, I am a total glutton when it comes to food and I always love trying new things out, so when we heard that Wednesday evening was to be a showcase Turkish cuisine night you can bet your bottom Lira that I wasn't going to miss it.
Thanks to the wonders of modern technology I had contacted the guest services team to arrange to meet the Executive Sous Chef ( Bayram) and his team (including the lovely junior Sous Chef, Erdal), as well as the restaurant manager, Osman. The Boy Wonder, Chickadee and I went in to the restaurant before it opened its doors to hotel guests to get a few shots of the food and gain some insider knowledge as to what makes Turkish food so good.


The Likya restaurant is always kept spotless and the dishes carefully presented, but it looked absolutely breath taking on Turkish night.

As we walked in the door there were large rounds of Beef Tartare (Cig Kofte) that were then broken up and shaped by hand into smaller pieces, then these were garnished with a simple side salad and wedge of fresh Lemon to squeeze over it. This meat had a really punchy flavour but wasn't seasoned in a typically spicy way that would make your tongue tingle; it had several herbs and spices in though that gave it a real wow factor taste-wise.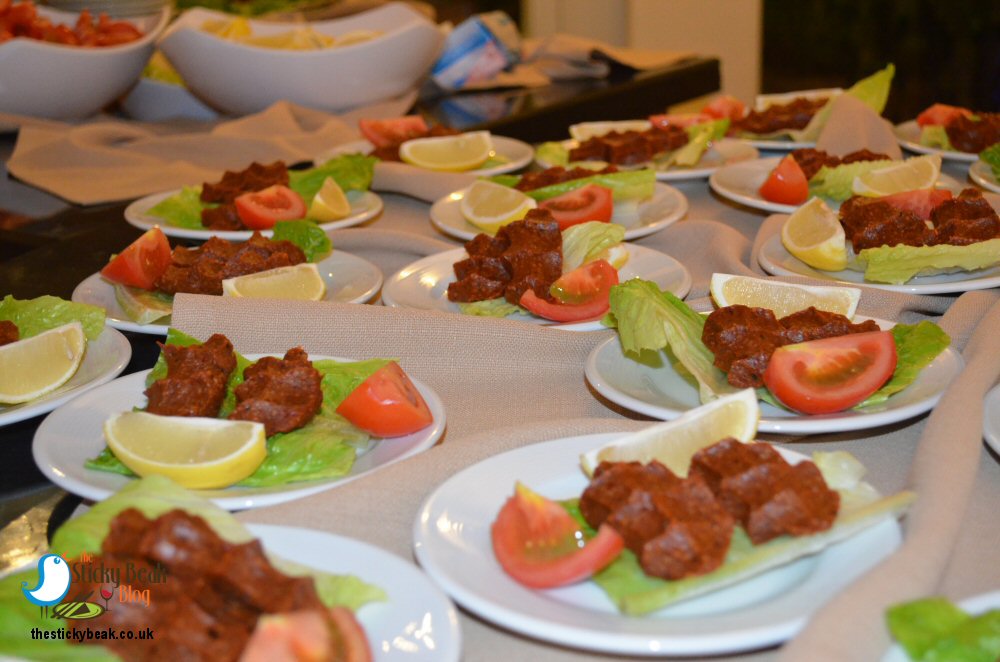 These included Parsley, Mint, Cumin, Black Pepper, flaked Red Pepper, Garlic and the unique Pomegranate syrup that is widely used in Turkish dishes.
As well as some delicious Chicken doner kebab on the traditional rotating spit that we are accustomed to seeing in our high streets there were racks of freshly prepared Lamb kebabs waiting to go onto the open flame grill to be cooked.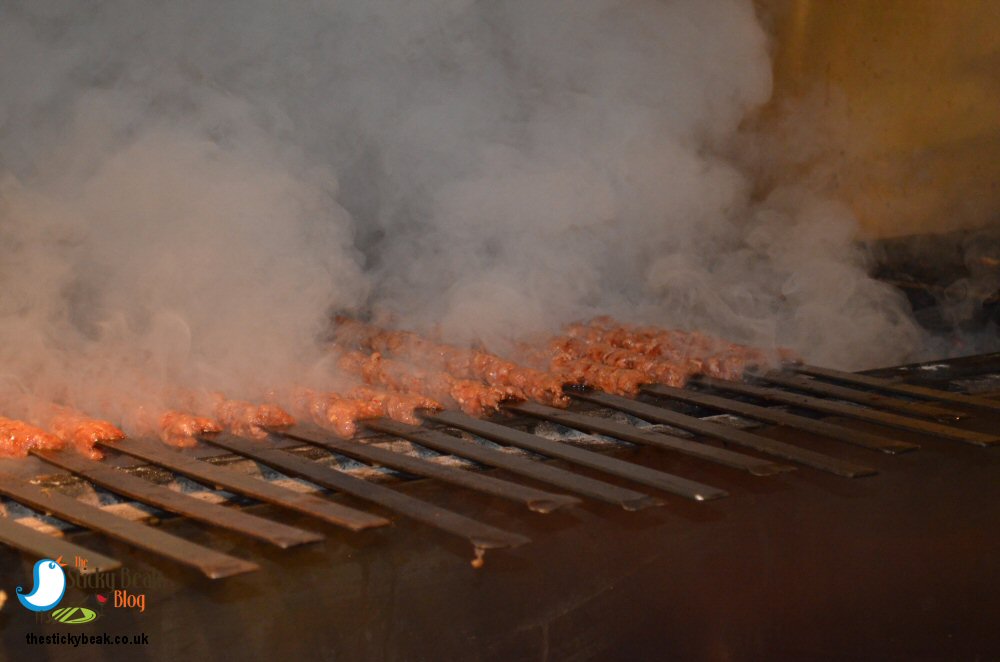 Both the chicken and the Lamb were incredibly tender and juicy, not at all greasy, and not spiced either, which is what we automatically think of when meat kebabs are mentioned. Bayram and Osman both said that, actually, Turkish cuisine is not usually spicy in the Chilli sense that makes your tongue tingle but rather combines several milder flavours to tantalise the palate. Individual tastes differ obviously and that is why herbs and spices are provided in pots for you to add as you wish in the restaurant.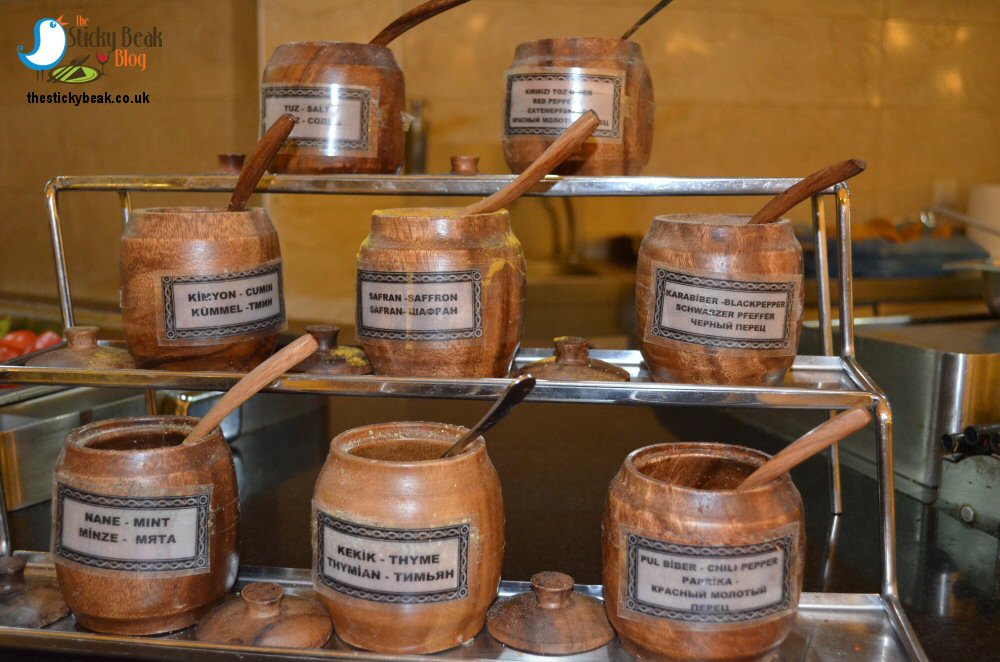 Pasta isn't something you automatically think of when talking about Turkish cuisine, so I was intrigued to try "Manti" which reminded me somewhat of small Ravioli. This contains small pieces of beef wrapped in pasta (made from flour, egg and oil) which is then cooked until tender, and it was delicious; Chickadee piled plenty of it on to her plate and soon polished the lot off!

Off to one side in the restaurant there was a Turkish lady industriously making what looked like really thin pizza bases; on closer inspection and explanation from her, I could see she was putting cheese and herbs on it, before folding it and cooking it on a giant round metal tray.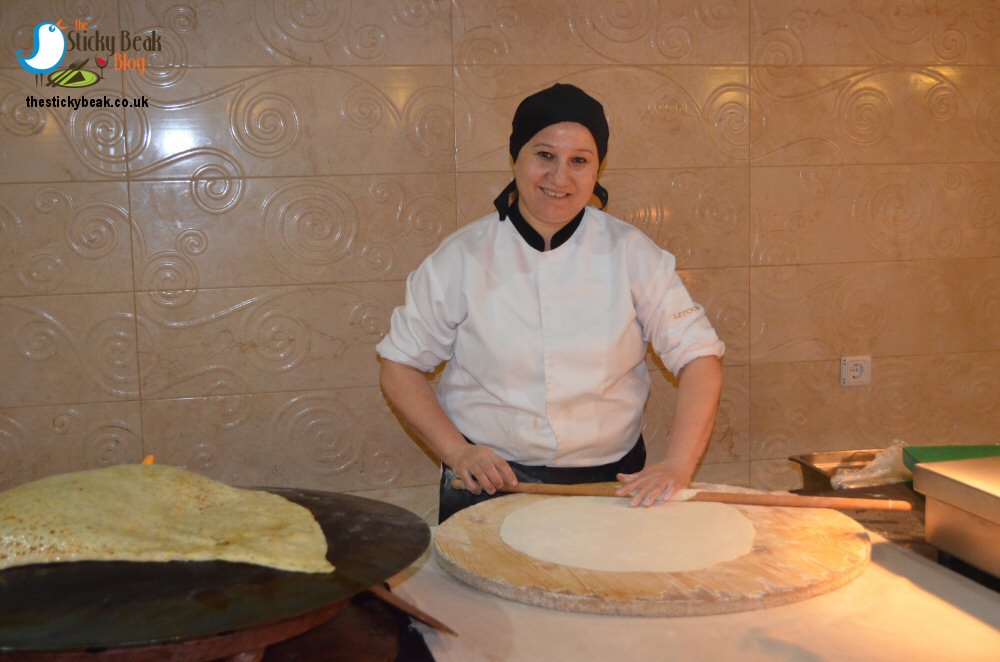 This was called Gozleme and is a Turkish Pancake; it comes in many varieties as you would expect, because it can literally be filled with anything. I would imagine that each region of Turkey will have its own interpretation of Gozleme due to it being such a vast country with different culinary influences predominating in each province. We saw this lady another day down at Dolphin beach when we were lounging there and she made us a batch up fresh - talk about heavenly :)




Our good friends Aziz and Ahmet were serving that night in the Marina restaurant, so we knew the service would be spot on. I have to say though, that the quality of service from all the staff, regardless of which restaurant we were in, was always very good; nothing was too much trouble and the used plates and cutlery were taken away very quickly.
In the middle of the restaurant there was a free standing counter with three large pots, each one containing a different Turkish stew.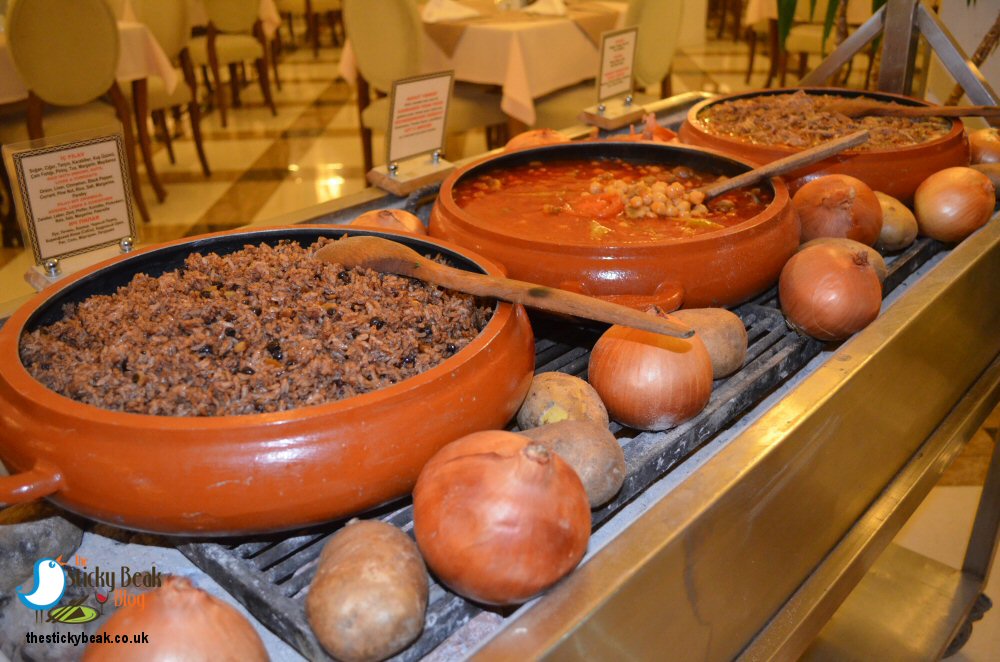 The first one was called Keskek, simply described as Lamb with Wheat, butter, salt and Black Pepper; this description really didn't do it justice and to be honest, neither did its appearance. The shredded Lamb lay on the top of a fairly nondescript looking cream coloured thick broth and never more has the phrase "don't judge a book by its cover" been more apt.

Not only was the lamb ridiculously tender and tasty, but the cooked wheat had transformed into a wonderfully rich, creamy entity. Both the Boy Wonder and I were bowled over by this; it is the ultimate in comfort food trust me and with a bit of tailored-to-my-taste buds seasoning it was transformed into something magical.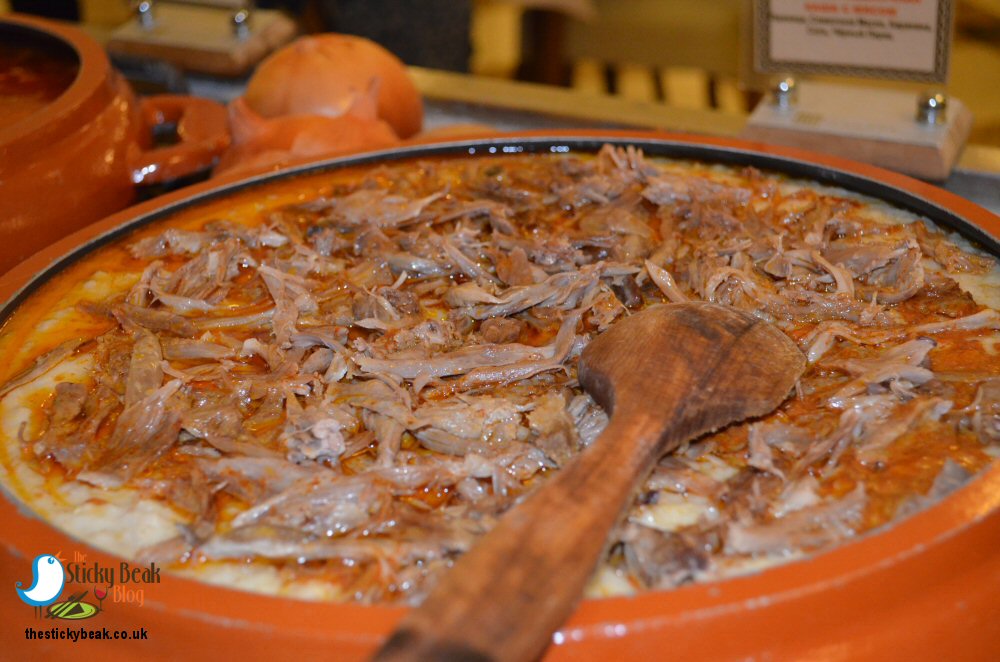 The second pot contained a rich tomato smelling stew and was called Nohut Yemegi; it did indeed contain Tomato, along with Garbanzo beans (Chick peas) and cubes of Lamb meat. Thanks to the plentiful use of Tomatoes and herbs this had a really rich flavour to it, enhanced by the Lamb juices that are released during the slow cooking process. This little beauty would go great with some chunky bread on a cold British night, and it was again voted a winner by my little flock.

The final pot looked intriguing and smelt strongly of one of my favourite spices, Cinnamon. Its name was Ic Pilav and the description said Onion, Liver, Cinnamon, Black Pepper, Currant, Pine nut, Rice, salt, margarine and Parsley; not a combination I've ever come across I must say, but I was game to give it a try. Due to the Cinnamon and Liver in it both the Man bird and the Chick decided they were going to pass and all I can say is that it was their loss. Weirdly, the flavours went together really well, and I went back for seconds of this dish.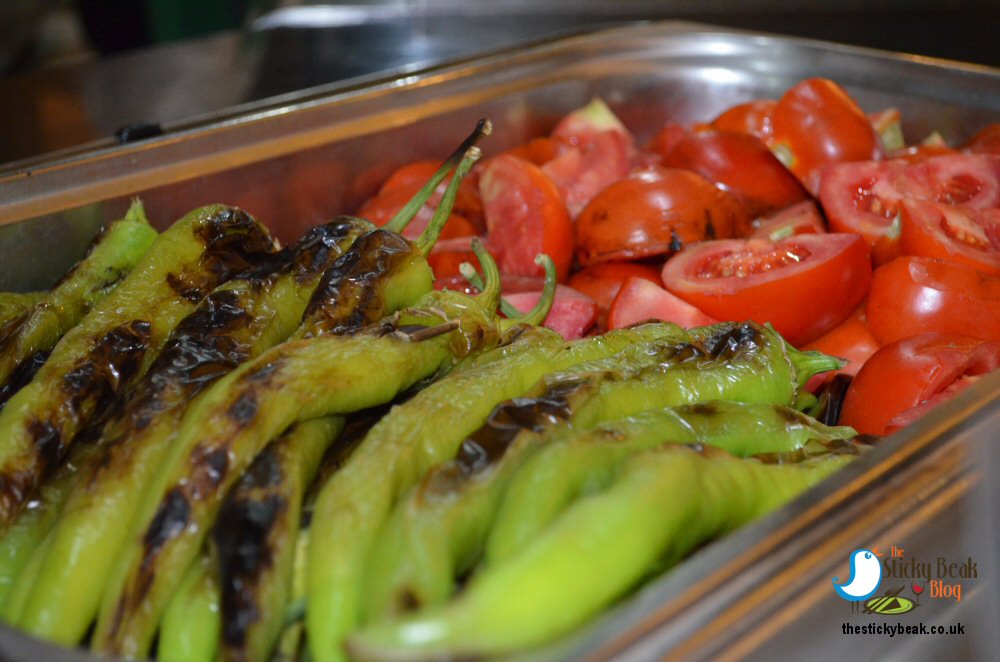 There were lots of vegetable dishes to try too, and the stewed fresh green beans with tomato, onion and garlic were delicious and I loved the Chargrilled Tomatoes and long Green Peppers.

There was a great vegetarian dish called Otlu Pide which is a type of bread topped with Leek, Spinach, Cheeses, onion, green Pepper and herbs and is gorgeous to eat.




The tray of stuffed Peppers looked very tempting and they did indeed tasted amazing, sometimes simple flavours give the best results on the tongue. Turkish cuisine also has its own of version of Pizza called Lahmacun, which is invariably topped with whatever is handy; needless to say the ingredients are always super fresh and bursting with flavour and the variety at Marina restaurant was no exception.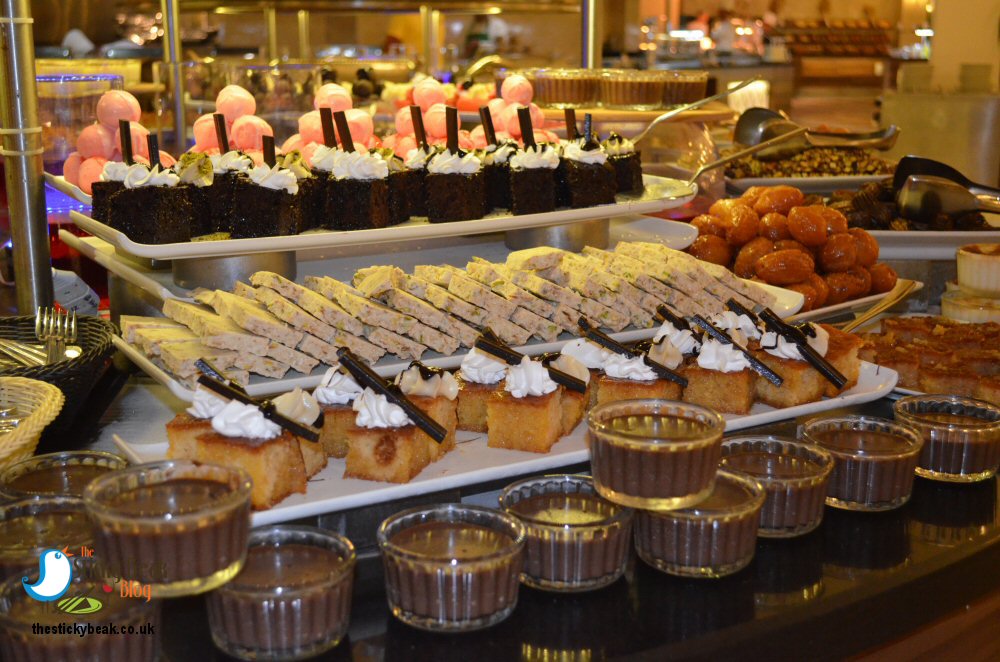 I have mentioned the Turkish version of Rice Pudding in another article and it was one of the desserts on offer on this speciality evening; as before it was lovely and creamy but it did seem odd having it cold rather than hot as we do in England.

My own favourite pudding in Turkey is Baklava, I just love the stuff and there was plenty on offer to savour on this particular occasion. The crushed Walnut variety on offer was fantastic and to say that I don't normally like Walnuts I was scoffing this treasure like it was going out of fashion! I also liked the Angel Hair dessert made with Angel hair, sugar, crushed Walnut, Lemon and Margarine; thanks to the Angel Hair it had the texture of Shredded Wheat, which I wasn't expecting.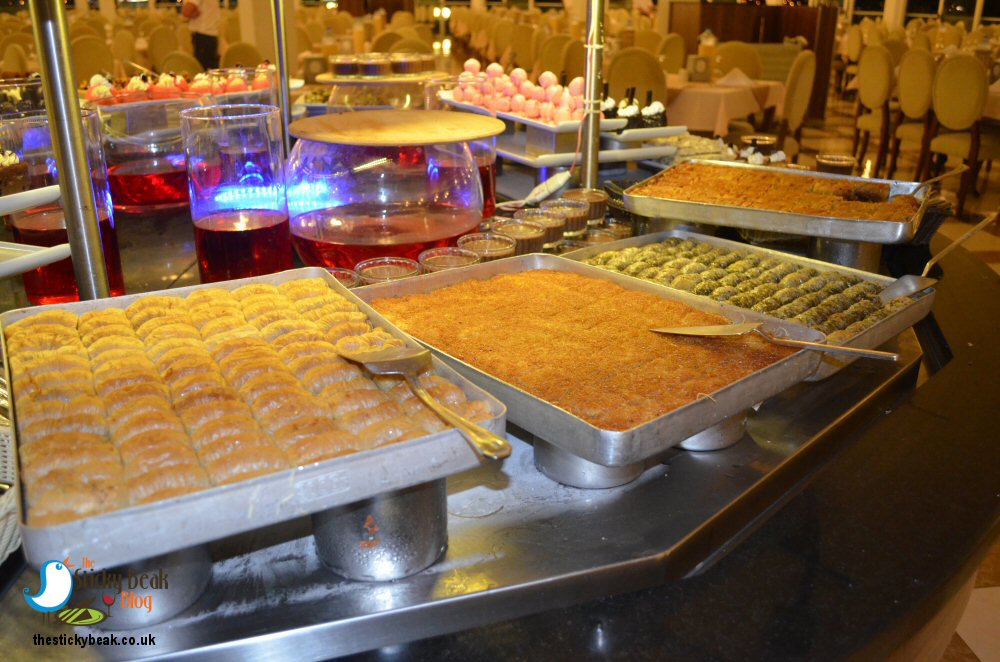 Irmik Tatlisi is a dessert containing Semolina and Pine Nuts and, although not my favourite choice from the dessert counter, it wasn't unpleasant, just fairly plain to my palate. There were your usual more European desserts too, sponge based confections that looked very pretty on the display in a variety of colours. Of course, there was the infamous Turkish delight too and His Nibs' face lit up like Oxford Street at Christmas because this is his absolute favourite thing to indulge in.




I had to remind him that other guests perhaps like it too; otherwise the entire tray would've disappeared with him up to our spacious room. Both dark and white chocolate had been combined with various dried fruits and nuts to produce delicious morsels to finish a meal with.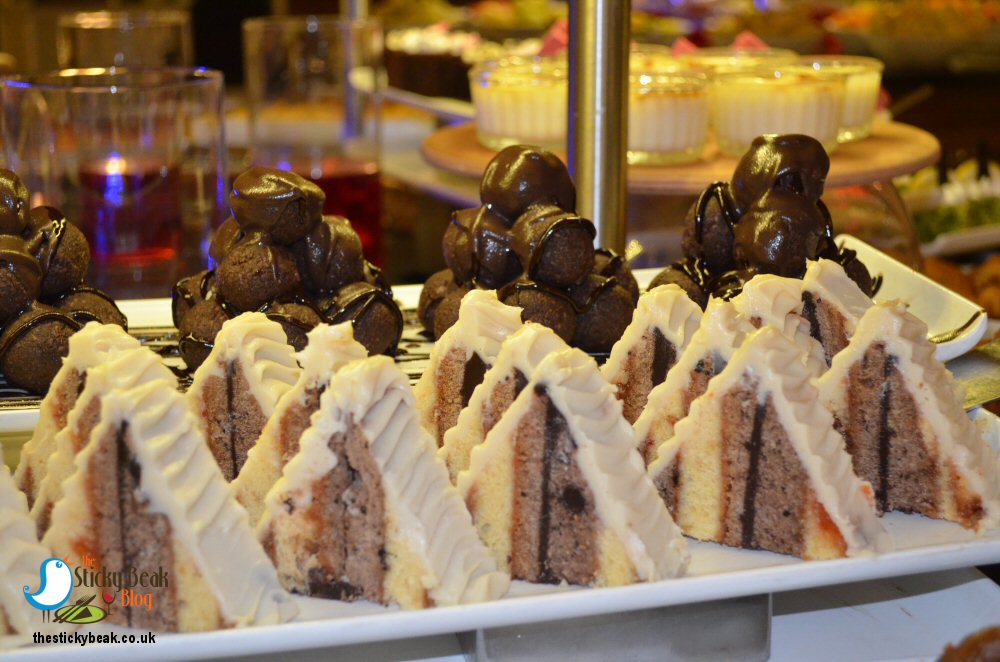 By the end of the evening our tummies were full to bursting and I must congratulate the team at Letoonia Club and Hotel Fethiye for hosting such a wonderful evening. The passion and culinary flair was very much in evidence and it was nice to hear praise being given to the staff and chefs throughout the event.

Read All Articles Relating To This Holiday

Holiday At Letoonia Club & Hotel, Fethiye, Turkey.
Kebab A-La-Carte At The Letoonia Hotel, Dolphin Restaurant
Sushi A-La-Carte At The Letoonia Hotel, Dolphin Restaurant
Turkish Night At The Letoonia Hotel, Likya Restaurant
The Jet2 Experience During My Holiday To Fethiye, Turkey
Holiday Excursions In And Around Fethiye, Turkey