Kebab A-La-Carte At The Letoonia Hotel, Dolphin Restaurant
---
Published On Thursday 3 Nov 2016 by Sticky Beak
See Recent Holiday Reviews | See All Recent Reviews


When our flock goes on holiday we do try to immerse ourselves in the local culture as much as possible, so on our recent visit to Fethiye we booked ourselves onto the a la carte evening at one of our Hotels restaurants.
Letoonia Club and Hotel is an absolutely stunning resort, as mentioned in another of my articles, and we were looking forward to a relaxed family evening in the Kebab restaurant.

Due to us being at the end of the season our restaurant wasn't booked enough to justify it being open, but rather than cancel our booking the lovely guest relations team asked if we would mind having our meal on the seafront in the Dolphin restaurant.

Nobody in their right mind would turn down the chance to dine with the sound of gently lapping waves in the background would they?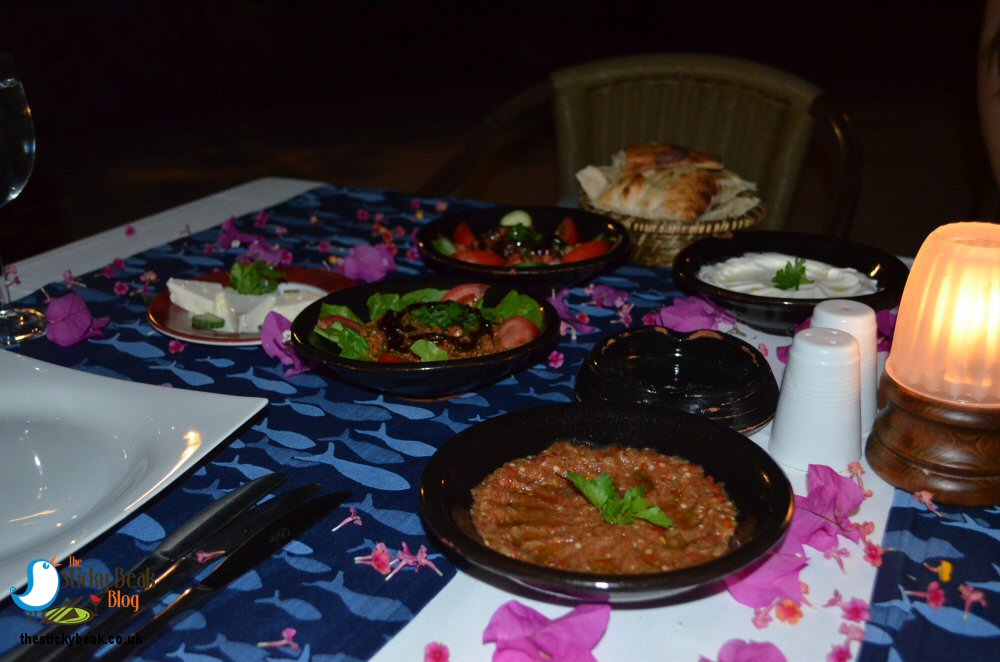 When we arrived we were shown to our beautiful waterside table that had been scattered with fresh flowers and individual blossoms and our seats were positioned under us carefully.

In the evenings in Turkey it can turn just a little bit chilly so our waiter thoughtfully offered us all super soft shawls to cover our shoulders or legs as desired. Our drinks orders were duly taken and we sat back in happy anticipation of what was to come.
Our first course was a selection of Traditional Turkish cold appetisers which I shall list:
Babagannus, an Aubergine salad. Made with Aubergine, Red and Green Pepper, Onion, Garlic, Tomato, Olive oil, spices and Lemon juice. This was really tasty, not too spicy, but you got the sharp note of the fresh Lemon coming through wonderfully well, even His Nibs liked it, and vegetables aren't his strong point.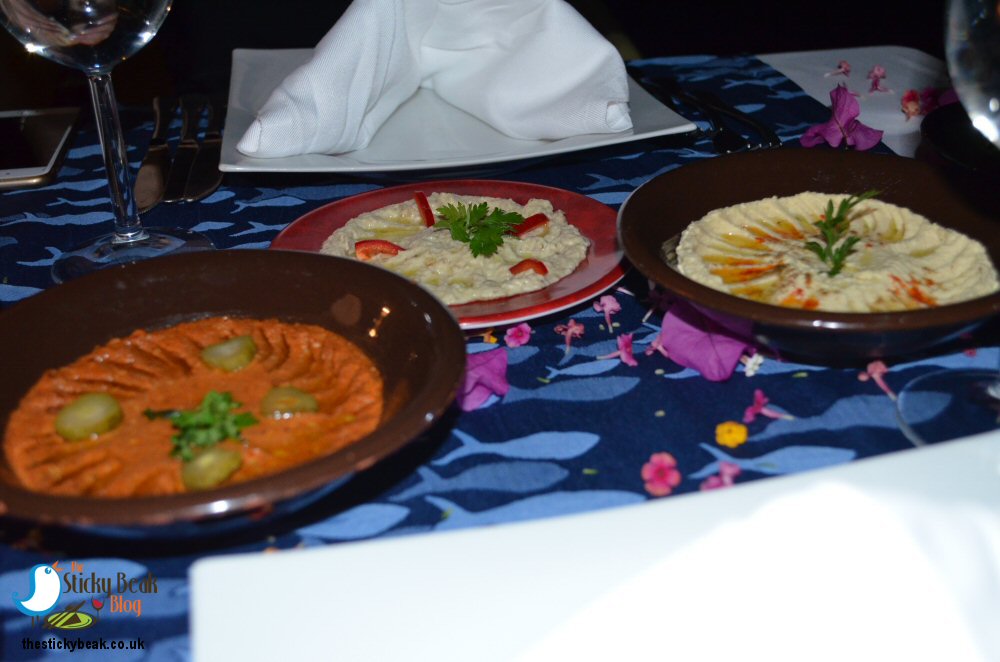 Muhammara, a Red Pepper and Walnut dip. Walnuts aren't my favourite nut by a long chalk, but in the spirit of broadening my culinary horizons I tucked in, and I was pleasantly surprised by its sweet, creamy taste. The nuts themselves are finely crushed to give the dip a bit of texture and when combined with Garlic, Spices and Lemon juice they aren't the over-riding flavour. This dip was quite a thick texture so you can easily eat it with a fork or spoon if you don't want to spread it on bread.
Everyone is pretty familiar with thickened natural yoghurt, Hummus and Antep Ezme (the spicy tomato paste used as a dip or marinade) so I won't elaborate on these too much, other than to say that they were super fresh and full of flavour.
Mutebbel is a strange combination of Smoky Aubergine and Yoghurt that works very well, even if getting my western head round the concept took a couple of minutes. The Boy Wonder wasn't overly keen on this and The Chick heard "Aubergine" and said "No way!", however, I really liked it.
There was some Tulum Peyniri to nibble on too. This is a Goats Cheese that is ripened in a goatskin casing and has a great salty tang to it that you only get from really fresh specimens. As you know dear reader, I could live without most things, but not without cheese, so I merrily chomped my way through the entire platter of it :)
The final cold starter was Kisir, a salad based around Bulgur Wheat with various vegetables, Lemon juice, Mint and Pomegranate syrup in it. It looks similar to a cous cous dish, and my Chick was happy to munch away on this and said how delicious it was.


It's a good job that there were only small dishes of each of these starters as there were still plenty of dishes listed on the menu to be served. The next course was the salad course, consisting of a familiar mixed green salad and the traditional Kasik salad which is very finely chopped salad vegetables dressed in lemon, oil and Pomegranate Molasses, and it is the Pomegranate component that gives it its distinct flavour.
With our palates cleansed from the salad we were ready for our hot starters; fried liver cubes, vegetable patties and fried Bulgur wheat balls containing minced meat. The Chick and I tucked into the liver with our customary gusto;

His Nibs is a bit (ok, a lot) of a wuss when it comes to offal so he didn't have any at all. The vegetable patties soon got divvied up between The Man and The Chick and were declared to be lovely, and we all enjoyed the crispy outer of the wheat balls and the juicy meat inside.
For our main course we all opted for the Mixed Turkish Kebab selection of Lamb Cutlet, Chicken Shish, Adana (long sausage shaped Lamb kebab) Kebab and grilled meatballs.




Turkish kebabs are typically plain and not spiced, with most of the flavour coming from whatever marinade the meat has been in. This means that the quality of the meat is very important, and all of the meats served to us were very juicy and tender. The kebabs were presented very nicely lying on a bed of bulgur wheat and grilled tomatoes and green peppers that were surprisingly sweet in flavour.
The dessert selection was fresh mixed fruit, mixed Turkish desserts or rice pudding with ice cream. His Lordship and our Chick had the rice pudding and I chose the mixed Turkish desserts.

My selection was superb; the baklava wasn't sickly sweet even though there was plenty of syrup oozing from it, and the pistachio variety was gorgeous. I also really liked the sponge dipped in local Honey, there really isn't anything quite like the Honey from Fethiye in the Mugla region, it is superb. In fact the region is where most of Turkeys Honey and Pomegranates are produced; its tea is produced in the Black Sea region and Alanya is known for its Bananas and Satsuma's.




The rice pudding was served cold which surprised Chickadee and The Man Bird, but they really enjoyed it; it is sweeter than we would make at home but just as delicious.
Throughout the entire evening our servers were constantly checking that we were happy with everything and refreshing our wine and water glasses, nothing was too much trouble for them.

We finished off with Turkish coffee, and blimey it makes espresso look meek and mild; after a couple of minutes I was like the energiser bunny!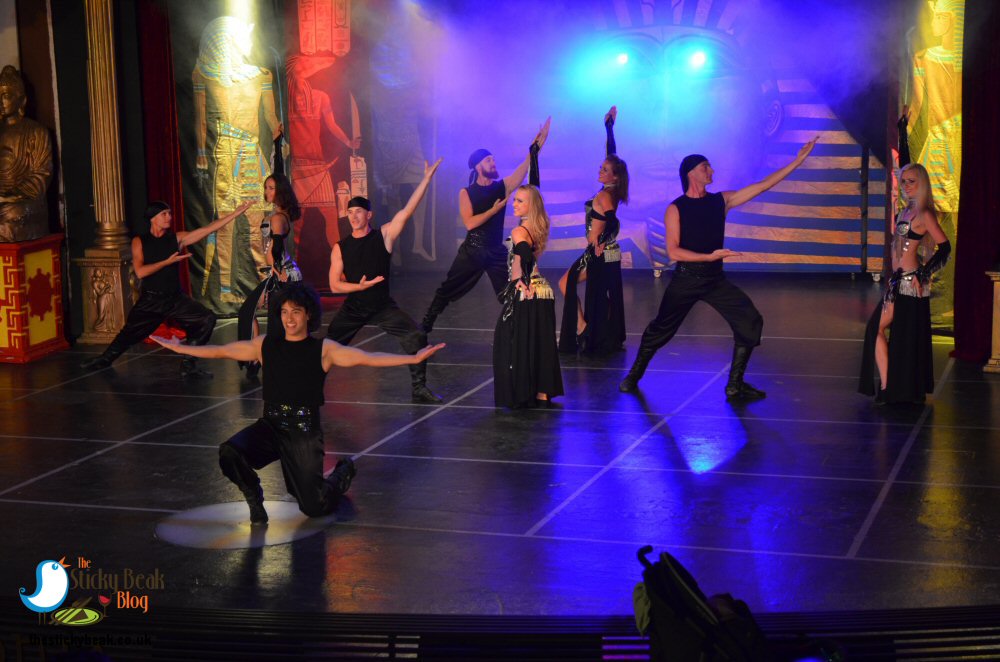 Luckily we were planning on watching the show in the main square because there is no way I would've been able to sleep for a couple of hours at least.
Life at Letoonia was indeed good :)

Read All Articles Relating To This Holiday

Holiday At Letoonia Club & Hotel, Fethiye, Turkey.
Kebab A-La-Carte At The Letoonia Hotel, Dolphin Restaurant
Sushi A-La-Carte At The Letoonia Hotel, Dolphin Restaurant
Turkish Night At The Letoonia Hotel, Likya Restaurant
The Jet2 Experience During My Holiday To Fethiye, Turkey
Holiday Excursions In And Around Fethiye, Turkey