Sushi A-La-Carte At The Letoonia Hotel, Dolphin Restaurant
---
Published On Wednesday 2 Nov 2016 by Sticky Beak
See Recent Holiday Reviews | See All Recent Reviews


We were settling in at our beautiful hotel nicely, and had already tried the Kebab a la carte menu, and given the standard of the food generally at the resort we booked onto the Japanese evening.
As before, we had a table at the water's edge, this time right on the edge of the cove, so the settling was just breath taking. Aziz, our server, brought those gorgeous snugly shawls for us all to keep warm if we needed them, although it was still a fairly warm evening.

We ordered our drinks and a lovely young man, Ahmet, brought them over to our table and had a little chat to us about life in general and asked if we were enjoying our stay at Letoonia Club and Hotel, Fethiye.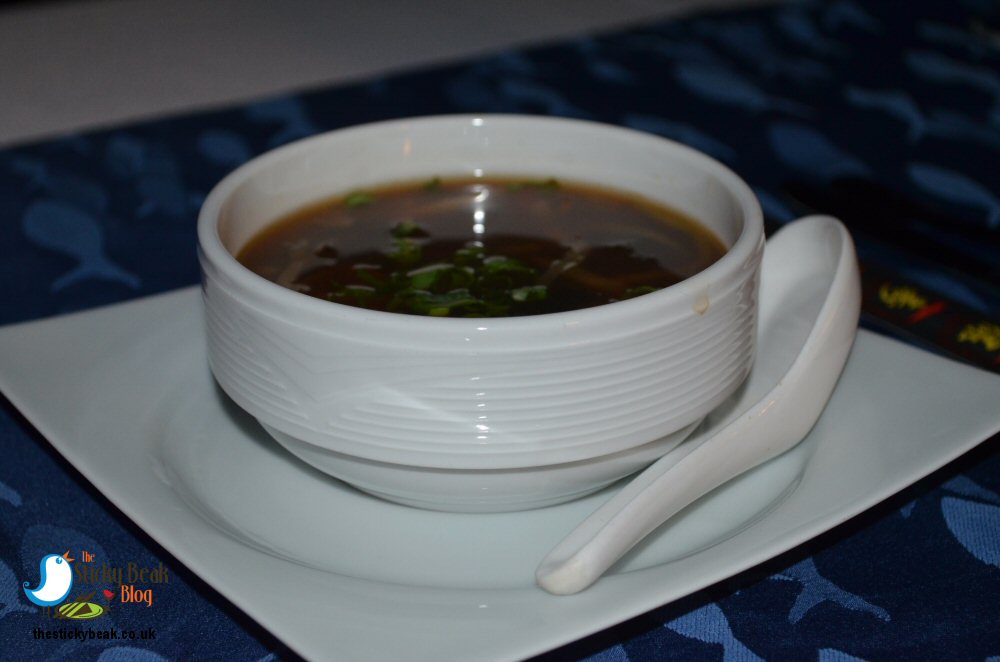 After only a short while, Aziz brought our first course out; bowls of steaming Miso Soup. The broth was very tasty and there was a lovely selection of shredded vegetables in it, as well as some shellfish (which got divided between me and the Chick, as His Nibs doesn't like prawns).

It didn't take my little flock long to demolish this course, and we were soon presented with our second course; the Sushi selection.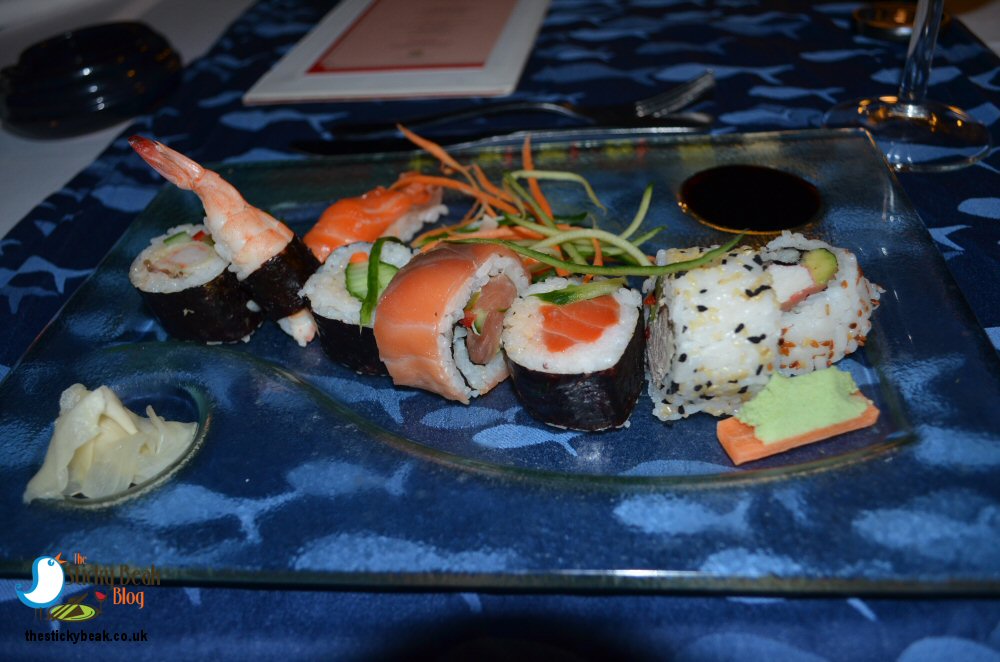 As you know, I love sushi, so I was more than happy to have the lion's share of these hand crafted delights, and tucked in using my chopsticks, but there was also western cutlery on the table to use if you wanted. There was a lovely variety to sample as well; Nigiri Shrimp, Salmon Maki roll, Tuna Maki roll, California roll and a Baja roll. All of them were supremely fresh and all the flavours burst through on the palate.

Aziz had pointed out the potent Wasabi paste to us, and there was also some thinly sliced pickled Ginger and a small pot of Soy sauce to dip the rolls into.
The hot starter course was a selection of Dim Sum served with Soy sauce and seasoned vegetables, and they were all very tasty too. I did let The Boy Wonder and Chickadee have most of these seeing as I had pigged out on the Sushi!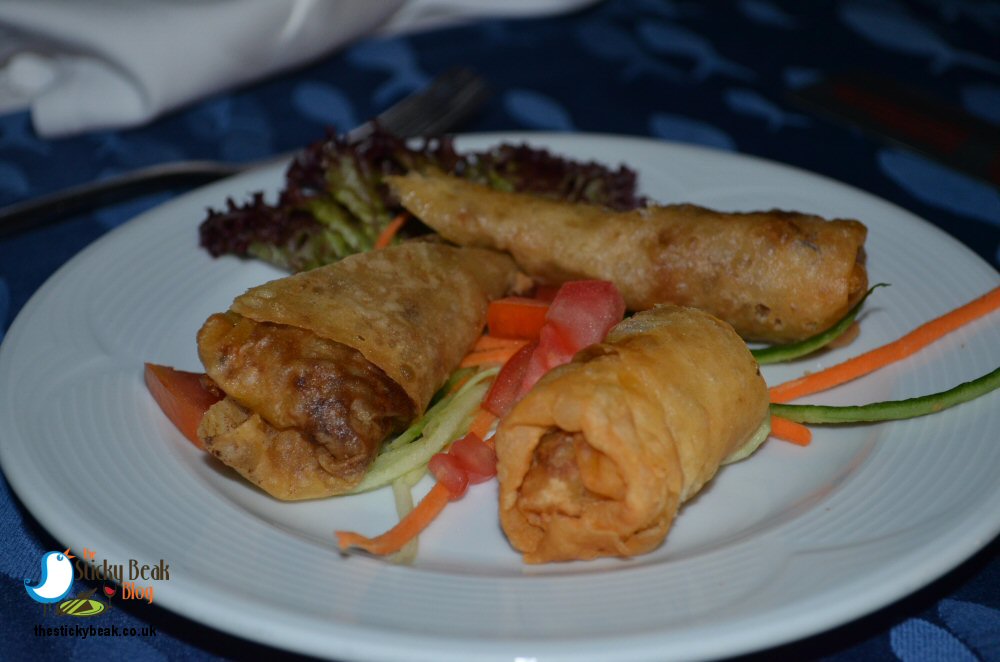 Two Salads were placed on our table; a seasoned green salad with Olive oil and Soy dressing and Grissini, and a Bean sprout salad with Anchovies and Seaweed shreds. Not only did they look very pretty and colourful, but all the components were nice and crunchy, and bursting with flavour; there was just the right amount of dressing on the salad to impart additional flavour without drowning out their natural glory.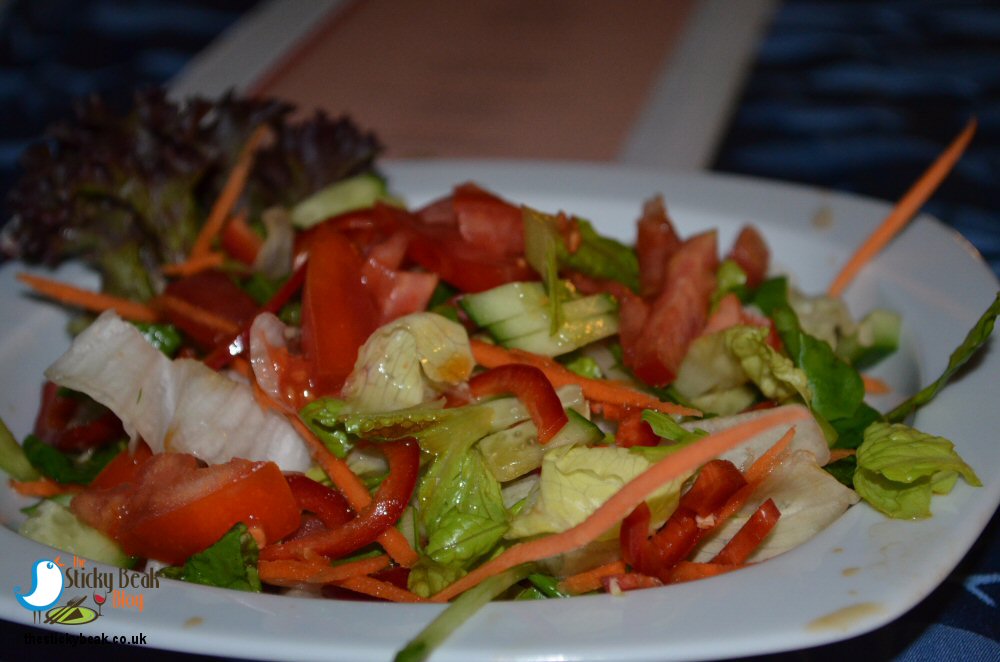 A brief interlude followed before our choice of mains was brought to the table, which allowed us to really appreciate the beauty of our surroundings; the coastline around Fethiye is absolutely stunning and Leetonia's own resort on its private peninsula is magnificent.

There was a choice of three dishes for the main course, so we had a different one each; I had the Pan fried Duck with buttered rice and Spinach, His Nibs had the Teriyaki Beef with Bean sprouts, Bamboo, and Asparagus and our Chick had the Prawn Skewers with seasoned greens and remoulade sauce. All the dishes were beautifully presented and tasted wonderful.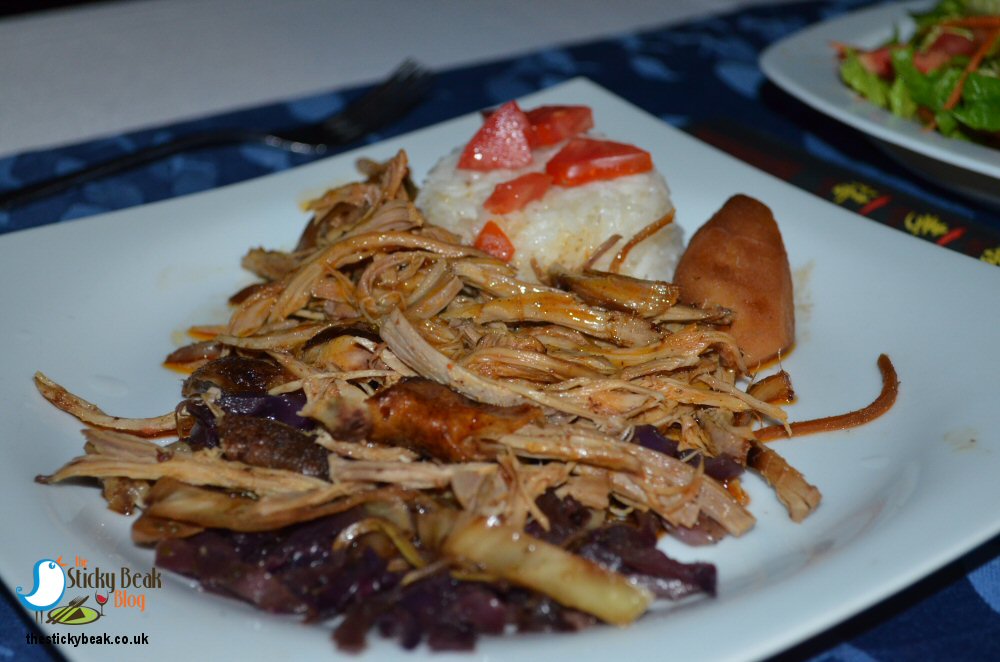 My Chick said how juicy her Prawns were and that she could just taste the oriental notes of the marinade they had been cooked in.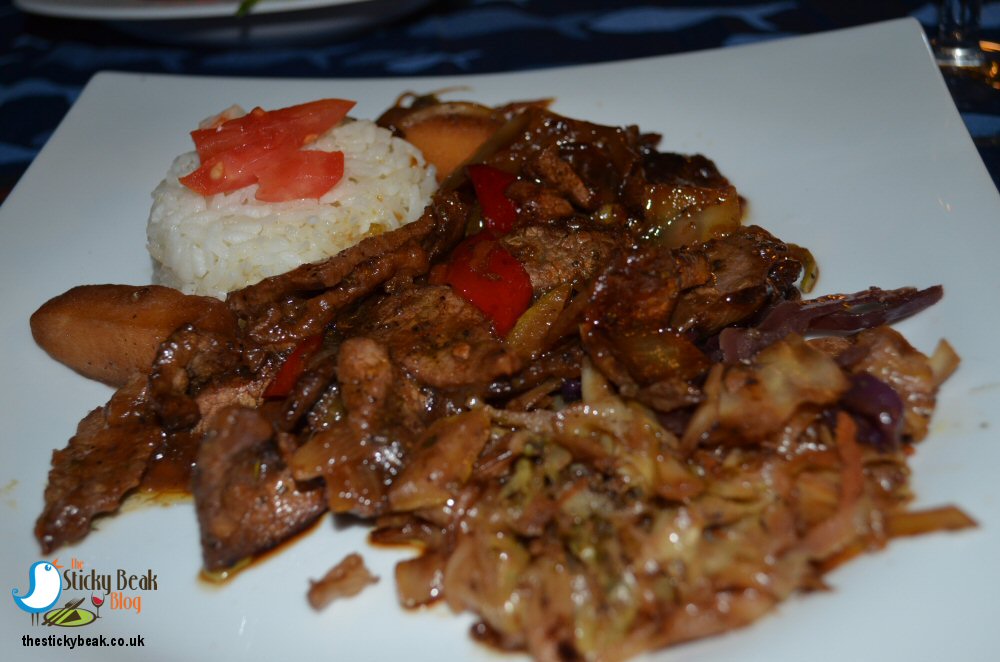 The Teriyaki Beef was nice and rich in flavour with the sauce just having the right level of stickiness to coat the meat whilst it was cooking. In fact both the beef and duck meats were incredibly tender, and we thoroughly enjoyed our main courses; the vegetables in The Man birds dish were still nicely crunchy and he even ate the Asparagus! My own duck dish was beautiful to taste, it had a nice glaze on its outer edge and the skin had been cooked to give it a nice crispness.
All evening both Ahmet and Aziz were extremely attentive; our glasses never went empty and our seats were repositioned under us when The Chick and I went to powder our beaks.




Everything was carefully set upon the table for us, not just plonked down and they were both keen to check that all was to our satisfaction, which it certainly was.
For dessert there was a choice of a hot or cold option; pan fried Banana served with Honey and Walnut or a mixed fresh fruit salad served with Vanilla Ice Cream.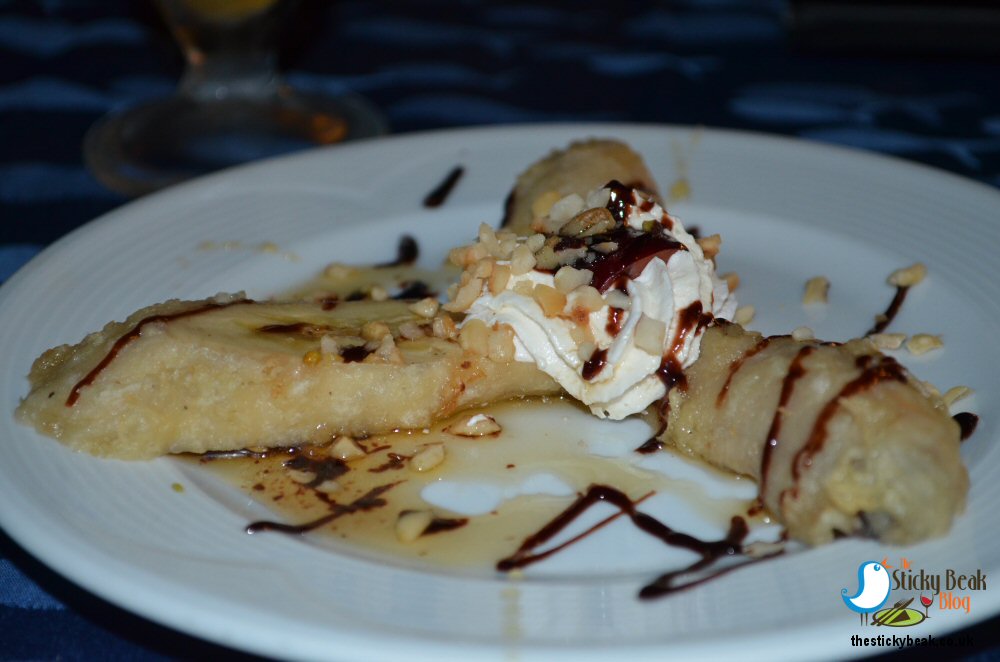 The Chick and I both chose the fruit salad and His Nibs had the banana dish. There was a plethora of different fruits including orange, peach, apple and pear in the salad, all were lovely and full of flavour and the ice cream was indulgently rich on the palate. The Man Birds Banana dish was very prettily displayed and apparently tasted every bit as good as it looked.
To finish things off we had our customary coffee, only this time it was the Turkish interpretation rather than the usual Latte variety.

We said goodnight to Aziz and Ahmet, and paid our compliments to the chef and his team in the kitchen before taking a leisurely stroll into the main square for some late evening cocktails and entertainment.

Read All Articles Relating To This Holiday

Holiday At Letoonia Club & Hotel, Fethiye, Turkey.
Kebab A-La-Carte At The Letoonia Hotel, Dolphin Restaurant
Sushi A-La-Carte At The Letoonia Hotel, Dolphin Restaurant
Turkish Night At The Letoonia Hotel, Likya Restaurant
The Jet2 Experience During My Holiday To Fethiye, Turkey
Holiday Excursions In And Around Fethiye, Turkey