Sticky Beak's 2016Tour Of Northumberland #StickyBeakOnTour
---
Published On Saturday 3 Sep 2016 by Sticky Beak
See Recent News Articles


Well some sort of normality is returning to Chez Beak, even though the washing machine is still on 24/7 operational duty! What a brilliant Bank Holiday Weekend (plus a couple of extra days) we all had up in North East with The Geordie Bird and the other foreign relatives. With the exception of Sunday morning when it siled it down, the weather was very much on our side for lots of beach walking and exploring.
We set off bright and early on the Saturday morning and made it up to Geordie Birds abode in time for her to cook us all a full English breakfast, and as soon as we'd cleared the pots away Geordie Birds 1 and 2 whisked the Chick off for a walk on a local beach with Geordie 2's pooches. The Man Bird and I unpacked all our stuff before heading off into town to get some flowers for his Mum.

Having bought a lovely bouquet from Asda and placed them in water back at the Geordies nest, we got in the car and drove the couple of miles to Newbiggin-by-the–Sea for a look at their Maritime Festival celebrations. All the local businesses, staff and traders had got into the Pirate Party theme by dressing as seadogs and Pirates and the marina front was awash with locals and tourists alike. Lunchtime was fast approaching so we ducked into The Endeavour restaurant for a light bite and a brew. Honestly, I have never seen such a huge teapot for two in all my life, it took all my strength to lift it and pour out its contents! The food was lovely too and served by very friendly, welcoming staff. read review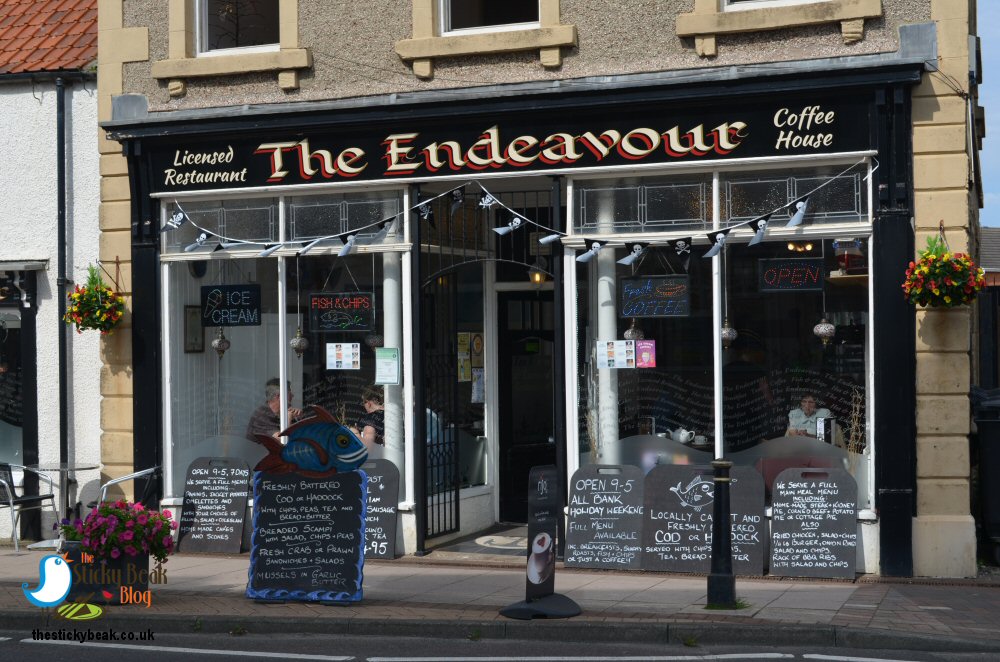 The Geordie Bird had announced that she was cooking dinner for us all on our first evening there and Geordie 2 also came over to eat with us, so it was a lovely family reunion. Once the table had been cleared The Man and I headed off up the road to the local pub for a couple of drinkies; we didn't stay long though as we were quite tired from the early start and long drive up.
Every year that we've going to Northumberland we have taken Geordie Mum out for Sunday Lunch; she loves a good Carvery (who doesn't?) and it's become a bit of a "thing" that we hunt out somewhere new to go. The one stipulation, and this is where I think My Man was swapped at birth, is that it must do small portions (what? Why?!); the idea of a Carvery, surely is that you can put as much or as little on your plate as you want, but anyhow, that's what she says, so that's what we always look for.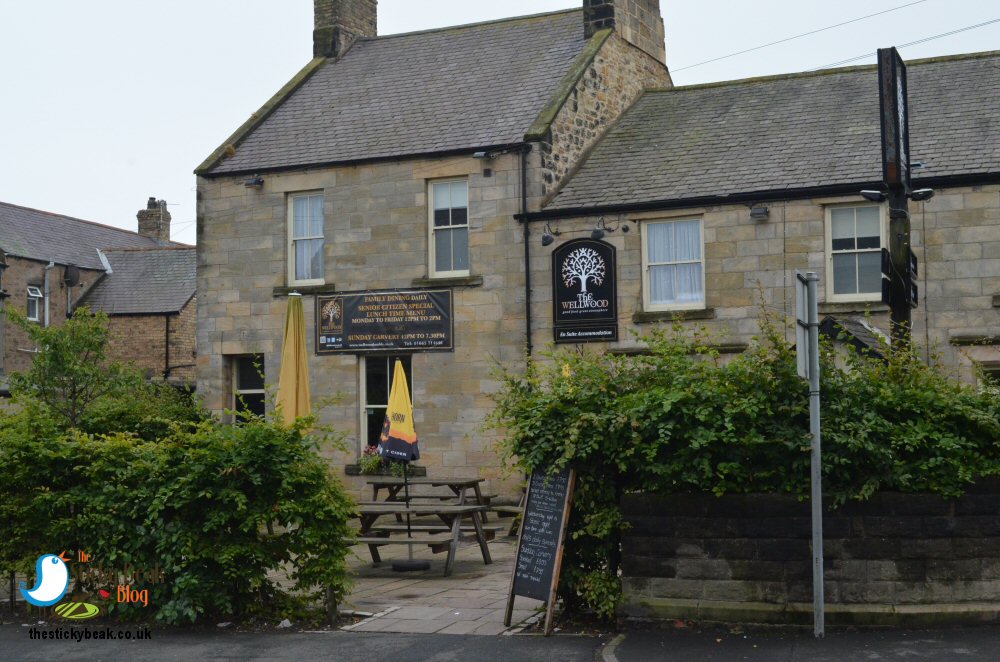 This year we chanced upon The Wellwood at nearby Amble so we booked a table for us all, and thankfully no car boot mooching request came from The Geordies Birds lips (I'm not a huge fan of them). When we arrived sooner than expected they very kindly managed to accommodate us a few minutes early, although it was lovely and lively already with other diners.

The Carvery is the focal point of the pub; it takes up just about the whole width of the dining area and was laden with three different meat joints and every conceivable vegetable known to man. A whole host of sauces and a superb big canteen of meaty gravy sat on another separate table. We all tucked in and enjoyed every single mouthful, although Geordie Bird and Our Chickadee couldn't quite polish off all the meat on their plates, the chef didn't skimp on the slice size :) read review
Seeing as we were on our Holli-bobs, The Boy Wonder and I sneaked off to the local 'spoons for a couple of drinks and took in the local entertainment provided by Bank Holiday Loving folk. I have to say that despite the place being absolutely heaving it was still kept really clean; staff were constantly collecting glasses and wiping down tables, so well done to the Rohan Kanhai team :)
We all woke up nice and early on the Monday morning and the Chick was heading out with Granny and Aunty to another beach to walk the pooches again, so His Nibs decided that we'd go back to Newbiggin and stroll along the marina and beachfront seeing as the weather was so nice. Caffe Bertorellis was open so we had a couple of Latte coffees and a fruit scone with Jam and Cream to refuel ourselves before we headed back to the Geordie nest.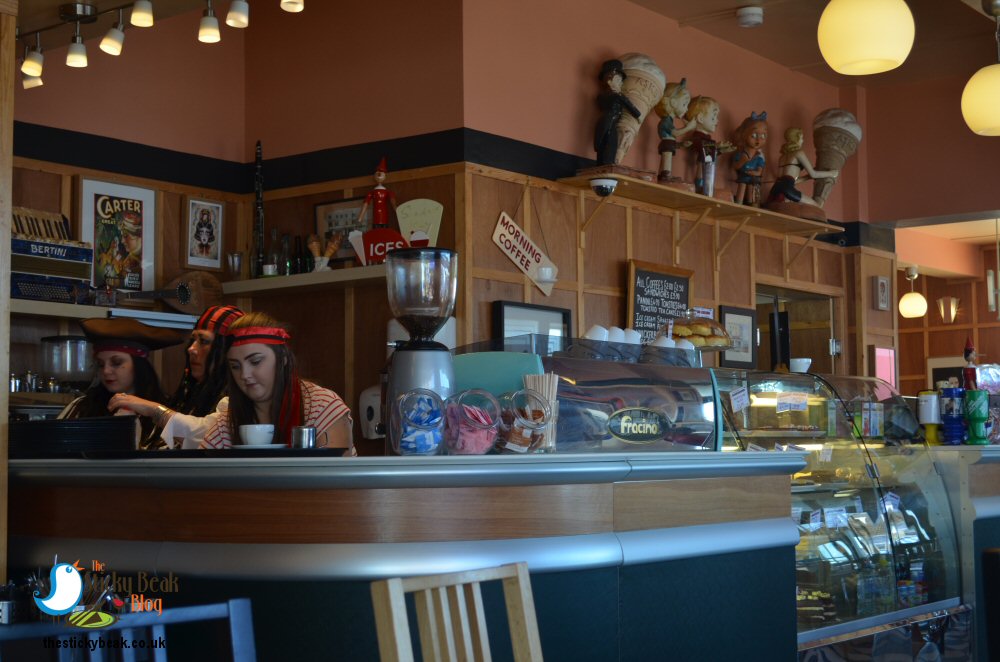 After a quick change of clothes we were ready to leave the nest again in plenty of time for the Tall Ships Regatta that was being hosted by the Port of Blyth. We made our way slightly down the coast to Whitley Bay where we planned to watch them sail past but, unluckily for us, I think the entire Country had the same idea. Realising that parking spaces were going to be a bit like Rocking horse doo-doo, when we spotted a space in Seaton Sluice the Man slid into it pretty sharpish in a move the Stig would've been proud of.

I defy anyone not to be in awe of Tall Ships as you see them in full sail, they truly are a magnificent sight to behold and we got some superb photographs of them with St Marys Lighthouse in the frame. Seeing as we weren't far from Whitley Bay it would've been rude not to have a quick go on the 2p push machines, they are one of my favourite ways to waste money and time at the Seaside.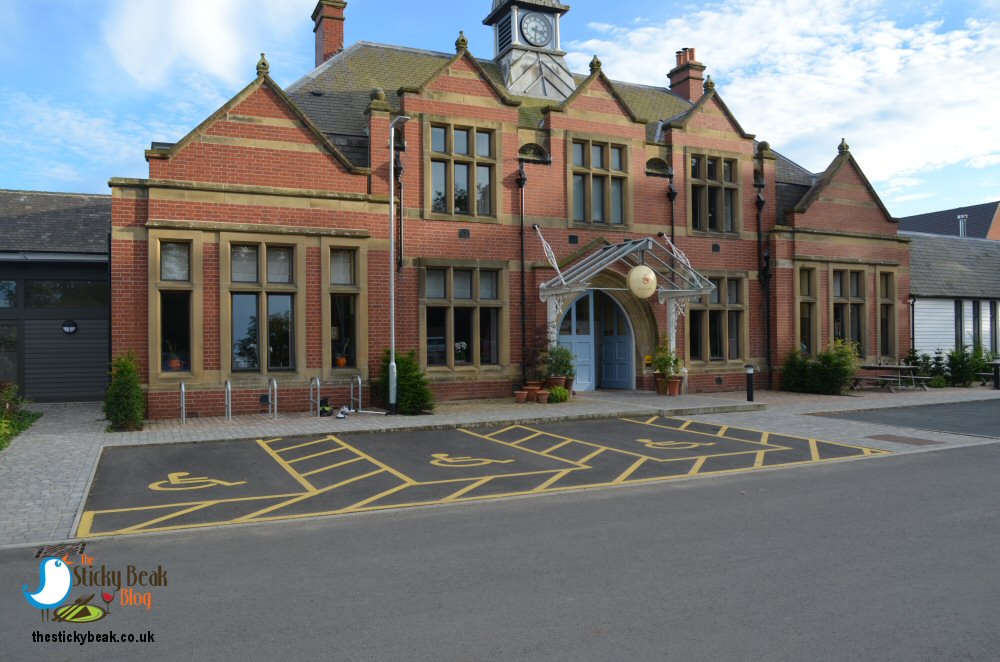 Monday evening saw The Boy and I head off to St Marys Inn at Stannington for a meal; there had been some changes to the Menu since we visited last year so we tried some new dishes out, and they were delicious. It was lovely to see how the venue had "grown into itself" since last year, it was still nice and relaxed with superb service, and I would heartily recommend you go there and maybe stay overnight if you're in the area. read review
The Geordie Bird was looking a tad jaded on the Tuesday(teen Chicks are quite hard work to say the least) so we decided to have a family day out at Bamburgh beach and then head to Seahouses for lunch and walk round the harbour there in the afternoon. It was an absolutely glorious morning as we pulled into our usual parking space and headed through the sand dunes and onto the breath-takingly beautiful stretch of beach.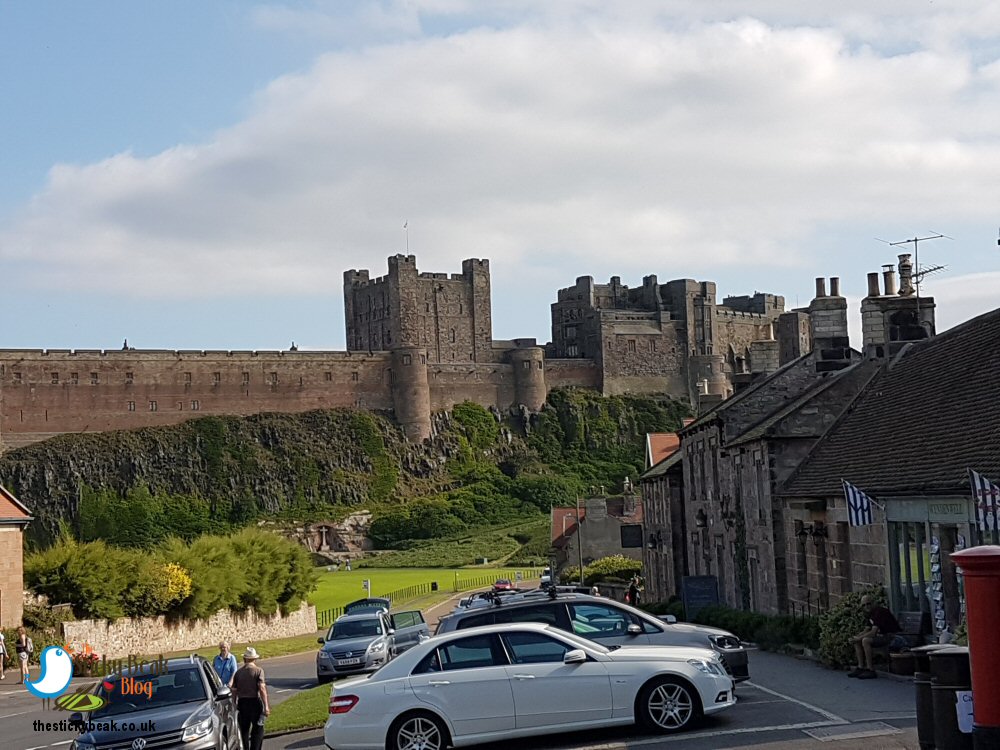 Nothing soothes the soul like feeling the sand between your toes and hearing the waves on the shoreline, and The Boy and I were soon splashing each other with sea water and giggling like idiots, much to disgust of our uber-cool Fledgling. We all walked along the beach past the truly stunning Bamburgh Castle taking in little kids making sandcastles and burying family members in the sand and dogs barking as they chased balls into the waves.

After a while we turned back and walked back the way we had come, before heading into the picturesque village itself for a spot of light refreshment at The Copper Kettle Tea Rooms. We tend to come here for a good brew and Hot Chocolate, and either a scone with Jam and Cream or toasted Teacake as the service is always spot on and the food lovely. On this occasion we opted for a couple of Scones and a Bacon Sandwich for The Chick; it was crammed with bacon and piping hot, so no wonder that this little gem is ranked in the top 25 tearooms in the country by the tearoom guild.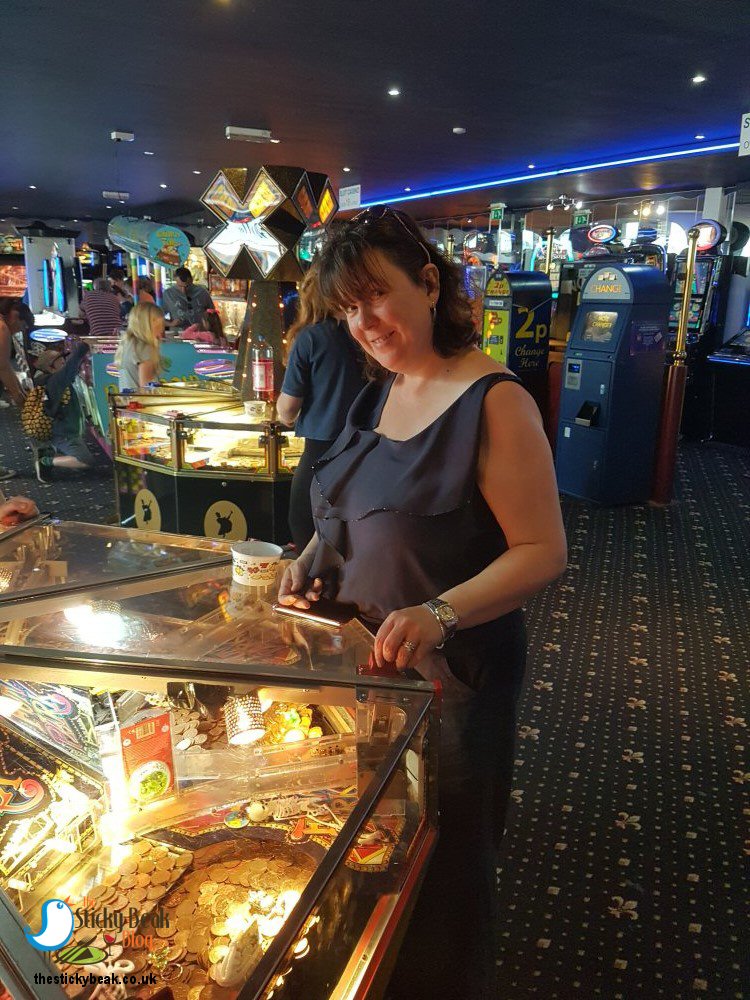 Everyone knows that no trip to the seaside is complete without Fish and Chips and so we headed off to Pinnacles in glorious Seahouses; still no sighting of Mr Robson Green *sigh*, but the Fish and Chips more than made up for the disappointmentJ Very conveniently there are also amusement arcades in Seahouses so a fantastic 15 minutes or so was passed shoving 2p after 2p into the chutes in the vain hope of winning a marvellously tacky key ring; I was, yet again, unlucky in my quest, much to the relief of The Chick. We dropped The Chick off back at Geordie Birds nest and headed back out to Whitley Bay to sample the culinary delights of Hinnies, a restaurant that opened earlier in the year that serves up Geordie comfort food. It was, quite simply, a blooming fantastic meal and the premises themselves are gorgeous too; as a bonus we got to meet Hinnies owner and Manager, both wonderful people who it was a pleasure to meet. read review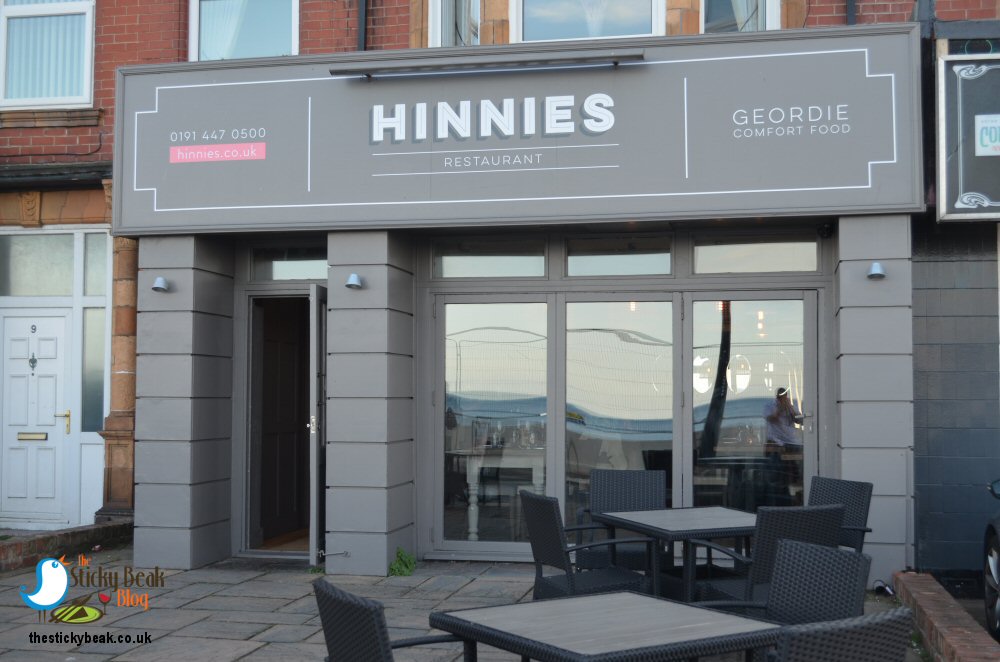 As it was our last night in Northumberland we headed back into the Rohan Kanhai for a sneaky couple of Gin and Tonics before returning to our temporary nest and making a start on the packing to come home.

We got up bright and breezy on the Wednesday morning and wolfed down a full fry up, well we needed sustenance for the journey home didn't we? Well, yes, we would've if we were heading straight back home but we were going through the Tyne Tunnel to Dalton Park Retail Outlet, so we would be having a mid morning coffee and cake at Thornton's Cafe. Lots of bargains found their way into our bags, allowing several hundred moths to make good their escape from The Man Birds wallet!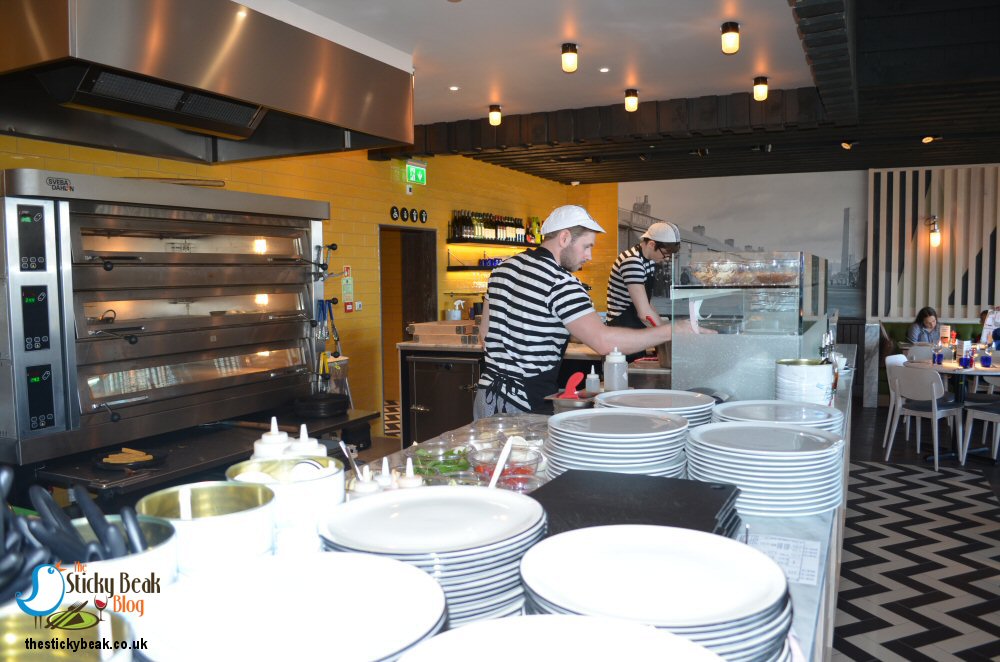 The shock of parting with money left the poor wee fella in need of refuelling and thankfully our friends at Pizza Express had recently opened premises there and had asked us to review them. I absolutely loved the restaurant, it was bright, airy, and friendly, and as usual serves up excellent dishes. This restaurant also has a good reputation in eltenedor website. read review

Next door there was a Prezzo and I immediately thought of the very charming Dirk Eller who I had the pleasure of meeting, along with Chef Johnny Hernandez, at the opening of MEXIco at Intu Centre, Derby earlier in the year.
When we got back to our beloved Derbyshire we couldn't help but smile, but I have to say that the People, places and coastline of Northumberland and the North East are pretty special too. I'm already looking forward to returning next year :)
Read Some Of Our Recent News Articles
---

Knives At The Ready With A New Steak Sharing Experience At Bar + Block Come together to share the love as Nottingham's contemporary steakhouse Bar + Block launches a new steak sharing experience that packs a real bite. Raising Read The Article

---

You Can't Keep A Good Blog Down - The Sticky Beak Blog Is Back On Facebook Never have I been so happy to write something as I am to be typing this... Facebook have upheld our appeal and re-published THE STICKY BEAK BLOG!!! Read The Article

---

Doughnut giant launches in Nottingham with bumper giveaway The UK's fastest-growing doughnut brand is giving away hundreds of free products this week to mark the opening of its new outlet in Nottingham city centre. Project D is launching Read The Article

---

The Prince of Wales in Baslow Crowned Winner of the Best Sunday Lunch The Prince of Wales Pub has proudly received the prestigious recognition of serving the Best Sunday Lunch at the acclaimed Westside Magazine Restaurant Read The Article

---

Beef King Burgers Opens In Chesterfield The wait is finally over! Chesterfield's ultimate destination for a sensational burger experience is here. he Beef King is thrilled to announce its grand opening on the 3rd and 4th of November Read The Article

---

Croots Farm Shop in Derbyshire wins Great British Food Awards Popular Derbyshire farm shop Croots has won two top awards in the Great British Food Awards. The farm shop near Duffield scooped a silver medal for its steak Read The Article

---

Sticky Beak Flies In For Panda Mami's VIP Launch Night In Nottingham The Man Bird and I were kindly invited along to the VIP launch night at the Nottingham venue of Panda Mami recently, and we had a fantastic time. Like its predecessor Read The Article

---

Pioneering Bakewell Cooking School Up For Sale After More Than A Decade Of Inspiring Foodies A pioneering cooking school that brought food and drink enthusiasts to the Peak District from around the world is for sale. When Hartingtons Read The Article

---

New Autumn menu Launched At Croots Farm Shop Cafe A new Autumn menu has been introduced in the popular cafe at Croots Farm Shop near Duffield. The new menu features warming favourites like sausage and mash (using Croots Read The Article

---

Derby-based brand, BEAR, announces opening date for new site in Ashbourne Independent coffee and lifestyle brand BEAR announces expansion, confirming the location of their sixth site which will take over the former Bennetts Ashbourne. Read The Article

---