Sunday Lunch At The Wellwood Amble
---
Published On Sunday 28 Aug 2016 by Sticky Beak
See Recent Dining Out Reviews | See All Recent Reviews


Day two of the Northumberland tour began in not so magnificent style with a downpour of biblical proportions #getthearkoutofthegarage, but luckily our plans for the day consisted of nothing more than a lazy morning before a Sunday Carvery for the flock. Geordie Bird is a connoisseur of Sunday roast lunches, so the challenge had been on to find somewhere she hadn't been that also did a stonkingly good roast.
We'd done a bit of research and exchanged tweets with the team at The Wellwood in Amble and had booked a table for 1pm, after checking that they do a smaller size portion too for those with lesser appetites. As soon as we told Geordie Bird we were taking her out for Sunday lunch she chirruped "I hope they do small portion options", honest to goodness the woman is like a chuffing broken record, shame I didn't have a bet on her saying that!
Anyhow, we got parked in their carpark, which isn't the biggest, but still probably has spaces for a couple of dozen cars, so not a bad size really. We walked through the dining area and checked in with the front of house hostess, as we were a bit early; this wasn't a problem so she took us to our table and took our drinks orders at the same time. The premises are nice and clean, with solid wood tables nicely laid out and gorgeous dark wood floors and nice comfy chairs.
We soon settled on three standard Carveries priced at £8.50 each which allow you to have three slices of meat and a small carvery for the Geordie which is £7.50 and entitles you to two slices of meat. The Carvery counter stretches on for an eternity with every imaginable vegetable on it, and three huge meat joints (Pork, Beef and Turkey on this particular day) sat proudly alongside a whopping tray of mountainous homemade Yorkshire puddings.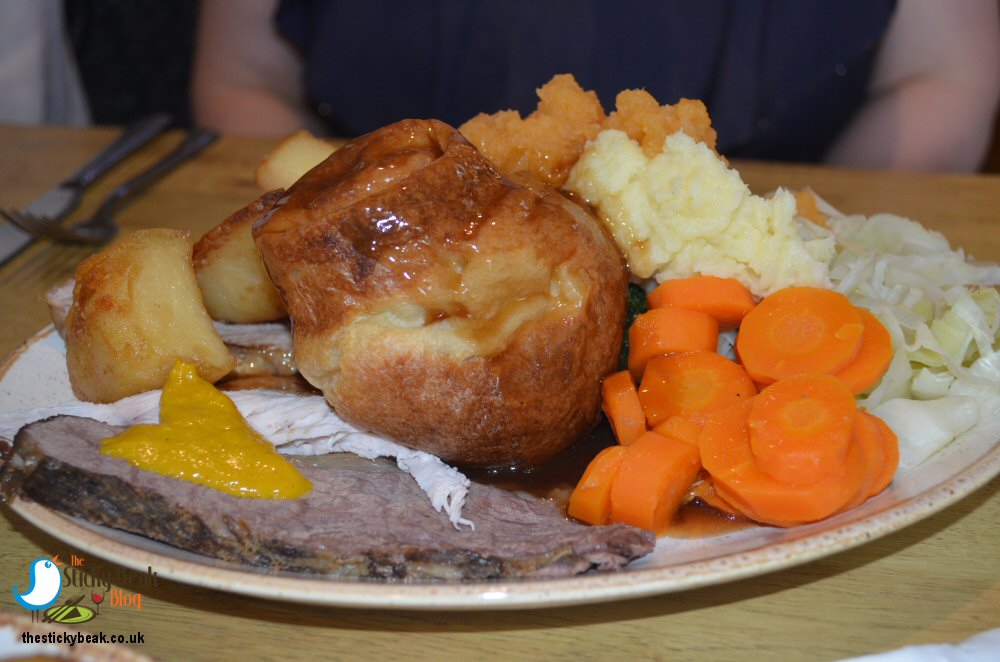 The Boy Wonder and I had a slice of each meat, Chickadee had two slices of Turkey and a slice of Pork, and the Geordie Bird had a slice each of Pork and Turkey. All four of us heaped various combinations of vegetables on our plates before going over to the sauce and gravy table to help ourselves to the condiments we fancied.
Other than the odd bit of meat being left by My Chick, our plates were enthusiastically emptied and we all said how much we had enjoyed the Carvery. Geordie bird was impressed by the succulence of the Turkey because it can sometimes be a bit dry and overcooked, but the chef at the Wellwood had done his job fantastically well; in fact the Pork and Beef had been cooked just as skilfully to retain their flavour and juiciness.

As we were tucking in, one of the lovely friendly staff came to check that everything was ok with the food. One of my pet peeves is overcooked, limp, lukewarm vegetables as you know dear reader, and I have to say that each and every vegetable had retained some natural crunch and was lovely and hot at The Wellwood. There was also a big urn of proper meaty gravy to help yourself to, and it was delicious; not too salty or runny, just scrummy :)


None of the flock could manage pudding, which is a shame because there was a fantastic selection; the apple tartlet, chefs crumble and Hummingbird cake all took my eye when I looked at the menu, but I seriously didn't have room for another crumb in my tummy.
Just as we were finishing up, Julian came over to introduce himself and have a natter to us about how we'd found the food and where else we planned to visit on our "tour". It was lovely to put a face to the name after having exchanged tweets, and we told him how much we had enjoyed our lunch. If you find yourselves up in this neck of the woods, I can safely say you'll enjoy the food given the standard of the Carvery, and you'll be given a warm welcome when you first walk inside the door. Hot Wings to this lovely establishment :)
No incentive was provided to visit this venue
read more