Dinner At St Mary's Inn, Stannington nr Morpeth
---
Published On Monday 29 Aug 2016 by Sticky Beak
See All Recent Reviews


St Mary's Inn, Stannington was closed in 2017 by the owners

The Man Bird and I have just got back from an absolutely stonking night out revisiting St Marys Inn at Stannington, a place we last visited a year ago. I am pleased to report that it has matured very nicely in that time, and has lost none of its charm or relaxed friendly ambience.
We were warmly greeted at the restaurant entrance and shown to our table cordially, despite being just under 30 minutes early thanks to us wildly overestimating bank holiday traffic. After ordering a large glass of Chardonnay for me and a pint of Peroni for His Nibs we perused the menu for inspiration, and ordered some Hummus and Flatbread to nibble on in the meantime.

At St Marys Inn they do a fab, flavoursome Hummus that is topped with whole Chickpeas and chopped fresh Coriander; trust me, it's a culinary carnival for the palate especially when scooped up with slices of warm, fresh flatbread.


For starters we had the Crispy Belly Pork, Black Pudding and Duck Egg salad (me) and Ham knuckle and truffled Pea Terrine with Pease Pudding (The Man). Both dishes were beautifully arranged on the plates and placed before us with a wonderfully warm smile from our server, whose name I forgot to ask (and she was an absolute star).

The belly pork was deliciously sweet and had a lovely amount of crackling-esque outer, and the Black Pudding was the best I've had I think; it had a rich deep taste, dense texture and sat smoothly on the tongue. A sublimely soft boiled Duck egg shared its silky rich taste, making the dish a total joy to eat, and the mustard dressing on the salad leaves gave a tangy contrast to the other flavours.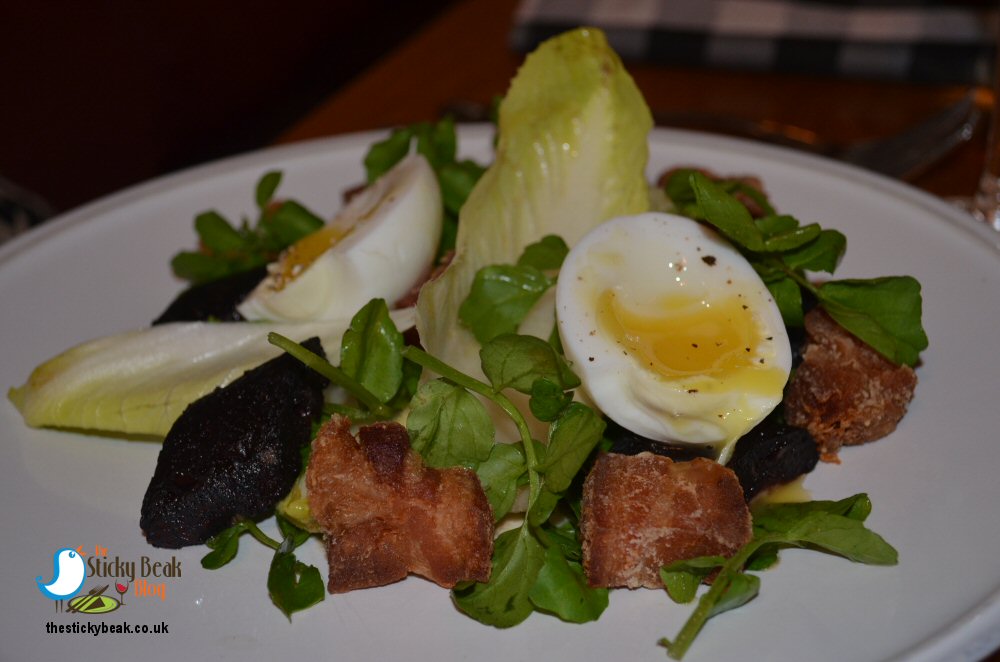 His Nibs Terrine was a very pretty dish to look at with its layers of pink Ham, orange Carrot and verdant Peas, and it had a lovely fresh taste to it as well. The tangy flavour of the Pease Pudding really contrasted well with the other flavours.
As soon as Him Indoors spotted the signature R&J beef burger he decided that was what he was having for his main course. If you can recall dear reader, this was what he had last year and thoroughly enjoyed it; so much so that he had to have it again. It was the same firm, meaty, affair as before and had been cooked perfectly medium as per his request; a nice layer of just-melted Emmental cheese topped the burger and this in turn played host to crisp pickles and a tangy homemade Ketchup.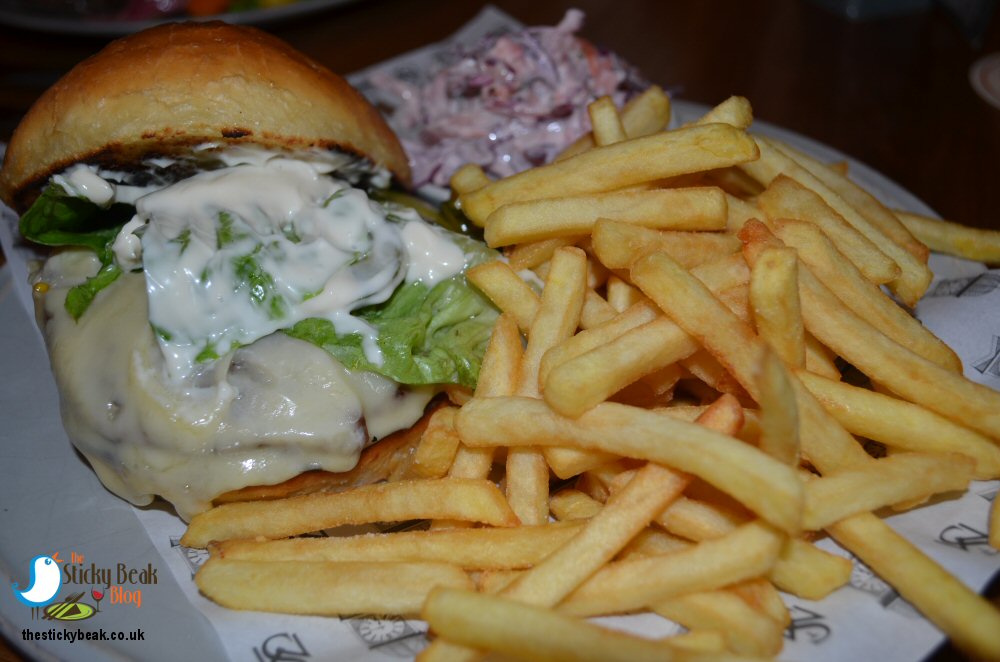 The lightly toasted Brioche bun was a very nice touch that gourmet burger establishments do as a matter of course to showcase their burgers, so it was nice to see a "regular" restaurant do this touch. Nicely seasoned crispy fries completed The Boy Wonders meal, and these little beauties were just begging to be dunked in my Peppercorn sauce.

I was in the mood for a steak, so I had the 8oz Rump steak complete with aforementioned sauce and seasonal vegetables; I also ordered a side of the Red Cabbage and Coriander Coleslaw for good measure. Again, the meat had been cooked as ordered and was lovely and juicy and I tucked in with much enthusiasm.




The vegetables had been nicely buttered and seasoned and there was a great selection including Carrot, Kale, Radish and Beetroot, Green beans and Swede. All of them retained a pleasing crunch and texture and they were a riot of colour on the plate. I was equally pleased with my choice and before too long both our plates were spotlessly clean.
For pudding His Nibs was never going to have anything other than the Sticky Toffee pud with Vanilla Ice Cream and, Oh My Days, was it a pud and a half or what? Presentation wise it was quite simple; the pudding sat in a lake of Toffee sauce with a round of ice cream at the side, but crikey what a toffee sauce! This gem could easily be bottled and sold as a stand-alone dessert sauce it was such an outstanding specimen; and when coupled with the superbly textural pudding and creamy vanilla flavours it was just sensational.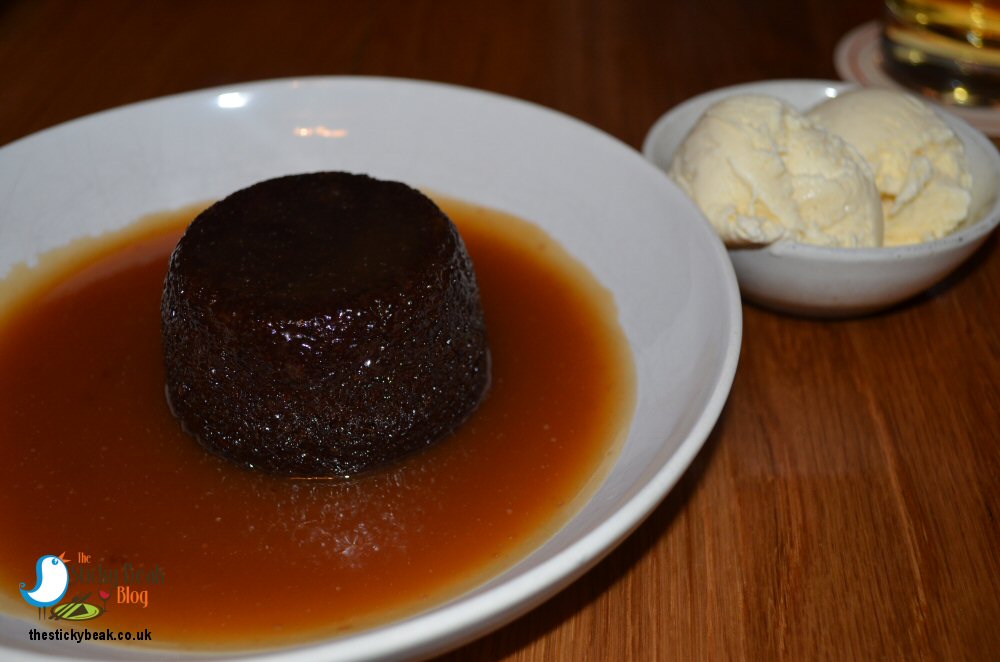 I had one of my favourite desserts; a classic Vanilla Cheesecake, topped this time with poached Rhubarb. No word of a lie or exaggeration, the cheesecake layer was 2 inches deep and was totes amazeballs to be colloquial about it. This deliciously creamy layer sat on a firm buttery base and then it was crowned with a delicate hued Rhubarb gel to comprise a delicious dessert. Both puddings were decadent morsels, but somehow they weren't cloying or heavy on the tummy when eaten, not something that is easy to achieve when devising a menu.
As is our usual habit we finished the meal off with a couple of Latte coffees and looked back on a wonderful couple of hours. Throughout our time at St Marys Inn the staff had been very attentive in that seamlessly discreet manner; they were always around to enquire that things were to our satisfaction or to clear away our dishes within a minute or so of us finishing them, but without conspicuously hovering around.




The team reminded us of a Swan; elegant and calm on the surface with a lot of skill, effort and work going on in the background. All the fellow diners in the restaurant received the same care and attention, and it was nice to see so many families with children dining in together when we first arrived.
Hot Wings deserved again at this lovely venue and if ever you visit Northumberland, whether for business or pleasure, I sincerely urge you to dine at St Marys Inn. I really do think you should open one in Derbyshire, really :)