Geordie Comfort Food At Hinnies, Whitley Bay
---
Published On Tuesday 30 Aug 2016 by Sticky Beak
See Recent Dining Out Reviews | See All Recent Reviews


I know that you all know what a nosy birdie I am, I just can't help it, so imagine how excited I was when The Man Bird told me there was a new eaterie in Whitley Bay! Hinnies only opened in January/February this year, so we had gone home to the Shire and were hunkered down for Winter when it opened its doors, but no matter because we were definitely checking this new kid on the (seafront) block out this summer.
The decor is lovely; utilising a lot of natural materials such as solid wood flooring and tables and gorgeous exposed brickwork. I also loved the nod to the coast and local fishing heritage with the Lobster pot inspired trio of lights above the window tables, and the taupe coloured wall tiles used as a backdrop for a display of culinary paraphernalia.

Towards the rear of Hinnies are several booth seats and tables with fantastic eye-catching modern, large circular lightshades set above them; couple this with the neutral seat colours throughout the restaurant, soft grey walls and clean lines of the bar area and you have a very chic, stylish eaterie on your hands.


Hinnies offer a great range of dishes and there is an element of "Geordie Comfort Food" on the menu, which is lovely to see. For weekday lunches (noon-2pm) and early evening (5-7pm) Tuesdays through Fridays there is a set menu available; single course main is £9, two courses are £12 and three courses are £15, and this is the menu that we chose to sample.

For starter The Boy Wonder had spotted the Ham Terrine, Pease Pudding, Pickles and Sourdough, and I decided to go with the Beetroot, Walnut and Goats Curd Salad with Honey dressing. Both dishes were beautifully presented; the terrine on an artisan wooden platter, my salad on a white plate with all the ingredients carefully arranged.
The terrine was very meaty, both in texture and taste, and nicely seasoned too; with thinly sliced pickled onion going exceptionally well along side it. Pease Pudding, to my "foreign" palate, tastes pretty much like a seasoned Hummus/ Dahl but when slathered on the superb toasted Sourdough was elevated to something out of the ordinary.




Anyhow, the only thing to get passed to me (apart from the smidge of sourdough and Pease Pudding) from The Mans plate was the pickled cucumber, so I think you can safely assume that the starter met with His Nibs' approval.
My salad had a terrific balance of flavours; subtle earthy notes from the Beetroot, slightly tangy, salty hints from the Curd and a nice crunch from the Walnut pieces. I handed over a forkful of the Goat Curd to The Man, who said "it tastes the same as normal, but just as if it's been pureed"; so how's about that for a technical culinary summary then?! I thought it tasted like summer on a plate, especially when a dab of Honey dressing was combined with the other ingredients - beautiful and simple.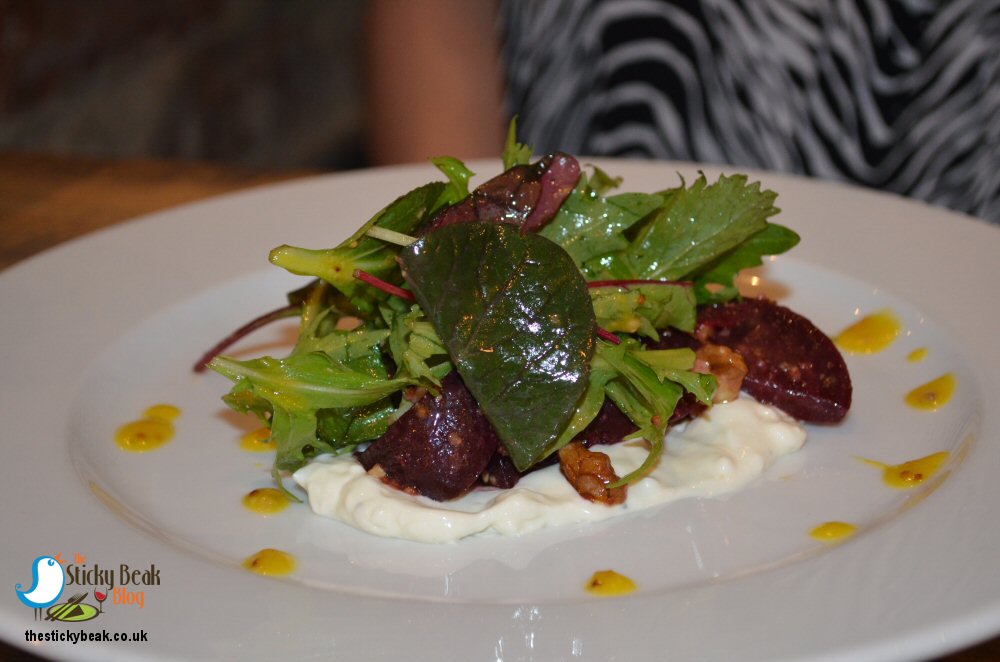 Our lovely server came to check that all was well with our food, which we assured her it was. At this point in the evening, roughly 7.30 pm, there were a few people coming in off the street asking for a table, to be told there was nothing immediately available; always a good sign when a venue is at capacity midweek.
Mussels was the first word I saw on the main course section, so I didn't bother looking any further; you know how much I adore seafood and I just couldn't resist them, but I did swap the chips they come with for some seasonal greens as I'd had chips at lunchtime. These beauties are cooked with Bacon, White Wine, Shallots and Garlic which sounded right up my street.

After debating whether to have the Pan Haggerty (a Potato, Cheese and Onion fritter type Geordie dish apparently), His Nibs plumped for the roast Pork and Leek Sausages with Bubble and Squeak and roast Onion gravy.
My mussels were what you'd call "a plate and a half" and they were gorgeous large, meaty specimens so I knew I was going to savour these immensely. The lovely young lady also brought a finger bowl and shell plate to the table for me before serving His Nibs with his dish.




There is nothing finer than fresh Mussels and these were superb, as was their cooking liquor which, thanks to the spoon provided, soon disappeared into my tummy. The vegetables were still nicely crunchy and bursting with flavour; Sugar Snap peas, Broccoli, Courgette and Cabbage ribbons all arranged in a little terracotta bowl, subtly glistening with melted butter.
The Man Birds main course was equally impressive; a more-than-ample Pattie of Bubble and Squeak served as the platform for a trio of butcher quality sausages to lounge on with rich, dark gravy drizzling down the side and around the plate. When he took a bite of the Sausage a little grin of delight began to spread over The Boy Wonders face and he said they were beautifully seasoned and full of flavour.

Nothing tops proper thick Onion gravy with Sausages and the one at Hinnies is bang on the money; chock full of rich onion flavour and with slivers of onion running through it, and the Bubble and Squeak is given equally top notch treatment so that it has a crispy outer and is soft and comforting inside.


Both mains were magnificent, as we told our server, and the portion size was very generous too. Just across the restaurant from us a mum with her two young children were just receiving their desserts; the kids had ice creams and these are served in bucket and spade shaped containers, but better than this the sauces and sprinkles are brought to the table so you can add as much as you want and make your own sauce combo. GENIUS!! After all, happy kids=happy parents and Hinnies obviously like families to dine with them as there were several wooden high chairs visible for use if needed.
For pudding I was seriously tempted by the Singin' Hinnies (drop scones with sultanas in) served with Strawberry Jam and Clotted Cream but then I saw the warm Chocolate Peanut butter Brownies and Vanilla Ice Cream. Peanut Butter just calls to my soul like a Siren to sailors, so that decision was set in stone, and The Man Bird has a similar reaction when he sees Sticky Toffee Pudding on a menu.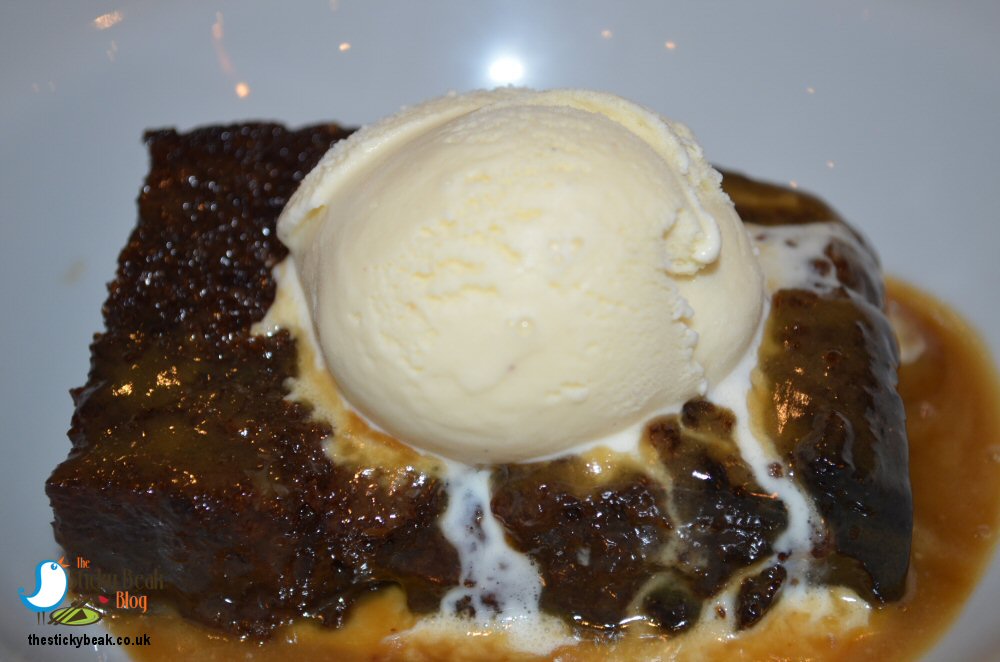 My Brownie was superb; lovely and moist, not dry or claggy and with a very yummy amount of Peanut butter in ribbons on its top. It was just warm enough to encourage the ice cream to ooze on its top without getting unattractively sloppy, and it really did satisfy my sweet tooth without being sickly.

His Nibs was getting stuck into his pud, saying how amazing it was. It was one of those rarities that manage to be rich without laying heavy on your tum, and he said the Salted caramel sauce was fantastic; again very cleverly thought out so as to balance the sweet Caramel flavour with the salty tang just dancing at the edge of your taste buds.
All that was left for us to do was have our usual latte coffees before heading off home, or so we thought; normally it's us that are the "secret squirrels" but unbeknownst to us we were heading for a surprise of our own. Andy Hook (owner of Hinnies) and Amy Spence (Hinnies Manageress) had been in a booth table at the rear of the restaurant, and ambushed us, in the nicest possible way, as we were going to settle our bill.




Having met them I can see why Hinnies has such a great friendliness to it, and a charming warmth; they were incredibly lovely people and we spent a while exchanging notes about our respective counties and general pleasantries. As Andy informed us that they had settled the bill for us, I must've come across a proper simpleton as I stuttered our thanks. It isn't often I'm caught off guard but his curve ball really threw me, so I just want to say a heartfelt, respectable "Thank you", rather than the faltering version he and Amy received on Tuesday evening.
Some of you may already be familiar with Whitley Bay from your childhoods or from taking your own families there for a cracking seaside escape so next time you go please go to Hinnies for some honest, top quality food at splinteringly good prices.

If you haven't been to Whitley Bay before, not only is it a truly stunning part of Northumbria with a great beach and seafront, it now has a fantastic place to eat as well. In the spirit of all things Geordie, "Howay Andy Man and Amy Hinnie, Hot Wings awarded to your reet canny restaurant like" :)
No incentive was provided to visit this venue
read more