Winter Wonderland At Center Parcs, Sherwood Forest
---
Published On Saturday 30 Dec 2017 by Sticky Beak
See Recent Holiday Reviews | See All Recent Reviews


Yay, it's that time of year again dear reader; the annual flock and friends pilgrimage to Center Parcs before Christmas. As a family we've been coming since our Chick really was a Chick of six months old. Now that she's a fledgling of an additional 16 years you could say that we've seen some changes over the years at Center Parcs.
Originally we used to herald the start of this short break by having breakfast at the establishment with golden arches (our palates screaming in protest at us), but for the past couple of years we have had our first meal on village at The Sports Café. This venue has undergone some quite radical changes, though the small Childs' play area is still insitu. The seating is much more symmetrically arranged now and there are more screens to watch sport on; the biggest change though is that table service is now available, so no more queuing at the counter wondering which till will be the quickest!


Our server, Sharon, was so lovely and greeted us with a huge smile and some small talk. We ordered Avocado and Tomato on brown toast for me, and the Champions Breakfast for His Nibs; his breakfast comes with OJ included, so I just ordered a pot of tea for myself. Chickadee had already wandered off to explore and make her way down to the Subtropical Swimming Paradise (STSP).


There are a lot more healthy choices on the menu at the Sports Café, whatever time of day it is. Back in the day, the menu was much more limited and the quality was nowhere near as good; nice to see that this popular venue has upped its game. Both dishes were good sized portions and the Man Birds' brekkie was piping hot :). For the single slice of bread on my plate I had an entire half of a generously sized Avocado, and at least six slices of Tomato. Twinings Breakfast Tea is the tipple on offer at The Sports Café and the loose leaf bag is thoughtfully left out of the pot of hot water so you can brew it to your personal taste.


So, having been suitably re-fuelled the Boy Wonder and I moseyed on down to the swimming Mecca. Nothing is ever that simple with a fledgling lurking is it? The mere fact that she'd gone ahead should've set alarm bells ringing really. As soon as she clocked the 'rents arrival she swooped; "Daddy, I've seen a lovely bikini in Aquatique". Let's just cut to the chase and say it was game over, man down, wallet emptied!! She did make it look good though :)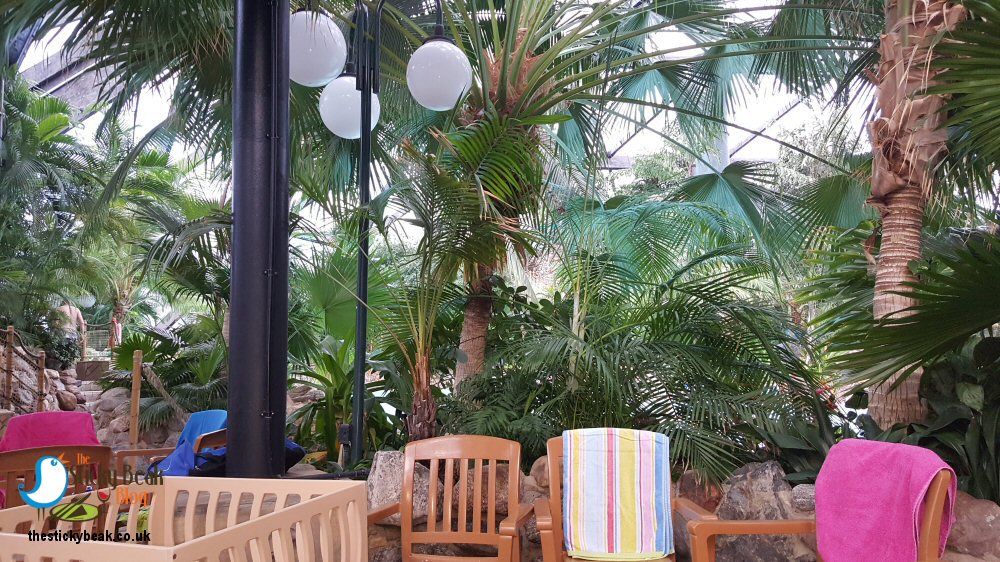 On changeover day there isn't normally a problem getting changed quickly and finding a seat in the Subtropical Swimming Paradise, and it proved to be the same on this occasion. I dare anyone to resist the lure of the rapids; it just can't be done! After a couple of loops on the rapids my inner child was well and truly running amok, so it was straight over to the Grand Cascade water tyre ride as it had just opened at 11am. His Nibs and I were whooping with joy as we swung this way and that through the tunnel in our trusty oversized tyre. Over the years it has become somewhat of a badge of honour to attempt to soak the lifeguard at the bottom by creating a big wash-wave at the finish of the ride. Sadly, it was not our finest hour today, but we shall not be defeated; tomorrow presents a fresh chance :)


As a family we have seen some changes to the STSP over the 16 years as well; the original spa was located where the lane pool now is, and only a handful of treatment rooms were in existence. Now the Aqua Sana spa is winning awards year after year and has just this year opened its Treetop Sauna, and the STSP is to get another new ride opening in 2019; exciting times ahead!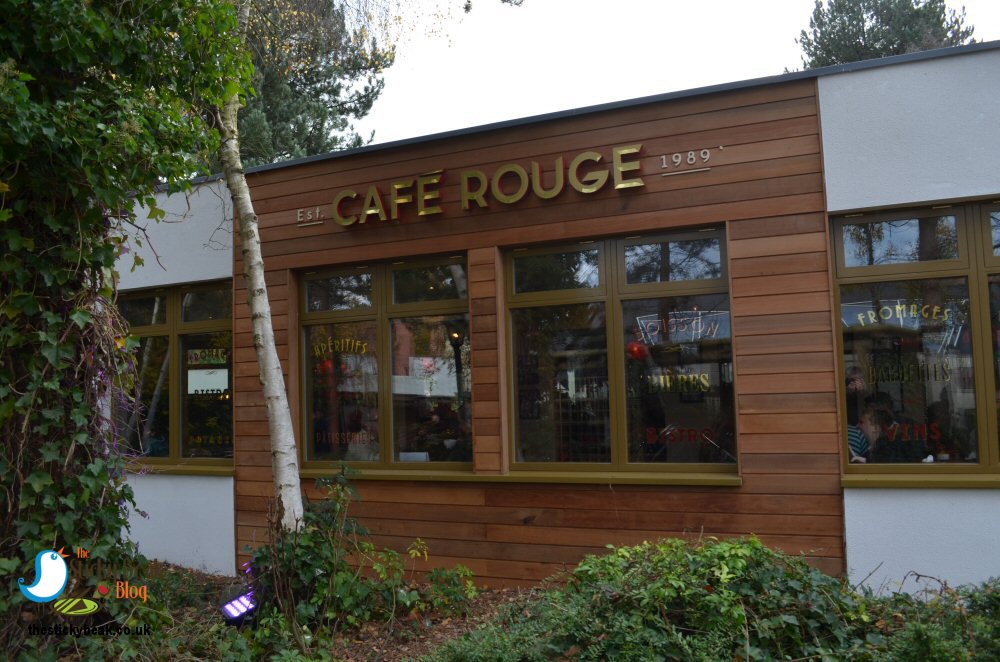 On previous visits to Center Parcs Sherwood Forest we have eaten breakfast at Café Rouge, but never an evening meal, so we have booked a table for dinner on our first night. Fingers crossed it's yummy – I shall of course keep you posted readers :) With this in mind, we didn't have much for lunch just a couple of muffins from the Starbucks concession in the STSP and a portion of cheesy chips and tuna mayo baguette.


Getting to the lodge in our car was a doddle thanks to the sterling efforts of the Security team; these guys are brilliant year in, year out. Operation "unpack entire contents of nest and transfer into the lodge" ran smoothly and His Nibs returned to the car park with the trusty jalopy. This year we are in lodge 190 in Cedar, a new area of park for us, and the newly refurbished lodge is lovely. Best of all though, the block paved path up to the lodge is completely flat, no raised bricks to trip over; that made unpacking easier, and would definitely be a bonus for those with push-chairs to manoeuvre.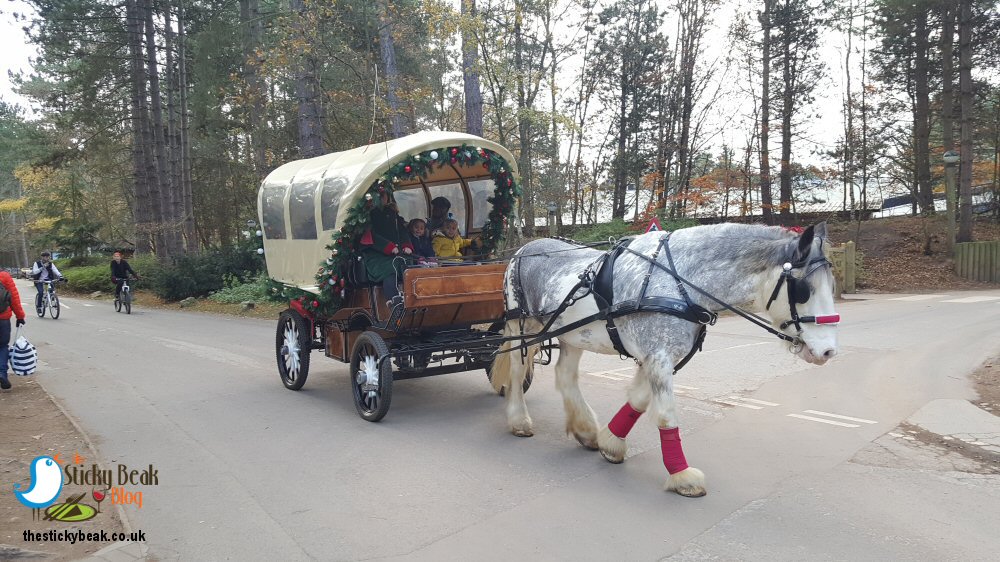 As I type, the birds are already congregating at the lodge door waiting for bread. The first loaf has been opened and its contents broken into pieces ready for the ducks, Moorhens, wild birds, geese and swans to devour. I think we'll have to visit ParcMarket to get some peanuts for the squirrels; they're sat forlornly watching the bread disappear, they don't like it.

Leaving Chickadee to go and have a twilight swim and sort a takeaway from Dining In, The Man and I headed off to Café Rouge for our dinner reservation. Read The Review Here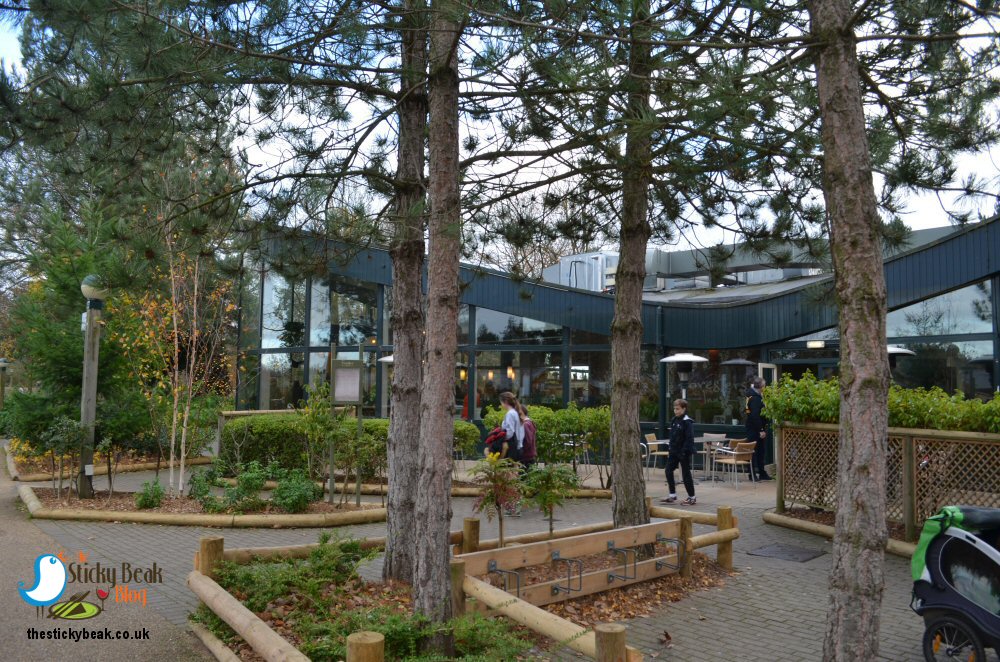 After stuffing ourselves silly we decided a walk was in order, so we headed out into the cool night and went up to Foresters' Inn at the Country Club for a couple of coffees. The golf driving range has been replaced by extra villa accommodation and a family putting area; the Nature Centre is still firmly in place however J
Saturday morning was the time to test the new kitchen facilities as we prepared a full English breakfast ourselves. The gas oven is definitely quicker at heating up, so cooking the bacon and sausage was less hassle than in previous years; those of you who are regulars will chuckle when I tell you the smoke detectors are still as "eager" as ever! It does serve as a jolly effective alarm clock for lazy fledglings though :)

I will confess that I do, on occasion, make questionable decisions and Saturday morning was a fine example of that. Chicks Boyf was now on park, so they wandered off to do their thing and I thought that a stroll over to Sherwood Pines would be great for His Nibs and me. It was a cold, bright morning and it really wasn't far at all looking at the park map. 3 miles later and we were just approaching the visitor centre at Sherwood Pines! To say my name was mud would perhaps be the under-statement of the year – oops.


Hoping to lighten His Nibs' mood I suggested a toasted teacake for late elevenses and a warming cup of coffee at Sherwood Pines Cafe. What a find this was; lovely and clean, plenty of tables, a cracking hot menu (lunches were flying out of the door!), and friendly service. The saying goes that what goes up must come down, and so it follows that having walked the three miles there we had to walk the three miles back. I'm not going to lie; the walk back was brutal for the last half mile. Never has the Jardin des Sports building looked so amazing! We found a table in the Sports Café and the two fledglings joined us (surprise, surprise – it was lunchtime).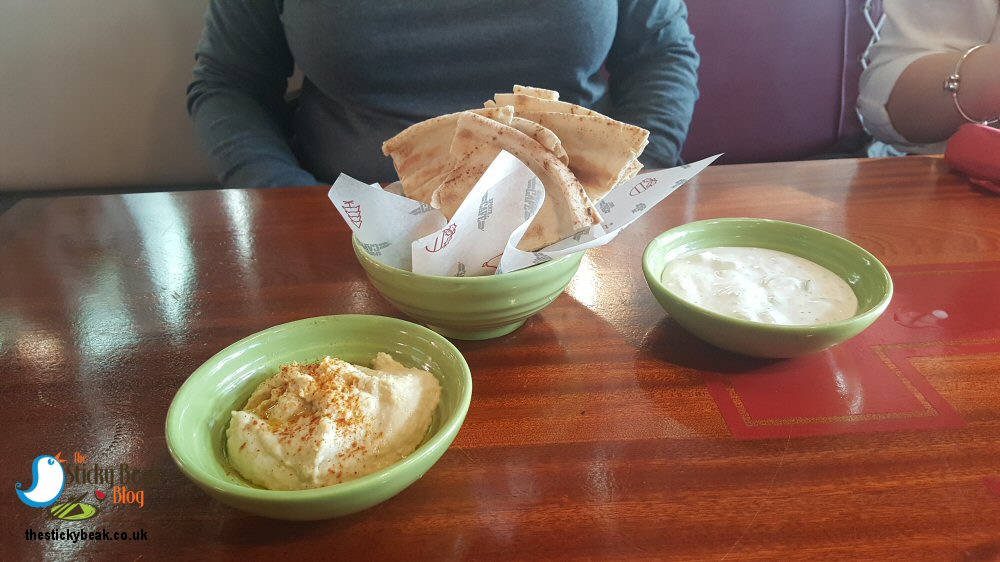 I had the flatbreads with Hummus and Tzatziki, The Man Bird had the spicy loaded fries, Chickadee had Chicken Wings with Mojito Mayo, and Boyf Bird had a classic Cheeseburger and fries. To say it was peak service time at lunch, the service was flawless and it wasn't long before we were tucking in to our food; I think Boyf was going for a record attempt for quickest demolition of burger and fries!!


We had a table booked at Huck's and trooped along with our appetites champing at the proverbial bit. What a transformation! As soon as you step inside, the old front desk has gone and side booths are insitu for group dining; the littlies have their own well appointed buffet area to dine at, and the space is so much more open. Huck's has a vibrant, modern feel now and the abolishment of the central play area means that there is more seating available. Parents need not despair though - there is still a designated play area for smaller family members :)


One of the things we've always done is to have a thorough read of the village magazine that is on the lodge's coffee table and from this we had learned that Huck's also had made some changes to their menu. I was so looking forward to ordering off the Smokehouse section of the menu and duly selected the Jack Daniels' glazed half chicken with red cabbage, cucumber, and corn bread. This dish comes with a choice of side, but unfortunately there was no Pit Beans available despite it only being 6.30pm on Saturday evening! My second choice was Mac n Cheese, and luckily this was available.


The Man Bird and Boyf Bird both had the rack of Ribs, and Chickadee fancied Prawn Fajitas; the table ordered another portion of Mac n Cheese, and Garlic Bread on the side. It didn't take long at all for our orders to arrive, and I was a bit under-whelmed by my choice if I'm honest. The Platter had the half Chicken in its centre, a small pot (half filled) of Red Cabbage was in one corner, a 1.5" square of Cornbread sat forlornly on its own above the Chicken and in the other corner were 2 ribbons of Cucumber and 2 baby Gherkins. Not quite the belly full I was anticipating. The breast meat was dry if I'm honest, but I managed to eat most of it thanks to pinching the sour cream, guacamole and salsa from my Chicks fajita plate (sometimes her pickiness can come in handy!).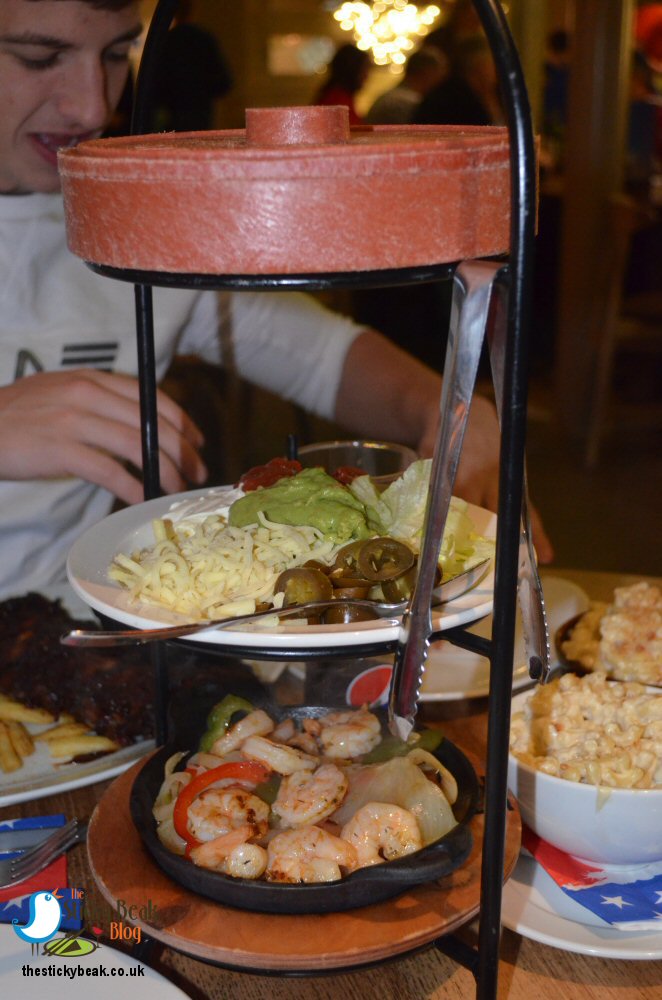 The Ribs and Fajitas were all up to Huck's usual standard and soon got wolfed down, accompaniments and all :). I am going to mention the fact that the manager came over and dealt with my concerns very professionally and fairly. There was no charge for my chicken, and he really took time to listen to feedback regarding presentation of the meal too. As always, the staff were incredibly hard working and super-friendly so we had a lovely family experience.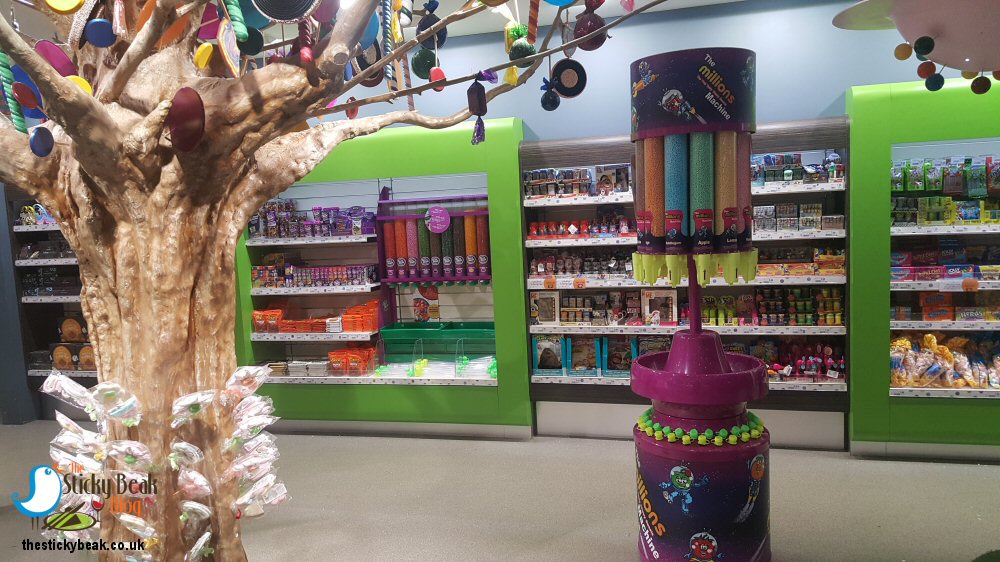 The Fledglings literally ate and ran; well, ate and swam actually. They headed off for a romantic night swim and hot tub session in the Subtropical Swimming Paradise, so us oldies went into Treats to indulge in some sweet treats; Jelly Belly beans and Reese's pieces :) I love the sweet adorned tree that sits in the middle of the premises, it is so eye-catching; it reminds me of Enid Blyton's "Faraway Tree" a little bit, and who doesn't love Enid?
The Man Bird secretly likes cooking us all a full English, even if he moans about the washing up! The females in our flock are savvy enough to use the dishwasher in the lodge when offering to take a turn washing up, so we just loaded the machine up and set it away :)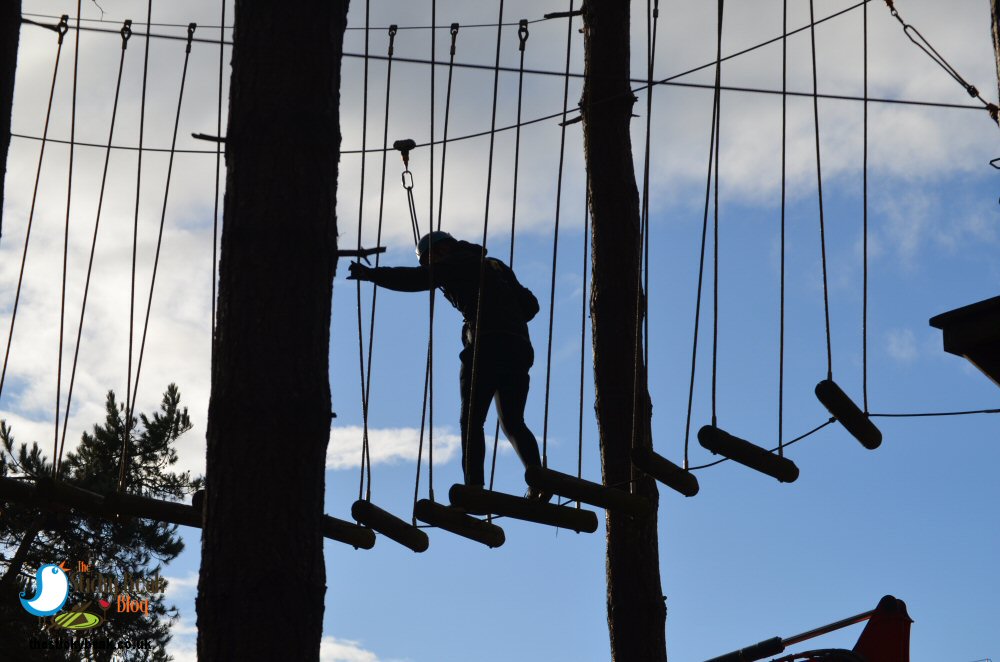 Sunday morning was taken up with the Fledglings doing the Aerial Adventure and Zip wire under the expert eyes of the action company staff. They both had an absolute blast, even the Boyf Bird who doesn't like heights at all! A brisk walk up to Foresters' Inn soon got His Nibs and I warmed up after standing watching the Fledglings escapades, and I indulged in one of Center Parcs' finest treats; Hot Chocolate with whipped Cream and a Cadburys Flake.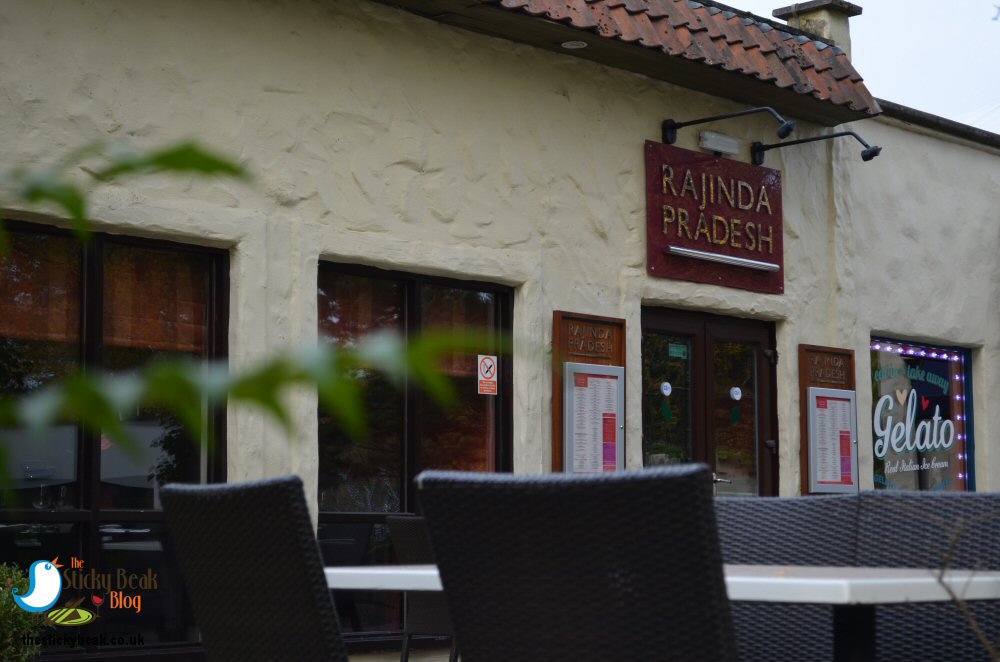 Sports Café was where Chick and Boyf went for lunch, sharing Chicken Wings, Ribs, and Garlic Bread between them. Apparently, all the food was delicious and hot, so top marks to the team again. The Man Bird and I have booked a table at Rajinda Pradesh after the fireworks spectacular, so we didn't want a lunch as such; we chose to have a Latte and a Lemon and Poppy Seed muffin from Starbucks to tide us over.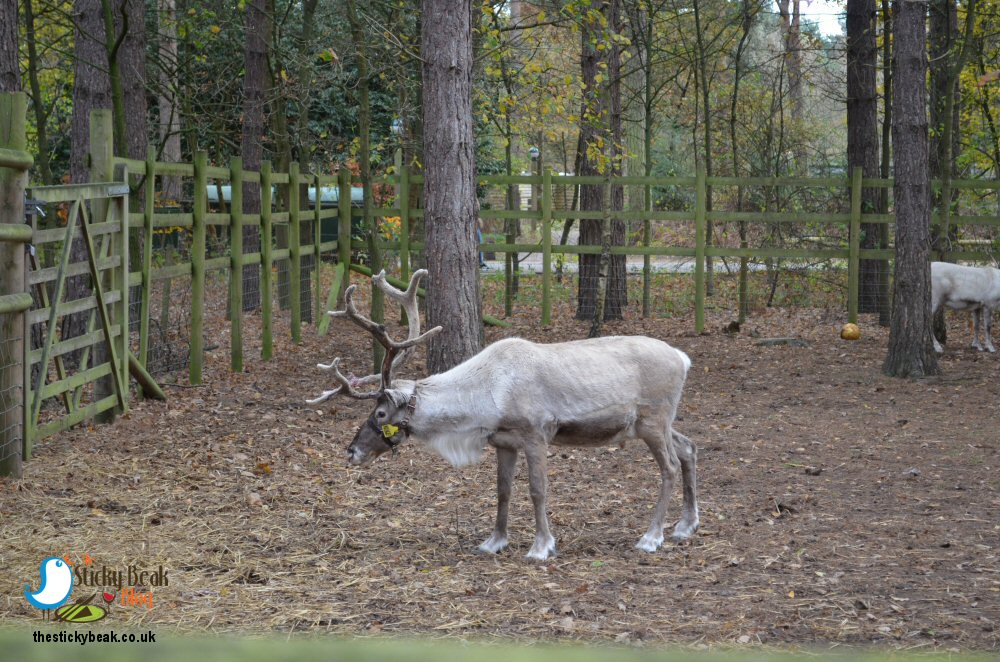 It is simply unthinkable that a visit to the Winter Wonderland wouldn't include going to see the live Reindeer, massive Christmas tree and Santa's Woodland Workshop! I never tire of seeing the lavishly decorated arches that you walk under as you take in the interactive festive displays, and I love seeing the unbridled joy on small children's faces as well. The reindeer were munching away on fresh hay, totally unfazed by the amount of attention they got. As we approached Santa's grotto a plume of "snow" rained down creating even more of a festive atmosphere; at least you get a guaranteed white Christmas at Center Parcs! Nutmeg the Reindeer plush toys were displayed very nicely on the shelves of the Christmas shop and lots of families were waiting to buy their photos of themselves with Santa. All the flock posed for photos at the Christmas tree before the fledglings left us for another swim and we went for a naughty afternoon drink.


As The Man and I walked to the STSP we saw the festive horse and carriage ride go past; it looked gorgeous and got the festive spirit flowing nicely. Every year I get ridiculously excited about the fireworks, they really do put on a fantastic display at Centerparcs. His Nibs and I can only recall one display that has been better, and that was in Washington DC, America for the 4th July celebrations at the White House; coming second to that is pretty good I think :)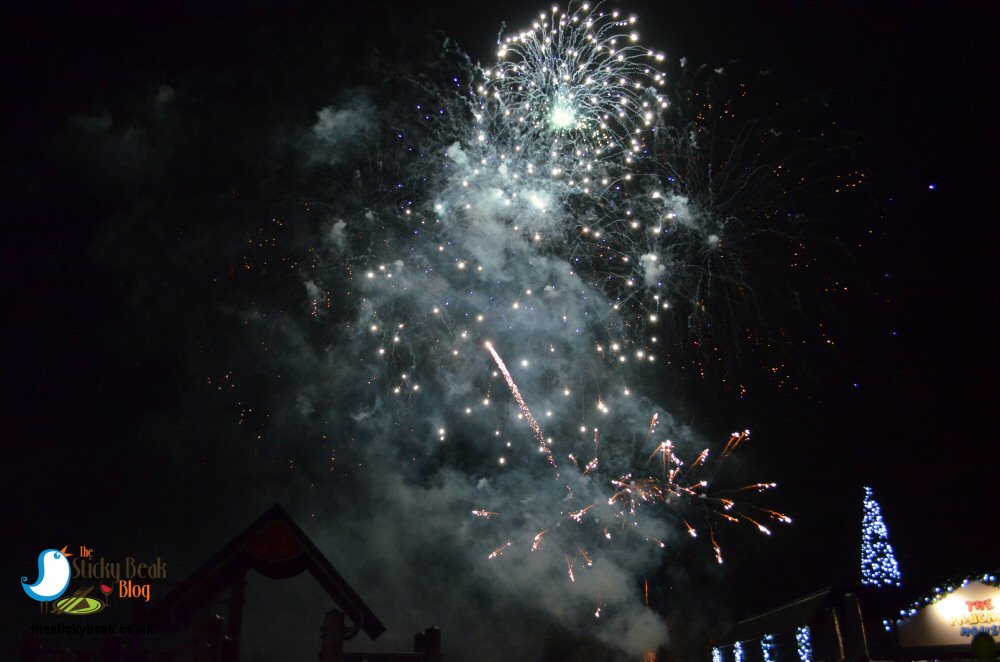 There was a fantastic turn out for the fireworks display and the crowds on the beach were singing and dancing along to the entertainment. The skies above Sherwood Forest were awash with illumination of all colours, and "oohs" and "aahs" could be heard from every direction. At the end of the display the big man in red himself made an appearance on the lake, waving to all the children.
The Boy Wonder and I made our way over to Rajinda Pradesh, very much looking forward to our evening meal. Read The Review Here
All too soon it was our final morning on park and time for us to feverishly pack our belongings and put them in the car. A family pow-wow lead us to the Sports Café for our swansong brekkie, this time it was the lovely Leanne who looked after us and then the STSP beckoned for the last little bit of pleasure to be eked out of our short break. As I type, we are all huddled over the computer looking at the photos of our weekends' adventures and laughing at the memories.

Thanks Center Parcs Sherwood Forest it's been a blast, as always; hopefully see you next year finances permittingJ
No incentive was provided to visit this venue
read more
Read Some Of Our Recent Reviews
---

#NC500 Day 15 - Our Final Day Was Spent In Northumberland Normally I moan like heck about GB's ruddy bed; honest to goodness, it's impossibly soft and I've never managed to get a solid nights' sleep in it ever....until now!! Read The Article

---

#NC500 Day 14 - Edinburgh to Northumberland Via Holy Island Ooooooh, my poor tootsies had been sore from all the walking in Edinburgh - thank the lord for Palmer's Cocoa Butter Foot Relief and a superbly comfy bed that had afforded Read The Article

---

#NC500 Day 13 - Blair Atholl to Edinburgh And The Kelpies His Nibs and I both awoke refreshed and ready to get going for another days activity, thanks to the comfy bed at Ptarmigan House. Gordon (Lin's husband) was already sorting Read The Article

---

#NC500 Day 12 - From Inverness to Blair Atholl Via The Highland Folk Museum Aaaaah, that was better! Shame the traffic started in earnest about 6am though; wouldn't have been so bad if we hadn't got the windows open to help cool the room down. Mind you Read The Article

---

NC500 Day 11 - From Kinlochewe to Inverness With A Visit To Culloden Oooh, the bed at The Kinlochewe Hotel is a fibber! You sit on it and it tells you that you'll get a nice nights sleep in it, but you don't; instead it suddenly becomes very Read The Article

---

#NC500 Day 10 - From Gairloch to Kinlochewe (Via Bealach Na Ba - The Applecross Pass) Both of us had had a superb slumber at the Gairloch Hotel, and I'd had a relaxing soak in the large bathtub before bedtime as well, so I was definitely Read The Article

---

#NC500 Day 9 - From Lochinver To Gairloch Kirsteen (our host at Bonnie Haven) was up bright and early to ensure that we had a selection of cheeses, crackers and Ham on our table when we came down, and directed us Read The Article

---

#NC500 Day 8 - From Tongue to Lochinver With Caves, Bridges & A Zipwire Blimey, that was the best nights kip so far! If I could take the bed at Tigh-Nan-Ubhal back to the shire with me, I would. For once, when the alarm Read The Article

---

#NC500 Day 7 - From Scrabster to Tongue With A Detour Back To John O Groats What should've been a straight-forward onward journey to Tongue, actually had a bit of Deja-vu to it! Thanks to us not realising the Castle of Mey and Gardens is Read The Article

---

#NC500 Day 6 - Helmsdale To Scrabster Via John O Groats Warm Croissants, Blueberry Muffins, a Full Fry-Up (Him), and Avocado, Cherry Tomato, Poached Egg and Mushroom on Toast (me) got The Man Bird and I off to a flying start on what was Read The Article

---