Dinner At Cafe Rouge, Center Parcs Sherwood Forest
---
Published On Friday 8 Dec 2017 by Sticky Beak
See Recent Dining Out Reviews | See All Recent Reviews


After arriving at Center Parcs, Sherwood Forest and getting checked into our lodge we left Chickadee to go and have a twilight swim and sort a takeaway from Dining In whilst The Man and I headed off to Café Rouge for our dinner reservation.
At Café Rouge we had a bottle of the house Rosé wine, described as a good all rounder and it certainly did the job for us.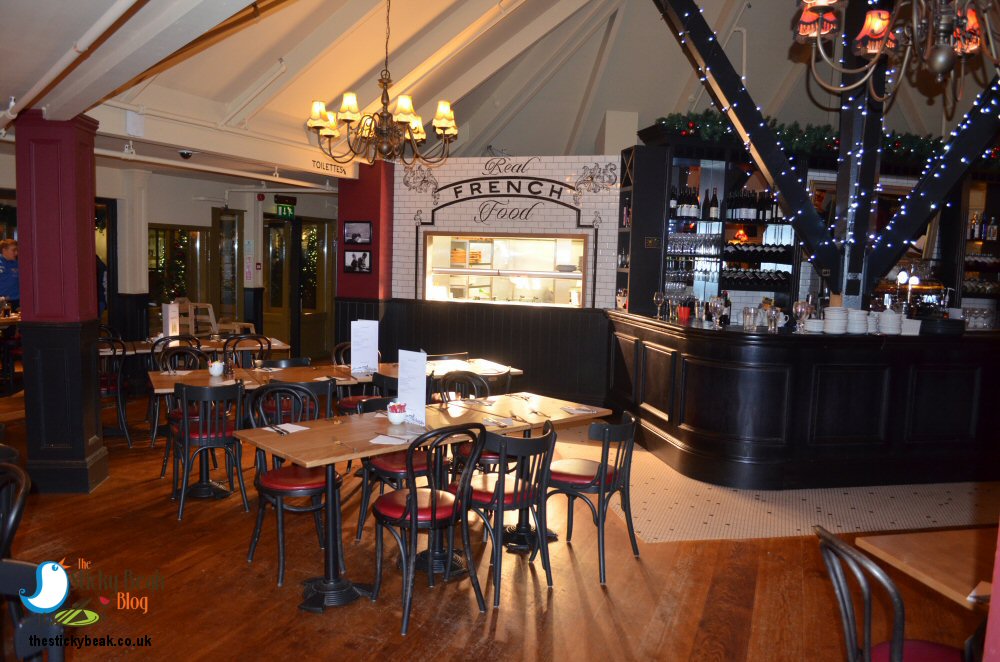 My Brie and Chive soufflé was superb; light, fluffy and chock full of taste. There was a nice onion chutney underneath it which really popped flavour-wise next to the cheesy soufflé and the crunchy Walnut pieces gave a fab textural component to the dish.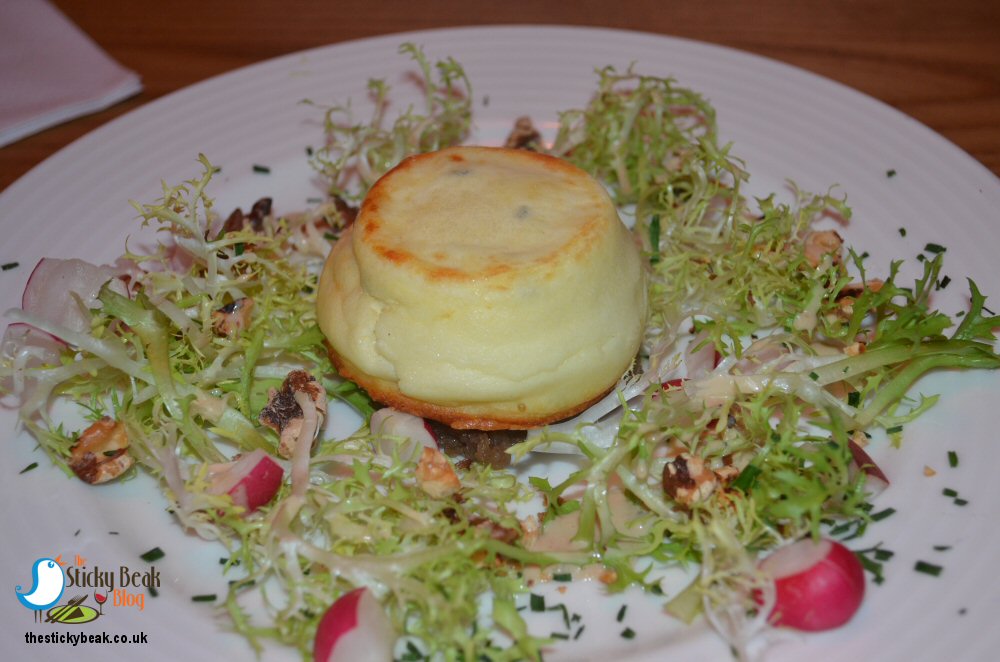 His Nibs had the Classic French Onion soup for his first course, and this smelled incredibly good when it arrived at our table. Turns out, it tastes every bit as good as it smells, hurrah! The lovely rich meat stock has plenty of onion within it and is topped with sourdough croutons and a layer of melted cheese; His Nibs' taste buds were dancing in glee :)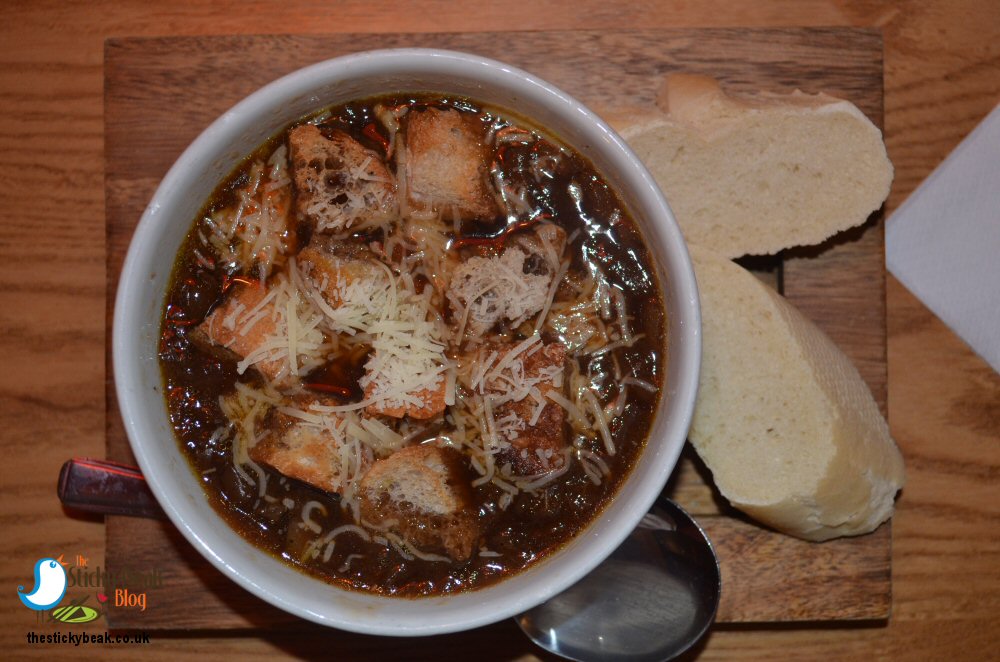 I had Moules Frites for my main course and The Boy Wonder had Boeuf Bourguignon. A huge pot of steamed Mussels was placed before me and as I lifted the lid a gorgeous waft of wine and garlic hit me; my French fries were in a separate little pot and were perfect in every way. Maitre D' Paul brought out a finger bowl and spoon and another member of the team, Lorna, thoughtfully brought me extra napkins. There were plenty of large Mussels to chomp at and I enjoyed every mouthful; I did ask for some bread to mop up the cooking liquor too, which was very quickly brought out.


The Man Bird couldn't believe the size of the Beef chunks in his Bourguignon, and to be quite honest, neither could I! There must've been a good 8oz of beef in there, easily. A definite red wine note was discernible, as was Garlic, and just a few very finely sliced vegetables were in the sauce. Accompanying this French "stew" was a huge mound of smooth, creamy mashed Potato and a couple of whole roasted Carrots.


Our original plan was to just have 2 courses, but having been so impressed with the food so far, and spying Tarte aux Pommes, we decided to take one for the team and have pudding. His Nibs had the Lemon Posset with Strawberry and Black Pepper sorbet, and an Almond Tuile, and I had the aforementioned Tarte aux Pommes with Tarte Tatin Ice Cream.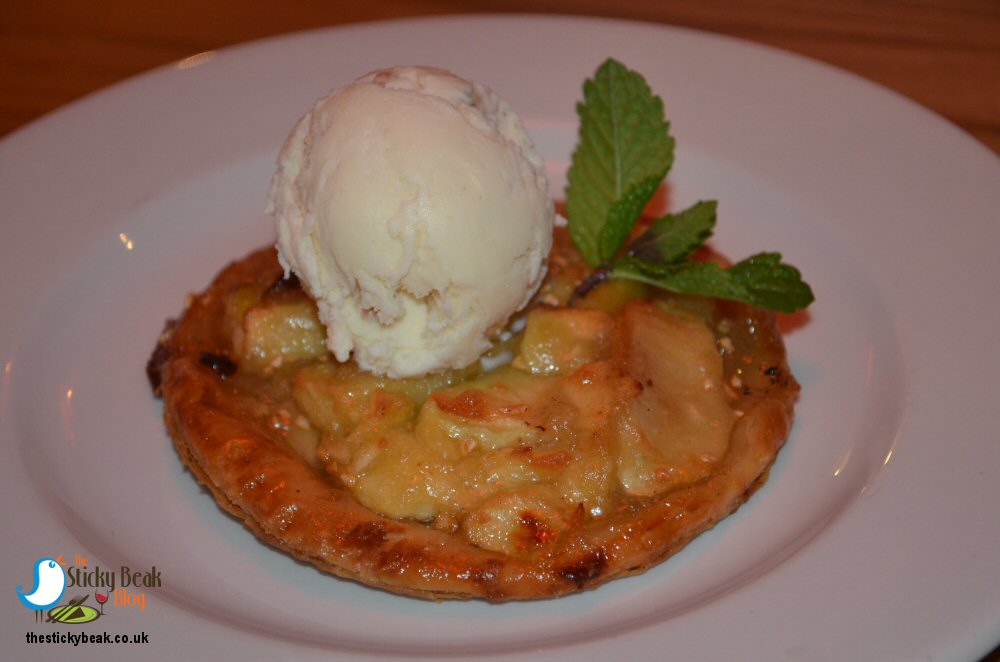 A thin round disc of puff pastry provided the perfect bed for slices of apple and gently caramelised sugar and its sweet, welcoming smell was one of those soul-melting experiences that make you smile. I eagerly cut into it and savoured the first mouthful whilst grinning madly across at The Man Bird; when I had my first mouthful of the Ice Cream the grin got even wider!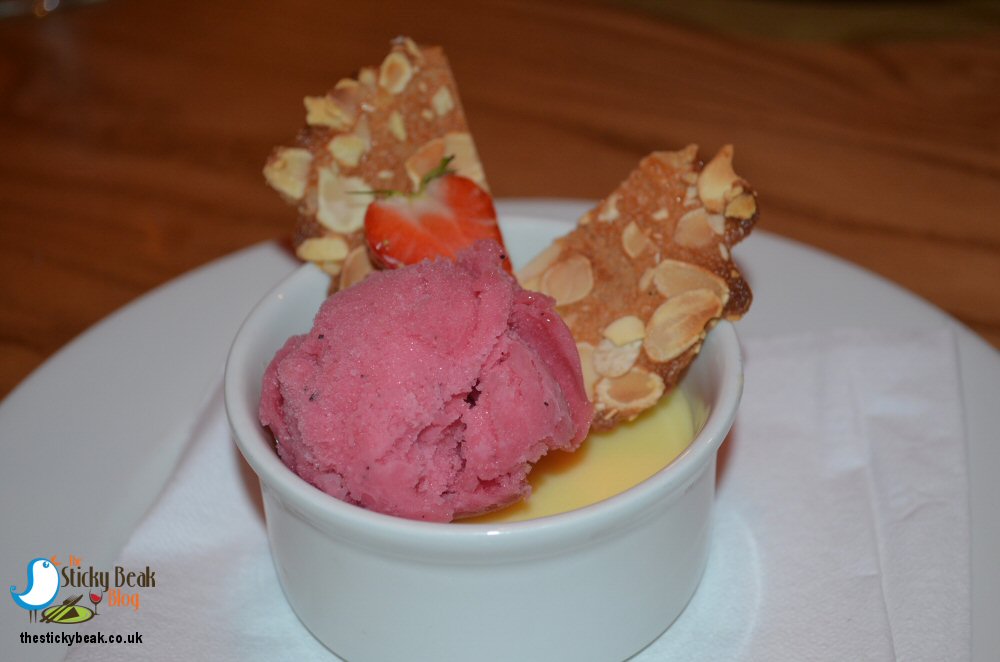 The Boy Wonder loved the sharp bite from his Posset, and the sweetness of the Strawberry sorbet contrasted really nicely with it; Black Pepper provided a heat on the tongue that played against the coolness of the sorbet brilliantly. Slices of Almond on the Tuile gave a lovely crunch in the mouth, satisfying that crucial textural element.

After stuffing ourselves silly we decided a walk was in order, so we headed out into the cool night and went up to Foresters' Inn at the Country Club for a couple of coffees. A set of very well deserved 'Hot Wings' awarded to Cafe Rouge.

Read The Full Review Of Our Center Parcs Visit
No incentive was provided to visit this venue
read more
Read Some Of Our Recent Reviews
---

Out For Dinner At The Bear Inn, Alderwasley If it's the full on, single track road, rural Derbyshire experience that gets your motor running, then the journey to The Bear Inn at Alderwasley will have you in joyous raptures. For those of you who are Read The Article

---

Lunch At The Recently Opened Chatsworth Kitchen At Peak Village, Rowsley Everyone who knows me, knows I love Chatsworth (always have, always will) so when the invitation to sample lunch at the newly opened Chatsworth Kitchen Read The Article

---

A Visit To Vietnamese Street Kitchen, Resorts World, Birmingham Way back in the day (pre-covid) Fledge had bought me and The Man Bird tickets to see Mrs Browns Boys live and finally, after a couple of false start reschedules, the day of Read The Article

---

Sunday Lunch, A Museum Tour & Painting A Piece Of Denby At Denby Pottery Village It wasn't long ago that His Nibs and I visited the Denby Pottery Village to sample the Afternoon Tea at Bourne's Coffee Shop and Bistro (it was superb Read The Article

---

Bottomless Brunch At Turtle Bay In Derby The timing of the invitation from the Turtle Bay team in Derby to go and sample their Bottomless Brunch couldn't have been better; not only was it going to be The Man Birds' birthday a couple of days later Read The Article

---

Afternoon Tea At Santo's Higham Farm Hotel & Restaurant Aaaaaarggggh, don't you love your children??!! A while back, His Nibs had spotted a great deal on Groupon (you know what a bargain hound he is!) and thought it would be Read The Article

---

Sunday Lunch At The Countryman Pub & Dining, Kirkby-in-Ashfield We finally got to visit a venue thats been on our radar for quite a while, The Countryman Pub and Dining in Kirkby-In-Ashfield! A few weeks ago we tried to book a table for dinner Read The Article

---

Dinner At The Divan Turkish Restaurant In Chesterfield Chesterfield was welcoming us back again for our latest review visit; this time to the newly opened Turkish restaurant, The Divan, on Lordsmill Street. Owner Tuncay (along with Read The Article

---

Breakfast At Marsh Green Farm Shop & Cafe, Kelstedge Ah, you've gotta love a Bank Holiday curve-ball, haven't you? His Nibs and I headed over to Mummy Birds' gaff with the intention of having a leisurely couple of hours at the Sunday Read The Article

---

Afternoon Tea at Bourne's Coffee Shop and Bistro, Denby Pottery Village You all know that The Man Bird and I do like an Afternoon Tea; I mean, who doesn't?! Just a few miles down the road from the nest is Denby, home to the world-renowned Read The Article

---