Overnight Stay At The Eastwood Hall Hotel
---
Published On Thursday 16 Jun 2016 by Sticky Beak
See Recent Accommodation Reviews | See All Recent Reviews


Nothing motivates The Man Bird quite like finding somewhere to stay for his birthday celebrations, so he was off to check his beloved Groupon site for inspiration and (jammy monkey that he is) spotted an absolutely cracking deal for dinner, bed and breakfast at Eastwood Hall Hotel for two people at the amazeballs price of £89!.
Before I could chirrup "ooh, that's a great price", he'd clicked "book" and paid for it. We did a bit of poking around and discovered that there were extensive grounds to walk in, as well as a fully equipped modern gym, exercise studio and pool, steam, sauna and Jacuzzi facilities to enjoy.
We parked in one of the numerous spaces available and wandered over to the main reception where we were greeted by the very lovely Gareth (front of house Manager), who had us all checked in in double jig time. Our room was very nice; spacious, well appointed and plenty of drink making facilities.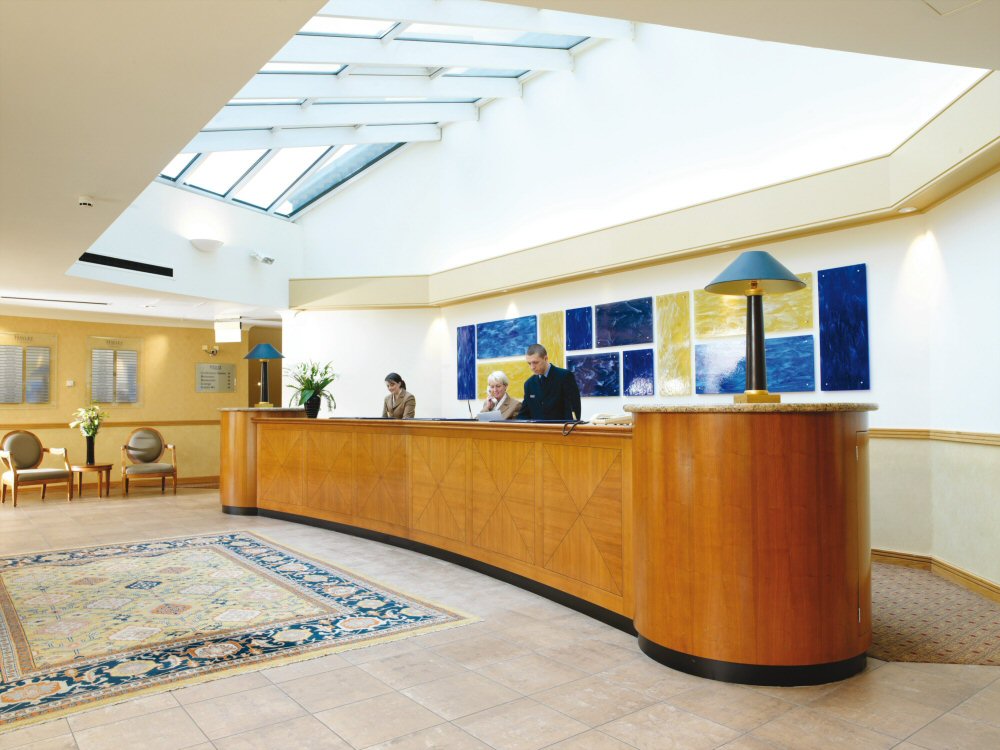 Once we'd unpacked, our next priority was to find somewhere to grab a spot of lunch and we soon found a great little bar area complete with large screen TV and plenty of comfy sofas and chairs to recline in. We had a look at the lunch menu and then went to place our order with the two lovely young men staffing the area; they were very smartly dressed and couldn't have been more professional and friendly if they'd tried.

Before long they brought over our cutlery and condiments soon followed by my Chicken Caesar club sandwich, His Nibs' Nachos and our cheeky lunchtime glasses of lager and wine. My sandwich came with tortilla chips and was a lovely triple deck affair on malted bloomer bread; it had been nicely put together and was full of filling and flavour.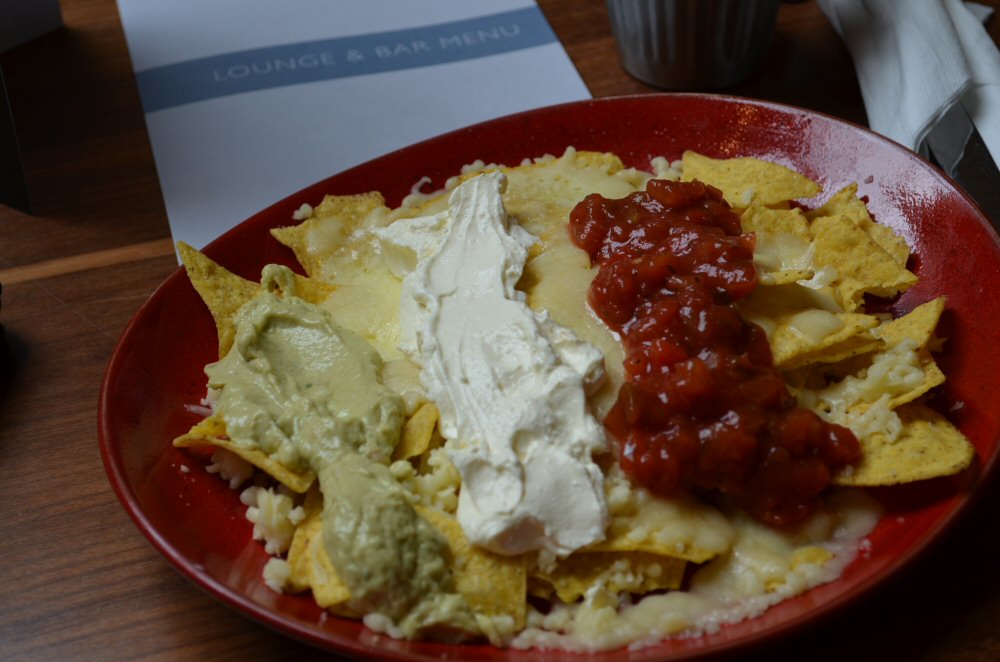 I really enjoyed it and couldn't believe how filling it was, and The Boy Wonder was equally impressed with his Nachos too. The Nachos were loaded with Salsa, sour cream, chunky guacamole and melted cheese and there was a huge plate of them to get through, which he didn't expect because he'd ordered a side portion of chips! Anyhow, we took our time and I helped him to eat some of the Nachos being the marvellous wife that I am.
Having made little piggies of ourselves we headed back up to the room to collect our swimwear and then went to check out the health club and pool. A lovely attendant checked us in and handed us complimentary towels, which were a fantastic size for once; one of my peeves is going somewhere and only having miniscule towels to use.

Although we had decided not to avail ourselves of the gym I did have a good look inside and it has a brilliant range of equipment to use, both machines and free weights were around.




The pool is again a very good size for a leisure club and was nicely warm, not overly so that would make it uncomfy to swim in, but enough so you didn't get Goosebumps when you waded in. I'm a bit nesh and don't like cold water particularly so I was more than happy to stay in a do a few lengths before heading into the Sauna cabin.

Both the Sauna and Steam rooms were good sizes and could accommodate about a dozen people easily, and the Jacuzzi, I would say, could seat 8 people. Before we knew it, over two hours had passed and we made our way back up to our room to have a rest and get ready for dinner.
The Dining room, as you would expect, is a very large space and you can read about my experience in the restarant by clicking here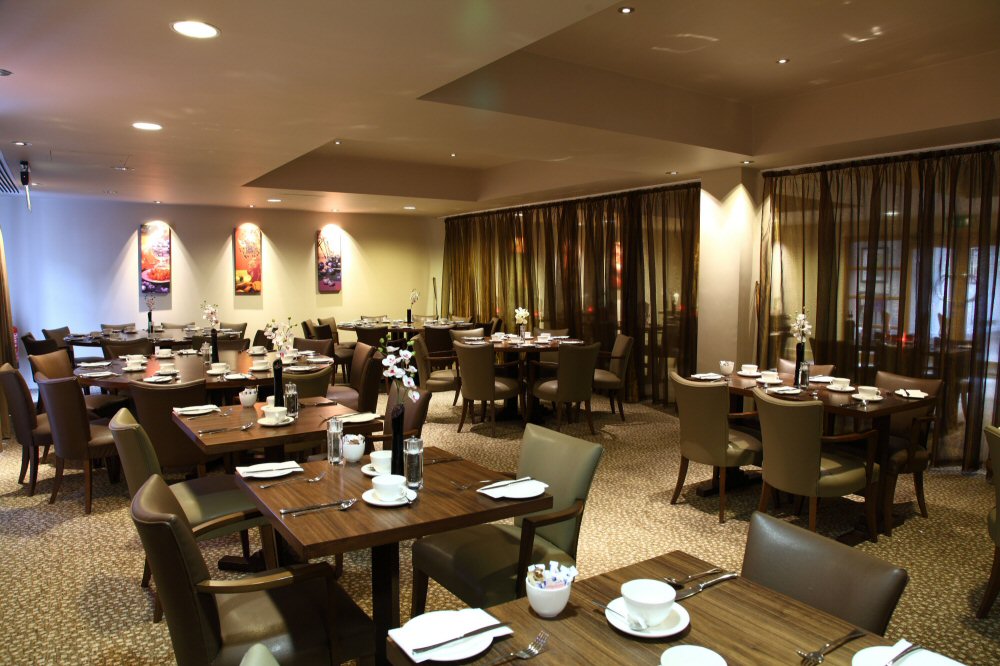 Breakfast the next morning was no less impressive; there was a huge counter divided into hot and cold sections and there was everything you could possibly want to eat. There were cereals, natural yoghurts and fruit compotes, pastries and croissants, cold meats and cheeses, fruit smoothies and juices on the cold section and the hot counter played host to Bacon, several kinds of Sausage, Mushrooms, Tomatoes, Beans, Black Pudding, Eggs all ways, Fried Bread and Hash Browns.

The serving staff came round all the tables to ask whether diners would like pots of tea or coffee as well, and were very efficient in clearing any used crockery away.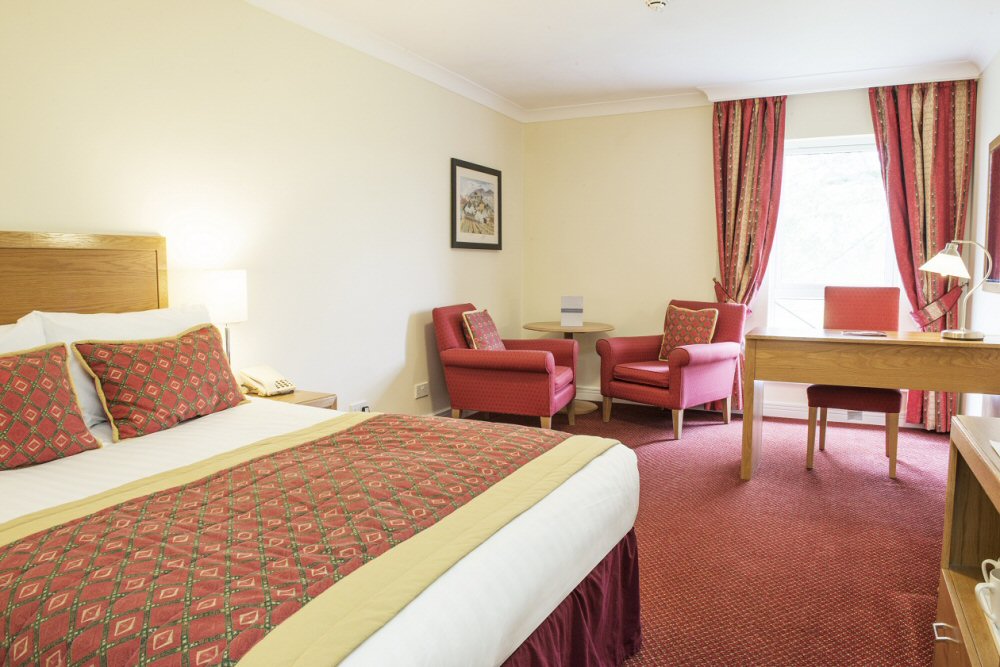 It was a very, very pleasant stay at Eastwood Hall Hotel, and in all honesty I can't say that there was anything I would change. The staff, without exception, were so polite and friendly, nothing was ever too much trouble; they always engaged in conversation where appropriate and stayed discreetly in the background otherwise. Any enquiries were dealt with efficiently and the facilities were excellent.

If you haven't been before I would definitely recommend a stay here, and if you can find a deal on Groupon then jump at the chance; I haven't come across a better deal than this one in terms of quality and value for money. Top Marks for accommodation and facilities and Hot Wings for the food team Eastwood, you are a credit to the company.
No incentive was provided to visit this venue
read more
Read Some Of Our Recent Reviews
---

An Overnight Stay At Ringwood Hall It's been about 18 months since The Man Bird and I went to see the (very) newly opened Garden Secret Spa at Ringwood Hall Hotel, so it was lovely to be asked back. We were being accommodated overnight. Read The Article

---

A Stay At The Mount Royale Hotel, York The Man Bird and I had the chance to escape to the historic city of York recently, and having visited many years before, and loving it, we jumped at the chance to revisit this magnificent English city. Read The Article

---

Overnight Stay At Derby's Cathedral Quarter Hotel The Man Bird and I have been fortunate enough to dine at the Opulence restaurant located in the Cathedral Quarter (CQ) Hotel before, but have never actually stayed in one of the 38 Read The Article

---

Overnight Stay At The Mill Street Pub & Kitchens, Oakham So the Boy Wonder and I are kicking off the first blog adventure of the New Year in the UKs smallest county, Rutland. We were invited down to Mill Street Pub and Kitchen Read The Article

---

A Night In Brighton At Marina By The Sea Who says you can't mix Business and Pleasure? The Man Bird was down in Brighton for a business meeting, so I went and indulged in the pleasure of Brighton's many shops and bars Read The Article

---

Overnight Stay At The Yew Lodge Hotel, Kegworth Sometimes you come back from somewhere and the awesomeness just overwhelms you doesn't it? Well, if truth be told, I feel a bit shell-shocked after the utterly amazing night away The Read The Article

---

Overnight Stay At The Cedar Court Hotel Well, the Boy Wonder has been using his bargain hunting skills again and snagged us an incredible deal on Groupon for a weekend away in Wakefield. So off we tootled on Friday evening Read The Article

---

Overnight Stay At The Farmhouse, Mackworth I am a very lucky little Birdie dear reader, very lucky indeed. For our wedding anniversary the Boy Wonder had decided to treat us to dinner, bed and breakfast at the Farmhouse in Mackworth Read The Article

---

Revisit To The Farmhouse, Mackworth I am a very lucky little Birdie dear reader, very lucky indeed. For our wedding anniversary the Boy Wonder had decided to treat us to dinner, bed and breakfast at the Farmhouse in Mackworth Read The Article

---