An Overnight Stay At Ringwood Hall
---
Published On Sunday 3 Nov 2019 by Sticky Beak
See Recent Accommodation Reviews | See All Recent Reviews


It's been about 18 months since The Man Bird and I went to see the (very) newly opened Garden Secret Spa at Ringwood Hall Hotel, so it was lovely to be asked back. We were being accommodated overnight in one of the rooms used for the residential Spa packages; Room 408, the Charles Markham room. It is a really beautiful room; very spacious and decorated in natural earthy tones that instantly relax you – think moss and sage greens, rich browns and russets, and brightening accents of golds, cream and white.
The main feature is the king sized bed, made up with pristine white linens and draped with green and brown cushions and throws, and it is a wonderfully comfy bed too, #slumberahoy ! There's also a desk in the room (handy for those of us that have to do some work!), a TV, an iron and ironing board (well, His Nibs had to have something to do!) and tea and coffee-making facilities.




I was already happy and excited, but when I stepped into the en-suite bathroom, I couldn't help but give a little squeal: straight in front of me was a massive corner bath! Now, when I say massive, I do mean massive; The Man and I are both amply proportioned, and we both managed to fit in for a wind-down soak together. There is a separate shower cubicle for that invigorating morning shower and toiletries are provided.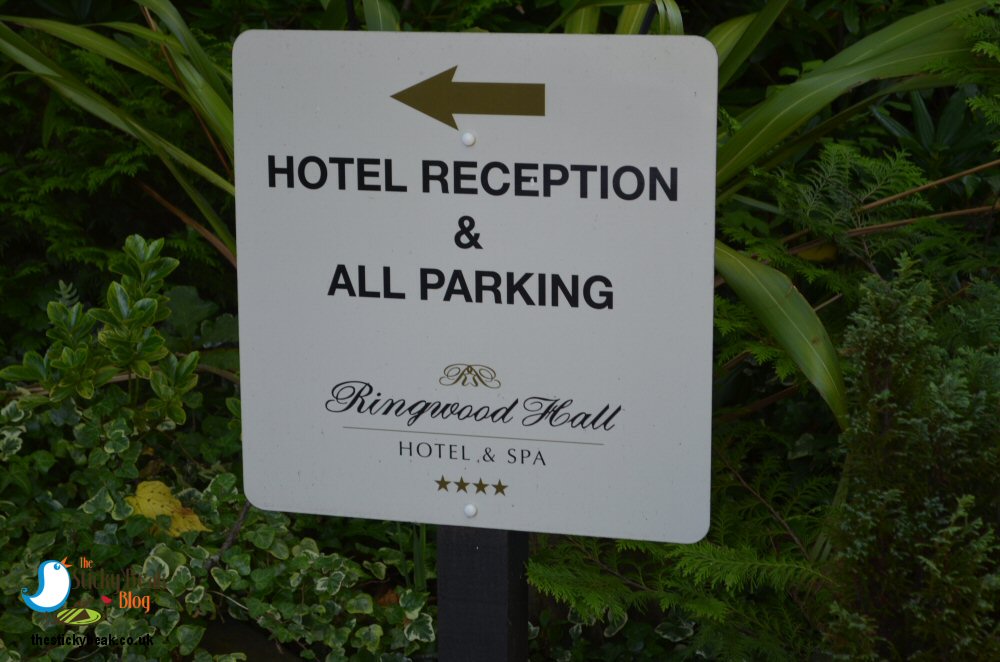 After an evening in the Garden Secret SPA finding out all about the new Pevonia products we made our way over to the main hotel for dinner in the restaurant! However, with it being 9pm our tummies were making their hunger well and truly known. The front-of-house team were superb; really friendly and efficient, the kitchen team however were a little on the slow side with delivering the dishes. No matter, we tucked into the warm cheese- and plain-bread when it arrived, slathering it with the delicious Paprika butter.


Ringwood Hall have had their own gin produced with botanicals for their garden
For starters we'd chosen White Crab, Tomato and Lovage, and Roasted Vegetable and Goats' Cheese Filo Tart and Red Onion Petals (me and The Man, respectively). Both dishes were presented very nicely and served to us by a white glove wearing Kelsey.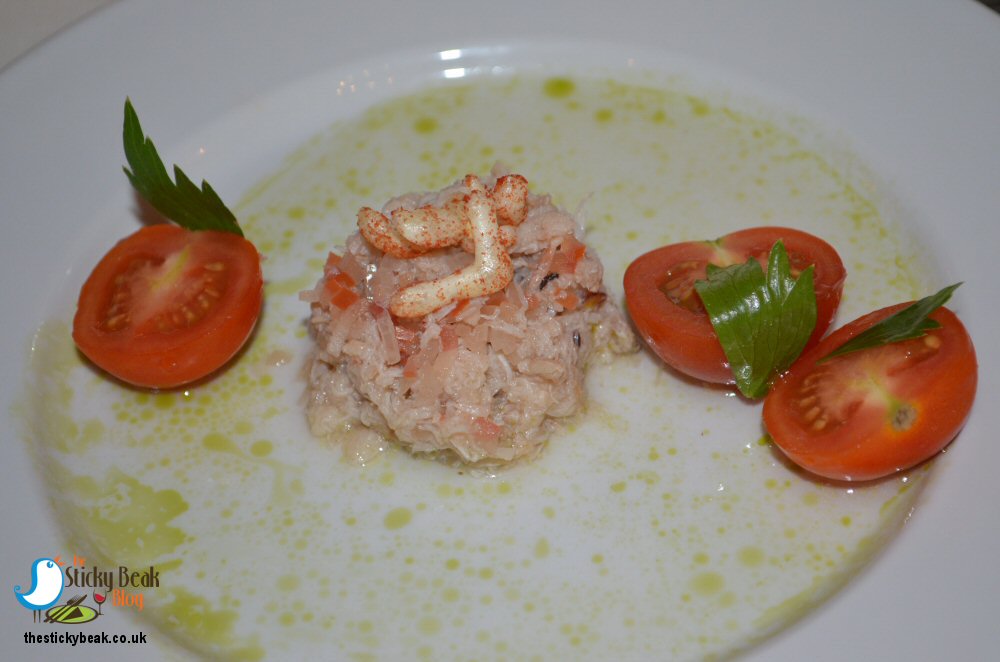 The White Crab meat was shaped into a gentle dome and garnished with a light sprinkle of Chilli. Taking my first mouthful, I was rewarded with that beautiful sweet, slightly floral taste of fresh, chilled crab. I'm a big fan of crabmeat, since being a nipper I've loved its subtle fishy taste with that edge of sweetness to it; at Ringwood Hall I liked the sharp note that the chilli brought to it, it was just the right amount so as not to overwhelm the crab. Halves of intensely sweet Cherry Tomatoes complimented the seafood very well and then the verdant leaves of fresh Lovage imparted their citrusy notes too, brightening things up on the palate.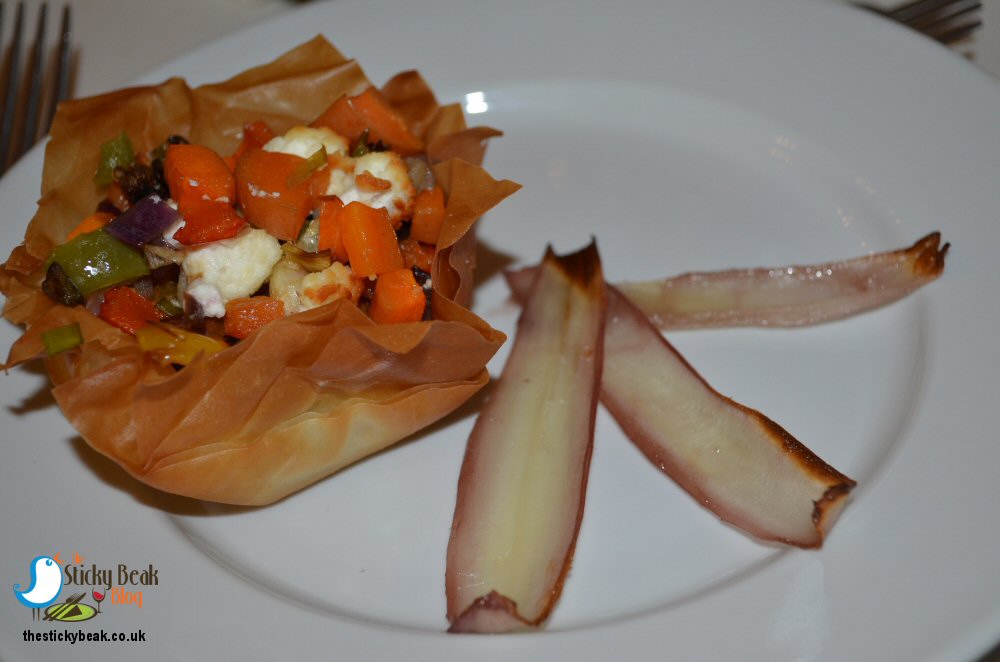 His Nibs' Filo Tart was delicious, he said. The Filo pastry shell was warm and filled to the brim with roasted Peppers, Carrots and Onion, whose sweetness had been intensified by their roasting. In amongst the vegetables were pieces of creamy, tangy, lightly musky-tasting Goats' cheese, and the two elements worked very nicely together. Red Onion Petals added a bit of crunch to the dish as well as being visually pretty, thanks to the rosy stain of the red wine that they'd absorbed. This was a gorgeously light starter, not at all heavy on the tum, which did (pleasantly!) surprise The Man a little.

For my main course I'd chosen the Rabbit Cacciatore with Polenta Creamed Potatoes and The Man Bird had opted for Derbyshire Lamb Rump with Broad Beans, Mint, Peas, Goats' Cheese, Courgette, Smoked Potatoes and Bagna Cauda.




Lady Luck was shining down on His Nibs twice on this occasion: 1) they'd run out of Broad Beans and 2) Chef forgot to put the Bagna Cauda (an Anchovy containing dip) on the plate. I think he might've been ill if he'd had the Anchovies (!) and he isn't keen on Broad Beans either. Actually, Lady Luck had made it a hat-trick of good fortune: the Lamb was described as being served pink, but was actually more cooked than this, suiting The Man down-to-the-ground. The Lamb was superb in taste and texture, garnering praise from Him Indoors. He loved the minted peas too; they were sweet, soft and bounced on the tongue wonderfully and best of all, they had slivers of Goats' cheese melting on them. The dinky smoked Potatoes had a really intense flavour to them, which was right up His Nibs' street and he liked the thin ribbons of Courgette too.




Cacciatore means hunter in Italian, so I had ordered what is a popular chicken dish (hunters' chicken) but in its Rabbit interpretation. Slices of streaky bacon encased a dense fillet of the Rabbit, preserving its juiciness nicely. This piece of rabbit was a lot creamier and milder tasting than the bone-in shoulder which was shrouded in the tomato ragu, and both cuts were lovely and moist. The ragu contained Onion, Carrot, Celery, Black- and Green- Olives, which were all softened and bound in a rich, thick Tomato sauce that stood up to the rabbits richer taste brilliantly. The smooth, creamy fusion of Polenta and Potato provided a final flourish for this great dish.

I'd ordered a side salad too, and this was a pleasant mix of the usual suspects: mixed leaves, Cucumber, quartered Tomatoes and red Onion. All were fresh and crisp, bouncing with taste and nicely chilled.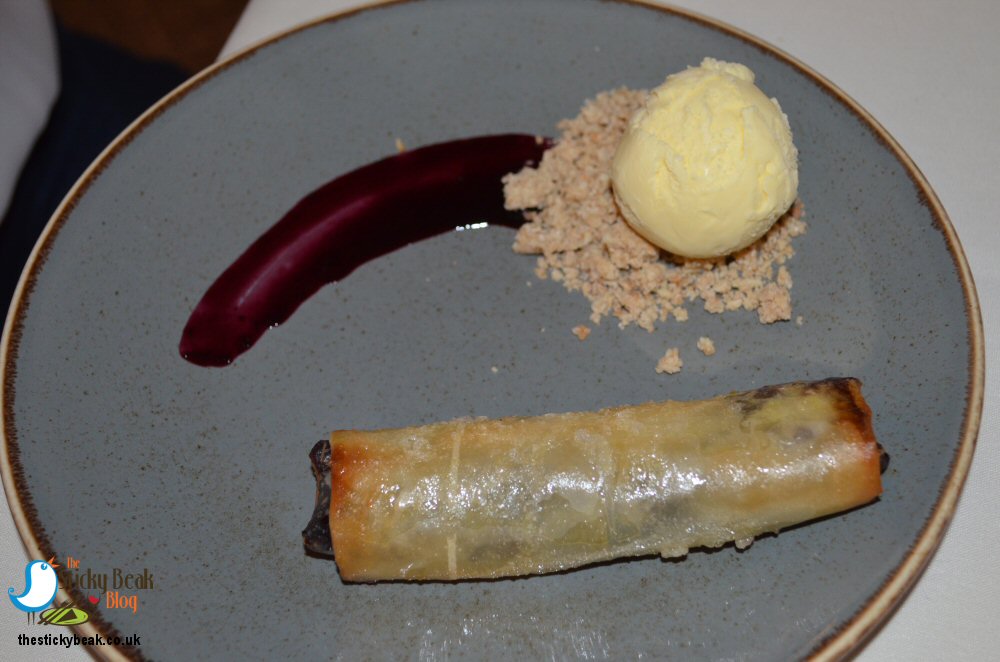 Dessert consisted of Blueberry Strudel with Clotted Cream Ice Cream for me, and Strawberries and Champagne, Strawberry Crème Pat, and Basil for His Nibs. The tiny berries in my strudel were absolutely bursting with flavour, sweetness and juiciness; it was like having summer all over again. In contrast to the sheer exuberance of the vibrant berries was the creamy sophistication of the Clotted Cream Ice Cream, and it was total indulgence as the cold treat melted in the heat of my mouth and lingered on the tongue. I was very happy with my choice of pudding and ate every last bit of it.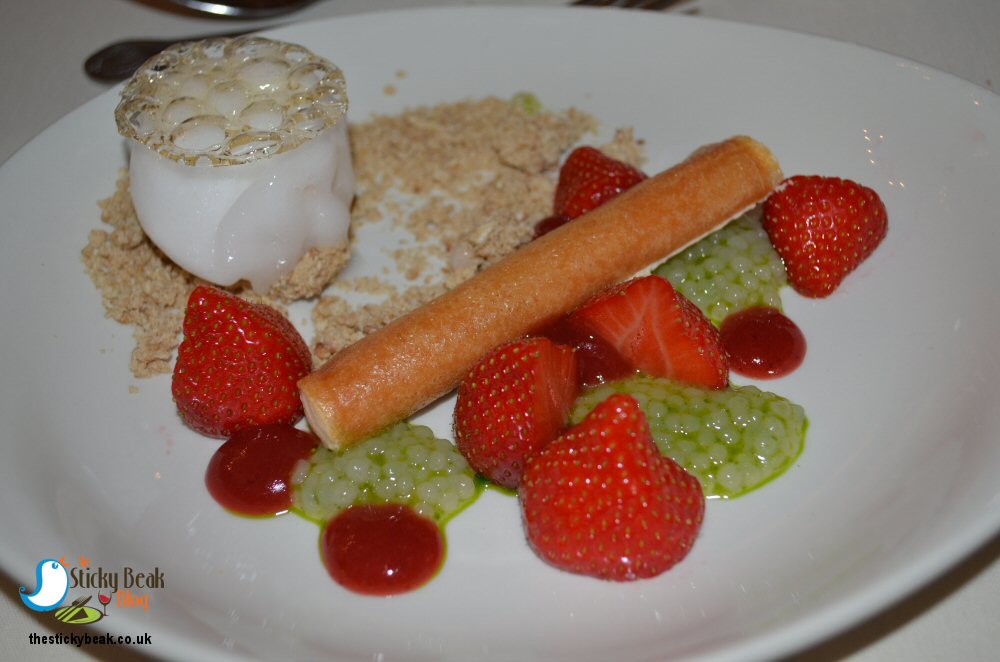 The Man Bird had also gone for a pudding with summer memories in it; it doesn't come much more summery than Strawberries (although they are now available pretty much year-round) does it? Alongside the fresh fruits was a gorgeous Champagne Sorbet whose delicate flavour remained leisurely in the mouth for a while. A Champagne-enhanced sugar disc had the more concentrated taste of the Champagne, imparting flavour as well as visual appeal to this dish. His Nibs loved the density of the crème patisserie as it gave more longevity to this rich element of the dessert. For a real burst of bright, clean taste you're not going to get much better than the fragrant, tangy Basil purée that was in this sweet finale to The Man Birds' meal.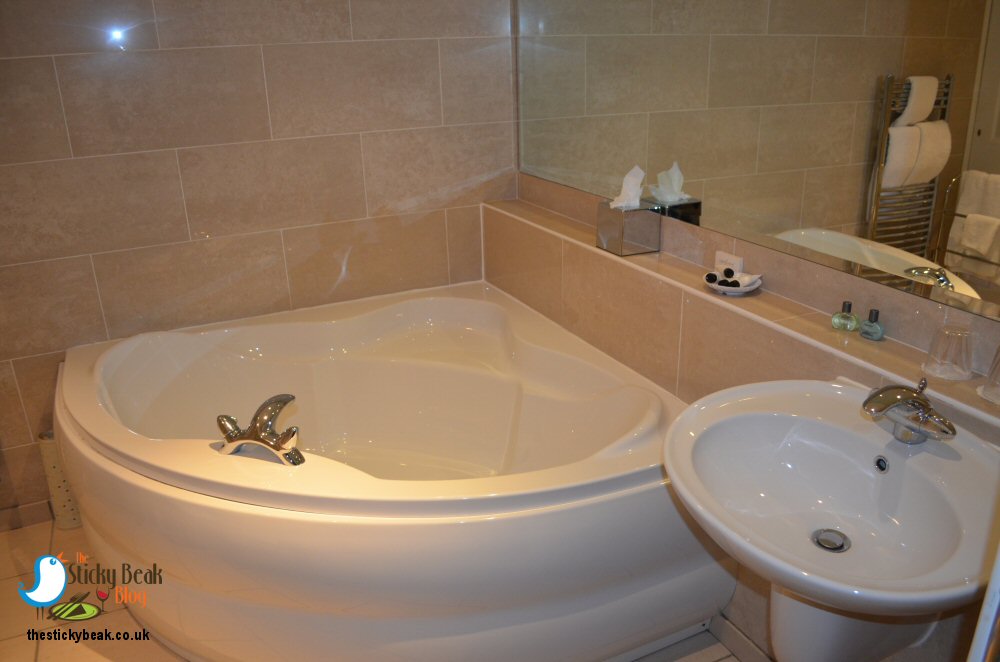 By now the time was marching on; the sun had long gone to bed and it was time for us to wind-down and do the same. We headed off back to our room and ran ourselves a warm bath; there was no way we weren't using that mahooooosive tub!!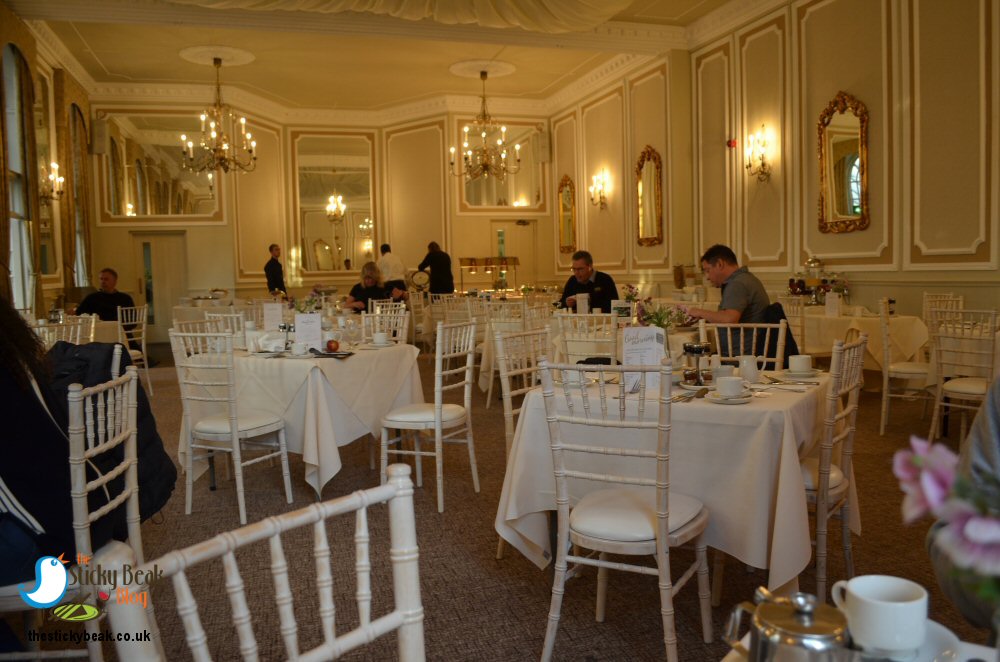 We slept like babes in the ridiculously comfy bed, waking refreshed and eager to start the day. First up was a good hearty breakfast! Located in the same room as we'd dined the previous evening, we were checked off the list by the welcoming Yvonne (who also took our tea and coffee order and showed us to our table). Whilst I began to sip my tea The Man went to the cold counter to fetch us some Croissants and Pastries to nibble at (there was an assortment of preserves and honey already on the table), as well as some glasses of chilled orange juice.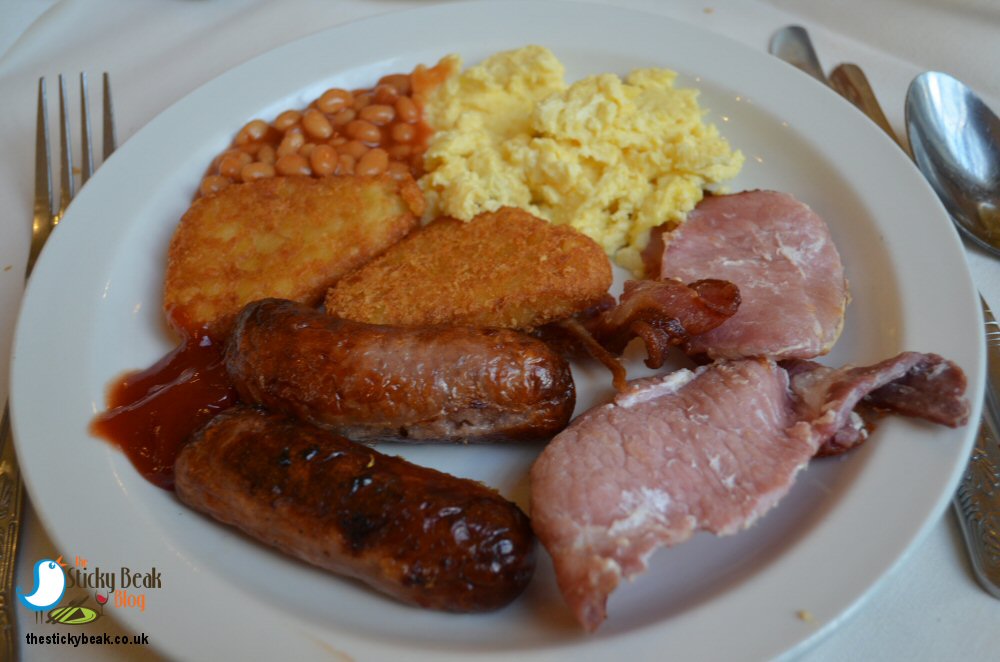 There was also a counter with fresh fruit and cereals, and then there was a hot buffet counter filled with all manner of yummy things that you could assemble yourself a bespoke fry-up from. I had scrambled egg, one slice of back bacon, tomatoes, and mushrooms; His Nibs had multiple slices of bacon, a pair of sausages, two fried eggs, a couple of hash browns, and loads of baked beans! It's never going to be as good as having a breakfast cooked fresh-to-order, but the breakfast at Ringwood Hall Hotel and Spa was more than passable. John made sure that we'd got enough tea and coffee to fuel us and asked what we'd got planned for the day as he efficiently cleared away our used plates and cutlery. I have to say that all the staff we'd encountered at Ringwood Hall Hotel and Spa had been incredibly friendly and professional; nothing had been too much trouble for them.
Some form of incentive was provided to visit this venue
read more
Read Some Of Our Recent Reviews
---

A Stay At The Mount Royale Hotel, York The Man Bird and I had the chance to escape to the historic city of York recently, and having visited many years before, and loving it, we jumped at the chance to revisit this magnificent English city. Read The Article

---

Overnight Stay At Derby's Cathedral Quarter Hotel The Man Bird and I have been fortunate enough to dine at the Opulence restaurant located in the Cathedral Quarter (CQ) Hotel before, but have never actually stayed in one of the 38 Read The Article

---

Overnight Stay At The Mill Street Pub & Kitchens, Oakham So the Boy Wonder and I are kicking off the first blog adventure of the New Year in the UKs smallest county, Rutland. We were invited down to Mill Street Pub and Kitchen Read The Article

---

Overnight Stay At The Eastwood Hall Hotel Nothing motivates The Man Bird quite like finding somewhere to stay for his birthday celebrations, so he was off to check his beloved Groupon site for inspiration and (jammy monkey that he is) Read The Article

---

A Night In Brighton At Marina By The Sea Who says you can't mix Business and Pleasure? The Man Bird was down in Brighton for a business meeting, so I went and indulged in the pleasure of Brighton's many shops and bars Read The Article

---

Overnight Stay At The Yew Lodge Hotel, Kegworth Sometimes you come back from somewhere and the awesomeness just overwhelms you doesn't it? Well, if truth be told, I feel a bit shell-shocked after the utterly amazing night away The Read The Article

---

Overnight Stay At The Cedar Court Hotel Well, the Boy Wonder has been using his bargain hunting skills again and snagged us an incredible deal on Groupon for a weekend away in Wakefield. So off we tootled on Friday evening Read The Article

---

Overnight Stay At The Farmhouse, Mackworth I am a very lucky little Birdie dear reader, very lucky indeed. For our wedding anniversary the Boy Wonder had decided to treat us to dinner, bed and breakfast at the Farmhouse in Mackworth Read The Article

---

Revisit To The Farmhouse, Mackworth I am a very lucky little Birdie dear reader, very lucky indeed. For our wedding anniversary the Boy Wonder had decided to treat us to dinner, bed and breakfast at the Farmhouse in Mackworth Read The Article

---