Tempus @ Eastwood Hall Hotel
The Tempus Bar & Restaurant at Eastwood Hall is a fresh, modern and contemporary environment with a high quality ambience and stylish open spaces.
All menus reflect seasonality using local produce whenever possible, with particular attention paid to the quality of ingredients by our Chefs. Menus incorporate fresh, crisp, intense and punchy flavours across modern dishes and classics with a twist.
The Sticky Beak Blog Reviews
6/16/2016
Overnight Stay At The Eastwood Hall Hotel
View

---

6/16/2016
Dinner At The Tempus Restaurant, Eastwood Hall
View
News Articles
We have no news articles for Tempus @ Eastwood Hall Hotel yet
The Chatterbox
Tempus @ Eastwood Hall Hotel has not been mentioned in the Chatterbox yet
Award Badges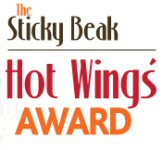 Find out more about my Award Badges
Menus
We have no menus for Tempus @ Eastwood Hall Hotel Yet
Photographs