Overnight Stay At The Mill Street Pub & Kitchens, Oakham
---
Published On Monday 9 Jan 2017 by Sticky Beak
See Recent Accommodation Reviews | See All Recent Reviews


So the Boy Wonder and I are kicking off the first blog adventure of the New Year in the UKs smallest county, Rutland. We were invited down to Mill Street Pub and Kitchen to stay with them in one of their boutique guest rooms and have dinner that evening and breakfast the following morning.
Also in the county is Rutland water so we decided to go there for a stroll on our way down. The weather, whilst not sunny or particularly warm, was at least dry, so we were one of many folk out for a walk either alone, with family or with a furry companion. The young lady in the visitor centre was most friendly and helpful and equipped us with a map, so off we trotted to work up an appetite for later.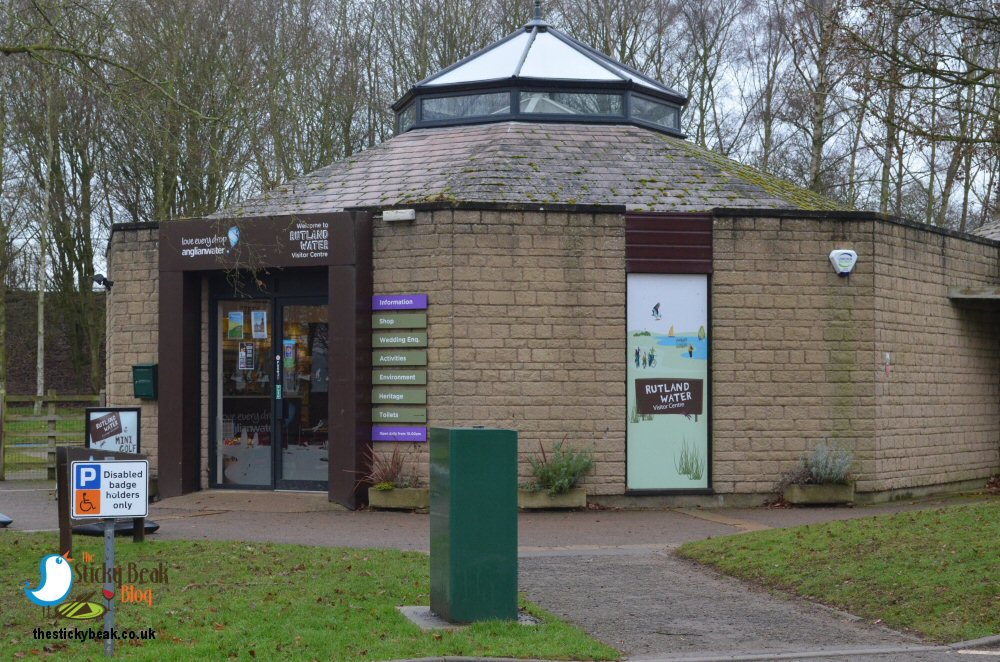 Exercise duly taken we jumped back into the jalopy and after a short jaunt of about 10 minutes our trusty motorised steed was pulling into the car park of Mill Street Pub and Kitchen, located in the beautiful town of Oakham.

We grabbed our overnight bags and walked up the steps and through the door to see the most wondrous sight; an impressive glass cabinet rammed to the gunnels with every kind of wine you could ever want. Bliss!




With extraordinary willpower, the Boy Wonder and I walked past the cabinet and into a lovely welcoming bar area and received a warm greeting from the lady behind the bar. Without any ado, she got our room key and showed us up the stairs to our room and said that when we'd got settled in if we needed anything else to just let her know.
The room itself was very elegantly decorated in shades of grey (not 50 though, before anyone thinks it!), with crisp white bed linen and a gorgeous herringbone throw at the foot of the bed. A luxurious sheepskin straddled the bed and dressing area with its open wardrobe rail and shelves.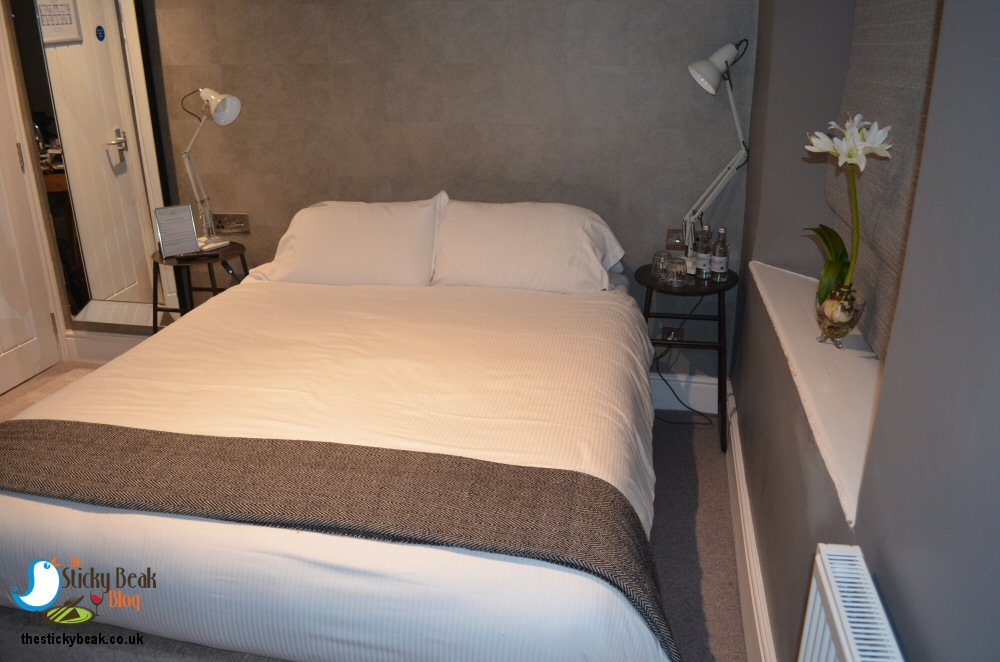 To the side of this was the very stylish bathroom with double shower enclosure (two of the bedrooms have baths in them), hand basin and lavatory, again decorated in grey with white brick style tiles.

Three things meriting special mention are the large rainshower head and separate hair washing attachment, the electric heated towel rail which delivers fantastic hot towels for you to wrap yourself in post shower and the lavish Elemis toiletries in the shower and bathroom. On the upper shelf of the open wardrobe was a hair dryer, a must really in any decent quality accommodation nowadays.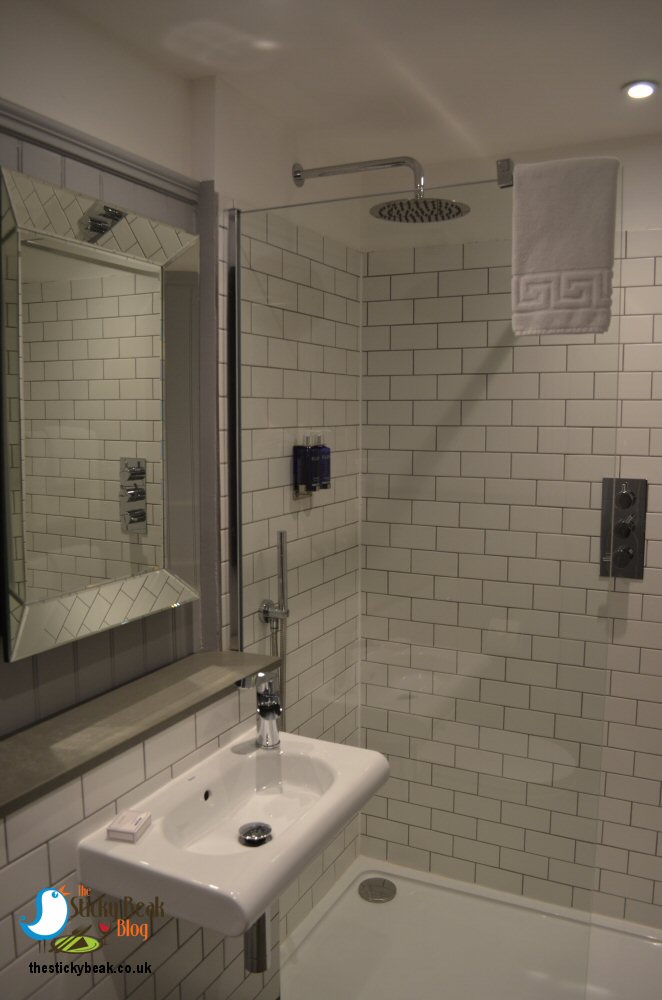 There was an original sash window in our room with a white Amaryllis standing gracefully on the sill, which looked visually beautiful as I gazed at it whilst lolling on the ridiculously soft, comfy bed. Pleasingly, for us ladies, there were mirrors galore in all areas of the room and not piffly tiny ones either, decently proportioned affairs that let you judge your appearance properly.
On the dressing table there was a kettle to make tea with (whether you wanted black, green or fruit varieties) and a Nespresso coffee machine and plenty of milk cartons too so that you could actually discern that milk had been added to your beverage. My beady eyes also spotted the kilner jar and its biscuit contents; handy to nibble on later I thought. In addition, one of the bedside tables housed two glasses and two bottles of mineral water so there was no chance you would be going thirsty.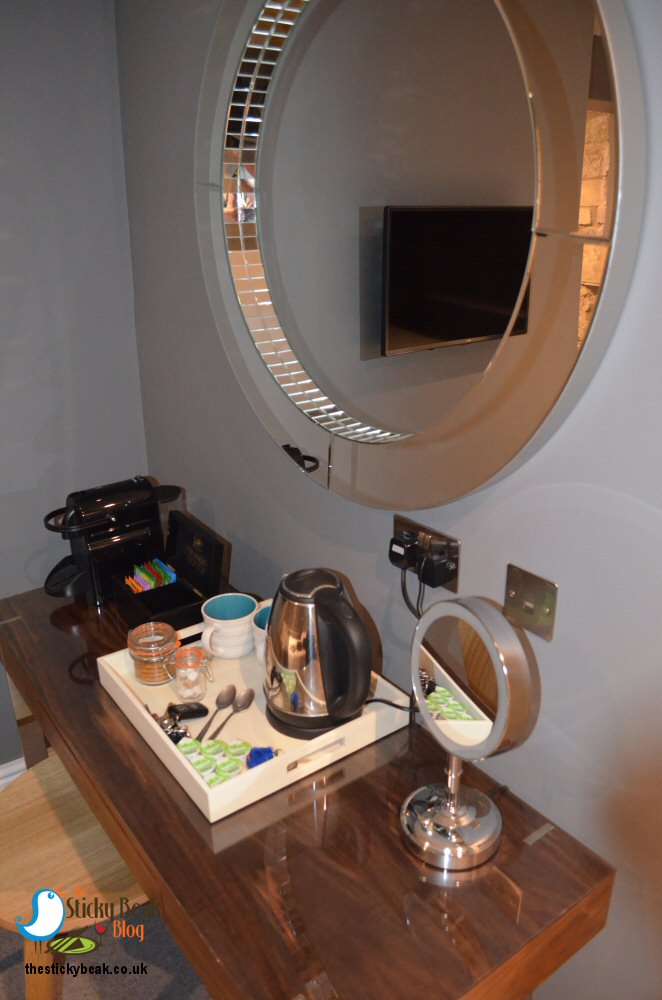 A sizeable wall mounted flat screen television was also at the bed end, perfect for late night viewing, and for the tech conscious guest you can charge your equipment via the USB power adapter. So all in all, I have to give the accommodation at Mill Street Pub and Kitchen big thumbs up, I was very impressed by the standard and quality :)
Given the constraints on space in this old, grade 2 listed building, the team really have maximised the compact rooms so that you feel cosy rather than cramped, and our room had a great homely vibe to it.


Price wise, its budget friendly for the quality of the accommodation, and the prices include breakfast too. Based on two people sharing (and there are twin rooms available too) the price is £90 per room per night Monday-Thursday and Sunday, and £130 per room per night on Fridays and Saturdays. There is an additional supplement for an extra child aged over 2 years or an adult sharing a room, and also a supplement of £10 per night for a dog in the room.
Having duly unpacked and arranged things to our liking we sauntered back downstairs, ready to go and have a gander around the beautiful streets of Oakham itself. En route we met Chris Watson, who is Mill Streets General Manager, and what a wonderful chap he is; full of character with an easy going nature and wide smile.




Those of you that know me are familiar with my world class ability to natter, so it will come as no surprise that half an hour passed before The Man Bird and I actually stepped onto the pavement!

There is a marvellous array of shops in Oakham including delicatessens, high class jewellers and interior design shops, country outfitters and traditional butchers as well as more familiar high street names such as Boots the Chemists.


Oakham Castle is located not far from the main streets of the town and we wandered past Caffe Nero's premises and had a quick look with the intention of going to view it properly on the Sunday morning on our way home.

We did turn up, but didn't take into consideration the fact that it might open later on Sundays. We discovered that it opens at Noon on this day so we had to give it a miss as Sunday lunch was scheduled for 1pm at The Tribal Elders nest. I imagine that it would be a popular attraction for the parents of the highly acclaimed Oakham Schools' pupils when they first visit their offspring.


There is a number of grade 2 listed properties in evidence, ranging from thatched roofed buildings, solid stone dwellings, and sash windowed houses. One beauty salon (Creme Hair and Beauty) is actually located in an old church, complete with arched windows and door, giving it fantastic kerb appeal. We leisurely passed an hour or so just drinking in our surroundings, kicking ourselves at only experiencing the tail end of the market that was set up.
With the light fading, we made our way back to the bar at Mill Street Pub and Kitchen and ordered a pint of Moretti beer for His Nibs and a glass of Sauvignon Blanc for me to sip whilst I did a bit of work on the laptop. Some music was playing in the background, the fire was laid ready for lighting later on and the lighting gave off a cosy glow so that the space had a warm, welcoming feel to it.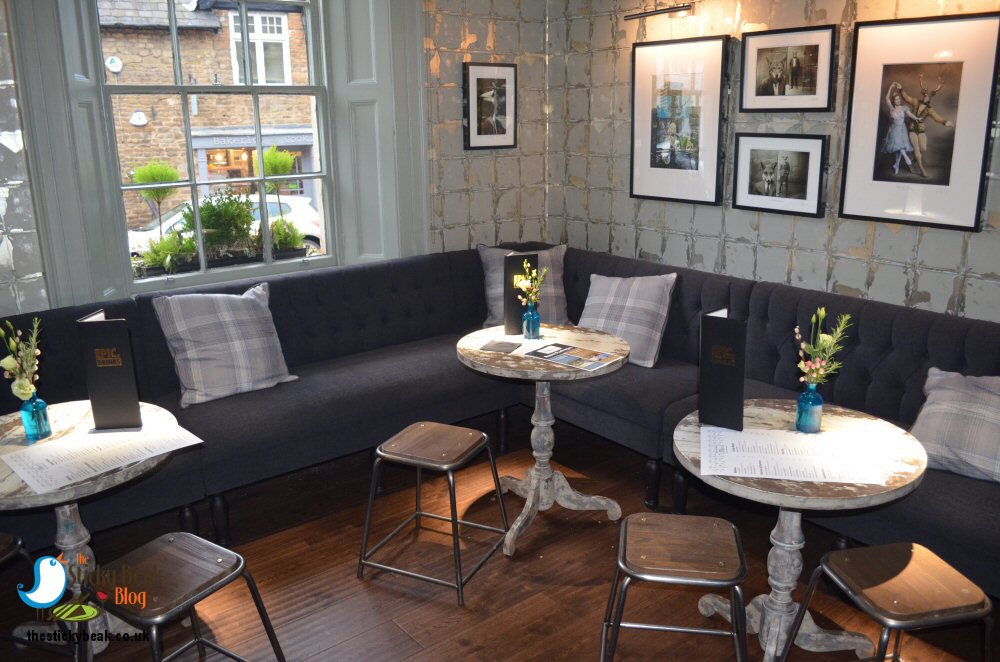 Having returned to our superb room and freshened ourselves up, we made our way down for dinner at 7.30pm and you can read about that here. After dinner we headed back to our room full of laughter and cheer and sank into the cloud of a mattress and drifted off to the land of nod in no time at all.
After a blissful night's sleep we jumped into the shower and used some of the Elemis "Revitalise Me" bath and shower gel to wake ourselves up before going downstairs to the orangery for breakfast. There's a great selection of breakfast items to choose from on the menu ranging from superfood Porridge with Figs and seeds, Buttermilk pancakes with Maple syrup and Bacon, and Eggs Benedict, all the way through to the Full Monty English Breakfast in all its glory.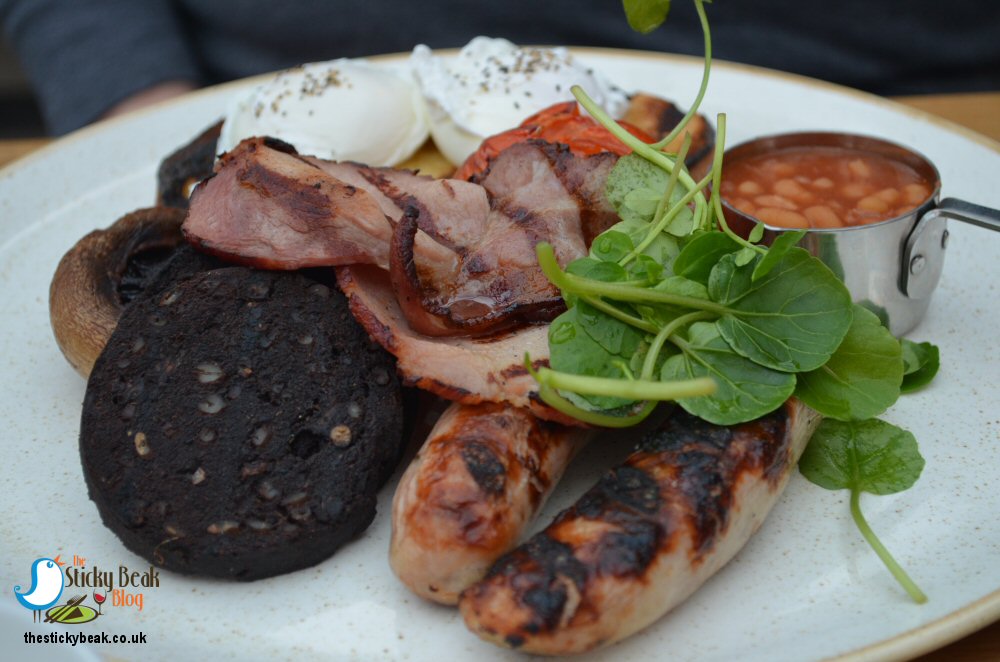 I was sorely tempted to have the Eggs Benedict but eventually chose The Full Monty in unison with His Nibs, though I had poached eggs rather than fried like The Man Bird wanted his. This comes as a regular or large size, and we opted to have the larger size as it comes with two eggs and two sausages.

We both ordered pots of tea to go with breakfast, and it comes in an earthenware teapot and loose leaf tea is used. I forgot to enquire what blend of tea it was, but it was a full on, straight forward brew that is just the ticket to get you going first thing in the morning. In fact it was so good that I had a second pot of it, little tea belly that I am :)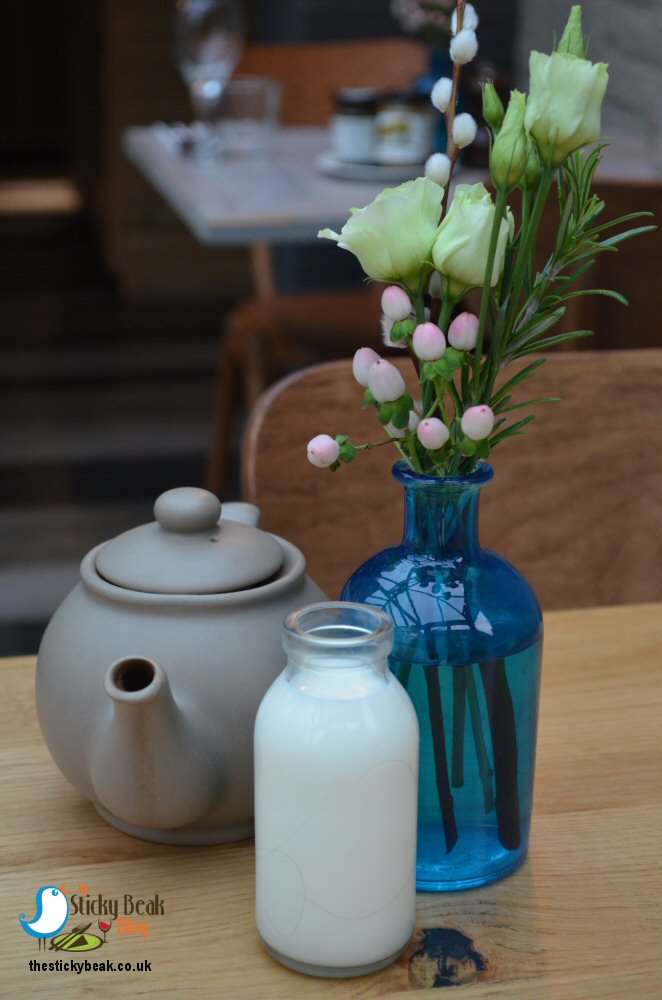 Before long two huge plates of yumminess were winging their way over to us, the perfect way to get the morning started. As you know, I am a bit particular when it comes to sausage as a lot of them tend to repeat on me. I am pleased to report that the ones at Mill Street Pub and Kitchen are top notch; not particularly spicy, but hearty and meaty, and more importantly they didn't make themselves known through the day.

The bacon came in good thick slices and had a lovely hint of sweetness to it and there were a couple of chunky rounds of Black Pudding that hit the spot for me, taste wise. In addition to a little pot of baked beans, there was a large field mushroom and a whole tomato that had both been grilled.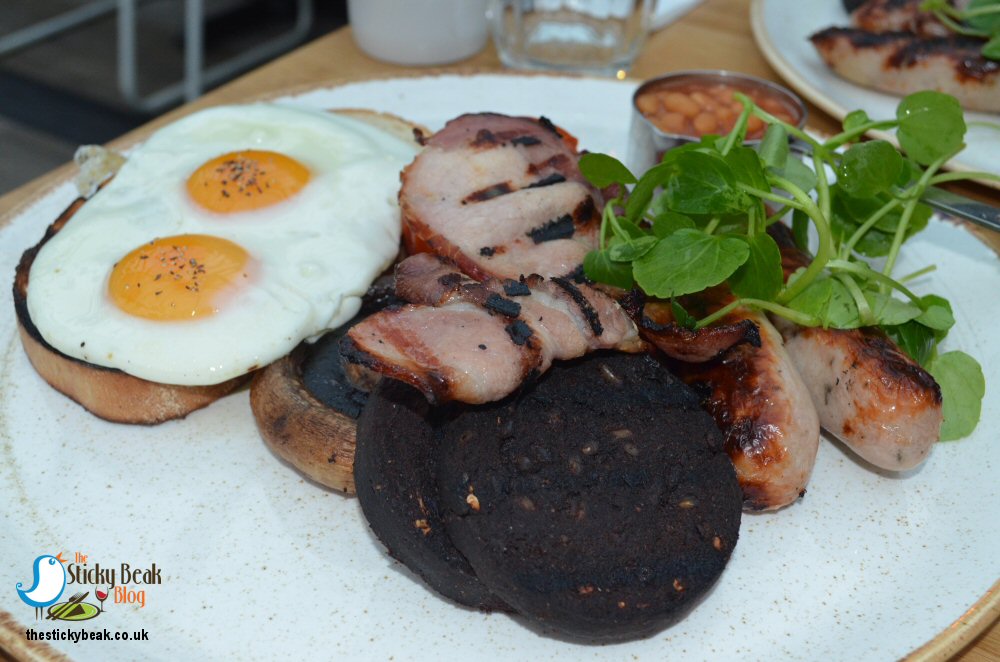 My perfectly poached eggs were nestled on top of a fantastic doorstop of fried bread that had been done on the griddle, so it had those lovely stripes on, and no hint of excessive grease that makes it soggy and unpleasant.
I'm a bit of a traditionalist when it comes to the good old British Fry Up; you can't skimp on the quality of your base ingredients, and it doesn't need any excessive fancying up either. It just needs to be a good, honest, robust brekkie that can raise the blood sugar and mop up any surplus alcohol if a heavy night has been had.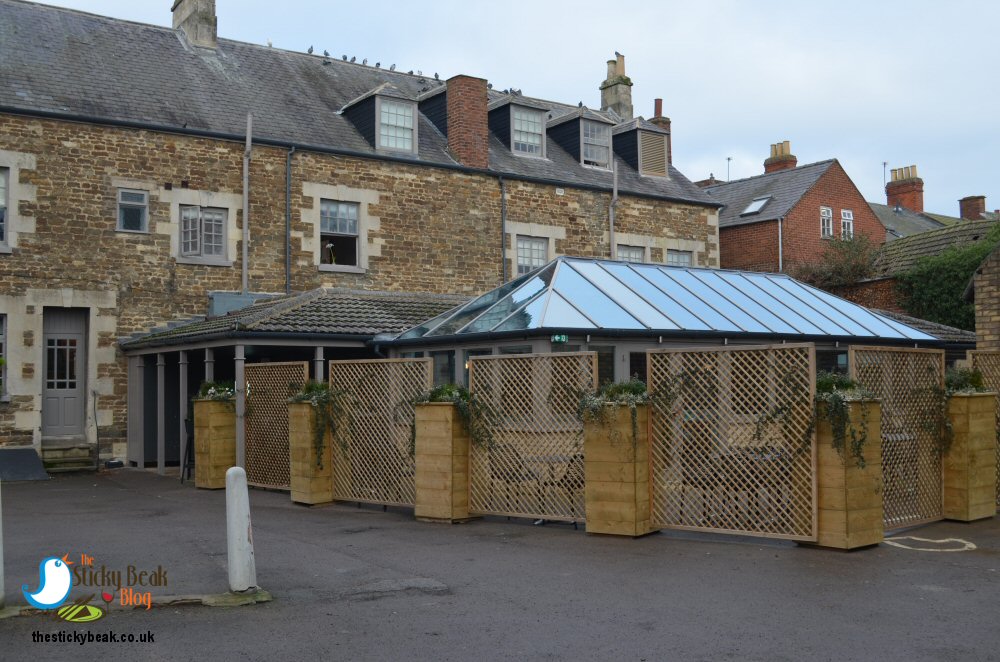 The offering from Nathans team ticked all the right boxes, even if His Nibs ruins it with tomato ketchup; I mean, it's got to be brown sauce all the way on a fry up, right? For those of you who are vegetarian, don't despair as the Full Monty is available in a non meat version too :)
There really wasn't any aspect of our stay at Mill Street Pub and Kitchen that we weren't more than happy with; the accommodation and food were both excellent and the staff were all so polite and friendly as well. I can heartily recommend this establishment to you with no hesitation. Hot Wings absolutely deserved here :)
Some form of incentive was provided to visit this venue
read more
Read Some Of Our Recent Reviews
---

An Overnight Stay At Ringwood Hall It's been about 18 months since The Man Bird and I went to see the (very) newly opened Garden Secret Spa at Ringwood Hall Hotel, so it was lovely to be asked back. We were being accommodated overnight. Read The Article

---

A Stay At The Mount Royale Hotel, York The Man Bird and I had the chance to escape to the historic city of York recently, and having visited many years before, and loving it, we jumped at the chance to revisit this magnificent English city. Read The Article

---

Overnight Stay At Derby's Cathedral Quarter Hotel The Man Bird and I have been fortunate enough to dine at the Opulence restaurant located in the Cathedral Quarter (CQ) Hotel before, but have never actually stayed in one of the 38 Read The Article

---

Overnight Stay At The Eastwood Hall Hotel Nothing motivates The Man Bird quite like finding somewhere to stay for his birthday celebrations, so he was off to check his beloved Groupon site for inspiration and (jammy monkey that he is) Read The Article

---

A Night In Brighton At Marina By The Sea Who says you can't mix Business and Pleasure? The Man Bird was down in Brighton for a business meeting, so I went and indulged in the pleasure of Brighton's many shops and bars Read The Article

---

Overnight Stay At The Yew Lodge Hotel, Kegworth Sometimes you come back from somewhere and the awesomeness just overwhelms you doesn't it? Well, if truth be told, I feel a bit shell-shocked after the utterly amazing night away The Read The Article

---

Overnight Stay At The Cedar Court Hotel Well, the Boy Wonder has been using his bargain hunting skills again and snagged us an incredible deal on Groupon for a weekend away in Wakefield. So off we tootled on Friday evening Read The Article

---

Overnight Stay At The Farmhouse, Mackworth I am a very lucky little Birdie dear reader, very lucky indeed. For our wedding anniversary the Boy Wonder had decided to treat us to dinner, bed and breakfast at the Farmhouse in Mackworth Read The Article

---

Revisit To The Farmhouse, Mackworth I am a very lucky little Birdie dear reader, very lucky indeed. For our wedding anniversary the Boy Wonder had decided to treat us to dinner, bed and breakfast at the Farmhouse in Mackworth Read The Article

---