A Night In Brighton At Marina By The Sea
---
Published On Sunday 22 May 2016 by Sticky Beak
See Recent Accommodation Reviews | See All Recent Reviews


Who says you can't mix Business and Pleasure? The Man Bird was down in Brighton for a business meeting, so I went and indulged in the pleasure of Brighton's many shops and bars :)
We had to find our Bed and Breakfast hotel first and get checked in, and the Beady Eyes of yours truly spotted the venue in no time. Lady Luck was smiling on us as there are only two parking spaces for Marina by the sea and just as we turned the corner someone was vacating one of them; well His Nibs swung the car in with stunt driver speed and precision, that space was going to be his by hook or by crook!

Marina herself is a wonderfully effusive, force of nature character, and she soon had us checked in with instructions to let her know if we needed anything extra or if we wanted something changing. The Hotel cat, Tommy, was on desk duty too and he is a very handsome Tabby with white moustache and paws, and you have to pay him a fee of several back scratches before you go upstairs to your room.

Our room was very spacious, more so than we were expecting, although the clever placement of furniture maximises this fantastically well; for example an iron rail with mirror above serves as the wardrobe which gives a much less crowded feel than a traditional solid example. The bed was very comfy (we both had a great night's sleep) and made up with pristine white linens with a very soft, dove grey throw and seagull cushions on it.




There was a Nespresso machine as well as a kettle for making tea on the sideboard and, crucially, plenty of milk, sugar and sweeteners, and there is also a mini fridge in the room in case you need it for anything.

A rather impressively sized television was wall mounted at the end of the bed with working remote control; one of my bug bears is hotel rooms that don't have working remote controls, it happens annoyingly often.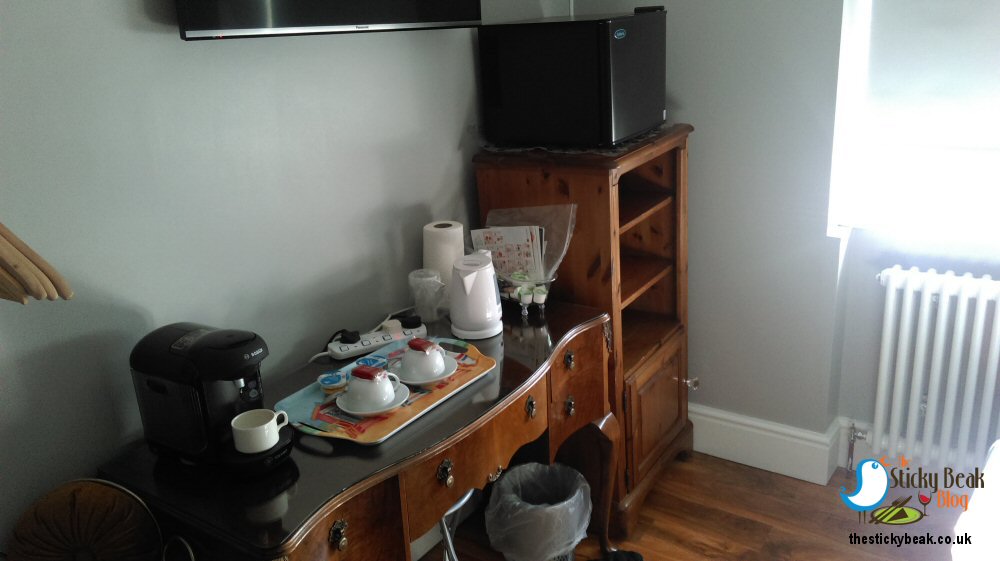 Marina has thought of everything, so also mounted on a wall at the side of the bed is a fan for when (if) the weather is such that you need cooling down, and in addition to plug sockets there are USB ports for charging your devices such as an Ipod.

Our ensuite shower room had accents of red to it which suited the grey and white colour scheme of the bedroom, and the shower mat was the same grey as the throw on the bed. Towels, shower gel and hand wash were all in the ensuite facilities, and a hairdryer was on the dressing table, which had another mirror on it. Well, a girl can never have too many mirrors can she, after all we have to check ourselves from every angle before we go out.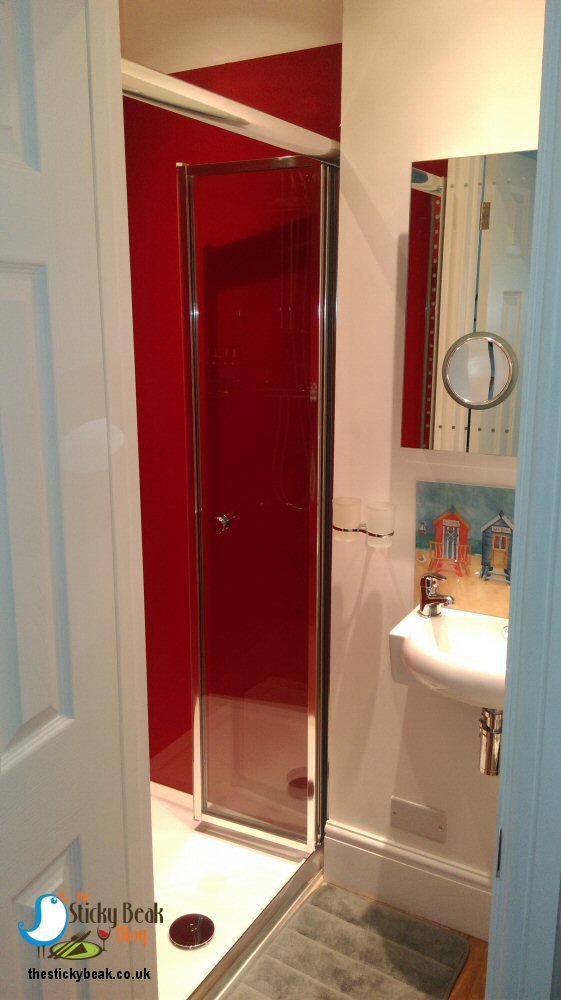 Marina has teamed up with several local cafes to offer breakfast, as they don't have a commercial kitchen themselves: Morris and Jacques, Miss Piggies and the Corner Cafe are the ones she uses.

All the cafes are close by and offer a wide range of breakfast choices; we opted to go to Morris & Jacques, I had eggs Florentine and The Boy Wonder had a full English breakfast. Both were piping hot and very tasty, and the cafe offers a great vantage point to people watch, an essential activity when down in Brighton.
Anyhow, having checked in, The Man and I wandered to a place called Legends on the Sea Front, as this was where the business meeting was taking place. I duly took ownership of a cheeky glass of Chardonnay and went to sit in the glorious sunshine whilst the boys did their thing and commenced the serious sport of people watching.

I love the vibrancy of Brighton and everyone was starting the weekend early thanks to the appearance of Mr Sunshine, so the bar had a great buzz to it, and the staff were fantastically upbeat and flirty which just enhanced this all the more. With business mostly concluded, we headed back to Marina by the Sea to freshen up before heading out for a bite to eat.




As you would expect from such a diverse town as Brighton, there is every imaginable cuisine on offer, but we decided to pay Pitcher and Piano a visit because our friends in Derby do such a great job of food and drinks. The team in Brighton are very friendly and our lovely server soon got us all sorted out with drinks, tasting even better thanks to the cocktails being 2-4-1 during Happy Hour.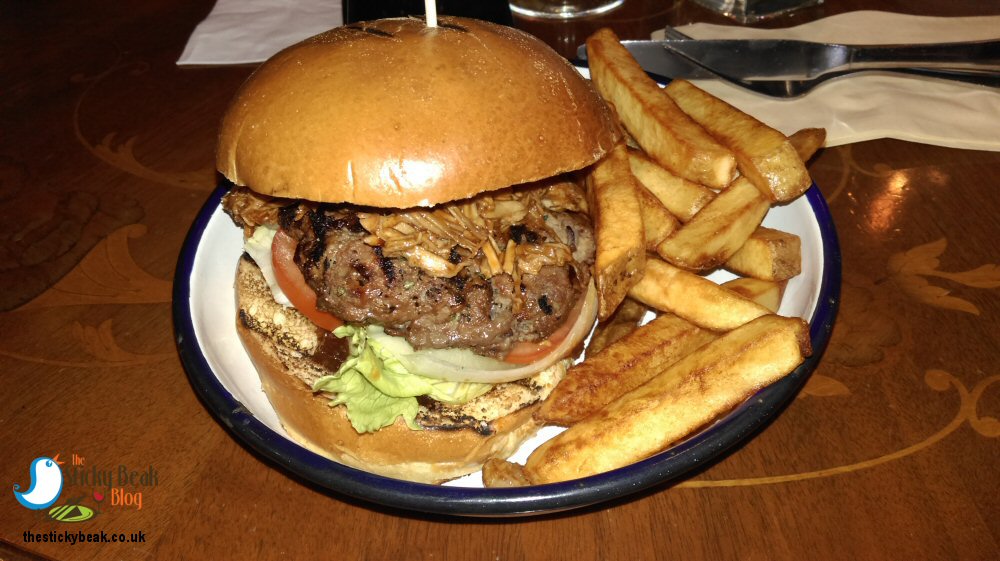 Another brilliant offer is the choice of three grazing dishes and a bottle of wine for £19.95, well it would've been rude not to have a bottle of Vino with dinner wouldn't it? I had the grazer dishes and the chaps had a Steak and Stilton sandwich and a Pulled Pork burger for their meals which they said were both delicious. With tummies duly satisfied we had a wander along the sea front and eventually found ourselves near the Churchill shopping centre.

Only in Brighton can you find a privately owned, proper pub (The Prince of Wales) in the middle of Corporate buildings; principles still exist obviously and this gem of a boozer was not for sale at any price just to be swallowed up for retail floor space.

There was a good mix of people in chatting and drinking and we got a friendly welcome from all. Karaoke normally starts at 8pm but Football had been shown so this had delayed things until about 9.30 apparently; you wouldn't have known as tunes were already being belted out with much gusto.

A couple of pleasurable hours were spent taking in the atmosphere here and chewing the cud with the landlord, then it was last orders being called and we meandered back to our B&B. I couldn't resist the pull of a chippy and succumbed to a portion of freshly cooked chips slathered in salt and vinegar; chips always taste marvellous when eaten open by the sea don't they?
We entered slumber land very contentedly having had some great hospitality extended to us by the great folk of Brighton. You can't beat the British Seaside, so if you fancy a night or two away you could do a lot worse than visit Brighton, and Marina by the Sea is a cracking little Hotel to stay in.