A Visit To The Ilkeston Food Fair
---
Published On Monday 6 Jun 2016 by Sticky Beak
See Recent Event Reviews | See All Recent Reviews


The weather was unusually good for a Bank Holiday weekend day so we were hoping that there would be a good turnout for organiser Carol and her team. We left our nest early doors so that we would get a decent parking space, and clearly we weren't the only ones with that thought as there was a fair few cars parked already.
The Man Bird, Chick, Geordie Bird (mum in law) and I walked the short distance to the rugby club itself and sought Carol out to have a quick word before she got too busy. Everything was looking good and people were already beginning to queue at the entrance quarter of an hour before opening time, so there was a quiet buzz beginning to build.
We had a quick scout round the stalls and took our shots before the crowds began, and I made a sneaky purchase of some Aubergine Chutney from the very talented Julie of Julies Pickles fame. I'd had a sample of it and knew that its delicate spice would be a winner with the other Tribal Elders at the Flock Fuddle chez beak later that night.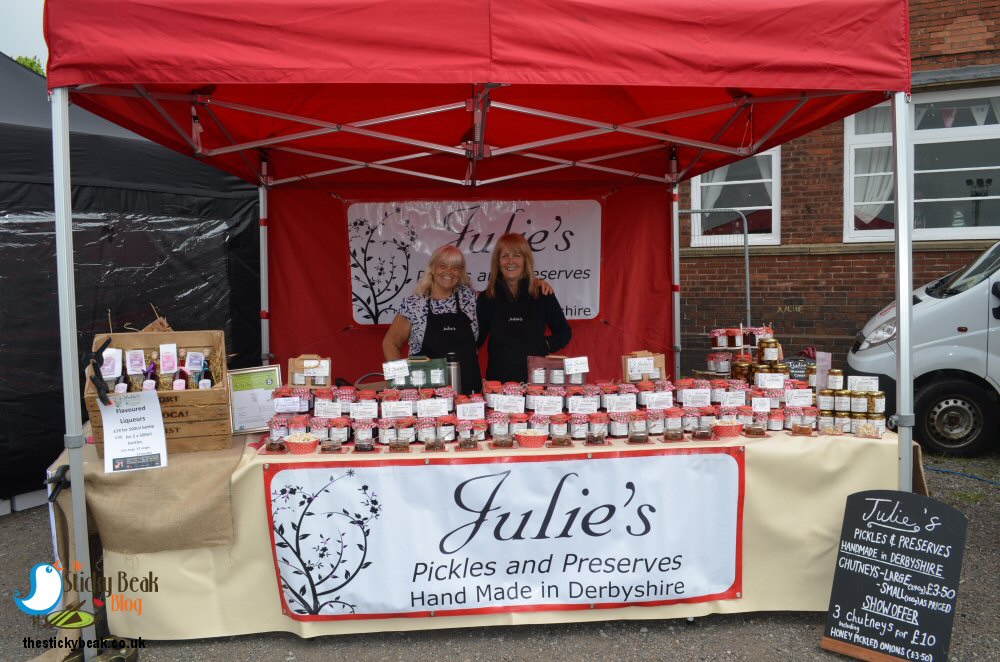 Julie says it's an absolute belter with Indian snacks and Poppadoms as part of a pickle tray, and I agree whole heartedly with her; it did go down a storm with the flock too especially when paired with R.P Davisons Derby cheese with Hendersons Relish, so big tick for this gem.
Creative Kitchen and the lovely Vicky were there too, and she had got her amazing Fidget Pie on display. The Boy Wonder and I first tried this tasty morsel at the Heanor Community Fair and thoroughly enjoyed it, so I was determined to take some for my Daddy Bird to try at the fuddle.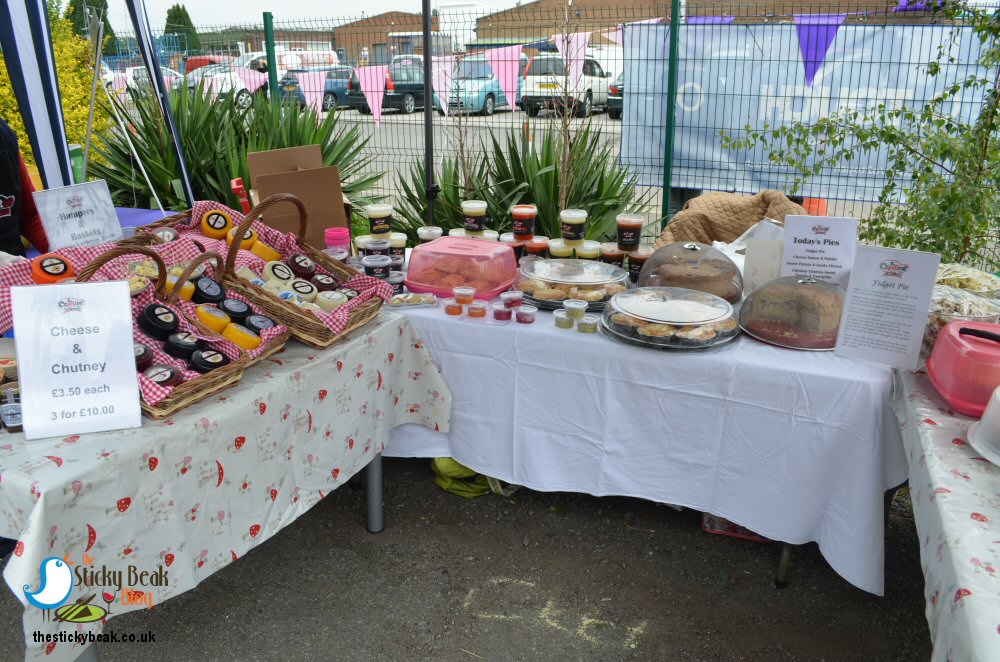 Fidget Pie came about as a meal in one product for workers and has a minced meat and potato bottom with a sweeter layer of apple at the top, all encased in pastry. It is equally yummy served hot or cold and I know this because we've had it both ways. It was a real crowd pleaser at the fuddle too; all the flock loved it and said how creamy the potato was and how nice the seasoning was.
I knew it would cost us money taking the Chick along and sure enough she spotted Beeston Brownies and a wedge of their classic brownie was purchased and quickly eaten.




Nearby was the Cocoa Tabby stall with its mesmerising array of chocolate delights; before you could say "oi" a bar each of Honeycomb and Cinnamon, Salted Caramel and Biscuit and Cookies and Cream had been purchased and opened. The Cookies and Cream was earmarked as "her" bar, but Chick did give us all a mere morsel and it was delicious; His Nibs and I opened the other two bars later and they were equally scrumptious.

Seeing as we were on a sweet roll it seemed logical to go and pay Halo doughnuts a visit and avail ourselves of some of their rather dapper looking doughnuts. We treated ourselves to the Strawberry Shortcake, Lemon Meringue, Oreo and Rocky Road varieties of doughnuts and all of these were very tasty and were much appreciated by the flock.




Saving the best until last we come to the exceptionally talented Kathy of Hazlewoods Desserts; you may recall me reviewing her cakes and brownies a while back at the Belper food festival. We had to have a slice of the delightful Chocolate and Orange cake (just amazing), but she had also got some new temptations, namely Gin and Tonic, Limoncello and Butterscotch sponges so they were begging to be brought back for the fuddle.

My beady little eyes spotted a cheeky looking Baileys Brownie and its companion Mars variety and my lack of will power meant that they also found their way into my bag. I need to confess to not sharing the brownies at the fuddle, His Nibs and I had them for our breakfast (!) on Bank Holiday Monday. They were stonkingly good, let me tell you.




All the cakes were crazily moist and as light as air, actually, no, they were lighter than air and all around the room you could hear little murmurs of delight coming from every single flock members beaks. Each topping had the discernible taste of its description unlike so many cakes around, and it really is this quality that makes Kathys cakes so memorable.

The non feathered member of our flock is treated like a family member too so we paid the lovely ladies at AniBake a visit and bought him some of their brilliantly named Cheesy Wuffs and a pack of T(urmeric) Bones. Their treats are freshly made with natural ingredients such as oats, cheese, flaxseed, sardines, coconut oil and peanut butter, to name a few ingredients. Judging by the speed they were eaten I think it safe to say they got a two paw salute from Fido.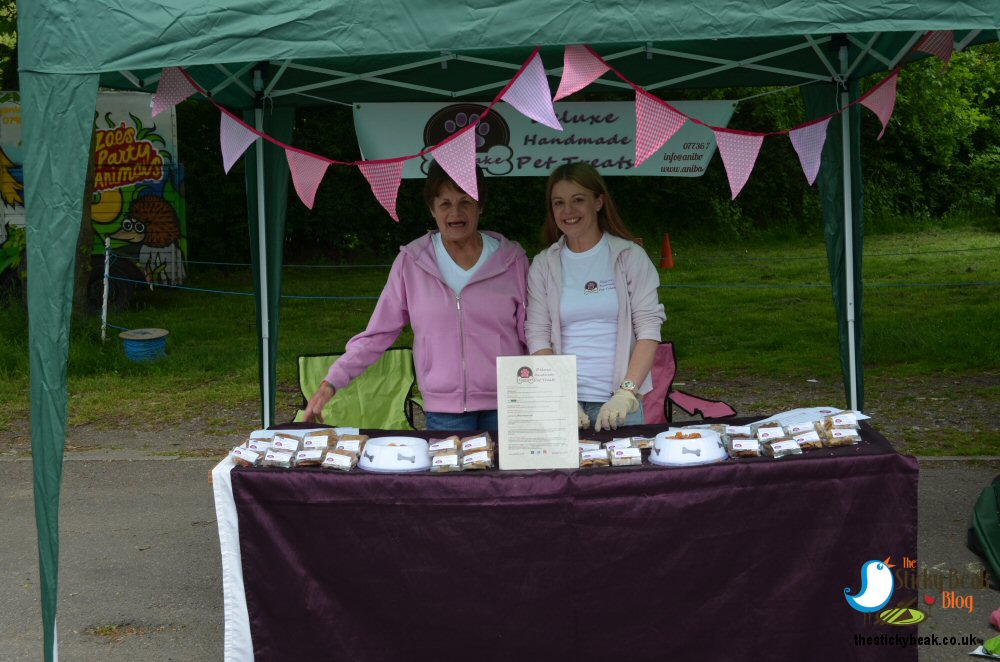 The vibrant colours of Bakhtar Foods caught my attention next, as did the samples of sweet garlic in Paprika sauce and freshly made Feta cheese. Along with these treats I also got a tub of Sun dried tomatoes for the fuddle and a loaf of fresh Sea salt and Rosemary bread from Spondon bakery was also purchased.

Sareenas Spicy Indian delights tempted us with Onion Bhaji, Pakora, Vegetable Samosa and Lamb Kebabs, and Vork Pies had brought their award winning Vegan Scotch Eggs and Sweet Potato and Tamarind Pies to the fair, so they had to be tried too. I absolutely loved the kick of the Pie and the Potato still had its firm texture so it wasn't mushy inside and I also loved the texture of the Scotch egg casing.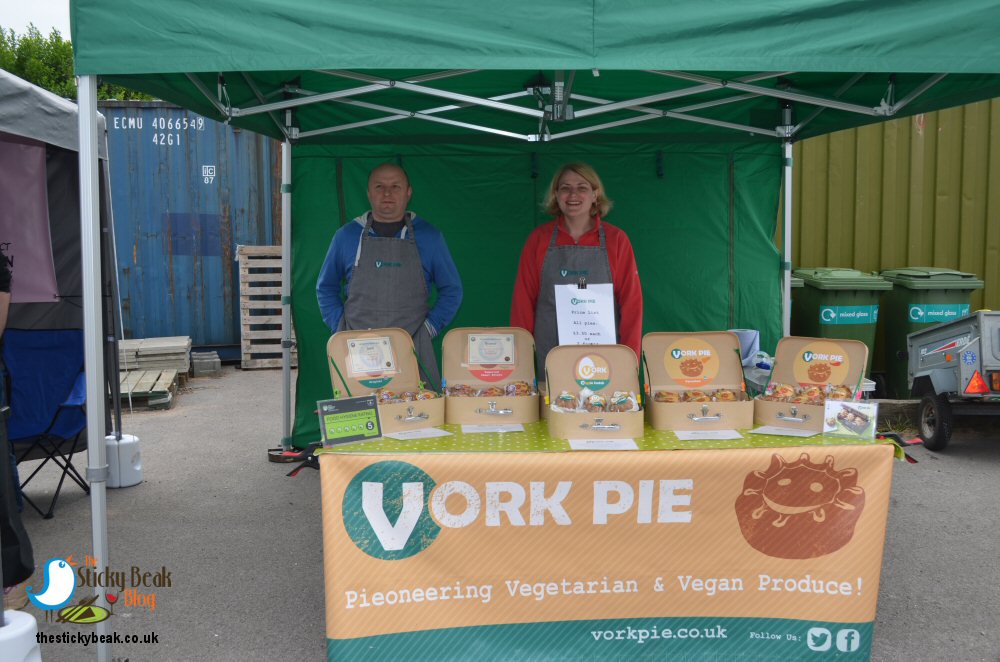 As confirmed meat eaters in our flock we were pleasantly surprised at how much we enjoyed both of Vork Pies dishes, I would definitely have them again.
Now the perfect partner for food is...... drink. The gents from Derventio Brewery were on hand with their magnificent brews, so we got a bottle of Barbarian Stout for my Mummy Bird (she loves the stuff!), two bottles of Cleopatra Ale and a bottle of Gold, which as its name suggests should win a gold medal at the (beer) Olympics.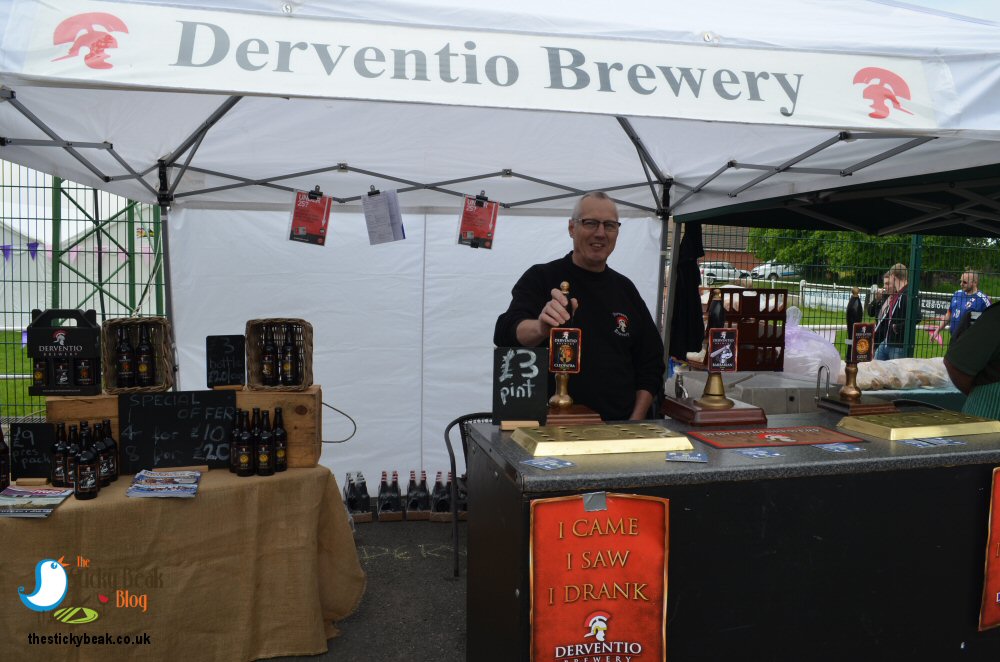 All are cracking tipples and the fantastic weather showcased them at their best with thirsts just being that little bit keener and appreciating the quenching that little bit more. These quality delights are also more than able to take a refined spin round a culinary ballroom with fine dining dishes as demonstrated when Blacksmiths Loft in Derby did their Derbyshire Tasting menu in March 2016.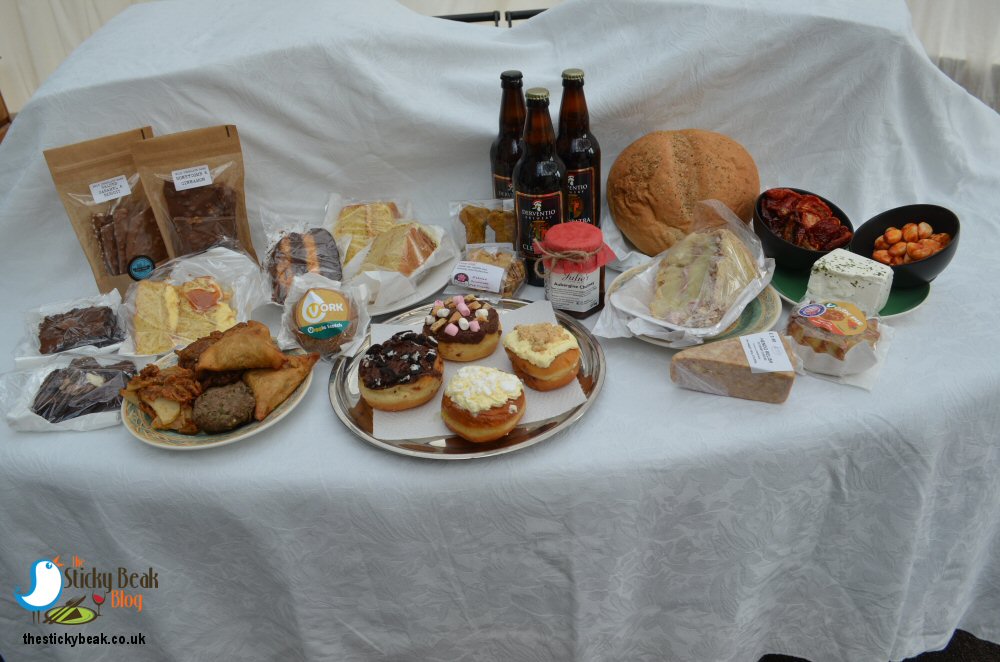 With our wings laden down with provisions we made our way back to the entrance/exit and wowsers, the amount of people coming to enjoy the food fair was fantastic to see. Local events really are the life blood of our magnificent Counties food and craft producers so it's always lovely to see them being supported.

I'm going to go out on a limb and give a "Hot Wings for Effort" award to Carol and her superb team of ladies and gents for putting together such a friendly event :). Looking forward to the one in October already!

You can see all the photos I took at the event here
Read Some Of Our Recent Reviews
---

Celebrating Bustler Street Food Market's 5th Birthday With Freedom Brewery #FreedomSessions The Man Bird and I love celebrating, so when the fab team at Freedom Brewery invited us to be their guests Read The Article

---

A Visit To Chesterfield Food And Drink Festival I love Chez Vegas, or Chesterfield to give it its proper name, it's such a friendly place - and my Mummy Bird's family hail from there. The Man Bird and I popped in early this morning to visit Read The Article

---

A Visit To The Bustler Street Food Market At Derby Riverlights You can't have Hustle without Bustle, especially in a vibrant city like Derby. The brains behind Love Derby, Stuart Costen, and some like-minded friends (Liv Pritchard from Read The Article

---

The Great British Food Festival 2017 Well what a brilliant time we've all had at The Great British Food Festival at Hardwick Hall in Derbyshire! We (Man Bird, Mummy Bird, The Chick and I) got there nice and early officially to get publicity shots Read The Article

---

The Belper Food Festival 2016 Visiting Belper Food Festival is becoming a little bit of a tradition for my little flock, which we always enjoy. In previous years we haven't done too badly, but this year was getting off to a dismal start with some Read The Article

---

The Great British Food Festival 2016 Well, we've just got back to the nest after having a fantastic morning at The Great British Food Festival held at Hardwick Hall. I finally got to meet my lovely fellow blogger Becky Explorer Read The Article

---

The Belper Food Festival 2015 One of my favourite days of the year arrived on Sunday - Belper Food Festival. There's always a good selection of food on offer from sweet to savoury and everything in between, so total heaven for a foodie Read The Article

---

The Derbyshire Food & Drink Fair 2015 My little crop is full to brimming reader, I actually feel as if I could burst, and I think the rest of the flock is equally podged too! Read The Article

---

The Great British Food Festival 2015 The Boy Wonder and I always enjoy visiting food fairs and markets as it gives us a chance to stock up on lots of different goodies to take back to the nest and share with the Tribal Elders Read The Article

---