The Great British Food Festival 2017
---
Published On Saturday 29 Apr 2017 by Sticky Beak
See Recent Event Reviews | See All Recent Reviews


Well what a brilliant time we've all had at The Great British Food Festival at Hardwick Hall in Derbyshire! We (Man Bird, Mummy Bird, The Chick and I) got there nice and early officially to get publicity shots of the stall holders; really it was to grab breakfast before we bought even more yummy stuff!
My eagle eyes spotted, and my bloodhound worthy nostrils smelled, some amazing bacon being cooked so I marshalled my flock over to where it was coming from. The chaps and chapettes from Woodhouse Farm Hog Roast were busy setting up all manner of delicious morsels and had got a huge skillet of bacon ready to be parcelled into soft bread buns. Mummy Bird and I are definitely in the brown sauce camp, His Nibs is in the *ahem* ketchup camp (wrong, just wrong), but we all said how great the thick slices of bacon were.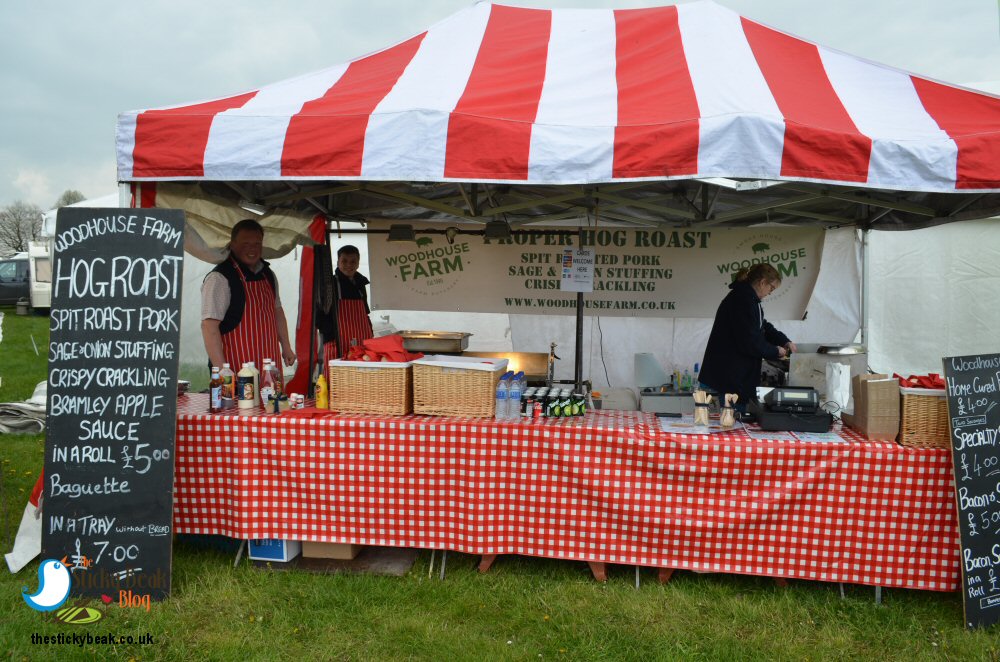 So having filled our bellies nicely the next job was to get some gee-up juice, a.k.a coffee, into our systems. Just across the main field there was a mobile coffee stall titled The Crazy Cow Coffee Bar, fab name; fab coffee too as it turned out :)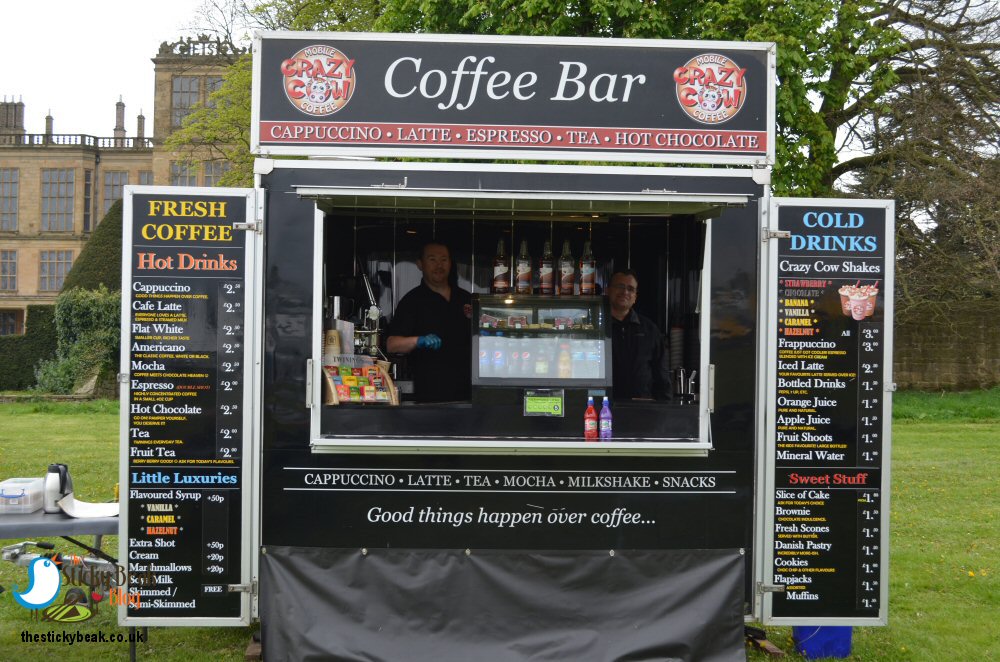 Some of the traders had already been in contact with us so we tootled off to meet them in person. The lovely Shelley from Babbaloos Bakery was the first person we met, and funnily enough I am tucking into some of her delicious treats as I write this with my mid-afternoon cuppa. Given the amount of treats she gave us I'm just going to point out that I am only having a small piece of each item; both the Lemon Curd, and the Raspberry ripple filled cookies are fab, and I think that the triple Choc Brownie is quite possibly the chocolatiest thing on the entire planet! Shelley said that the Gin and Tonic Blondie was indecently Gin-y, and by golly she isn't wrong; it is decidedly moreish.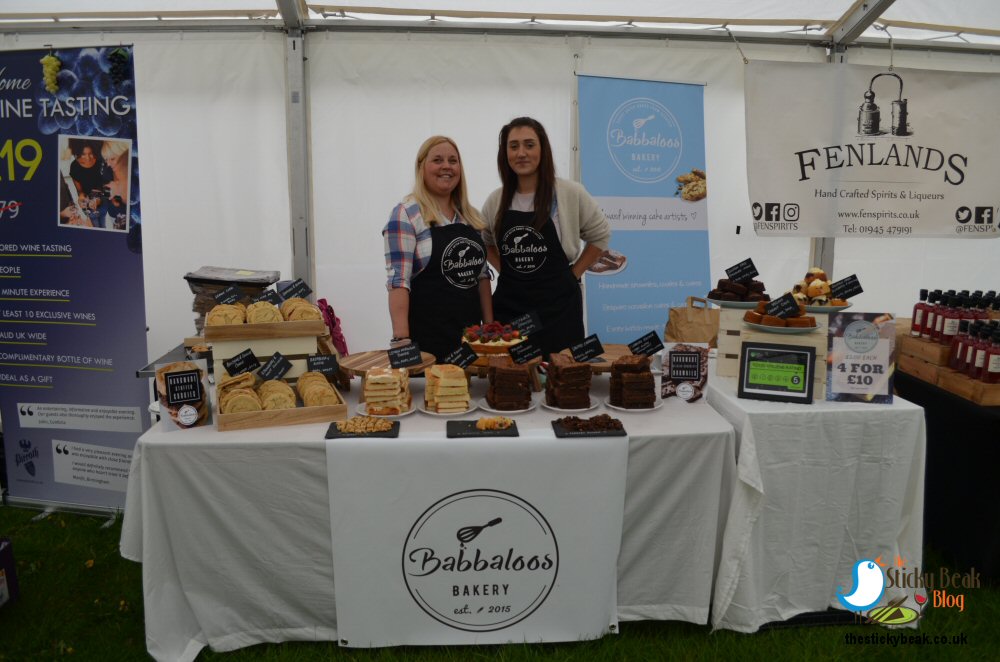 His Nibs is grinning madly at me and giving "two-thumbs-up" as he's wolfing the Lemon Meringue Blondie and Chickadee is smitten with the richness of the Ferrero Rocher Brownie. All of us are pleasantly surprised by the Gluten free Chocolate Brownie; it really is as good as its gluten containing counterpart and I can see why it always sells out at your local market Shelley :)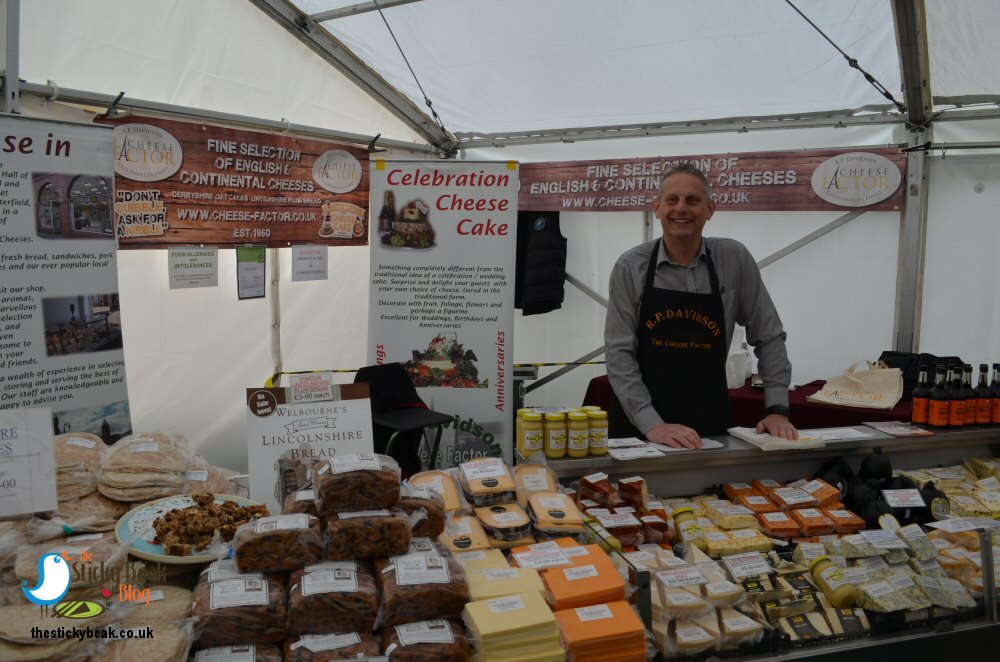 It's always a pleasure to catch up with Simon from Chesterfield business the Cheese Factor and I couldn't go without getting some Hartington Creamery Blue Stilton and Derbyshire Oatcakes. In fact, I'm going to do a foodie experiment later; having melted the thinnest sliver of Jaquest meats "Lardo " on toast (wowsers, its good) I'm going to warm the oatcakes up and top them with a thin layer of Lardo. Watching the unadulterated smoked meat fat melt into the warm bread was strangely therapeutic!


Talking of Jaquest Redwood Smokehouse, it was lovely to chat to Rachel and Jason again, I think the last time we saw them was at Belper Food and Drink Festival in 2016. We have previously sampled their Venison Salami, which was fab, so this time we took some Smoked Pork salami with a hint of fennel; if it tastes as good as it smells then I can't wait to try it later, along with the smoked Chicken breast. Rachel also gave us some dried Smoked Mushrooms to take away and a pot of Smoked Garlic butter to try.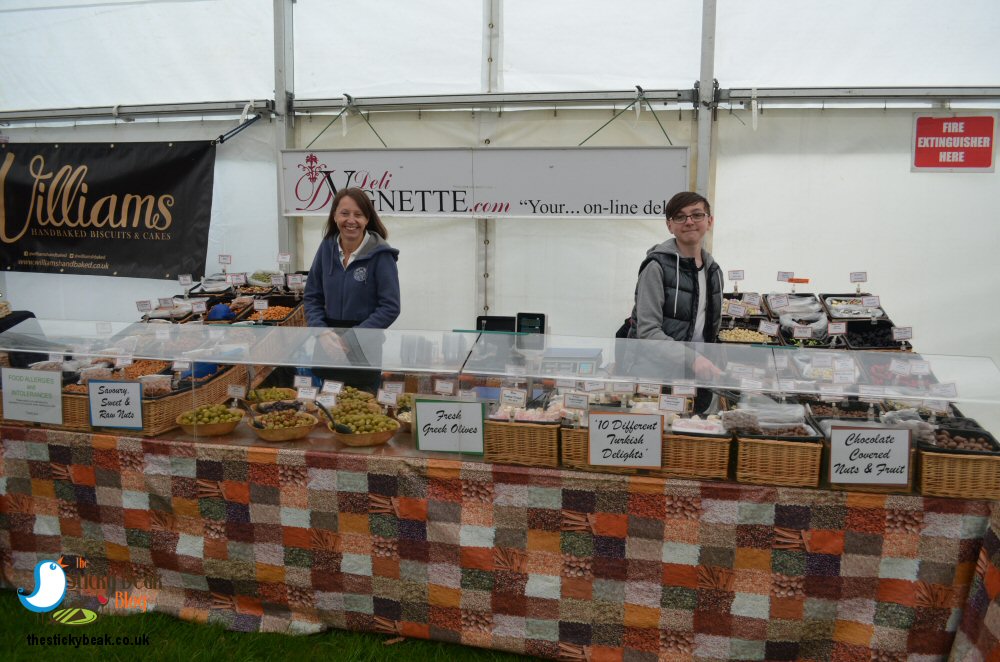 Last year you may recall the high state of glee The Boy Wonder got into over Deli Vignettes Turkish Delight selection, so he was more than happy to see them again this year. Yes, you guessed it, he got another variety bag of their Turkish Delight today and I also got one of my favourite nibbles from them; Lemon, Garlic and Coriander Green Olives. Nom Nom Nom . One of their team couldn't be there due to health issues, so we send you warm wishes for a speedy recovery :)

A lovely couple by the names of Sam and Jason have recently started their business, Leaves of the World, which sells organic-certified, vegan friendly loose leaf tea. They had a wide variety of teas available to sample, including a Mango and Banana one that His Nibs really rated and I tried a deliciously fruity Strawberry tea. Now I'm not normally a fan of fruit teas but this one was great; not over-powering, just a gentle Strawberry hint. They very kindly gave us a sample each of Feel my Mangoes and Beet the Passion to try and we purchased some of the Sunburst leaves for Mummy Bird as she loved her taster of it. Actually, I think I'm about due another "brew break" so I'll go and try some Feel my Mangoes.
Mummy Bird had wandered off on her own to the other end of the marquee and was yapping away quite merrily to a very personable chap on the Bleikers stand. This was a fish lovers' paradise with all manner of gorgeous looking stuff; we came away with Sweet Chilli Salmon, a selection of Hot smoked Mackerel, Salmon and Trout fillets, and the Taste Award Gold winner "Romanov" Salmon.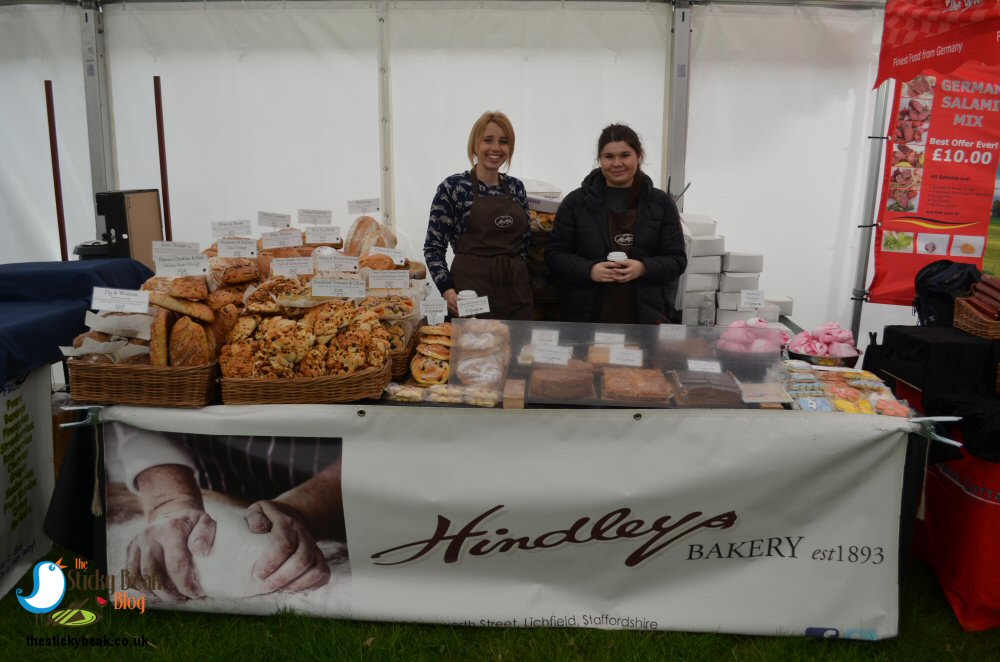 Along the way we also picked up a Deer pie from Brocklebys Pies (which we have had before) for dinner tonight and some artisan Sourdough, Fig and Walnut, and Focaccia breads from the ladies at Hindleys Bakery.
*UPDATE * the Feel my Mangoes tea is beautiful, subtly fruity and it tastes totally true to its natural flavour, there's no chemically after taste to it at all :)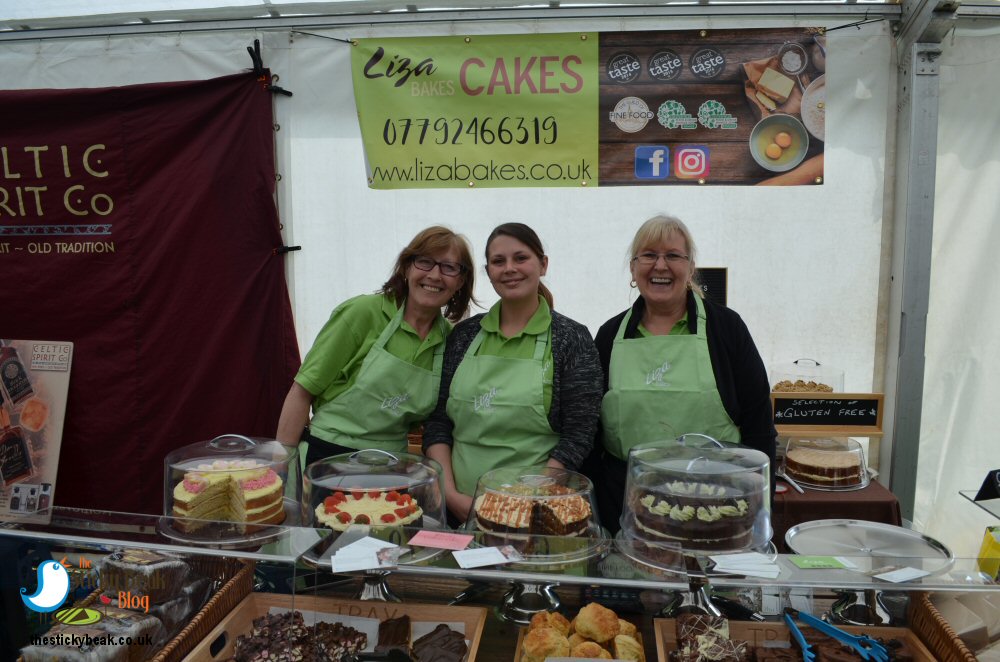 Kate, who is in charge of media at Liza Bakes got in touch to say that they would be delighted to let us try some of their amazing cakes and we left with slices of Battenberg cake and Terry's Chocolate Orange brownie to munch on, and let me tell you they are both superb; the cake was a brilliantly light triple layer sponge that had butter cream and jam layers between it and then a fantastic yellow and pink Marzipan topping. The brownie had a lovely balance of Chocolate and Orange flavours in its gooey slice; delicious! We nick-named the three ladies manning the stall the "terrific trio" because they were so lovely.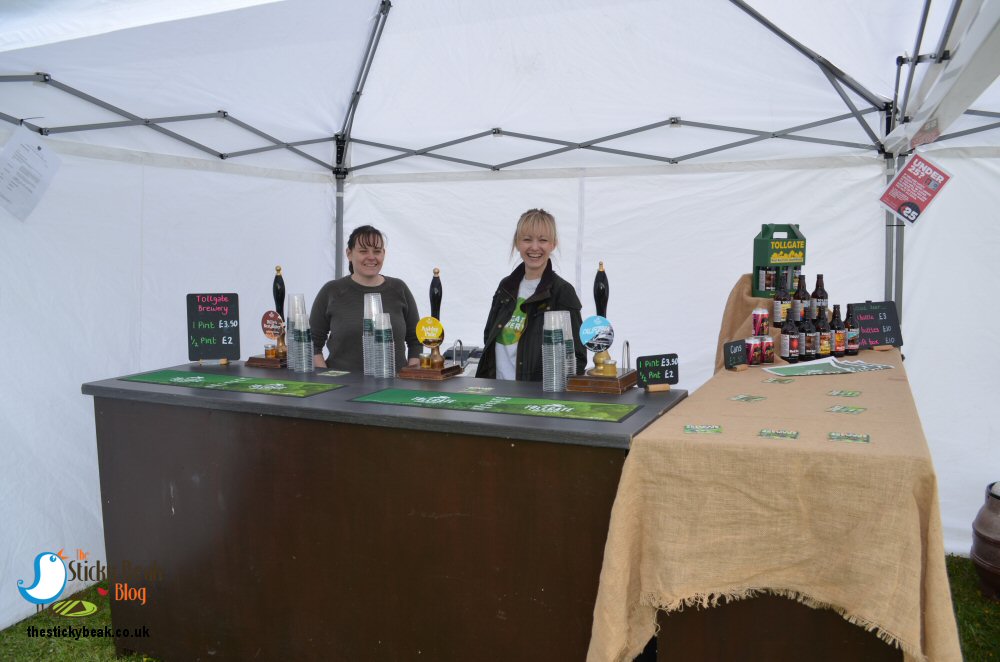 At this point we wandered out to see what was happening out in the field and to have a nosey at the other stalls. Mummy Bird and I went in search of Candles, Bath bombs and Jewellery (mission: successful) and The Man Bird and Chick needed food and beverage sustenance; he came back bearing a half pint glass of Tollgate Brewerys' California Steam (an American west coast inspired craft lager) and a tray of noodles from Taste of Vietnam was in my girls hands. I had a cheeky taste of both items; the lager was full of fruity maltiness and the noodles weren't at all greasy, so win-win for me.


Outside was where we found another trader who had reached out to us before the Great British Food Festival, A Taste of Bulgaria. This British couple work with Bulgarian artisans who produce a wonderful array of Honeys, bird boxes, and a fantastic cooking vessel called the Bulgarian Sach dish. I am kicking myself for having not purchased a Sach for my kitchen as I really think it would be one of my most used items. This clay pot comes in a variety of sizes and basically you can chuck it straight on the stove top (not on induction cookers though) as well as bang it straight in the oven and because it's made of clay it keeps whatever you've cooked in it piping hot for about 30 minutes. You season it the same as you do with cast iron skillets etc, and obviously you need to wash it by hand. The Sach pot comes with a hand crafted ornate metal stand so if you're having a dinner party it could easily be a focal point on the table.


Anyhow, back to edible stuff. They do 8 different honeys; each is harvested with the different pollen seasons, and it is the pollen which gives the honey its own flavour. We tried the Acacia and Rapeseed variety and it was a lemon curd colour with a really fragrant taste and slightly thicker consistency; a jar of this gem came home with us. Karen was also telling us about the four "deli" Honeys that a Taste of Bulgaria do and when she mentioned that the Fruit Blossom with Hazelnut Tahan was very much like Nutella in flavour I just had to try some for myself. Obviously the chocolate component is missing but it really does taste like Nutella; a jar of this has also found a loving home with me (hidden in a cupboard where only I know its whereabouts!).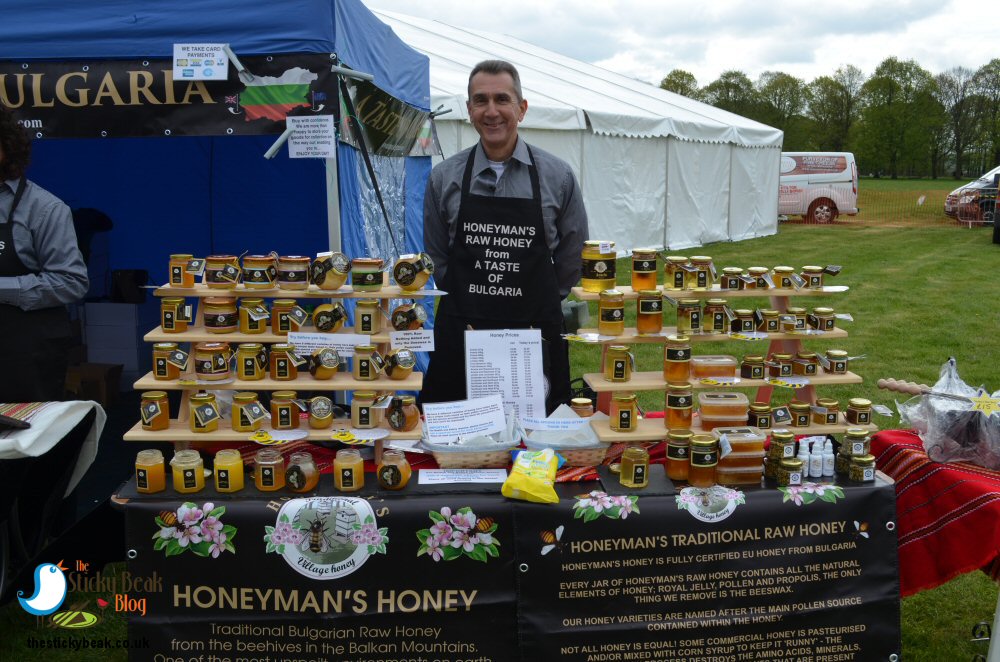 We went back into the other food tent and just to the right of the entrance was one of the prettiest stalls I'd seen, Blueberry Hill and their amazing range of cakes. Straightaway the Oreo cake was on my Chicks' radar, so we bought a slice of that for her to munch on; it was really good and chock full of Oreo taste. His Nibs razor vision had zoomed in on the Creme Egg Scotch Egg in all its chocoholic glory; the Creme Egg centre was covered in a thick chocolate layer to resemble the sausage meat covering on a traditional savoury Scotch egg. "Beltingly good" were the words he used when asked to describe it!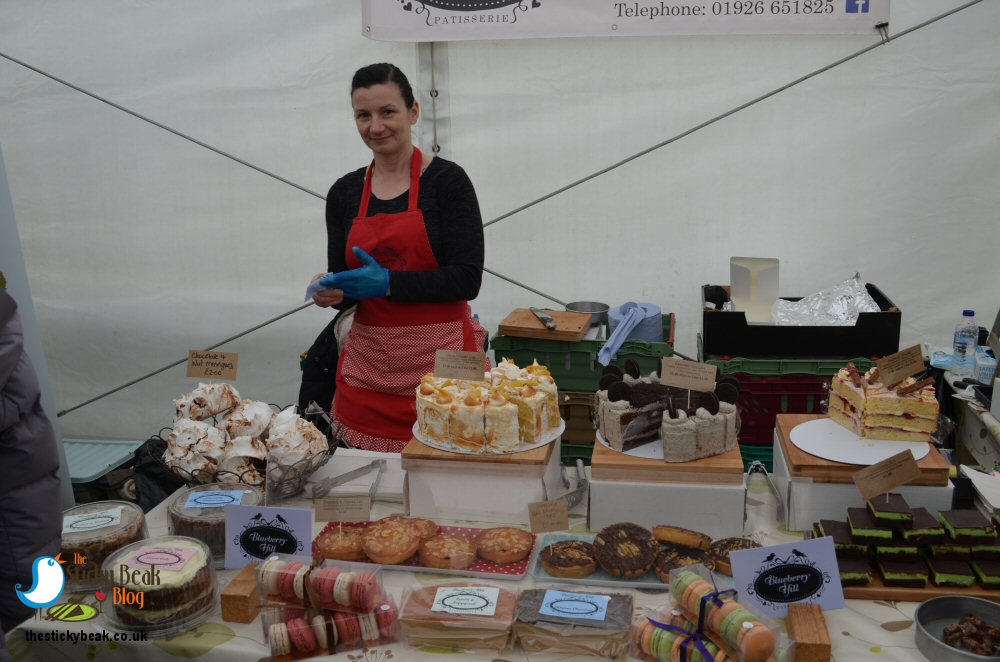 The smell as we passed the Mums Made with Love stand was too good to pass, so we had a pot of their Hot curry sauce and dipped pieces of Naan bread into it. The flavour was indeed hot, and left a tingle on the tongue, but not so much that you'd be reaching for a large jug of Lassi! For those that don't like things tingly the sauce also comes in mild and medium varieties.


It was fabulous to see the gregarious Simon a.k.a The Chilli Jam Man, especially when he donned his natty feathered hat! The way he arranges his products is always superb, and if you haven't tried his stuff before I can highly recommend that you do. People often shy away from Chilli products, assuming that they are all "blow-your-head-off" strength; this simply isn't the case. Don't get me wrong Simon has products that Scoville scale loving people will appreciate, but he also has plenty of produce that have mass appeal; he's always quite happy to advise and let you have a sample.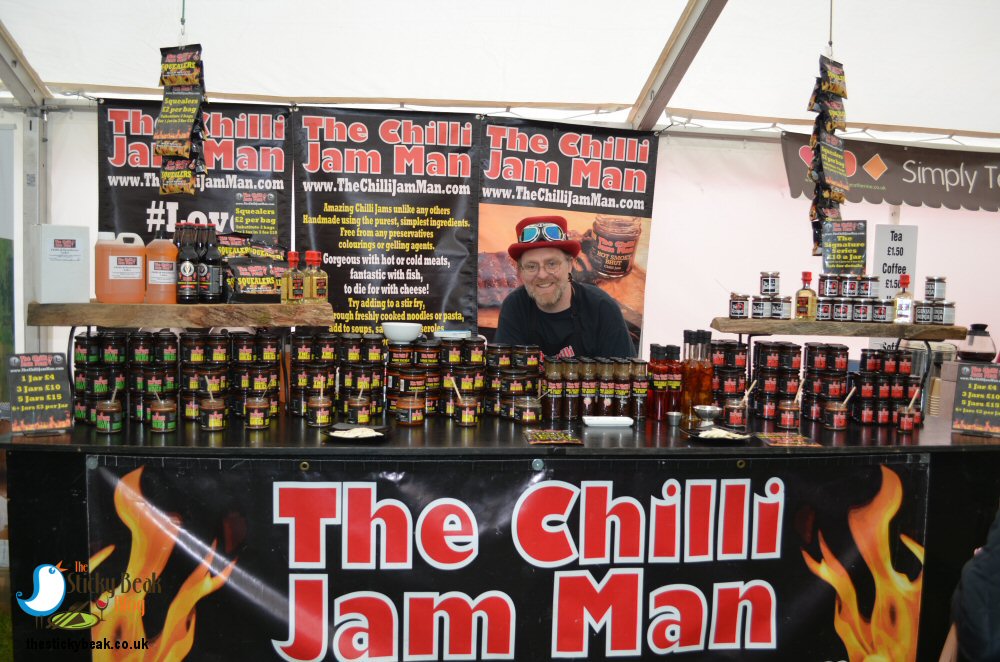 The last stall we visited was Roberts' Country Fayre and this was laden with every kind of cold pie imaginable. After much sampling and deliberation we eventually settled on a slice each of the Pork and Apple layered with Turkey in a Sage pastry (2013 Welsh Champion in the British Pie Awards), and the Layered Chicken and Ham with a Garlic and Herb stuffing(2012 Welsh Champion in the British Pie Awards). They both have plenty of meat in them and the layers make for a great visual food item; not only that but they taste great. I loved the Sage hint in the Pastry; it just added another layer to the overall flavour in the mouth.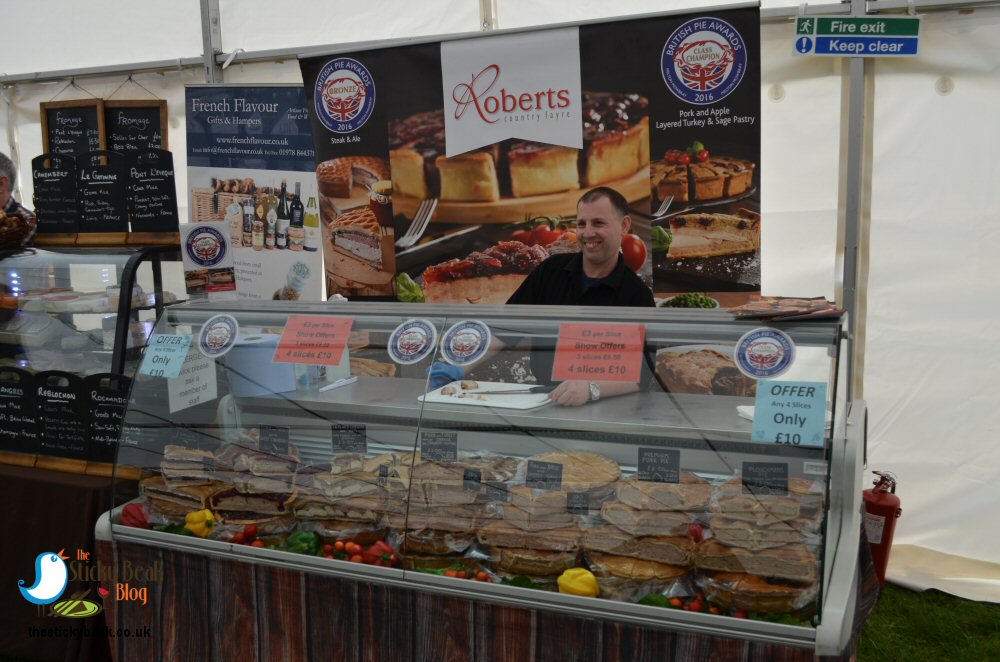 As you can imagine it was literally all hands on deck due to the sheer amount of bags we had amassed, but we'd had a fantastic time at the Great British Food Festival at Hardwick Hall. Don't forget that it runs 29th April – 1st May 2017, so there are still two days for you to go and enjoy this event for yourselves. Children are well amused with face painting and rides, and there are kids cooking demonstrations too for your budding chefs of the future. Adults can also watch demos from chefs each day 11am-3pm and ask them for hints and tips in the kitchen. Live music is on hourly from 11am -4pm and the event runs from 10am-5pm, so there really is plenty for everyone.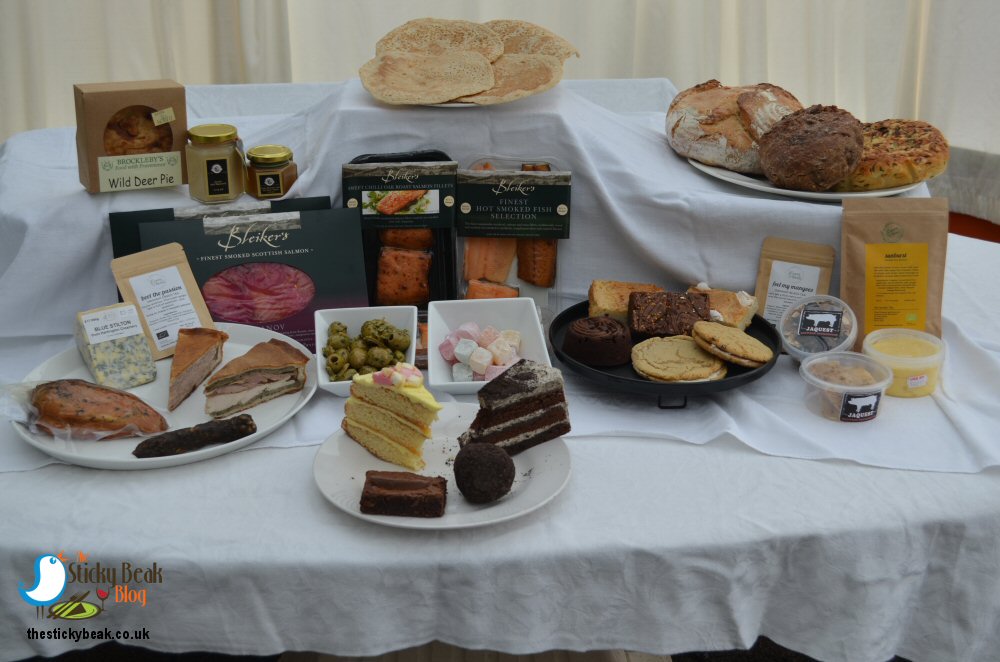 You can see all of the photos here
Read Some Of Our Recent Reviews
---

Celebrating Bustler Street Food Market's 5th Birthday With Freedom Brewery #FreedomSessions The Man Bird and I love celebrating, so when the fab team at Freedom Brewery invited us to be their guests Read The Article

---

A Visit To Chesterfield Food And Drink Festival I love Chez Vegas, or Chesterfield to give it its proper name, it's such a friendly place - and my Mummy Bird's family hail from there. The Man Bird and I popped in early this morning to visit Read The Article

---

A Visit To The Bustler Street Food Market At Derby Riverlights You can't have Hustle without Bustle, especially in a vibrant city like Derby. The brains behind Love Derby, Stuart Costen, and some like-minded friends (Liv Pritchard from Read The Article

---

The Belper Food Festival 2016 Visiting Belper Food Festival is becoming a little bit of a tradition for my little flock, which we always enjoy. In previous years we haven't done too badly, but this year was getting off to a dismal start with some Read The Article

---

A Visit To The Ilkeston Food Fair The weather was unusually good for a Bank Holiday weekend day so we were hoping that there would be a good turnout for organiser Carol and her team. We left our nest early doors so that we would get a Read The Article

---

The Great British Food Festival 2016 Well, we've just got back to the nest after having a fantastic morning at The Great British Food Festival held at Hardwick Hall. I finally got to meet my lovely fellow blogger Becky Explorer Read The Article

---

The Belper Food Festival 2015 One of my favourite days of the year arrived on Sunday - Belper Food Festival. There's always a good selection of food on offer from sweet to savoury and everything in between, so total heaven for a foodie Read The Article

---

The Derbyshire Food & Drink Fair 2015 My little crop is full to brimming reader, I actually feel as if I could burst, and I think the rest of the flock is equally podged too! Read The Article

---

The Great British Food Festival 2015 The Boy Wonder and I always enjoy visiting food fairs and markets as it gives us a chance to stock up on lots of different goodies to take back to the nest and share with the Tribal Elders Read The Article

---