Celebrating Bustler Street Food Market's 5th Birthday With Freedom Brewery #FreedomSessions
---
Published On Saturday 4 Jun 2022 by Sticky Beak
See Recent Event Reviews | See All Recent Reviews


The Man Bird and I love celebrating, so when the fab team at Freedom Brewery invited us to be their guests at Bustler Street Food Market's 5th Birthday in Derby, we jumped at the chance!! We were there when Bustler was 'born', so it was great to share in the occasion – and of course there is always plenty of scrummy food and tipples to savour at Bustler, so win=win.
As usual, the trentbarton Nines bus service was our chosen method of getting to the city when we know we'll be drinking and our lovely driver did a sterling job of getting us to Derby safely. Bustler was already buzzing when we arrived with folks ending the working week in the sunshine and getting those 'Friday feels' ramped up.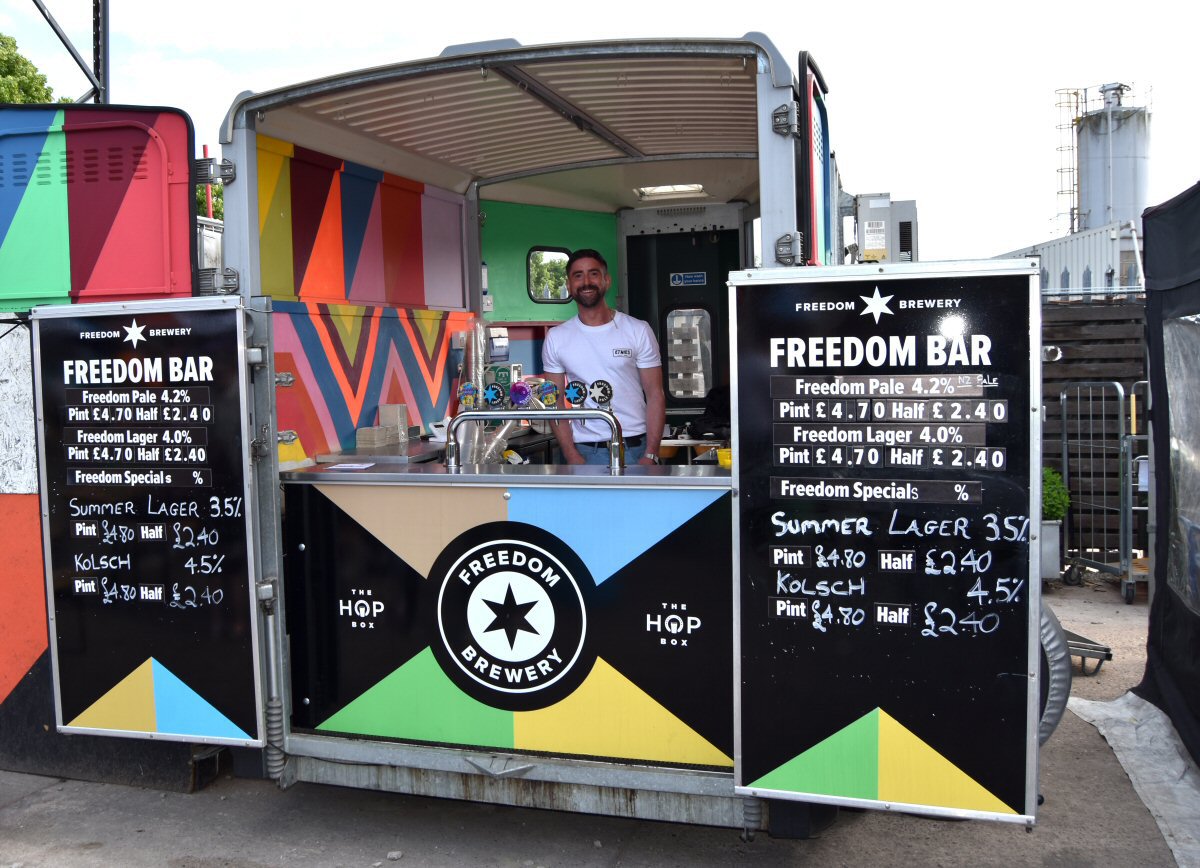 Jaina and Laura were our main hosts for the evening, wonderfully aided and abetted by Taylor and Rob. Our first job was to go and #TasteFreedom with a cheeky pint of the limited run 'Summer' lager, a gorgeously light, floral minx that is seriously easy to drink.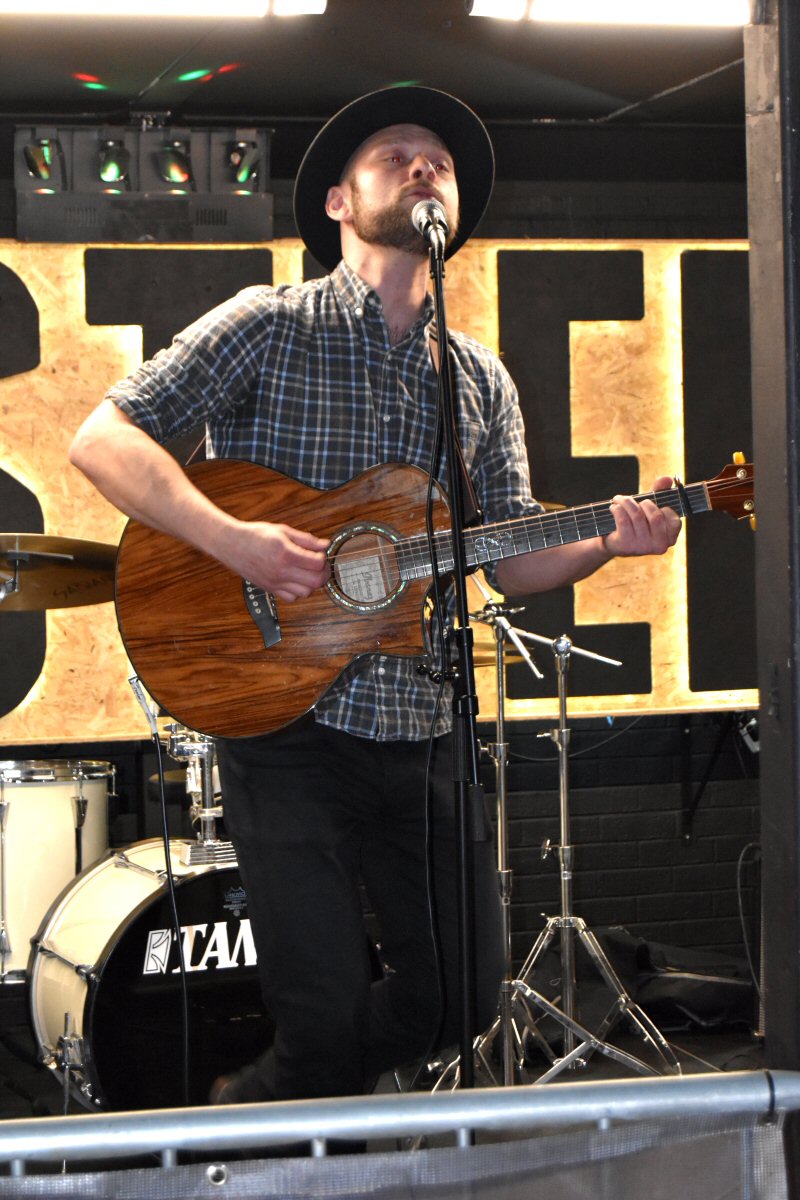 His Nibs and I headed to the inside space to listen to local Derby musician Harry Parker; this chap has got a beautiful voice, and if you like up-beat chilled tunes then go and check him out on YouTube: Harry Parker, Thought Of You. He's pretty easy on the eye too, folks, just saying! Laura was inside as well, so we had a chat and we got to meet her daughter too... and Cutie the Unicorn, who I said I would give a special mention to. Following Harry in the live music line-up were Wolverhampton outfit, Fitzroy Holt; these guys were very different in style to Harry and rocked up a storm in no time at all... but, before their set, we had to address our rumbling tummies and headed back outside in search of some tasty morsels!




Deckards were on hand with their tasty Bao buns, so we chose the 'Better Call Seoul' variety (you get two buns for a tenner): Korean Beef, Gochujang Mayo, Red 'Slaw and plenty of Coriander. The buns were bouncy and fluffy, like little clouds of deliciousness, and packed with a rainbow of tasty ingredients. We both said how tender the beef was as we bit into it and the Mayo had a superb zing to it in the mouth. Against the super softness of the buns was the crunch of the 'slaw, with Corianders' distinct fresh note hitting the bulls' eye on my palate.




My problem is that once I start munching I can't stop, so my roving eye was already scouting out its next stand to visit! Bustler faithful, Kebab Cartel, were serving up some tasty looking and smelling bowls, so His Nibs got their Notorious- and Escobar- bowls for us to chow down on whilst we went back in to listen to Fitzroy Holt. I let him have the 3 chilli-rated Escobar bowl cos I wasn't brave enough to have Jalapenos and their Fiery Escobar sauce that early in the evening! It certainly was a case of tingle a go-go as well, so I was happy that I'd swerved it; His Nibs, however, was an instant fan.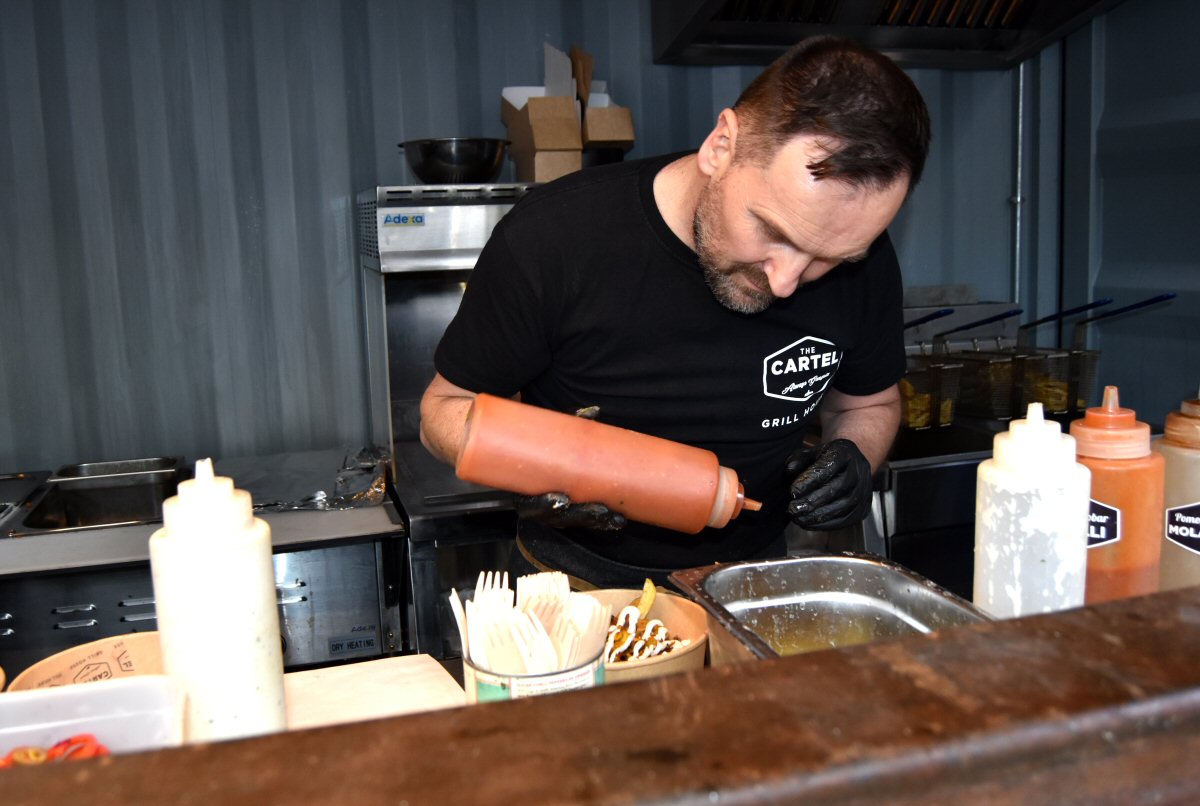 As well as yummy Lebanese Chicken Shawarma, shredded crunchy 'slaw, pickled Pepper (which was surprisingly mild), fresh Parsley, Lemon Tahini Yoghurt and intense Pomegranate Molasses, there were Za'atar coated fries to dig into. As you can imagine, this was one seriously tasty bowl, and perfect for a street food market!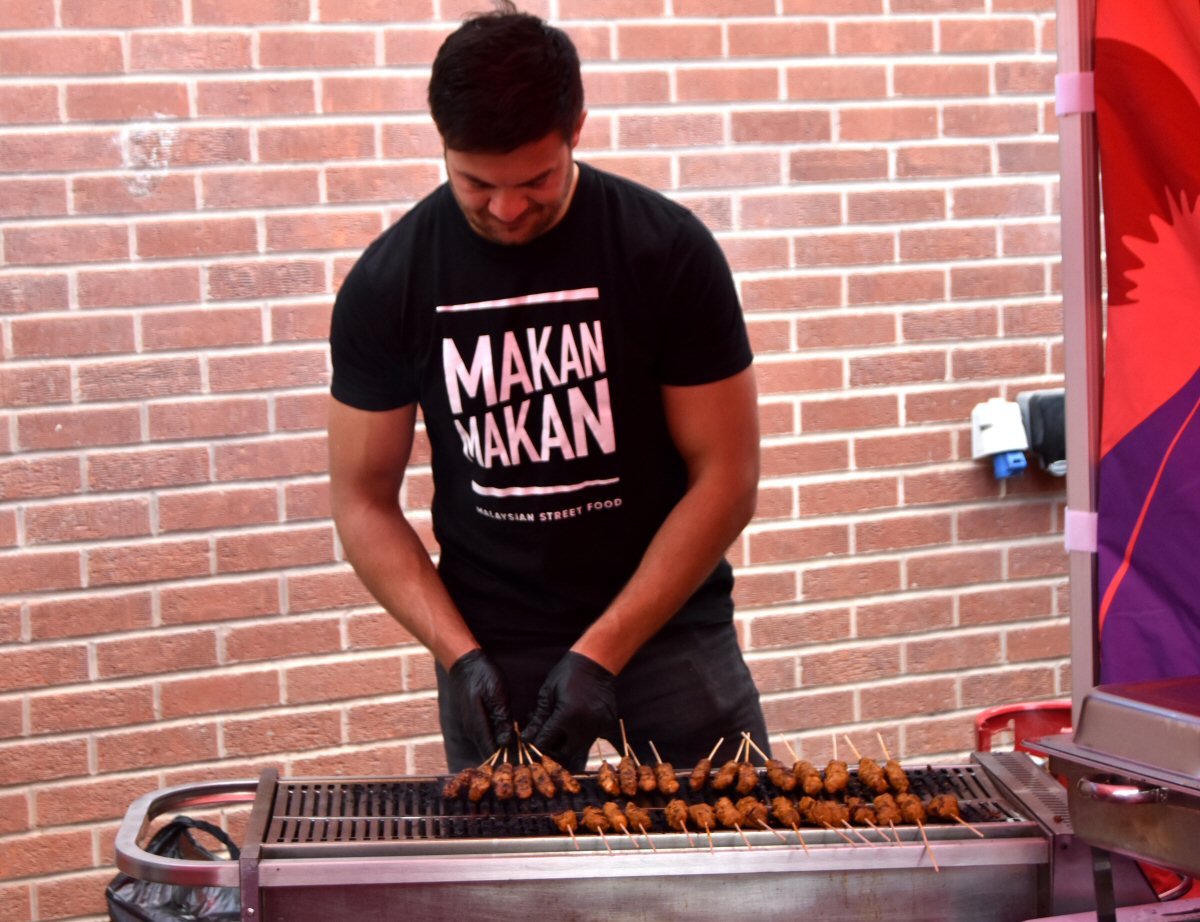 Keeping the spice theme going, we'd also got a bowl of Malaysian Street Food traders Makan Makan's Beef Rendang to share between us. The shin beef was ridiculously tender; literally melting on our tongues and releasing its spiciness first, followed by a creamy, moreish Coconut milk sauce that I soaked up with the Coconut rice in the tub. His Nibs had requested the optional Coriander and Chilli garnish, so the dish looked pretty as well as tasting even more fab, and trying to be discreet in the side of the container were lots of mini Prawn Crackers. Yep, this meal had got it all going on!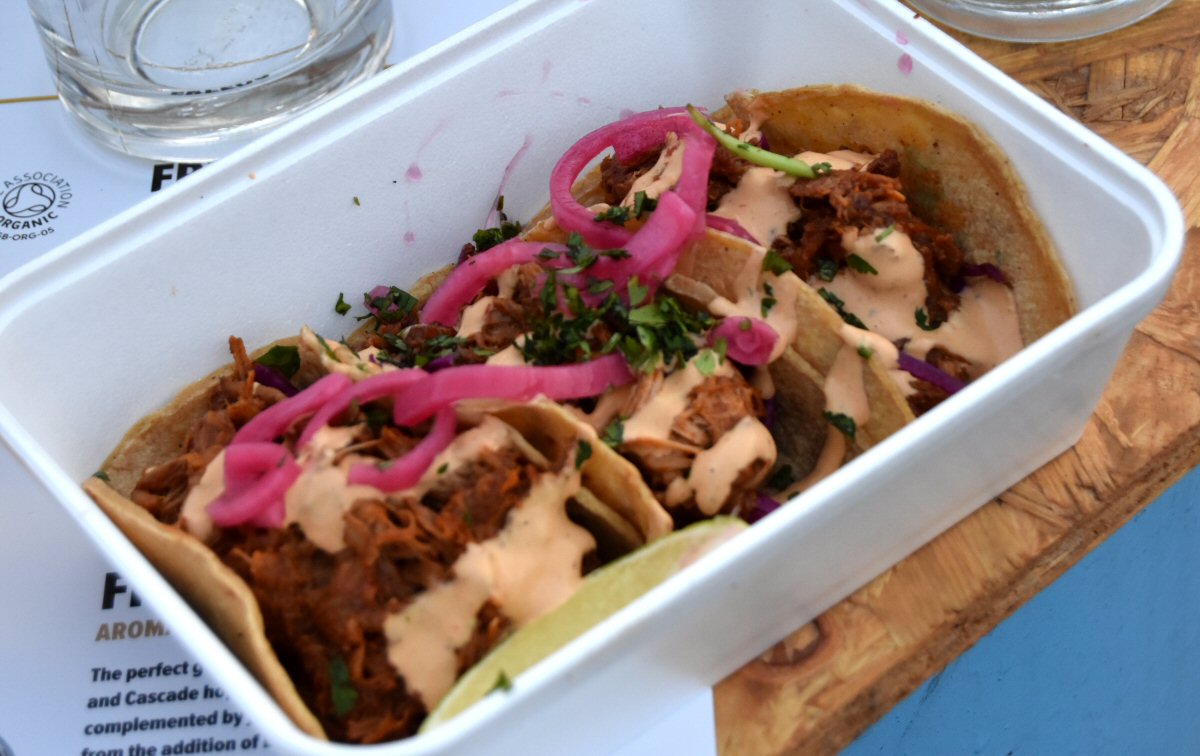 We were soon due to go to Freedom Brewery's tasting session (god, it's such a hard life sometimes!) so I quickly hunted down some Taco's from Mexican Street Food specialists, 'Let's Taco 'Bout It' – love that name! A trio of soft, corn tacos housed loads of tender Sweet Texas BBQ Pulled Pork, partnered with crunchy Red Cabbage, Sweet Pink Onions (all the trend at the mo') and gorgeously smoky Chipotle Aioli. For £7, you get plenty of bang for your buck.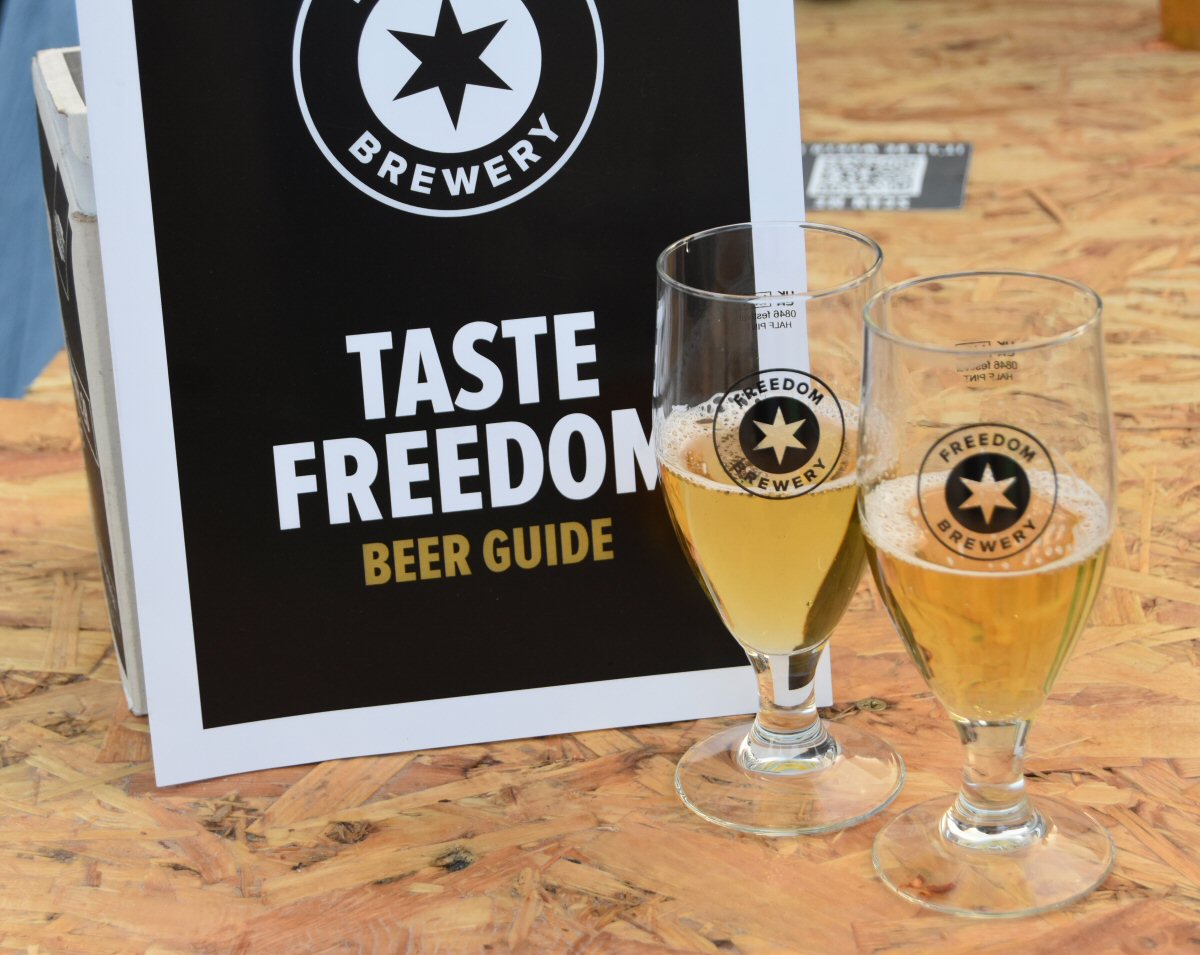 Rob and Taylor were hosting the tasting session, and the banter was fantastic; us bloggers were soon all laughing together and a great camaraderie built up.... and I found a fellow glass fanatic!!! Regular diners at the Chilled Pubs' venues will recognise Freedom Lager's blue star – it's served at all the locations across the chain because its light, crisp flavour goes well with the food they serve. As well as the 'Summer' lager, 3.5% ABV (available in cans from mid June), Freedom are also brewing 'Kolsch' - their take on a German beer - for a limited time and this was my favourite tipple; as an occasional lager drinker I don't know much about the finer points of IPAs and session beers, but I do know an ultra-smooth, sexy lager when I taste one, and this is it!! Ooooh,I should just mention that artwork for the Summer cans is by Elisha Cunningham (@craftypigstudio), who won the Freedom Brewery competition to design the can's outer.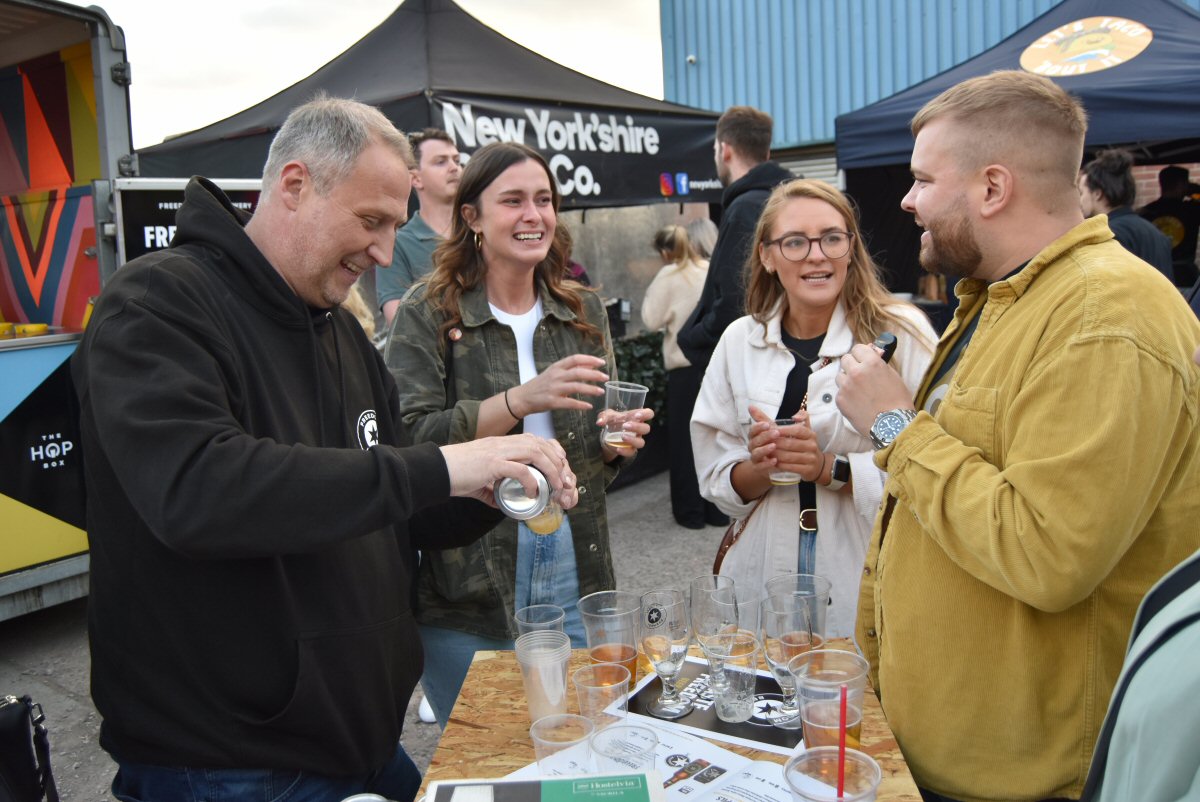 His Nibs was loving the citrusy hints of the Freedom Pils, and with a crisp, dry finish, what's not to love about it? To those who love some oomph to their lagers (and this one is organic, too), prepare to fall in love with the hoppy notes of 'Helles', a 4.8%ABV minx that also has a gorgeous maltiness to its flavour profile. Our final sample was the Freedom Pale, 4.2% ABV, and this was beautiful; fruity, tropical notes are balanced by the bitter English Admiral hops to provide an easy drinking sessionable Pale Ale.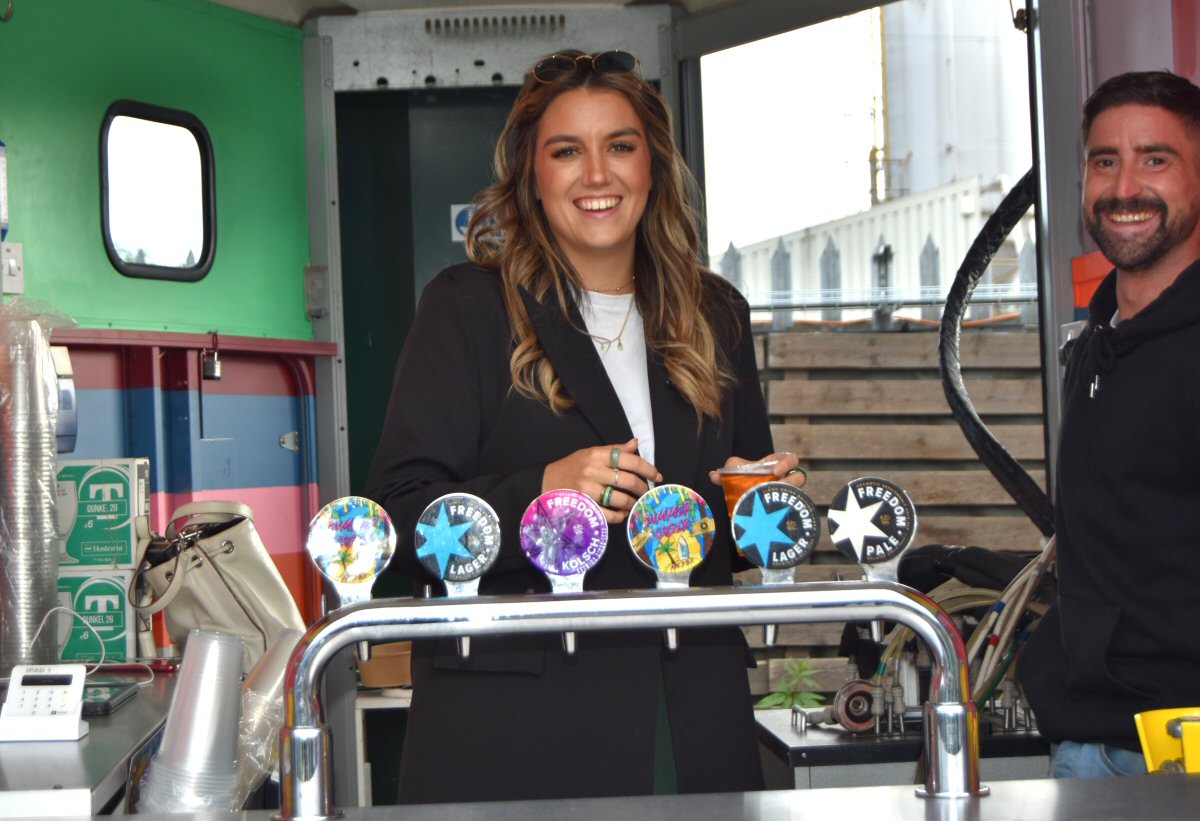 What I particularly love about Freedom Brewery is the fact that, yes, they're independent, but also they produce naturally carbonated, low-temp fermented, long matured, unpasteurised brews that are 100% Vegan. Better still, they have some serious green creds, using reed beds for filtration, thermal fluid heating and natural spring water at the heart of their product. All hail Freedom!!!




I'm sure I'm not alone in experiencing the 'alcohol munchies', and so, with the tasting session completed, it was time again (!) to go snuffling around for sustenance. By this time the New Yorkshire Pizza guys had sold out and pulled their shutters down, which I was gutted about because we'd wanted to go over and try their uber-thin pizzas – next time!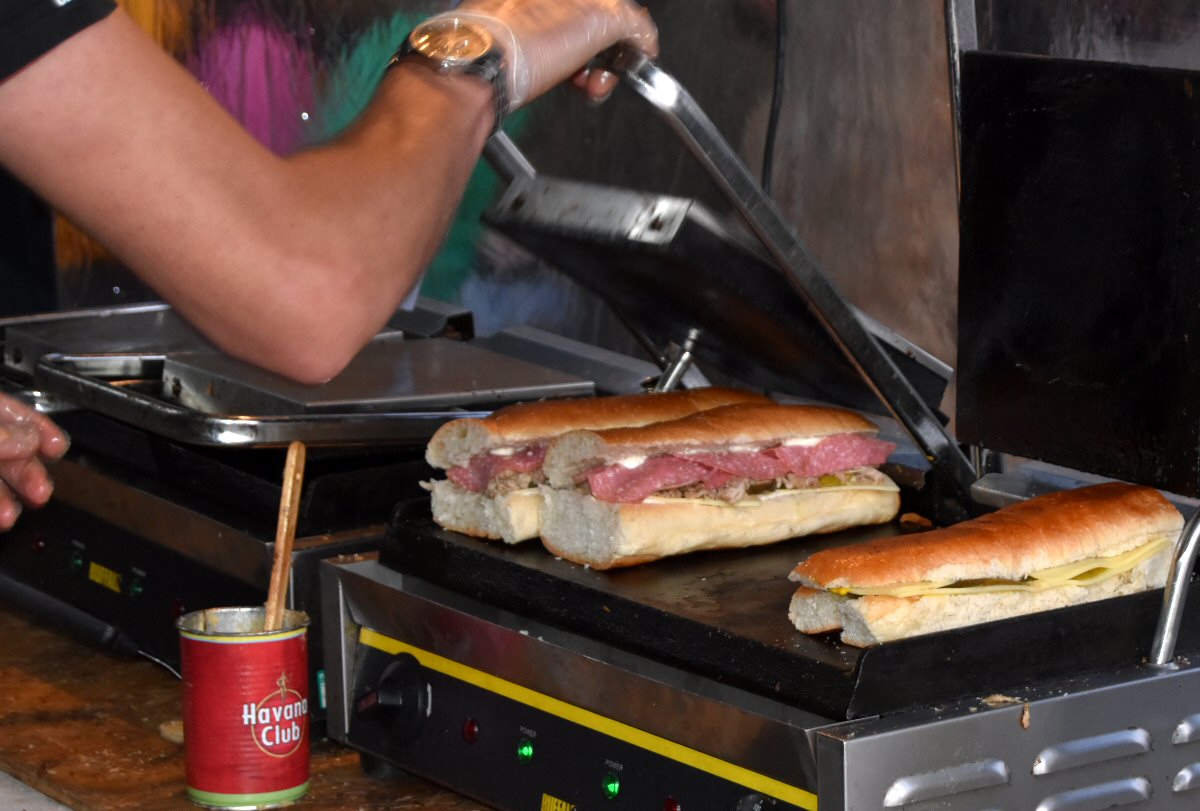 The sun was setting fast and the twinkling fairy lights really began to add a relaxed feel to the outside space; people had hired headsets for their own silent disco sessions and laughter was ringing out in both the indoor and outdoor areas. Channelling the down-low feels we headed over to Press De Cuba for their grilled Cuban sandwiches, choosing the 'El Pollo' (£9) to share: Mojo marinated Chicken, sliced Salami, Swiss Cheese, Garlic Mayo and crunchy Pickles. The sourness of the pickles provided a great contrast to the spices of the Salami and marinated Chicken, as well as giving a textural punch to this lightly toasted treat.




His Nibs' sweet tooth was craving its fix and thankfully the team at F&B Brownies were on hand with their incredible temptations. What to do when you can't decide which treat to have? Have them all, of course! Needless to say, the Triple Choc variety (£3.50) was totally amazeballs... and chocolatey!! I was a smitten kitten with the moistness of the Cherry Brownie (£4.50) and the balance of the two elements was absolutely spot-on, with both tastes coming through in our mouths and a nice texture from the Cherries in its folds.




As a fan of nuts, I couldn't wait to chomp on the Pistachio Crunch Brownie (£5) and was rewarded with plenty of texture and the nuts' distinct flavour, gentle sweetness and pastel green hue that popped against the dark of the brownie. F&B Brownies' piece-de-resistance has to be the Brookie Monster (£5), a full on mash-up of Kinder Bueno, Lotus, and Cookie Brownie that will satisfy even the most ardent chocoholic! This was a morsel that just kept on giving in terms of taste and texture, but without being 'too much' if you know what I mean?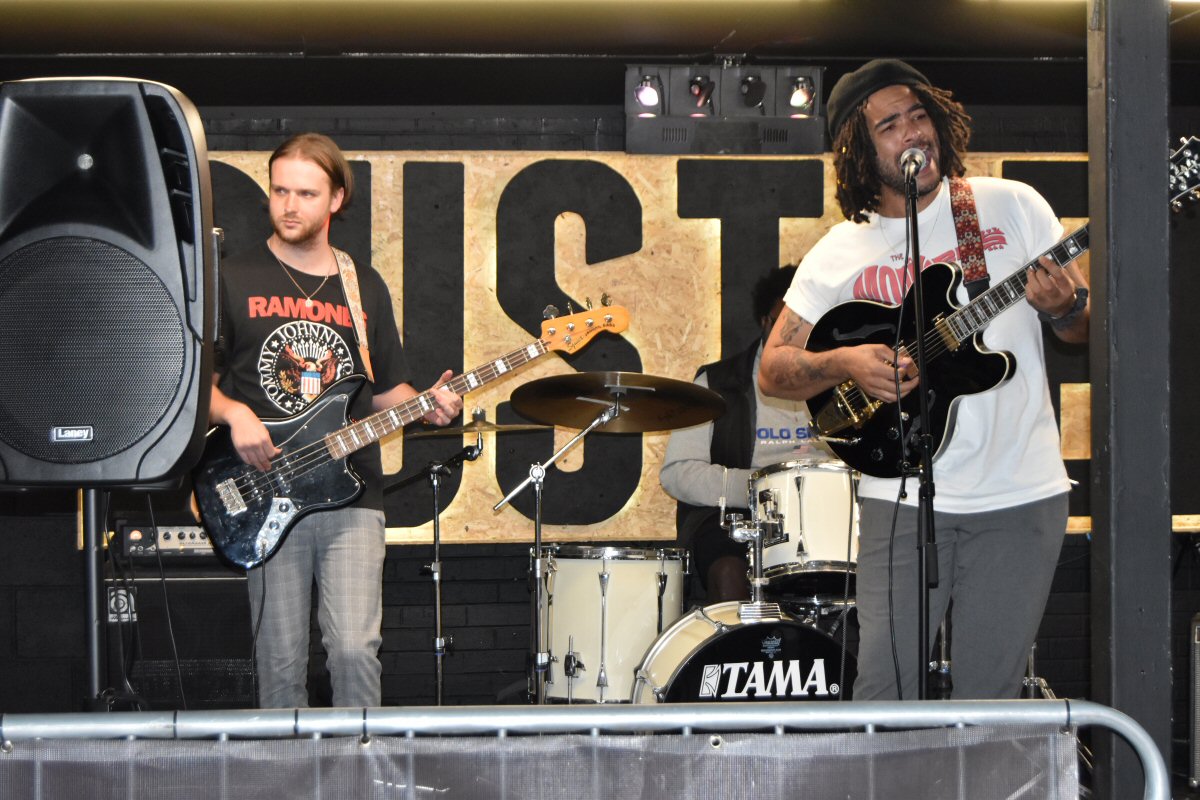 Both of us could've happily stayed longer at the Freedom Session hosted by Freedom Brewery at Bustler Street Food Market, but sadly (a bit like Cinderella!) our carriage - the Nines from trentbarton Buses – had to be boarded at/before the 10.30pm service for our ticket to be valid, so we high-tailed it to the bus stop. Lots of folks were still partying hard as we left (nope, I'm not jealous, not one bit!) and no doubt some were planning on going back the next day for more good times.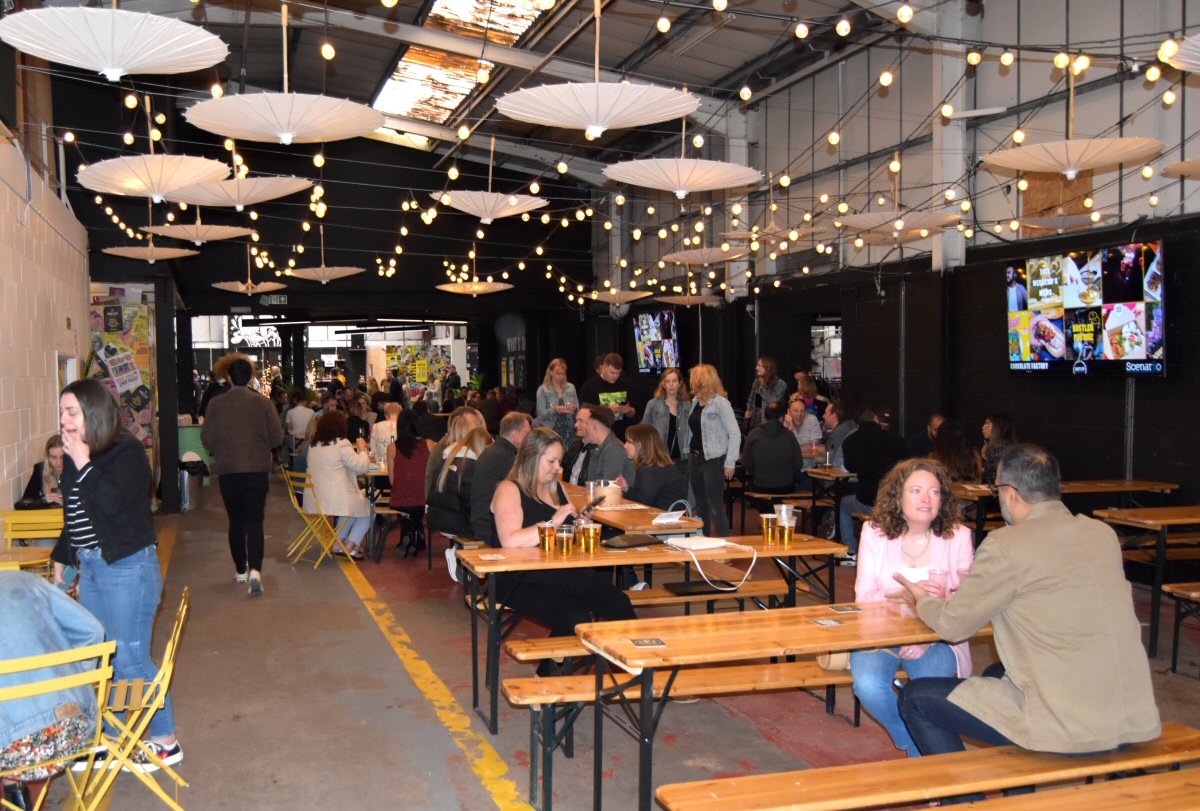 Luckily, Bustler is a monthly fixture in Derby, so if you've missed this one don't panic; next month is another round of scrummy street food vendors! Freedom Brewery offer their Freedom Lager and Pale Ale at Bustler's bar all the time, so you can indulge yourself happily, every month. Check out the Freedom Brewery website for deets of their pop-ups that they do throughout the year at Bustler, too!




Massive thanks to Jaina, Laura, Rob, and Taylor for being 'Hosts with the Most', you were all so lovely and gave us the perfect evening. Congrats to the Bustler team for reaching 5 years of age – no mean feat with all the upheaval of the past couple of years!! Thanks too, to all the wonderful traders who indulged our gluttony with their spectacular offerings – you're all legends!
Read Some Of Our Recent Reviews
---

A Visit To Chesterfield Food And Drink Festival I love Chez Vegas, or Chesterfield to give it its proper name, it's such a friendly place - and my Mummy Bird's family hail from there. The Man Bird and I popped in early this morning to visit Read The Article

---

A Visit To The Bustler Street Food Market At Derby Riverlights You can't have Hustle without Bustle, especially in a vibrant city like Derby. The brains behind Love Derby, Stuart Costen, and some like-minded friends (Liv Pritchard from Read The Article

---

The Great British Food Festival 2017 Well what a brilliant time we've all had at The Great British Food Festival at Hardwick Hall in Derbyshire! We (Man Bird, Mummy Bird, The Chick and I) got there nice and early officially to get publicity shots Read The Article

---

The Belper Food Festival 2016 Visiting Belper Food Festival is becoming a little bit of a tradition for my little flock, which we always enjoy. In previous years we haven't done too badly, but this year was getting off to a dismal start with some Read The Article

---

A Visit To The Ilkeston Food Fair The weather was unusually good for a Bank Holiday weekend day so we were hoping that there would be a good turnout for organiser Carol and her team. We left our nest early doors so that we would get a Read The Article

---

The Great British Food Festival 2016 Well, we've just got back to the nest after having a fantastic morning at The Great British Food Festival held at Hardwick Hall. I finally got to meet my lovely fellow blogger Becky Explorer Read The Article

---

The Belper Food Festival 2015 One of my favourite days of the year arrived on Sunday - Belper Food Festival. There's always a good selection of food on offer from sweet to savoury and everything in between, so total heaven for a foodie Read The Article

---

The Derbyshire Food & Drink Fair 2015 My little crop is full to brimming reader, I actually feel as if I could burst, and I think the rest of the flock is equally podged too! Read The Article

---

The Great British Food Festival 2015 The Boy Wonder and I always enjoy visiting food fairs and markets as it gives us a chance to stock up on lots of different goodies to take back to the nest and share with the Tribal Elders Read The Article

---