The Belper Food Festival 2016
---
Published On Wednesday 13 Jul 2016 by Sticky Beak
See Recent Event Reviews | See All Recent Reviews


Visiting Belper Food Festival is becoming a little bit of a tradition for my little flock, which we always enjoy. In previous years we haven't done too badly, but this year was getting off to a dismal start with some heavy downpours; luckily the forecast was for it to brighten up at lunchtime, which it did do.
However, in Great British spirit, a little bit of rain wasn't going to dampen our determination to sample some tasty morsels, so we put up our brollies and headed off in search of food.

First stop was Mrs Bishops Doggy Deli for our pooch; they have a wide selection of canine goodies and we loaded up our bag with Doggy Doughnuts, Cheese Paws, Liver Sausage, Smoked Chicken Sausage, Peanut Butter Cookies, Sardine biscuits and Lamb Biscuits.




As soon as we got back to the nest the Doughnut and one of the Cheese Paws disappeared into pooches'' tummy, closely followed by one of the Lamb biscuits. Given the speed that they were eaten I think it fair to say that they are as tasty as ever.

Close by was The Bakewell Tart Shop stall, so a medium pudding was swiftly bought ready for this evenings fuddle and I have no doubt that it will be delicious.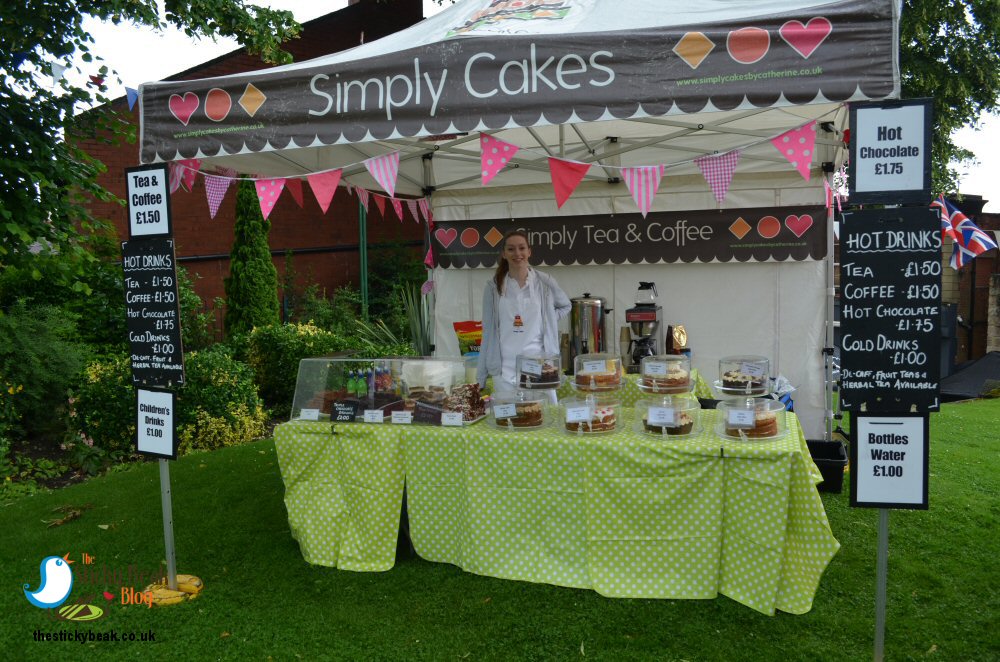 Chickadees beady eyes had spotted the Simply Cakes stand with its ridiculously good Rocky Road and Salted Caramel Brownies; they were meant to be for the fuddle but our will power was nonexistent so they got eaten within a few minutes of purchase, and crikey were they good!

A couple of quiches were bought from the Hot Tart and Cool Food stall, Spicy Chorizo and Simply Staffordshire, and they smelt lovely as they were popped into our bag. Jaquest tempted us with their Venison Chorizo and Staffordshire Savoury Eggs did likewise with their Sweet hot Pepper filled with Cream Cheese and Caramelised onion versions of Scotch Eggs.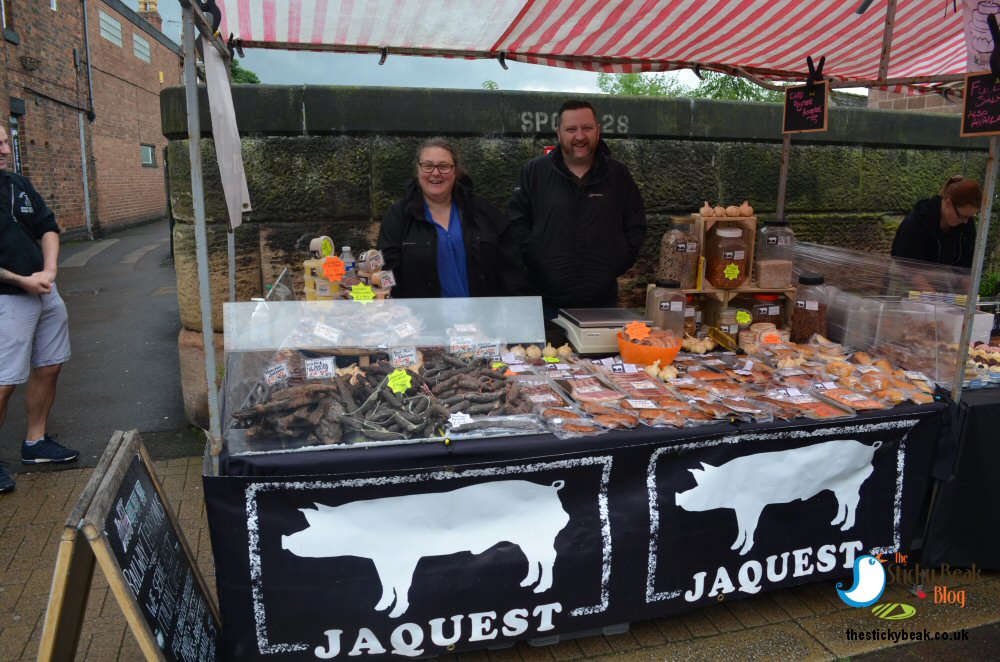 Handmade Pies of Lancashire had some rather tasty looking delights on offer so we bought a Lancashire cheese and Potato pasty and a Corned Beef and Potato pasty to try at the Flock Fuddle.

Our last port of call for Fuddle fare was The Loafs' stall which saw us stocking up with a Five Grain Sour dough loaf, and a couple of Focaccia breads; Onion and Cheddar and Mushroom varieties.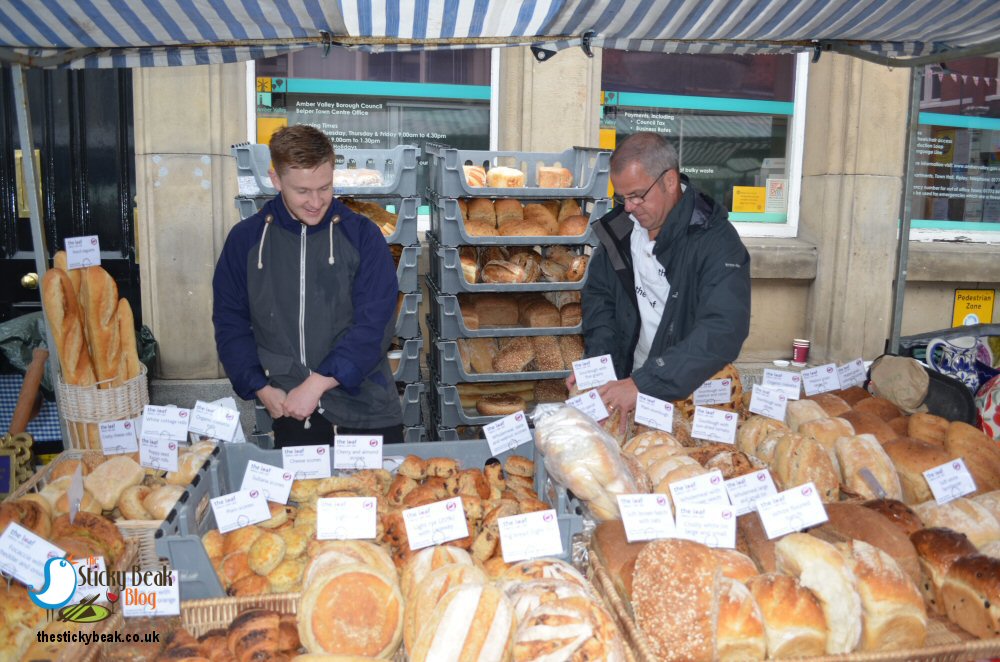 We also took the opportunity to stock up our store cupboards by purchasing some of Khoo's Heavy Smoker sauce (fantastic with peppers) and some of Brock and Mortens Oak Smoked oil ( to add to their Garlic, Basil, Lemon and Chilli varieties currently in our cupboard). As we all know you can't have food without wine, so we paid our friends at Amber Valley Wines a quick visit and came away with a cheeky bottle of White wine to sup later.
After all that frenetic buying we needed to refresh and refuel our bodies so we headed over to The Perfect Cuppa , formerly Strutt Street Bakery, but I will tell you more of that visit in a separate review.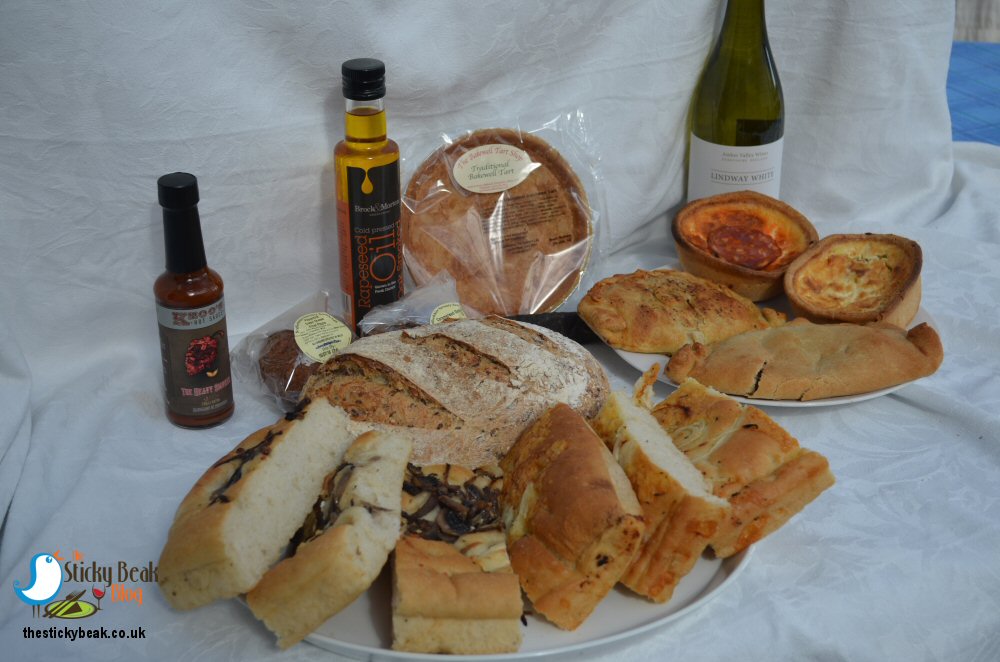 Congratulations to the organisers once again for a lovely event that allows our fantastic Derbyshire (and further afield) Businesses to showcase their amazing produce, and of course huge thanks to all the stall holders for creating such tasty food, wine and crafts.
I should just add that we now have a Food Producers section on our blog , as well as the Restaurant Review section, so if you want us to review your products and get more exposure, then just get in touch and send us a sample.

Take a look at our full gallery of photos from the day.
Read Some Of Our Recent Reviews
---

Celebrating Bustler Street Food Market's 5th Birthday With Freedom Brewery #FreedomSessions The Man Bird and I love celebrating, so when the fab team at Freedom Brewery invited us to be their guests Read The Article

---

A Visit To Chesterfield Food And Drink Festival I love Chez Vegas, or Chesterfield to give it its proper name, it's such a friendly place - and my Mummy Bird's family hail from there. The Man Bird and I popped in early this morning to visit Read The Article

---

A Visit To The Bustler Street Food Market At Derby Riverlights You can't have Hustle without Bustle, especially in a vibrant city like Derby. The brains behind Love Derby, Stuart Costen, and some like-minded friends (Liv Pritchard from Read The Article

---

The Great British Food Festival 2017 Well what a brilliant time we've all had at The Great British Food Festival at Hardwick Hall in Derbyshire! We (Man Bird, Mummy Bird, The Chick and I) got there nice and early officially to get publicity shots Read The Article

---

A Visit To The Ilkeston Food Fair The weather was unusually good for a Bank Holiday weekend day so we were hoping that there would be a good turnout for organiser Carol and her team. We left our nest early doors so that we would get a Read The Article

---

The Great British Food Festival 2016 Well, we've just got back to the nest after having a fantastic morning at The Great British Food Festival held at Hardwick Hall. I finally got to meet my lovely fellow blogger Becky Explorer Read The Article

---

The Belper Food Festival 2015 One of my favourite days of the year arrived on Sunday - Belper Food Festival. There's always a good selection of food on offer from sweet to savoury and everything in between, so total heaven for a foodie Read The Article

---

The Derbyshire Food & Drink Fair 2015 My little crop is full to brimming reader, I actually feel as if I could burst, and I think the rest of the flock is equally podged too! Read The Article

---

The Great British Food Festival 2015 The Boy Wonder and I always enjoy visiting food fairs and markets as it gives us a chance to stock up on lots of different goodies to take back to the nest and share with the Tribal Elders Read The Article

---