A Visit To The Bustler Street Food Market At Derby Riverlights
---
Published On Sunday 28 May 2017 by Sticky Beak
See Recent Event Reviews | See All Recent Reviews


You can't have Hustle without Bustle, especially in a vibrant city like Derby. The brains behind Love Derby, Stuart Costen, and some like-minded friends (Liv Pritchard from Hide, Ben Edmonds from Blok and Tom Erskine) have come up with the genius idea for a currently vacant unit in Morledge's Riverlights Complex; A street food market!
These markets will run all over the summer of 2017 on the following future dates; June 23rd/24th, July 28th/29th, August 25th/26th, and September 29th/30th.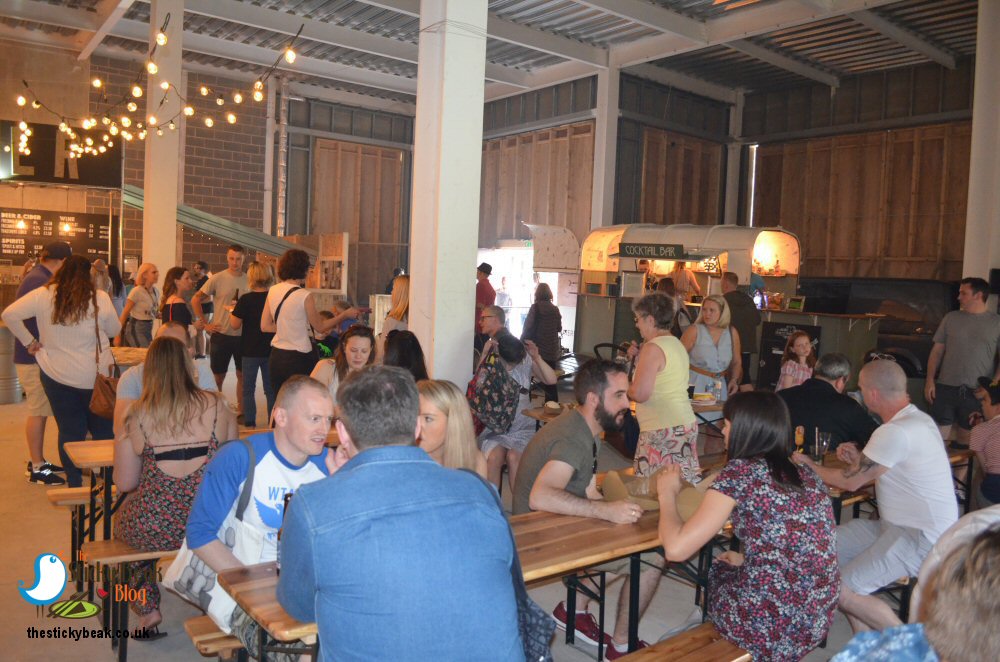 The Man Bird and I went along to the first one held yesterday, 27th May 2017, to see what was happening. The space itself has a central canopy of spherical lights which I can imagine will look amazing at dusk and into the later night (the event runs up until 11pm), as well as other lighting to create a subtle atmosphere.




Cleverly, the lads have got some portable loos in one corner of the space for guests to use. I need to point out that these essential pods are more spacious than average, and the toilet paper is a lovely, soft, quality number; these things matter when you reach a certain age y'know!
Anyhow, back to the main event, the Food and Drink traders. Eight traders from Derby, Nottingham, Staffordshire, Leicestershire and my old stomping ground, Lincoln, rocked up to dazzle the folk of Derby with their wares.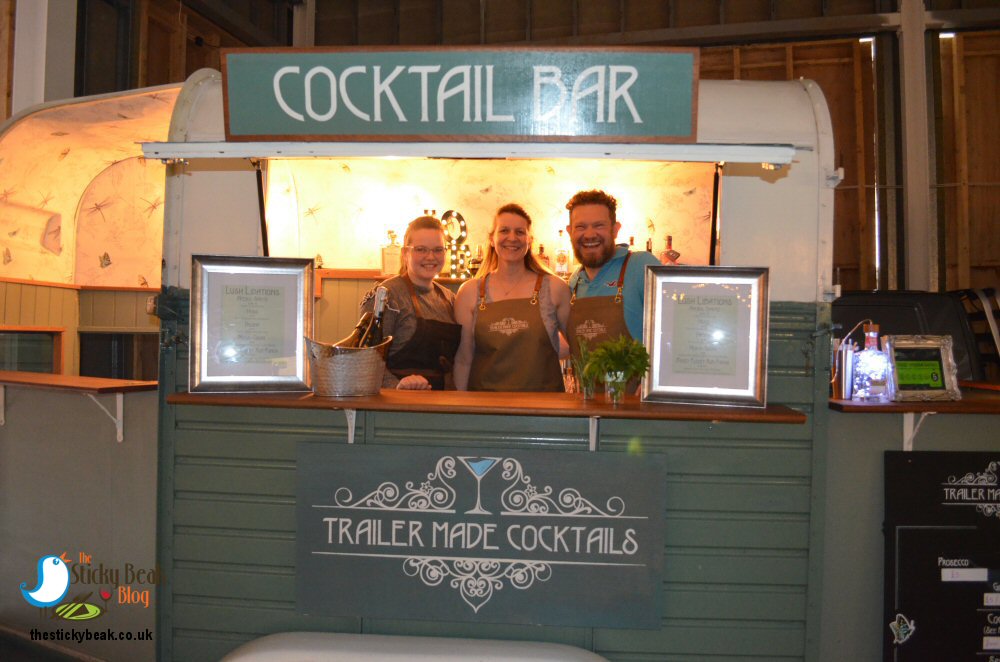 It's thirsty work travelling on the bus as I'm sure you can appreciate so first stop was the team at Trailer Made Cocktails!

These guys are a mobile cocktail and spirit bar that are based in a converted Rice horse trailer, which is decorated with the most superb butterfly and dragonfly paper on its ceiling. Every imaginable bit of mixology kit has been accommodated in this bijou space, and the resulting cocktails are jolly nice. We had the "Paloma", a cheeky tipple of Tequila, Lime, and Grapefruit Soda; not only was it a gorgeous pale pink, summery colour, it tasted blooming fab too :)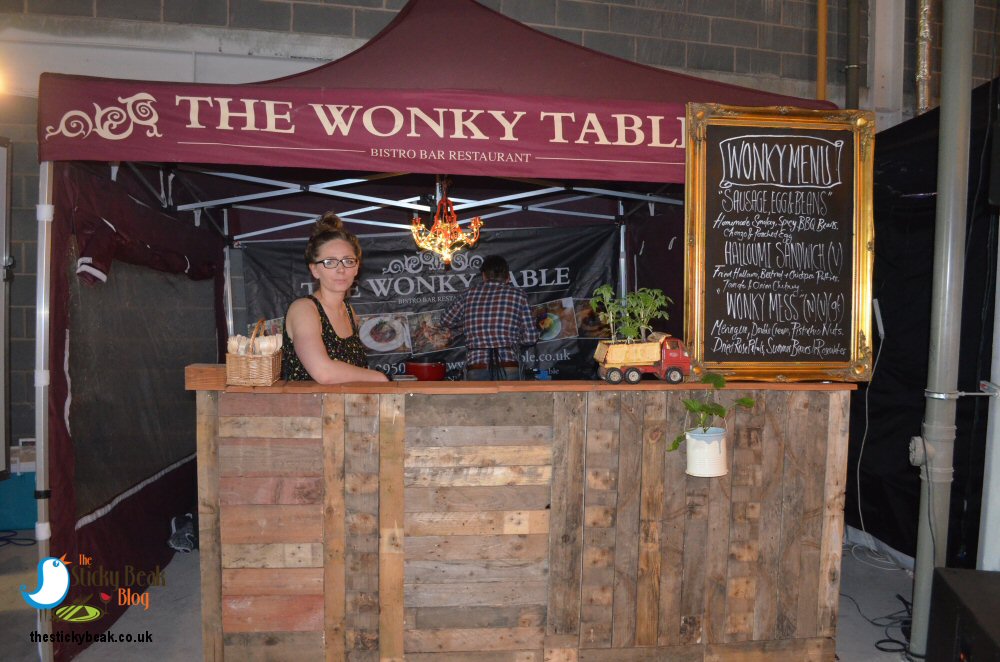 Having dealt with my immediate thirst, I now started the quest for food in earnest and first port of call was The Wonky Table team, who a lot of you may already know from their fabulous Sadler Gate restaurant.

Their Sausage, Egg and Beans sounded just the job so a bowl of that duly winged its way over to His Nibs and I. Comprised of Chorizo, poached egg, and Wonky's own homemade smoky, spicy BBQ beans this was a superb bowl of yumminess that really set the bar for the standard of food in the Bustler event. Whilst it packed plenty of spice, it wasn't at all hot in a tongue-tingling way, so I think it will appeal to a very wide audience.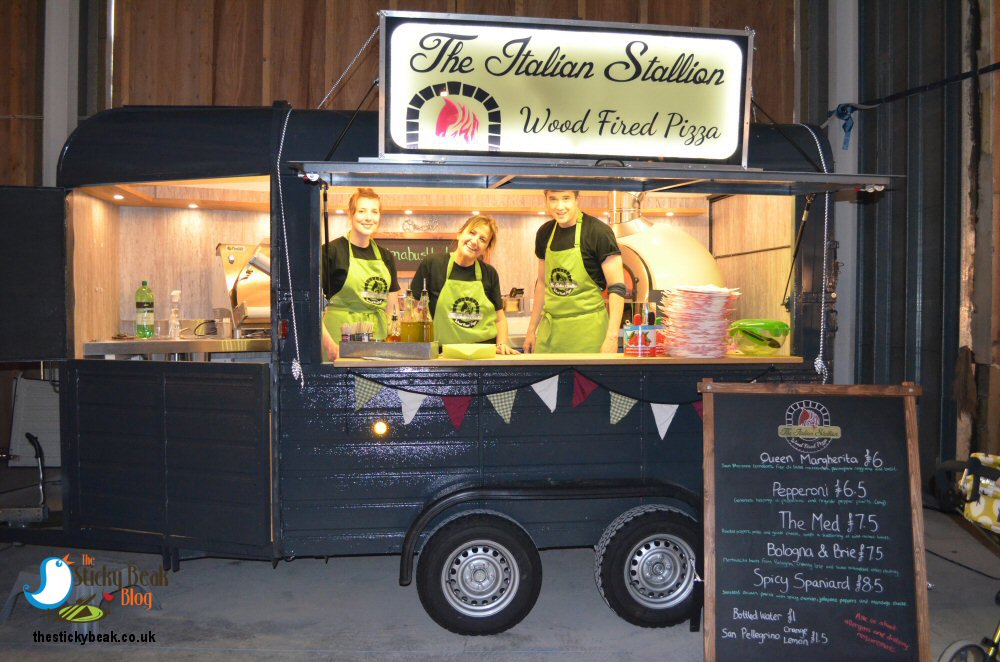 My eye was caught by another converted horse trailer; this one contained a mini wood fired pizza oven (I kid you not!) and the team were busy making a selection of fresh Pizzas for customers, who were already forming a queue only 20 minutes into the event opening. I loved the play on words for this trader's name, "The Italian Stallion", maybe in reference to the original occupant of the trailer?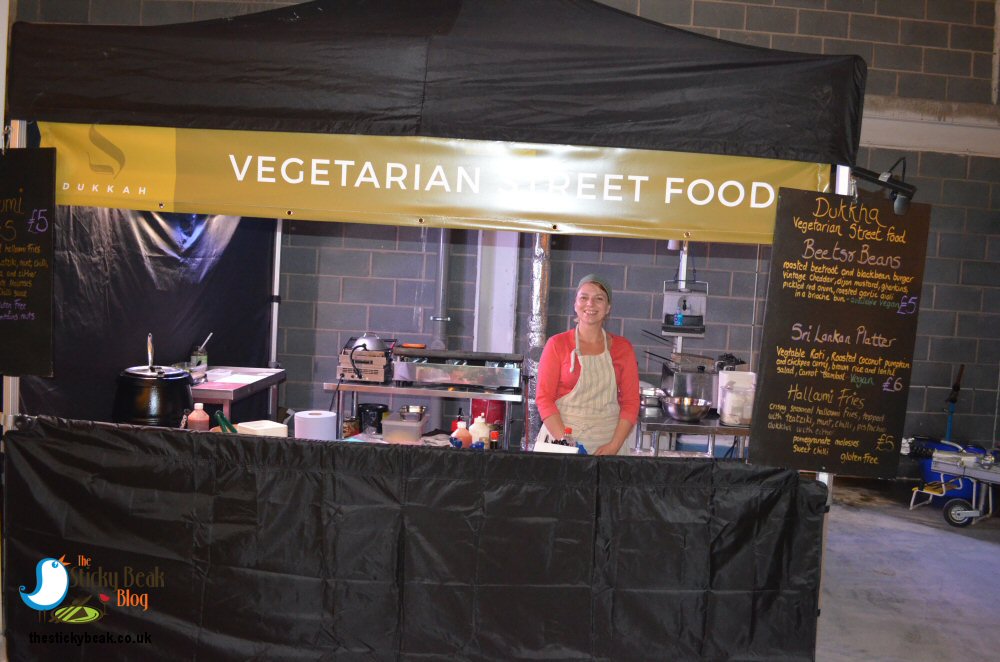 I sent The Man Bird off for some Halloumi fries from Dukkah, who do Vegetarian and Vegan street food. These thick slices of Halloumi had a fab spicy seasoning on them with fresh Mint leaves, Tzatziki, Pistachio dukkha, and Pomegranate Molasses adding their notes to the ensemble too. Delicious.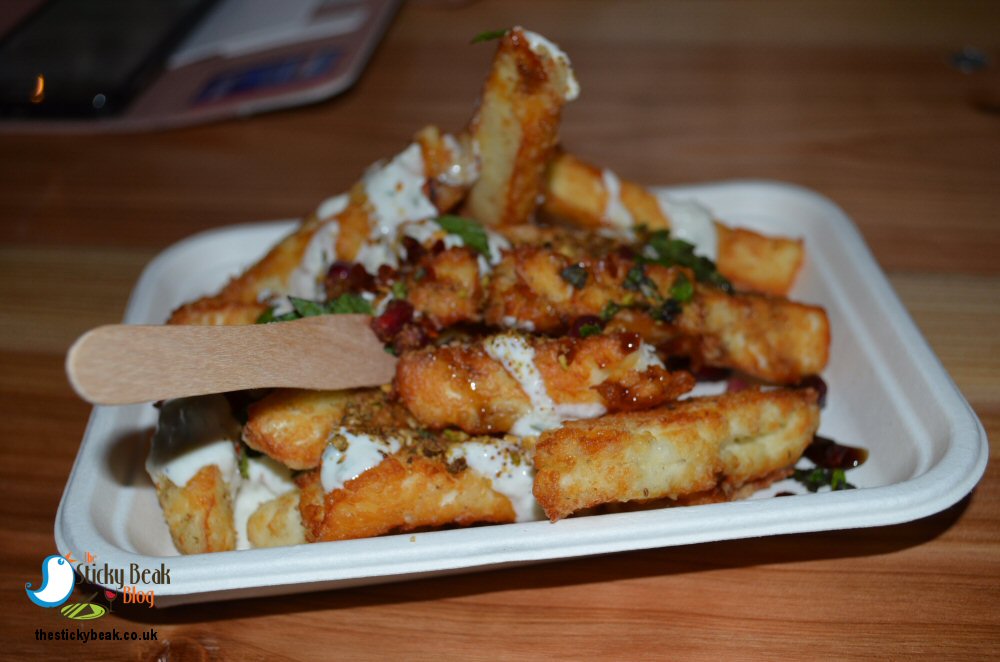 We just had to try Deckards Bao buns, so yet again His Nibs went on food patrol :)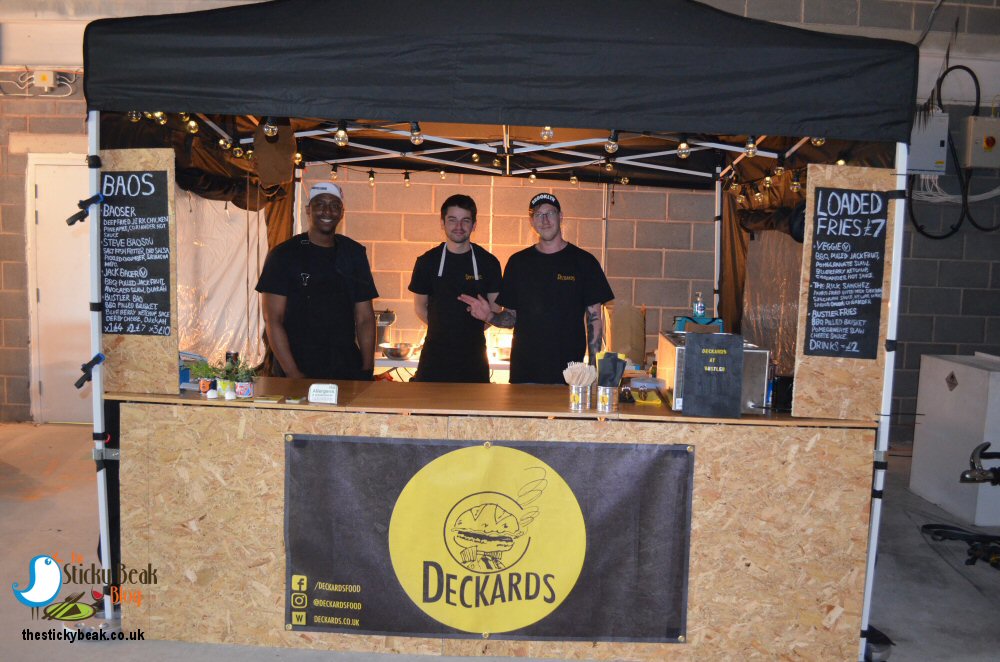 This team are based at the Bell and Castle pub on Derbys' Burton Road, and one of the bao varieties was the "Bustler Bao" with its BBQ pulled pork brisket, Blueberry ketchup, Sage Derby cheese, and dukkah. The bun itself was light as a feather in the mouth and the pork was exquisitely smoky, yet sweet, with a superb flavour.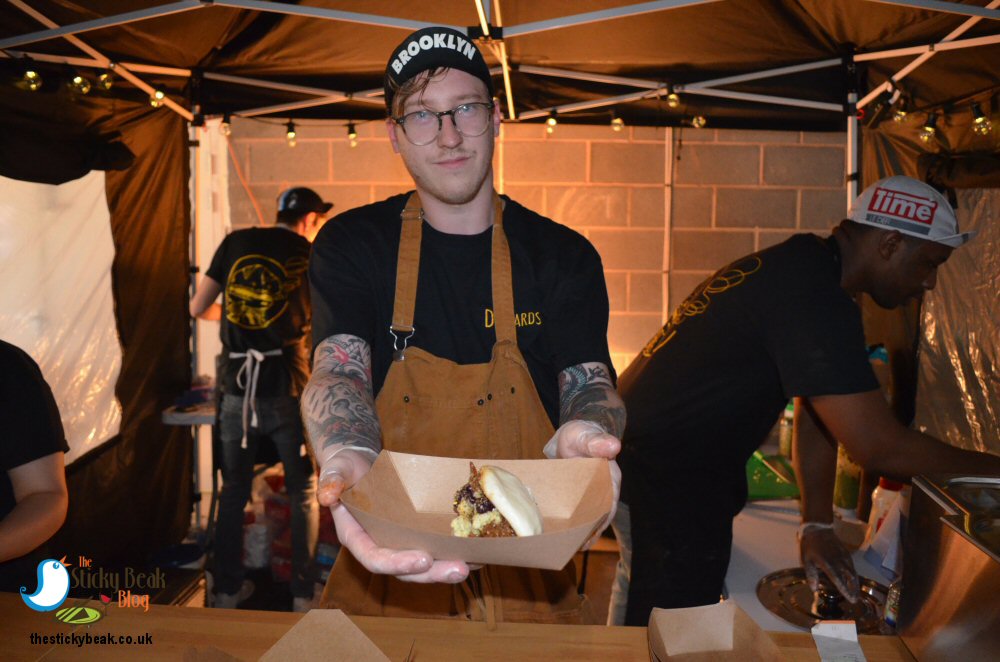 I also had a tray of the loaded fries complete with vegetarian BBQ pulled Jackfruit, Pomegranate 'slaw, Blueberry Ketchup (love this stuff!) and Coriander hot sauce. The Jackfruit has the same ribbony texture as pulled pork and it just soaks up the marinade flavour wonderfully. My mouth was filled with a symphony of marvellous tastes and textures, and I was in foodie heaven!


At this point we needed some further refreshment so a quick foray over to the Bustler Bar (stocked by Thornbridge and Darley Abbey Cider) was made; Gin and Tonic for moi, and a pint of lager for His Nibs. They also had a brilliant range of Wines, Spirits and soft drinks, as well as a separate Craft Beer stand on the other side of the venue.


On our first gleg of the traders I had spotted another stand, Richi Blues, doing Halloumi fries; being a total cheese freak, I just had to try this version too.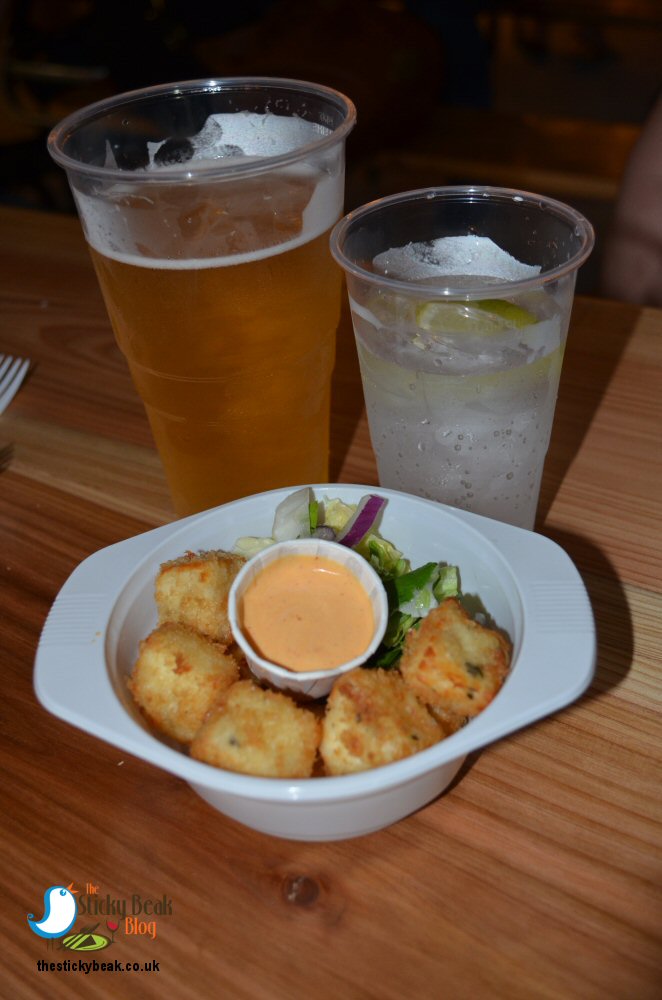 Richi does his Halloumi into cubes before coating them in Panko crumbs and frying them. The result is an ultra-crisp outer that gives a great crunch when bitten into, and the Sriracha dip gives a pleasant heat to the dish without overpowering it. A lovely crispy side salad of herbs, salad leaves and red onion was the perfect accompaniment to the cheese cubes.


My eyes were bigger than my belly and I just couldn't manage a burger from Hide Burgers, although I can attest to their wonderful taste having visited there for a family treat earlier in the year.




Neither did I manage to sample one of Frank Corn Dogs, but wowsers did they look good; a lady on the bench behind us had one, and it smelled very nice.


There is plenty of seating for those that want to sit and munch, and because the tables are in the centre of the room you can watch people playing table tennis (beer pong is also an option if you want to play it!) and table football.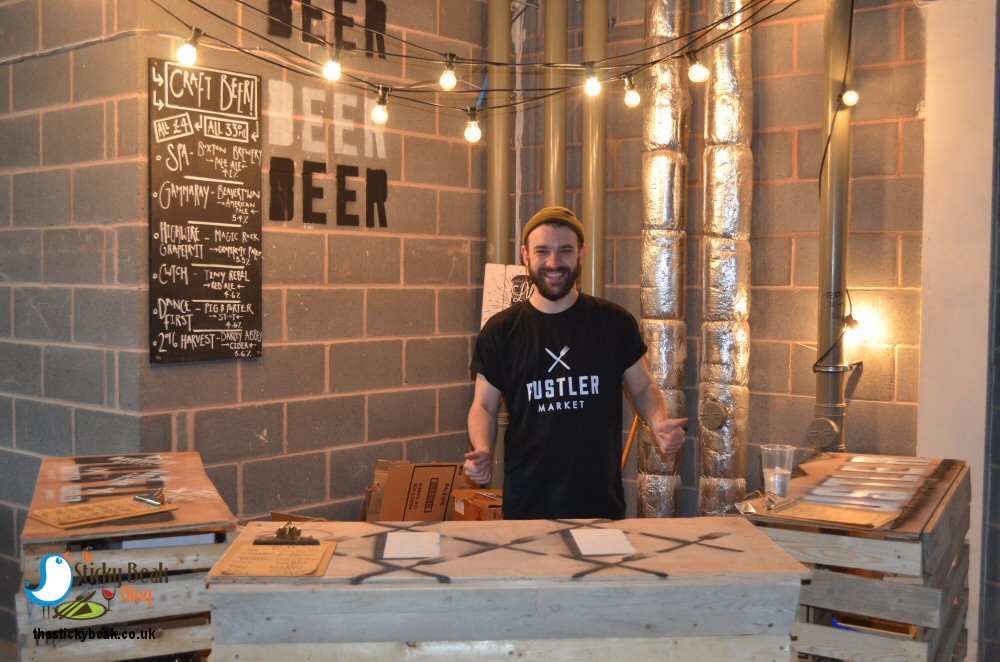 A DJ was playing a selection of chilled out, happy tunes in the background and you could hear the bubble of chatter and laughter throughout the space.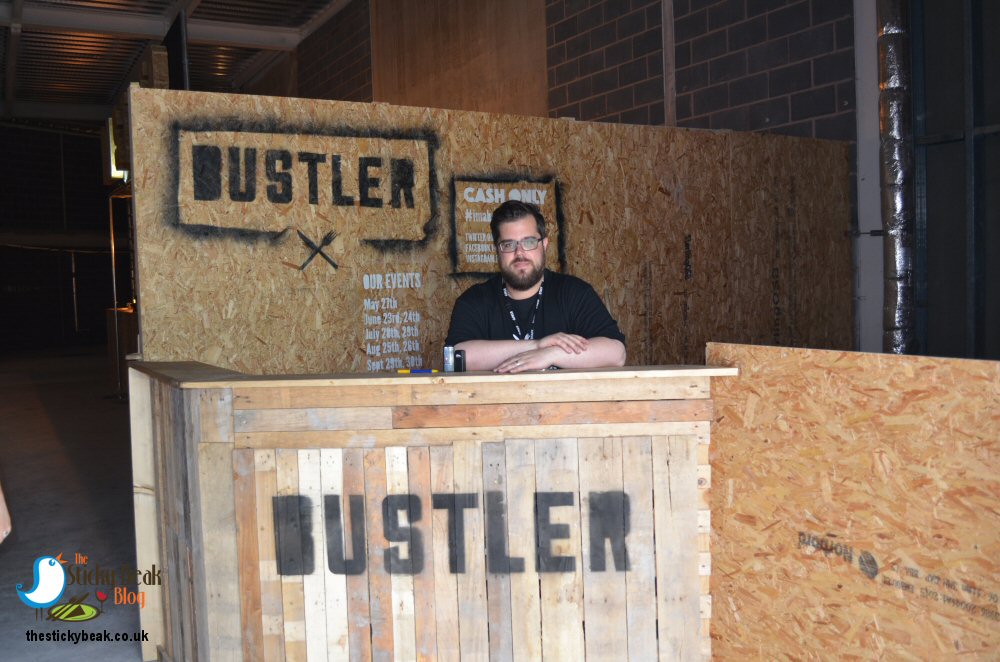 There was a great mix of age groups in the Bustler event from young groups of friends and couples, to families with kids and their grandparents.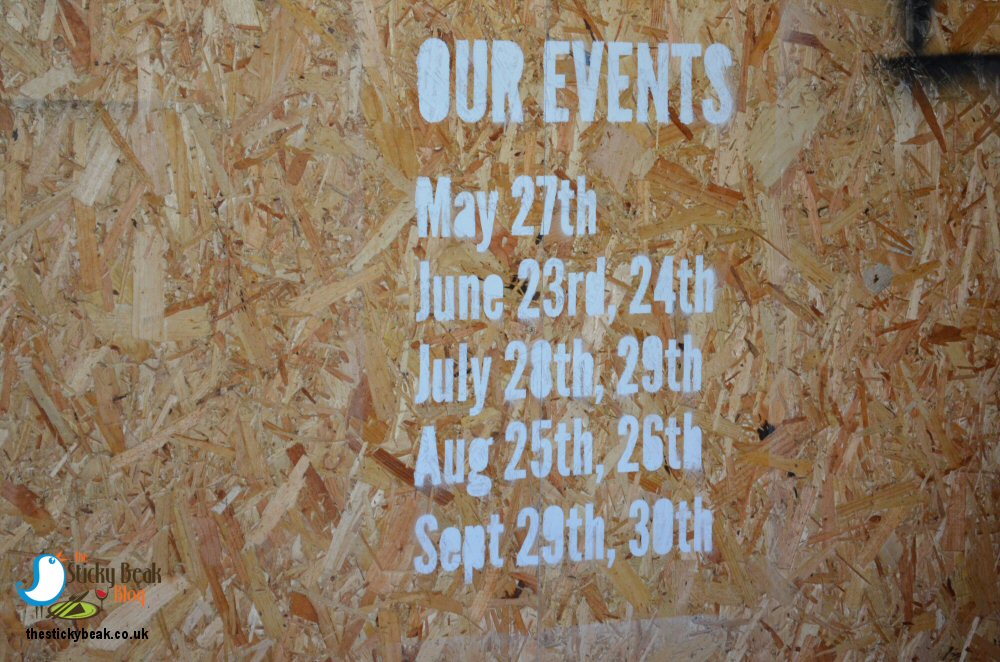 We had a fab couple of hours soaking up the atmosphere, so idon't forget these events are on throughout the summer (see above, earlier in the article, for dates).

Great event guys, congratulations and "Hotwings" to you :)
Read Some Of Our Recent Reviews
---

Celebrating Bustler Street Food Market's 5th Birthday With Freedom Brewery #FreedomSessions The Man Bird and I love celebrating, so when the fab team at Freedom Brewery invited us to be their guests Read The Article

---

A Visit To Chesterfield Food And Drink Festival I love Chez Vegas, or Chesterfield to give it its proper name, it's such a friendly place - and my Mummy Bird's family hail from there. The Man Bird and I popped in early this morning to visit Read The Article

---

The Great British Food Festival 2017 Well what a brilliant time we've all had at The Great British Food Festival at Hardwick Hall in Derbyshire! We (Man Bird, Mummy Bird, The Chick and I) got there nice and early officially to get publicity shots Read The Article

---

The Belper Food Festival 2016 Visiting Belper Food Festival is becoming a little bit of a tradition for my little flock, which we always enjoy. In previous years we haven't done too badly, but this year was getting off to a dismal start with some Read The Article

---

A Visit To The Ilkeston Food Fair The weather was unusually good for a Bank Holiday weekend day so we were hoping that there would be a good turnout for organiser Carol and her team. We left our nest early doors so that we would get a Read The Article

---

The Great British Food Festival 2016 Well, we've just got back to the nest after having a fantastic morning at The Great British Food Festival held at Hardwick Hall. I finally got to meet my lovely fellow blogger Becky Explorer Read The Article

---

The Belper Food Festival 2015 One of my favourite days of the year arrived on Sunday - Belper Food Festival. There's always a good selection of food on offer from sweet to savoury and everything in between, so total heaven for a foodie Read The Article

---

The Derbyshire Food & Drink Fair 2015 My little crop is full to brimming reader, I actually feel as if I could burst, and I think the rest of the flock is equally podged too! Read The Article

---

The Great British Food Festival 2015 The Boy Wonder and I always enjoy visiting food fairs and markets as it gives us a chance to stock up on lots of different goodies to take back to the nest and share with the Tribal Elders Read The Article

---