A Post Shopping Lunch At Qoozies, Chesterfield
---
Published On Monday 30 May 2022 by Sticky Beak
See Recent Dining Out Reviews | See All Recent Reviews


We were on a mission over the Bank Holiday Weekend: Operation 'Get New Curtains for Mummy Bird' was go, go, go!! It turned into Operation 'New Curtains, New Towels, and New Bedding', so as you can imagine we were soon ready for some refuelling by lunch time. However, we'd also got a load of gardening to do in the afternoon so we didn't want anything too heavy that would send us all into a food coma; enter Qoozies, a cafe that specialises in healthy, tasty food and drinks, located on Vicar Lane in Chesterfield.
Mummy Bird and The Man Bird decided to go for burgers; the Ollie for Mummy (Chicken, Cheddar and Caramelised Red Onion) and the Tough Man for His Nibs (Ham, Chorizo, Salami, Cheese and BBQ Sauce), both priced at £6.95 and they both chose side salad instead of carrot chips to go with their morsels. I went for Qoozies 'Famous Salad', adding on Avocado for 50p extra and going large for £8.45; there is a choice of complimentary dressings for your salad and I opted for Lemon Oil.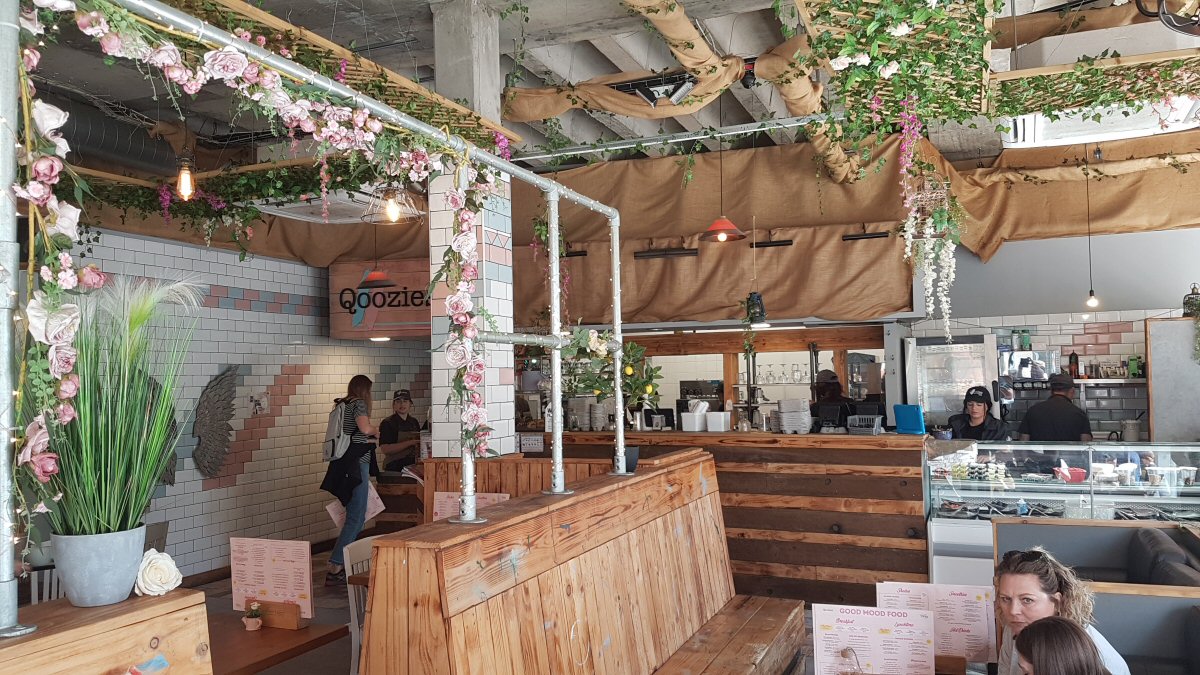 The Man Bird took advantage of the 'order from your table' option (you don't need to download an app to do this) and contactless payment is also an option for those that have Apple Pay, Google Pay etc. on their Smartphone's.


I really like the fact that Qoozies have a policy of slapping everything in the salad on your plate unless you opt out of it; no surprises when I tell you that I went for the full rainbow experience! Tuna and Chicken provide the (animal) protein elements, ably assisted in the nutrition stakes by Carrot, Cherry Tomatoes, Cucumber, Feta Cheese, Red Cabbage, Mixed Leaves, Peppers, Red Onion, Sweet Potato, Sweetcorn, Rice and Tricolour Fusilli Pasta – and the Avo that I added as an extra. This was possibly the easiest way to get my 5-a-day (and then some!) I've ever come across #happydays.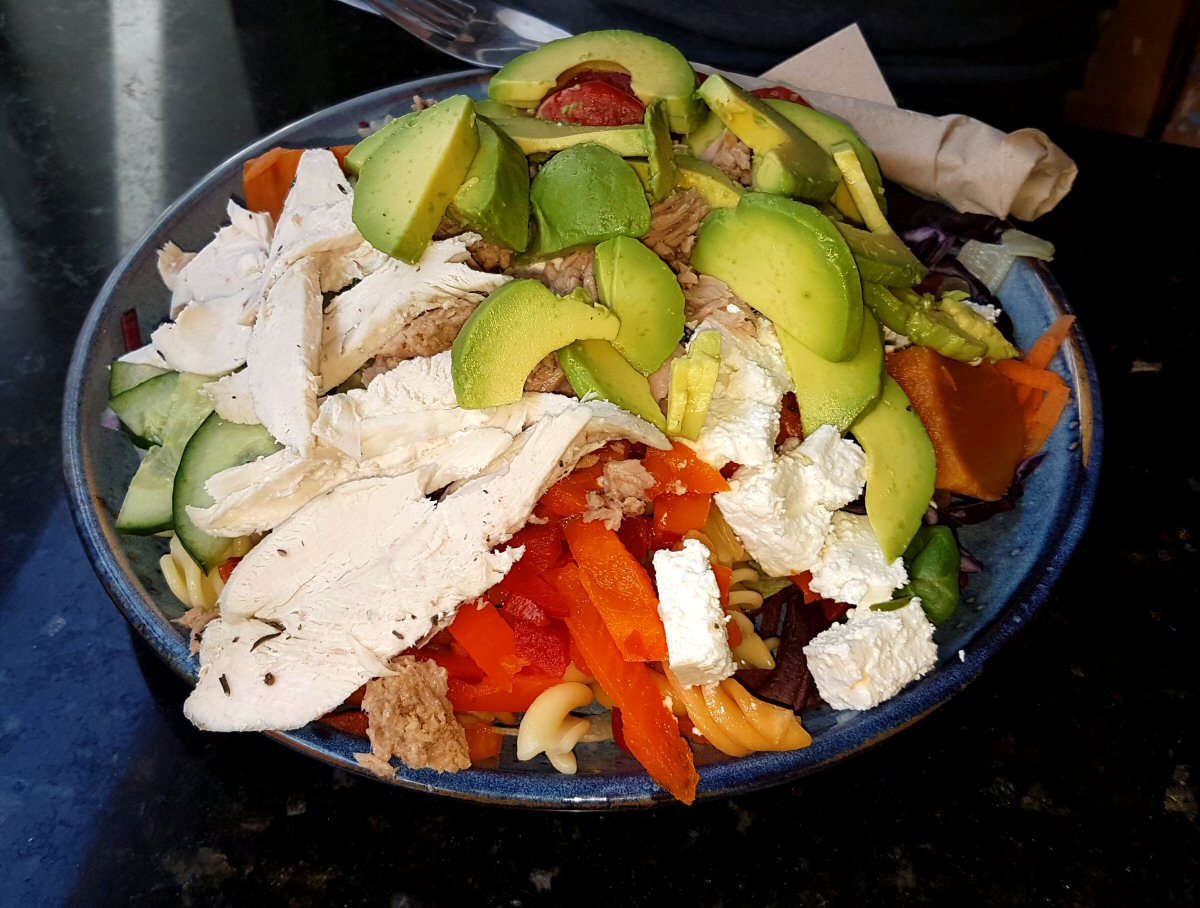 Everything on my heavily laden plate was super-fresh and bursting with flavour; my taste buds were in gastro heaven, they really were. I crunched and munched my way through the entire plate, experiencing a variety of textures and enjoying flavours right across the spectrum from sweet to savoury and everything in-between.
This certainly blew the notion that salad is boring right out of the water!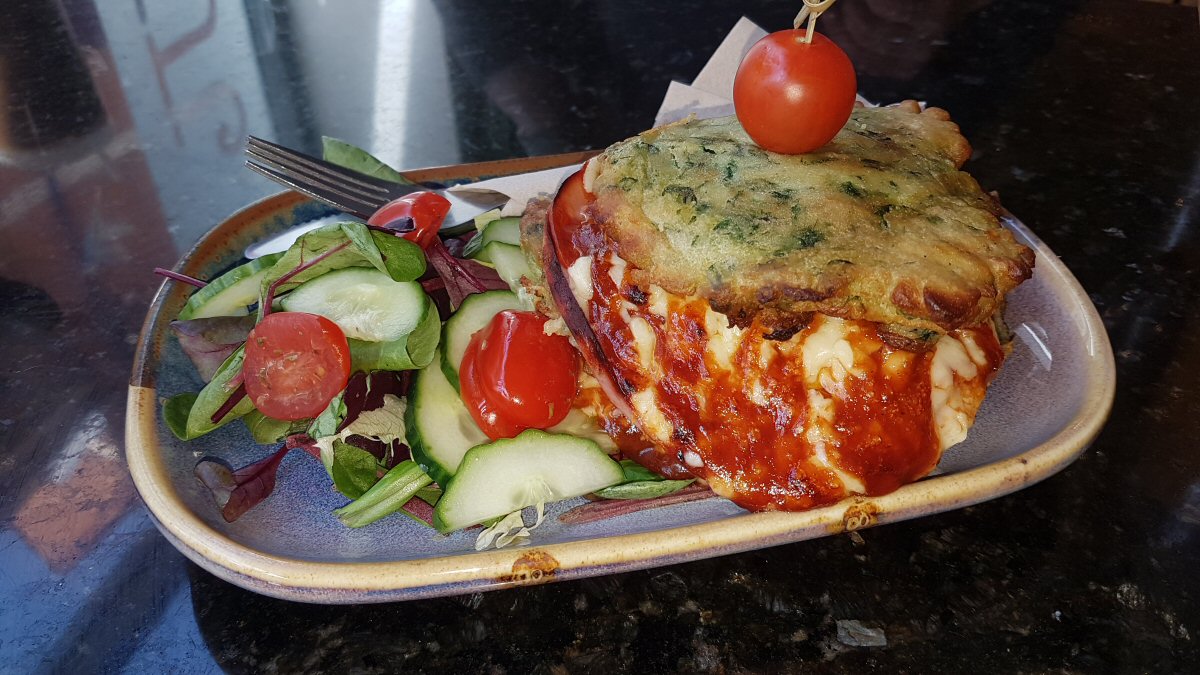 The Man and Mummy Bird were about to get a surprise from their burgers, too: the carb-heavy bun is banished at Qoozies, replaced by a much more healthy and tasty Egg and Spinach 'omelette'. For those watching their calorie intake, the most calorific burger was the Tough Man at 355 kcal for the standard option (His Nibs had doubled up for an extra £2) so not a deal breaker if you're dieting. All the meats and poultry were juicy, moist and flavoursome and quiet murmurs of appreciation were soon coming from their side of the table as they took bite after bite of their food. There was no shortage of any of the elements in their respective burgers either, the team at Qoozies certainly ensure their customers leave feeling replete!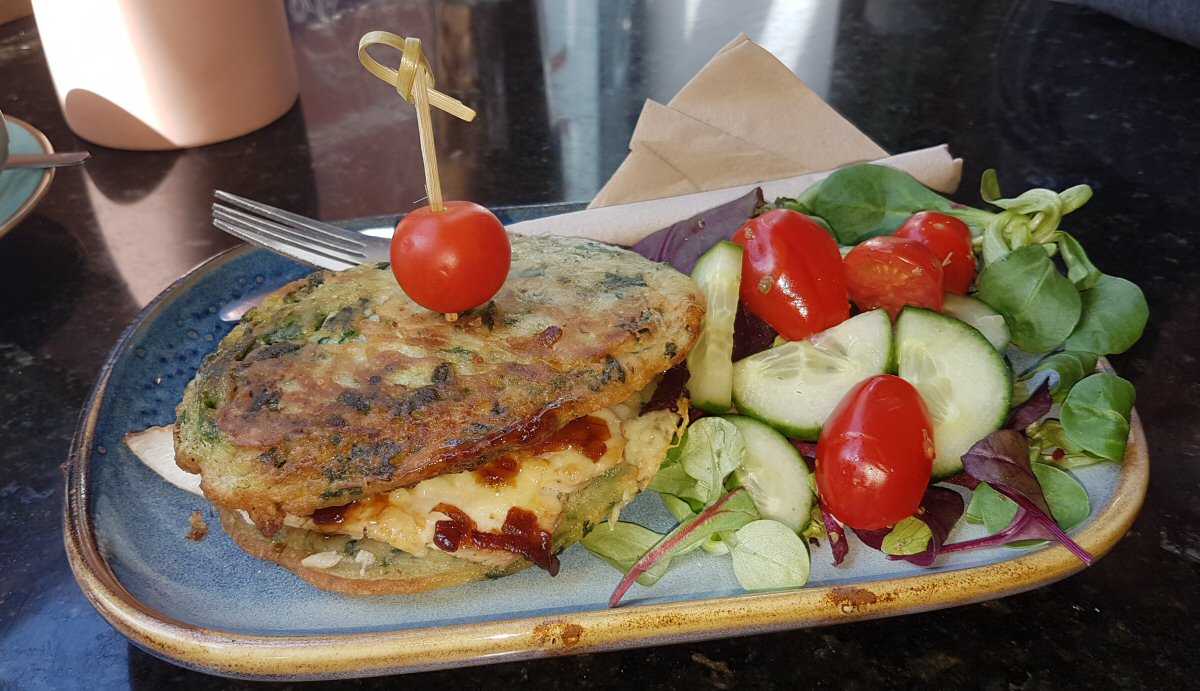 Kids (or those with sweet tooth's!) can indulge in a large choice of topped Pancakes, all priced at £5.45 with the option to double up for £2 more. Qoozies also serve Nutella Croissants, Cream Croissants or Toasted Teacakes, but if you're not in the market for a meal per se, then go for a filling 'Shake, Smoothie or Ice cream Latte.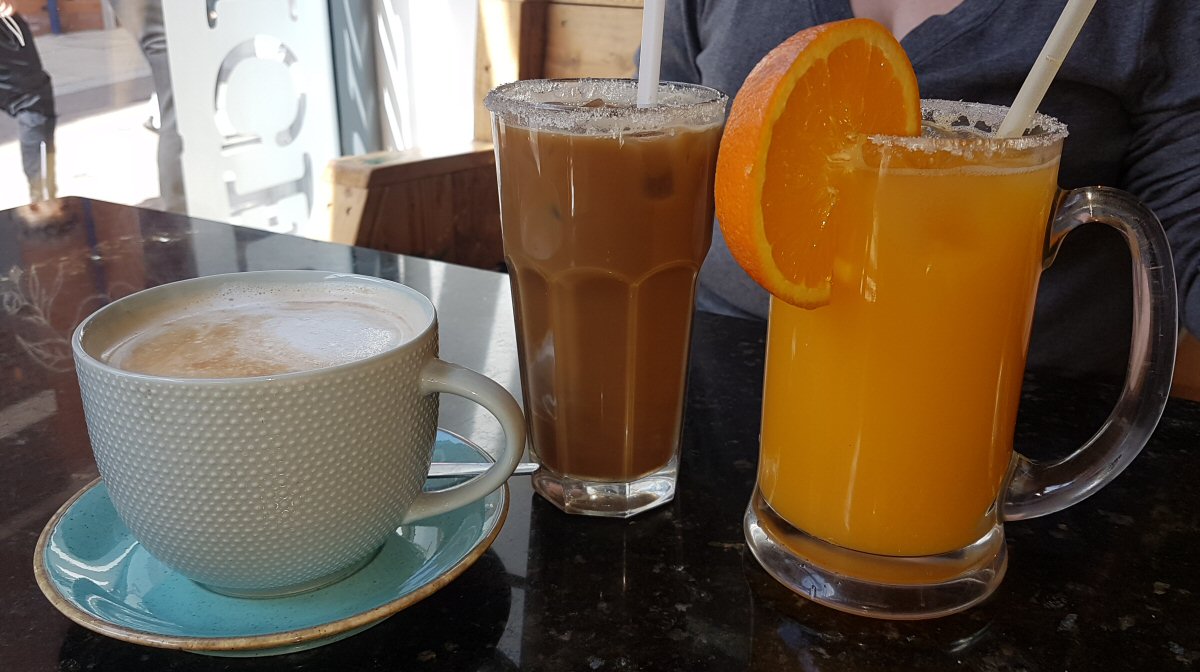 I had a Vanilla Iced Latte (I couldn't spot water on the menu) which was really tasty actually – I don't normally go for this sort of beverage so I was pleasantly surprised; Mummy had a standard Latte and His Nibs had a freshly pressed OJ. Our servers were lovely young ladies and nothing was too much trouble for them – the customer service was spot on.


Qoozies has a lovely relaxed, informal feel to it with pastel colours, faux flower-adorned birdcages and flower garlands hanging from the ceiling, and nice levels of music in the background. The ground level premises have two sets of double doors which allow easy access for disabled customers to access their offerings and there's plenty of spacing between the tables for easy navigation around the venue.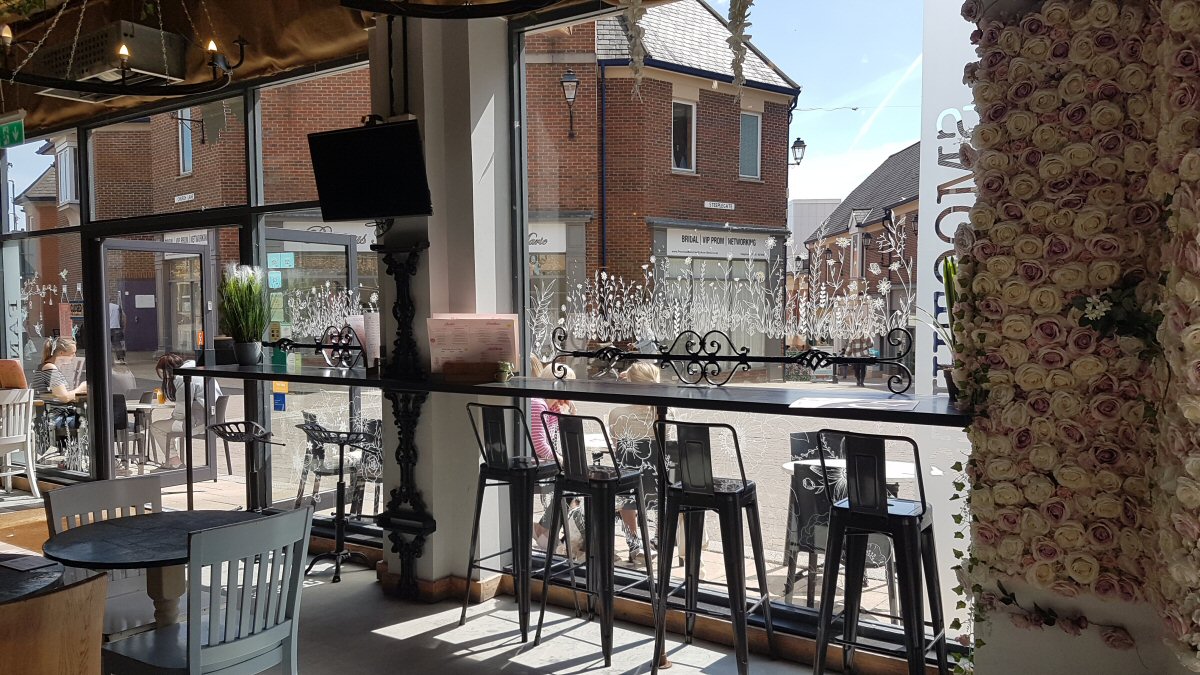 Our experience had been a really positive one and we'll definitely be back.Qoozies is open Monday-Saturday from 9am-4pm and does take reservations, but you can just walk-in too. Breakfast is served up until 11am (including their version of a Full English), then lunch service takes over straight after so there's no irritating lull period where nothing seems to be available.

Hot Wings happily given to this quirky, friendly venue.
No incentive was provided to visit this venue
read more
Read Some Of Our Recent Reviews
---

Breakfast At Marsh Green Farm Shop & Cafe, Kelstedge Ah, you've gotta love a Bank Holiday curve-ball, haven't you? His Nibs and I headed over to Mummy Birds' gaff with the intention of having a leisurely couple of hours at the Sunday Read The Article

---

Afternoon Tea at Bourne's Coffee Shop and Bistro, Denby Pottery Village You all know that The Man Bird and I do like an Afternoon Tea; I mean, who doesn't?! Just a few miles down the road from the nest is Denby, home to the world-renowned Read The Article

---

All You Can Eat At The River Garden Cantonese Restaurant In Belper As is the seemingly never-ending pattern of our weekends at the moment, The Man Bird and I had been busy gardening/re-seeding/pruning/digging, so when it came to sorting Read The Article

---

Back For Dinner At The Bulls Head In Repton As far as greetings go, perhaps the best one we've received came on our visit to The Bulls Head at Repton. As I stepped out of the jalopy I heard a familiar sound; a Robin chirruping away merrily Read The Article

---

A Visit To The Recently Opened Ranch Gourmet Burgers In Ripley The Man Bird and I do like a good burger, so we were gutted to hear that one of our fave hangouts in Derby was closing its doors and (in true glutton fashion) decided to Read The Article

---

Dinner At The Devonshire Arms In Beeley We seem to have visited a few other sites on the Chatsworth Estate, so it was lovely to receive an invite to dine at The Devonshire Arms at Beeley; it's been a while since we were last here. As soon as Read The Article

---

Burgers With A Side Order Of Sass At Karens Diner, Sheffield 'Freaky Friday' feeling, anyone? I felt a bit like the Fresh Prince of Bel Air, except instead of 'my life got flipped, turned upside down' it was a case of 'my dining experience got flipped Read The Article

---

Dinner At Cocina Restaurant At Casa Hotel, Chesterfield Regular readers of the blog will know that The Man and I recently visited the Peak Edge Hotel for dinner, a venue owned by Chesterfield business man Steve Perez. Our latest outing saw Read The Article

---

Sharing A 40oz Tomahawk At The Galleon Steakhouse, Chesterfield We Brits are used to Bank Holidays being a let-down usually when it comes to the weather, so when the forecast was for (mainly) fine conditions it was a case of Read The Article

---