COSMO Celebrate Their Second Anniversary in Style
Published On Tuesday 14 Jul 2015 by Sticky Beak
See All Recent News Articles
COSMO World Buffet Restaurant, in London Road, Derby celebrated their second anniversary last Thursday with a VIP reception.

Among the guests were Amanda Solloway, Conservative MP for Derby North and Mark Tittley the Deputy Mayor of Derby as well as many of the restaurants suppliers and some of their regular customers too.
There was live music and table entertainment was provided by local magician Luca Gallone who made it into the final 100 acts on Britain's Got Talent recently. The evening was rounded off with a charity raffle which included a prize of a pair of tickets to a Derby County match.

Sticky Beak was invited along to take part in the celebrations and she took the opportunity to review the food on offer Read Her Review

COSMO was opened in May 2013 after a £1m refit which transformed a derelict city centre building and breathed new life into the locality.

While no expense was spared on the refit of the restaurant, COSMO was sensitive not to compromise the heritage of the historic building and referenced its time as a cinema and nightclub in the design.

The eat-all-you-like banqueting restaurant seats 330 diners who can browse 60m of grills, hot plates and chilled cabinets filled with a range of authentic international cuisine.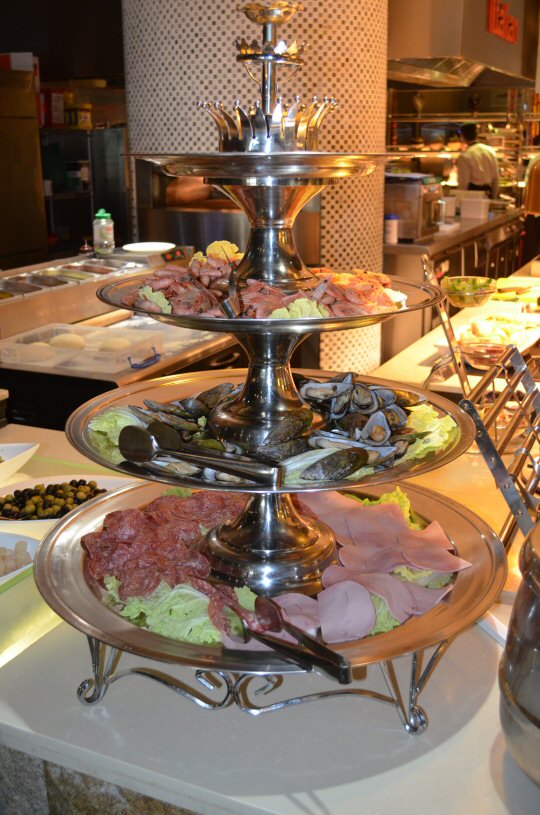 Serving more than 180 dishes from a dozen different countries, no other restaurant in the city offers diners such an enormous variety of food, delivered from theatrical live cooking stations.

Not only has the restaurant extended the eating out offering in St Peter's Quarter, it has become an active member of the community, investing in the local football club and working closely with the charity Derbyshire Children's Holiday Home.

Among the specialities on offer is a Brazilian barbecue, where customers enjoy a carnival of South American flavours, and centuries-old cooking techniques from Japan such as teppanyaki, yakitori and a robata grill are also highlights.

There's a host of Chinese, Thai, Korean and Vietnamese dishes, and the Indian section – with its twin tandoori ovens - offers dozens of different curries from Southern and South-Eastern Asia. Informative signs explain the heritage of some dishes, such as Pho Vietnamese Noodle Soup and Beef and Enoki Mushroom Roll.

For Italian fans, fresh pizza and pasta is available and for the less adventurous there are plenty of English dishes too.

While the restaurant specialises in world foods, it pays homage to home-grown flavours in its Derbyshire section; treats such as Bakewell tarts and Derbyshire pyclets can be washed down with beers from Derby Brewing Company.