Sticky Beak Makes A Flying Visit To York #OnlyInYork
---
Published On Sunday 25 Nov 2018 by Sticky Beak
See Recent Holiday Reviews | See All Recent Reviews


The Man Bird and I aren't slouches when it comes to squeezing every last bit of action out of a stay. So, when we were invited to have an overnight stay In York, we planned our time there with military precision!
Mercifully, the Friday traffic was on our side and we made great time up to York - quicker than we'd anticipated actually. Very kindly, The Mount Royale Hotel let us park our car there early; this saved us at least another hour or so trying to find parking in York – thank you.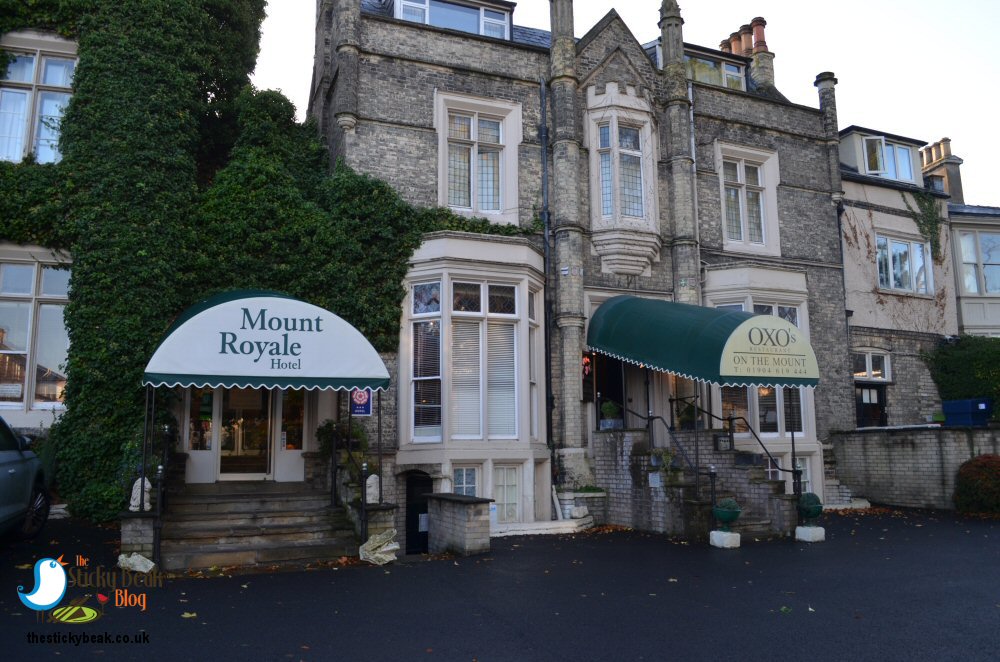 We decided to stop at a coffee shop, Bailey's, for a cuppa as it'd been a while since we had both had a drink .It was packed, but luckily we managed to snag a table for two in the corner and ordered a pot of tea each; Assam for me, Earl Grey for The Man. I couldn't help but notice that a large proportion of people were wearing a particular lariat and I.D – further inspection was needed I thought.

These guys were all attending the BAFTA acclaimed Aesthetica Short Film Festival, which is in its third year of running. Given the amount of attendees we saw around the city on our travels, I don't think it will be long before this is on a scale to rival its French cousin!

Being suitably refreshed, we headed out to the team at the Visit York Visitor Information Centre to collect the York Passes they'd very kindly given us to use during our stay in the city; you can purchase yours by visiting the York Pass website. The next day was going to be very busy!

The passes are available in 1,2,3, or 6 day variants, and once purchased give you a choice of free entry into more than thirty York attractions. If you're short on inspiration then take a look at the new destination video that Visit York has put together, entitled "York, the Original City Adventure"



Out came good old Google Maps and we made our way to the first stop, The Ivy, St. Helen's Square. We took the scenic route to the restaurant; by that I mean we had a poke around in some shops first and picked up a couple of pressies for Chrimbo.




As you can imagine, His Nibs was all hot and bothered about having to open his wallet (not so much for the refreshments, more for the gifts), so the exceptional food at The Ivy was just the ticket to revive his spirits! Read our review

Having re-fuelled, it was time to visit the next venue on our itinerary – The York Dungeons. If you haven't been here before, I can thoroughly recommend it; we had great fun during the 75 minute interactive tour, the actors really brought the history to life.




The Man Bird clearly has a "reprobate chic" air about him; he got brought into the action in the dungeons more than once. So if ever you see him and think "he looks familiar". You've perhaps seen him on Crime watch's most wanted board! Read our review

In the run up to Christmas, York is festooned with decorations and we stumbled across a Christmas Market, complete with old fashioned fair rides for little nippers. The York Christmas Festival runs during November and December and is great for getting you in the Festive Spirit.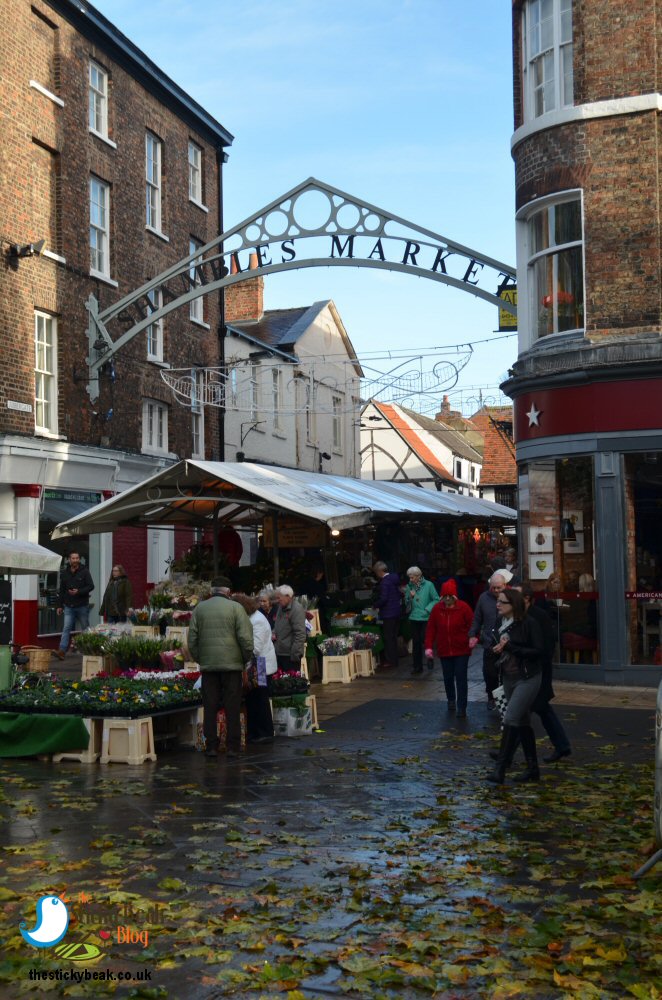 No visit to York is complete without taking in the old cobbled, narrow streets of The Shambles. This was originally where the butchers had their shops and if you look closely you can see hooks where the game and meat used to hang, as well as the wide window depths. Both His Nibs and I have been down the Shambles before, but there is something quite special about this historic place that never fails to delight.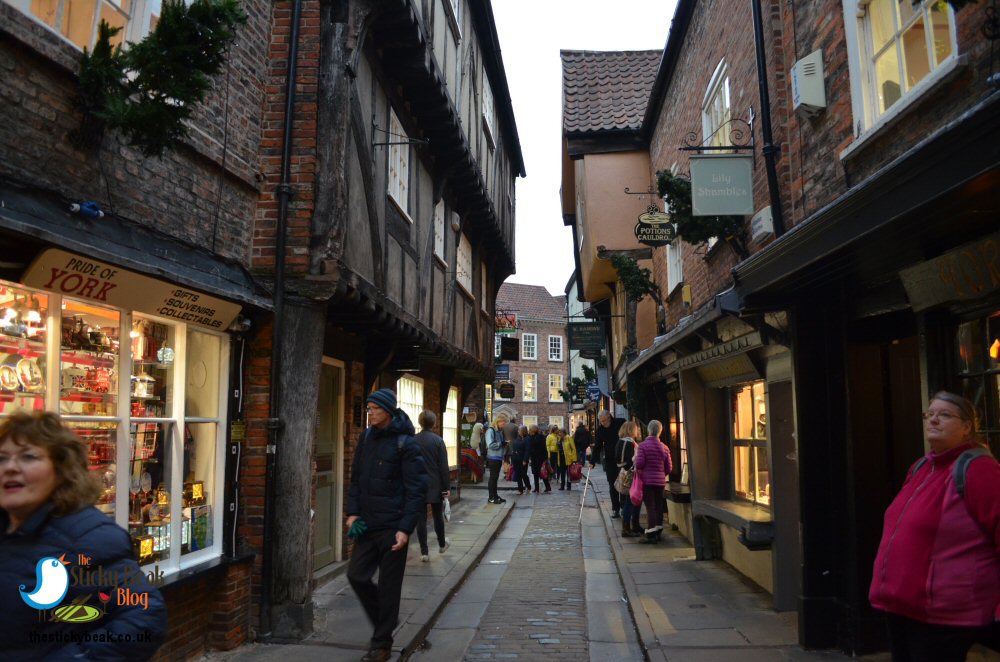 York is a city that offers every type of food and drink known to man, and we had been invited to an independently owned Bar and Restaurant called Cut and Chase (love the name!) by a lovely lady called Beverley. Beverley is the mum of co-owners Wes and Joel, but is very much hands-on with her support.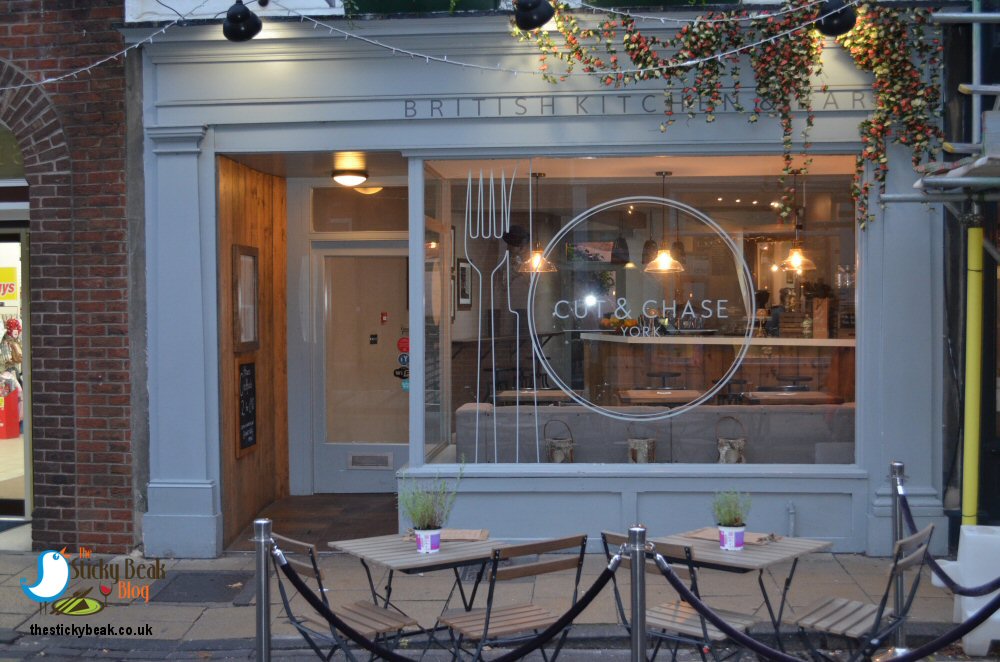 Taking a comfy perch in the window, His Nibs and I sipped happily at some of Cut and Chases' infused Gins. These beauties come in Ginger and Cardamom, Fig and Almond, and Orange and Cinnamon and were the brainchild of bartender and mixologists extraordinaire, Alex and Josh. Hats off to you, chaps; these special Festive Season minxes are divine! Even better, you can purchase 500ml bottles for yourself or for gifts for just £22.50 – personally, I'd keep them all to myself!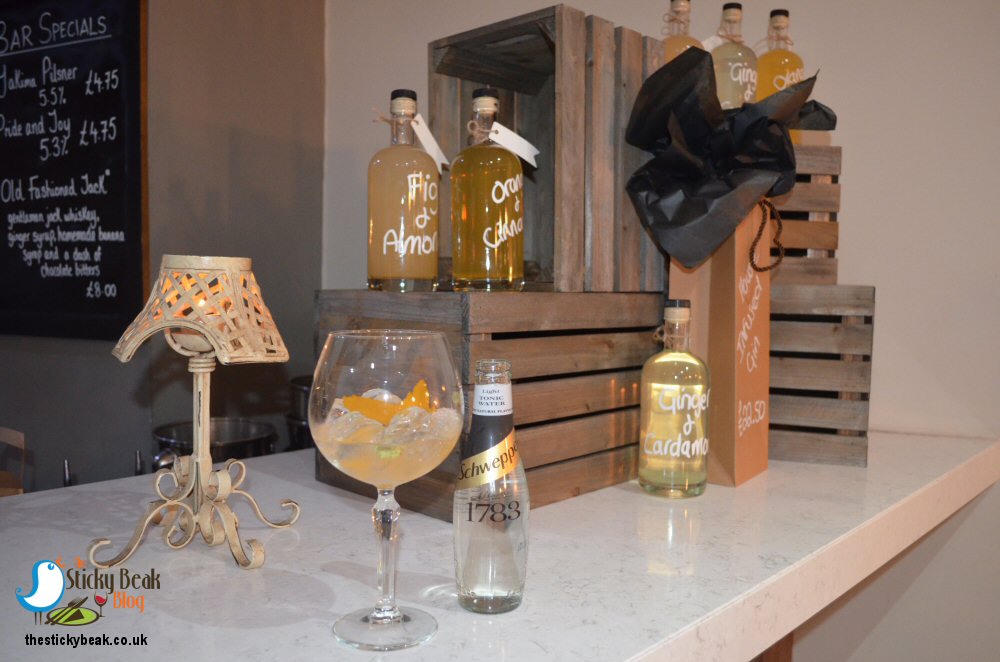 Best of all (seeing as it was Friday), Tuesday-Friday Cut and Chase offer two large Gins for a tenner, as well as selected Cocktails! Why not get the weekend off to a great start and indulge in some delicious food too from the seasonally –changing menu? Clearly, this team are doing something right – they're one of six finalists for food in Minster FM's Listeners' Choice category. Good Luck guys!




As The Man sampled the Rhubarb Gin, I fancied trying the "Mavericks and Unicorns" cocktail. Originally, Martinis were called Mavericks, which explains the first bit of the name but I was intrigued as to why Unicorn was in the title. All soon became clear when a martini glass and spherical laboratory –type flask came before me. The martini glass contains Tonka bean infused Vodka, Vanilla syrup, Lime juice and a fresh Passion fruit half; the two part flask holds Passoa to be poured from one side, and iridescent rose gold Prosecco from the other. Not only is this tipple fabulously fruity to drink, it looks an absolute gem on Instagram.

Beverley was keen to tell us all about the independent scene in York and helpfully gave us a copy of the Indie York map; in its third edition currently, soon to be fourth! If this is your scene then head over and visit their website for all the latest details.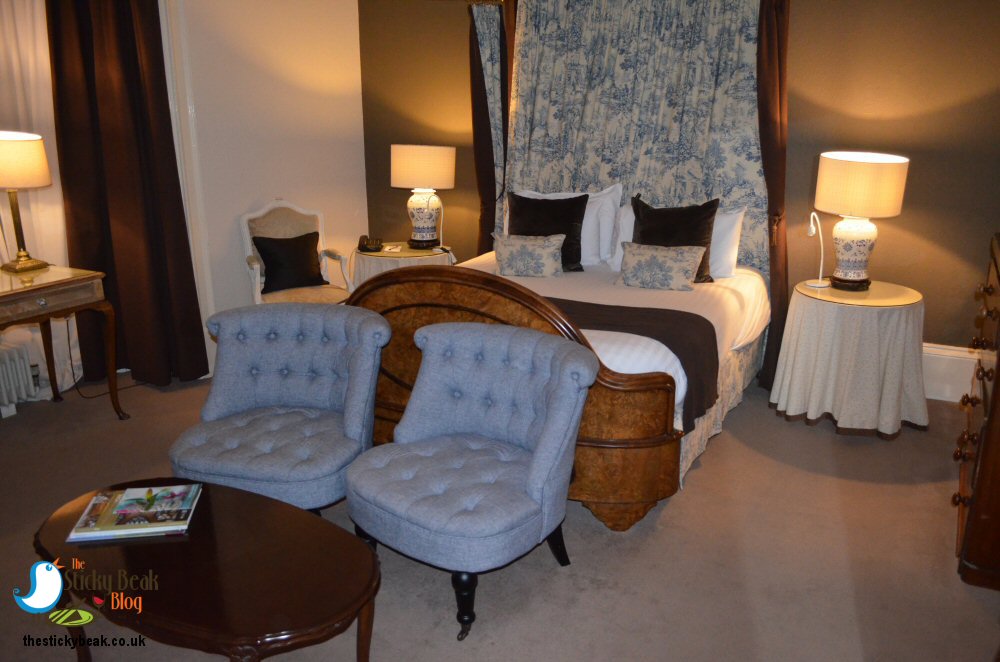 Not a bad start to the first day we thought, as we walked back to The Mount Royale Hotel. When we walked through the door of our room for the night, Room 20, the day got a whole lot better! Seriously this was the last word on luxury, with the Toile de Jouy canopied bed taking centre stage. Read our review




All that remained was to go down for dinner in the two AA-rosette winning, Oxo's on The Mount restaurant. Our tummies thought they'd died and gone to heaven, this venue is a gastro-lovers paradise; if you haven't been before I can recommend it 100%. It is open for non-residents to dine in as well, but I would strongly advise booking ahead to reserve a table. Read our review

Somehow we managed to make our way back upstairs, the land of nod was awaiting our arrival and we were keen to get there!
Day 2

I seriously need to bednap the bed from Room 20 of The Mount Royale Hotel in York! That was one seriously good nights' slumber. His Nibs and I grinned at each other with the happy faces of those well rested, and took turns to have a shower before heading down to breakfast.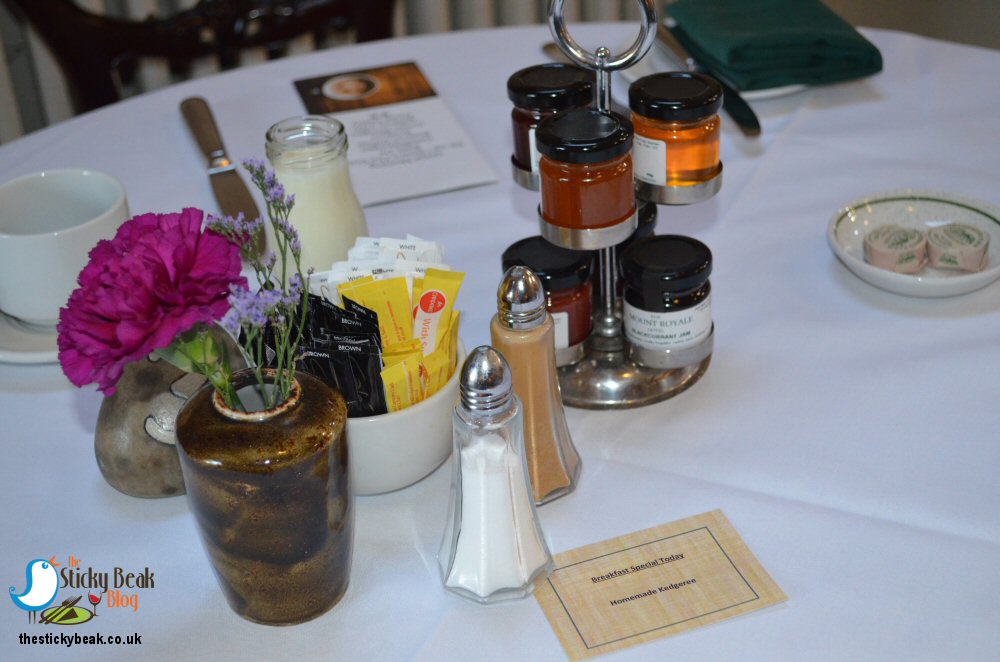 Having dined in the hotel's 2 AA Rosette winning restaurant, Oxo's on The Mount, the previous evening, I was confident that the breakfast wasn't going to be at all shabby. Turns out I was right – then again, I'm always right!

Knowing the day that lay ahead for us, we filled our tummies to the brim, bid our farewells to the Hotel, and headed off once more into the city of York. We were keen to get the most out of our York Passes that Visit York had kindly supplied us with, and the first tour of the day was York Minster.




After a decade-long restoration project, one of the magnificent stained glass windows had been re-opened for the public to see, and we were fortunate that the sun was shining. The detail and colours in the panes of glass are simply stunning; you can't describe their beauty adequately, so I would urge you to visit this historic site to appreciate them properly.

There are guided tours available, but sadly we hadn't got time to have one of these. We did go down into the vaults though to see several sarcophagi and read the history of their inhabitants. If you wanted, you could easily spend an entire day within the hallowed walls of The Minster. Even during our limited time there, a sense of peace washes over you and time slows down – something everyone could benefit from, I'm sure.




Next we visited York's Chocolate Story where you get a tour around the building, sample lots of scrummy chocolate – not always in the format we have come to know! – and learn more about the history of Yorks' confection families and the way they shaped society in their city. Our guide, Meg, was a real star and kept us enthralled from start to finish of the tour.

The highlight was going into the "mini factory" where we saw how chocolates were made, and got to sample some freshly made Mango Ganache choccies. Then it was our turn to become Chocolatiers! The Man Bird and I were well impressed with the White Swiss Chocolate lollies we made, and decorated them with Dark Chocolate sprinkles. Shame we only got the tiniest nibble of them when we brought them back to the nest! Chickadee had spied them, and tucked straight in; she did give us 10/10 though.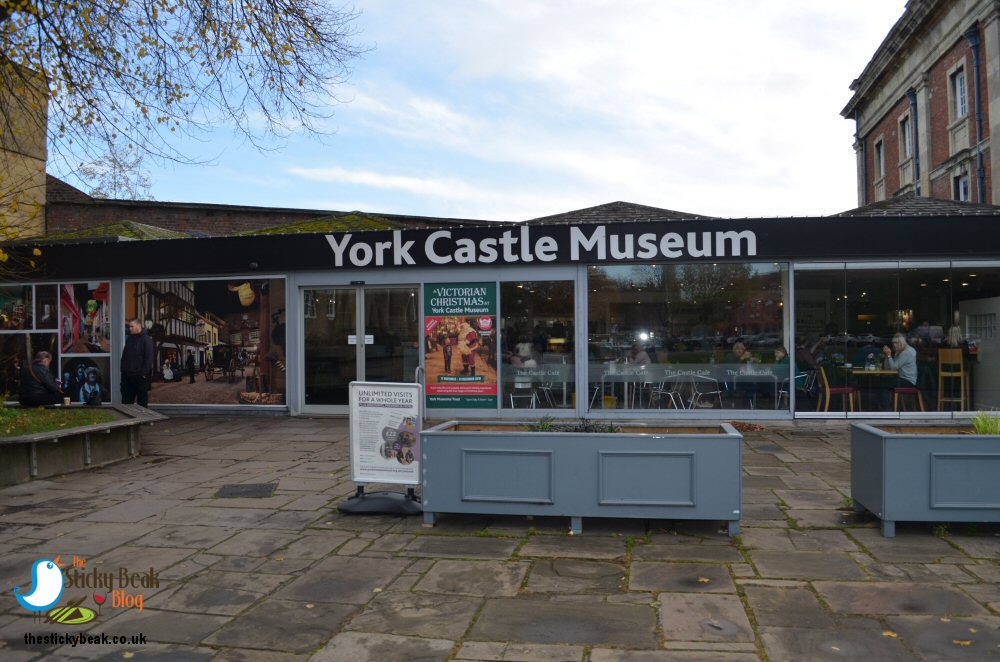 One of my passions in life is shoes; drives His Nibs nuts, so our next visit was destined to send him a bit more bonkers. Amongst its other exhibits, The York Castle Museum is currently hosting an exhibition of Dame Vivienne Westwood's shoes, running until 28th April 2019. Oh my word, somebody pinch me! I don't think I've ever moved so fast in my life, as I did to get to this mesmerising section of the museum. If you don't "get" shoes, you can still appreciate the history of how footwear has evolved over time, as have the clothes we wear.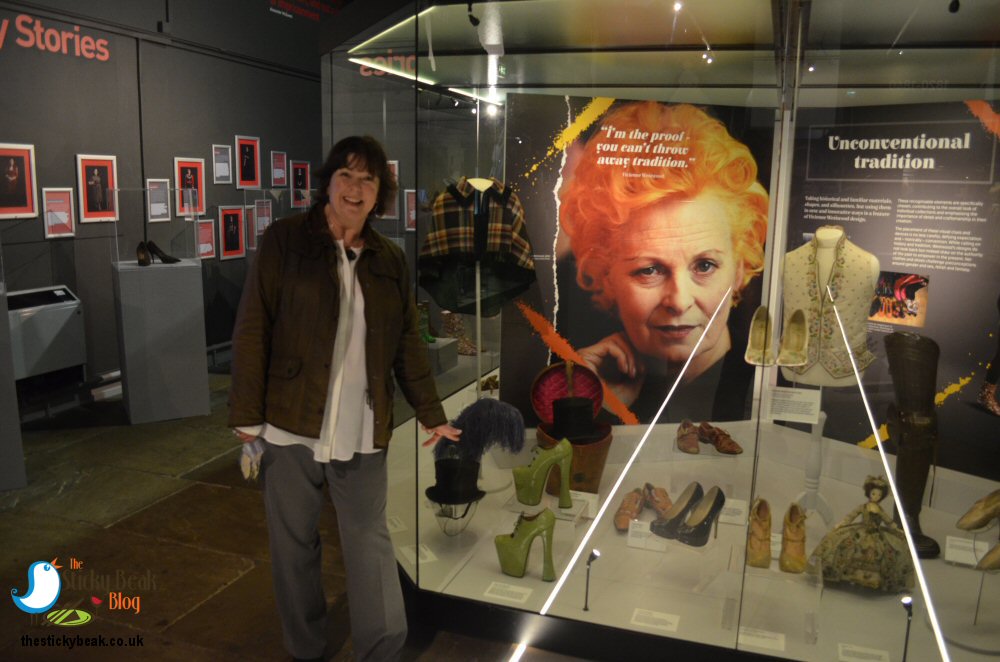 Alongside the Dame Vivienne Westwood shoe exhibition there is the "shaping the body" show, documenting how body shape has changed over the last 400 years; food and lifestyle impact is explored, as well as fashion.

As you know, 2018 is the centenary of the Armistice and the end of World War II (1914-1918). One of the exhibitions within York Castle Museum is entitled '1914: When the World Changed Forever', and this takes you right from the recruiting office to the terrors of the frontline, using items and stories from those who actually experienced it.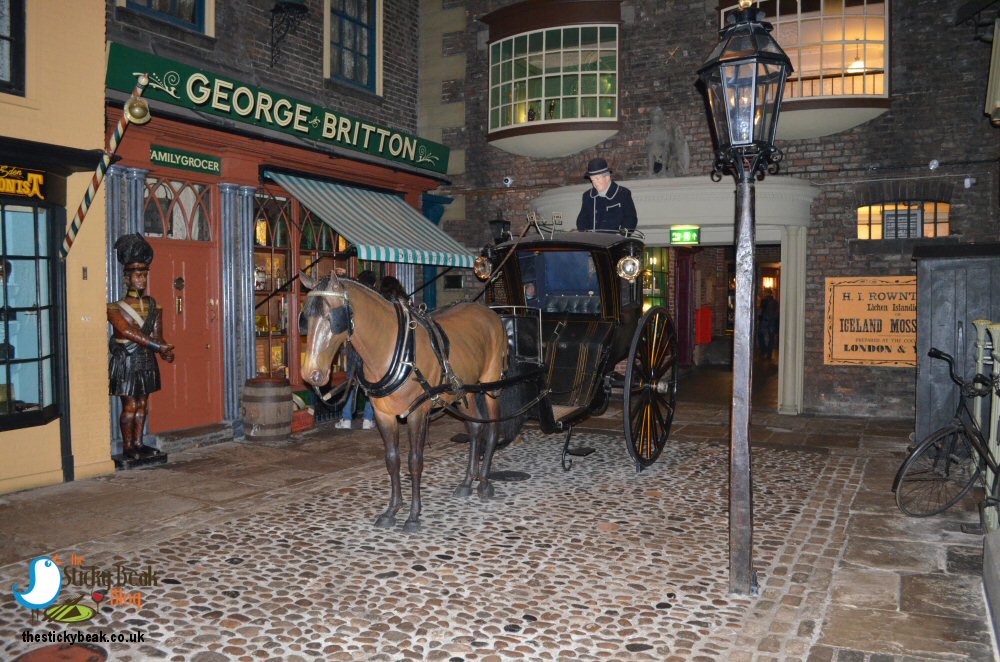 Within the Castle Museum at York, there is a recreated Victorian street, Kirkgate, and His Nibs and I meandered along its cobbles, taking in all the shop windows. Some of the buildings allow you inside: the School classroom, the Police Station (and its cells), and the sweet shop. Being the fabulous daughter that I am (!), I bought a sugar mouse each for my Mummy and Daddy Bird; a Pink one for Mummy, a White one for Daddy.

Households from down the centuries and decades were on show too, and The Man Bird and I had a little giggle at the garish wallpaper of the 70's. Tupperware and Formica worktops were much in evidence in the kitchens too, something we both remembered from our childhood homes.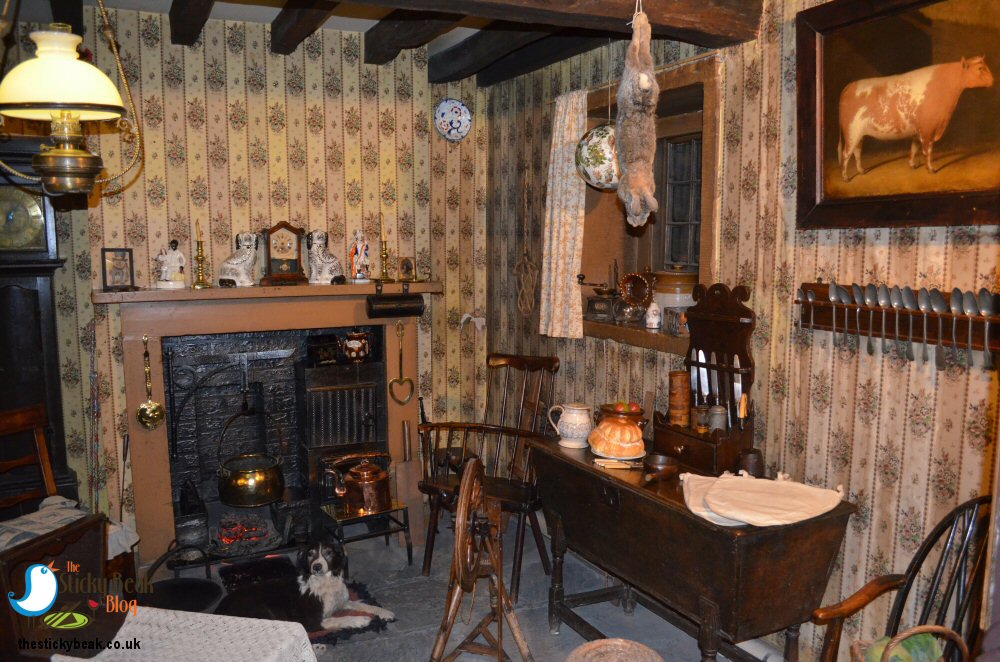 The Castle Museum is hosting its award winning Victorian Christmas on the cobbles of Kirkgate from November 23rd – 24th December 2018, another reason to go and visit this fantastic attraction with your family. There really is something for all the family at York's Castle Museum; to check the latest exhibitions and opening times head over to their website
Our last stop of the day, before heading off for Afternoon Tea at The Principal Hotel [Read our review] was the newly re-vamped Jorvik Viking centre. This attraction was extremely busy, we stood in a queue for quite a while; I would recommend booking your tickets online ahead of your visit or going first thing to buy a fast-track ticket for a time later in the day. Our York Passes weren't fast-track tickets, but it didn't matter, we took in the hustle and bustle of the city whilst we waited.

Once inside, the first thing you come across is the preserved timbers of Viking age York; street level at this point in time was some 6.5 metres lower than our present day. The recreated 10th century streets of Coppergate, once a key trading street in York, are fascinating to see. There are loads of displays and facts about this era, the archaeological digs that led to their discovery, and the methods used to preserve timber structures.




We boarded the interactive ride that takes you on a journey through Viking life; from everyday people crafting combs from fishbone, to traders plying their wares, to parents teaching their children skills they will need later in life.

The final part of our experience in Jorvik Viking Centre was looking at the magnificent artefacts in a multitude of display cases. Jewellery, tools, bowls, weapons and clothing were all right in front of us; literally, history coming alive before your eyes!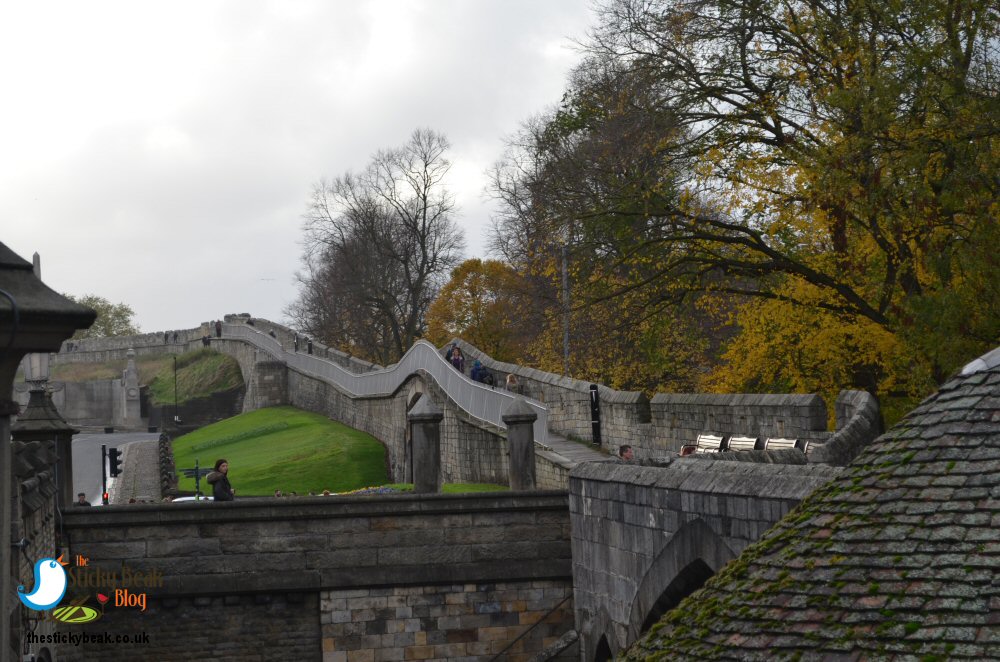 Opening hours do reduce slightly over the winter months and obviously over Christmas and New Year too; for the up-to-date times just visit Jorvik's website.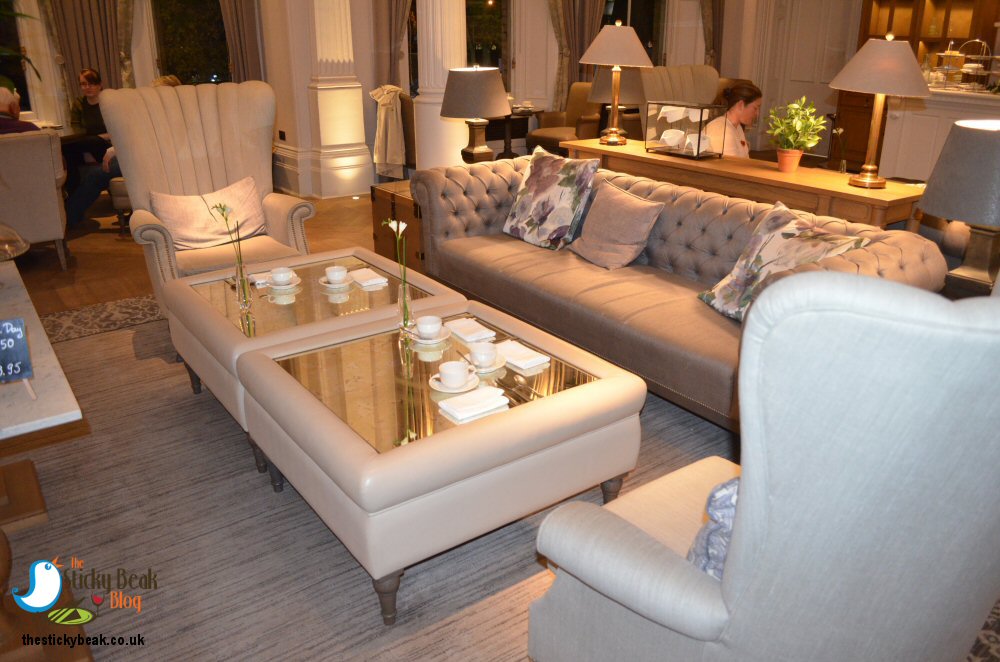 As we sat in the Garden Room at The Principal Hotel, The Man and I took time to reflect on our whirl-wind tour of York. In all seriousness, we felt that a week was really needed to get to grips with everything this amazing city has to offer. Another week (or more) would be needed to explore the rest of the surrounding county with its historic houses, stunning scenery, and breath-taking coastline. Massive thanks though to Lisa Byrne PR, Visit York and all of the venues who gave us an incredible opportunity to dip our toes into this wonderful historic city.
Some form of incentive was provided to visit this venue
read more
Read Some Of Our Recent Reviews
---

Sticky Beak Flies Off To Belfast The Man Bird had to go to Northern Ireland recently for his day job, so I tagged along in order to explore some of Belfast city's charms and get me some legendary Irish Craic! We are pretty much Joe Read The Article

---

Letoonia Club & Hotel, Fethiye, Turkey With Jet2 5of5 Given our late night the previous night, we all had a bit of a lie-in and a later breakfast. We were going on a boat cruise, but pick-up wasn't until 10.30am, so there was no hurry. Read The Article

---

Letoonia Club & Hotel, Fethiye, Turkey With Jet2 4of5 Woo Hoo, it's time to Jeep Safari with the team at Evergreen Jeep Safari Experiences. Chickadee, The Man and I did this tour two years ago and had such a blast that we wanted to do it again, Read The Article

---

Letoonia Club & Hotel, Fethiye, Turkey With Jet2 3of5 Sunday was another glorious day, so we decided to catch the boat taxi over to Fethiye and indulge in a bit of cafe culture. Men were casually fishing on the dockside, chatting to each other, Read The Article

---

Letoonia Club & Hotel, Fethiye, Turkey With Jet2 2of5 Super comfy beds, bedding and pillows had all worked their magic and given us a fab nights' slumber (despite us rolling in at 1.30 am from the bar!), so we awoke feeling refreshed Read The Article

---

Letoonia Club & Hotel, Fethiye, Turkey With Jet2 Woo hoooo, it was jollibobs time; that's holidays in normal language! His Nibs, me, Chickadee and the Boyf Bird headed off to Turkey for some last-minute sunshine. The taxi came Read The Article

---

Winter Wonderland At Center Parcs, Sherwood Forest Yay, it's that time of year again dear reader; the annual flock and friends pilgrimage to Center Parcs before Christmas. As a family we've been coming since our Chick really was a Chick of six Read The Article

---

A Round Up Of Our USA & Canada City Adventures Well what a holiday that was! Our flight was from Heathrow to Washington's Dulles Airport and we then had a few days in Washington D.C to start things off. Read The Article

---

Our Last Day In Niagara Falls And A Visit To Marineland My flock kicked off our last day in Niagara by paying IHOP another visit for breakfast, this time with The Chick in tow. His Nibs had the breakfast sampler again and I had the double blueberry Read The Article

---