Dinner At OXO's On The Mount, York
---
Published On Friday 23 Nov 2018 by Sticky Beak
See Recent Dining Out Reviews | See All Recent Reviews


The Man and I were staying at The Mount Royale Hotel in York recently, and last time we were here (some 20 years ago!) we dined out in the city rather than avail ourselves of the Hotel's own restaurant, Oxo's on The Mount. So this time we decided to try out the 2 AA rosette winning restaurant, rather than venture out into what had become a typically cold, rainy late autumn night.

Read About Our Stay At The Mount Royale Hotel
The huge journey of 100 metres or so from our room, down the stairs and into the lobby made us jolly thirsty, so first port of call was the bar for a naughty Gin and Tonic! Well, it'd be rude not to, especially given the extensive range of Gins on offer. The lovely barman clearly knows his trade and suggested His Nibs pair his Forest Gin with a Pomegranate and Basil tonic water from Double Dutch; a cracking suggestion as it turns out. I had a Rock Rose Gin with a Fever Tree light tonic, simple and classy; a bit like yours truly *ahem*.




Oxo's on The Mount is under the watchful eye of manager Julian, and this very charming gent runs a tight ship let me tell you. As we took our seats, Julian guided us through the various menu options; thoughtfully, The Mount Royale Hotel does a discounted Table D'hôte menu for its residents; 2 courses for £24 per person, 3 courses for £32 per person. There is also the a la carte option, which is what His Nibs and I plumped for.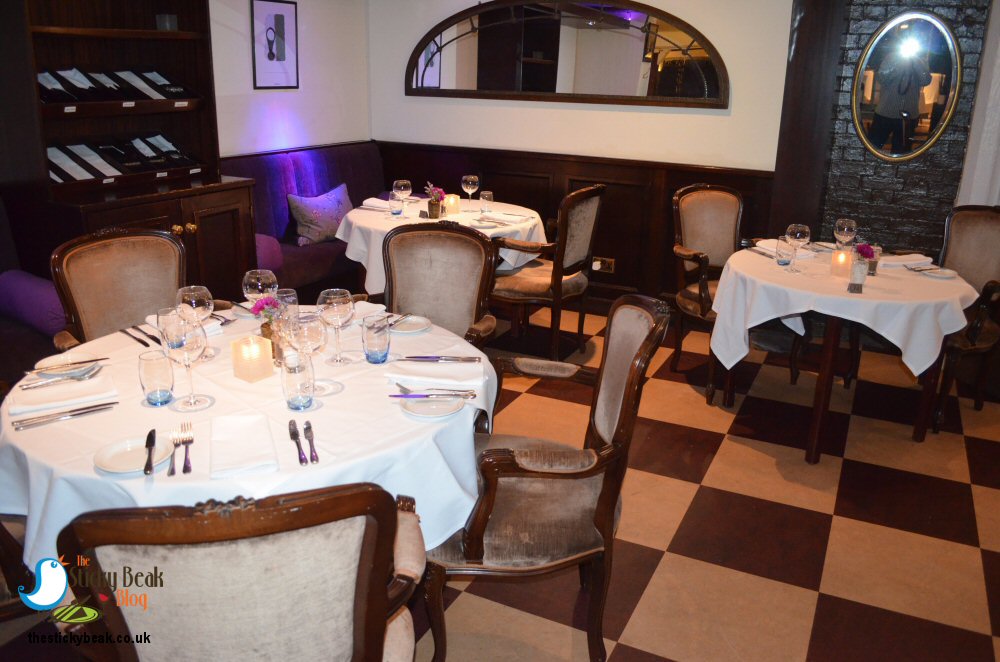 Julian also informed us that Head Chef Russell Johnson and his team are very accommodating of dietary needs and indeed any size of appetite or culinary whim – if you want to have 2 starters as your main course because you simply can't choose between them, that's fine!




We perused the wine list, and there really is a great choice of wines available for all tastes and budgets. I really fancied the £75 bottle of Malbec, but sadly I haven't got the funds for such extravagance, so the £21.95 bottle had to suffice! I have to say though, that this budget option was in no way lacking, it was very quaffable.

A lovely young lady brought out a platter of fresh baked breads, sun-dried tomato-, and lightly salted- butter out to us, followed swiftly by an Amuse Bouche of Leek and Potato soup with a sour cream and chive swirl.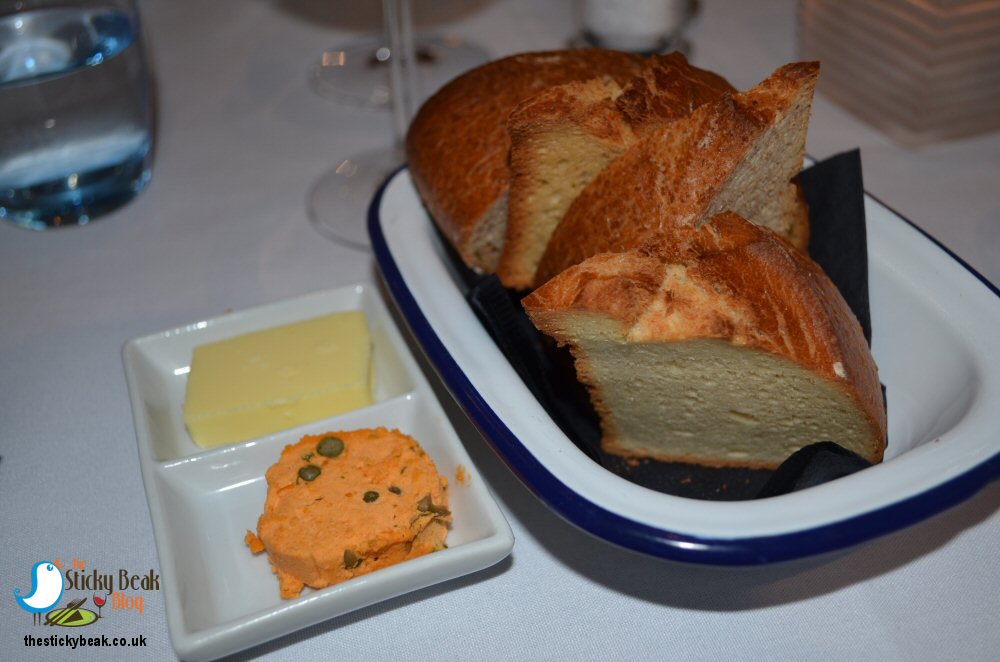 We both loved the thick texture of the soup which was a smooth as polished glass; it had a wonderful balanced flavour of the two vegetables, with the swirl providing a fab oniony twang, courtesy of the chive. I dunked one of the warm wedges of bread into the cup that had held the soup and got every last bit out; shame to leave even the smallest bit of something so tasty!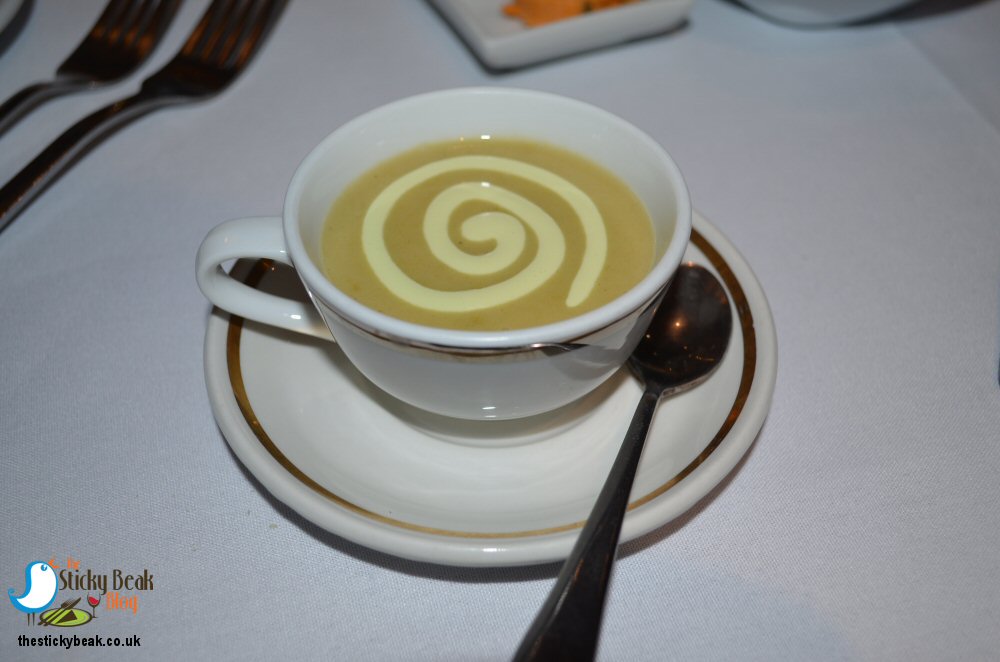 For starters we'd chosen the Corn fed Chicken and Ham Hock Terrine with Smoked Onion puree, fermented Girolle Mushrooms, Sage gel, and Brioche croutons (The Man), and Seared King Scallops with Celeriac puree, Granny Smith Apple, Pickled Walnuts and Sauternes dressing (moi).

The Man Bird's Terrine had a very pleasant layered effect of the two contrasting coloured meats, which had mercifully been left pretty much alone (bar gentle seasoning) to let their true character shine on the palate. Crunchy croutons gave some texture to the dish and the earthy, robust taste of the smoked Onion puree was matched well by the Ham Hock component of the starter. I had the fermented Girolles, His Nibs can't stand Mushrooms; his loss = my gain!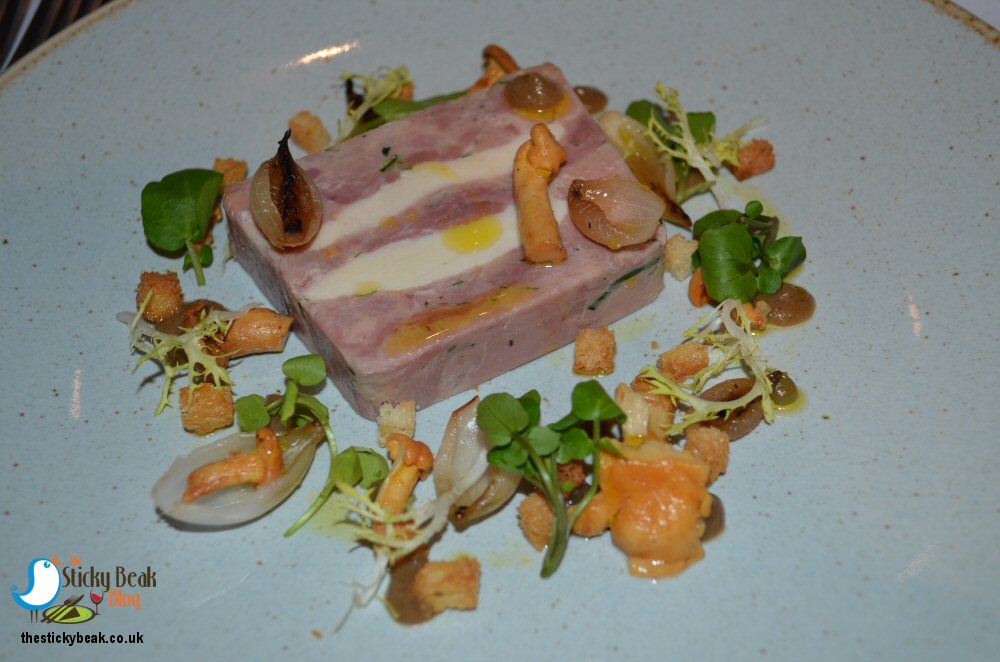 A trio of fat, juicy, sweet Scallops awaited me, artfully surrounded by swirls of creamy Celeriac puree, julienned strips of crunchy, tart Granny Smiths, and slices of dark Pickled Walnuts. The delightfully fresh tasting sauternes dressing had been carefully dotted on the seafood in proportions just so their taste came through without overwhelming the delicate flavour of Scallop flesh. All the textures and tastes married nicely and harmoniously, making this a beautifully light course to begin my culinary journey at Oxo's on The Mount.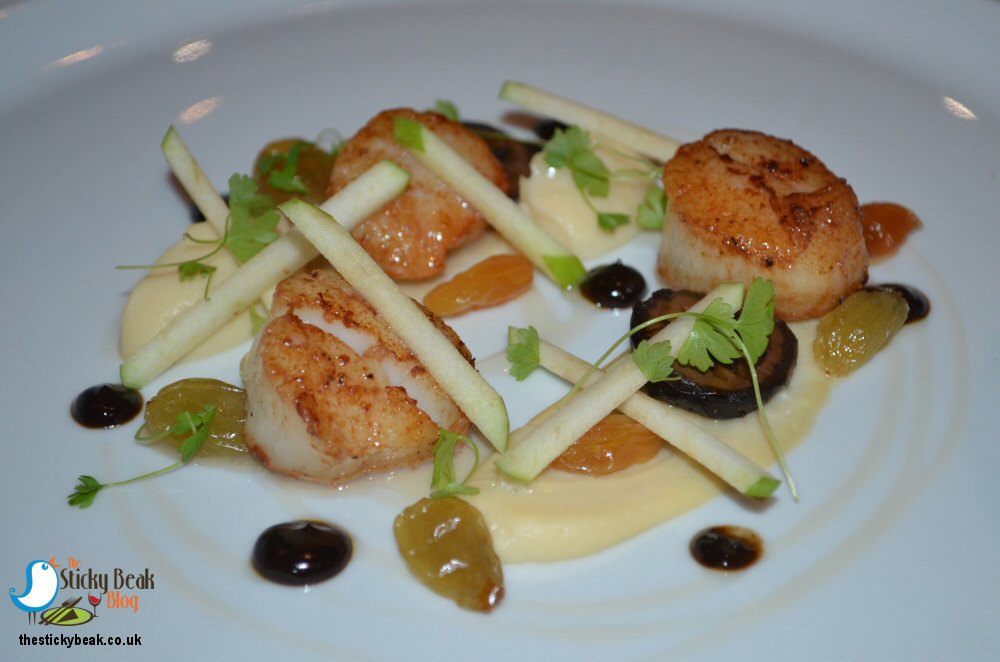 If we weren't having Venison for Sunday lunch at the Tribal Elders' Nest that week, I would've been tempted to have the Venison for my main; instead I chose the Rump of English Lamb, served with Dauphinoise Potatoes, fine Beans, red wine baby Onions, Butternut Squash, Spinach, and Redcurrant and Rosemary jus. For his main course The Man Bird fancied the glazed Beef Ox Cheek with Celeriac and Potato Gratin, glazed Turnips (which were white, Geordie Bird take note!), buttered Leeks, Pickled Onion, and Ale jus.

His Nibs' Beef Ox Cheek was a huge round tower of meaty glory, and he revelled in its incredibly rich, full-bodied flavour. The meat literally melted on his tongue and he said that it really packed a knock-out punch on the flav-o-meter scale. Head Chef Russell had cooked the Turnip perfectly to preserve some of its firmness and had done exactly the same with the sweet tasting baby Leeks, glossy with their wash of butter. And the Gratin; what a morsel! Combined with the Potato, this "slice" was delightfully firm to bite into, but pillow soft in the mouth – perfect.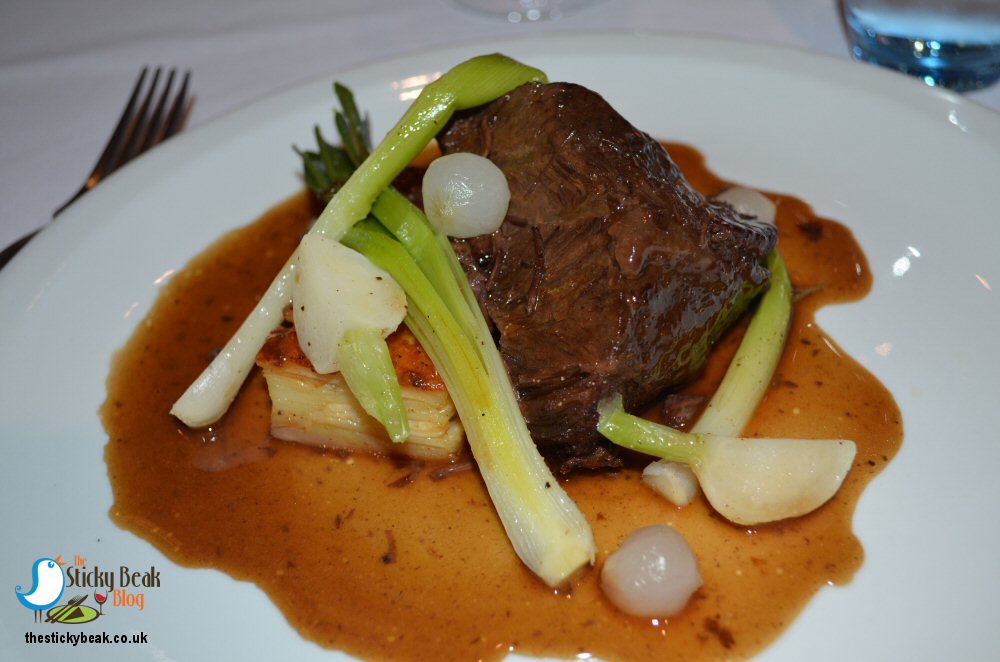 A Quintet of pink rounds of Lamb Rump was carefully placed on my plate, balancing gently on each other in a shallow semi-circular curve. Verdant wilted Spinach had been placed on top of the circle of Dauphinoise, crowning this creamy accompaniment like the regal element of the meal it was. The fine beans still had that delightful bite to them, and I absolutely loved the red wine baby Onions! Lamb has a wonderful deep flavour to it and the Redcurrant and Rosemary jus stood up to it magnificently well.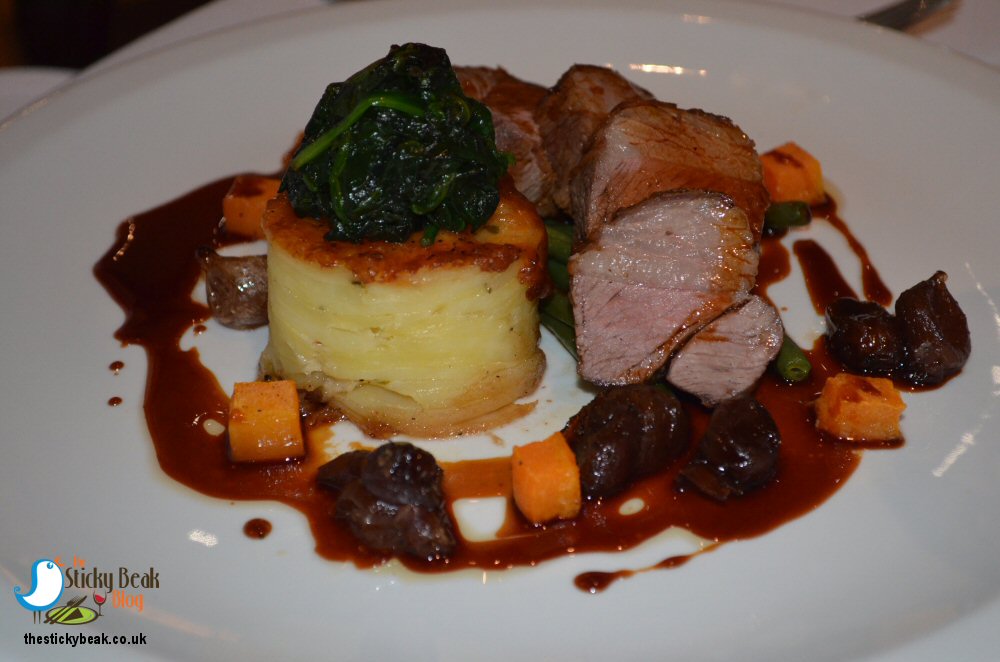 All that remained was the choice of pudding; not an easy decision to make with all the fantastic sounding dishes. Eventually though, I fixed on the Orange Marmalade and Nutmeg Brioche Butter Pudding with Crème Anglaise and Vanilla Bean Ice Cream. The Boy Wonder chose the Glazed Lemon Tart with Italian Meringue, fresh Raspberries, and Lime and Clove Curd.




What can I say about my Brioche pudding except it was a soul-soothingly soft, comforting dessert; total heaven to me. Plenty of plump raisins lay inside the folds of Marmalade and Nutmeg infused bread, bursting with their carefree sweetness. The combination of Orange and Nutmeg is a classic and was done very skilfully at Oxo's on The Mount; personally I would've stood more of this warming spice on my palate, but that's just me! Crème Anglaise (custard to you and me) was a wondrously creamy accompaniment to the Brioche pudding, added to by the warm rounded taste of Vanilla Bean Ice Cream. I really enjoyed the contrasting temperatures within this pudding, very clever.




His Nibs' Lemon Tart had a sublimely delicate Citrus note to it, typical of natural flavours rather than artificially boosted ones. The fruit danced gracefully with the gossamer light, soft, piped Meringue swirls that balanced on top of it; the buttery short pastry case provided the perfect confines for this temptation. Pastry, when done well, has that capability to melt on the tongue instantly and the version at Oxo's on The Mount did exactly that. The warming Clove spiciness tempered the tart note of the Lime, whilst Raspberries freshened things up on the palate nicely; The Man was extremely happy with his dessert choice.




All that remained was to pause and reflect on our lovely evening over a couple of rich after dinner coffees, poured for us from the Cafetiere by the lovely young lady we'd met earlier in our meal. The marvellously sumptuous bed was calling to me, so we made our way back to room 20 chatting happily about our experience.

Contact OXO's On The Mount On
Telephone: 01904 619444
Web Site: www.oxosrestaurantyork.com

Read All About Our Visit To York

Read About Our Stay At The Mount Royale Hotel
Some form of incentive was provided to visit this venue
read more