Afternoon Tea At Santo's Higham Farm Hotel & Restaurant
---
Published On Sunday 10 Jul 2022 by Sticky Beak
See Recent Dining Out Reviews | See All Recent Reviews


Aaaaaarggggh, don't you love your children??!! A while back, His Nibs had spotted a great deal on Groupon (you know what a bargain hound he is!) and thought it would be a lovely treat for the Flock: Afternoon Tea with Buck's Fizz for the four of us. We all (Mummy, us and Fledge) co-ordinated diaries to find a suitable date that we could all make and then The Man duly made the reservation; all was hunky dory until literally the week before when Fledge pipes up "me and BB are going to a car-fest next weekend".

I fixed her with my best parental 'are you kidding me?' stare and said "but that's when we're booked in for Afternoon Tea". To cut a long story short, she'd written the wrong date in her diary and hadn't realised the clash until her friend – who was also going to the car event – mentioned how excited she was. As they say, someone's loss is another's gain, and so our lovely neighbour stepped into the breach and had Fledge's seat at the table.
Santo's Higham Farm Hotel was, as the name suggests, originally a working farm set in the heart of a charming village that stands above the Amber Valley. In fact, Santo had a viewing terrace built at the rear of the venue and the view is absolutely stunning – you can see for miles over the valley to the other side, on a clear day.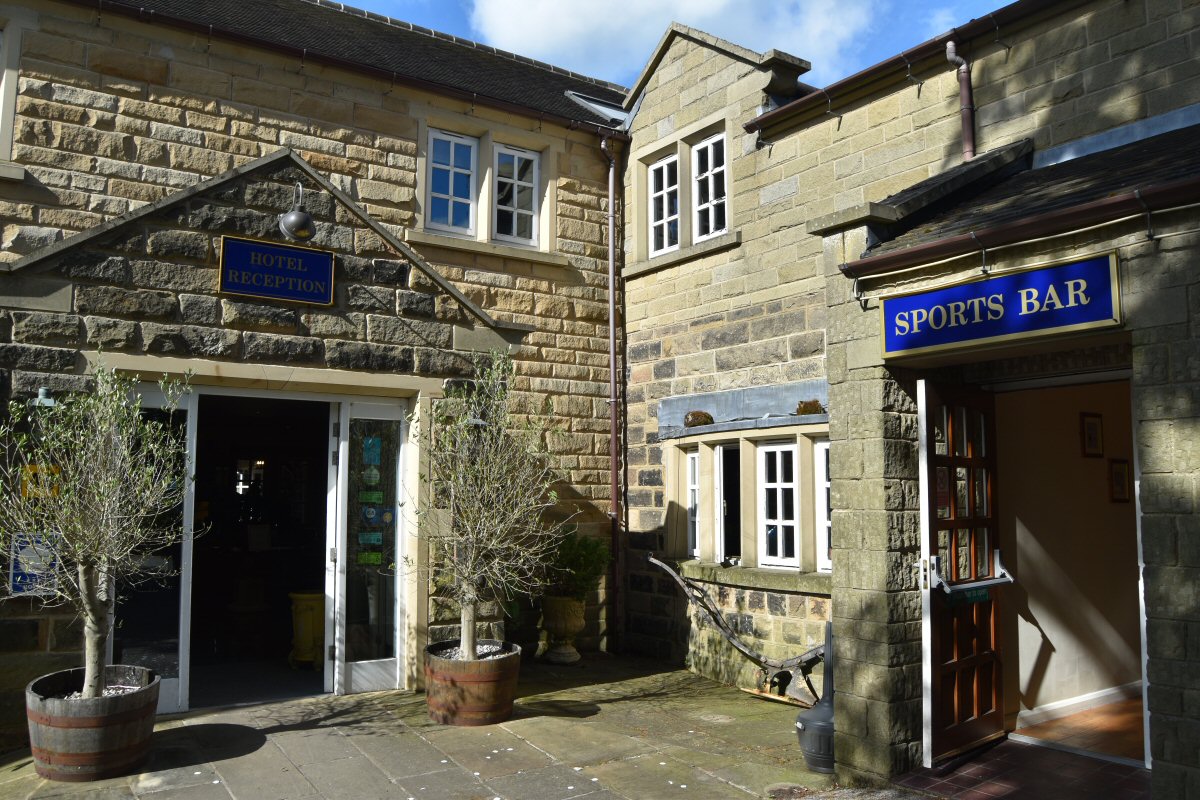 Anyway, we rocked up to reception and the lovely lady took our voucher from us and explained where we needed to be, and as we turned the corner another member of the team showed us to our table and went off to fetch our glasses of Buck's Fizz. When he returned, we ordered the hot drinks to go with our stands of cakes and sandwiches and then clinked glasses, toasting each others' good health.




The pair of triple tiered stands were stuffed to the gunnels with an assortment of scrummy treats, with the triangle sandwiches being on the biggest, bottom tiers. There was a selection of brown and white bread piled with four choices of filling: Coronation Chicken (very apt in this, Queen Elizabeth II's Platinum Jubilee Year), Ham and Whole Grain Mustard, Egg and Cress, and Cream Cheese and Cucumber. We all remarked on how soft and springy the bread was, there's nothing worse than sandwiches that are going a bit stale if they've been made in the morning, but these ones were delicious! I do like a good, tangy Coronation Chicken and this one had a real curry kick to it with plenty of sweet, plump sultanas in.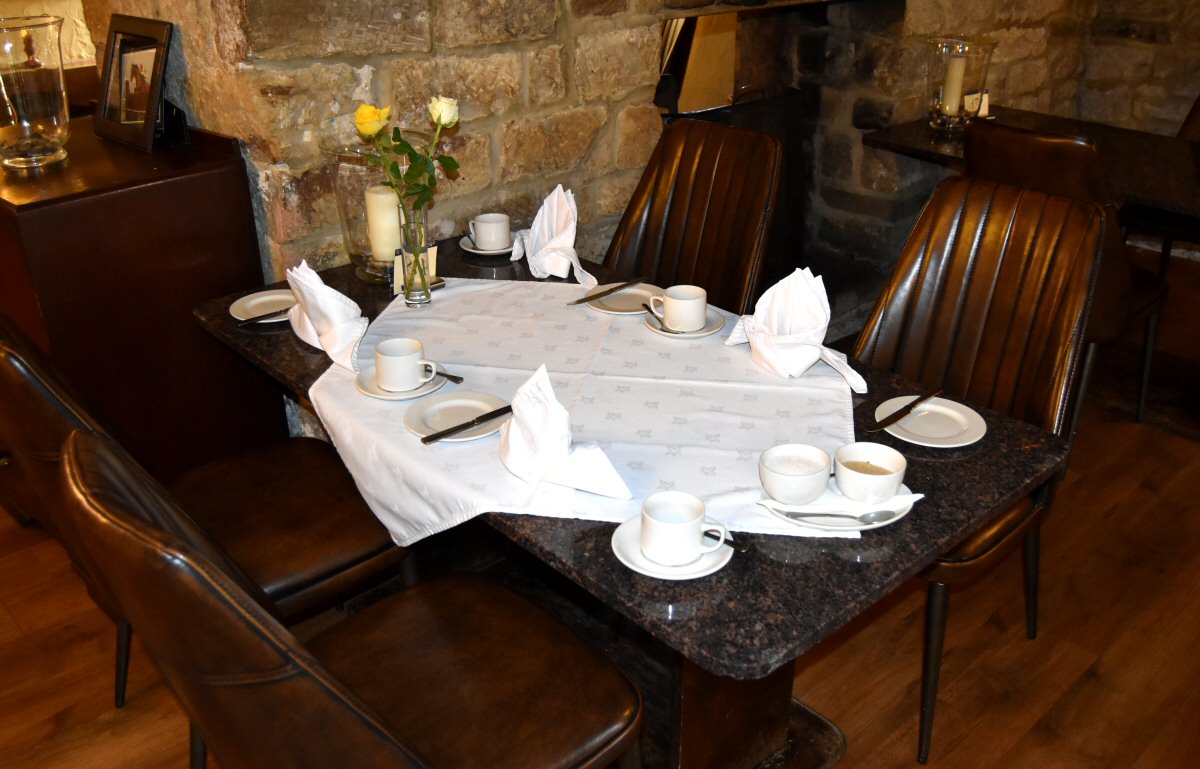 Our friend (who we shall refer to as the EastEnder for the blog) likes Cream Cheese and Cucumber, so I played nicely and let her have both of them whilst I snagged the Ham and Whole Grain Mustard minxes for myself. Mummy Bird was chowing down happily on the gorgeously soft Egg and Cress, enjoying the salad herb's peppery note in her mouth. To be fair, all the sandwiches were very tasty, and there was a wider selection than some places you get, and no ingredients were doubled up.

Due to the angle of the stand from where I was sat, I didn't spot the Pork Sausage Roll, but you might be blooming sure that The Man Bird had! So had the EastEnder, and for a moment I wondered if we were going to have a cross-table showdown! Luckily for the pair of them, Mummy and I aren't overly fussed about sausage rolls, so they both got double helpings and we had extra sandwiches.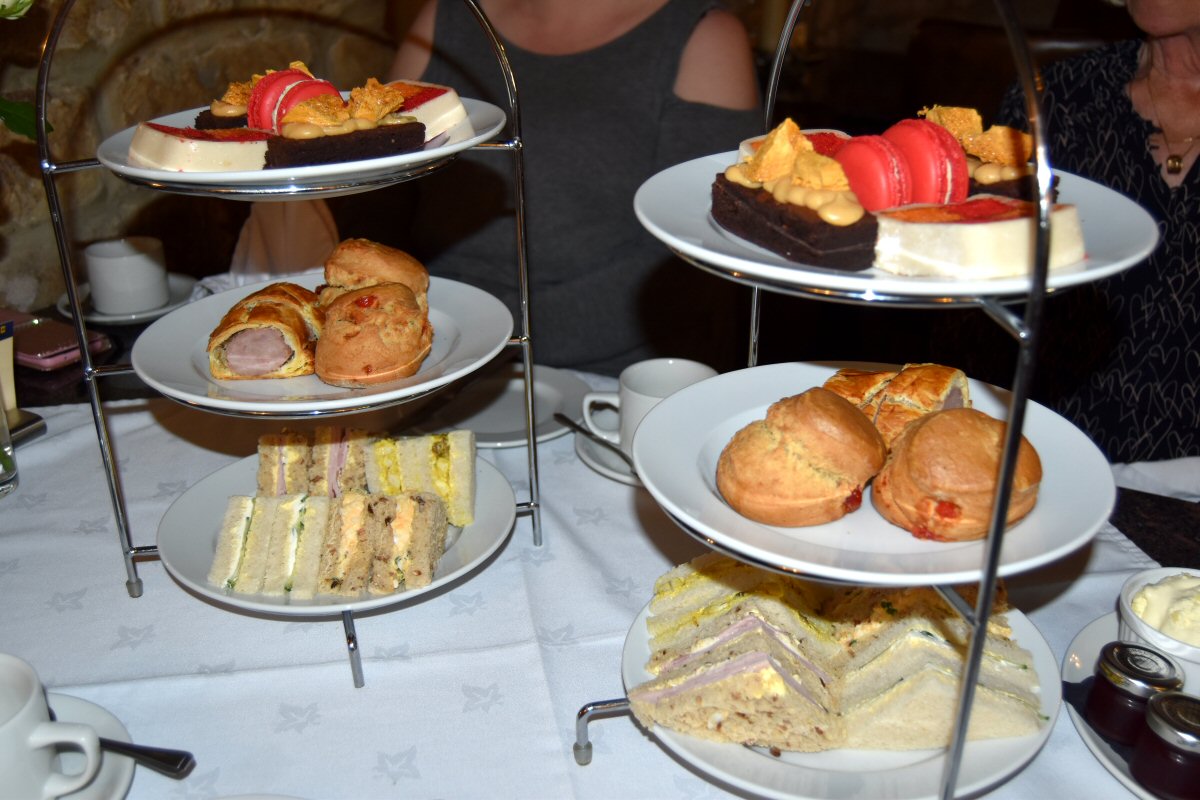 Santo's Higham Farm Hotel is lucky to have a skilled Chef and kitchen team that make all their own sweet treats as well as savoury dishes, so the Battenberg cake, Chocolate Brownie with Fudge Top and Honeycomb, and the Raspberry Macarons did their bit for the planet by having zero air/land miles on their conscience!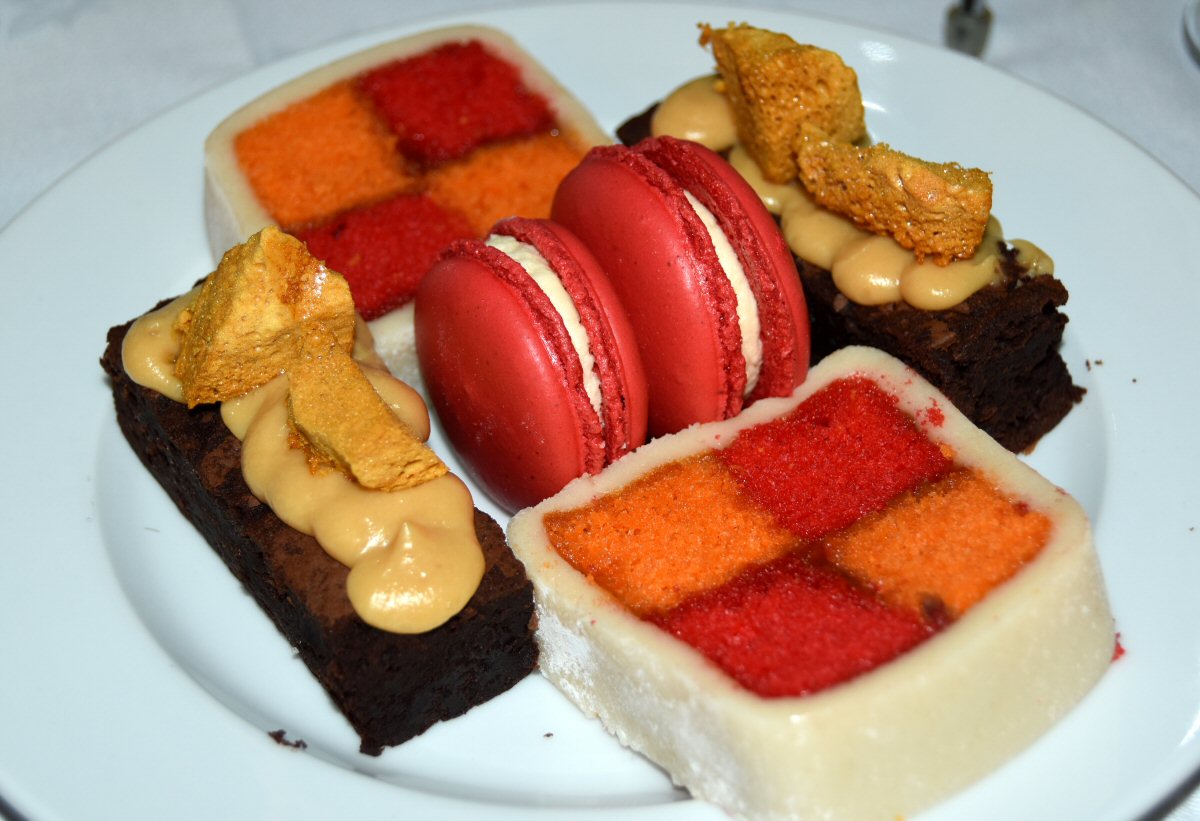 The Battenberg cake was brilliantly colourful and comfortingly moist; the best bit for me though was the thick outer layer of Marzipan that framed the squares of sponge! I love Marzipan, and when Mummy Bird used to make our Christmas Cakes she used to have to roll out double the amount in the knowledge that I would purloin loads of it . EastEnder doesn't really do 'sweets', being a dedicated cheese fiend, but her hubby is like The Man Bird and has a really sweet tooth so she asked that they be packed up in a doggy bag and took them back for him. #IfCarlsbergDidWives. It will come as no surprise when I tell you that His Nibs was absolutely smashing through the Chocolate Brownie, so much so that he ended up with a very attractive (!) ring of choccie all round his chops. Good job I love the bones of him!!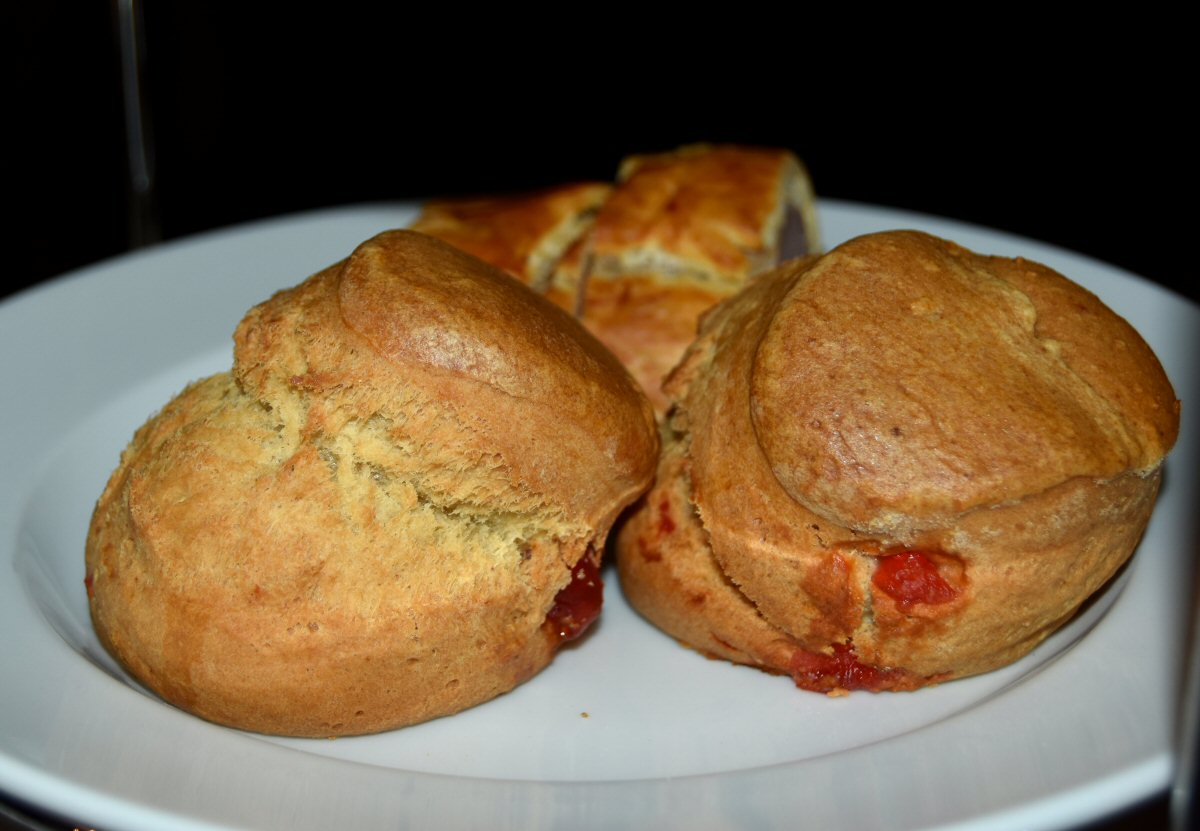 Every self-respecting Afternoon Tea has a scone on offer; I mean, is it even a proper Afternoon Tea if this classic isn't standing proudly on the stand?! Santo's goes one better and serves a Cherry version, complete with individual pots of Strawberry jam and a huge bowl of whipped cream to dig into, and dig into it we certainly did: Appetite 1 – Dignity 0. If I had one criticism, which I don't really (I'm just nit-picking!), I would've liked the teapot to be bigger; I just fancied that extra cup, but not another pot, if you know what I mean?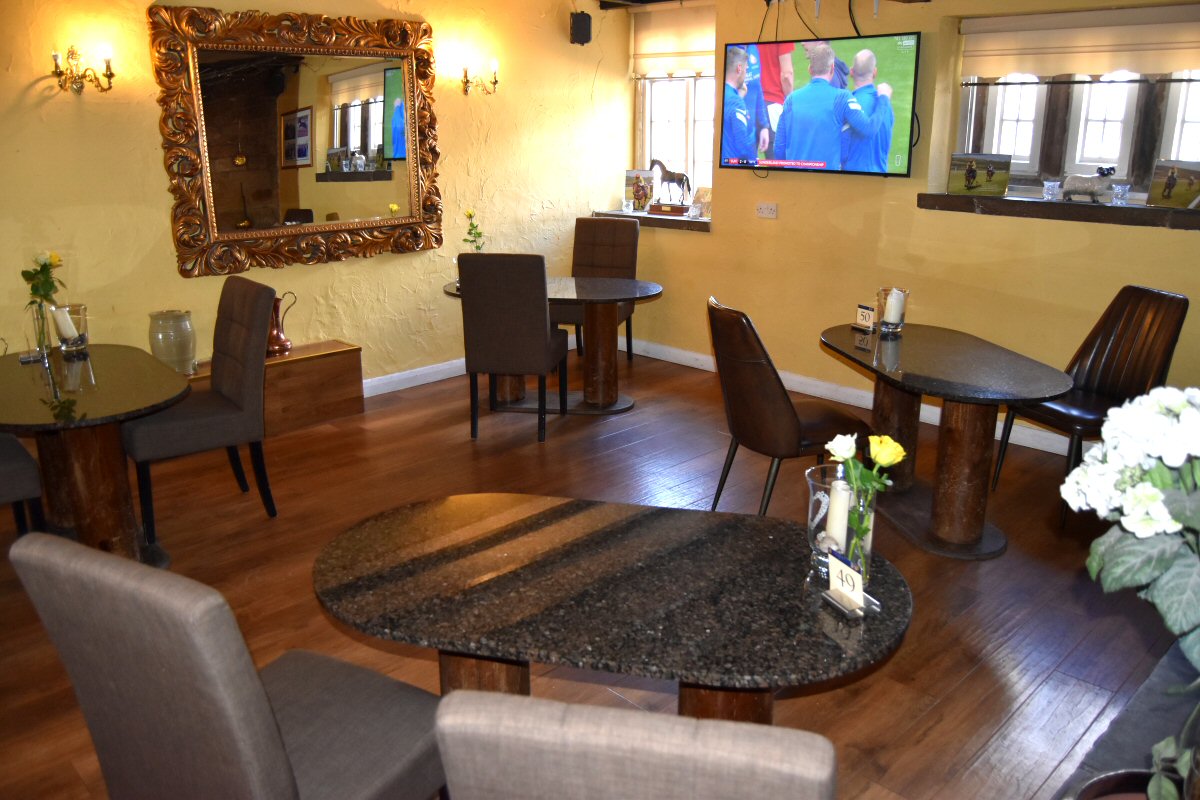 We'd had a cracking couple of hours chatting and munching and the spot where we were sat was tucked slightly out of the way so the atmosphere was wonderfully relaxed, despite a wedding being in full swing. This is the first time I've had Afternoon Tea at Santo's Higham Farm Hotel and I'd definitely come again, so Hot Wings happily awarded to this village team.

To book your Afternoon Tea slot call the Santo's team on 01773 833812 or email reception@santoshighamfarm.co.uk
No incentive was provided to visit this venue
read more
Read Some Of Our Recent Reviews
---

Out For Dinner At The Bear Inn, Alderwasley If it's the full on, single track road, rural Derbyshire experience that gets your motor running, then the journey to The Bear Inn at Alderwasley will have you in joyous raptures. For those of you who are Read The Article

---

Lunch At The Recently Opened Chatsworth Kitchen At Peak Village, Rowsley Everyone who knows me, knows I love Chatsworth (always have, always will) so when the invitation to sample lunch at the newly opened Chatsworth Kitchen Read The Article

---

A Visit To Vietnamese Street Kitchen, Resorts World, Birmingham Way back in the day (pre-covid) Fledge had bought me and The Man Bird tickets to see Mrs Browns Boys live and finally, after a couple of false start reschedules, the day of Read The Article

---

Sunday Lunch, A Museum Tour & Painting A Piece Of Denby At Denby Pottery Village It wasn't long ago that His Nibs and I visited the Denby Pottery Village to sample the Afternoon Tea at Bourne's Coffee Shop and Bistro (it was superb Read The Article

---

Bottomless Brunch At Turtle Bay In Derby The timing of the invitation from the Turtle Bay team in Derby to go and sample their Bottomless Brunch couldn't have been better; not only was it going to be The Man Birds' birthday a couple of days later Read The Article

---

Sunday Lunch At The Countryman Pub & Dining, Kirkby-in-Ashfield We finally got to visit a venue thats been on our radar for quite a while, The Countryman Pub and Dining in Kirkby-In-Ashfield! A few weeks ago we tried to book a table for dinner Read The Article

---

Dinner At The Divan Turkish Restaurant In Chesterfield Chesterfield was welcoming us back again for our latest review visit; this time to the newly opened Turkish restaurant, The Divan, on Lordsmill Street. Owner Tuncay (along with Read The Article

---

Breakfast At Marsh Green Farm Shop & Cafe, Kelstedge Ah, you've gotta love a Bank Holiday curve-ball, haven't you? His Nibs and I headed over to Mummy Birds' gaff with the intention of having a leisurely couple of hours at the Sunday Read The Article

---

Afternoon Tea at Bourne's Coffee Shop and Bistro, Denby Pottery Village You all know that The Man Bird and I do like an Afternoon Tea; I mean, who doesn't?! Just a few miles down the road from the nest is Denby, home to the world-renowned Read The Article

---