All You Can Eat At The River Garden Cantonese Restaurant In Belper
---
Published On Thursday 16 Jun 2022 by Sticky Beak
See Recent Dining Out Reviews | See All Recent Reviews


As is the seemingly never-ending pattern of our weekends at the moment, The Man Bird and I had been busy gardening/re-seeding/pruning/digging, so when it came to sorting out Sunday lunch we (frankly) couldn't be arsed, to put it bluntly! Thankfully, Mummy Bird took pity on us – plus the fact that Fledge was going to be around! – and booked a table at the River Garden Cantonese Restaurant in Belper for their all-you-can-eat menu. We went for the evening sitting, 3.30pm-10pm, that costs £19.99 per person (as it does Tues-Thurs between 5pm-10.30pm), as opposed to the strictly lunchtime sitting (12.30pm-3.30pm) which is slightly cheaper at £17.99 per person. Other costs for the menu are £20.99 pp on Bank Holidays 5pm-10pm and Friday and Saturday 5pm-11pm.
We parked at a nearby car park and walked over to the restaurant, although I believe there are a couple of parking spaces at the side of the premises. Inside, the River Garden has a very traditional decor style to it and by that I mean that there is lots of red on the colour palate and hanging lanterns scattered around. One of the friendly team showed us to our booth table and once the drinks were sorted we all began to study the menu to see what we fancied for starters.




Generally speaking, we play nicely as a family and share dishes so we just ordered a selection of dishes to pick at randomly: Sesame Seed Prawn and Chicken Toasts, Spare Ribs in Peking Sauce, Vegetable Spring Rolls, Skewered Chicken In Satay Sauce, Deep Fried Seaweed, and Grilled Dumplings. The Seaweed came in a separate bowl, but the other items were all presented together on a large platter that had been garnished with a beautiful rice paper flower to add to its visual appeal.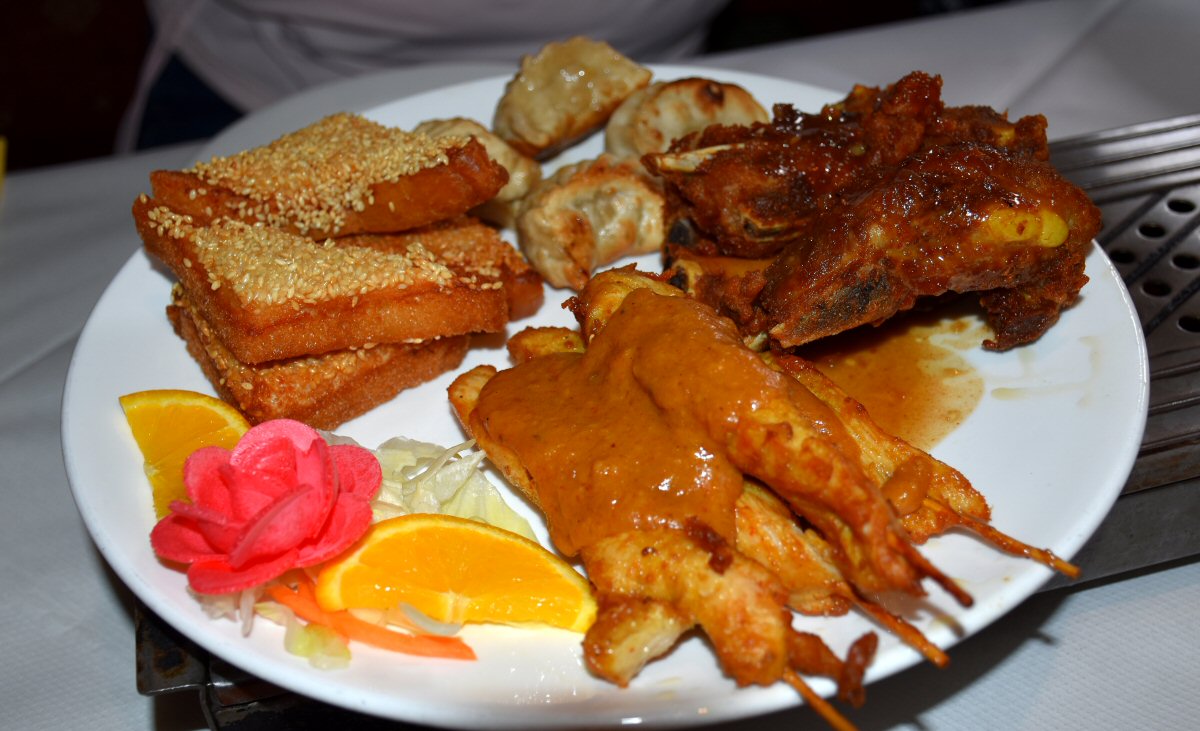 I dished out the Seaweed for everyone and then placed the empty bowl at the edge of our table, figuring it would be easier this way. We all commented on how generous the portion was and the fact that the Seaweed (Cabbage) wasn't at all greasy. The toasts were lovely and deep, fried to a very appealing shade of pale gold and with lots of nutty tasting, crunchy Sesame seeds on their outsides. Sometimes venues can be a bit stingy with the filling in toasts, but Chef at the River Garden certainly doesn't skimp on his morsels and we chomped happily on plenty of the minced Chicken and Prawn mixture.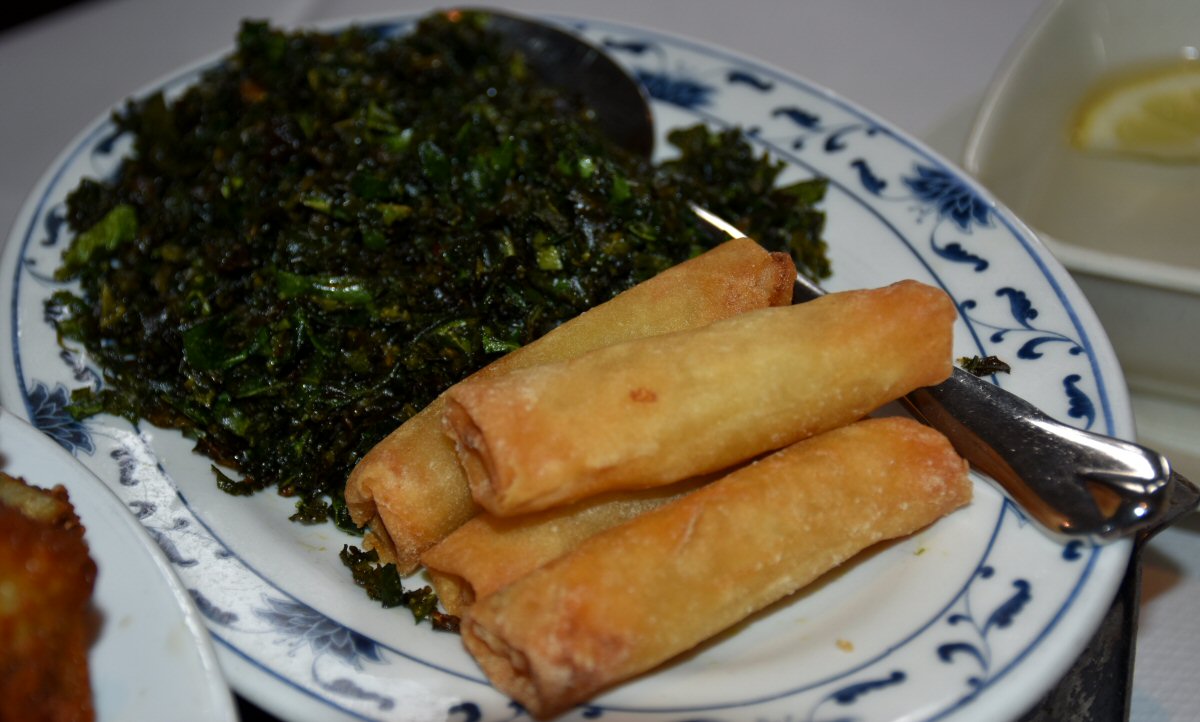 The Satay skewers were superb, with a nicely spiced, flavoursome sauce that just flirted with being on the 'tingle scale' without actually inflicting any actual tingle on the lips and tongue. You know when you get a chicken breast and there's the smaller 'flap' to it (I think that's what they call a 'tender'?), well that's the bit of Chicken that was secured on the skewer; it was really tender and moist in the mouth. Equally tasty were the meaty Pork Ribs that had been slathered in that sticky, sweet-and-smoky sauce that gets everyone smiling, as well as smearing itself somehow around your mouth (however careful you've been!).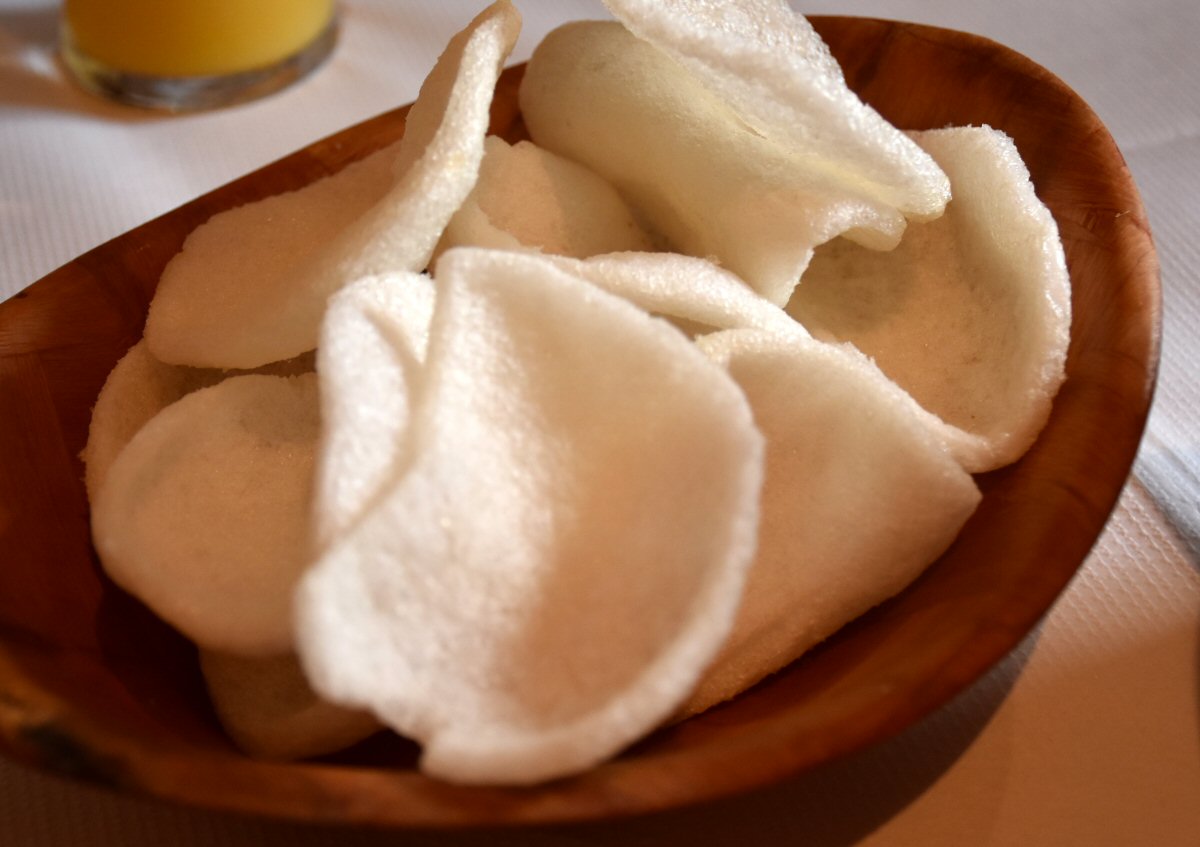 Most folks like the humble Spring Roll due to the fact that we've been brought up on them since being small; when the adults were having takeaways and we 'littlies' wanted to join in it was a pretty safe bet that Spring Rolls would be suitable. However, not all rolls are created equal; sometimes there's a lack of filling, sometimes the pastry outer is too greasy or not crisp enough. Thankfully the ones we were tucking into were both filling and grease-free. I think my personal favourite starter item was the Grilled Dumplings, comprised of minced Pork wrapped in pastry; I loved the slight resistance to my bite that the pastry gave, as well as its gentle nutty flavour. The minced Pork had been well seasoned, so the taste bounced nicely in the mouth and we all agreed that this was a great starter item. I think, as well, that we enjoyed it all the more because our usual go-to (Lotus Lounge in Alfreton) doesn't do this dish, so it was a change for us to enjoy.

We ordered a second round of starters, exactly the same as the first except for the addition of Triangle Curry Pastries to replace the Spare Ribs. Just as with the Spring Rolls, the triangles were encased with a super-crunchy, crisp fried pastry but had been partnered with a tangy curried filling rather than oriental vegetables.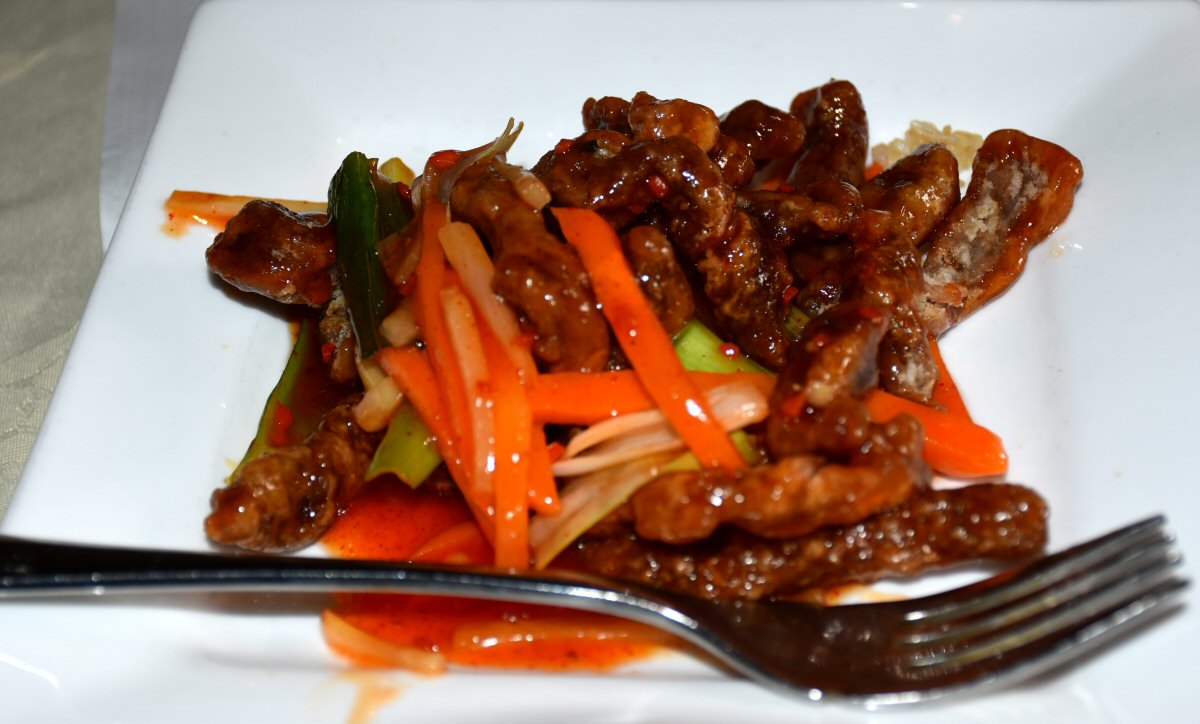 With all the starters dispatched, we turned our gaze to the main meal selection. We did have the option to have Yuk Sung (one of our favourite dishes at Lotus Lounge) but the River Garden team put an extra charge on this, and on the Crispy Duck and Pancakes (included in the evening at Lotus Lounge!) so we skipped both of those. Mummy Bird fancied Beef in Oyster sauce, Fledge had the Chicken with Ginger and Spring Onions, His Nibs (surprise, surprise!) had Crispy Shredded Chilli Beef and I went for a vegetarian option: Three Kinds of Mushroom with Cashew Nuts. If you wanted King Prawns or Duck in your dishes there was another additional charge to factor in, of £2.99. We had a mix of Egg Fried Rice, Singapore Vermicelli and Fried Soft Noodles with Beansprouts to share among ourselves to go with the dishes as well.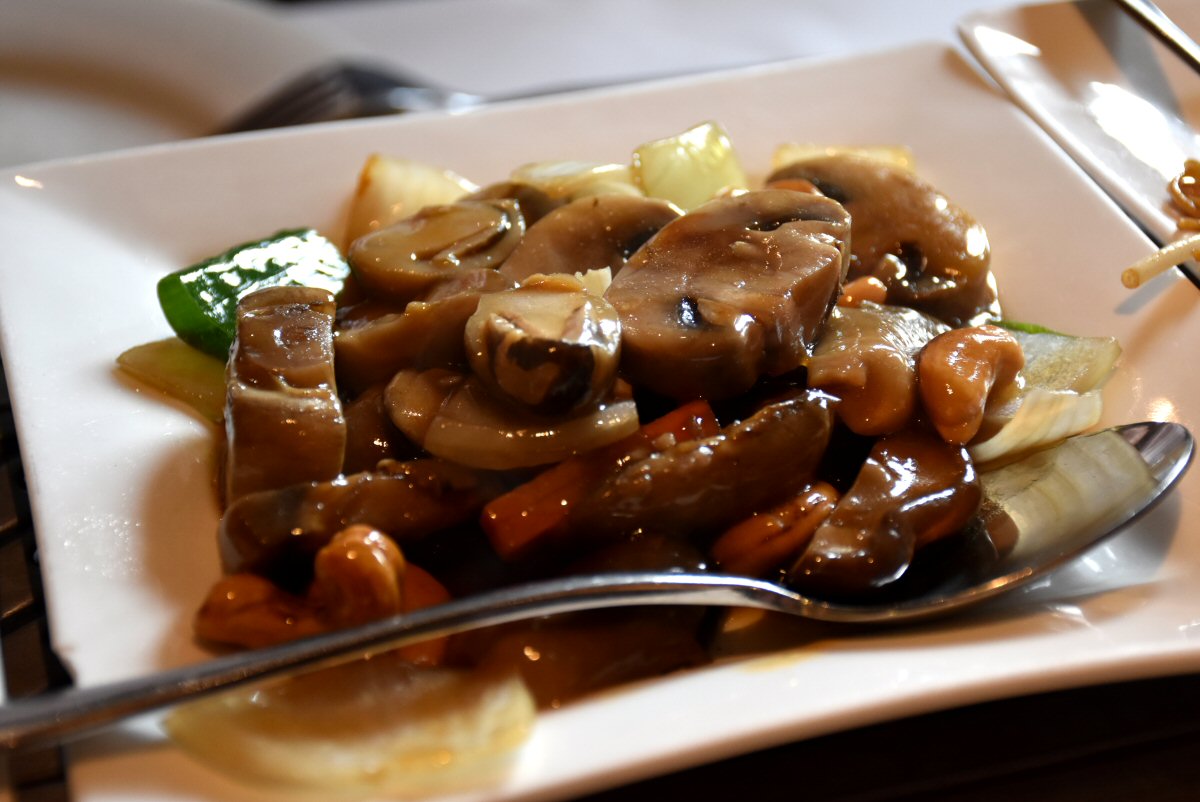 The rice was lovely and fluffy and His Nibs was impressed by the spiciness of the Vermicelli (as well as the abundance of fried Onion within it, too). Mummy and I dug into the Chow Mein; the combination of crunchy Beansprouts and soft, comforting noodles is one of our favourite bits of a Chinese meal. People often overlook the 'sundries' and the role they play in a meals' enjoyment, but how many times have we not enjoyed a meal as much as we could've because of cold rice or soggy chips with a burger, say? The River Garden team did a fab job with their rice and noodles.




All the main courses were generous, something that is sometimes lacking at Lotus Lounge (although you can request more, as many times as you can eat it!) and everything was piping hot. All the meats and poultry were tender and moist and there was plenty of variety in the vegetables that came with them. My own choice, the Mushroom dish, was absolutely spot-on; all the mushrooms had been cooked to heat them without diminishing their flavour or firm texture and there were enough Cashews to provide a fab element of crunch without overwhelming the Fungi's gentle taste.


We didn't manage to order a second round of mains – our tummies were fit-to-burst! Not that we minded; we'd enjoyed every single scrap of food that had passed our lips. I would perhaps have liked a bit more freedom of choice without incurring any extra charges; to me, if you pay a fixed price then everything should be included (even if you have to pay a bit more initially). Suddenly thinking about extra levels of money just allows a bit of disappointment and restriction to creep in, everything that the idea of an all-you-can-eat menu is there to dispel. Just my opinion, and it didn't take away from the lovely afternoon we'd spent together as a family, so no harm done.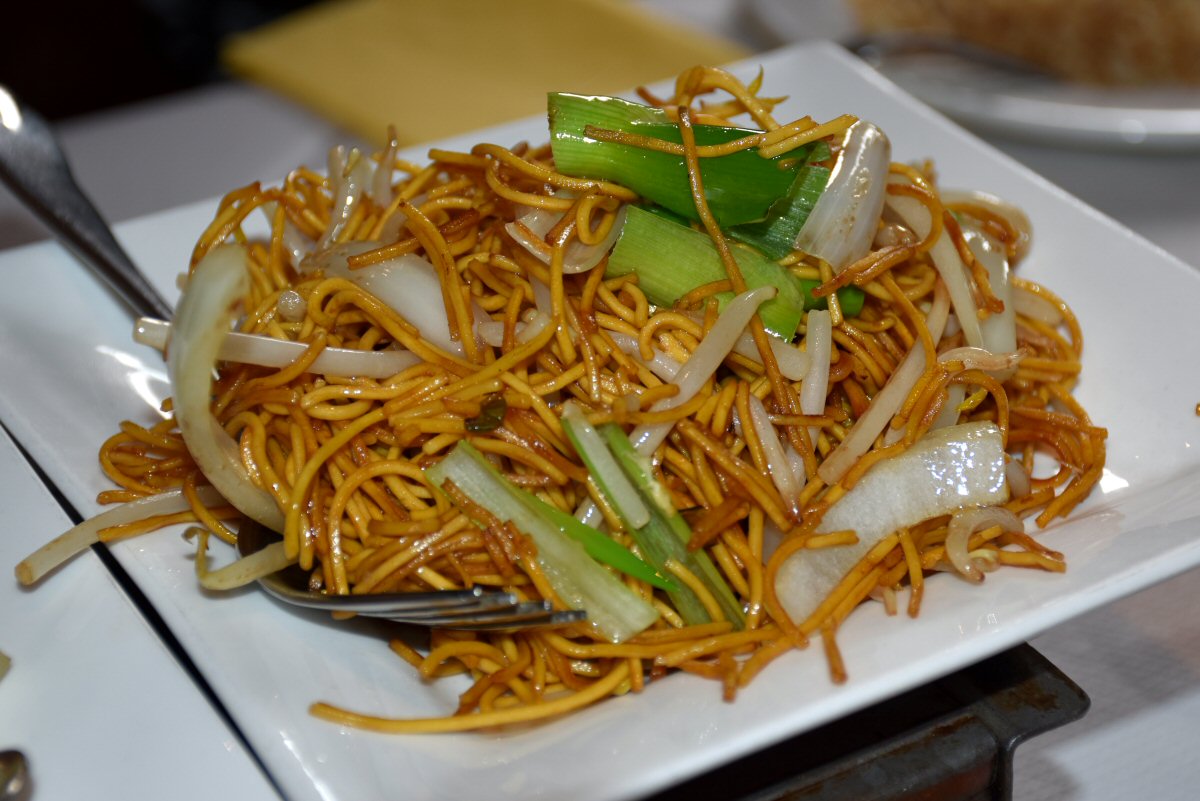 Given the quality of food and service that we'd had on this, our first visit, I would definitely go back on another occasion to try the a la carte menu. Hot Wings given to this Belper restaurant.
No incentive was provided to visit this venue
read more
Read Some Of Our Recent Reviews
---

Breakfast At Marsh Green Farm Shop & Cafe, Kelstedge Ah, you've gotta love a Bank Holiday curve-ball, haven't you? His Nibs and I headed over to Mummy Birds' gaff with the intention of having a leisurely couple of hours at the Sunday Read The Article

---

Afternoon Tea at Bourne's Coffee Shop and Bistro, Denby Pottery Village You all know that The Man Bird and I do like an Afternoon Tea; I mean, who doesn't?! Just a few miles down the road from the nest is Denby, home to the world-renowned Read The Article

---

Back For Dinner At The Bulls Head In Repton As far as greetings go, perhaps the best one we've received came on our visit to The Bulls Head at Repton. As I stepped out of the jalopy I heard a familiar sound; a Robin chirruping away merrily Read The Article

---

A Visit To The Recently Opened Ranch Gourmet Burgers In Ripley The Man Bird and I do like a good burger, so we were gutted to hear that one of our fave hangouts in Derby was closing its doors and (in true glutton fashion) decided to Read The Article

---

A Post Shopping Lunch At Qoozies, Chesterfield We were on a mission over the Bank Holiday Weekend: Operation 'Get New Curtains for Mummy Bird' was go, go, go!! It turned into Operation 'New Curtains, New Towels, and New Bedding', so Read The Article

---

Dinner At The Devonshire Arms In Beeley We seem to have visited a few other sites on the Chatsworth Estate, so it was lovely to receive an invite to dine at The Devonshire Arms at Beeley; it's been a while since we were last here. As soon as Read The Article

---

Burgers With A Side Order Of Sass At Karens Diner, Sheffield 'Freaky Friday' feeling, anyone? I felt a bit like the Fresh Prince of Bel Air, except instead of 'my life got flipped, turned upside down' it was a case of 'my dining experience got flipped Read The Article

---

Dinner At Cocina Restaurant At Casa Hotel, Chesterfield Regular readers of the blog will know that The Man and I recently visited the Peak Edge Hotel for dinner, a venue owned by Chesterfield business man Steve Perez. Our latest outing saw Read The Article

---

Sharing A 40oz Tomahawk At The Galleon Steakhouse, Chesterfield We Brits are used to Bank Holidays being a let-down usually when it comes to the weather, so when the forecast was for (mainly) fine conditions it was a case of Read The Article

---