Al Fresco Dining at Derby Market Place
---
Published On Tuesday 1 Jun 2021 by Sticky Beak
See Recent News Articles


The Man Bird and I were going 'out out' again, this time as invited guests at the Derby Market Place celebration event on Friday 21st May 2021. We parked the trusty Jalopy in the Derbion centre and walked over to the venue –well, it was actually more of a brisk trot to dodge the hammering rain. Gotta love the British weather...... not. Only here would I be wearing my thick Cashmere jumper, tweed coat and a hat in May!! C'mon weather fairies, sort it out!
Unsurprisingly the conditions did deter quite a few folks, but there were also plenty of determined diners that were eager to enjoy the hospitality and entertainment lined up for the evening. The lovely team took our names at the entrance and we were escorted to our covered Cabana - we were originally at one of the outdoor tables but thankfully got moved and were joined by a super couple, Kirsty and Adam. Adam is part of the Eagle Market's management team, so he was as buzzed as we were to see Derby springing back to life post-covid.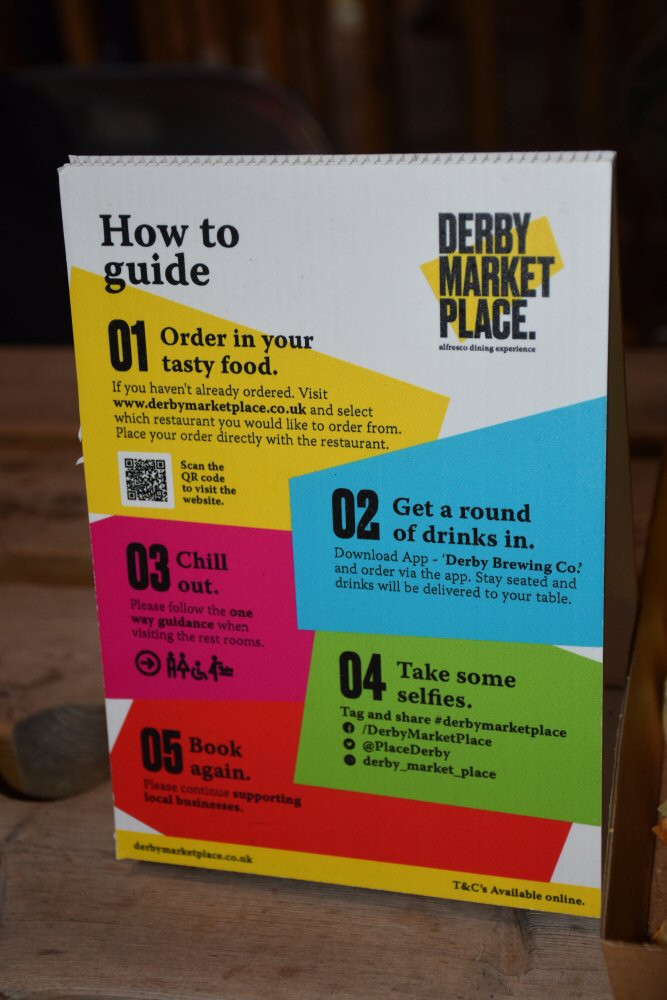 We all ordered our first (complimentary) drink from Derby Brewing Company's selection and began chatting away in between bites of the delicious canapé selection made by The Wonky Kitchen (the outside catering branch of Sadler Gate restaurant, The Wonky Table). Inside the large cardboard pizza-style box was a veritable rainbow of nibbles: Spicy Samosas topped with Mango Chutney, slabs of Pork Pie drizzled with sunny Piccalilli, Baguette slices adorned with Brie, Pear and Caramelised Onion, and Beetroot Puree, Cucumber and spiced Carrot puree blinis topped with tiny black seeds (poppy or onion, not sure which as it didn't really impact the taste in my mouth).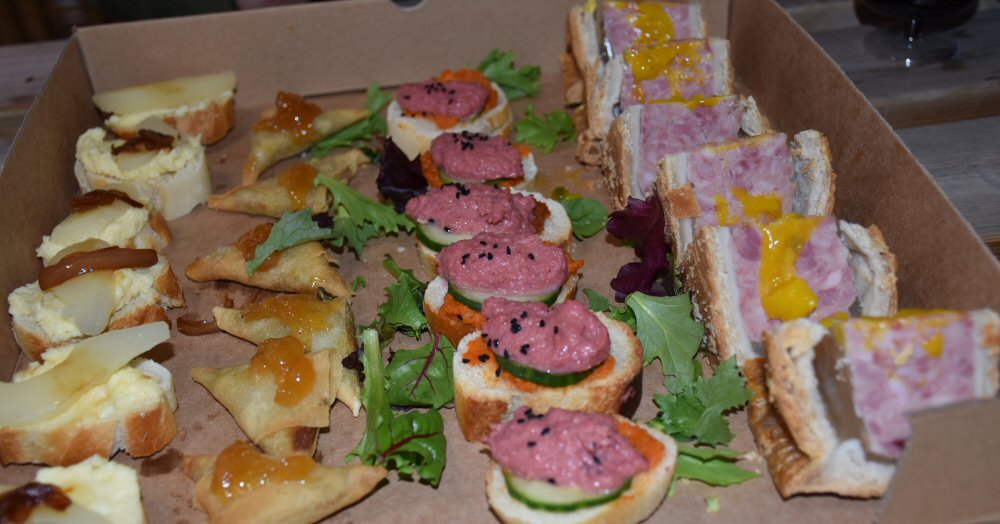 I have to say that the cheeky red I was supping was hitting the spot beautifully, as were the myriad of flavours from the canapé assortment. When I was ready for another drink (well it was the weekend!) I simply tapped on the Derby Brewing Company app I'd downloaded on my phone and *poof!* a drink magically appeared at the table.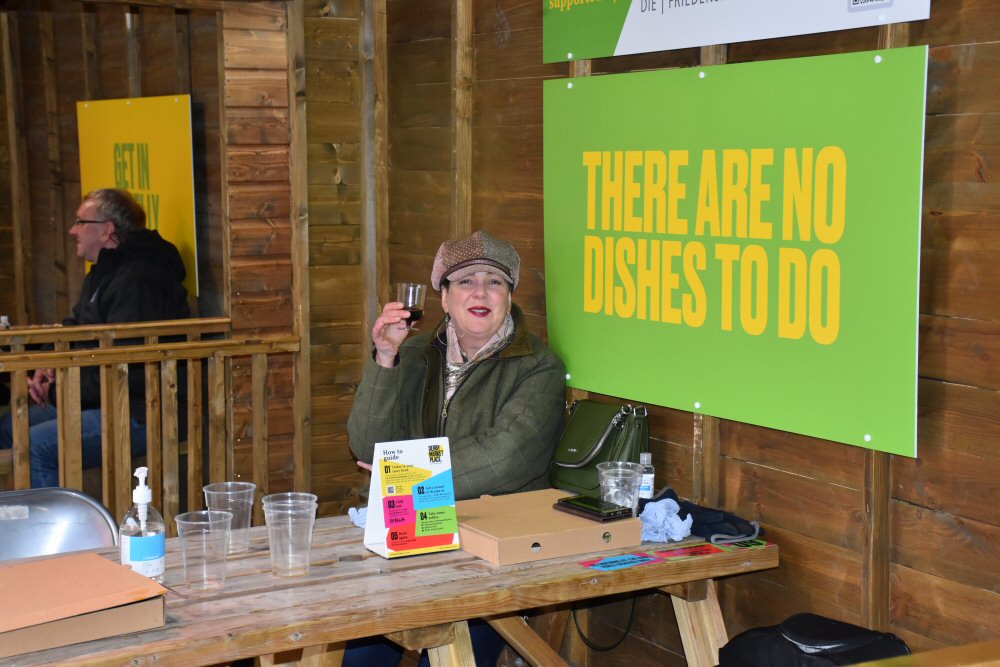 As well as The Wonky Kitchen, other local venues Lorentes, Nando's, BEAR, The Palfrey and Portobello are working in conjunction with Derby Market Place to provide a pre-order delivery or collection food service for patrons so that you can have food brought directly to your table if you so wish. The Market Place is covid safe, with a host of safety measures in place including wearing masks when moving around, track & trace (via NHS app or a paper form filled out at the venue), a clearly marked one-way system and hand sanitiser on every table.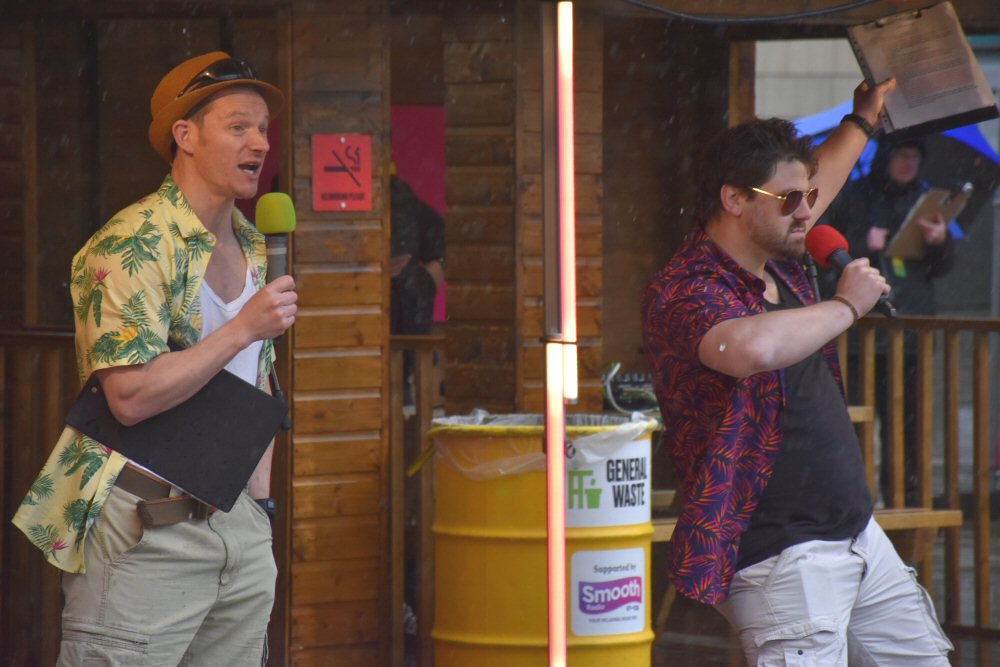 Two short-and-Hawaiian-shirt-clad (???!!!!) chaps aka Paul and Ben/ The Lost Boys were comperes, providing a constant stream of chat as well as introducing the officials making speeches, the Darley Dance troupe and Pure Steel's Caribbean-vibe steel drums. Perhaps the best/wackiest entertainment, though, came from the pair of walkabout entertainers dressed as French Chefs; their witty repartee and interaction with both themselves and us, the audience, was brilliant. Bonkers, but brilliant!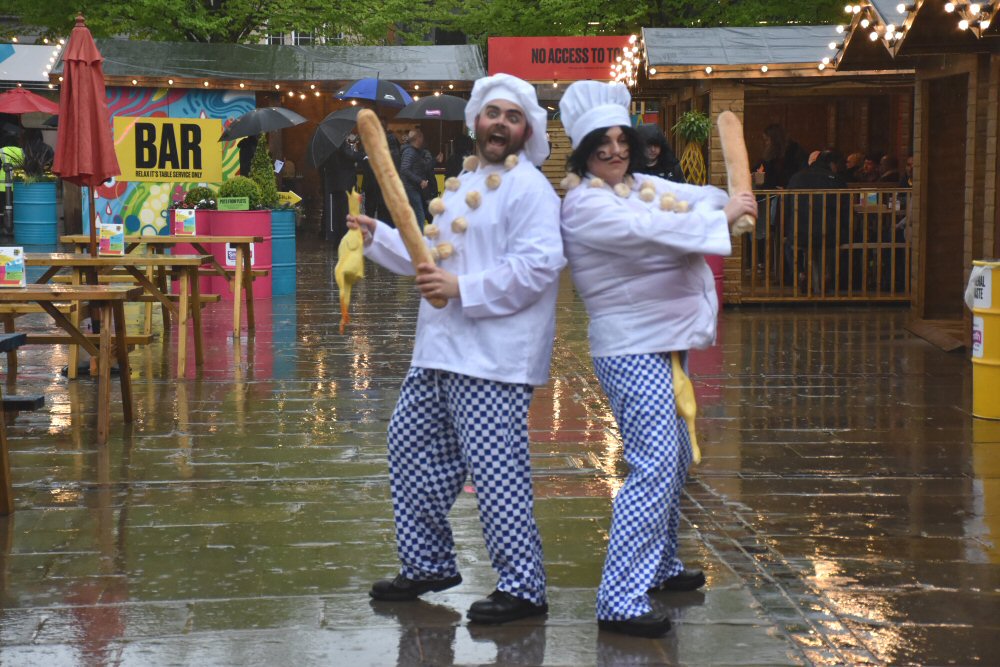 This was the first 'Live Session' at Derby Market Place, and if the weather had been on-side there would've been folks having a bop at their tables when the DJ did his set. Fingers crossed that the temperature heats up and the rain does one over the next few months. During the day there is the opportunity for al fresco dining Monday-Sunday Noon-3pm and 6-9pm on Friday and Saturday.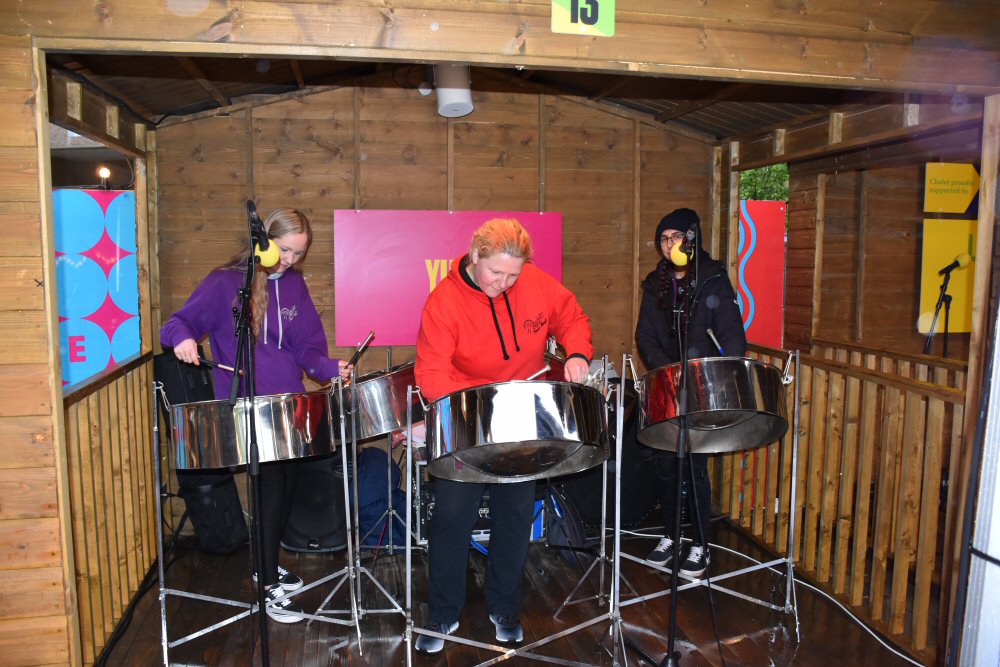 Subject to BoJo's plan going, well, to plan, from 21st June there will be a marquee in the market place hosting a variety of programmed events. Free events that are scheduled are 'Rockin' Robins Live Acoustic sessions' on 12th June, and 'Pure Steel' steel drums on 29th May and 5th June. For £8 per ticket there is a stage adaptation by Toby Hulse of the classic tale "The Wind in The Willows" from 27th June-11th July.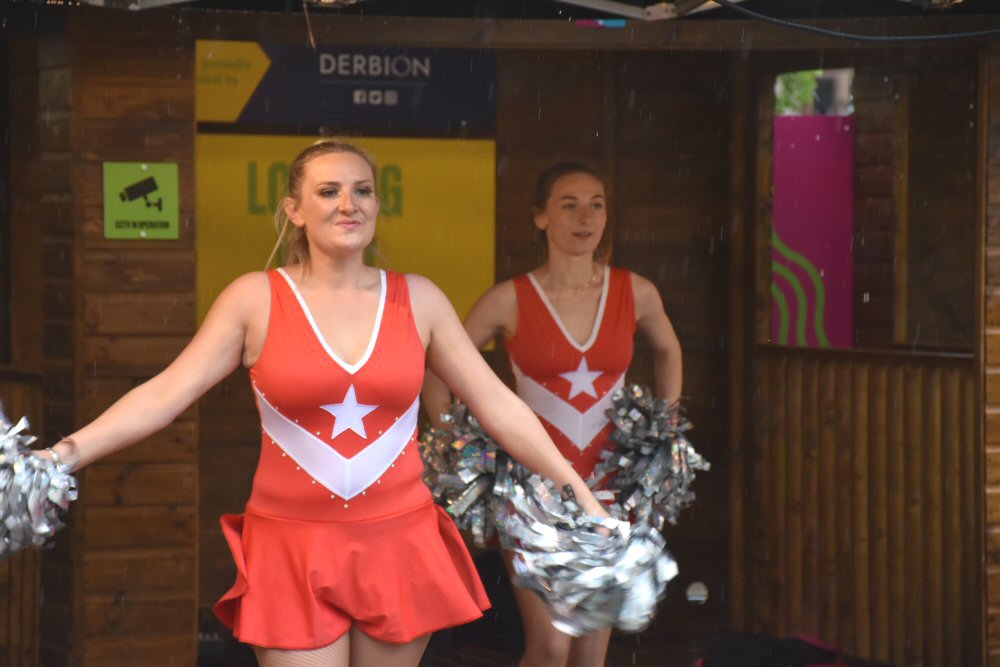 One thing's for sure: Derby City Council, Smooth Radio, Derby Brewing Company and the other partners supporting Derby Market Place are doing their utmost to ensure that the local businesses get the long-awaited and much needed economic boost they need. So come on folks, get behind your local venues; if you don't they might not be able to continue trading and Derby will lose that vibrancy, diversity and magic that we all love it for!! Head to www.derbymarketplace.co.uk to book tickets, tables and cabanas.




Huge hanks to Stella and the whole team for inviting us along; despite the weather, we had a fab time.
Read Some Of Our Recent News Articles
---

Cibo Bistro Kitchen Opens In Chesterfield Soon Cibo Bistro Kitchen on Low Pavement in Chesterfield is hoping to open their doors to the public before the end of May. Read The Article

---

Sheffield Food Festival is back - bigger, better and on the Queen's Platinum Jubilee weekend. They say good things come to those who wait. It's been a long wait for food lovers, but Sheffield city centre's biggest free to attend event is finally back. Read The Article

---

Live At Melbourne Hall - Summer BBQ Series With Gennaro Contaldo & Matt Pritchard Alongside the great comedy, music and primetime Saturday night TV stars being lined up for the summer; Live At Melbourne Hall are pleased to announce Read The Article

---

Ostello Lounge Opens In Matlock Loungers plc, the West Country based restaurant/cafe/bar group has launched a brand-new site in Matlock this March. Loungers has transformed the site into a family-friendly retro-inspired cosy retreat Read The Article

---

Grab A 'Late Night Bite' At Turtle Bay With New Small Plates Offering Caribbean restaurant and bar Turtle Bay have announced the arrival of their 'Late Night Eats' deal, available as part of their late Happy Hour, which runs throughout the week. Read The Article

---

All Hail The Queen Of Mums At Bar + Block Nottingham Treat mum this Mother's Day weekend (Saturday 26th and Sunday 27th March) with a special three-course meal or superlative Sunday roast with all the trimmings at contemporary Read The Article

---

The Farmhouse At Mackworth Unveils New Menu Of Seasonal Plates It all starts in the kitchen as The Farmhouse at Mackworth unveils its new spring menu, launching on 30th March, featuring elevated, seasonal plates, alongside the pubs Read The Article

---

Prepare And Beware - Karen's Diner Is Coming To Sheffield! Expect excellent food, and terrible service, but don't dare ask for the manager! Prepare yourself for the best and worst dining experience of your life! At Karen's Diner the food Read The Article

---

Brocco On The Park Celebrates Its Empowering Female Management Team This International Women's Day Hidden away on the edge of Endcliffe Park, Sheffield, surrounded by nature, is the beautiful, independent boutique hotel Read The Article

---

Celebrating a quarter of a century of Italian success for a Sheffield institution Ecclesall Road has seen a lot of changes over the past 25 years but one thing has definitely remained true - the passion of owner Maurizio Mori. Read The Article

---