Sticky Beak Braves The York Dungeon
---
Published On Tuesday 20 Nov 2018 by Sticky Beak
See Recent Experience Reviews | See All Recent Reviews


Maybe it was excitement at being in one of England's most historic cities, or maybe it was being re-fuelled at The Ivy restaurant that made us decide to brave the York Dungeons. Whatever the reason, that's where His Nibs and I ended up; we collected our ticket at the front desk and took a seat to wait for the next tour to begin.
Prior to our visit we'd done a little bit of research, so roughly knew what to expect – a 75 minute experience, depicting some of York's grizzly history, with stories told by actors. We didn't expect to be the stars of the show at times though, but what a hoot it was; more of that later though.

Although nothing in the interactive journey is real (all the instruments of torture and the body parts in the post-mortem are fake), there are elements that very young children might find a bit scary. For this reason, the York Dungeon recommends the experience for those aged 8 and over. Younger children can go in, but it is entirely at the discretion of their parents – personally I feel that littlies have a short attention span and may struggle with the 1hour 15 minute time of the tour, never mind anything else!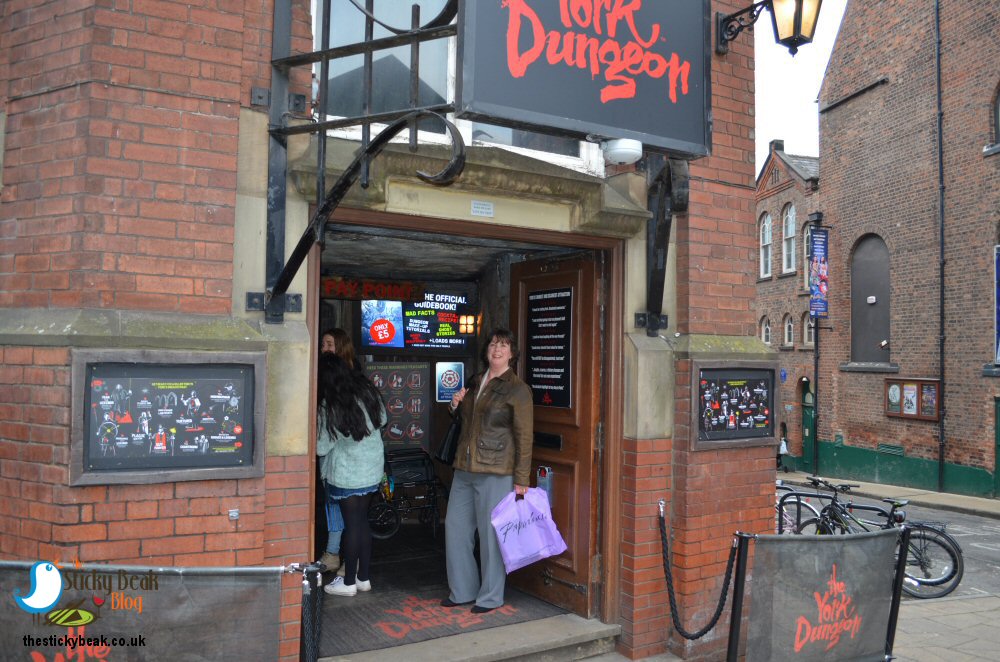 Our group was composed of about a dozen unsuspecting souls like ourselves and soon we were ushered in to meet our first character, a formidable female Viking warrior who isn't overly enamoured with us Saxons.

It was blood and gore galore and it didn't get better for us all as we were introduced to the infamous Viking warrior, Snore Short Sword! The ground below us changed to reveal we'd been standing above a pit of venomous Vipers. Uh-oh.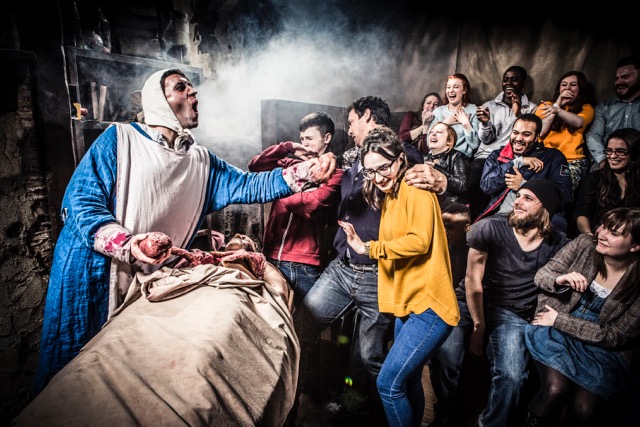 You would think third time lucky wouldn't you? But no, up next on our tour through the dungeon was The Plague Doctor. The year was 1551, not a great year for York residents given the state of the poor person lying on his examination table! A treat for us was included too, but my lips are sealed.

Moving swiftly on, we went on to The Golden Fleece where William Brown's daughter took up his tale. This section had a couple of tricks up its sleeve, which I'm not going to spill the beans about – it'll spoil the fun for when you visit.

York wasn't always the safest place to be if you were a follower of the Catholic faith; luckily a butcher in the Shambles, John Clitherow, and his wife Margaret took pity on us and hid us in their secret chamber – bit small and cramped it was, but we all fitted in!

Someone else who wasn't very lucky was a certain Mr Guy Fawkes; his plot to blow up the Houses of Parliament with the Protestant King inside failed. Although the Gunpowder Plot was to be carried out in London, much of its planning and participants were from York.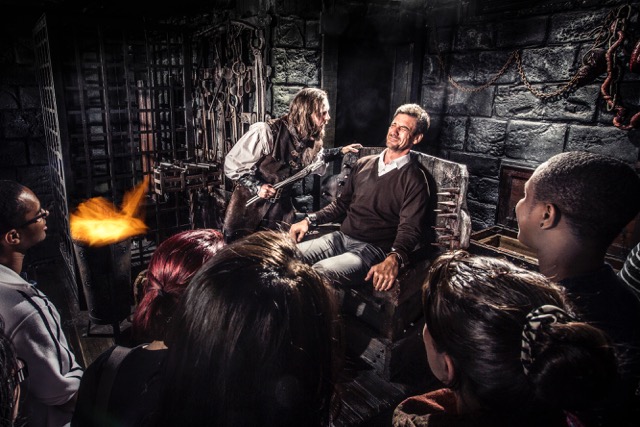 His Nibs' luck eventually ran out and he ended up in the metal cage within the Torturers room – sorry fella, do I know you? Nope, I don't! I'm glad I didn't get to know the instruments of torture up-close-and-personal, they looked scary. The Man has never been so talkative, though I don't think The Torturers charms were the cause of his loose lips....

Lady Luck deserted him in the courtroom of Lord Chief Justice, Venerable Vernon Pollard IV. Along with his fellow accused, a despicable punishment was meted out to the peasants so despised by this infamous judge. That'll be him cleaning out the toilets of every ale-house in York then (with his tongue – eeeewwwwww!).
Micklegate Bar in York has seen its fair share of beheadings, and there was to be another on this particular day in 1495. His Nibs managed to keep his head, although the traitor in our midst wasn't so fortunate. With pantomime gusto, we booed and cheered, encouraged by the man himself; who knew executioners were so happy in their work?!

All this interaction was hard work and we were ready to rest our weary bones. What luck then, that we were taking a horse-drawn carriage ride. Shame the road was so bumpy, we were jolting from side to side, but that was nothing compared to the action outside! Our brave coach driver was coming under fire from Dick Turpin himself, a highwayman terrorising the coach routes of York. Would we escape with our valuables and lives?

Happily, yes; but unhappily, our tour was over. The time had seemed to fly by, thanks to the fantastic story-telling and acting of the York Dungeon cast members. We had an absolute blast, and I'm sure you will too. Opening times do vary throughout the year, so visit the dungeon website for more details.

Visit the York Dungeon at www.thedungeons.com/york/
Read All About Our Visit To York