A Cocktail Masterclass At The Cosy Club In Nottingham
---
Published On Wednesday 2 Sep 2020 by Sticky Beak
See Recent Experience Reviews | See All Recent Reviews


His Nibs and I were officially 'out out', heading off on the train (masks on!) to make fancy cocktails at the invitation of Cosy Club (CC) Nottingham's team. We've been to the venue before, on its opening night, but I still let out a little gasp of wonderment at the magnificence of the interior; imagine sky-scraping, highly decorative ceilings, and (just about) floor-to-ceiling, intricately leaded windows. Not enough for the eyes to behold? Then feast your peepers on the breath-taking, twinkling chandeliers!
As we'd arrived a little early for the event, we sat at a table with comfy chairs and had a cheeky glass of Malbec (me) - #winestogetcosywith - and a pint of Moretti (him) paid for via the CC app. All you do is scan the QR code, enter your table number and pay via card, Apple, Google or PayPal; easy peasy.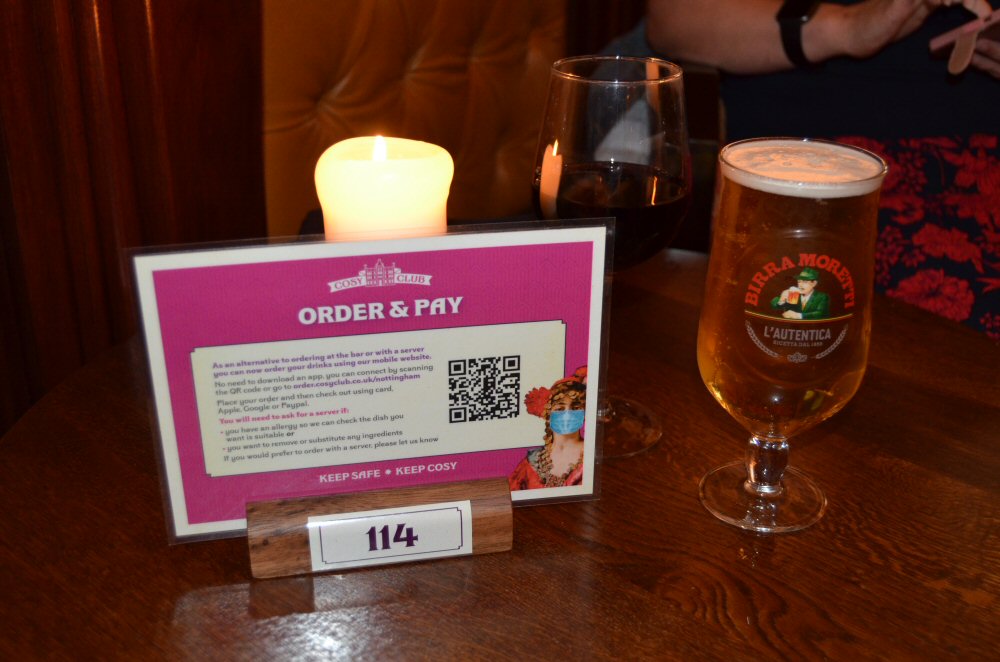 The Cocktail Making Masterclass (with Tapas) to which we'd been invited was to be held in The Gin Bar, CC Nottingham's ground floor private dining room, and a few minutes before the official start time a lovely member of the team took us through. The dimensions of the Gin Bar are ample enough that the tables and comfy, deep chairs could be moved around to create covid-friendly spaces between them.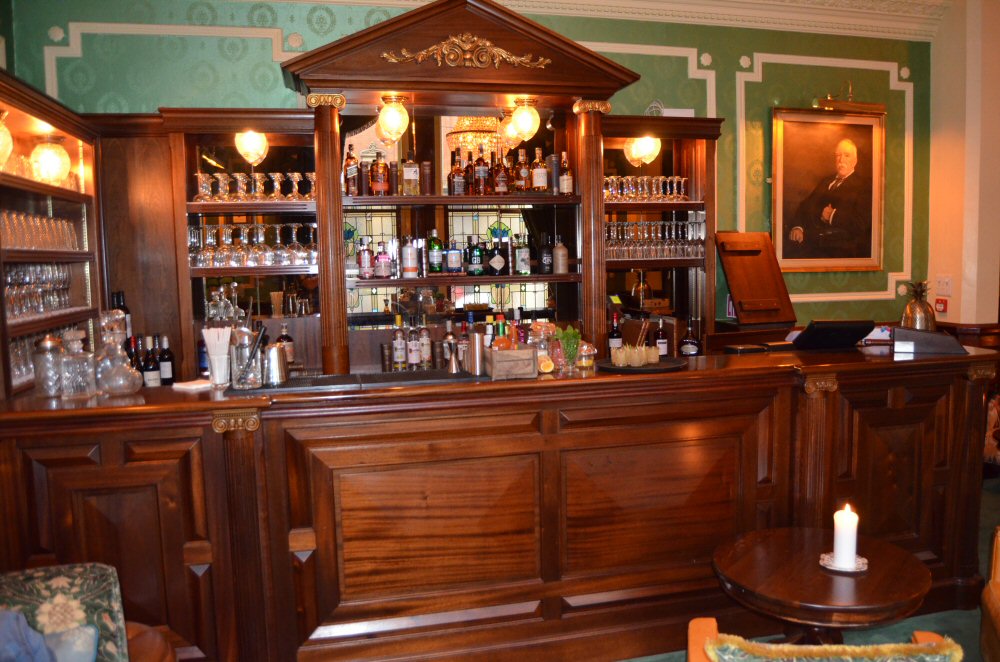 Our 'host with the most', and master mixologist for the evening, was the lovely Cameron; he'd done some prep already and handed all of us a shot of one of my fave CC cocktails – English Garden. When all the guests had arrived (12 in total, the maximum number allowed on one of these masterclasses) Cameron began his demonstration in earnest, whipping up some White Sangrias and giving us some handy mixologist tricks along the way. I wasn't thrilled at the sound of this cocktail due to it containing banana purée; but in the event, you only got a mere hint of Banana, the pear notes of the Xante liqueur and the crisp Chenin Blanc were the dominant tastes, and it was really rather good.




Cameron then went on to make (my co-fave cocktail) Cherry Bakewell and Rhubarb & Elderflower Spritz's, imparting some fun facts for us all: did you know, for example, that Cosy Club dehydrates their own fruit garnishes for their drinks? This process can take up to 8 hours each day, and yes they have run out before on exceptionally busy evenings! Cameron puts ice in all his cocktail glasses before he makes the drink itself, so that the vessels have time to really chill down, and he strains off any melt-water before pouring the cocktail in.




After demonstrating the processes behind these 3 cocktails, Cameron then came round to see which one we'd like to make, also taking orders to make us our favourite one to enjoy. At this point in the proceedings we were all in need of some food to line our tummies (!) and trays of Tapas were placed on each table, dietary needs taken into account. Our Tapas yummies were: Salt n Pepper Squid with Roasted Garlic Mayo, Crispy Sesame Chicken with Soy and Ginger dipping sauce and Coriander, Chilli and Spring Onion salad, Tempura King Prawns with Soy and Ginger dipping sauce and Coriander, Chilli and Spring Onion salad, Creamy Garlic Mushrooms in a Garlic, Cream and White Wine sauce, served with Ciabatta, Halloumi sticks with Chipotle Chilli Jam, and Pulled Beef Brisket with Blue Cheese, served with Ciabatta.




As with all things, there were some I preferred more than others. I thought it was a bit of a stretch to call the minimal garnish on the Crispy Sesame Chicken and Tempura King Prawns a 'salad', but the little bit there was was full of crunch and flavour. The Tempura Prawns were gorgeous; light crisp batter and plump, sweet, juicy King Prawns that burst onto the tongue, and His Nibs liked the chicken strips (I thought they needed to be served hotter). We both really liked the dipping sauce too; you got a great bite of ginger heat at the back of the throat after a couple of seconds and the smokiness of Soy lingered nicely.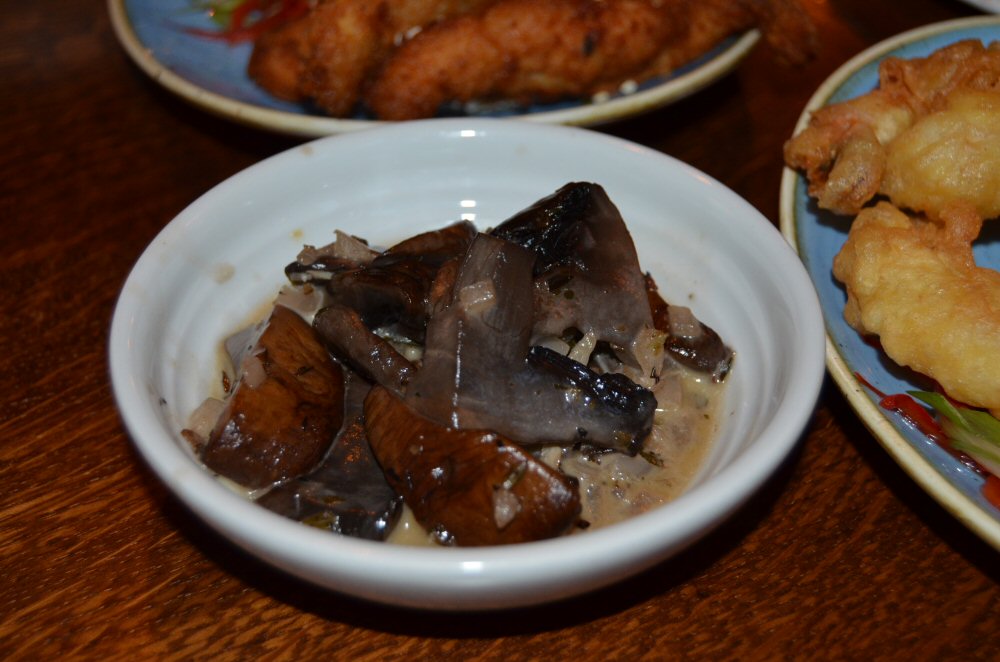 We both loved the thick Halloumi sticks; they had a thin crumb coating that crunched when bitten into, and who doesn't love Halloumi itself? Again though, there could've done with being more than a smear of the (marvellously tasty) Chipotle Chilli Jam –seriously, this jam was blooming gorgeous and I think it should be sold by the jarful! For me, the Squid was too small in its proportions; instead of being in the usual rings, it seemed to have been torn into chunks and fried as was: saying that though, it wasn't rubbery at all.

I had the Creamy Garlic Mushrooms all to myself and hugged the bowl they came in greedily to my bosom – mine, all mine! There were plenty of sliced mushrooms to enjoy, and their gentle earthiness went really nicely with the creamy, garlicky sauce. I scooped up every last bit of this beautiful sauce with slices of the fresh Ciabatta loaf that had come with our Tapas dishes. This dish hit the mark for me.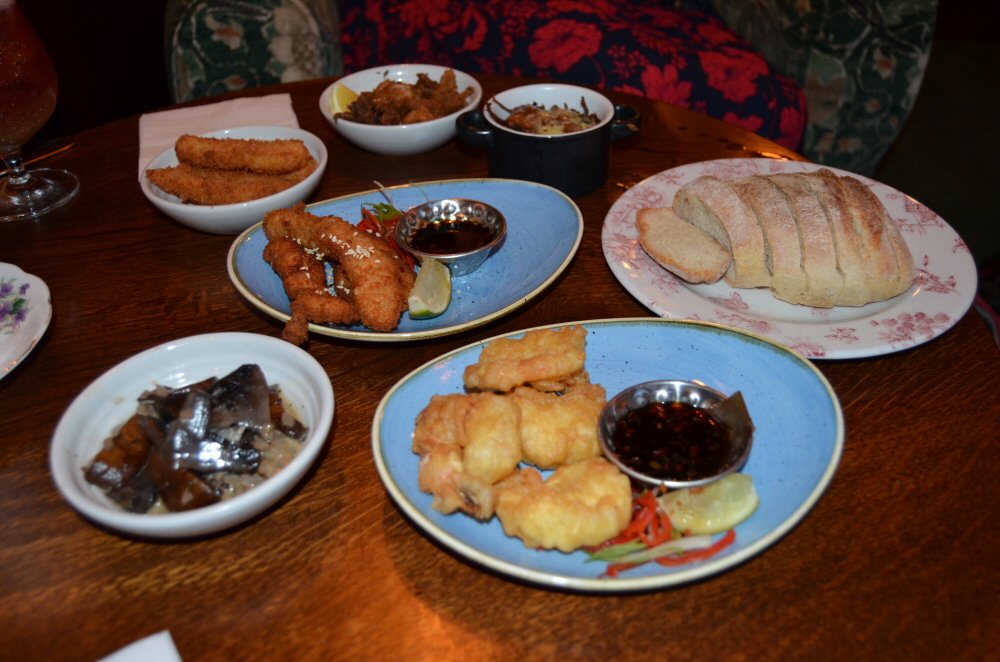 The star of the (Tapas) show, without a shadow of a doubt though, has to be the bowl of Pulled Beef Brisket – you'd have to go a long way to find a tenderer bit of brisket than this morsel. Thanks to it clearly having been slowly, lowly cooked, the chunks of Beef came apart in ribbons and the meat simply melted on the tongue, its sweetness gliding over the taste buds. On the top of this dish was a crust of melted Blue Cheese and this mingled in with the Brisket as our forks delved in time after time. The tang of the cheese and sweetness of the meat melded brilliantly together, and we used the rest of the Ciabatta to scoop it all up. Cosy Club, this is a belter of a Tapas dish!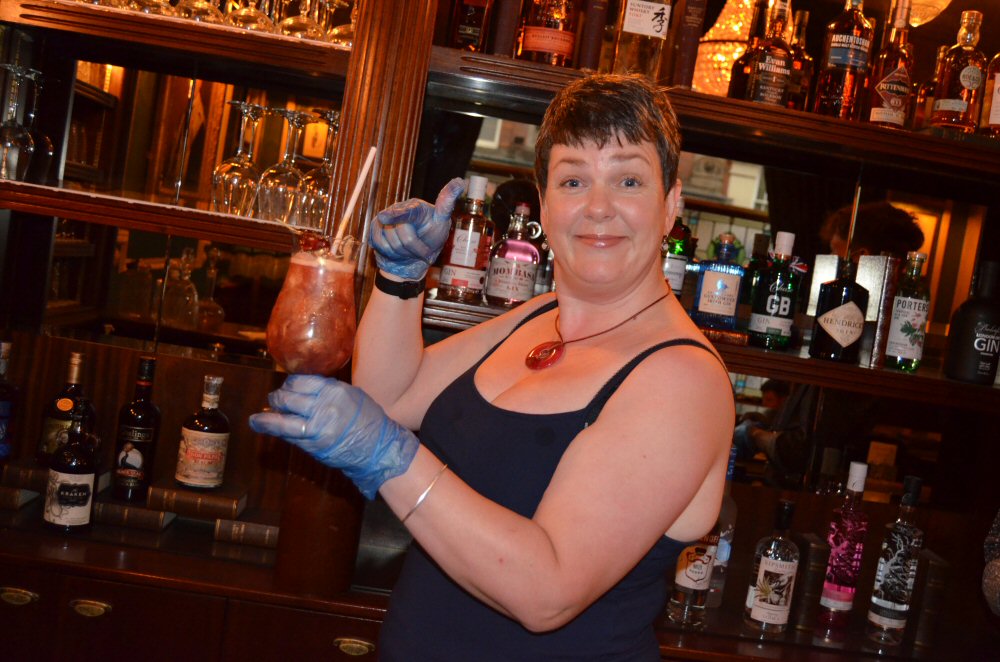 With our tummies full, we all stepped behind the bar (one at a time) and made our cocktails. Cameron wore a face covering (as he had one all evening, like the whole CC team) and made sure that all the utensils were cleaned down between each guest. The Man made the Rhubarb & Elderflower Spritz, channelling his inner Tracy as he added some of the fabulous Unicorn glitter that gives this stylish cocktail a mesmerising shimmer. Not to be outdone, I added some of this magic dust into my Cherry Bakewell; I do like to go 'off-piste' occasionally and Cameron (bless him!) indulged me. Everyone got into the spirit – no pun intended – of the evening and seemed to have a great time. All good things have to end, and we had to leave to catch our train home. Thanks have to go to the whole Cosy Club Nottingham team though; they'd all been really friendly and given us great service.




If you fancy doing one of these brilliant Cocktail Masterclasses for yourself with your buddies, or even as an alternative for works' Christmas "do's", then there are several packages available from just Cocktails, to Cocktails and Tapas, to Cocktails and 2 or 3 course Dinner. Prices range from £30 per person to £50 per person.




These Masterclasses are only available at a few Cosy Club venues, not across the whole estate. Participating CC's are: Birmingham, Bournemouth, Guildford, Hereford, Ipswich, Leicester, Norwich, Nottingham, Stamford, Taunton, and York; for more details go to the relevant websites.