A SPA Day And Afternoon Tea At The Garden Secret SPA, Ringwood Hall
---
Published On Sunday 3 Nov 2019 by Sticky Beak
See Recent Experience Reviews | See All Recent Reviews


After an overnight stay it was time to gather our swimwear and head over to the Garden Secret Spa for the serious business of pampering and relaxation. Jess greeted us warmly at the reception desk and took us through our itinerary before showing us our respective changing areas. When we'd changed into our swimwear (donning fluffy robes and slippers provided by the spa), we went into the Spa and Jess gave us a quick tour around the rooms before she urged us to have a wonderful day.
The morning passed by in a glorious blur and before we knew it, it was time to head up into "the tree house" to wait for our therapists to collect us for our treatments. His Nibs was having a full body massage (Euphoric Balance) and his therapist was Jan, who we'd met at the previous evenings' Pevonia showcase, and I was having a back, face and scalp massage treatment with the Vogue cover-worthy Jasmine. Both our treatments use oils, balms and all manner of other unguents by Lola's Apothecary and are designed to soothe away life's cares and stresses, which they did magnificently well! We both came out feeling as if we were floating on clouds and just slowly came to our senses, sipping cool water in the "day dream" room and cocooning ourselves in the snuggly throws on the day beds.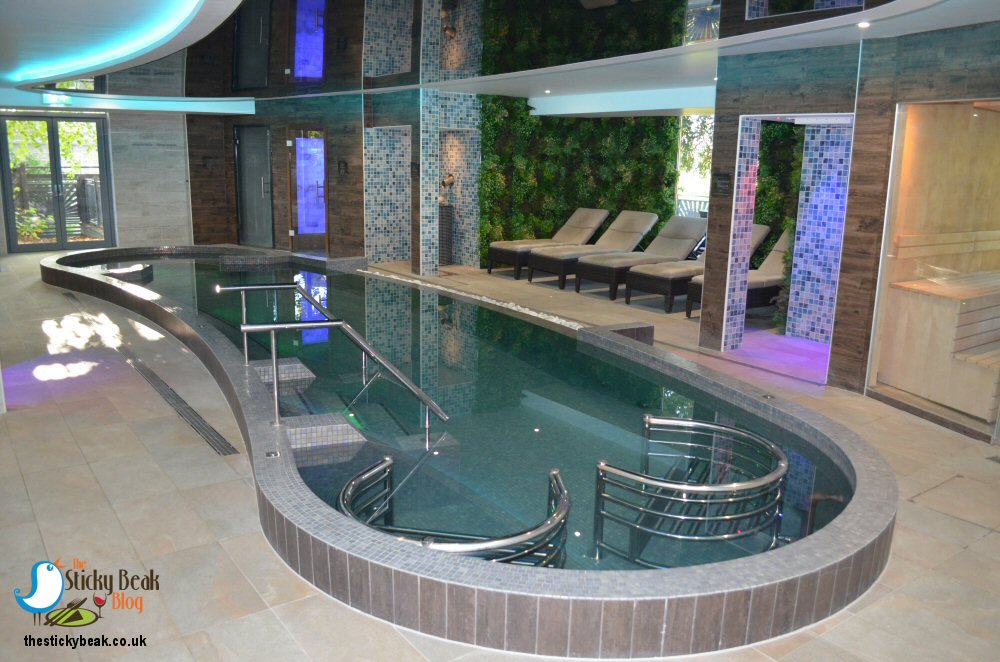 Having relaxed to the max, it was time for us to saunter downstairs for our "Garden Afternoon Tea", so we made our way into the Glass House Brasserie, which is the perfect place to have a relaxed lunch thanks to the floral paper on the walls and cheerful teal and cerise chairs. Even if the weather isn't playing ball (it was distinctly grey and autumnal outside) the decor and friendly staff will lift your spirits.




Tasha took our drinks orders; Earl Grey for His Nibs, Peppermint Tea for me, and then went to fetch our triple-tiered Afternoon Tea stand. On the top tier were white and wholemeal bread finger sandwiches, with Ham, and Tuna and Cucumber in, respectively. With no hesitation at all, The Man grabbed one of the Ham sandwiches. There was plenty of Ham in the sandwich and it was the real McCoy, none of that fake plastic, water-injected stuff here!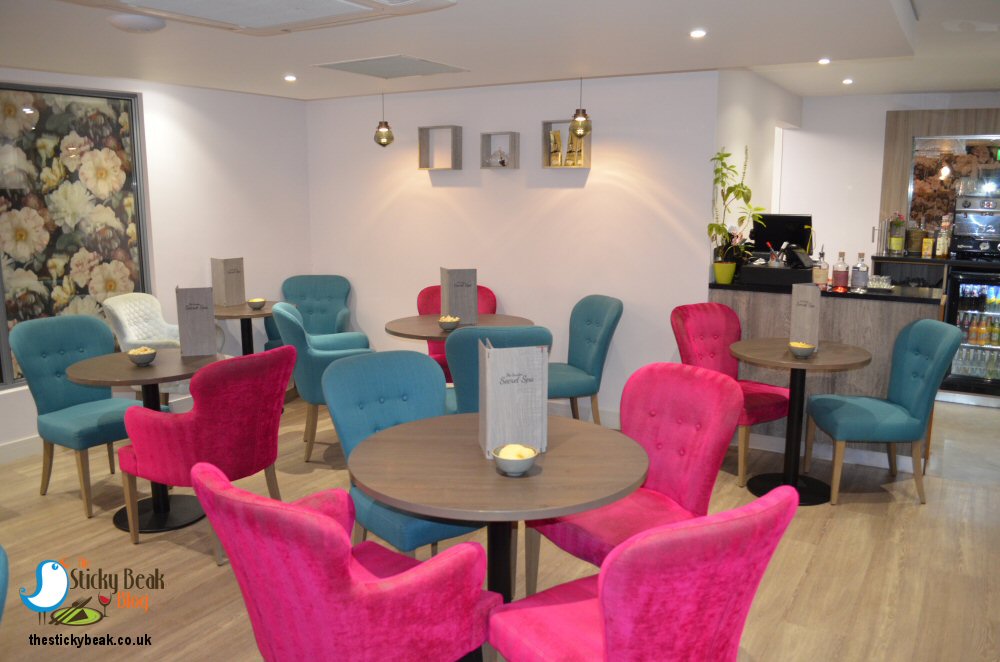 I'd gone for the Tuna and Cucumber version and was equally happy; the Tuna was bound with the perfect amount of Mayo to make it moist and creamy, without drowning out the fish flavour. Slices of cool, crisp Cucumber gave the sandwich a bit of crunch and texture when bitten into. There were halves of Cherry Tomato and zingy Watercress to nibble at too, arranged carefully on the finger sandwiches.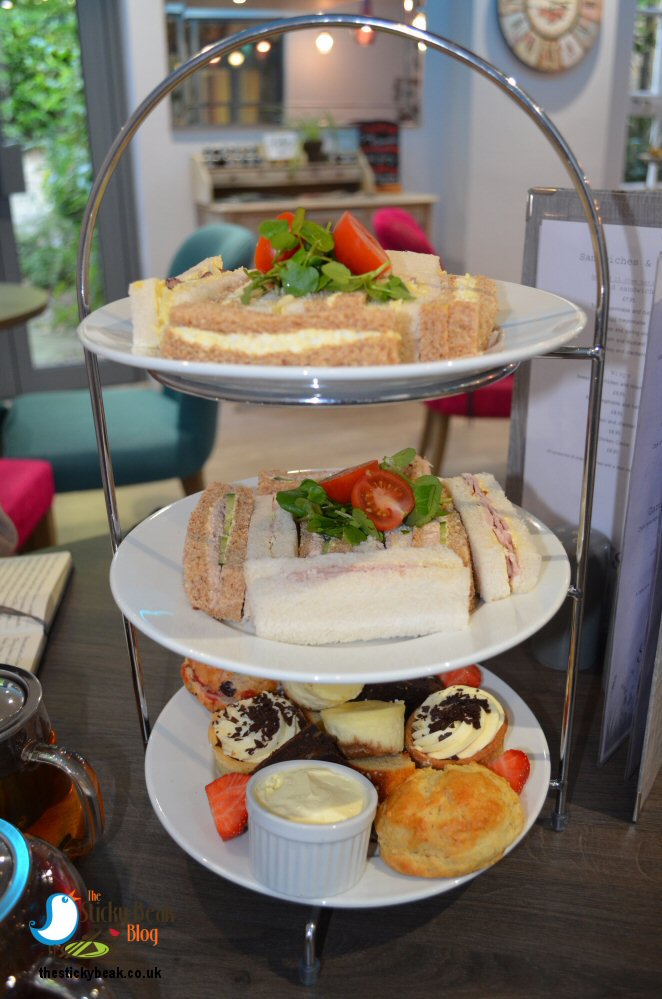 The middle tier of the stand also contained a mix of wholemeal and white finger sandwiches, this time filled with Egg Mayonnaise, and Cheese and Onion. As with the top tier, the sandwiches were garnished with halved Cherry Tomatoes and Watercress. We both liked the fact that the Egg Mayo sandwich wasn't too wet; instead of being soggy, it was nicely moist when bitten into, giving it a nice soft feel in the mouth. The egg flavour was coming through clearly still thanks to chef not being overly generous with the Mayonnaise. Perfect.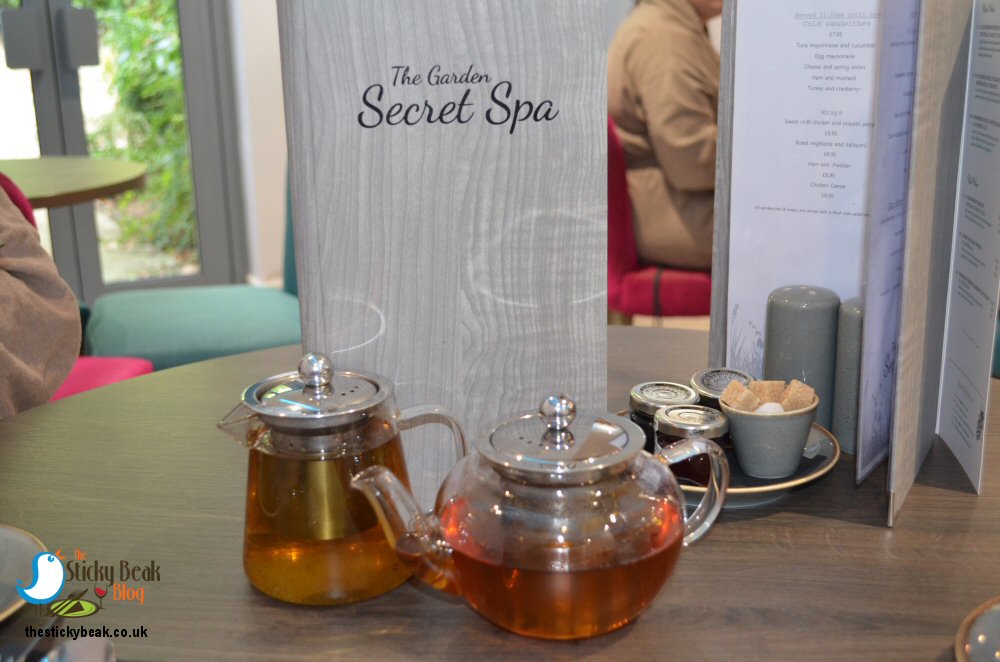 Nice tangy mature Cheddar cheese had been grated and mixed with pieces of finely chopped Red Onion in our final finger sandwich. Both elements were well balanced so that each came through on the palate and we weren't left with honking "onion breath" either, so that was a bonus!. Tasha had been keeping a discreet eye on our drinks, so at this point she came over to see if we'd like more tea – which we said yes to.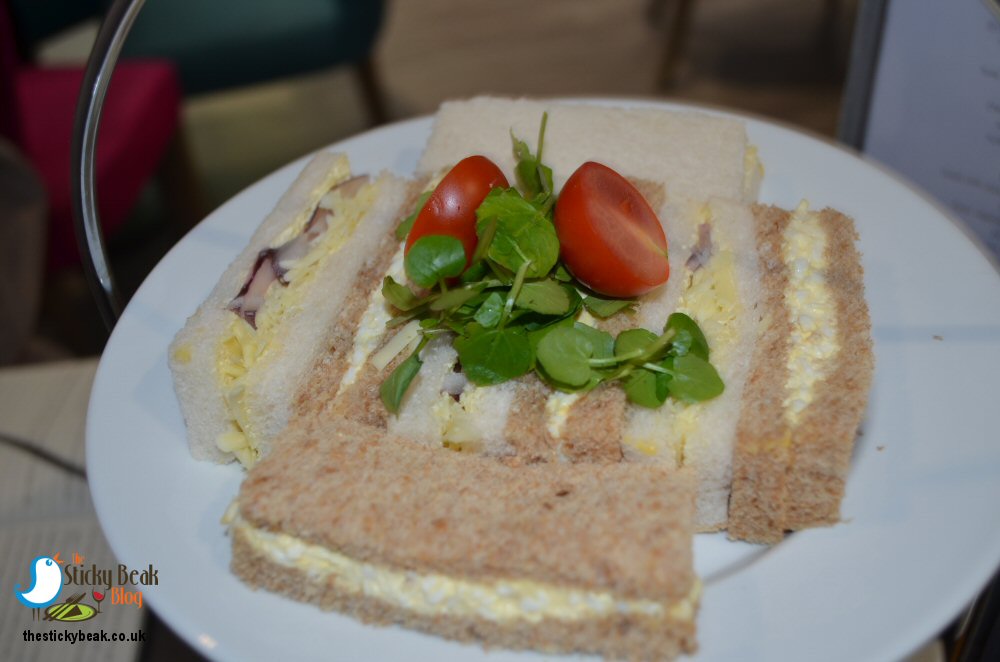 Our afternoon tea had two types of scone to enjoy: plain, and Cherry and Sultana. We decided to play nicely and had one half each, so that we could both have both sorts. The scones had a lovely light texture to them and were a decent size too; there were plenty of Cherry pieces and sultanas in the fruit one as well. His Nibs swerved the Clotted Cream (more for me then!), so I let him have first pick of the jams and he chose Raspberry. I had the Blackcurrant jam on my scones, leaving the Strawberry to live for another day and guest.

The mini lemon Cheesecake was blooming gorgeous! It had a zingy citrus taste that was balanced brilliantly by the crumbly, buttery biscuit base – admit it, you all heard Greg Wallace in your head then, didn't you?! Keeping the Lemon theme going was the Sponge cake; light and springy in texture, it had a lively, bright citrus quality to it and was simply glazed with tiny sugar pieces.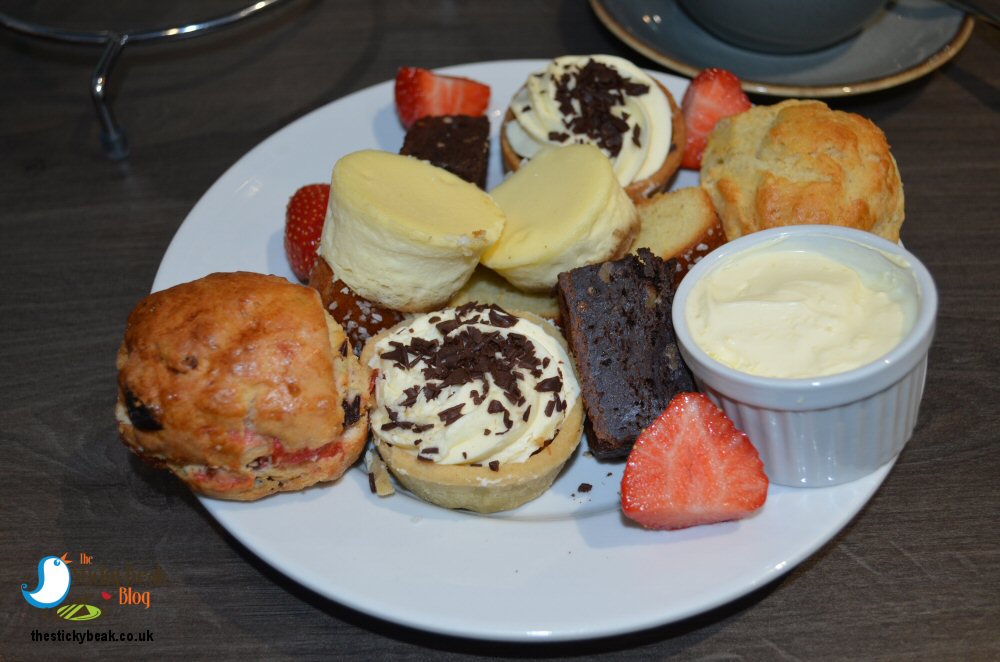 I'm not a fan of Banana, so The Man had to take one for the team and have both of the mini Banoffee Tarts. He said that the pastry case was generously filled with a base of toffee and a middle Banana mousse layer, both topped with thick cream and decorated with chocolate sprinkles.

Our last sweet treat was the Chocolate and Walnut Brownies. These were ridiculously good; nice and dense with a superb gooey texture to them. You got a great cocoa hit from the brownie and the Walnut pieces were small enough to add texture, without their taste over-whelming the chocolate flavour. Nom nom!




We sipped the last of our tea and then reluctantly had to bid farewell to Ringwood Hall Hotel and Spa to make our journey back to the nest. What a fab time we'd had though, from start to finish. If you haven't been yet, you really should make it your mission to go!

Day packages start from £59 per person, stay-and-spa packages start from £169 per person. There are plenty of options to add on to your packages as well, so that you really can tailor make your experience to your wishes. Whatever you choose, you'll have a fabulous time that's for sure!