SPA Day And Afternoon Tea At Landal Darwin Forest near Matlock
---
Published On Sunday 12 May 2019 by Sticky Beak
See Recent Experience Reviews | See All Recent Reviews


Many of you are no doubt familiar with the Landal Park Resorts; there are plenty of them located not only in the UK, but also in Holland, Belgium and other continental countries. Here in Derbyshire, we are lucky enough to have two resorts; Landal Darwin Forest near Matlock and Landal Sandybrook near Ashbourne, neither of which I'd been to before.
The Man Bird and I were asked to go and try the newly launched Spa Day package at the Landal Darwin Forest venue, so off we duly trotted. From the moment you pull off the main road, away from the humdrum of every day life and into the park itself, you feel the peace and tranquillity wash over you. Everything is clearly signed, so we found the members car park for Evolution (where the Spa is located) with no hassle at all and swung into one of the empty spaces.




Evolution Health and Fitness is housed in a very curvy, ergonomic looking building; when we got inside, the reception desk was straight ahead and manned by a lovely young lady and gent. They soon got us sorted with our complimentary arrival teas and coffees and handed us the robes and slippers that are provided for all Spa Day guests as part of the package. We had forgotten to bring towels with us (rookie mistake!), but luckily it wasn't a problem and we were handed a couple of large towels to tide us over. Thankfully we'd thought ahead and brought £1 coins with us for the lockers!

The Changing rooms are lovely and clean, with spacious changing cubicles and, most importantly, a bank of hairdryers and mirrors to use. Having changed into my swimsuit, I popped all my gear into the locker and hung my jacket on the integral hook inside. Having got rid of all my bumpf it was time to head into the Spa itself and begin the de-stressing – bring.it.on!!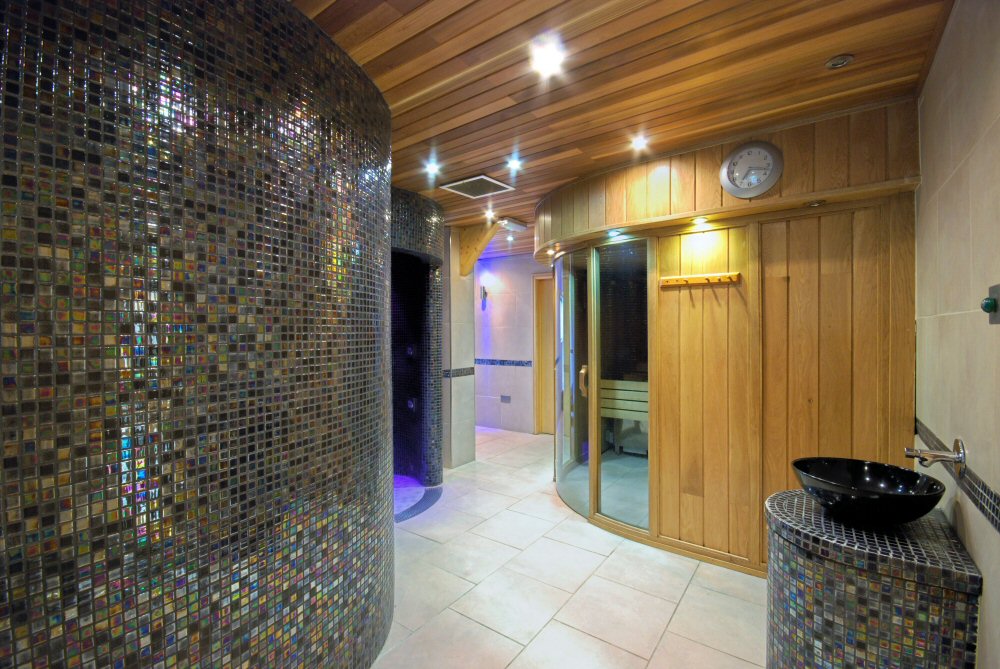 I don't know about you, but I always find that if I start with the steam room I can never spend as long in the dry/Swedish sauna? So this time, The Man Bird and I made our way to the Swedish sauna cabin first, and the strategy seemed to pay off as we managed to let the sand completely run through the timer on the wall before we stepped out.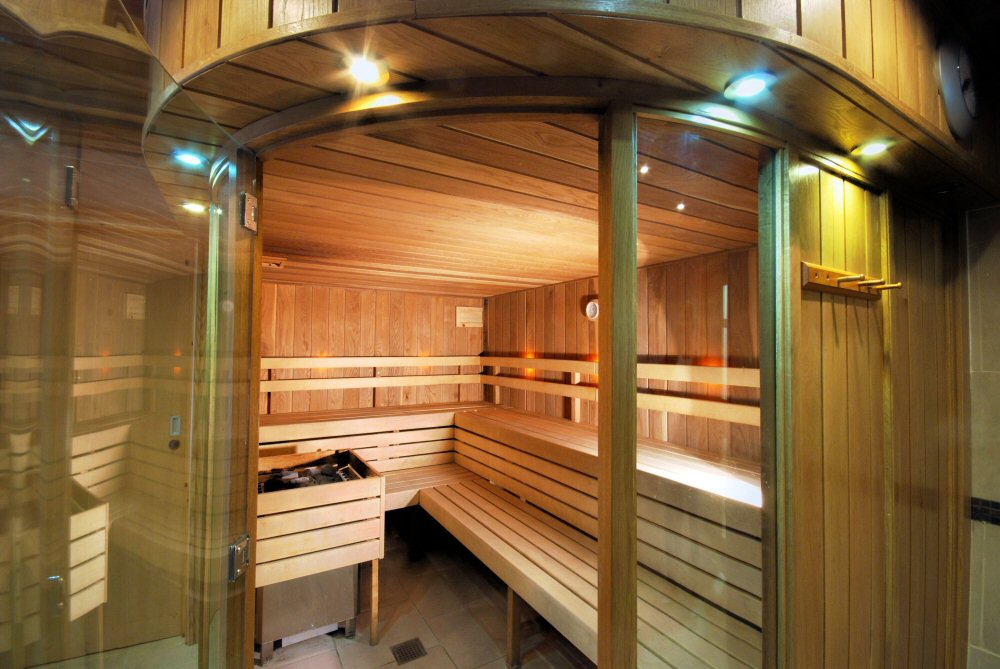 We took the opportunity to grab a couple of cups of water before making our way into the steam room which, being slightly larger than the dry sauna, seats (I would say) between 10-12 people comfortably. I liked the pair of static footrests in this room, although we maintained an air of respectability and didn't play footsie!

Adhering to the Spa rules, we went in the experience shower before going to the Jacuzzi; this spacious shower easily fitted us both in and we chose the warm water (not the cold option) and activated the side jets to bathe our bodies all over at the same time.

When we stepped into the spa pool/Jacuzzi we got our first proper look at the 15m x 14m swimming pool and the gym located above it. There is a button to activate the bubbles and let me tell you that this bad boy doesn't muck about; you get massaged by some marvellously vigorous bubbles. I would say that this pool fits 6 people comfortably – 8 if you don't mind getting a bit more "snug" with your friends.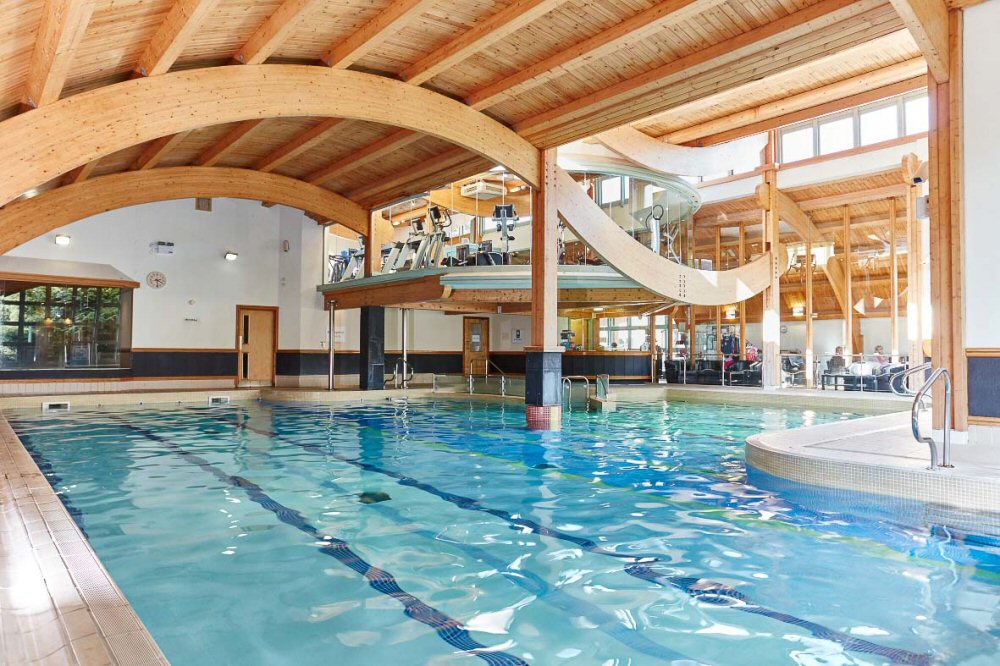 I could cheerfully have spent the entire time in this deliciously warm Jacuzzi but His Nibs dragged me out through the door in to the main pool. There were a couple of sets of ladder steps to get into the water or, rather nifty I thought, a set of shallow steps with a barrier that could double as an area for mums with small toddlers to splash in. There were a couple of roped off lanes for fitness swimming as well as an open general area for dog-paddling type leisure strokes. The pool also hosts swimming lessons and Aquafit classes at various times for Evolution members and their families, and on-park guests.

I noticed on my way out that there is a treatment suite within this building, and The Beauty Rooms at Evolution offer Dermalogica Facials, Jessica hand and foot treatments, body waxing and eye treatments, as well as a range of massages and body treatment options. Gents and pregnant ladies are catered for within the beauty suite too.




Our Afternoon Tea was booked for 2.30pm at Foresters Bar and Restaurant, which is very conveniently located straight across from Evolution! The first thing we noticed were the couple of outdoor terraced areas – perfect for al fresco dining – adorned with a multitude of rainbow-hued flower and Ivy containing planters. With the sunshine being out, the flowers really did look stunning, and the honey bees were having a real banquet on them. Dogs are welcome at Foresters as are children of all ages – there are plenty of high chairs to use, I saw them all stacked in a corner.

Foresters' has a fab cosy feel to it, yet is very modern too. I was a massive fan of the checked fabric used to upholster the very comfy looking tub chairs in the bar/snug area; grey based in the first area, heather in the inner dining space. The bar was clean, large and seemingly well stocked with every drink you could possibly want. We were taken through to the conservatory for our Afternoon Tea; a lovely light, airy space with sleek wicker furniture.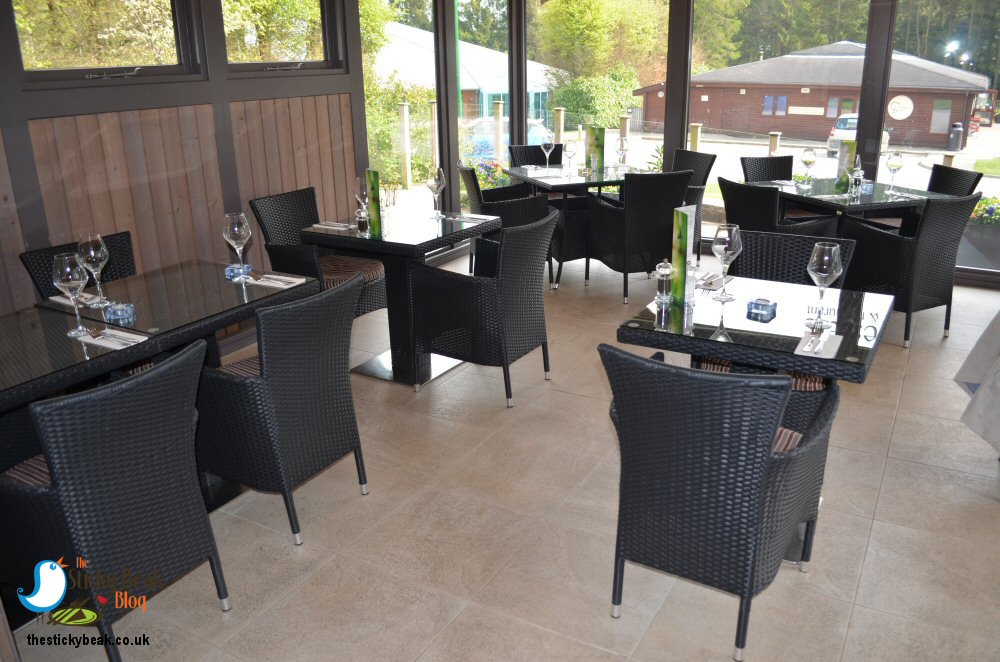 My only criticism is that currently there is only regular Tea available; no fruit-, herbal-, or green- varieties, or decaf options. The team do offer decaf Coffee though, so His Nibs was happy. The Tea was very nice though, I have to say –and it made a proper brew (not gnat-widdle looking coloured stuff!) fairly speedily.

Our lovely young server brought out the triple tiered stand for us with a huge smile on her face; every member of staff we'd come across during the day so far had been happy and friendly, and it makes such a difference to your enjoyment doesn't it?
On the bottom tier there was a trio of sandwiches to choose from: Ham and Tomato, Cheese and Pickle (both on white bread) and Chicken Mayo with Lettuce (on Malted Granary bread). All the sandwiches were crust less and what I would describe as "double finger width" and the bread was lovely, soft, and springy throughout.

The Ham was cut into pleasingly thick slices and had a really nice flavour to it; none of the plastic, water-injected stuff in sight! Ham and Tomato is a classic combination, and the Tomato had been generously sliced so that its natural sweetness came through on the palate. Both of us loved the tangy mature Cheddar cheese that had been grated and partnered with a lightly chunky, spiced pickle.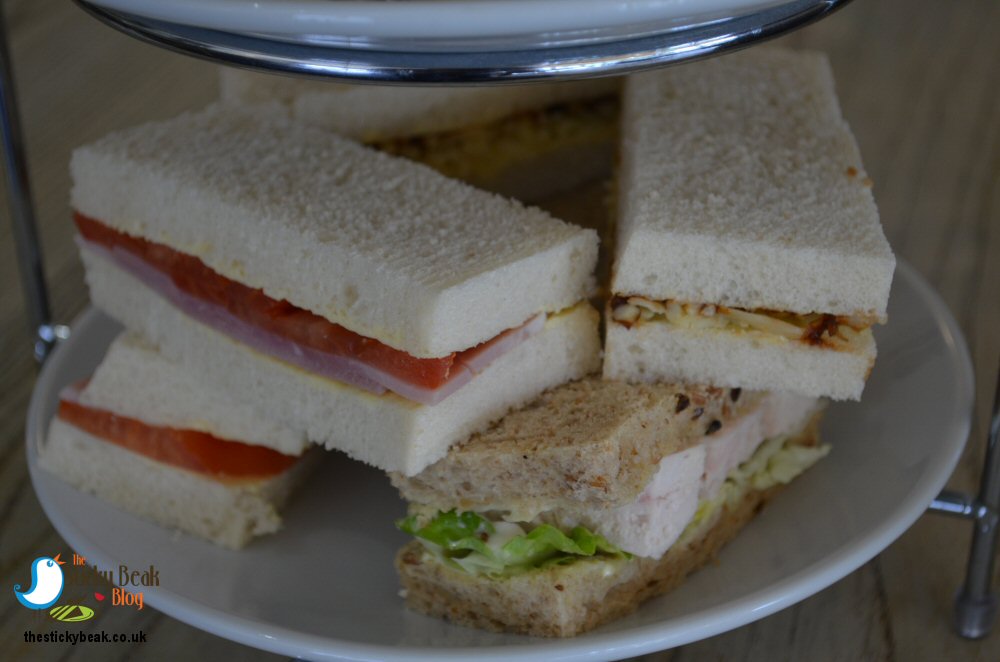 Our last sandwiches to nibble on was the Chicken Mayo variety, and let's just say that even a blind man would've seen the amount of Chicken breast chunks in this morsel – no one will starve if the Foresters' team have anything to do with it! There was just enough Mayo to give extra moistness and creaminess in the mouth, but not too much as to overwhelm the flavour of the Chicken and Lettuce (or make the bread soggy!).

All the sandwiches had been filled very generously, and the pairings meant that there was a nice contrast of colours in each one that gave them extra visual appeal. For me, the only thing I would add is a sprinkling of salad garnish to the stand; nothing fancy, just perhaps some Cucumber slices and bits of crunchy sweet Peppers.




With the savouries dealt with, it was time to turn our focus to the sweet treats. The fruit scones were absolute corkers, both in terms of size and taste. You couldn't fault the texture of this scone, it was gorgeous and there were plenty of juicy sultanas in it too. The cream that came with this morsel was proper thick clotted cream, so I decided to pop that on first and top it with the Tiptree Strawberry jam – sometimes I'll "jam up" first, and then put the cream on top if it's not as stiff as clotted types. As with the sandwich fillings, the team at Foresters' hadn't skimped on the amount of clotted cream that they'd put in the pots!

Having demolished the scones it was time to play eeny-meeny-miny-mo to decide which of the scrummy cakes we were having next; Lemon Drizzle- or Coffee and Walnut- sponge. First up was the Coffee and Walnut treat, and the sponge itself was beautifully light and springy with plenty of pieces of Walnut within it to give some texture in the mouth. It was topped with a nice layer of icing that had a "one shot Latte" flavour to it; not too strong, not too weak.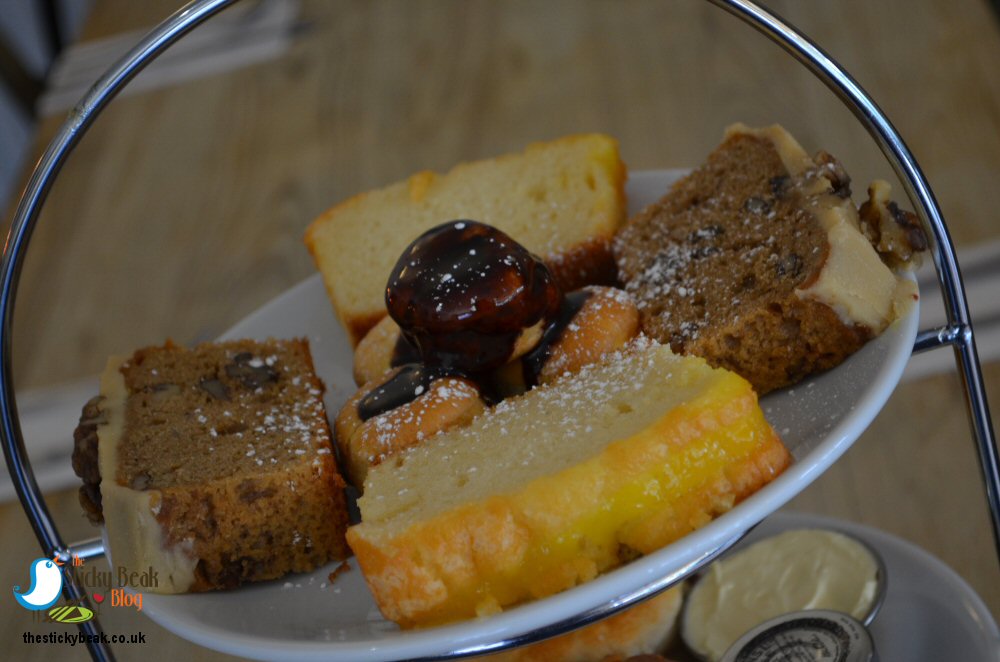 It was another tough choice of whether to dig into the Profiteroles next, or continue the cake theme – eventually we went with the cake and what a fab choice it was! The Lemon Drizzle was everything you would want: springy, moist, light, and a fantastic citrus blast to the icing that complimented the gentler Lemon hint in the sponge. Plus it was a lovely sunny colour which lifted our spirits even further.

Wonderfully indulgent mini Profiteroles was the last thing on our Afternoon Platter and they provided a magnificent finale. The quartet of dinky Choux pastry buns were bursting with fresh cream centres and as we bit through the soft pastry outers we got that "pop" of the cream hitting our tongues. I defy anyone not to grin like a little kid when they experience that sensation! The Foresters' team had poured an indulgently rich chocolate sauce over the buns and there was a small puddle of it left, so we dipped our fingers in and licked every smidge off; well, waste not, want not as they say.




Our tummies were absolutely full to the brim and we'd had an incredibly relaxing time in the Spa too; I had to look twice when I saw the cost: a piddly £25 per person. Yep, you read that right - £25 each for this "core package"! There are other options that allow you to add on a 25 minute beauty treatment (mini facial, back massage, or shape & polish for hands or feet), and this is £45 per person, or you can even add on to this package for an extra £5 each and have either a glass of Prosecco with your Afternoon Tea or have a Gym session. The Ultimate package i.e. the core package, Prosecco, Beauty treatment AND Gym session is still only £55 per person, so why not go the whole hog and indulge? I certainly will be next time we go back!! Hot Wings given for this superb experience.