A Visit To The SPA at Ye Olde Bell Hotel, Barnby Moor
---
Published On Sunday 21 Jul 2019 by Sticky Beak
See Recent Experience Reviews | See All Recent Reviews


One word describes what life has been like recently for The Man Bird and me: Busy! On one hand it's great because I like being nosey and experiencing new things, but every so often you need to just slow down, chill, and recharge your batteries. Enter the Spa at Ye Olde Bell Hotel in Barnby Moor; the team there came to our rescue with their kind offer of a half day spa session and 3 course lunch in the Herb Garden Brasserie cooked by Head Chef Richard Allen. Chef Richard previously worked in the Hotel kitchens (mere metres away) where he was awarded an AA Rosette for his stunning cuisine, and His Nibs and I have dined there before, so we knew the food aspect would be top-notch.
We arrived nice and early, eager to grab the most from our time at this award-winning Spa. There is plenty of car parking available, and as we pulled into the car park we got to see the sleek building of the Spa itself – very nice indeed!

As you walk inside the doors you step into a spacious, airy reception area with recessed lights, lots of natural stone and wood, and the most beautiful velvet seats you'll ever see in soft jewel tones. Jasmine checked us in with no fuss at all, making us feel instantly at ease, and she then handed us over to "host with the most" Jerry. Jerry brought over glasses of water and a couple of black coffees to sip at whilst he talked us through what we could expect whilst at the Spa; we also took this opportunity to pre-order our lunch choices – you don't have to do this, but we didn't want to waste a single second of our precious down-time. It's up to you whether you stay in your Spa robes for lunch or whether you want to get dressed.




Having gone through all the preliminary routine, it was time for us to go through and get changed. Ladies, our facilities are second-to-none! There is a central station with a bank of lights where you can sit and use the provided cotton pads and make-up remover before you go into the spa, and I noticed the hairdryers too (handy for post-spa preening!). There are private changing cubicles as well as a communal area, and the multitude of showers are furnished with shower gel and a conditioning shampoo so there's no need to panic if you forget to bring your own.

Each locker uses a four number combination of your own choosing to lock it, so no need to scrounge a pound coin from your friend/ mum/other half. In fact, you don't need cash at all at the Spa at Ye Old Bell Hotel: they operate a cashless system whereby any purchases you make (food, drink, treatments or products) are just charged to your name and you pay before you leave. In the locker you'll find flip flops (slippers available on request), a towel, robe, jewellery pouch, and bag for your wet bathers later – there's also a nifty cossie-dryer that you can use free of charge too.




The Spa Butlers are so incredibly lovely, and one of them gave us a tour around so that we got our bearings quickly, and told us the temperature and humidity of each room. Located to the side of the Spa pool is the complimentary refreshment station where you can help yourself to water or a selection of teas from Tea Pig.

Now if you're a total girl (like me!) you won't be able to stop yourself squealing at a couple of things in the Spa; the first is the incredible crystal cascade light that is located at the middle of the footbaths, and the second is the view of the outdoor terrace from the Herbal Laconium, Stone Bath, or Swiss Pine Sauna rooms. You'll also squeal if you pull the cold bucket shower over yourself at the end of the Shower Walk experience with its quartet of alternating-temperature showers – but that'll be an entirely different squeal, trust me!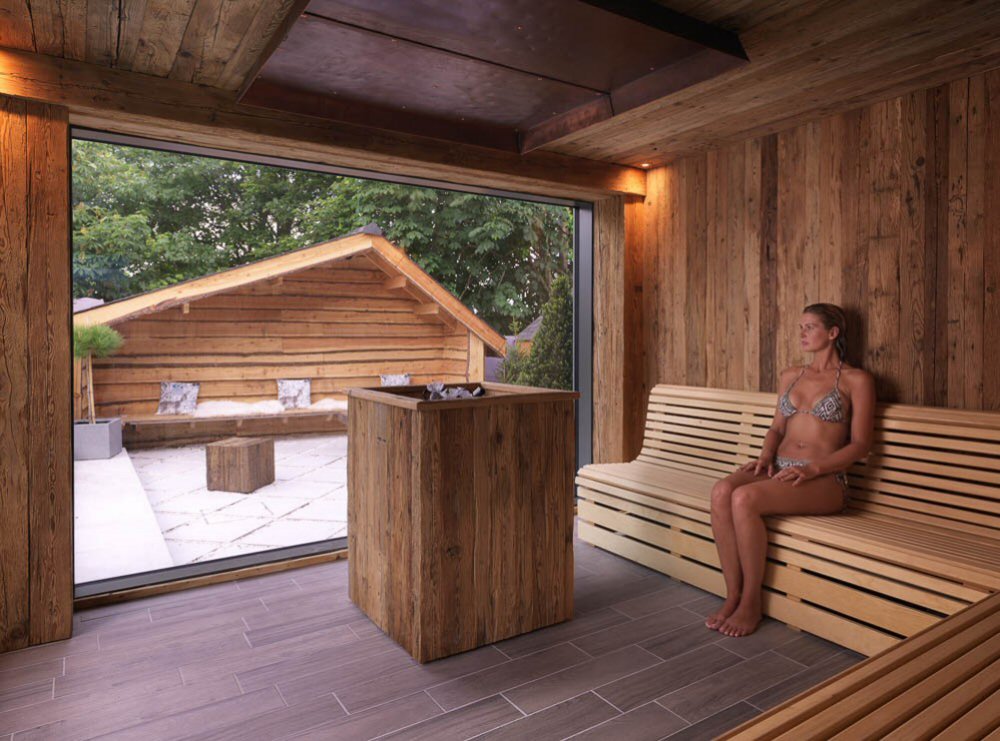 Each of the steam and sauna rooms have a different feel to them, but they all draw on natural materials such as stone and wood to create a calming environment for you to enjoy. The Man Bird and I loved the interactivity of the Stone Bath: on the outer door there is a button to push and this initiates the release of the hot coals from their "well". A counter-weight then swings them over and down into water, making them hiss and release steam, which issues out across the room, raising the temperature. At the other end of the room there's a handle which, when you wind it, moves a fan that disperses the steam around.

Herbs, natural essences, and salt are featured heavily throughout all the experiences whether it's the pouches in the Herbal Laconium, the Pine aroma in the Alpine Sauna or the impressive, strangely hypnotic wall of Salt in the Salt Inhalation room (which is a silent room in the Spa for those wanting total relaxation).
It's well documented that the alternate use of warmth and cold stimulates the body's micro-circulation, so we made good use of the colder experiences too. Feeling brave, we pressed the button for "snowstorm" as we went into the Snow Storm Walk feature, rather than the gentler "snowfall" option. A steady stream of snow fell from a vent above our heads, melting as it hit our warm bodies, and although it makes you gasp at first it isn't an unpleasant sensation at all. The snowfall is a slower rate of the snow hitting your body, but the health benefit is the same.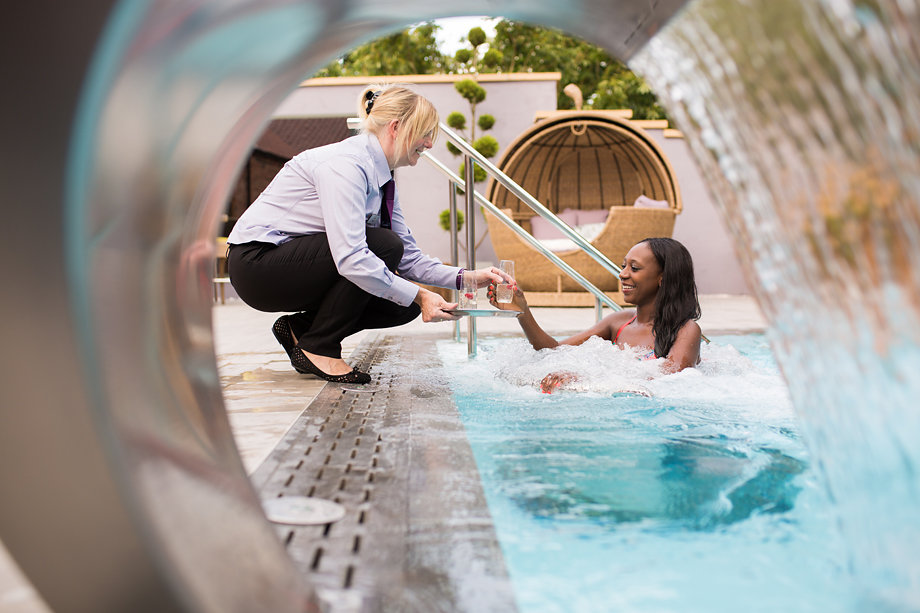 In addition to the rooms in the Spa, there are two other experiences for you to indulge in should you wish, both available for an extra cost. The Sabbia Med room is unlike anything I've come across before with its unique sand floor (yes, it's real, actual sand!) and Vitamin D production-stimulating UV lamps. Over the course of 30 minutes you experience a day from sunrise through to sunset, complete with beachside sounds that allow you to really escape from reality. This is a great therapy treatment for those prone to Seasonal Affective Disorder (SAD) too.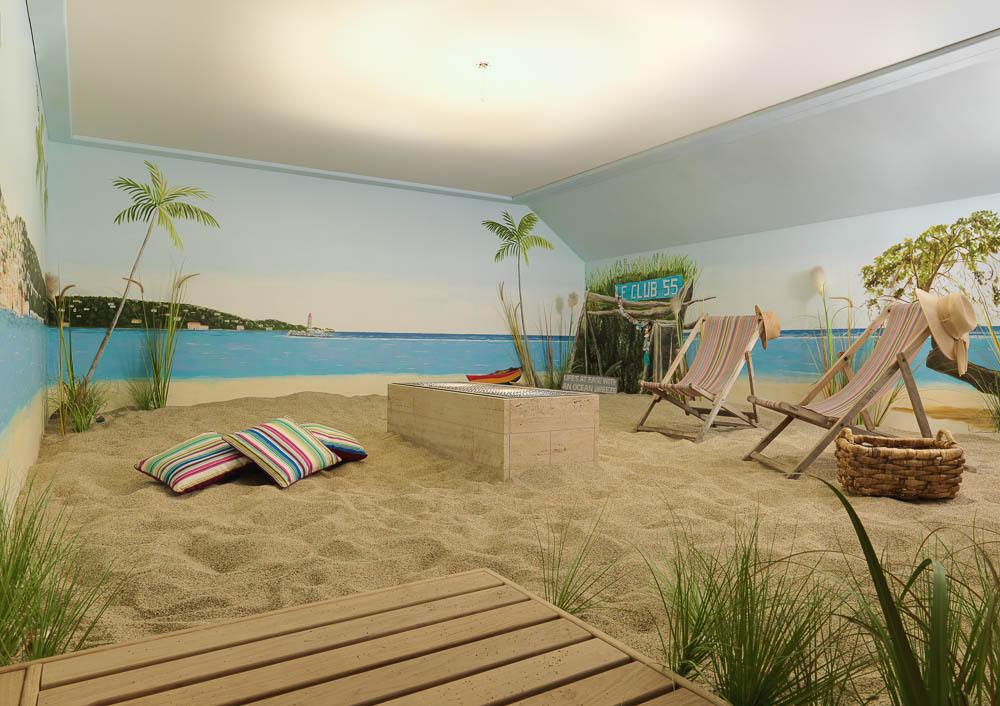 You can also have a cleansing Rasul (mud) treatment in the privacy of your own suite if you so wish. I loved the dramatic midnight blue ceiling in the heated chamber where you sit and apply the mud, and the tiny specks of light looked like a twinkling star-strewn night sky. When the mud's dried, the body and head shower jets come on in the chamber to clean you off and there's also a separate shower cubicle to get rid of any sneaky bits that try to stay with you!




There are several Spa packages that are inclusive of facial or body treatments too, and although we didn't have time to try them His Nibs and I did get to take some samples of the wonderful Germaine De Capuccini face products home. My skin is being an absolute witch at the moment thanks to my fluctuating hormones, so it needs some gentle, respectful care and the B-Calm range is magic. My stressed, irritated skin is smooth, moisturised and salved after I've used the micellar water gel to cleanse it and the facial balm and SPF 20 correcting moisturising cream afterwards. The Man Bird has horribly dry skin (I blame shaving for this) and Jasmine came to the rescue with some samples of the Hydracure range; specifically the sumptuous, comforting rich cream designed for very dry skin or cold climes. It seemed to cocoon The Man's skin in a bath of moisture that banished any feeling of tightness and scaly patches, and did it without being greasy.




Having caught a little too much sun at Bakewell Show's 200th Anniversary celebration a few days previously, I was glad to see that the sun had relented a little in its intensity and I went to sit outside on the terrace. There is a fantastic, almost egg-shaped seat for couples with a canopy over it on the far corner of this area, so His Nibs and I clambered inside and snuggled up on its deep cushions. When you're inside you notice that there's an adjustable screen that allows you to avoid the glare of the sun (nothing more unattractive than squinting!), so we had a little play with that to get things just to our liking. It was at this point that one of the Spa team came around with a rainbow-hued platter of fresh fruit which she served to guests with tongs. I had slices of fresh Pineapple and Him Indoors had fresh Raspberries and Strawberries. What a lovely touch.




There are clocks discreetly dotted around the Spa, and 5 minutes before our lunchtime slot, we made our way back through the changing rooms and out into the reception area. Jerry asked what sort of wines we liked (having remembered what we'd chosen for our lunch options – now that's professionalism!) and poured small samples of wines he thought we might like. Instead of my usual favourite (Malbec) I actually chose a very cheeky Merlot to sup, and His Nibs had a Spanish Verdejo that was quite similar to a Sauv Blanc in taste. Jerry then escorted us through to the Herb Garden Brasserie for the next phase of our Spa visit.

Read About Our Lunch At The Herb Garden Brasserie