2018 Was A Blast - Happy New Year From The Sticky Beak Blog
Published On Tuesday 1 Jan 2019 by Sticky Beak
See All Recent News Articles
I'm sat here at my desk on the first day of 2019, wondering what is going to be in store for The Man and me. In the years since the Sticky Beak Blog started, I've learned to expect the unexpected; we've gone to some venues expecting the time of our lives, only to leave distinctly under-whelmed and ripping up any notes I'd made for a review, then there have been places that have been total gems – the opposite to what we'd been anticipating! So now I rip the rule book up, never say no to any opportunities that come our way, and immerse myself in the experience and moment.
Like previous years, 2018 saw ventures open and some (unfortunately) close and fall by the wayside; but it also saw some of them find their niche and soar, bringing a new energy to the locale in which they made home. Taking ambition to a whole other sphere, a few talented Chefs branched out and became their own bosses! To them, I hope 2019 brings the success that you all deserve.
Joe Wood & Dan Laycock Launch Incognito Dining
Established businesses shook things up; either bringing in new chefs to their kitchens, or shaking up their menus. Re-visiting these places gave His Nibs and me a lot of pleasure, and hopefully the reviews encouraged more people to go and discover the culinary delights on offer for themselves. I always say that if you don't go and support a venue, then don't moan when it can no longer keep trading!
Chef Karl Tyler opens The Streatery in The Post House, Derby
The blog also saw an increase in the number of food and drink producers that approached us directly to ask if we would sample their wares and give feedback/do a review. We tried alcoholic and non-alcoholic tipples, chocolates, healthy seed snacks – and I even whipped up a batch of chocolate energy balls, which went down a storm at the local gym I attend.
Making The Choc Chip Balls From Energy Ball Recipes
Our little blog branched out a little, incorporating overnight and weekend breaks, as well as foreign holidays, into our repertoire. Hopefully, a few more of these experiences will come our way in 2019; I think a lot of people are turning to the British market for their holidays and short breaks in these uncertain financial times, so our reviews might help them get more "bang for their buck". We also did more over the county border, going into other 'shires, especially Nottinghamshire; hopefully this will continue to be the case over the next 12 months, so watch this space!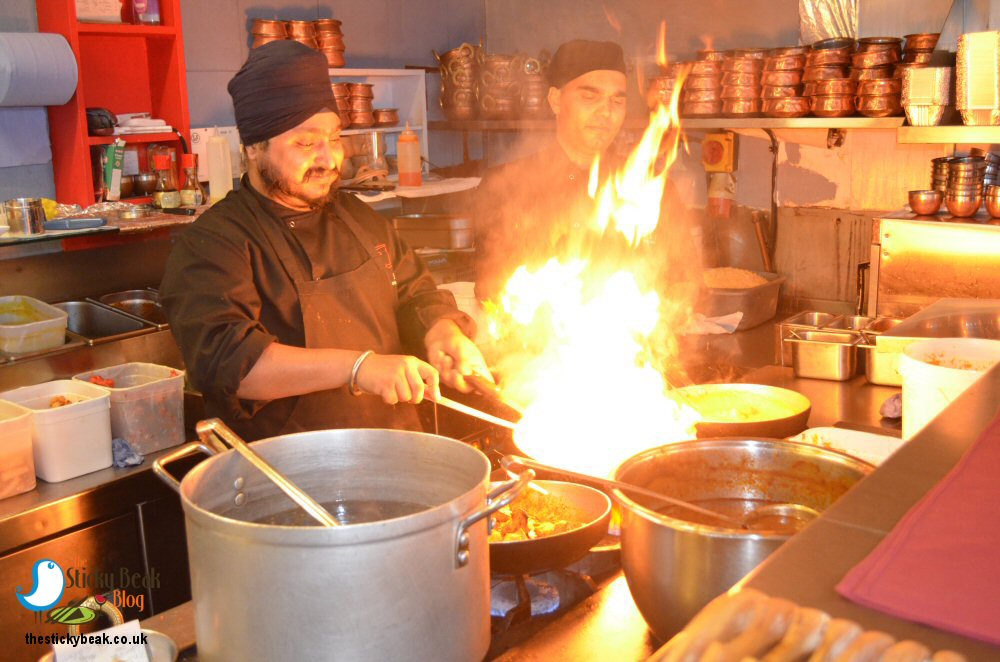 Out For Dinner At 4550 Miles From Delhi, Nottingham
It's no secret that I love promoting local businesses – it goes back to my "use it or lose it" ethos – and it's lovely to get feedback from business owners saying that our review helped their visibility. Sometimes though, it's nice to get a bit of a pat on the back and take a moment to shine, so when we were notified by LUXlife magazine that we had won the Best Food Review Blog in England, that's what we did (after we'd recovered from the shock, that is)! We still have no idea who initially nominated us in early summer though, so if it was you we'd just like to say a MASSIVE thank you to you.
The Sticky Beak Blog, Scoops Prestigious Magazine Award
For those fact geeks out there, 2018 saw Sticky Beak blog have 76,500 visitors to the site, with an incredible 116K pages being read! The most popular review got 2,200 reads alone and our "dog friendly" section proved to be very useful to many of you. We've started to do "where to eat" articles for larger towns; we thought it might be easier and more time-efficient if there was a specific area you wanted to try. Let us know if there's something you'd like to see on the blog – can't promise it'll happen overnight (day jobs eat up a lot of time unfortunately!), but we'll try and accommodate suggestions.

Where To Eat In & Around Belper, Derbyshire
Talking of suggestions, it's been great to see more interaction from you all when we've asked for help and even just to have spontaneous recommendations when you've discovered somewhere great of your own to eat at. Thank you for your help and support, it is much appreciated – and long may it continue!
Stamp in Ashover was a reader recommendation
Right, I'm not going to rabbit on and on – I'm sure you've all got fantastic stuff to be doing on this first day of the New Year; I just wanted to let you know that The Man Bird and I wish you all the very best of health, wealth and happiness in 2019!