Breakfast At Stamp at the Post Office, Ashover
---
Published On Wednesday 5 Dec 2018 by Sticky Beak
See Recent Dining Out Reviews | See All Recent Reviews


One of the things I love about the Blog is the interaction we get from you, our wonderful readers. As you're all aware, I love weekends; not only is the daily grind forgotten about, but I can persuade The Man to treat us to breakfast!
Having mooted the idea of brekkie out, I was at a loss as to where to go, but I posted on our page for ideas and you all came through magnificently. Thank you. Eventually we decided (well, I decided!) to pay Stamp at Ashover a visit on the recommendation of one of our Facebook followers, Shirley Bowler.

There was a diversion to Ashover in place at Stretton, so we ended up taking the scenic route down some twisty-turny single-track roads; very picturesque it was too, if a bit hair-raising in a couple of places.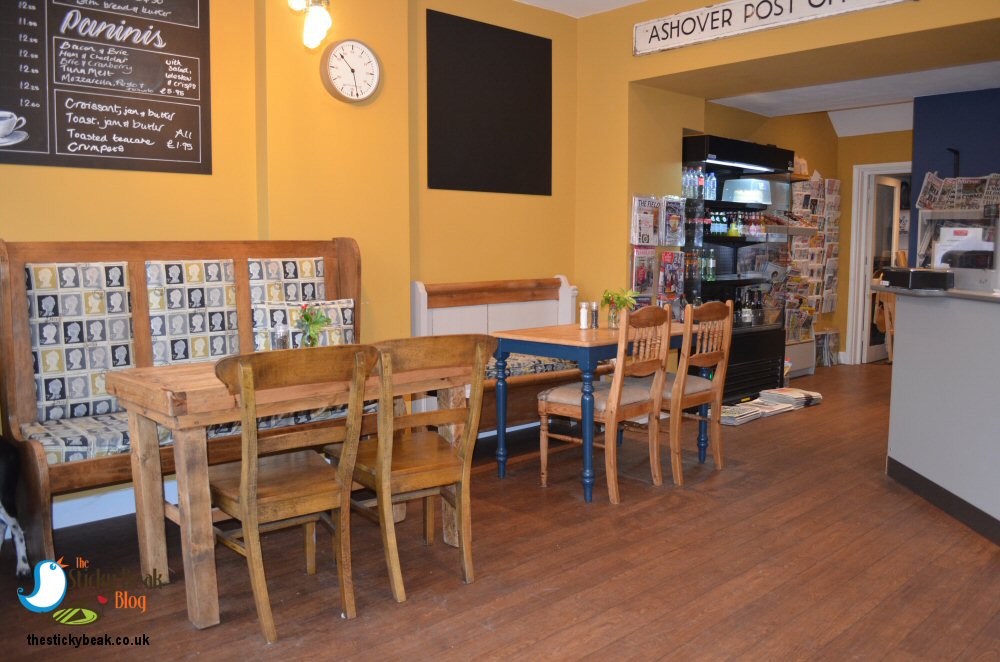 We have visited the Black Swan in Ashover village previously, although not under the current management, and Stamp is just a little further along the road. Parking wasn't a problem; we just pulled up on the side of the road and walked 100 yards or so.

Stamp is a quirky little cafe that also serves as a newsagent's and the local village Post Office – hence the name! If you look closely at the cushions at one of the tables, you'll see that they're a stamp design too. Those of you that like walking and/or own pooches will be happy to hear that Stamp is dog-friendly. There is a bowl of water outside the door, and when we visited there was a chap in enjoying breakfast, with his beautiful dog sitting nicely beside him.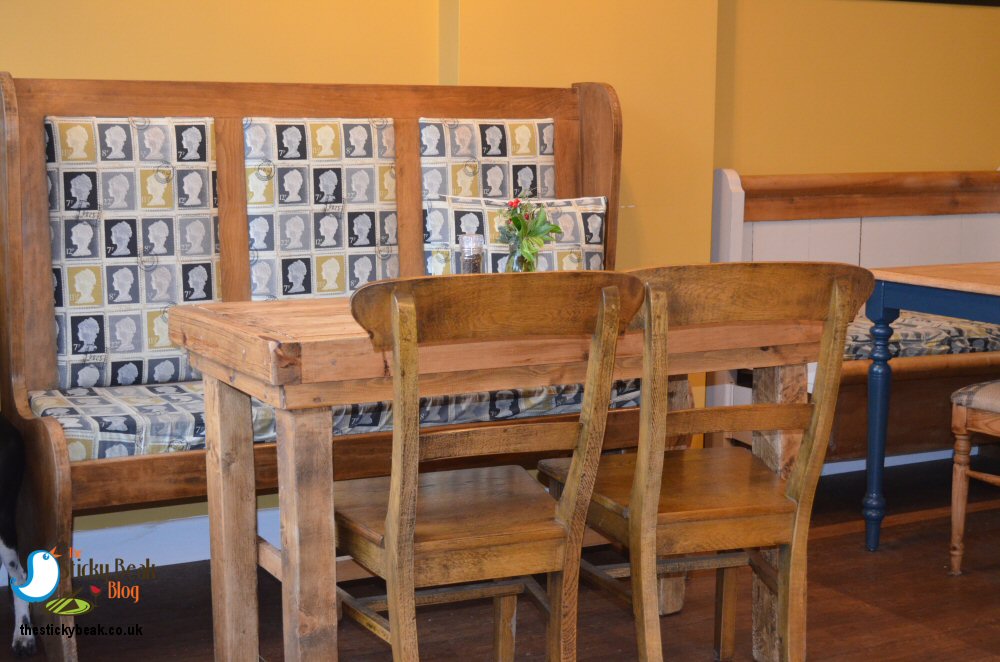 Pleasingly, Stamp has a rustic, farmhouse feel to the fixtures and fittings; solid wood tables and chairs (with the odd up-cycled church pew thrown in for good measure!), wood floors, and walls painted a warm mustard tone complimented by off-white at a lower level. In total, I would estimate that Stamp seats about 20 people at any one time; there's a nice space between each table too, so room for doggies to sit at the side of, or underneath, the table.

Whilst the breakfast menu might not be the largest in the world, its selection is wide ranging in terms of its appeal. For example, there is Granola, and Pancakes with fruit and yoghurt nestling alongside Welsh rarebit, as well as Breakfast sandwiches, Croissants, Toast with butter and preserves. The traditional Full English Breakfast takes centre stage though, and we both plumped for this delight.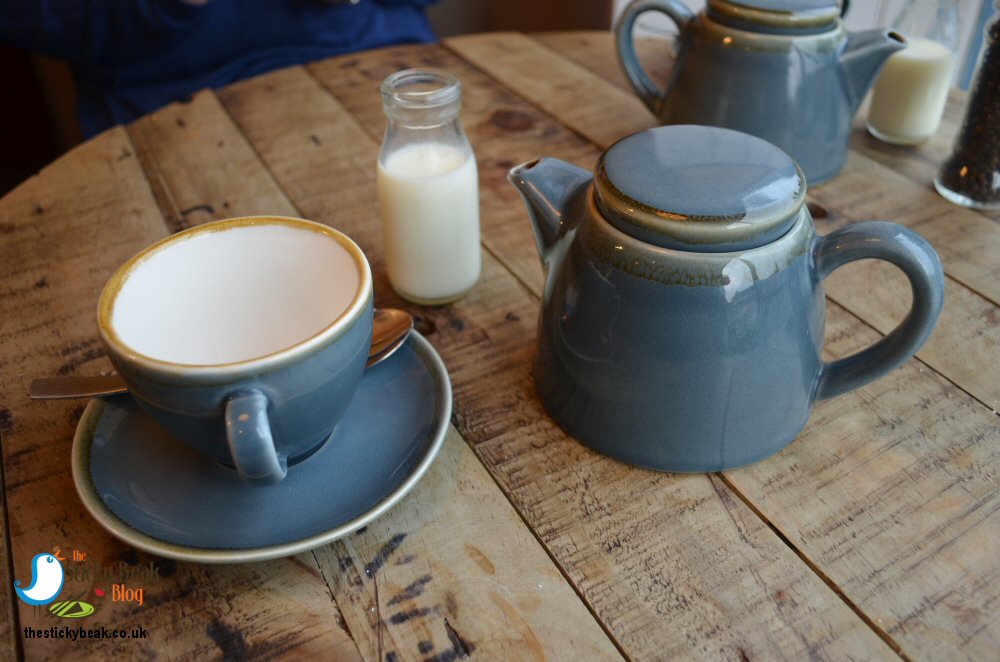 His Nibs had a pot of Earl Grey and I had the breakfast Tea; both came in good quality pots and were loose leaf, so it was nice to see an integral strainer in the pot too – no faffing about. Matching cups and saucers to the teapots were a nice touch, and I loved the dinky glass milk bottles that contained the milk.

On the counter, just to the side of the official Post Office section, there were several stands of homemade cakes to tempt customers, and had I been popping in to avail myself of the services, I'm sure I would've succumbed to temptation and taken a piece home!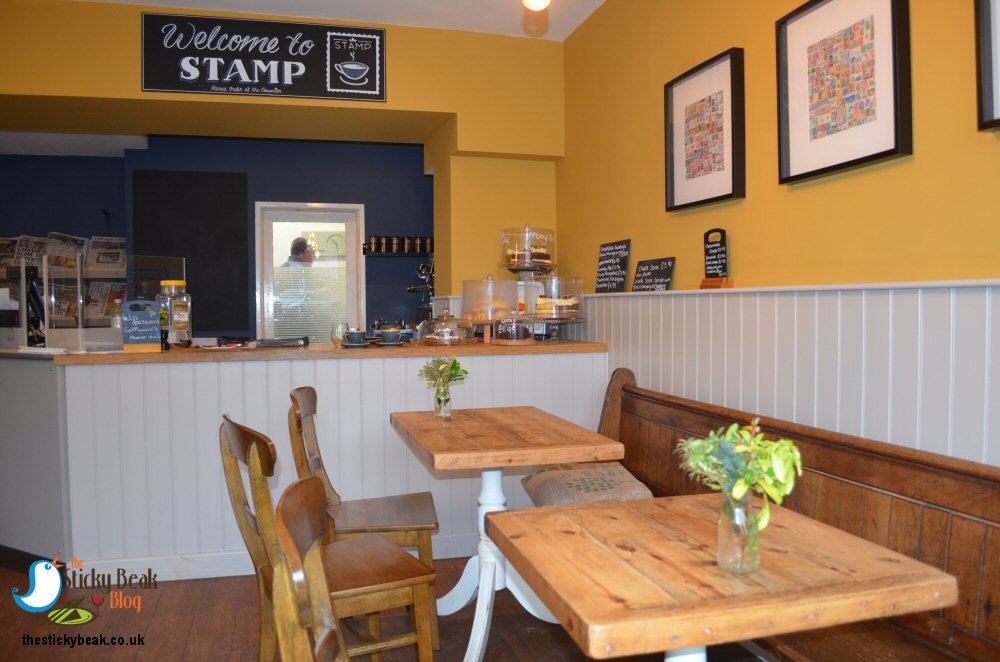 The lunchtime menu is nice too, the Cheese Scone platter served with either Brie and Cranberry or Cheddar and Chutney both sounded yummy, as did the Pâté, and the Quiche selection. There's also soup and a selection of Panini's available at lunchtime too, to tempt your taste buds.

When he wasn't busy in his capacity as post-master, Duncan came over to have a chat. Stamp has only been open since March, although the post office has been in the village since time immemorial! As with a lot of things recently, it was a case of diversify or close; luckily Duncan (as a resident of the village) chose the former! The fact that it's run by a village resident definitely adds to its charm and community feel, something we definitely felt when we first stepped inside.

The kitchen is directly in the back, and that glorious smell of food cooking wafted in every now and then, making our mouths water! It's nice to see (and smell) your food being cooked fresh to order, it builds the sense of anticipation. Needless to say, when our breakfasts arrived, they were piping hot, with tendrils of steam coming from the plates – and what laden plates they were too!




Without a word of a lie, the Bacon was the thickness of three, maybe four, rashers of thick-cut bacon; I wish you could've seen The Man Birds' face – he was like a kid at Christmas! To accompany this porky perfection was two butchers quality sausages (no doubt from the butcher down the street!) and two sunshine hued fried eggs, as well as a grilled Tomato half, a pile of whole button Mushrooms, some fresh, peppery Rocket leaves, baked beans in a separate pot, and four thick slices of Granary toast with butter in its own dish. You do have the choice of white bread too, if you prefer that instead of the Granary option.

Everything was delicious – even I managed the sausage, and you all know how fussy I am when it comes to them! The Granary bread was superbly malty in taste and had a really satisfying texture to it as well. More importantly, it held up well in the dunk-ability stakes with the baked beans and egg yolk!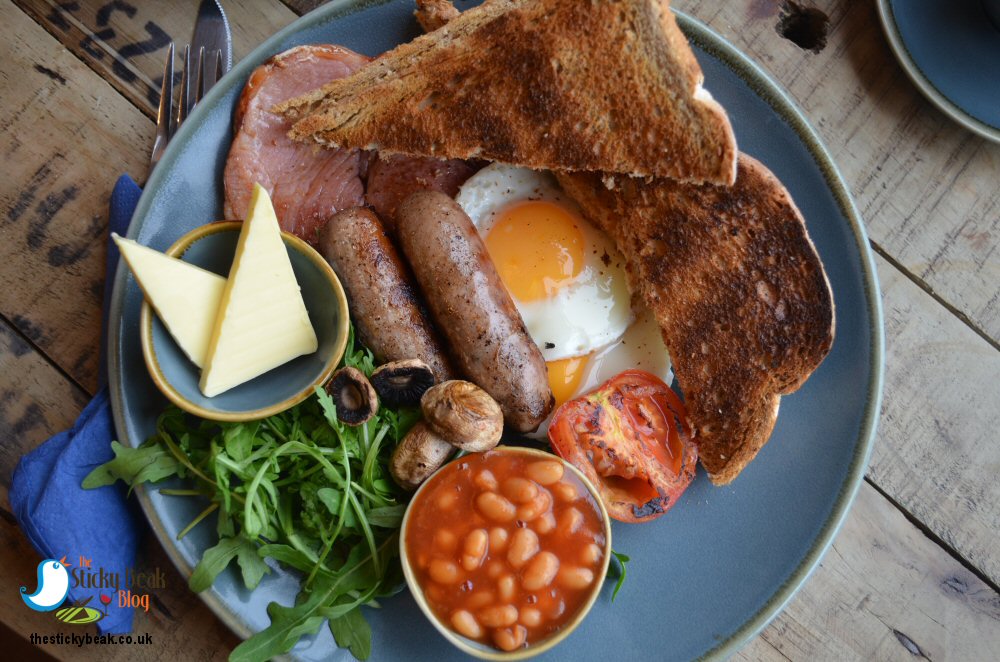 Given the amount of food on our plates, we were glad that the pots of tea yielded a good two-and-a-bit cups of tea - a single cuppa just wouldn't have sufficed. Clearly Duncan had done his research on this score and sized his beverages accordingly.

Alongside Duncan was a lovely young lady helping serve the food, and she had a beautiful smile and manner to her. Just the ticket on a grey late-autumn morning. With our tummies suitably stuffed, it was time to pay the bill and crack on with the days' activities. Our bill came to £18.10 which we thought was more than fair and gave brilliant value for money. Hot Wings happily awarded here.

Stamps opening times (for the cafe) are Monday-Friday 9am-4pm, Saturday and Sunday 9am-3pm. They do allow reservations, so if there is a large group of you it's worth ringing in advance given the limited seating.
No incentive was provided to visit this venue
read more