Making The Choc Chip Balls From Energy Ball Recipes
---
Published On Monday 8 Oct 2018 by Sticky Beak
See Recent Food Producer Reviews | See All Recent Reviews


You won't believe what I'm about to tell you dear reader. I, me, actually made something to eat – in my own kitchen! Don't faint, it does occasionally happen; albeit I get some funny looks from His Nibs and Chickadee, and they smell what I've made before they try it!
Anyhow, the lovely lady from Energy Ball Recipes, Victoria, kindly sent me a box with everything in it to make some scrummy Chocolate Chip energy balls. For those who go to the gym, are interested in the macros of their diet, or want to snack healthily (they are suitable for Vegans and Vegetarians too) then these will become your new best friend.




All the stuff you need to make 30 energy balls all comes in plant based, fully compostable Forest Stewardship Council cardboard box, along with comprehensive instructions and pre-measured ingredients. Pretty Beak-proof then.

To get me in the mood, I popped on my pretty floral pinny, read the instructions (or destructions as my flock would say, in my case - supportive aren't they?!), rolled up my sleeves and got to work. First job was to blitz up the pitted dates, most folk would probably do this in a food processor but I wanted to relish this experience and really immerse myself in the production of these morsels. His Nibs even helped – probably to make sure I didn't do myself a mischief, or have a laugh if I did!




When all the gooey dates were cut up teeny tiny, the rest of the ingredients can be bunged in: Ground Almonds, Cacao Nibs, Milled Flaxseed, Coconut flour, Cacao powder, Coconut oil, and Peanut Butter. You can add a teaspoon of Vanilla essence too from your store cupboard if you like things extra sweet; I don't, so I omitted that step. The instructions say to add a dash of water, but Victoria had put a lovely little post-it note in our box saying to add more like 4 tablespoons of water – so I did just that.

I'm not exactly a delicate little flower as most of you have probably gathered over the course of the blog posts, so instead of using a wooden spoon to mix it all together, I got stuck in with my hands. #MixRollLove as Victoria says.C'mon, who doesn't love reliving the simplicity of childhood and getting a little mucked up?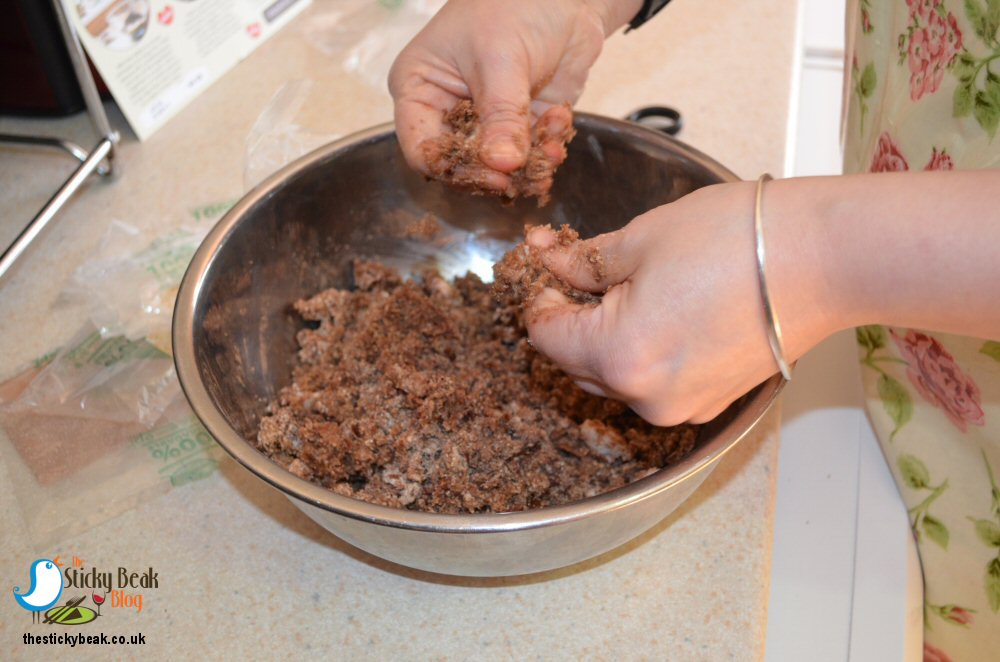 Next step was to take a portion of the mixture (small enough to fit in the palm of your hand), and squeeze it and roll it into balls; the recipe makes 30. Yes I know, I also thought of Chef from South Park – couldn't help myself, it was the chocolate and balls (sans salt, admittedly) that set me off! Yet again, my lack of delicacy reared its head; I used all the mix, and let's just say that I have seriously big hands for a lay-dee. I don't, it's just that I'd been a little too generous with the amount for each ball and they were rather big. His Nibs grinned smugly when I said that as if to say "welcome to my world darlin'". You wish pal, you wish!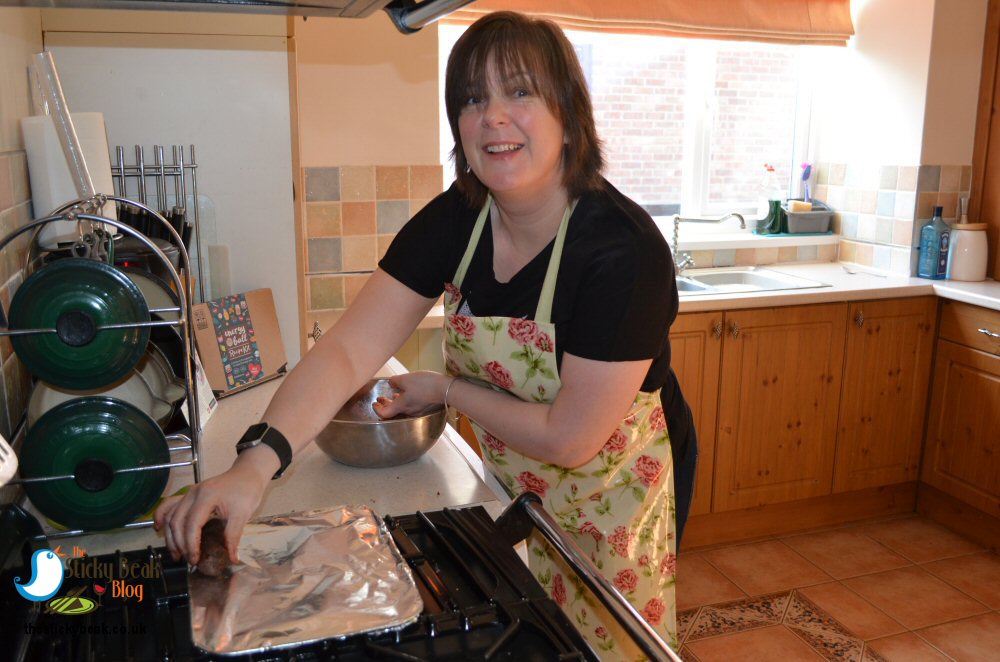 Some re-sizing happened and lo and behold, 30 scrummy looking spheres sat proudly on a tray ready to go and be chilled and set in the fridge. Purely in the name of research *ahem*, 28 of them made it there – 2 got scoffed straight away. Bloody ace they were too! You can taste the coconut and peanut butter; they both have a gentle flavour in the finished product. It's the Cacao Nibs that really pack the taste punch though; perfect for choc-o-holics! After an hour, The Man and I tried another ball each; yep, they definitely are totally delish. We both loved the intense Cacao flavour and the way it satisfied any thoughts of hunger.

Allegedly, these super nom nom snacks can keep for up to 7 days if you store them in an air-tight container in your fridge. I don't hold out much hope that ours will last beyond tomorrow if I'm being perfectly honest! They do also last for up to a month in the freezer, for those of you who actually do possess will-power.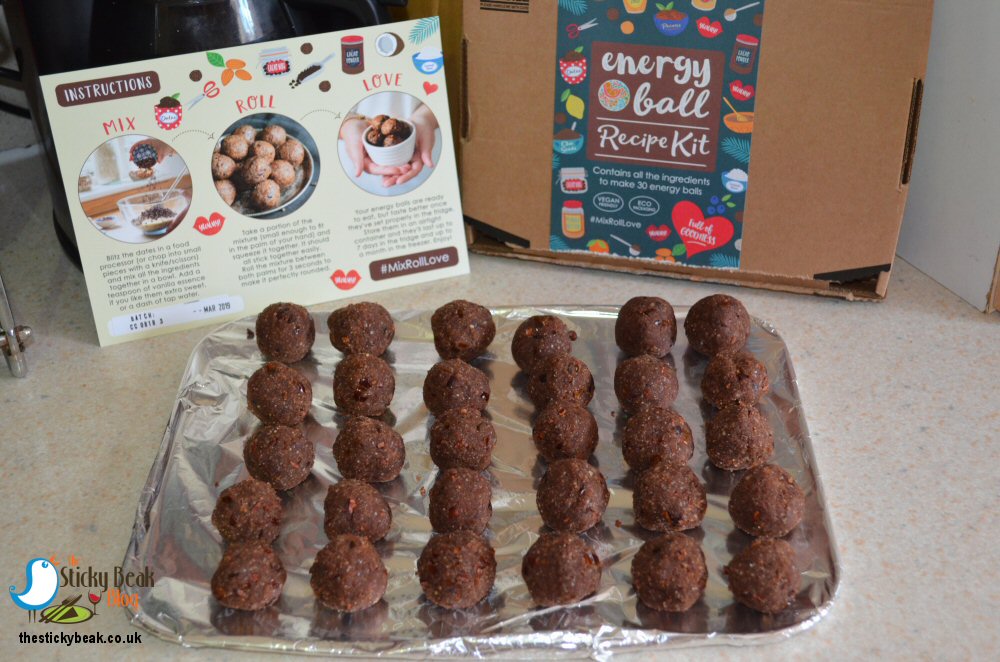 I had a genius idea for some market research, and to make sure it wasn't just us that thought they were very moreish – I took the container (by now only 20 balls were left!) with me into the gym I go to. Tuesday morning's BodyMax class is taught by the lovely Steph. I say lovely, and she really is, just not when she's teaching your weights class – she's a total moo then!!

Needless to say when Steph's put us through our paces we're all in need of sustenance, and these energy balls went down an absolute storm; a lot were surprised by just how tasty they were. There was some serious oohing and aahing to be heard, and not from sore muscles – they kick in about two hours later!




I was, momentarily, the most popular person in the county of Derbyshire; everyone wanted to be my friend and know where I'd got them from (and try to bag the last one in my tub!). So, here are the deets you need to know....

You can subscribe to receive a kit each month for £14, available from the website www.EnergyBallRecipes.com, or simply visit them for inspiration and recipes that you can buy your own ingredients for and make at home. Hot Wings to you Victoria!