Opening Night At The Streatery In The Post House, Derby
Published On Tuesday 13 Nov 2018 by Sticky Beak
See All Recent Reviews
The Streatery Closed In January 2019
Prepare to experience street food like no other; an exciting fusion of flavours from all over the globe. Chef Karl Tyler and his fiancée Kat Galvin have opened their latest venture, The Streatery, in the first week of November at The Post House in Derby.
Some of you will no doubt have visited this venue already, thanks to the wonderful diversity of food and drinks to be had at its selection of independent units. The Streatery is tucked away in the top right-hand corner, opposite Smoke and Season.




Karl and Kat and their team are going to be changing their menu monthly, to make the most of seasonal produce. November's theme is North American dishes with influences specifically from the Asian country of Korea. Kat, who hails originally from Canada, has placed her homeland's unofficial national dish, Poutine, on The Streaterys inaugural menu.




No respectable street food venue is without a hotdog on its menu, and Chef Karl Tyler has two versions; one carnivorous, one vegan. We kicked our experience off by tucking into The Streatery's foot-long, secret recipe Hot Dog. The meat was delicious, not the dreaded ropey "sausage" often found in inferior 'dogs. You know how picky I am when it comes to sausage! I'm happy to report that this 'dog is of pedigree stock and easily passes muster.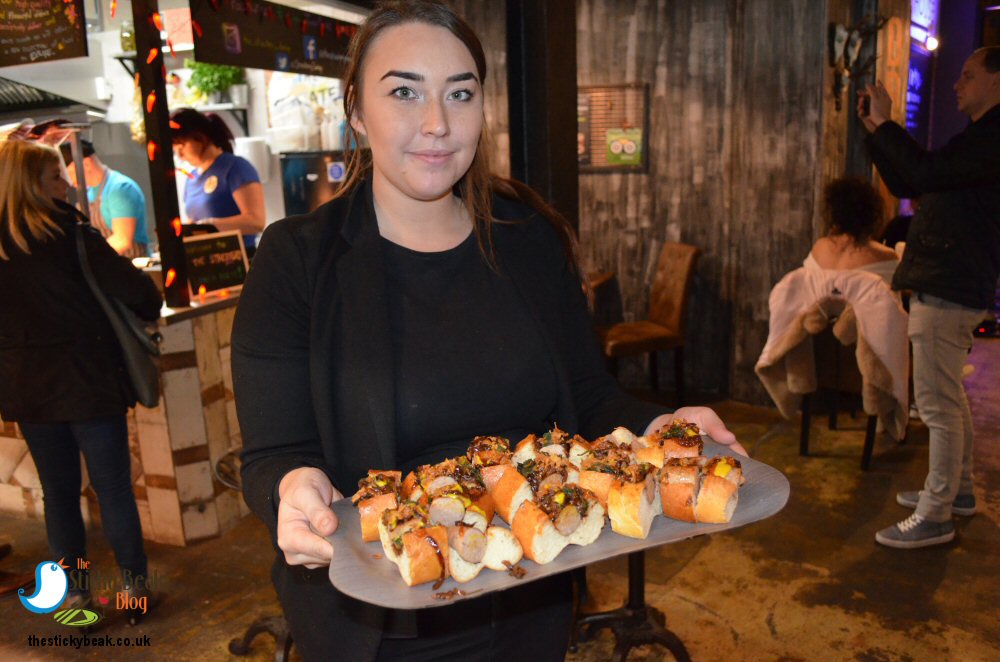 The sausage was topped with spiced Tomato ketchup,, onion and bacon jam, properly crisped onions and fried Sage. A squiggle of bona fide, punchy English mustard (you know, the sort that makes the top of your nose tingle!) crowned it all, and a soft milk bun kept it all snuggled together. Yummy!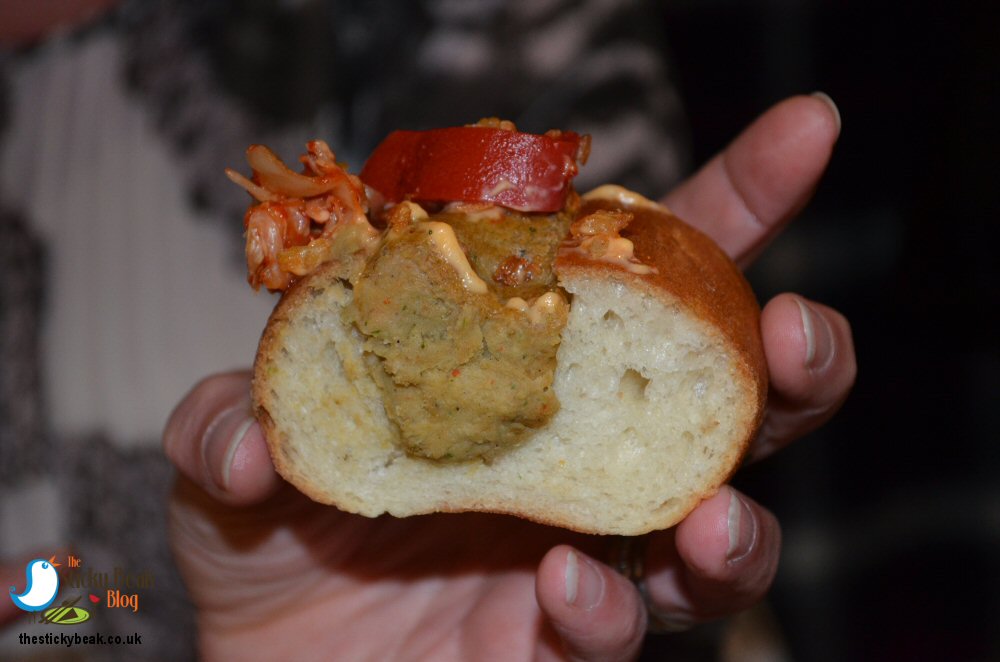 Vegans will be delighted to hear that the Chickpea and Sriracha 'dog is just as tasty. It's a brilliantly spicy little minx, not quite as firm as its meaty counterpart – mine tried to escape its vegan bun confines! It was topped with Gochujang "Mayonnaise", Kimchi, and roasted red peppers. His Nibs and I were both really impressed by this dish.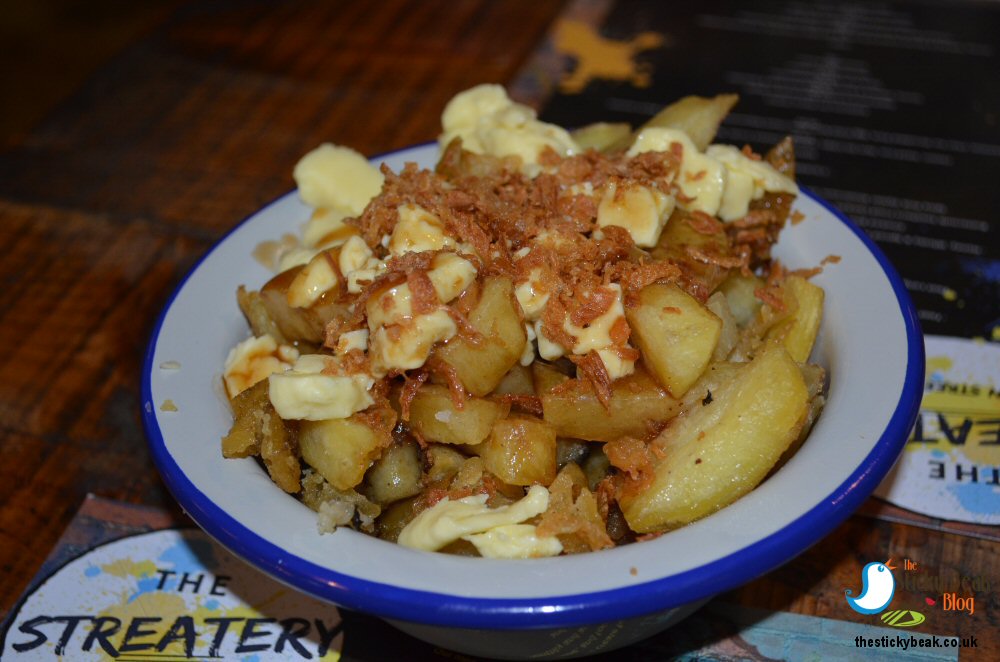 Next up for us to try was the classic Poutine, presented in a blue and white tin dish, and it was bloody fab! The potatoes were sweet yet earthy in taste and complimented perfectly by the creamy tasting, mild cheese curds; a lovely hot, rich meat gravy (veg gravy also available) covered it all. This is a fabulous comfort food, much better than the adapted, bast**dised version served in school canteens!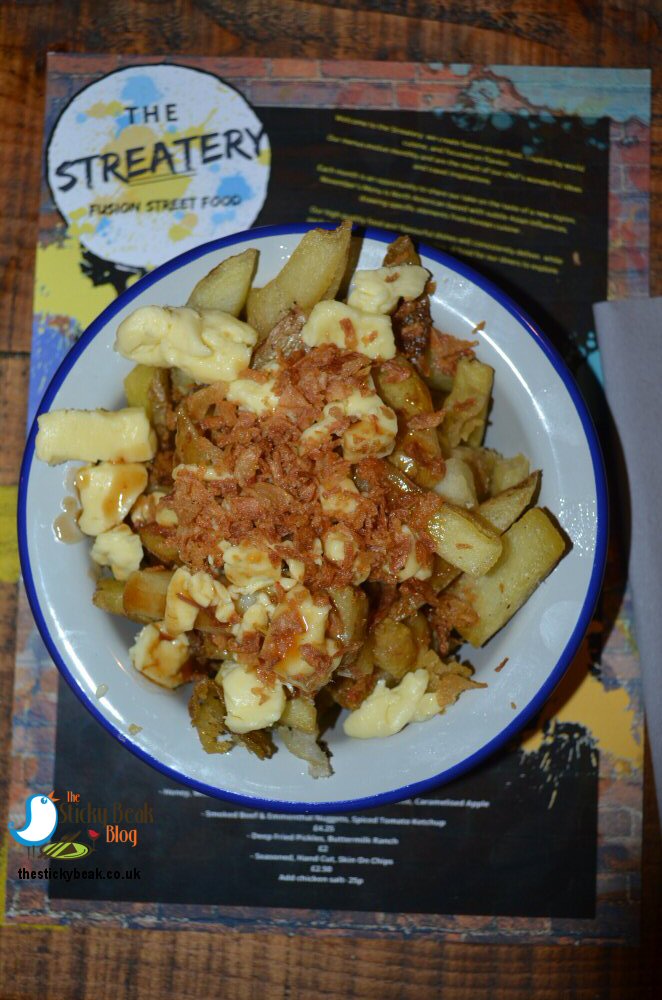 I have had the pleasure of eating Chef Karl's Beef feather blade before and attest to its quality and deliciousness. At The Streatery it is presented as a slider; smoked, and partnered with Emmenthal cheese and homemade pickles. As is often the case, this simple dish is sublime.

There is a quartet of sliders on offer at The Streatery, and we got to sample them all. The second slider we tried was the buttermilk southern fried Chicken, which comes in a steamed bun with creamed corn. Gochujang Mayo, and Kimchi. The crunchy coated chicken breast was beyond tender – the perfect partner for the pillow soft steamed bun. Delicate tasting creamed corn came alive with the Gochujang Mayo and the Kimchi added some welcome crunch.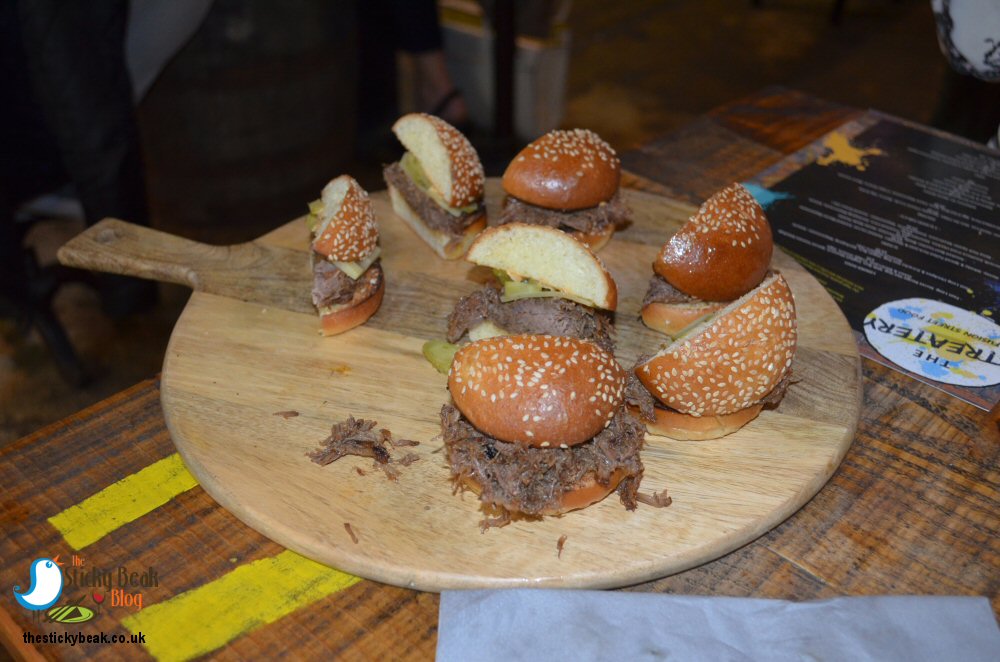 The third slider was the Honey, Whisky, and spiced pulled Pork jowl and shoulder with pickled carrot (ribbons) and smoked Bacon Mayo. This is meat lovers' Nirvana; Pork is king here. Carrot gives some texture to the slider, but doesn't impact on the meats power.




Our fourth, and final, slider was the vegan option: spicy pink Oyster mushrooms with smoked garlic "mayo" and soused onions. This was the spiciest dish on the menu, with a bit of "lip tingle" action going on! I loved the dense texture; it was extremely satiating. The mock mayo was surprisingly creamy with a good garlic punch to it, and the soused onion was mild but wonderfully crunchy.




Our final sample from The Streatery's kitchen was of 2 sides: Honey, Whisky, and spiced pulled Pork jowl and shoulder croquettes with caramelised Apple, and smoked Beef and Emmenthal nuggets with spiced Tomato ketchup.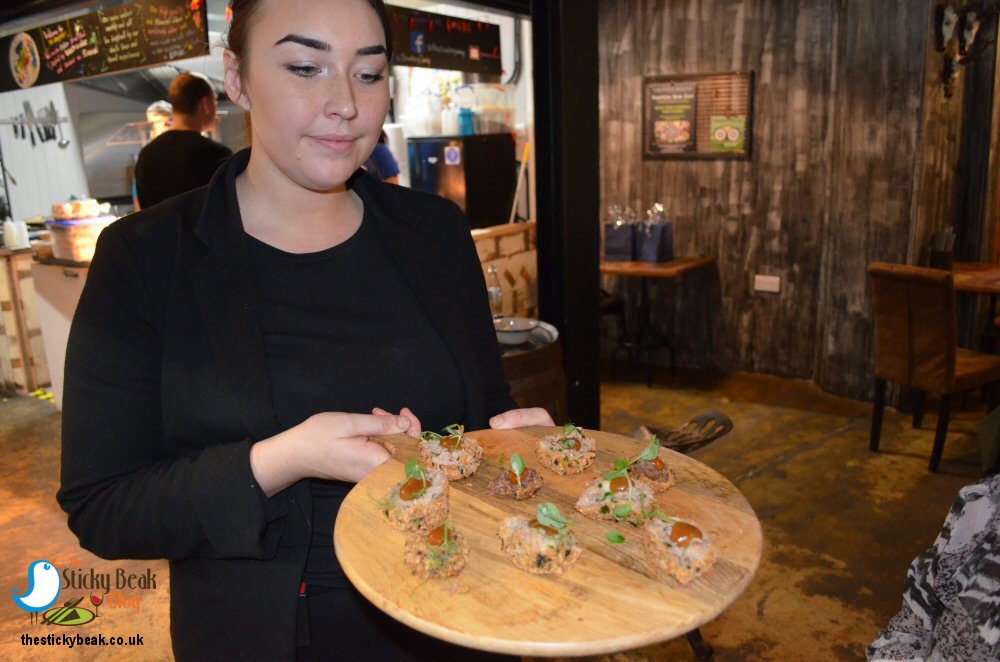 I really loved the substance of the croquette when I bit into it; the pork was nice and dense in texture and taste, and I loved the light salty tang it had to it too. His Nibs declared the nuggets to be his favourite, and they were rather marvellous I have to agree. The deep flavoured beef was partnered with the mild cheese and lifted on the palate by the piquant Tomato ketchup.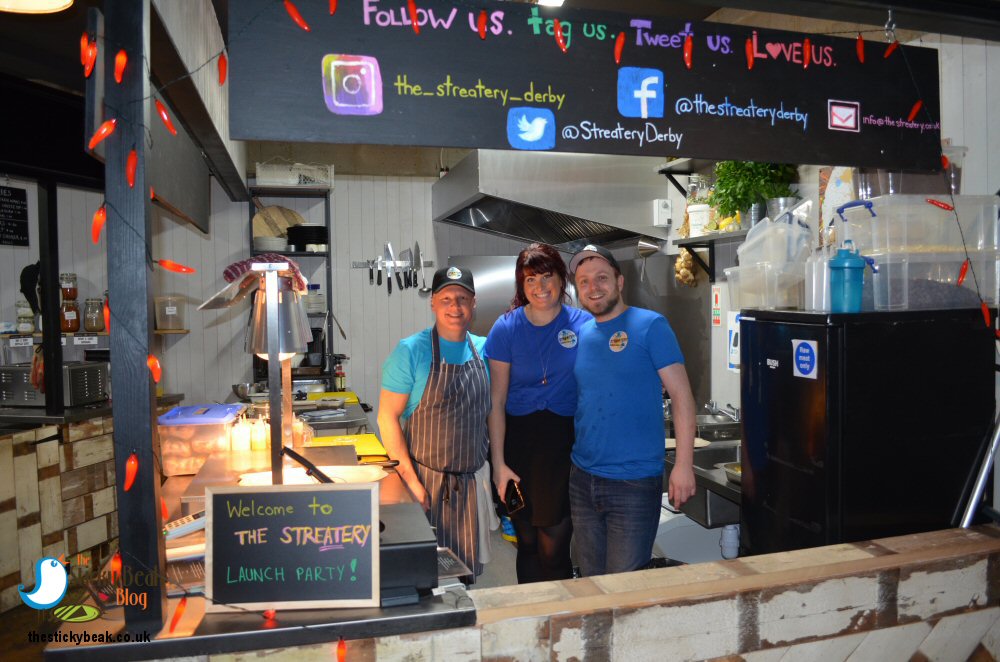 There had been a real buzz in Derby's Post House venue, and it was a real pleasure to see all the units doing well. There was literally every demographic of client there; families with tiny babes-in-arms, to families with toddlers and older children, groups of friends, and couples of all ages. If you haven't been before, it's well worth going to experience this unique Derby venue for yourself; and I can definitely recommend The Streatery for their food! Hot Wings to Karl, Kat and their team.
No incentive was provided to visit this venue
read more